Inventory Source Review: [Dropship Automation Software]
Today, we'll be looking at inventory source review and how this software can improve your overall dropshipping business.
Perhaps you're into dropshipping business or you want to start but having trouble picking the perfect software to ease the stress involved.
If that's the case, then you're on the right page.
Dropshipping software like inventory sources is designed to reduce the stress of contacting suppliers and manually paying for a product before it's been bought.
It's software that allows you to list out products available in your supplier's warehouse. And once a customer pays for it, it is moved from the supplier to the customer's location.
This type of software comes in handy a lot especially when you have lots of products.
Or if you're just starting, and have little access to the producer or wholesaler except through the internet because of the distance.
It helps you minimize your loss and saves you extra costs because you only pay once a customer has paid for the product on your website.
After payment, the goods are then shipped to the address designated by you. Now, because of the benefit it renders, a lot of dropshippers have opted for this software.
And this has led to the development of different types of dropshipping tools by different companies all operating on the same principle.
However, amongst all, one remains unique.
Hence this Inventory Source review is why you'll be getting comprehensive info about how the software works.
All about Inventory sources starting from their function down to their uses will be discussed. So without wasting any further time, let's get started.
What is Inventory Source?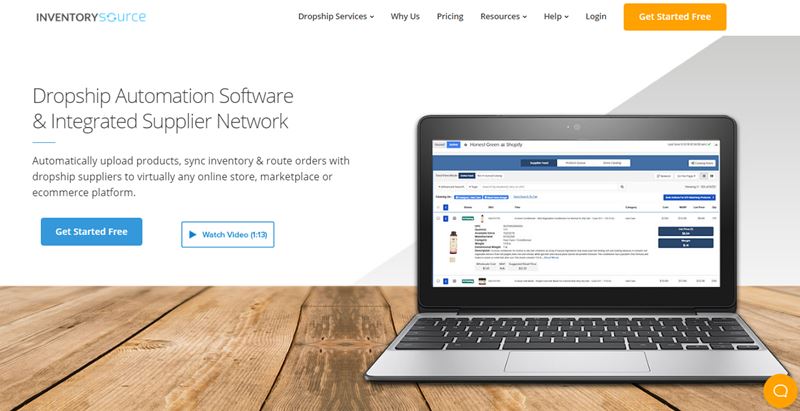 Inventory Source is a dropshipping software that automates the process of getting and managing orders from the customer.
It also automates the process of filling in details and linking them out to the supplier.
It automatically uploads the product depending on the details filled and available products the supplier has.
This software was developed in the year 2003 by a team of e-commerce Marketers. It is being managed by Kelly Dyer who is a Co-founder and now the CEO.
The development of inventory source was to elevate the stress in dropshipping making it easy for both dropshippers and new e-commerce marketers having the intention of jumping right into dropshipping.
The software enables you to track goods across your business supply chain. It makes it easy for you to track and select the type of goods you want without even going to the supplier.
This software makes it possible and easy for you to keep a clear account of all your goods transactions with your supplier.
It also makes it possible for you to move goods that have been paid for from the supplier down to the customer without necessarily having to touch the goods.
With the software, you have less to do when it comes to supply. Yours is to ensure the customer buys from your eCommerce store and this software will handle the supply.
There have been tons of positive reviews about this software.
It has over 1.3 million users, with 99% positive statements in total. The 1% negative statement is from clients having zero knowledge about using this software and technical issues arising from their side.
Inventory Source Review: Features
Inventory Source is widely recognized and used because of its easy mode of use and its features.
These features tell more about the software. With the full knowledge of its features, you'll be able to use the software to your maximum goal.
The features make it different from other software.
Although much other software tends to copy its features, it still has the maximum number of users because they are true when it comes to the features while others fail at executing the features they have integrated.
At times this other software lacks such features but has it carved into its software platform.
Unlike those platforms, Inventory Source meets all its written features. The features are well explained starting from US Direct Sourcing.
#1. US Direct Sourcing
This allows you to request products and goods to be drop-shipped to your designated address without necessarily filling and waiting for Approval. So, they have tons of suppliers that you can immediately request goods from.
Basically, US Direct is a revolutionary tool, which allows you to gain instant access to over 200,000 products from favorite Inventory Source suppliers.
You don't have to go through any approval process because everything is done for you!
All that's needed is integration with US Direct as a drop-ship seller within Inventory Source where you can immediately begin selling products without lengthy approvals or hidden fees.
Plus it doesn't matter if there are unpredictable shipping rates because of this smart service – just integrate like any other supplier and still utilize Inventory Source tools such as customization features in order to create an up-to-date feed of items on offer
#2. Supplier Integration
They have suppliers already Integrated with them. The moment you start using the software, you'll get access to all the available suppliers.
These suppliers are in different niches and industries.
This avails you of the stress of looking for a trustworthy supplier as well as the stress of Approval because there is no approval form.
It's a complete win situation for you because just by using their software you'll gain access to lots of suppliers.
Other than this, Inventory Source allows you to easily integrate with the eCommerce platform of your choice. Based on the available integration you can successfully integrate with any of the below platforms:
Shopify
EComDash
Amazon
eBay
Walmart
WordPress
Wix
Xsellco
BigCommerce
Sellbrite
Etc.
#3. Free Drop Shipping to supplier Directory
This is one of the most important features this software offers. Inventory Source is the only software that gives you free Drop Shipping to your designated directory.
Other software has a fixed charge for dropping off your goods but this software has zero fees. You can easily find your perfect wholesale and dropship supplier at the right price with the Inventory Source Dropshippers Directory.
This directory includes a comprehensive list of suppliers, from leading wholesalers to niche suppliers in popular industries like fashion t-shirts or pet clothes.
Finding who you need is easy–just use the available advanced filtering options for sorting for suppliers by location type (united states only), products offered, minimum order size, and more!
#4. Customer Support
This is another important feature to consider before buying any software.
Inventory Source has a 24/7 live chat option where you can directly contact them with any problem you encountered while using their software.
They also have 24/7 email support.
You can message them directly stating the problem you encountered while using their software and you'll be responded to.
If you don't like the live chat option or it seems to be slow then you can use this option.
They also book a call with customers that want direction on how to settle some problems they ran into while using their software.
You can as well book a call if you don't want to use the direct emailing or live chat option.
All these customer support options Integrated by Inventory Software are to ensure you get the experience with the software.
Even better is the fact that there are video tutorials, help docs, guides and blog posts to help you navigate through any post you might be having.
#5. Product Data
Inventory Source is the only Software that uploads your product Data directly from the supplier to your eCommerce store without you manually asking it to do so.
It makes use of the information it got from you and the supplier. Additionally, it also updates you on product details your supplier has.
It is the only software that gives you access to catalogue customization, making it possible for you to change the price, the arrangement, the status of the product, its availability, and its number.
This is to enable you to inflate the need for that product thereby prompting the increase in price for that product.
Inventory Source Pricing Plans
Every software has its pricing plan which is determined by the service they offer.
It's completely up to you to scale the price and service with your budget and reason for opting to use that Software.
Inventory Source also has its Price packaged and it's divided into two categories :
Automation inventory
And Full Automation
Each of these categories has its underlying plans and features.
The features of each underlying plan are different from the other and it's the determining factor for its Price.
Before picking any plan, you should scale your reason and budget with the service each plan has to offer so you don't run into any costly mistakes.
Inventory Automation
This plan is suitable for individuals just starting with eCommerce dropshipping. It gives you a list of features that will be well appreciated if used properly.
The Automation inventory is a category in the Inventory source pricing plan that only allows you to sync supplier inventory and allows you to automatically upload data from the supplier.
It doesn't offer most features that will be found in the other plan.
The pricing plan of this category is divided into two each having its features.
The features are a little bit different but they greatly determine the price for each plan available. The plans are the Basic and the Plus plan.
Basic
The price for this plan is $99/month. It doesn't have the option of paying for a longer period so you pay per month. You pay as you use. It helps you determine if you should continue using this plan or move to another plan after each month.
Features for the Basic Plan
1 integration
$50/mo for Additional Integrations
50k SKU Limit
2x Daily Syncs
1x Daily On-Demand Sync
Standard Support
Standard Suppliers
Stores & Marketplaces
Plus Plan
The plus plan is the advance plan for the Automation Inventory pricing plan. The price for this plan is $125/month. It gives you some additional features you don't have access to when you choose the basic plan.
Just like the basic plan, you pay as you use. No option for long-term payment. The features of this plan are a bit higher than the basic plan giving you more Automation inventory options.
Features of the Plus plan
2 Integrations
$25/mo for Additional Integrations
250k SKU Limit
Optimized Sync
4x Daily On-Demand Syncs
Standard Support
All Suppliers
All Ecommerce Platforms
The major difference between both plans is that certain e-commerce stores are not supported by the basic Plan but are supported by the plus plan.
Before picking any plan here in the Automation inventory, it is advisable to contact them and ask questions regarding the type of eCommerce supported by the basic plan.
Full Automation
This pricing category of Inventory Source deals with tracking your shipment, syncing supplier data, tracking order data, and delivering goods. So, this category offers more options. It gives you automatic access to all the services this software has.
This category is suitable for e-commerce stores that have already been established and only want to increase their reach and profit. It offers large features that might get a small or starting eCommerce marketer overwhelmed.
This could make him lose focus and balance because there are lots of buttons to press which aren't relevant now.
Just like the Automation Inventory Category, it has two different pricing plans – The basic and the Plus plan. The difference between both can be seen as limitations of one to the other because both almost offer the same features.
Before picking any plan here, I'll advise you consider your budget and your eCommerce goal critically because the services in both plans are similar and determine the Price.
Basic Plan
This is the first pricing plan for Full Automation Category. The price is $150/month. Just like the Automation Inventory Category, you pay as you use. There's no option for the long term hence no discount or free trial is available.
Features of the Basic Plan – Full Automation Inventory
1 Integration
$50/mo for Additional Integrations
50k SKU Limit
250 Orders Monthly
2x Daily Syncs
1x Daily On-Demand Sync
Standard Support
Standard Suppliers
Stores & Marketplaces
Plus Plan
The plus plan contains additional features not present or limitedly present in the basic plan.
This is the highest pricing plan for Inventory Source as it clearly defines all this software does. There are no limitations to this plan.
The price for this plan is $225/monthly and is paid monthly. There's no option for long-term payment.
It enables you to analyze the results of the previous month before paying for another month.
Features of the Plus plan – Full Automation Inventory
2 Integrations
$50/mo for Additional Integrations
250k SKU Limit
1,000 Orders Monthly
Optimized Sync
4x Daily On-Demand Syncs
Standard Support
All Suppliers
All Ecommerce Platforms
The difference between the two plans in this Category is the limitations present. The basic plan has some limitations placed on the features while the latter does not.
The basic plan has a list of supported eCommerce Niches while the latter supports all forms of eCommerce niches.
Difference Between Automation Inventory Category and Full Automation Category
The major difference between the Automation Inventory Category and the Full Automation Category is the complete asses each has.
The first category is designed for uploading product details from the supplier while the latter is designed for both uploading and tracking.
It clearly defines the software as it also has tracking and delivery features embedded in it.
The price and features of both categories draw a discrepancy in usage. The first category is for eCommerce stores and marketers that are just starting.
While the latter is for established e-commerce stores and marketers because it has lots of features to take advantage of.
Inventory Source Review: Pros
Aside from the awesome features Inventory Source has, it has other expected benefits that come with it.
These benefits are known as the pros which you are entitled to once you decide to use this software. These benefits range from flexible service down to full investor access.
#1. Flexible Service
Inventory Source has its services divided into different plans having different categories. You have the option of picking which suits your needs and your goal.
#2. Vast suppliers integration
Inventory Source allows you to register several suppliers. You have the option of registering as many suppliers as you need depending on your eCommerce store.
#3. Pre-integrated Suppliers
Inventory Source has several trustworthy integrated suppliers that you immediately acquire once you decide to use their software. The best part is that you don't have to request approval before you start requesting goods from these suppliers.
#4. Full inventory
Inventory Source is the only software that manages almost everything in regard to your dropshipping business. Starting from filling and uploading data, tracking orders and droppings off goods at the designated location to tracking orders placed with your supplier this software monitors the activity and sends you the data.
#5. Free Access Account
Inventory Source allows you to create a free account to enable you to have a clear overview of the services and their integrated suppliers. This feature sets it apart because it ensures you have clear and unbiased knowledge about it before you decide to use its service.
Inventory Source Review: Cons
This inventory source review won't be complete if we leave the cons out. And just like every other software, Inventory Source has its cons.
The difference is that the cons are negligible because with the right information you might have no reason to experience the downside of this platform.
#1. Separate Fee Per Supplier
Aside from the pre-integrated Suppliers, they have a separate fee for every supplier you decide to integrate. The price for influential suppliers is different and way higher than the fee for Suppliers they don't know.
Additionally, the distance between the supplier and your location is another factor that influences the price they charge for each supplier.
#2. No market research tool
This software has no market research tool. You have to do your research with a different software before deciding to integrate the result into this software.
#3. No money refund policy
Once you've paid, you've paid whether you like their service afterwards. The best way to avoid this downside is to make use of the free access account to study the software and check their reviews on Trustpilot if they are encouraging or not before deciding to use this software.
FAQ About Inventory Source
I have compiled a list of some of the most frequently asked questions about Inventory Source. They include;
What is Inventory Source?
This is an eCommerce/ dropshipping software aimed at easing the stress of drop shipping by enabling the tracking of orders, uploading the product Data and dropping off the product.
What is the price for Inventory Source?
The price is greatly determined by your eCommerce goal. This software has two different categories and underlying price packages with different features.
What do you know about Inventory Sources?
Inventory Source is an automated eCommerce software whose aim is to eliminate e-commerce Marketers' stress of doing dropshipping manually.
Inventory Source Review: Conclusion
If you're looking for a way to grow your business without the headache of managing inventory, then this software is for you (Inventory Source).
With Dropshipping Automation Software like Inventory source, you can automate inventory sourcing and order fulfilment.
This software integrates with your dropshipping suppliers and automatically updates product availability as well as syncs inventory on all of your marketplaces.
You can also take advantage of access to an integrated supplier network which increases efficiency by providing a single portal for finding new suppliers or managing existing ones.
So, literally, it does all the work for you if you choose to opt-in for the Inventory source. Finally, that's it on inventory source review, let me know what you think about the tool using the comment section.
Learn More?