Is AliDropship Profitable? [Everything You Need To Know]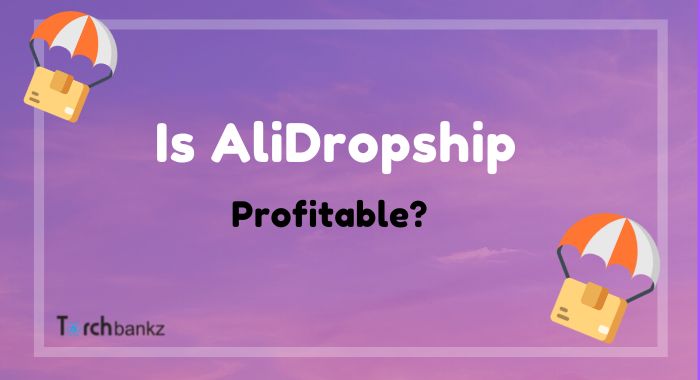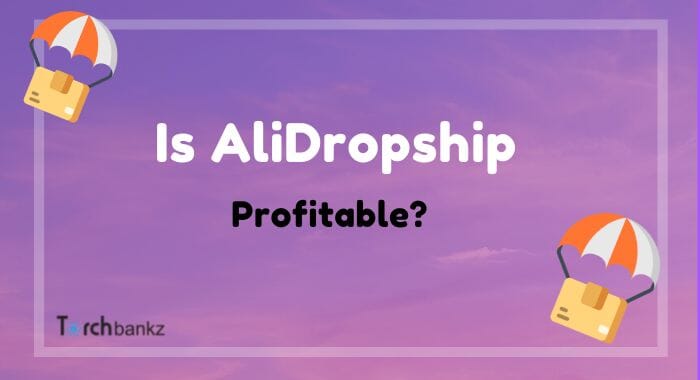 If you're looking for a way to make money online, dropshipping with AliDropship is a great option.
AliDropship is a plugin that allows you to create a dropshipping store.
This plugin provides a platform for you to select products from AliExpress, add them to your store, and process orders.
Dropshipping is a popular way to make money online.
It's a process of outsourcing your products or services to a dropshipping supplier, who will then ship them to your customers.
You don't need to handle customer service, inventory, or payment processing — all of that is taken care of by the dropshipping supplier.
This can help you save time and money while also giving you the ability to grow your business quickly.
The concept of dropshipping using the AliDropship plugin can be intimidating if you've never done it before. However, once you get the hang of it, it's actually pretty simple and profitable.
In this article, I'll walk you through everything you need to know about getting started with dropshipping using the AliDropship plugin.
Let's dive in.
Is AliDropship Profitable?
Yes, AliDropship is profitable. This is so because the AliDropship plugin basically operates using the dropshipping model.
The dropshipping model is a proven method of making money online. Global statistics have shown that the drop shipping industry is still expanding.
Globally, dropshipping eCommerce was estimated to be worth 128.6 billion U.S. dollars in 2020. According to the forecast, the market size will grow to 476.1 billion U.S. dollars between 2021 and 2026.
So, if you intend to start a dropshipping business in 2022 using AliDropship, then be rest assured that your business will definitely be profitable as long as you run it properly.
Is AliDropship Fake?
No, Alidropship is legit. Alidropship is a dropshipping plugin for WordPress. It allows you to create an online store and run it with no inventory or upfront costs.
To examine the credibility and reliability of this plugin, let's examine some statistics about Alidropship.
In 2019, the Alidropship plugin was purchased by a total of 15,728 customers.
The plugin cost $89, which means in 2019, Alidropship made $1,399,792 in sales. This doesn't include their add-ons or any other features as we would see.
69% of Alidropship buyers were one-time buyers, while 31% of their buyers were repeating customers!
Not just that, reviews from Trustpilot have also shown that Alidropship isn't fake, nor are they trying to scam you or take your money.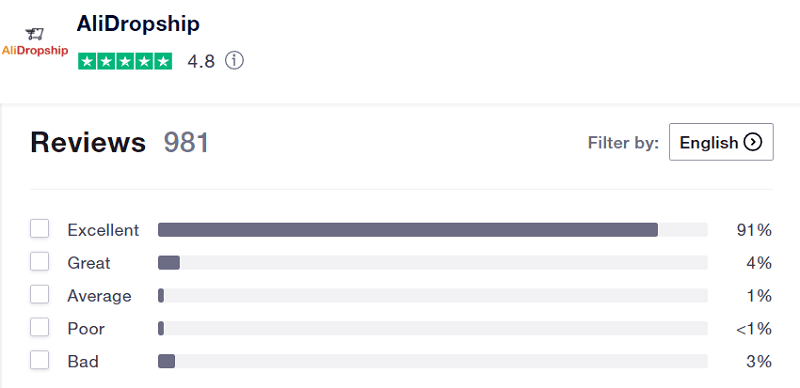 As shown in the image above, Alidropship has been reviewed by 981 paying customers and 91% have attested to the fact that the Alidropship plugin is a legit tool for dropshipping.
The reviews didn't just talk about the effectiveness or simplicity of the plugin, some reviews were geared towards their wonderful customer support as seen below.
How Much Do Dropshippers Make a Month with AliDropship?
There is no definite answer to how much AliDropship store owners make in a month as it varies greatly.
However, many store owners have reported earning over $35,000 a month with just a few hours of work per day.
It is important to note that the amount of money you can make with AliDropship depends largely on factors such as the niche you are in, the products you are selling, your marketing strategy, and the amount of time and effort you are willing to put into your business.
But to give a much more realistic view of how much you can earn monthly with AliDropship, they created a free dropshipping profit calculator that gives a monthly estimate of your monthly earning potential based on the price point of your product and other variables.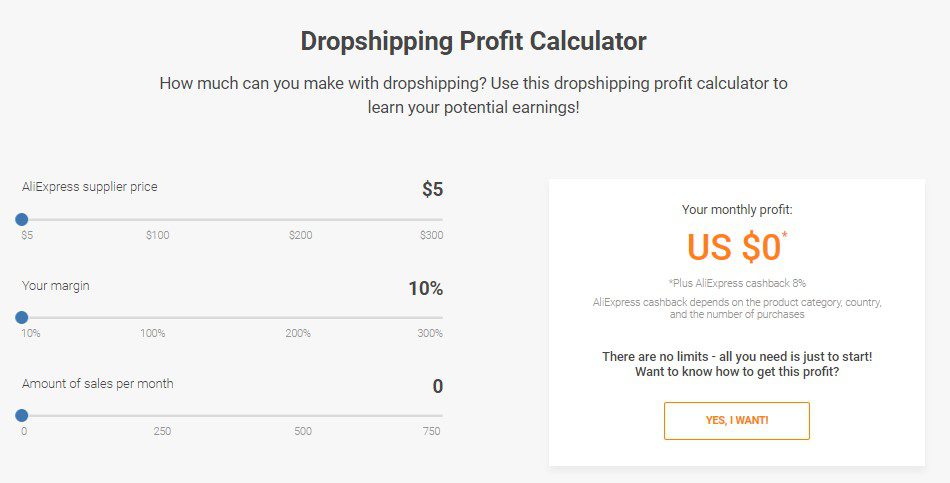 The calculator allows you to set the supplier's price on AliExpress, your profit margin and amount of sales you get per month.
To calculate your profit margin, you simply need to know your cost price and selling price.
Let's assume that you dropship wristwatches.
The AliExpress supplier sells at $30.
As a business owner, you obviously can't sell at that price. You will probably want to sell at $50.
Your profit margin is calculated as; (selling price – cost price)/selling price * 100
In this case:
Profit margin= ($50 – $30)/ $50 * 100 = 40%
Let's enter these details in the dropshipping profit calculator:
AliExpress supplier price: $30
Profit margin: 40%
Amount of sales per month: 100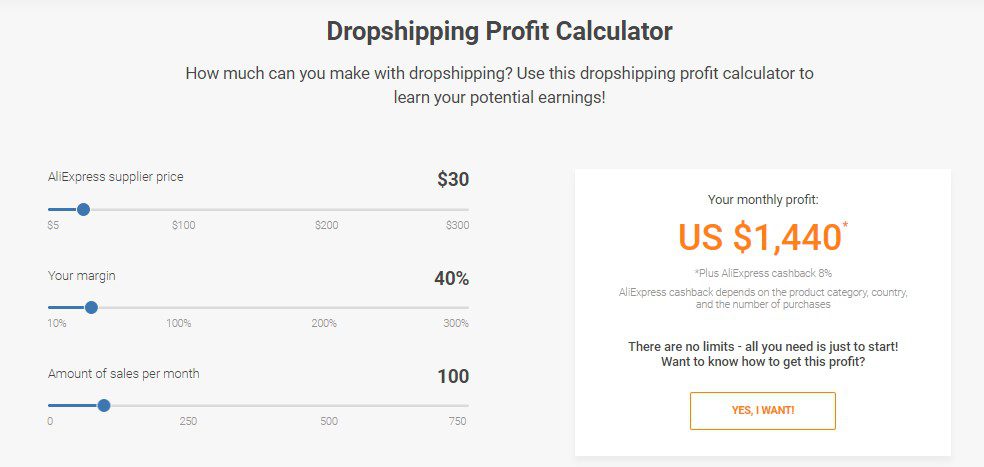 This gives a monthly profit of $1,440 as shown on the calculator.
With this calculator, you can easily predict your monthly income if you've gotten a reliable dropshipping supplier.
Aside from getting a reliable dropshipping supplier, one major problem dropshippers have is setting a good selling price for their products.
A good selling price would allow you to enjoy a good profit margin. But how do you set a good selling price without scaring potential buyers away.
To get your pricing right, you can follow the AliDropship pricing formula that has helped thousands of dropshippers all over the world as shown in the image below: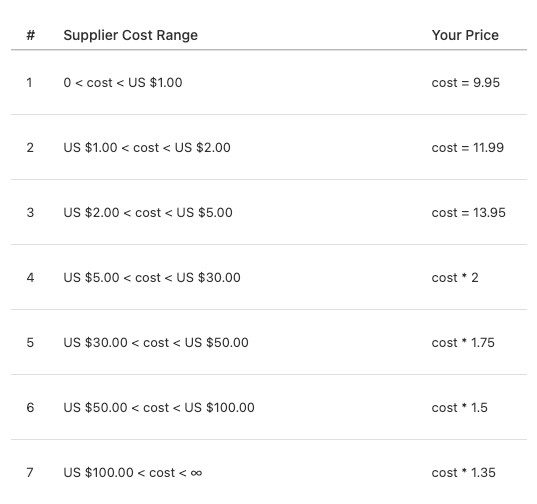 – +
Having learned about the credibility of Alidropship and how much dropshippers can potentially make in a month, let's learn more about the platform itself.
What is AliDropship?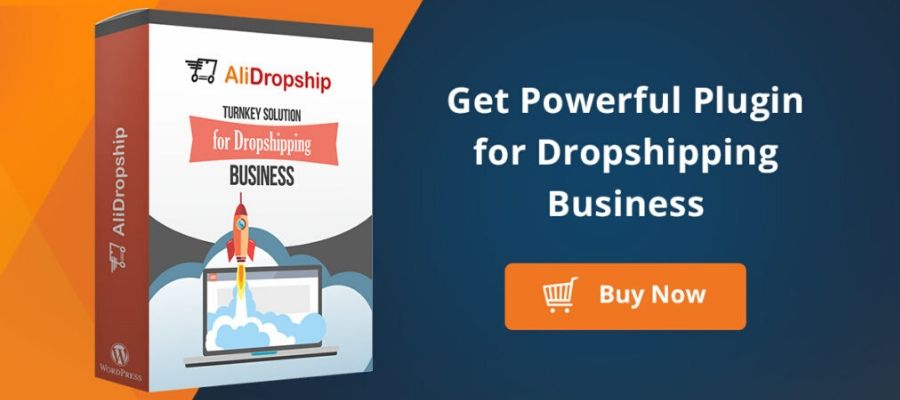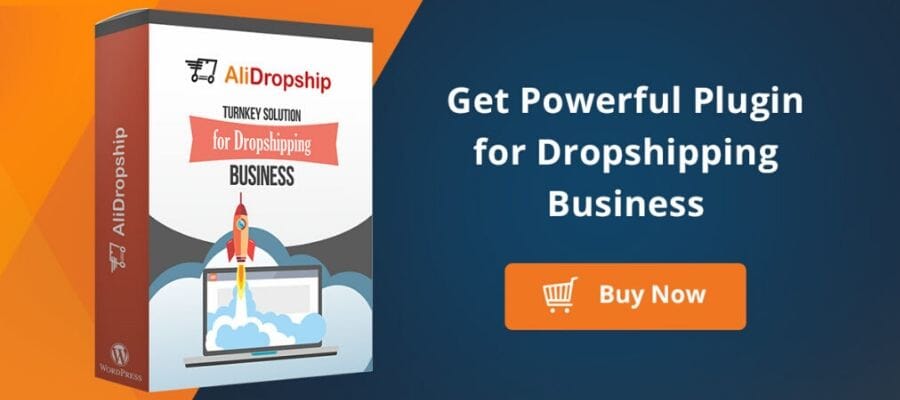 AliDropship is a plugin that allows users to import products from AliExpress and sell them on their own WooCommerce-powered ecommerce store.
It was specially designed for dropshippers who prefer having some form of control over their dropshipping business.
Some entrepreneurs prefer to dropship by creating stores on popular platforms like Amazon. This has a lot of advantages as well as disadvantages.
One of the major advantages is that you have a higher chance of selling more volume on a platform like Amazon – well because, everyone literally orders stuff from Amazon.
The disadvantage is that you are limited on the amount of changes or customizations you might need on your online store.
Another disadvantage is that these platforms can decide to change their terms of use which can negatively impact your business.
Using these 3rd-party platforms gives you zero control on your business, hence, some online retailers opt for a WooCommerce store built on WordPress – a free content management system (CMS).
AliExpress, seeing this need by entrepreneurs to exert control over their own dropshipping store, created AliDropship to help dropshippers build beautiful ecommerce stores on WordPress.
AliDropship plugin handles all of the heavy lifting involved in running an online dropshipping store, from product sourcing and fulfilment to marketing and customer service.
The plugin is the perfect solution for those looking to start their own dropshipping business without the nuances involved in using popular online sites.
AliDropship features
Let's examine some of the features of this plugin
#1. AliDropship plugin (Woo + WordPress)
AliDropship plugin helps dropshippers to create their online store with ease on WordPress.
It eliminates routine work by automatically importing products from AliExpress to your store one by one or in bulk.
When installed it synchronises your store prices and inventory with AliExpress' product prices and inventory in real-time so that you don't have to manually do it.
The plugin also comes with mobile-friendly themes allowing your store pages to load faster when visited by mobile users.
If you have experience using WooCommerce, AliDropship has a version which works for you. It's called AliDropship WooVersion.
This plugin comes at no cost when you purchase the AliDropship plugin.
AliDropship WooVersion allows you to use WooCommerce plugins and themes in building your online store.
#2. AliDropship Hosting
AliDropship provides a hosting service that works well with stores built using the AliDropship plugin.
Their hosting service promises to provide:
Free SSL certificate
24/7 hosting support
99/99% uptime guarantee
The only issue associated with AliDropship hosting is that they don't provide domain names.
To get a domain name, you have to consider using domain name registrars like GoDaddy or Namecheap.
In terms of pricing, Alidropship offers 4 pricing plans for customers;
Silver
Gold
Gold plus
Platinum
Each plan comes with a free SSL certificate that secures your online store.
#3. AliDropship Add-ons
AliDropship provides add-ons which helps your dropshipping store perform optimally.
These add-ons are easy to use and do not require complex integrations with your online store.
The add-ons provided by Alidropship are grouped into 6 categories;
Packages
Sales boosters
Workflow automation
Social media promoters
Customer trust boosters
Alibaba dropshipping
The add-ons range in price from $149 to $17, with just a few free add-ons.
#4. AliDropship Custom stores
Another amazing feature of AliDropship is the custom store they provide for their users.
Their team of experts can create a unique and customised store for you, tailored to your specific needs.
They work with you to choose the right theme, design, and features for your store, and make sure everything is set up correctly so you can start selling right away.
The average turnaround time to get your store ready is less than 30 business days.
Custom stores created are all optimised for Google search engine. They also set up social media pages for you to encourage you to promote your store online.
With custom Alidropship stores, you'll be able to stand out from the crowd and start making sales quickly and easily with ease.
As you would have thought, there's a cost for setting up a customised store for you.
But you don't have to be scared because the prices are very affordable.
AliDropship provides 3 pricing options; basic, advanced and ultimate.
Each pricing package comes with similar benefits.The difference in benefits is that for the Ultimate package, AliDropship provides more promotion options for store owners.
They provide more SEO benefits, social media pages, a promo video, and social media promo tool.
#5. AliDropship Sellika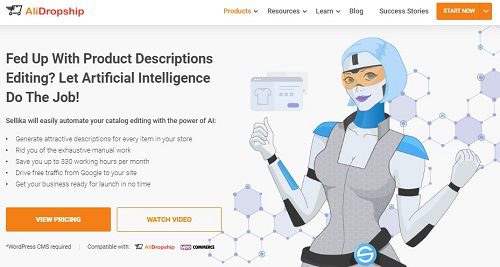 Alidropship Sellika is an AI tool that helps you write product descriptions.
Product descriptions imported from AliExpress sometimes aren't salesy.
This is because sellers on AliExpress aren't really digital marketers. They are mostly suppliers or manufacturers.
Imagine importing 50-100 products into your store and having to manually rewrite each product title and description.
This will take your hours or weeks to do if you aren't a writer.
Sellika makes it easy – saving you hours of work by automatically writing product descriptions of every product you import into your store.
This tool ensures your product titles are search engine optimised by inputting keywords in the product titles and descriptions.
In addition to creating SEO product titles and descriptions, Sellika also provides SEO articles for your catalogue category pages.
In terms of pricing, Alidropship provides 3 pricing packages. The pricing packages are based on the number of product descriptions you need to be edited on a monthly basis.
The pricing packages are:
Silver: At $37/month, it allows to write 250 product descriptions
Gold: At $69/month, the software helps you write 600 product descriptions
Platinum: This package costs $99/month. This package lets you write 2,000 product descriptions. It is suited for large dropshipping stores.
#6. AliDropship Premium Products
AliDropship premium products feature is one of the most interesting features of Alidropship.
With the end goal of ensuring every dropshipper succeeds using their product, AliDropship released a feature called 'Premium Products".
This is a feature that alerts of hot selling products delivered to your inbox every week.
One of the most time-consuming aspects of dropshipping is finding the right product to sell. This involves lots of testing in terms of ads and landing pages.
You could spend time and lots of money, testing different ad copy and creatives to find a good audience to target and yet still get poor results.
But with premium products provided by Alidropship, you will be given product recommendations every week so that you can save time and money.
With each product recommendation, you get a high converting product pages and Facebook ad copy and creatives.
This is possible because the team at Alidropship do lots of testing on their dropshipping stores, they try out various ad strategies and can easily monitor consumer buying trends from their end.
This feature comes at a price of $39/month.
#7. AliDropship Chrome Extension
This is a chrome extension that can easily be downloaded from Chrome's extension store. It is an extension for AliDropship plugin. This plugin works after you've purchased the Alidropship plugin.
It helps you to directly import AliExpress products to your dropshipping store.
This extension for AliDropship Plugin lets you:
Adds products and reviews to your dropshipping store from AliExpress.
View store ratings on AliExpress so that your rate the credibility of the seller
Filter products that have the ePacket shipping option
Edit products before importing them into your store
Collect tracking IDs to send your customers
Do price comparison with other sellers to get the best deal
Track price changes so that you don't have to manually do it for all your products.
View customers images to know what the product looks like in real life.
Frequently Asked Questions
Is AliDropship legit?
Yes, AliDropship is legit. They are a dropshipping service that provides users with an easy way to start their own online store. The company has been in business since 2008 and has a good reputation.
Is AliDropship free?
No, AliDropship isn't free. To have access to it, you need to pay a one-time fee of $89.
Can you make money with AliDropship?
Yes, you can make money with AliDropship. You can create your own online store and dropship products from AliExpress.
Conclusion: Is AliDropship Profitable?
AliDropship is a credible company that wants all its drop shippers to succeed.
With a wide range of features, they've effectively solved every problem a drop shipper would encounter in their businesses. This makes drop shipping with them really profitable.
They also provide lots of training on their blog and YouTube channel so that you can be informed of the latest marketing strategy or buying trend to help you stay profitable in business.
If you've started using the AliDropship plugin, let me know in the comments section. If you haven't, Here's a quick link to get started!