Is Drop Servicing Profitable: [Is It Worth It?]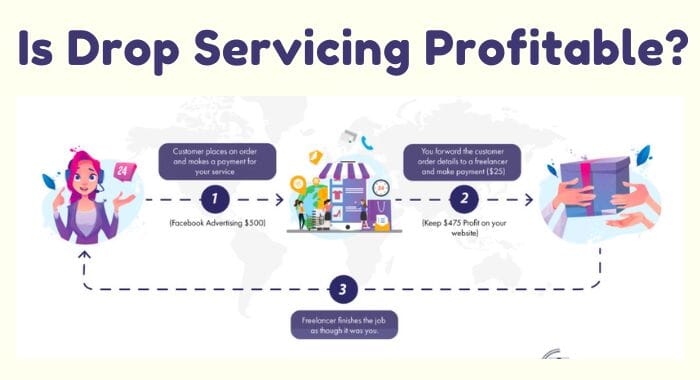 In this article, we'll discuss whether Drop Servicing is a profitable business model. Drop Servicing allows you to sell a service that another person already finalizes.
It removes the stress from you and puts it on someone that can commit extra time and creativity to the job.
Your primary duty will now be to evaluate the job done before delivering it to the clients.
In this article, I'm going to guide you on how Drop Servicing works. I'll also tell you if it's profitable or not.
So, let's get started!
Is Drop Servicing Profitable?
Yes! Drop Servicing is a highly profitable business if done correctly and strategically.
It's a business model in which you offer services to clients, but instead of doing the work yourself, you outsource it to a third-party service provider.
As the intermediary, you earn a profit by charging a higher price for the service than what you pay the service provider.
One advantage of Drop Servicing is that it requires little to no startup capital since you don't have to invest in equipment or personnel.
However, success in Drop Servicing requires excellent marketing skills and the ability to negotiate prices with service providers.
Also, it requires maintaining good relationships with clients and service providers.
Utilizing Drop Servicing platforms is one of the most recent trending ways you can generate money online and even earn passive income.
You can decide to explain to your customers the Drop Servicing method you have in place or keep quiet.
This is because you can brand the service as your service and nobody has to find out.
Furthermore, Drop Servicing can be profitable if you get dependable workers and actively market your services to your prospects.
It's crucial to supervise any job done carefully to confirm that the service is excellently delivered.
This is because your reputation largely depends on the quality of service rendered to the clients.
How Does Drop Servicing Work?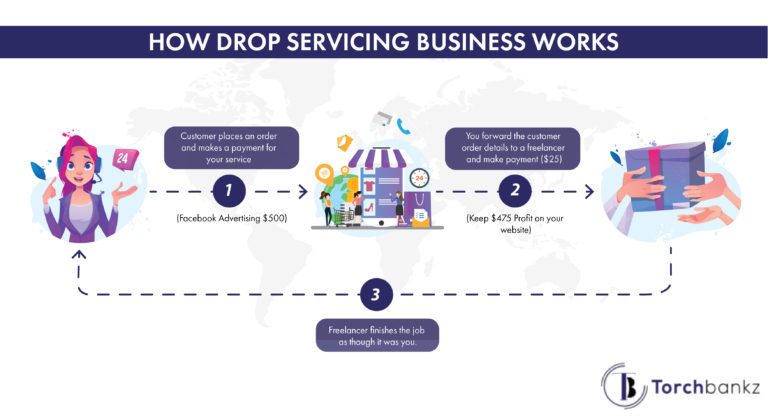 If you're looking to understand further how Drop Servicing works; here's a step-by-step guide on how it works.
Step#1: Select The Best Service You Can Offer
The service could be anything from content creation, video editing, virtual assistance, copywriting, etc.
Ensure you choose a service around a niche you have experience with so you don't find it tough to manage and in the end, suffer huge losses.
While you do not need to be a professional in the service, however, you should at least have an idea of how it functions.
In addition, select ideas that are simple to develop and implement. Select ideas that are in high demand.
Step#2: Build Your Website
It's time to build your website! You need a website where you can offer your services, and clients can order services too.
WordPress, Wiz, etc can give you the headstart you need.
Aside from creating your website, you should also consider creating and managing social media platforms.
Leverage platforms like Instagram, Facebook, LinkedIn, etc.
Include your offers, contact, testimonials, portfolios, and other relevant information that can help you stand out to a potential customer.
Step#3: Hire Reliable Freelancers Or Agencies
Ensure you hire reliable freelancers or agencies with enough work experience and creativity to outsource the job.
It's critical to select your team carefully because they're part of the determinant of your success in the Drop Servicing business.
Also, consider creating a register for when you interview and assess prospects for your Drop Servicing team.
The moment you're able to pinpoint some promising prospects, you can proceed to test them to observe how well they execute.
Step#4: Decide The Price Rate For Your Offers
When you establish the cost of your services from the onset, it helps you to properly plan and budget your business.
However, this could all alter once you hire the right service providers to work with, depending on their service charges.
You'll have to regulate your service bundles and rates to ensure that you're earning the profit you expect from the business
Step#5: Expand Your Services
The digital space is a saturated one and to stand out from the competition, you must market your company and the services you offer.
This will help you to rapidly locate and close deals with clients regularly.
You can expand your services through paid/sponsored ads, social media marketing, SEO, email marketing, etc.
As your clients start increasing, you'll have many people you can reach out to for epic reviews and testimonials.
This way, you can keep advancing with your marketing efforts.
Step#6: Outsource The Job
Once a client has placed an order, you outsource the job to the freelancer or agency for completion.
Discuss with your service providers to ensure they fulfill the client's requirements and deadlines.
You're acting as an intermediary between your client and the service providers; so keeping communication open and steady is often helpful.
Step#7: Supervise The Project
After you have outsourced the project to the service providers, you supervise it and ensure that it is delivered as discussed.
Step#8: Check Job Quality
After the freelancer has submitted the job to you, inspect it thoroughly to confirm that it fulfills the brief offered by the client.
It's your responsibility to ensure that the job is of excellent quality before you submit it to the client.
Remember, it's your reputation on the line; therefore ensure that the client gets the best service possible.
Step#7: Deliver The Service
Once the service is completed, you deliver it to the client and take your commission.
Reasons Why Drop Servicing is Profitable
Here, I'll be discussing some of the reasons why Drop Servicing is profitable.
● Low Start-Up Costs
Drop Servicing has low startup expenses. You don't have to pay for any service expertise.
Here, every work can be outsourced to a third-party service provider that can get the job executed easily.
However, you would be required to pay start-up costs in creating your business website.
Also, some of the few areas where you might spend money include running ads, branding, and legal expenses.
Also Read: Is Drop Servicing Legal?
● High Ticket Sales
This is one incredible benefit you would gain in this business as just a single sale can earn you up to $2k in gross revenues.
Drop Servicing is better when compared to some conventional business models where you'll have to sell multiple products before you can hit that one sale.
● Recurring Income
With Drop Servicing, you get to earn cash online monthly at no extra fee!
Some customers can even agree to place you on a monthly payroll for delivering service for them.
And all you do is outsource the work to freelancers or agency partners and get paid monthly while performing the same thing recurrently.
● No Skill Required
In Drop Servicing, having specific skills or experience in the service you intend to offer is not compulsory. This is because every single procedure can be outsourced and fully automated.
Interestingly, you don't even have to locate customers by yourself; you can always outsource that to another person.
● Scalability
Drop servicing is highly scalable because you can outsource your work to multiple service providers at the same time.
This means you can take on more clients and increase revenue without hiring additional staff.
● High-Profit Margins
Since you can outsource the job at a lesser price, you can charge your clients at a higher rate, resulting in higher profit margins.
● Flexibility
Drop Servicing allows you to work from anywhere, as long as you have a strong internet connection. This means you can work from home or even on a journey.
● No Inventory Or Shipping is Required
Unlike other online businesses, Drop Servicing does not require you to keep an inventory or deal with shipping logistics. This makes it straightforward to operate and it reduces overhead costs.
In addition, you won't encounter the stress of packaging and transporting physical goods.
How To Scale A Drop Servicing Business
The goal of Drop Servicing is to generate profit by charging a higher amount than what you pay to freelancers or agency partners.
If you want to scale your drop servicing business, here are some simple steps to consider:
1. Focus On One Niche
It's important to select one particular drop servicing niche that you specialize in.
This will allow you to build a brand that stands out in the digital market and you can become a professional in that area.
This also makes it easier for you to find freelancers who can work on your projects and deliver high-quality results.
2. Build A Strong Team
Your team of freelancers is essential to your business's success. You need to ensure that they have the skills and experience needed to deliver quality work.
Take the time to vet freelancers carefully and build long-term relationships with them.
3. Create A System
Developing a process for handling projects, communicating with clients, and managing freelancers will make it easier to scale your business.
Use Drop servicing tools like Trello, Asana, Wrike, etc, and set up processes for client onboarding, project delivery, and payments.
4. Offer Exceptional Customer Service
Building trust with your clients is crucial. Ensure you are responsive to their needs and transparent in your communication.
This will help you to build long-term relationships with your clients and generate positive reviews and referrals.
5. Invest In Marketing
Marketing is essential for scaling any business. Use social media, email marketing, and paid advertising to reach potential clients.
Consider creating content that adds value to your target audience and positions you as an authority in your niche.
6. Leverage LinkedIn
LinkedIn is one of the best places you can gather multiple potential leads. The procedure is even more rapid if you utilize LinkedIn Navigator.
LinkedIn navigator permits you to survey and fix strong filters to instantly locate the exact kind of prospects you're searching for.
7. Analyze Your Data
Monitor your business metrics, such as revenue, profits, and client satisfaction, to identify areas for improvement.
Use this data to optimize your processes and grow your business strategically.
By following these steps, you can scale your Drop Servicing business and generate more revenue.
Remember to stay focused on your niche, build a strong team, and prioritize exceptional customer service.
Is Drop Servicing Profitable: Final Thought
In conclusion, Drop Servicing is a highly profitable and rewarding business model. It is one of the best means of generating revenues online by reselling digital services.
If you're interested in starting a business without a lot of upfront investment, then you should consider Drop Servicing. It can be a lucrative and low-risk business model.
However, results won't show overnight.
You'll still need to put in the needed effort to scale it.
Additionally, ensure you offer the right services, mainly services that are in high demand.
Launching a Drop Servicing business affords you some kind of flexibility.
You can have flexible work hours and even work from any location provided you have a sharp internet connection.
You can start your Drop Servicing business today; generate more active profits and enjoy high-profit margins!
FAQs On Drop Servicing
Below are some frequently asked questions on the Drop Servicing business model.
How Much Money Can I Make With Drop Servicing?
You can make up to 70% of profits with Drop Servicing. This is because Drop Servicing allows charging high-profit margins and this may scale as high as 70%.
Is Drop Servicing Passive?
Yes. The best suggestion for passive earnings in today's era is Drop Servicing. It is one of the easiest digital businesses you can embark on. Also, you can even launch it as a home business, then afterward convert it into a full-time Drop Servicing agency to yield a lifetime passive revenue.
Is Drop Servicing Legal?
Yes, Drop Servicing is legal. It is simply like any other kind of business that comprises "middlemen." All you need to do is ensure you carefully keep the important documents for the tax period.
Where Should I Sell My Drop Servicing Offers?
The best spot you can sell your Drop Servicing offers is on your website platform. This is because right there, you have all the control you need. You can also select a platform that permits many vendors to catalog their offers under a single canopy.