Is Dropshipping Legal in Canada? Everything You Need To Know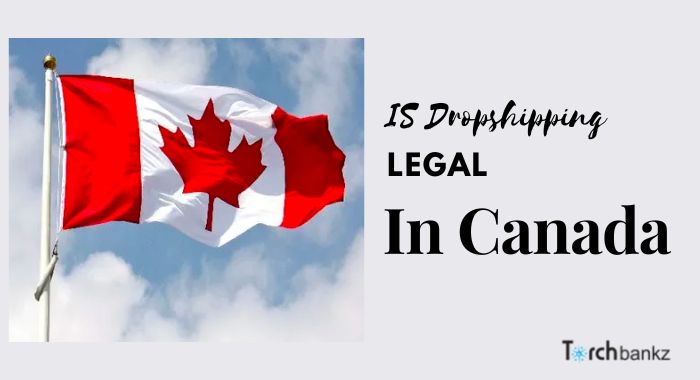 Yes, dropshipping is legal in Canada, but there are some important points to keep in mind.
One of the key things to remember is that you must only offer products that are legally allowed to be sold in Canada.
This means researching to ensure no import or other controversies on your products.
You must also ensure that your product pricing complies with Canadian tax laws.
These are important factors to keep in mind if you're thinking of starting a dropshipping business in Canada.
However, with the right approach, it can be a successful and profitable venture
Taxes and Duties of Dropshipping in Canada

Dropshipping in Canada can be a great opportunity for entrepreneurs, but it's important to understand the tax obligations that come with it.
According to the Canada Revenue Agency, dropshippers in Canada must charge and collect GST (Goods and Services Tax) or HST (Harmonized Sales Tax) on the goods.
GST is a federal tax set at 5% and applies to almost all products and services, with exceptions for some products tagged as essentials by the government.
It is important to note that dropshippers are legally allowed to charge and collect sales tax, and then remit it to the government.
The tax rate depends on the province or territory where the business is located and it is crucial to know which tax to collect, whether it's only GST, a combination of GST and PST, or HST.
Some provinces in Canada charge federal and provincial tax together in one rate known as HST.
In contrast, other provinces and territories charge provincial sales tax PST and federal sales tax GST separately.
It can seem complicated, especially to know which tax to collect, but it's not as bad as it seems and it's crucial to comply with the rules.
Top Legal Dropshipping Suppliers in Canada
Here is a list of the top dropshipping suppliers in Canada
1. CJ Dropshipping
CJ Dropshipping is a Canadian-based supplier that offers a wide range of products for dropshipping.
They have a user-friendly platform that allows you to easily manage your inventory and orders. With that, it makes it a convenient option for e-commerce businesses.
Some of the products available through CJ Dropshipping include clothing, electronics, and home goods.
They offer a variety of shipping options, including standard and express. They also have warehouses in different locations to choose from.
CJ Dropshipping also offers support for its customers and a money-back guarantee.
Their inventory is updated to ensure you have access to the latest products on the market. They also have a mobile app that makes it easy to manage your store on the go.
2. Spocket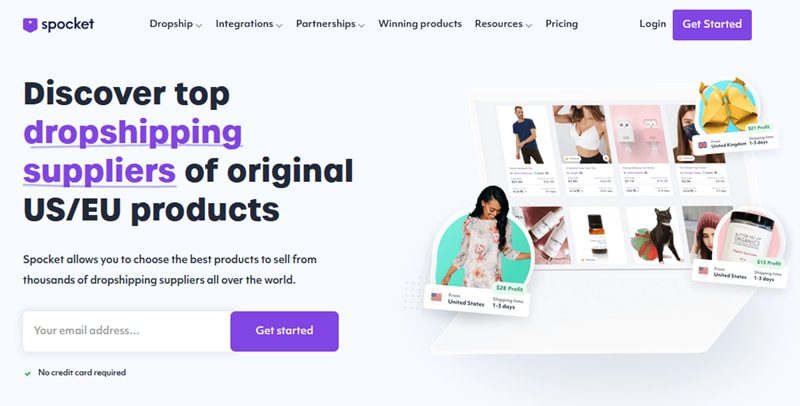 Spocket is an eCommerce app that helps e-commerce store owners on Shopify or WooCommerce find products.
They also integrate dropshipping suppliers from around the world.
By registering for an account and signing into the dashboard, users can search for products. They can also apply location filters to find suppliers with inventory in specific countries.
The app also allows for editing product details, adding photos, and automatically listing products on the store.
Spocket offers a free membership plan with limited features, as well as paid plans with additional capabilities.
Spocket is based in Vancouver, Canada. They work with suppliers globally and offer a wide range of product categories.
It is a great option for first-time dropshippers looking to expand their offerings in fashion, beauty products, and tech gadgets.
3. Wholesale2b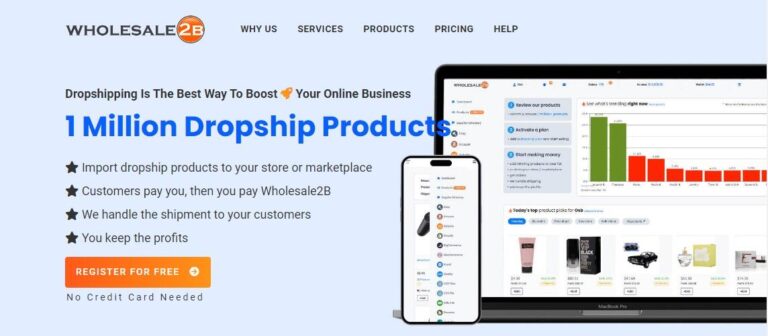 Wholesale2b is a leading provider of wholesale dropship products and dropshipping tools. Their mission is to help online entrepreneurs succeed with efficient and user-friendly tools.

They have over 1.5 million products from various platforms and real-time inventory automation.
Wholesale2b makes it easy for e-commerce store owners to create unique product collections.
They ship products throughout Canada and the United States.
Also, provide a shipping time report to show the average days each supplier takes to ship products.

Wholesale2b offers a wide range of products, including clothing, accessories, kitchenware, and more.
They guarantee the lowest dropshipping prices, which is a great advantage for e-commerce store owners.
Wholesale2b also offers a free trial. This is a great opportunity for those who want to test their services before committing to them.
4. Worldwide brands
Worldwide Brands is a legal supplier directory that was founded in 1999.
They provide a directory of wholesalers and manufacturers that businesses can use to source products.
This is especially for their online stores. The directory includes over 16 million certified wholesale products in various niches.
The company claims to work with suppliers that have been well-researched. This is to ensure they are legitimate and reliable.
Worldwide Brands offers educational resources and tools to help businesses navigate the world of dropshipping and e-commerce.
It is important to note that Worldwide Brands is not a supplier itself. It is also a directory where you can find suppliers.
5. AliExpress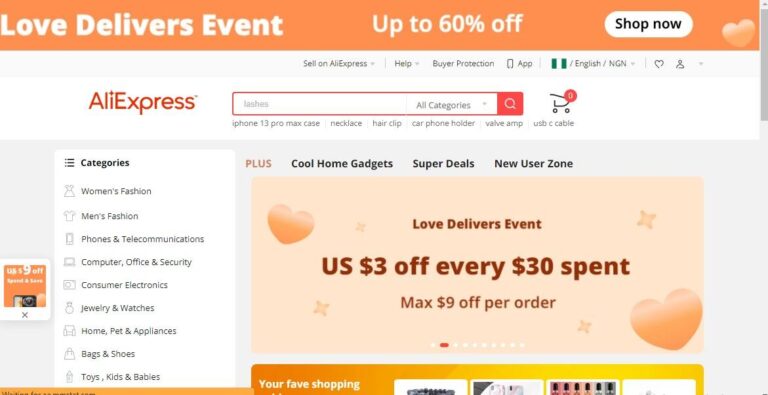 This is one of the largest online marketplaces in the world. It offers various products to consumers and businesses globally, including in Canada.
Aliexpress is a legal dropshipping platform in Canada. It allows business owners to buy products directly from manufacturers and suppliers at wholesale prices.
Thereafter, have them shipped directly to customers.
The platform also offers a variety of shipping options, including ePacket. The ePacket is a fast and affordable shipping method for small packages.
Aliexpress also has a buyer protection system and payment protection for secure transactions.
Also, note that Aliexpress is a marketplace and not a supplier. Neither is it a drop shipping company.
Therefore, it has various suppliers from different countries and regions. Also, it may vary in terms of product quality, shipping time, and customer service.
Also, read how to use Paypal on AliExpress
FAQ About How Legal Dropshipping is in Canada
Here are some of the FAQs about dropshipping in Canada.
Is dropshipping allowed in Canada?
Yes, it is. Dropshipping is allowed in Canada and is a common business model for e-commerce retailers. But, like any business, certain regulations and laws must be followed.
It is important to do your due diligence and research the regulations and laws that apply to your business.
Is dropshipping worth it in Canada?
Yes. Dropshipping can be a viable business model in Canada, but it also depends on the specific products and competition in the market. It can be a low-cost way to start an e-commerce business, as it does not require a large upfront investment in inventory.
It is important to research the market and potential suppliers carefully to identify a profitable niche and product, as it can be highly competitive.
How Do I Become a Dropshipper in Canada?
Below are some of the easy steps to become a dropshipper in Canada
Research:
Identify a specific product or group of products you want to sell and research the demand for that product in the Canadian market.
This will help you to identify a profitable niche and ensure that there is enough demand for the product to sustain your business.

Find suppliers: Look for suppliers who are willing to dropship to Canada.
Set Up Your e-Commerce Platform: 
Choose an e-commerce platform like Shopify or WooCommerce to create your online store. You'll need to set up your store and connect it to your chosen payment gateway.

Build your website: Build your website and design it to look professional and attractive. You should also make sure it's user-friendly and easy to navigate.

Launch website and start marketing: Once your website is set up and you have a few products listed, you can launch your website. Then, you can start promoting it through various marketing channels like social media, SEO, email marketing, etc.

Keep track of your inventory and orders: As you start getting orders, you'll need to keep track of your inventory levels and communicate with your suppliers.
This is to ensure that they can fulfill your orders in a timely manner.
You also need to comply with Canadian dropshipping laws. Some of the laws include registering for GST/HST, filing taxes, and other regulatory compliance.
How to find dropshipping suppliers in Canada?
Google search: You can also use Google to search for suppliers. Try searching for keywords related to your niche and adding dropshipping to your search query.

Online marketplaces: Several online marketplaces connect retailers with suppliers.
Some of them include AliExpress and  Worldwide Brands. Many of these marketplaces have a large number of Canadian suppliers.
Also, you can filter your search results to show only Canadian suppliers.

Trade shows: Trade shows are an excellent way to connect with suppliers in person and build relationships with them.
You can find trade shows in Canada specific to your niche or industry by searching online or checking with trade associations.

Reach out to manufacturers: You can also contact manufacturers directly and inquire about dropshipping opportunities.
This may be a less common method, but you can find manufacturers by searching online, visiting trade shows, and checking industry associations.
It is important to thoroughly research each supplier you are considering working with to ensure they are reliable and have a good reputation.
Is Dropshipping Legal In Canada? Final Thought
Dropshipping is a legal and viable business model in Canada that can benefit entrepreneurs.
One of the main advantages of dropshipping is that it allows businesses to operate with low risk, as they don't need to hold inventory.
Business owners must ensure that they only offer legal products. This means it must be allowed to be sold in Canada and comply with Canadian tax laws.
The key to success in dropshipping is to find reliable suppliers that provide high-quality products.
It also includes efficient shipping options and user-friendly tools for managing inventory and orders.
By following the laws and regulations and researching, you can establish a successful dropshipping business in Canada.