List of BEST Jasper AI Alternatives [2023]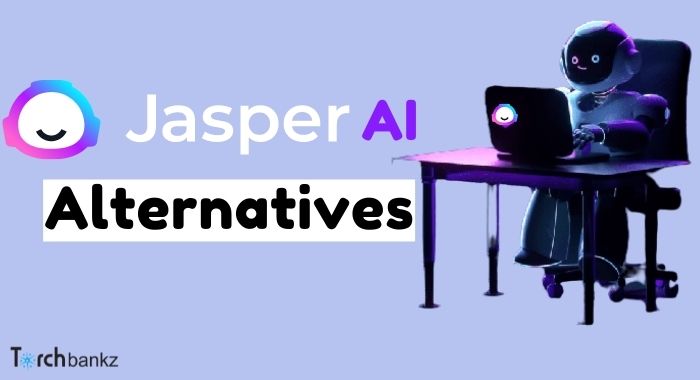 Perhaps Jasper.ai couldn't do the Job? Try this list of best Jasper AI alternatives and boost your copywriting career.
All aspects of marketing are challenging. But when it comes to creating persuasive advertisements you might need to go extra miles to appeal to your audience.
This is why artificial intelligence like OpenAI's GPT-3 is aggressively on the rise and popular among them is Jasper.ai
Been using it myself for months now and I must say it does the job well.
But at the same time, I can't deny the fact that there are other amazing and affordable tools out there other than Jasper AI
And if you're not in too much of a hurry, I've researched and listed the best of them below in other for you to get value for your money.
So in this post, we'll be looking at the best Jasper AI alternatives if you happen not to fancy the job done by Jasper.
Let's get started, shall we?
Best Jasper AI Alternatives Compared
| Software | Free Trial | Pricing | Rating | Money-Back |
| --- | --- | --- | --- | --- |
| CloserCopy | N/A | $29.99/Month | 5.0 | 14-Days |
| Copy AI | 7 Days | $35/Month | 4.8 | 7-Days |
| CopySmith | 3 Days | $59/Month | 4.8 | 60 Days |
| Snazzy AI | Free Plan | $300/year | 4.7 | N/A |
| WriterSonic | Free Plan | $13/Month | 4.6 | 7 Days |
| Automatic Scripts | N/A | $39/Month | 4.6 | 30 Days |
BEST Jasper AI Alternatives
Below are the best ranked and researched Jasper AI alternatives you can use to boost and sky rocket your copywriting business and get returns for your investment.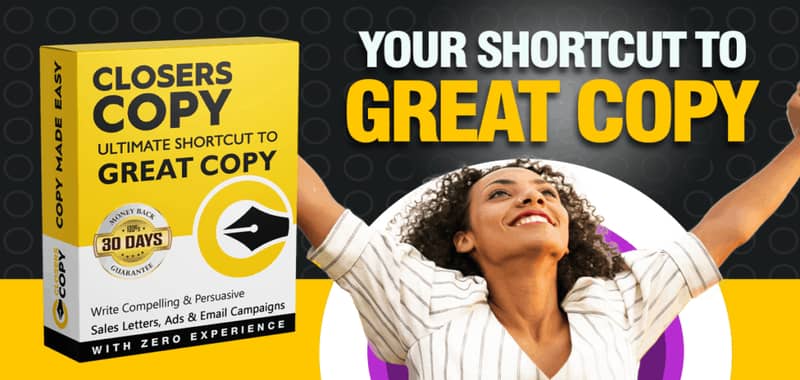 Closers Copy is of the incredible AI copywriting tools and our best Jasper ai alternative that lets you create unique and amazing sales copies.
This product falls among the best OpenAI's GPT-3 copywriting software. It is a multi-purpose tool and is suitable for inexperienced users that require to master copywriting.
It features an ever-growing copy templates library, which delivers maximum performance. This software comes packaged with other features, like 1000+ power words lookup, step-by-step copy wizard, guidance, & advice.
In case you are in advertising, sales, or business, you should consider this software to deliver maximum performance.
Closers Copy Key Features
Closers copy also comes with its unique features, let's have a look and see how it is fair as a good Jasper ai alternative.
Megathron is the latest and recent feature that was recently added to the software. Basically, if you're planning to write any sort of long content posts like Jasper AI then you'll love this Megathron by Closescopy.
To use this feature, you can open your interface to MEGATRON from your toolbar.
It's a "Compose" tool that lets you outline and write your copy based on currently trending topics. This works by accumulating data from search engines.
You simply need to enter your search query and MEGATRON does the research for you. This new AI suggests 5-20 headings and potentially hundreds of subheadings to pick from.
You can then outline your copy by removing the headings you don't like and expand the ones you do like.
Once you hit "Compose", MEGATRON writes up to 500 characters per heading and up to 3,000 characters in one run. Amazing isn't it?
Multi-Lingual Feature
This new AI feature on Closerscopy already supports 24 languages, including:
Bulgarian,
Chinese,
Czech,
Danish,
Dutch,
Estonian,
English,
Finnish, French, German, Greek, Hungarian, Italian, Japanese, Latvian, Lithuanian, Polish, Portuguese, Romanian, Russian, Slovak, Slovenian, Spanish, Swedish.
Once you got your first 3,000 characters, you can use MEGATRON to do a little polishing for your content by using the right-click context menu.
With this, you can use it to do the following:
Expand: It lets you expand your copy based on your selected context.
Rephrase: It lets you rephrase your copy with new words and phrases while keeping the essence.
Summarize: It lets you compress your copy to just a few sentences.
Shorten: This lets you shorten your copy while keeping most of YOUR tone, words, and phrases. Caution: only long sentences can be shortened. "I play football" can't.
Lengthen: It lets you lengthen your copy while keeping most of YOUR tone, words, and phrases. Caution: Only short sentences can be lengthened.

High-Quality Templates
Closers Copy is an incredible editor that offers full-text editing. It features several proven templates and emotional analysis that help you hit the right tone with your audiences.
Templates use applicable formulas hence you can easily create a persuasive copy.
one problem that many businesses face is that customers regard their emails as spam. However, this feature on Closers Copy reduces the chances of your messages going into spam hence increasing your readership.
Pros
30-day money-back guarantee
Generous discounts on annual plans
Various predesigned emails and scripts
Pricing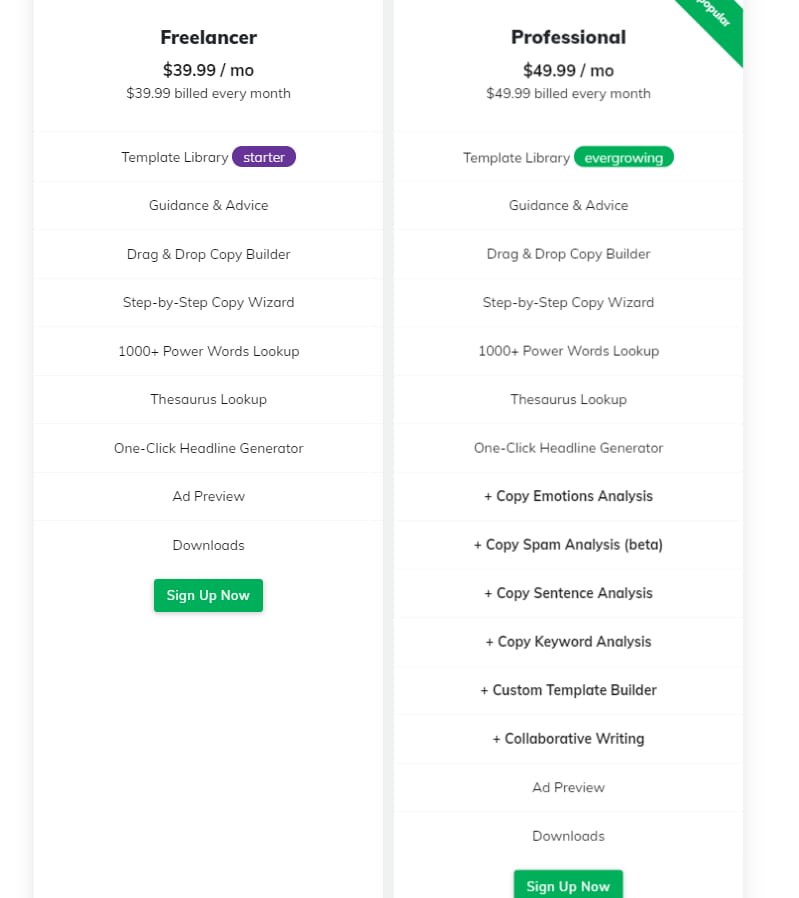 Currently, there are two monthly plans on this platform. That is the Freelancer, which goes for $39.99/month, and the Professional one that costs $49.99 per month.
The best part, they also offer a one-time fee for a lifetime plan for each plan. So you can have either of the plans for a lifetime plus subsequent updates.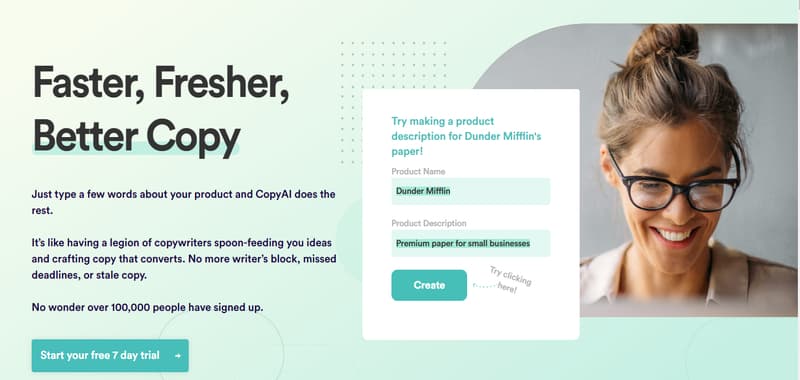 Copy.ai is also one of the best Jasper ai alternatives that use GPT-3 by OpenAi to generate copies. Although it offers many options once a user creates an account.
It mainly focuses on digital ad copy, sales copy, e-commerce product descriptions, social media posts, blog content, and website copies.
Using the content generated, you can increase your conversion and ultimately, your revenue.
Rather than hiring a human copywriter, using this ai copywriting software will save you the time and frustration you'll encounter working with freelancers.
It generates persuasive content for landing pages, blog, intros, and ads.
It features a smooth onboarding experience with their homepage having all the crucial information that users need.
Thus, one doesn't have to scroll down to find what they are looking for. On the homepage, you'll learn of the site's free trial, writer's block, and there's a visual component that explains how to use this service.
For a great experience, copy.ai uses OAuth that support signing in from Facebook and Google. If you hate remembering passwords, you'll be revealed with this feature.
Once you select the copy you want to write, you then describe your product, and the tool will generate a copy for you.
As simple as that. Some of the copies users can create include; eCommerce copy, website copy, digital ad copy, social media content, and blog intros.
Key Features
Below are some of the key features of Copy.ai
Various Copy Writing Formats– there are several templates on this site that you can use to generate different copies.
Tailored Copies- it can generate copies that include specific promotions and demographics.
Chrome Extensions- which make the site easy to use. You mustn't create another password as you can use Facebook or Google to sign up.
Pros
24/7 customer support through email
Website is easy to use
Can be used by various people, including marketers and ad experts
Affordable pricing compared to some copywriting writing services
High-quality sales copies
Pricing Plans
You're given a free trial for seven days that does not need you to have credit. It includes 100 runs per day and 24/7 customer support via email.
After that, if you like the program, you can upgrade to a solo version, which costs $49 per month.
It gives you access to unlimited runs, all copy.ai's tools, and new features. You also get round-the-clock email support.
If you are a small business, this offer is perfect for you. However, larger teams can pay to get a custom subscription starting from $119.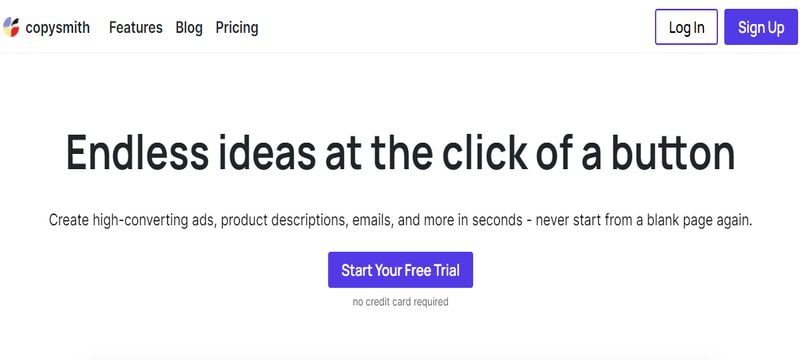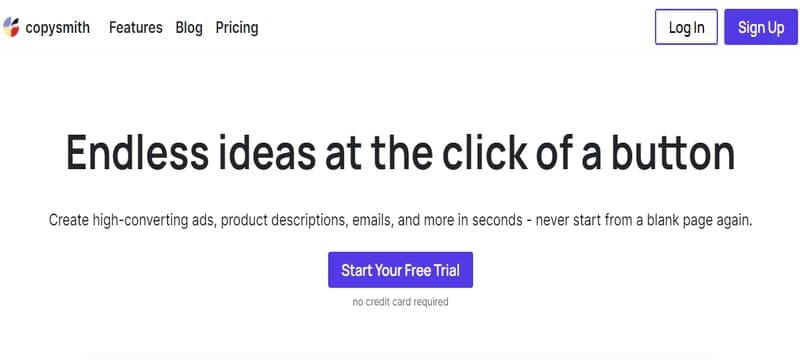 CopySmith is another Jasper ai alternative for AI copywriting. It was created by Jasmin Wang to help write killer sales copies.
She invented it after struggling to create content for her eCommerce site while still managing other areas of her business.
This tool can be used by entrepreneurs, content writers, and many others to write content for their websites. It's powered by GPT-3, which is among the most powerful Artificial Intelligence models.
You can use CopySmith to create taglines, SE Metatag, content rewriter, product descriptions, blog posts, etc.
After logging in to CopySmith, you'll see various templates to choose from. Select your preferred content template to see your available options.
Choose an option that you like and let this service generate a copy for you. Also, note that one can favorite the option they like by clicking the heart button on that option.
This will then let CopySmith know the tone and structure of the content you like. If you need to write a product description, blog posts, or any other marketing content, you'll find this tool useful.
Key Features
Below are the key features of CopySmith and what to expect when you use the platform.
Various Templates to Choose from–
CopySmith offers more than 20 marketing templates, including LinkedIn, Instagram, and Google templates, among others.
You can easily try out these templates even when you don't have experience in marketing or copywriting.
Simply select the one you want to use, type in the keywords, and some information about your brand/product into the provided fields.
Then, CopySmith will automatically generate a copy that suits your description.
Users can use CopySmith to generate interesting blog posts. Just by inputting a little information about the content you want, this tool generates the requested copy.
You only type the introductory paragraph, some keywords, opening sentences, and that's it.
But while this is an incredible feature, we advise that you go through your copy first. Should it need editing, use the content writer to correct the selected copy.
the service generates your copy word for word. As such, their content is original and passes plagiarism checkers like Copyscape.
this allows users to log in to CopySmith quickly and conveniently from any webpage using any device.
As such, you can easily share your generated copy on the sites you want. You can download this extension from the Chrome website.
Pros
Easy to use interface. The site is not cluttered. Hence you can navigate through it easily.
Great customer support who you can contact using email or via FaceBook
Data protection. It uses Google's Firebase to ensure that user's data is well-protected.
Generates quality copies fast
Several templates useful for marketing
Help get rid of writer's block
Pricing Plans
There are various pricing packages on this site covering all budget sizes.
You can choose the starter plan, which goes for $19 per month, or the professional plan, the early adopter plan, or the enterprise plan that cost $59, and $499 per month, respectively.
Note that you get a discount on all these plans if you're paying annually.
The starter plan is best for those writing short content. You're given 50 credits per month. With a professional plan, your credits per month increase up to 250.
It is best for all types of content and comes with prioritized customer service and input on the roadmap of a new product.
The early adopter plan includes everything on the professional plan only that credits are increased to 1000 every month.
Those who opt for an enterprise plan get 1000 credits each month and a custom domain that allows them to share the content output.
You're also offered an account manager and prioritized customer service.
#4. Snazzy.ai
Snazzy.ai is a new ai copywriting tool powered by GPT-3. It is used to create content for ads, landing pages, product descriptions, etc.
Businesses and websites can use it to generate ideas quickly. Simply by providing your business's name, some keywords, target audience, and description of your product or service, this tool can create a compelling copy for you.
Its descriptions, paragraphs, and content are said to be accurate. But, you can still modify before using them directly on your website.
Key Features
Let's have a look at the features of Snazzy.ai
Created by OpenAi, this smart language produces human-like content using deep machine learning. It is accurate and free of errors.
Therefore, users can trust it to generate unique and engaging copies. As such, many copywriting tools nowadays use it to create accurate content for businesses and individuals.
Snazzy gives users customized, professional, and relatable content using this smart technology.
The platform includes various options for creating product descriptions, blog ideas, headers, selling points, ads, and taglines, among others.
Templates will create content depending on the information you provide when onboarding. It uses information like company name and description to generate a copy for you.
But, you can customize the copy by using the "customize" button.
Content Extender and Remix option
These are extra tools added on this platform to better the user experience. Content Extender turns simple sentences or bullet points into complex creative content.
But, you can customize the tone and length to generate a copy that's suitable for you. Remix option, on the other hand, allows users to create several versions of their content.
Pros
Several templates available
User-friendly site
Fine-tuned Ai technology
Simple and effective website
One can customize suggestions to enhance the output
Pricing Plans
The company offers very competitive pricing. You can try generating a maximum of 5 templates per day with the free version.
If you are a casual user, that should be enough. However, if you need more templates, you'll pay $49 per month to be upgraded.
The paid plan also includes access to new features and same-day support. Let us outline these plans further.
Starter plan- $0/month
Limited support
Five templates per day
Access to all content templates
Growth Plan- $50/month
Access new features early
Same-day support
Unlimited content generation
Access all content templates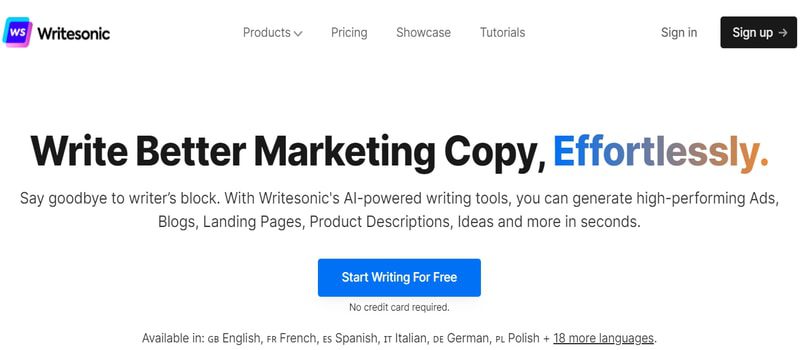 This is yet another AI copywriting tool and a perfect Jasper ai alternatives that can help generate copies within seconds. It incorporates AI that works like humans.
Hence users don't need to worry about writing copies manually. Once you key in some information about want you what it to write, it'll do that for you.
Using this tool can save you time, energy, and money. Writersonic takes a short time to generate copies.
After logging in to this site, enter your target topic. You'll then be given ten subject ideas for your copy. Simply choose the most outstanding.
Then proceed to write the intro with a minimum of 100-150 words.
Writersonic will then generate five different intros. Pick one and proceed to outline. With a topic, intro, and customized outline, you can then instruct the AI to generate a copy within seconds.
Note that the copy can be edited for those who want to make some changes to it.
Writesonic Key Features
Below are the key features of writer sonic and what you should expect while using the software.
The software can suit different people. You can use it to write an eCommerce copy, blog/article copy, or digital ads copy.
Therefore, whether you are a social media marketer, a blogger, or an entrepreneur, you can let this tool generate a compelling copy for your website.
Generates Copies within Seconds
Once you are logged in to the site, choose from the various templates they have the one you want, provide a short description, and press the "generate" button to allow Writersonic to create a copy for you.
Then you can edit if need be, share and launch your copy.
Apart from writing, the site also features other tools great for those in the digital spaces.
These include YouTube titles, startup ideas, analogies, growth ideas, keyword extractor, and product names.
Pros
7-days money-back guarantee
Free trial
Generates great copies quickly
Affordable compared to some AI writing software tools
User-friendly interface
helps get rid of writer's block
Pricing Plans
The company offers a free plan and three paid plans that all come with varying features and credits.
The starter plan costs $11.60 per month. It includes 75 credits and basic features for writing copies for ads, article summaries, landing pages, and product descriptions.
However, you're also given another 75 credits for advanced features for blog outlines and intros as well as Ai article writers.
For businesses, they can opt for the professional plan that goes for $39 per month, which includes basic features and unlimited credit and 150 credits per month for the advanced features.
They can also consider the business plan that costs $199.60 monthly and includes up to 1200 credits each month as well as all other basic features.
Let's understand how credits are used. If you want Writersonic to write a Google ad or a blog intro, you'll need one credit.
But for a blog post, one needs 1-7 credits depending on how many sections they have/want in their article.
2 sections use up one credit. Before signing up, try the free version, which offers ten credits to decide if it's worth it.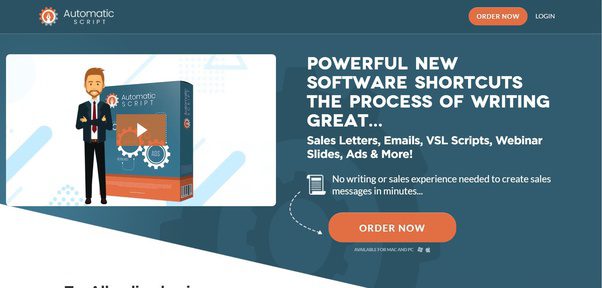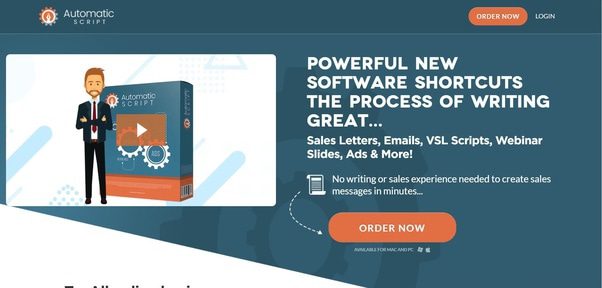 Automatic Script is another Jasper ai alternative. This Copywriting Generator tool automates the process of creating your sales copy. It can help individuals generate copies fast and easily.
Automatic Scripts was started by Brad Callen, a famous marketer known for creating business tools like Doodly and Toonly with his company Bryxen.
Using Automatic Script, you can take advantage of sales writing formulas that have been developed by the greatest copywriters of all time to create;
Letters,
Headlines
Full-blown email series
Video sales
Facebook Ads
Call to Actions,
Testimonials,
Email subject lines, etc.
What makes this software unique is that it can be used by all businesses regardless of their niche, products, or services they are selling.
Even if you're giving something away for free and you want help getting someone to take an action, this software tool can work for you.
Automatic Script, like the name suggests, automates the writing process, giving you action-driving sales copy that would have otherwise cost you a lot of money and time in trial-and-error.
You no longer have to stare at blank pages wondering what to write with this tool.
Instead, users get access to many copywriting scripts that have been developed on this platform without wasting time or spending too much money.
By helping businesses create impressive sales letters, this software helps them make more sales on their digital and/or physical products.
Plus, it is simple to use. Therefore, even non-tech savvy individuals can easily navigate through it and create the best sales copy for their products.
Thus, whether you write sales letters occasionally or regularly, you can benefit from the incredible features offered on this platform.
How Automatic Scripts Works
Automatic Script uses modern technology to help individuals create effective sales copies and other content by making a few button clicks. But how does it works, you may ask.
Immediately you gain access to the software, choosing what you want to create, this will allow the software to generate in your choosen business niche.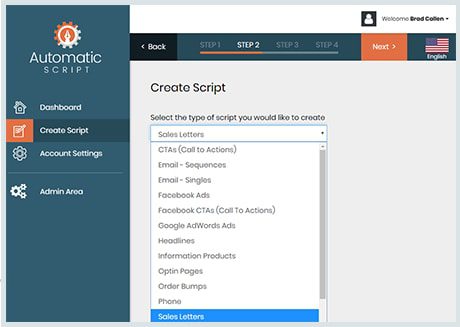 Individuals need to first choose the type of script they want to create. You should decide whether you want to create a headline, an email series, a long-form sales letter, etc.
After that, you need to choose the formula you want to use for the copy you want to create. There are several formulas you can choose from on the platform.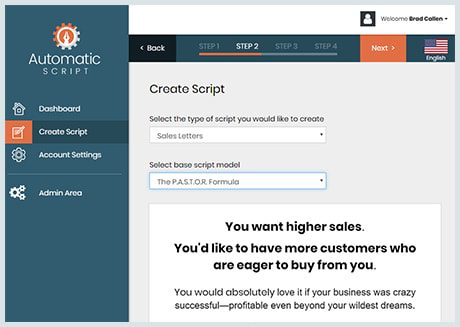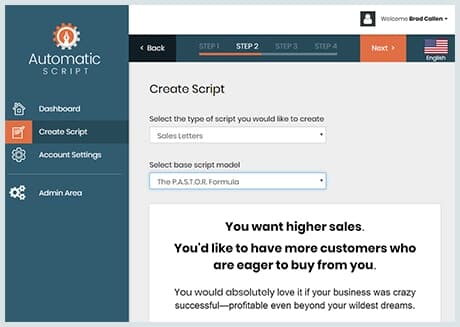 Here you need to decide what formula you'll be using on your script. We advise that you opt for formulas that have been developed after years of trial-and-error with legends.
For instance, you can choose Michel Fortin's formula, which's known for writing the first sales letter that made a revenue of 1 million dollars in one day.
After that, the next step is to fill in series of questions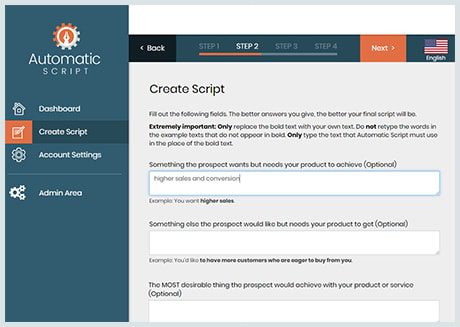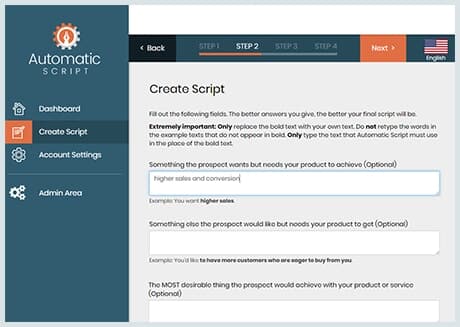 Automatic Script will then take you through a series of questions that require you to fill the blanks.
Some of the things you'll answer include the name of your product, its price, the age of your target customer, etc.
Don't worry as these are straightforward questions that don't need any special knowledge to answer.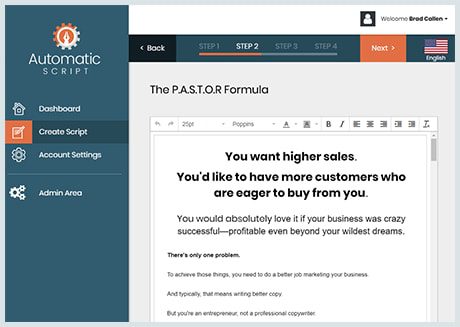 This is the final step that only requires that you click a button and your script will pop-out. You can then edit and review the script generated or choose to download it immediately to your device.
The copy generated is downloadable in three different formats; PDF, PowerPoint, or Word document. You can choose any of the formats to get the job done.
Automatic Script Key Features
Let's have a look at the key features of Automatic scripts and see how they fair compared to the rest of the Jasper ai alternatives.
The platform features quality and classic scripts from established marketers. If you're not an expert copywriter, getting access to these varieties of copywriting content will help you get on track.
Automatic Scripts feature a wide range of inbuilt copywriting templates. Therefore, you can easily find one that your business needs. Some of the scripts available include Facebook Ads, headlines, Email sequences, etc.
Template Builder- this recent addition allows users to make their own script templates. Therefore, you can still make an effective sales copy with a script that's outside the Automatic Scripts platform.
Pros
Several helpful guides
Easy to use
Suitable for many people
Pricing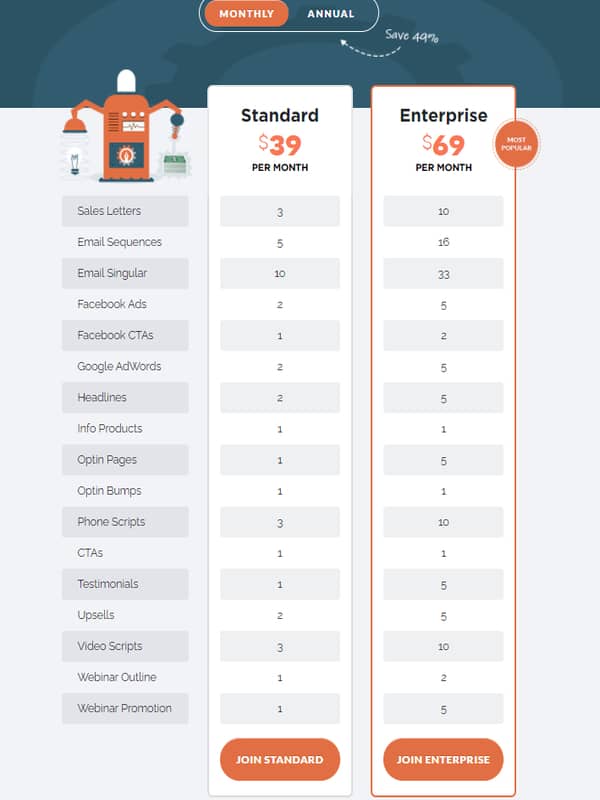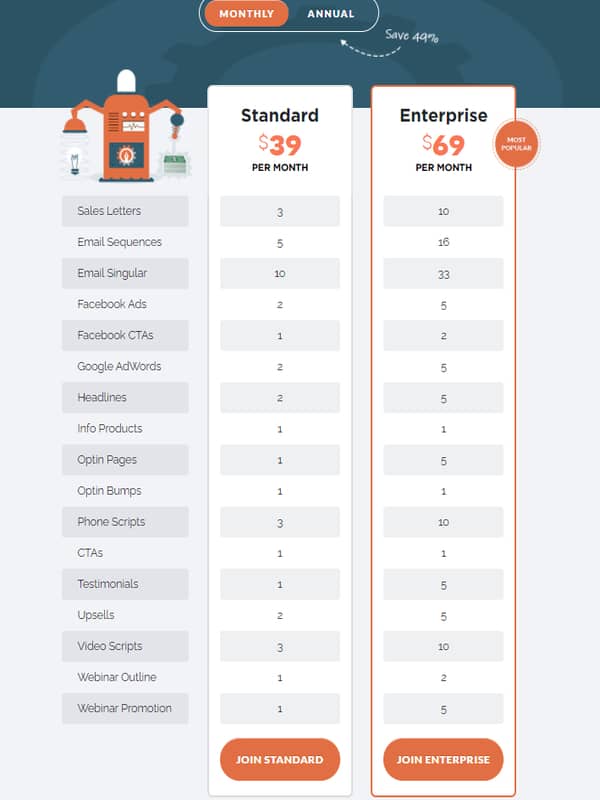 There are two versions on this platform; the Standard version that cost $39/month or $20/month if you're paying annually, and the Enterprise version, which costs $69 monthly and $40 for those paying annually. The difference is in the number of scripts you'll be allowed on each version.
Final Thought
As you can see from the list of Jasper ai alternatives here, it clearly states Jasper isn't the only AI copywriting tool in business.
Although its content is outstanding, but for one reason or the other, they all have their personal limitation.
So looking for an alternative to Jasper ai might not totally be a bad thing. Based on my research, I found CloserCopy to be the best replacement.
However, the majority of these tools like Copy.ai all come with a free trial, so you can use that to your advantage and see what works and what don't.
That's it on the best Jasper ai alternatives for copywriting let me know what you think about these tools.