Jasper AI Review: Best Copywriting Tool [Does It Work?]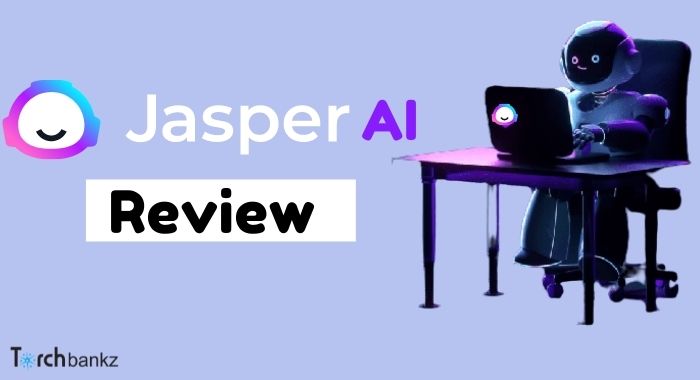 In today's Jasper AI review formerly Jarvis.ai, I'll share my experience using the tool and equally let you know if this tool is worth getting or not.
If you're a writer like me then there's no need to tell you how stressful writing can be… right?
At times you'll feel motivated to write and sometimes you'll just feel like pressing your phone watching comedy and doing everything else other than writing.
Copywriting is no child's play but you need it for your business to thrive. Be it in any niche, you need to be skilled, and writing those words doesn't always come easy.
Let me ask you this, have you ever found yourself staring at your computer or a blank page trying to write but just not able to find the right words?
It happens to me the majority of the time and I believe this is what is called 'writer's block', which I also believe happens to the majority of content creators.
So irrespective of your niche you need copywriting to thrive as a business. And I'm not just talking about any 'Copy' I'm talking about copywriting that CONVERTS.
It doesn't matter what niche you belong to… be it:
eCommerce
SEO
Video Marketing
Blogger
YouTuber
Email Marketing
You definitely need content that CONVERTS your audience and generates the COPY that converts is why we're looking into this Jasper AI review.
Being a content creator myself, I've had issues coming up with writing content for my blog/website, product descriptions for my dropshipping stores, scripts for my videos, Titles and meta descriptions for my SEO, and many others.
Thus, believe me when I hear about a new AI copywriting tool that does all that for me; I'm definitely going to check it out.
So let's get to it, shall we?
What is Jasper AI? (Formerly Jarvis AI)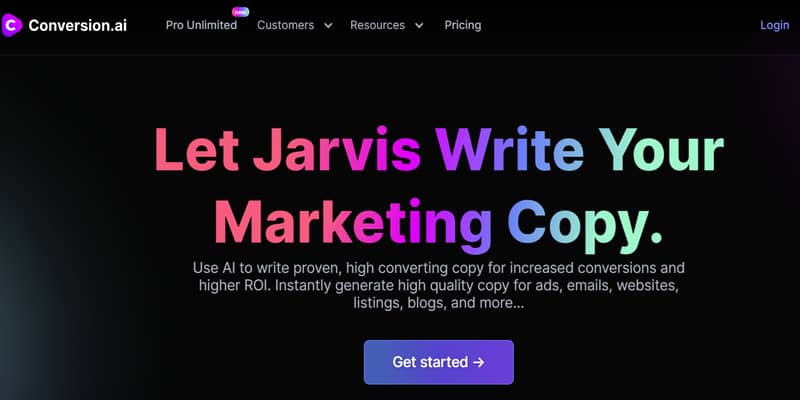 Jasper AI is web-based quality software that helps marketers and copywriters ensure their audience converts after being exposed to the content on their website.
Simply put, it's a tool that uses artificial intelligence to create content for your business. With Jasper AI, you can create a highly engaging copy for your ads campaigns: Facebook, Email, YouTube, or Natives Ads.
Not just that, it also has the ability to create amazing sales copy for your sales page, landing page, or squeeze pages.
With tools like this, you need not waste money on any expensive copywriter for your business.
And if you write yourself, you need not worry about writer's block again, because, with software like this, you can sporadically increase your content production, while converting your audience at the same time.
The company was founded in 2016 and has already been used by top brands all over the internet.
Being used personally myself, I believe with Jasper AI you can solve the following problem for your business:
Get rid of writer's block
Uniquely rewrite old content
Generate amazing email content for newsletters
Create eye-catching content titles
Write long-form content for your blog
Generate scripts for your video content
Save time and cost at the same time
And many others…
What Powers Jasper AI?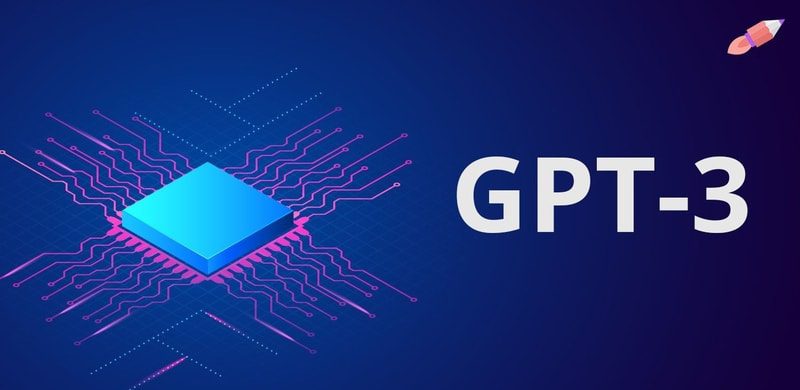 For you to really understand how Jasper works, first you need to understand the kind of artificial intelligence (AI) that powers the software.
The Jasper AI software is a GPT-3 based copywriting tool created by OpenAI an AI research laboratory based in San Francisco.
So basically, Jasper uses 'Generative Pre-Trained Transformer 3' (GPT-3) which is an autoregressive language model that uses deep learning to produce human-like text.
The AI breakthrough was embraced because of its potential to automate tasks, which could be useful for companies.
The GPT-3 artificial intelligence can respond to any text you type into a computer with another piece of appropriate information that is relevant to the context.
So basically when you typed in a full English sentence to a search box, take, for example, you're most likely to get back some response in a human-like sentence that is highly relevant.
The software itself  (GPT-3) is the third-generation language prediction software model in the GPT-n series (Successor to GTP-2).
They are all created by OpenAI which was introduced in May 2020 and has been generating high-quality texts since July of the same year, exceeding any expectations for artificial intelligence at this time.
GPT-3 automatically learns from data, how people write sentences by taking into account what words they use most often so it can more accurately predict which word will follow another.
What's even better about this technology is its ongoing technological research and users should expect even better results.
Soonest, the GPT-3 might be replaced with GPT-4 which will invariably produce a better result.
Who's Behind Jasper AI? (Formerly Jarvis AI)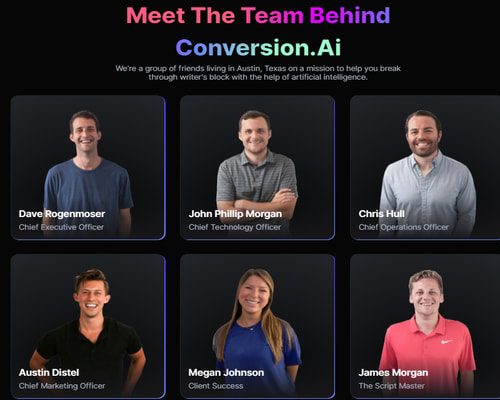 With Austin Distel being the CEO, Jasper AI is a new product from the same creator of UseProof company that's been around for close to a decade now.
The company is backed by a group of friends living in Austin, Texas with the vision to help break content creator writer's block through the help of AI.
So far they've helped marketers, entrepreneurs, and agencies through their products (Payfunnel and UseProof) and other popular online courses.
Jasper AI Long-Form Content
The Jasper AI long-form content editor or assistant was designed for bloggers, marketers,s and content creators to write content more efficiently without wasting time and money on copywriters.
Using the long-form content features, you'll be able to write content that feeds the search engines and most importantly do it within a few minutes depending on how long you want your content to be.
Jasper currently integrates with the Surfer SEO tool, so while writing you'd be rest assured your content is optimized for SEO.
And trust me, this can easily take your content creation to the next level because there's no limit to the number of words you can write with the Jasper long-form content feature.
How To Use Jasper AI Long-Form Content Editor
First thing first, It's highly important to know that Jasper is not perfect, you need to feed it perfect information.
How perfect the content is, depends on how detailed your information is. However, based on my experience though, I believe Jasper is actually sexy!
At times, the grammar may be off-key which is not always so but with a few editing, you'll get it back on track.
Also, about plagiarism, I believe many must have been wondering if the content produced by Jasper is actually plagiarised.
For that, they are all plagiarism-free. However, if you're still doubting make sure you check the content produced with any plagiarism tool before you published them.
Last on this note, also make sure you use the Grammarly app to quickly and easily fix any grammar error from the content generated.
Jasper is a BOT created by man. So you should expect a little error here and there.
That being said, let's see how you can use the Jasper long-form content assistant.
Step 1: Choose A New Workflow
If you're yet to have an account with Jasper.ai here's a free 10,000 Credit to test the software.
So head over to your Jasper.ai account, from the dashboard you should be able to see the 'Long-Form Assistant' like the image below…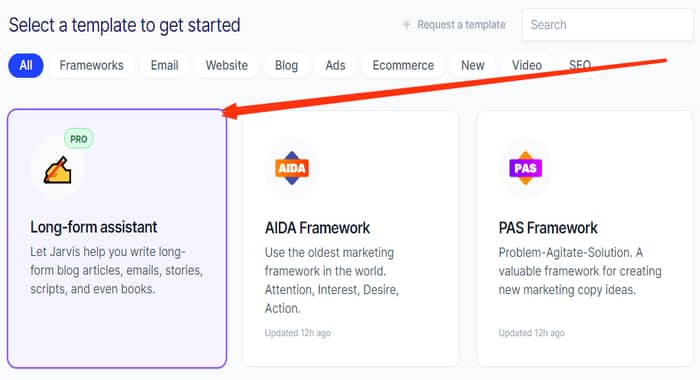 Click on it to get started…
After that, it going to prompt you to choose between the two tabs from the image below… Choose the first one the 'Long-form assistant'.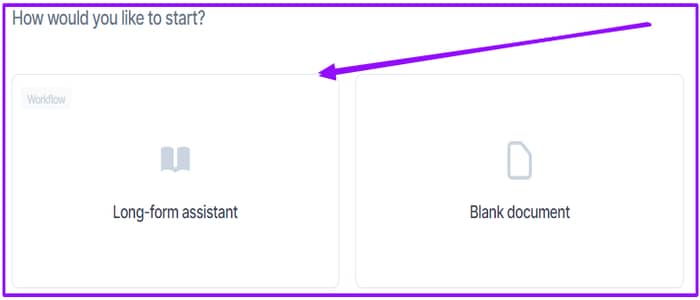 Immediately after you've clicked on the long-form assistant, it's going to take you to the next phase. The first step is going to ask you to describe the content you want to write.
From my own example, I entered 'What is Keto Diet?' after that, you can enter the main keyword under the next tab. This is optional though…
But it lets Jasper have more idea about what you're trying to write.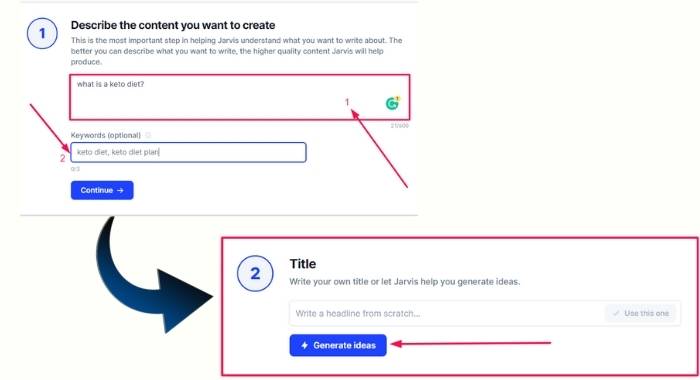 After that, click continue to move to the next stage.
At this stage, Jasper will ask you to enter the 'Title' of the content you're trying to write or let it generate title ideas for you. Click on 'Generate Ideas'…
Once you've done that, Jasper will generate a list of title ideas for you, so from there, you can now choose the best catchy title you can use for the content.
The image below is an example of titles generated for me by Jasper after entering 'What is Keto Diet?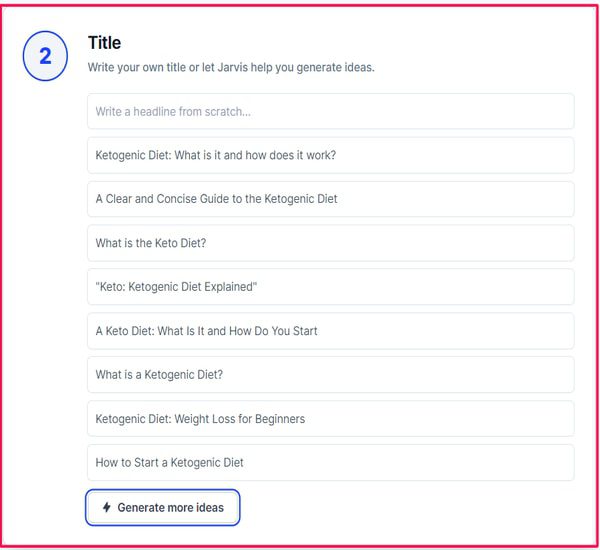 So from here, you'll need to choose your preferred title and proceed to the next phase, which is where you will write your first article introduction or let Jasper write it for you.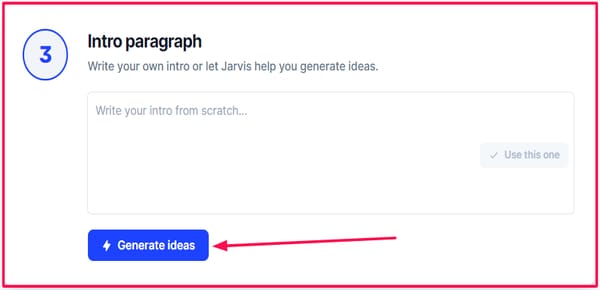 As you can see from the image above, you can either write the introduction yourself or let Jasper do the stress for you.
So in my own case, I clicked the generate ideas for the introduction and Jasper does the work for me.
Here's what the output looks like…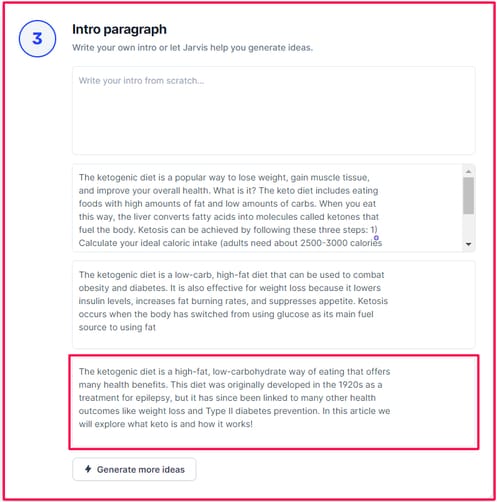 From my own example, I choose the last output from the 3 outputs provided to me by Jasper. As you can see from the image above. Next, from the output option provided by Jasper…
Choose your most preferred option and click the 'Open Editor' button below.

So after clicking the 'Open Editor' button, it going to redirect you to the editor interface like the image below.
From here, you can then proceed to write your own content by clicking the blue 'Compose' button on the page to generate your content.
Next to the blue 'Compose' button is a toggle that determines the length of the out generated by Jasper. If you want the output to belong, choose the Long, medium, or short respectively.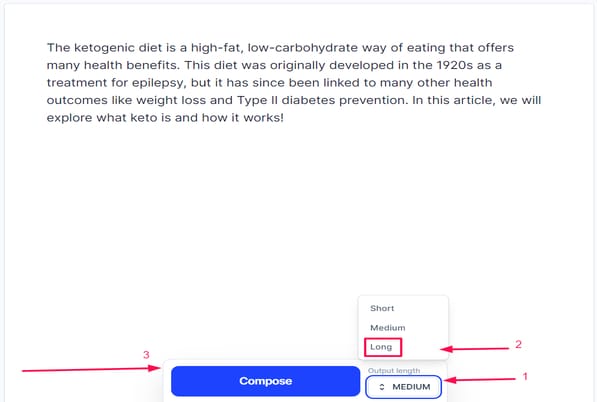 Here's a video on how it's done.
Like I said earlier, here are 10,000 free credits to test out the software, heck you can even write 10,000 words article for free using the free credit.
Jasper AI Review: Features
This tool comes with several pecks and values that can aid your content creation journey. To make this a complete Jasper AI review, we'll be exploring them together one after the other.
#1. Ease of Use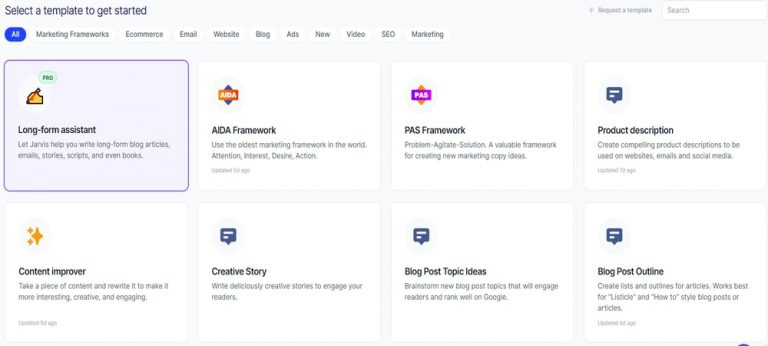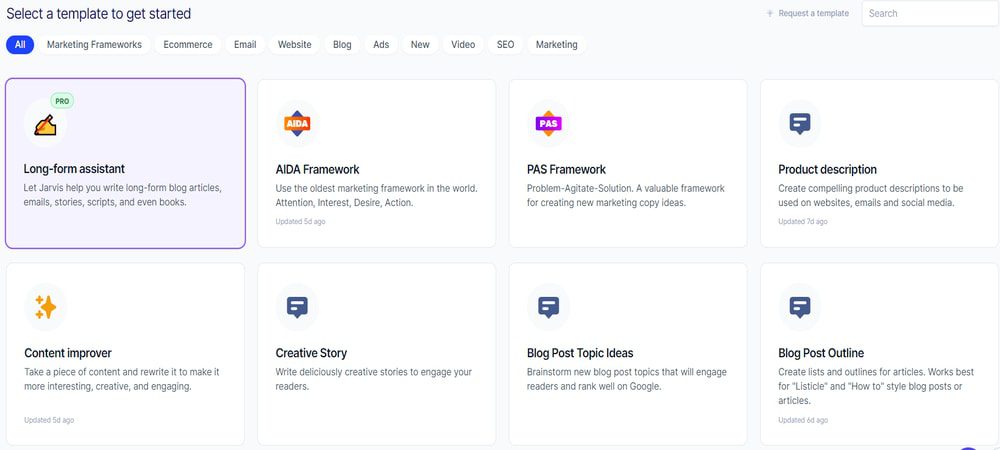 First of all, the software comes with a clean and easy-to-use dashboard and interface even for a beginner.
The dashboard is easy to navigate as all templates are featured on the dashboard. In total, they have over 20 templates you can use to generate content depending on your chosen niche.
Just ahead of the template, you'll see the tab to streamline your work and only see templates that are meant for your niche.
As you can see from the image above, we have;
Marketing Framework
eCommerce
Email
Website
Blog
Ad
SEO
Video
This way, you can have simple access to content creation of what really matters to your business.
#2. Ready To Help Customer Support


I know how frustrating it can be when you need help with your account or you ran through a technical error in your account and support is not forthcoming.
That sh*t can be really frustrating, but that isn't the case with Jasper. Their support is above average and they are always ready to help.
More interesting is that they have a huge FAQ resource section that can help you resolve any question or issue you might have faster than you think.
They currently have a LIVE CHAT box where you can have a real-time conversation with any of their customer care representatives.
And if that's not helping you can also send them a mail via hey@Jasper.ai and expect a response within a day.
Above all, they have an active resourceful Facebook group where you can get help from like-minded users that are always ready to help.
So in case you run through any issue with your account, don't be shy to reach out to the customer support team or Facebook group.
#3. Jasper.ai Academy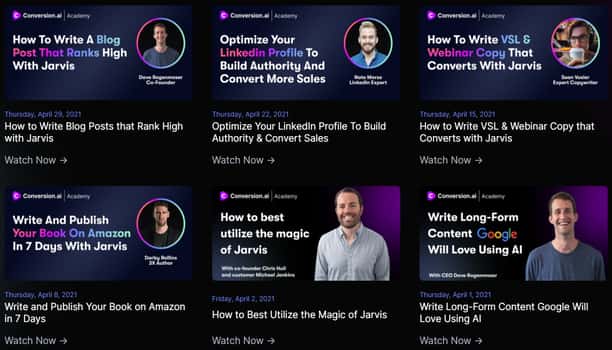 Heck, I know this is very important. At first, you might actually not understand how Jasper works. But later with few tutorials available on the platform, you'll be able to pull through.
There are so many features available on the software and so many things to do. If care is not taken you might easily feel overwhelmed.
So it's very important that you go through the Academy section and watch the tutorial on how to use the available features of the software.
Few of the resources you might want to check out when getting onboard includes:
How to publish a book in under 72 hours and sell it on Amazon Kindle
Promoting affiliate products using AI copies
How to write VSL and webinar copies with Jasper
And many other…
You can Sign-Up Here to go through these free courses. They also have a robust YouTube channel you can always go to for free content.
#4.  Content Templates


All content templates featured on Jasper.ai are categorized under different niches. And under each niche comes with different templates also.
Let's explore them one after the other.
i. Marketing Frameworks
With templates like this, you can walk your audience through a unique marketing framework to be able to connect with them emotionally.
Templates under this include:
This content template works best for those looking to win more customers. Use the oldest marketing framework – Attention, Interest and Desire.
You can use this model by writing actional descriptions for your company's products or services that make it clear what they do best and why people should buy them.
Problem-Agitate-Solution. A valuable framework for creating new marketing copy ideas.
The Problem – Agitate – Solution (PAS) framework is a tried and true method of generating your next big idea in the world of advertising.
This can get you started with some good brainstorming ideas that will help generate relevant concepts based on research data or other information gathering techniques like surveys or focus groups.
This template emphasizes the features of your product that will motivate potential customers to buy. A product will not be successful until the customer can see how it helps them.
Before-After-Bridge Framework
Before your next marketing campaign, make sure you use the BAB framework.
This will help develop a strong foundation for crafting effective copy that resonates with readers and gets them to take action!
ii. Ecommerce
Content templates under the Ecommerce niches can help you generate contents to sell your products. Be it dropshipping or Inventory.
Let's explore templates under this category:
Using Javis you can create a beautiful product description that leaves customers wanting more.
Invariably boosting your product online sales with captivating product descriptions.
This content template can be used to write and rewrite any old piece you want to rewrite or spin by adding more contents to it.
Jasper rewrite them in such a way that's unique by adding more content to it and simply bring it back to life.
Amazon product features (bullets)
This template helps you write bullet features and points for your Amazon product list instead of writing long content words.
Most times when people visit your Amazon listings, they want a summary of what you offer and why it is the best option for them.
They want benefits like product features or pictures instead of reading all 1000 words in an outline so we need concise points that really sell the item.
Amazon product description (paragraph)
When writing your Amazon product description, it's important to create compelling and concise descriptions.
You need an attention-grabbing opening paragraph to engage a customer when they're scrolling through the list of products on their phone.
So this template helps in writing compelling product descriptions for your Amazon product listings.
SEO – Product Page – Title and Meta Descriptions
This template helps with writing your meta tags and description. As you already know, it's important to optimize your title tags and meta descriptions so that they rank well on Google.
That's if you want your product to be seen and equally generate traffic and lots of sale to your website.
III. Email
Content templates under this category are basically for generating email copy you can send as newsletters or promotional emails to your subscribers.
This email content template helps your customers make better decisions by providing persuasive bullet points in your emails.
It helps you generate a well-informed email newsletter that you can send to your subscriber's lists.
Wondering what it could be to have an email open rate of 100%? Well, this depends on how well you craft your subject headlines.
Using this template, you'll be able to generate attention-grabbing content headlines for your emails. And with this, you should expect a better open rate.
IV. Website
Jasper website templates are contents you can generate for your newly created website or exiting one that needs optimizing.
Here you don't need to crack your head to generate content, you just need to state and explain what's your website all about and Jasper will generate high converting contents for your website.
This content template was created with formulas from the world's best copywriters. It will help you generate better content targeted at growing your business faster than ever before!
Create enticing headlines that captivate your viewers. Headlines are the most important factor in getting people to read a post.
With this template, Jasper (Converison.ai BOT) tries to make sure you have impactful and attention-grabbing headlines to informative sub-headlines (H2) and beyond
Your story is what makes your company unique. With the help of this template, Jasper will help write a captivating bio that will make people want to know more about your company, and equally!
V. Blog
The following are content templates you can use to scale up and optimize your blog content productivity.
This content template helps brainstorm Topic ideas for blog posts to keep your audience interested in what you are writing about.
And most importantly, topics that will engage readers and rank well on Google which is what everyone wants.
With this template, you can generate blog post outlines or lists for articles you want to get done. This particularly works best for 'Listicles' and 'How to' blog post style.
Having your blog post outline ensures you know what you want to write about from the start which invariably makes the whole job easier.
Blog Post Intro Paragraph
Most people waste time writing blog post introductions due to writer's block and other distractions.
Well, this template helps you generate a BADASS introduction that you'll find difficult to differentiate if it was written by BOT or human beings.
SEO – Blog Posts – Title and Meta Descriptions
This template helps you create or generate SEO-optimized title tags and meta descriptions for blog posts to rank well on Google.
When it comes to ranking your blogs, you want them at the top to get more visibility with potential customers who are looking for a solution.
The better your post ranks, the higher chance someone will click through from SERP page one onto yours!
Blog Conclusion Paragraph
The conclusion paragraph is the final impression you leave with your blog readers. The last thing people will read. So it's important to keep them interested with a nice call to action.
Using the following template, you can round up your article within seconds and be sure your writers are engaged.
VI. Ads
Running ads for your business? below are templates you can use to generate ads copy for your business.
If you're looking for an easy way to generate click-worthy headlines or scroll-stopping headlines for your Facebook Ads.
Then this is the template for that. With this, you can come up with Facebook ad headlines for your ads in seconds without having to rack your brains out.
The Primary Text is a great place to include the primary messages you want your audience to see.
This text will be displayed in most mobile Facebook News Feeds, which are typically shorter than desktop feeds and often show just one or two lines of copy at a time.
With this template, you can sure create high converting copy for the "Primary Text" section of your Facebook ads.
Just like the previous template you can also create a high converting copy for the "Headlines" section of your Google Ads.
This literally takes a few seconds to generate, then choose from the generated output for your Google ads headline.
It is important to be concise and provide compelling information about what you are selling or promoting for visitors to click on it!
This template helps create high converting copy for the "Description" section of your Google Ads.
VII. Video
The following video template can help you create more engaging content for your video marketing and most importantly help optimize them.
This video template feature helps generate video topic ideas that will engage your subscribers and most important rank well with Google and YouTube
So using the Jasper video topic template helps you not to run out of topics idea for your YouTube channel.
With this video script template, you can generate video scripts for your videos or outline. Work best for 'Listicles' and 'How To' style videos.
Having your video scripts ahead ensures you know what you want to talk about from the start which invariably makes the whole job easier.
This template helps generate click-worthy video titles for your videos and most importantly increase your chance of ranking well to the video.
Video Scripts Hook and Introduction
This template is one of the best features of Jasper AI, With this, you can create a video intro that grabs your viewers' attention and compels them to watch to the end.
Video Description – YouTube
I personally use this for my video description on YouTube. It helps generate SEO worthy video descriptions that will boost your video ranking in search engines.
Both on Google and the YouTube platform.
VIII. SEO
Templates under the SEO category make google love you. With this
Homepage – Title and Meta Descriptions
The Title Tag and Meta Description are the two most important components of a given homepage.
This template helps write SEO-optimized title tags and meta descriptions that make your home pages rank well on Google.
Service page – Title and Meta Description
Like the homepage, this template helps write SEO optimized title tags and meta descriptions that make your service pages rank well on Google.
Jasper.ai Pricing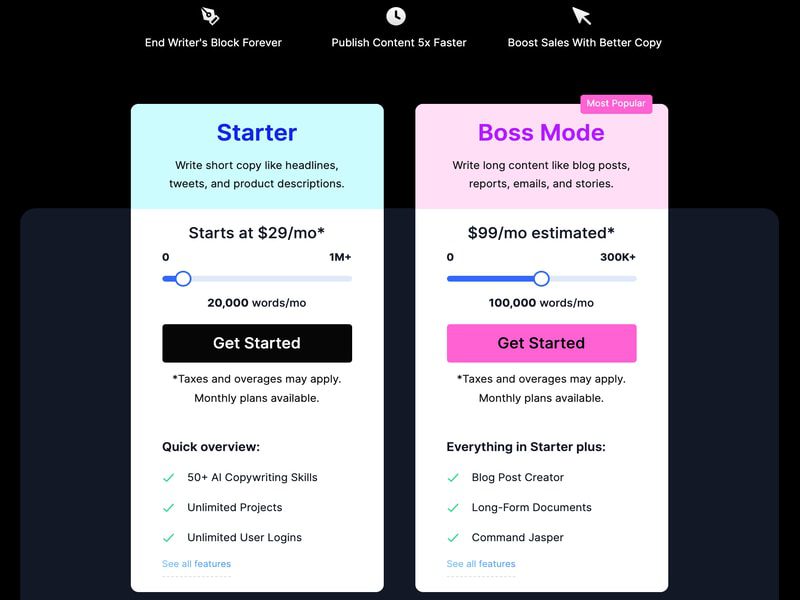 Jasper.ai does not have a free version. But they do offer a free trial featuring a word generation limit of 20,000. Its pricing starts at $29/month, which gives one 20000 credits.
Starter $29 – This package is inclusive of access to 50 short-form copywriting templates, supports 25 languages, and provision of chat support and 5 project folders.
Boss Mode $99/mo – You get all the above features plus unlimited runs, up to 3,000 character look back and Jasper commands.
If you want more words, you can pay $10 extra to get 5000 words.
Other payment plans are;
$49/month for 35000 words
$99/month for 75000 words
$149/month for 115000 words
$199/month for 150,000 words
There is also the unlimited plan that was updated recently, which costs $109 for pro and $119 for boss mode per month where you get to generate an unlimited number of words along with workspace documents and long-form assistant.
Also, we should mention that all plans come with a 7-day money-back guarantee.
Should you not like the service, the company will give you your money back if you apply for a refund within seven days from your date of purchase.
Jasper.ai Pro Unlimited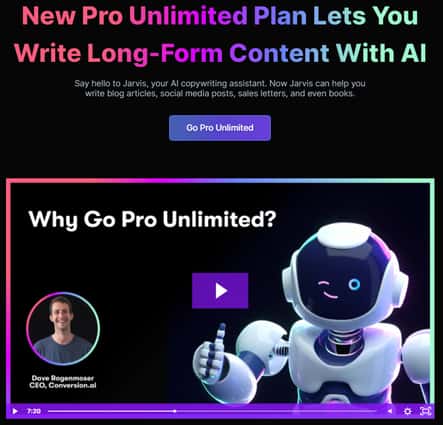 The Jasper pro unlimited is the plan that gives you access to the long-form assistant. This plan cost $109 per month and comes with 3 team sheets.
With this plan, you'll gain access to everything on Jasper without worry about word limitation.
The pro unlimited plan is one of the recent updates to Jasper It was introduced on the 30th of march to unlock full access to the software.
Jasper.ai Boss Mode
The Boss mode was the most recent update in Jasper.ai pricing plan and features. This feature allows Jasper users to do anything they want via voice command without having to stress themselves.
Just think of it as conversing with siri on Apple devices. That's how cool the Jasper boss mode is.
How To Track Words Generated In Jasper Pricing
Since the $29 starter plan gives you access to only 20,000 words on a monthly basis, chances are you'll run out of credit before the month-end if you're the type that generates lots of contents.
Heck, we even generate over 50,000 words within a week since my account creation. Have a look at our screenshot below…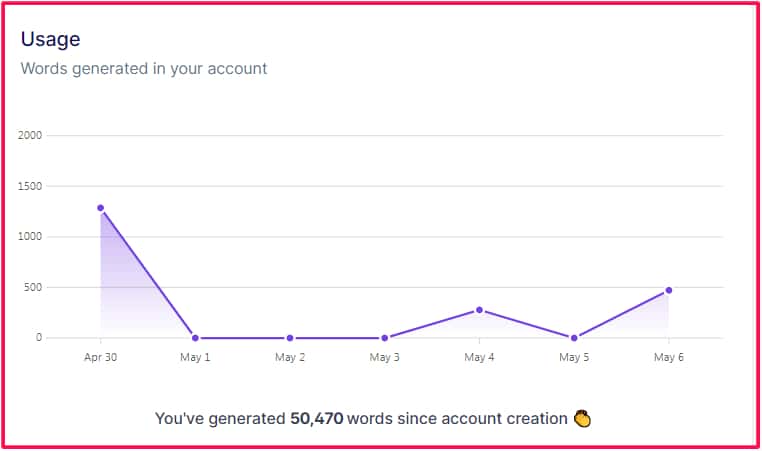 The Jasper pricing is really tricky so I'll suggest you subscribe to the pro unlimited plan if you know you'll be generating over lots of words on a monthly basis.
For you to track your usage and not be caught unaware, once you're logged in, go over to your profile. Or click on the image icon at the rear right-hand corner then click on usage and billing.
From there, you'll be able to see the total amount of words you're generating on a regular basis.
Who Should Use Jasper.ai
Well, if you'd ask me I'll say anybody that uses contents to make money online pretty much needs this AI software.
Not limited to though, but if you happen to be among the list below then you're really high on the list of people that needs Jasper.ai.
#1. Marketer
I believe Jasper.ai was majorly built for marketing of any kinds.
If you happen to be a marketer, then you should know that this software comes with the best copywriting marketing framework (AIDA) of all time used by legendary marketers.
The AIDA strategy is based on four components:
Attention
Interest
Desire
Action
These elements can maximize the success of your marketing efforts if you pay careful attention to them all.
So basically, with Jasper you can easily generate these copy and use them for any stage in your marketing campaign.
Let me give you a brief understanding of how the AIDA Framework is been use and how you can replicate them for your marketing campaign.
Your first effort in the process of selling your products or services is to get noticed. Nobody is going to buy from you when they didn't know your product or services existed in the first place.
Take for example, in the brick-and-mortar store, a perfect way to grab customer attention will be through window or physical banner display.
While online marketing can be achieved through eye-catching display image or video in an ad.
Attention can disappear in an instant, especially if it's generated from some overly gimmicky techniques. A flashing image may attract attention for the moment but people will quickly lose interest if its information is not clear or because of its annoying nature. Consider what a potential client wants to know and provide meaningful information or alluring content so that they are more interested in your business or what you're trying to sell.
After gaining the attention and interest of your potential customers, you'd want to build their desire with content that would want them to buy your product or take advantage of the services you're trying to sell.
Making known how useful your product is and its benefit can easily appeal to their emotion and build desire in your potential customers.
The ultimate success of advertising requires having someone to take an action. This may mean walking into a store and making a purchase in the brick-and-mortar store as an example.
Or signing up for the company's newsletter online, among other things.
#2. eCommerce Enterprenuer
If you own an eCommerce store or drop shipping websites like me, you'll understand writing or re-writing production description from AliExpress can be a serious pain…
Using Jasper, however, can help ease the task. Heck, it can even write an entirely new product description instead of using the one available on AliExpress.
This way, you'd expect to rank better for your product keywords and invariably generates lots of traffic to your site which equals more money.
The same thing applies to Amazon, Jasper can help you write your product features and bullets so they stand out and rank well on search engines.
#3. YouTuber
There's a lot you can do with Jasper for your video marketing. From writing your video scripts to your YouTube video description.
The video script hook and story introduction are amazing feature's you'd definitely want to see. This helps you create video scripts that can potentially grab the attention of your viewers and make them stay till the end.
Then again the ability to use Jasper to create an awesome video title and perfect SEO optimize description helps drive more clicks to your links in the description and more view to your channel.
#4. Blogger
I believe this is one of the reason why Jasper is such a popular tool. Its ability to solve problems for bloggers.
Been a blogger myself, I've been able to overcome writer's block so many times through the help of Jasper.
This tool can help you write a full blog post from scratch and also help with the intro and conclusion of your post.
If you have writers working for you, it can be used to create blog post outline and send it over. Perhaps you're doing a lots of guest post, this also comes handy for that.
So as a blogger, Jasper can really generates lots of unique content for your blog while saving you time and money.
#5. Email Marketers
We all know writing emails is not the SEXIEST thing to do, but you need to write them if you're a full-time email marketer.
With Jasper you're sure to write better emails and never run out of ideas with the help of an AI tool.
Jasper has concentrated on a few specific frameworks for writing email copy, with some skills specifically designed to get your subject lines noticed and people opening the message so that it can convert into sales.
Nobody is going to know about your offers when your email is at ZERO open rates. And open rate equals zero income.
With the help of Jasper, you'd be able to tweak your email headlines to improve the open rate which can invariably lead to conversion.
Jasper.ai Review: Pros & Con
This Jasper.ai review won't be complete if we didn't examine its good side and bad side. Now, let's have a look at both the pros and cons of Jasper
Pros
Below are the benefits or pros of using Jasper for your business.
7 days money-back guarantee
Prevent writer's block
Increase your content production
Saves times and money
Can be used for different niche
Totally worth the price and affordable
Super easy to use
Available templates for different copywriting ideas
It helps create SEO optimized blog post for bloggers
Awesome support available 24/7
Increase ROI by creating quality contents with less time
Cons
Well, as you may have already guessed, there's no perfect product. And with Jasper it's not always sunshine and rainbows.
They have shortcomings and we'll be exploring them.
The AI is not perfect, so expect out of context output at times
It takes time to fully understand how to use the AI
Still in developing process
Pay by words, this can be expensive because you'll have to pay for words generated even when playing around with the tool.
Are there any Jasper.ai Alternatives?
There are quite a few Jasper alternatives in the market with close competitive features. Perhaps for one reason or the other you want to check out other similar tools better than Jasper or in the same category…
we've compared and reviewed them alongside Jasper You can check them out below:
Jasper.ai Review Conclusion
We all know copywriting is key in any business been run online and with so much competition trying to choke your business, you need to stand out.
Jasper.ai helps you stand out among your competition.
This is because there will be no match to the rate at which you'll be creating contents once you have your full grasp of the software.
You'll be able to scale your business without paying more and without wasting more time. This will keep your competitors in awe.
The best part? They are still adding more features on a daily basis.
I believe this will be a smart decision to join the bandwagon now before your competitors lay their hands on it.
Ready to get started?

Here's a few days trial and 10,000 free Credits to use Jasper.ai for free!
There you have it guys…. Our complete Jasper.ai review. If you have any questions about Jasper drop a comment below.
I'd be sure to attend to it.