Jasper AI vs Anyword: Best AI Copywriting Assistant?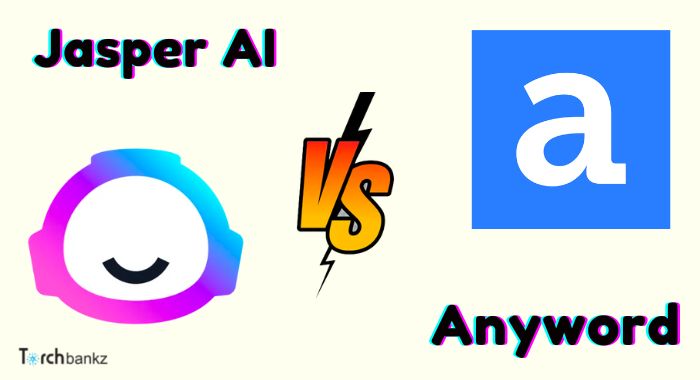 In this article, we'll be discussing Jasper AI vs Anyword.
As a writer or business owner, you will understand that one way to stand out from your competitors is to create high-value content.
However, developing high-quality content can be time and energy-demanding.
You have to develop valuable ideas to market your product and service. Then organize them sensibly and interestingly to impress your readers
 The work becomes more burdensome when you have many marketing copies to write without assistance.
However, you can make your job easier by getting suitable writing software. Some prominent AI writing software is Grammarly, Jasper AI, Copysmith, Copy AI, etc.
While all of these tools present themselves as authorities in composing marketing copies, is there one that is more competent than the other?
Between Jasper AI vs Anyword, which is better for copywriting?
That is what we are said to find in this unbiased comparison.
Let's get into it!
What is Jasper AI?
Jasper AI is web-based quality software that helps marketers and copywriters ensure their audience converts after being exposed to the content on their website.
Simply put, it's a tool that uses artificial intelligence to create content for your business. With Jasper AI, you can create a highly engaging copy for your ads campaigns: Facebook, Email, YouTube, or Natives Ads.
Not just that, it also can create amazing sales copy for your sales page, landing page, or squeeze pages.
With tools like this, you need not waste money on any expensive copywriter for your business.
And if you write yourself, you need not worry about writer's block again because, with software like this, you can sporadically increase your content production while converting your audience simultaneously.
The company was founded in 2016 and has already been used by top brands all over the internet.
Being used myself personally, I believe with Jasper AI, you can solve the following problem for your business:
Get rid of writer's block
Uniquely rewrite old content
Generate amazing email content for newsletters
Create eye-catching content titles
Write long-form content for your blog
Generate scripts for your video content
Save time and cost at the same time
Jasper features
Let's examine some unique features of Jasper AI;
1. Jasper Boss Mode
The Boss mode was the most recent update in Jasper.ai's pricing plan and features.
This feature allows Jasper users to do anything they want via voice command without stressing themselves.
Just think of it as conversing with Siri on Apple devices. That's how cool the Jasper Boss mode is.
2. Content Templates
Jasper has over 50 templates that offer you the headstart you need for content generation.
These 50+ templates generate AI content constituting LinkedIn ads, Facebook ads, Google ads, social media posts, blog articles, picture headlines, email copy, marketing copy, and several others.
3. Customer Support
More interesting is that they have a huge FAQ resource section that can help you resolve any question or issue faster than you think.
They currently have a LIVE CHAT box where you can have a real-time conversation with any of their customer care representatives.
And if that's not helping, you can mail them via hey@Jasper.ai and expect a response within a day.
Above all, they have an active resourceful Facebook group where you can get help from like-minded users that are always ready to help.
4. Surfer SEO Merges
Surfer SEO is a prominent AI-powered SEO software that enables you to optimize your content to rank higher on Google's search engine.
Jasper AI can be merged with surfer SEO.
If you're eager about improving your presence organically and wish to obtain the most out of Jasper AI, I will suggest you use it with Surfer SEO.
It will benefit you in composing content that will rank higher on the Google search engine and drive traffic and conversions to your site.
Other amazing features you enjoy when you integrate Jasper with Surfer SEO include a keyword study and an active content editor that lets you include pictures, links, and other tools.
5. Content Creation
Jasper AI can create a certain number of texts on your subject of interest. However, this feature is dependent on the plan you subscribed to.
You can utilize this feature by providing a few clues like captions, headlines, or a few paragraphs, then click on the provided button to see the outcome.
The software can also generate long-form AI content, AI blog articles, and headlines for your social media posts.
6. Contains Over 25 Languages
One amazing feature Jasper AI has is its multi-language backing. It favors more than 25 languages, including English, German, Japanese, French, etc.
This feature makes it suitable for your business if you seek to target an international audience.
7. Jasper AI Academy
At first, you might not understand how Jasper works. But later, with few tutorials available on the platform, you'll be able to pull through.
There are so many features available on the software and so many things to do. If care is not taken you might easily feel overwhelmed.
So you must go through the Academy section and watch the tutorial on how to use the available features of the software.
A few of the resources you might want to check out when getting onboard include:
How to publish a book in under 72 hours and sell it on Amazon Kindle
Promoting affiliate products using AI copies
How to write VSL and webinar copies with Jasper
And many other…
You can Sign-Up Here to go through these free courses. They also have a robust YouTube channel you can always go to for free content.
Pros Of Jasper AI
Contains more than 50 different templates to select from.
User-friendly interface.
Composes original and zero plagiarism copies.
Maintains an active Facebook community that can provide useful assistance & advice.
Integration with Surfer SEO is accessible with boss mode plans.
Cons Of Jasper AI
More expensive when compared to other software in the market.
The unused words in a month cannot be carried over to the next month.
Need to Fact Check Jasper Output
Anyword Overview
Anyword is an artificial intelligence (AI) tool that helps in writing content in log form, in marketing copies, and in social media posts.
It has changed how copywriters write and deliver their messages through content.
This AI tool offers something unique to freelancers, bloggers, copywriters, and SEO experts.
Anyword features
There are some unique features of Anyword. They include;
1. Predictive Performance Score
PPS helps you know the potential of your content even before posting it. It makes you know how sales would be even before you upload your content.
The scores grade your copy variations based on their execution and conversion ability. If your execution is likely to bring in sales, then your score will be high. 
To make your copy variation meet your expectations, you have to:
Review your copy and be certain that it's precisely describing your product
Try to generate copy that has different writing styles to see the one that would promote your copy.
Develop your writing skills. Challenge yourself using different writing styles; use the one that best suits your copy.
2. Ad copy
An ad copy, or advertising copy, is one of the most effective ways companies increase sales and profit.
Ad copy is content that makes a potential buyer more interested in a product. It helps the buyer to know the basic, important features of the product.
Professional marketers mostly use ad copy.
In addition, as a professional marketer, you make an offer in such an enticing way that it could help solve a potential buyer's problem.
You need to be tactical even while advertising through ads.
You could beat down your price, make your product cost-saving, and commend those who purchase your product, and your sales should include free trials.
3. Landing pages
Landing pages are the pages visitors are directed to when they click on any link in an ad or on any sharing website. It eventually leads to either a signup or registration page.
A landing page is a web precisely made for advertising and marketing. The landing page turns the viewer into a customer.
Viewers view the brand's enticing home page; they can go wherever they want on the homepage.
Mostly, the goal is to create attention and to call people to action.
Call to action means to inspire people to visit your page and follow the instructions on it. It helps your business reach its growth objectives.
4. Website messages
Website messages, also known as web texting, mean sending a text message from a website to a hand-held device (cell phone).
It is a short piece of content that pops up on the screen of their targeted audience.
Publishers and brand owners mostly use web messaging to reach their audiences in no time.
Web messaging is divided into two categories:
Push notifications: these notifications pop up on your audience's mobile phones. It could be for a product update or a review of your product.
In–browser notifications: here, only the pages within your website get notified. This one might even get to a new visitor, inviting them to sign up for your web page.
5. Custom mode
Custom mode means modifying an AI writing assistant to write content that suits your brand voice or is similar to your rivals'.
You can create and use your desired brand voice for marketing and effective sales. Custom mode enables it.
Anyword's custom mode can help you use different writing styles, even if they're those of your competitors. Any word's AI will imitate it.
Anyword's custom mode helps you write faster like an expert and with better conversion rates.
In sending your messages, the custom mode allows your messages to get to your audience at the right time and enhance sales.
Pros of Anyword
It has an in-built plagiarism checker
It helps users to write highly ranked content on SERP
Over 30 different languages are supported
Too much training is not required before using Anyword.
Anyword allows importing or uploading in bulk. This makes it unique.
Cons of Anyword
Anyword can be expensive for larger teams or bulky content.
Anyword is likely focused only on companies or firms.
It requires more time and effort to set up when working on long-form content.
Similarities between Jasper AI vs Anyword
Both AI tools help you to write classic marketing content.
Both have a Facebook community
Both can be used for Automated Copywriting Software (Copysmith)
Differences between Jasper AI vs. Anyword
| | |
| --- | --- |
| Anyword | Jasper |
| Anyword is best for creating ads and conversion-driven content. | Jasper is best at creating long-form posts. |
| It doesn't support a plagiarism checker It is easy to use without foreknowledge The price starts at $99 each month | It supports a plagiarism checker It requires tutorials to learn It starts at $49 per month |
Jasper AI Vs Anyword: Pricing plan
Let's compare Jasper vs Anyword based on their pricing plans.
Jasper AI Pricing Plan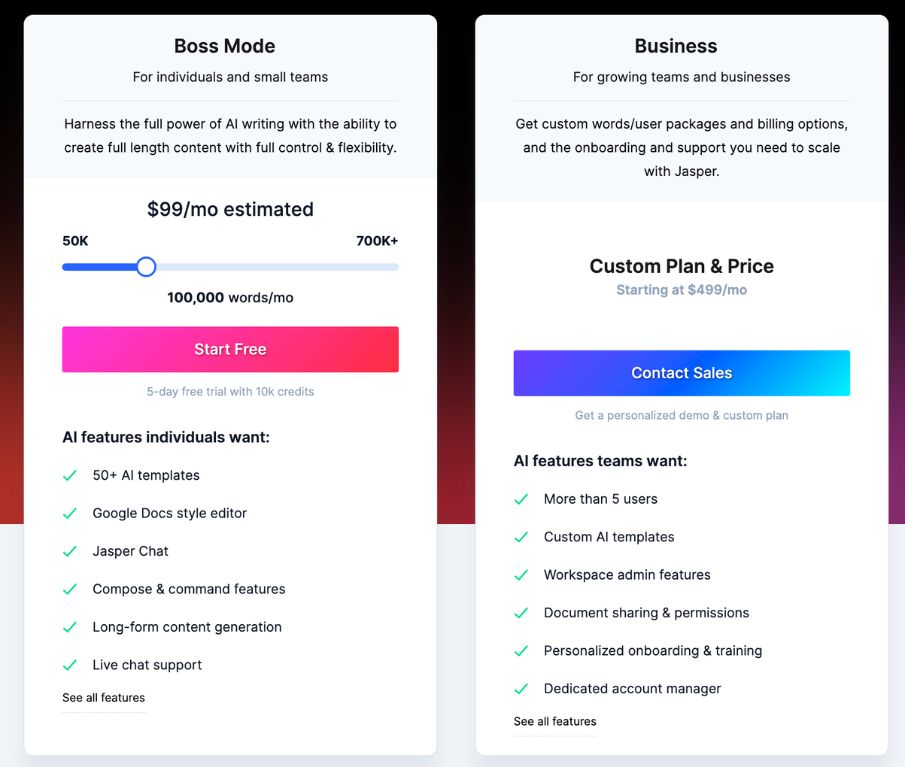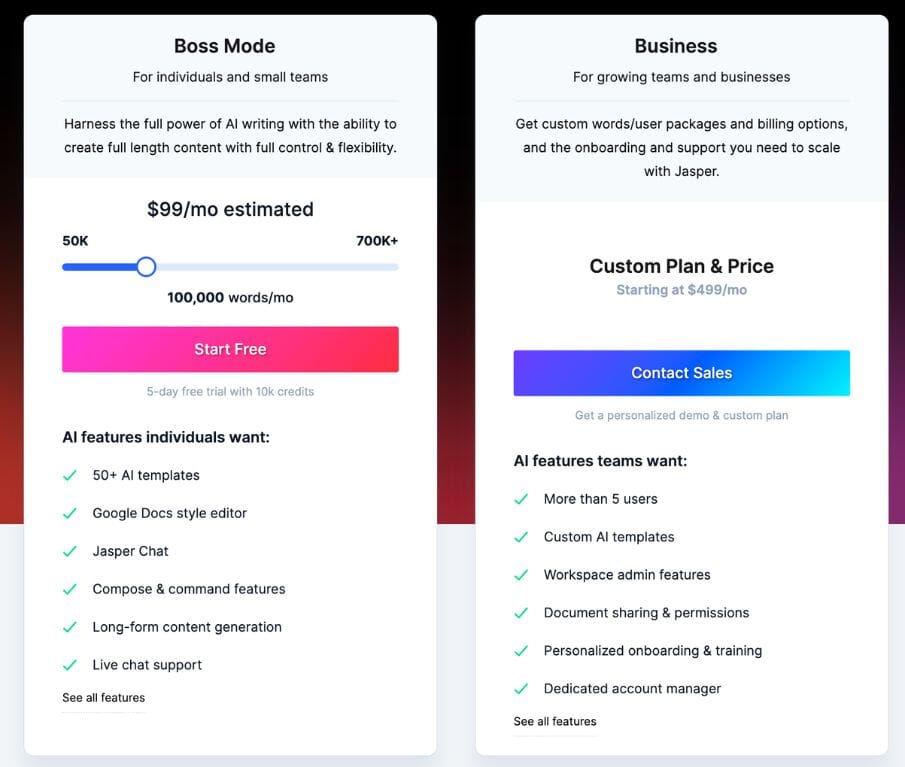 Jasper AI comprises 2 pricing plans which include:
Boss Mode – Begins At $99 Per Month
The privileges comprise everything in Starter Mode plus:
50,000 words per month. The more words you desire, the more the pricing increases.
Increased maximum of templates.
Priority client chat assistance.
This plan is ideal for bloggers and content marketers.
Both come with a 5-day money-back guarantee.
Business/Custom Plan
This plan is ideal for teams and businesses.
The pricing for this plan is not included in their list. So you will have to contact the service provider to get the prices.
The benefits include:
Custom texts/user packages
Adaptable billing options.
Exceptional technical assistance
Orientation and tutorial sessions.
Committed account supervisor.
Anyword Pricing Plans
It comes in two pricing plans
Starter Plan- $28/month
For generating 20,000- 30,000 words, together with access to scoring and fundamental copywriting tools. You also get free access to 30 different languages.
Data-Driven – $83/month
This pricing plan is billed annually. It is also the more recommended of the two plans.
In this plan, you get access to
200+ data-driven copywriting tools
improve and boost scores for your copy
Blog post wizard
Predictive Performance Score
Conclusion on Jasper AI vs Anyword
Jasper AI vs Anyword is a great AI tool designed to improve the copywriter's world.
In conclusion, Jasper AI and Anyword are both wonderful AI writing tools that can meet your writing and marketing needs.
I would say that Jasper is great for teams and businesses due to their price options.
And Anyword is great for writers who work more with web content.
Jasper allows you to use a voice command that will be converted to text. This feature is not common with most AI writing tools.
Jasper also allows for multiple integrations.
Altogether from the whole comparison, Jasper AI seems to have a lot of features that would help writers compared to Anyword.
Therefore, if you want a copywriting tool that makes your writing journey easier, especially for businesses,