Jasper AI vs Article Forge: Which is The Best?
Today we'll be looking at Jasper AI vs Article Forge two of the most popular article generator software.
In the world of AI writing tools, the competition seems to be getting tougher every day.
The need for a smart AI that can generate quality content faster has driven most article generator service providers to improve their software so that they can meet the demands of content creators.
There are two platforms that have made tremendous efforts in providing us with reliable article generators and they are Jasper AI and Article Forge.
For an online entrepreneur interested in an AI copywriting tool, it is understandable that you may get stuck between choosing these two options.
Both seem to be on the same level. And because you can't subscribe to both, reading our review of Jasper AI vs Article Forge can help you choose the better platform between the two.
Let's get on with it shall we?
What is Jasper AI?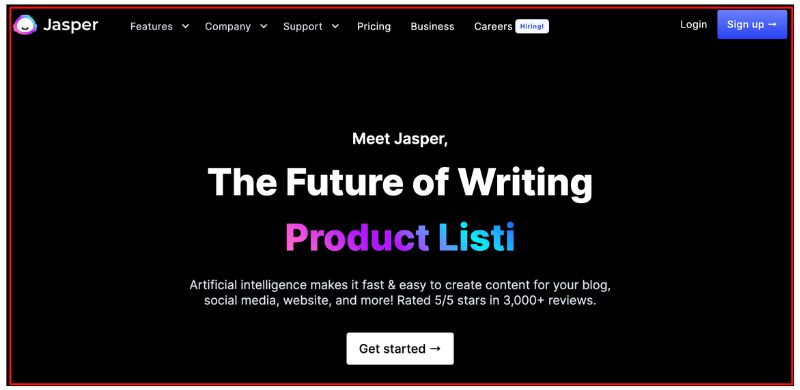 Developed by Userproof Company, Jasper AI is the most popular article generator software in the market.
Their robot, Jasper AI, is capable of writing different types of articles at an abnormally fast rate.
Most online entrepreneurs prefer to use Jasper because the company has got a reputation for generating original and unique content in a short duration.
Other than providing you with different types of content, Jasper supports multiple languages.
As a blogger or eCommerce store owner, this unlocks plenty of opportunities for your blog and website.
With such a smart program by your side that provides you with steady content in different languages, it shouldn't be hard for you to invade foreign markets and expand your business or audience.
Jasper AI was created to help content marketers optimize their posts.
And that's why it integrates Surfer SEO that checks your posts and gives you reports on how well they will perform on search engine result pages.
There are plenty of reasons why you should choose Jasper. Not only does this artificial intelligence promise to give you human-like quality content.
But it's also capable of understanding the context you want in an article just by typing a few description lines.
We've written an in-depth Jasper AI review here in case you'll like to know more about the software
Features of Jasper AI
The most interesting feature of this AI writing tool is that it can write nearly all types of content for you. Jasper is trained to generate content from over 50 different templates. It's your one-stop shop for any type of content that you may need.
The layout of this program has an intuitive interface. Therefore, you won't struggle to navigate the site and should you come across any obstacles, there are many tutorials to help you out.
It creates human-like articles that are plagiarism and error-free.
It is exceptionally fast. Compared to other methods of getting content written, Jasper will craft a long blog post in seconds. And this feature makes it ideal for content creators that struggle with writer's block.
You can edit the tone to match the voice of your brand. Different niches require varying tones. If you are in the health and wellness industry, you can't use a humorous tone. It has to be professional. This is one of the features you can use to create quality and relatable posts.
It supports more than 11 languages and that's great for online entrepreneurs who are planning to expand their business to other countries.
Jasper, with the help of Surfer SEO, you can create optimized blog posts that improve your website's ranking on search engine result pages.
The software subscription plans come with a 7-day money-back guarantee. You therefore shouldn't be afraid of exploring the many features of the platform.
What is Article Forge?
On the other hand, we have Article Forge which is also an exceptional article generator.
Using deep learning algorithms and machine learning technologies, Article Forge can craft unique and quality articles for you.
This AI is also skilled in crafting interesting blog posts, articles, landing pages, and other types of content that you may need.
There are a couple of things that distinguish Article Forge from other article writing tools. To kick things off, Article Forge produces content in seconds.
This is unlike, writing content by yourself or outsourcing these services, something that would take hours or even days.
Secondly, this Artificial Intelligence is so smart that it can add links, videos, images, and even LSI keywords.
This article generator allows you to publish directly to your WordPress website, and this streamlines the entire process of creating and publishing content.
The content created by Article Forge is very unique and plagiarism-free.
And as if that's not enough, Article Forge is a very easy-to-use tool and can create content in several languages thus helping you reach out to a wider audience.
Before signing up with Article Forge, you should also know that the maximum limit on the number of words is 750.
Features of Article Forge
Article Forge is a powerful AI writing tool that can generate content for you at any time.
You can generate content in over seven different languages including Spanish, Portuguese, and Italian amongst others.
This software incorporates links, videos, images, and LSI keywords for you.
You can integrate it with other SEO tools such as SEO Stripper, RankerX, SEnuke TNG, CyberSEO, and WordAI amongst others.
You get a 30-day money-back guarantee when you subscribe to any of their packages.
Jasper AI vs Article Forge [Comparison]
As you can see from the above, these are two article generators that each boast of many impressive features.
However, at the end of the day, you will have to pick one.
To ensure you make the best choice, below we are going to compare head to head, some of the things both platforms share, and the key differences that distinguish one from the other.
The AI software these two platforms use is responsible for the quality of the articles generated. Starting with Article Forge, they recently introduced a 2.5 version of their AI.
This new version introduced a second learning model that is more sophisticated and has got the ability to write human-like articles free of plagiarism and errors.
Article Forge 2.5 is capable of searching within its database and create articles even on new niches and obscure topics.
Jasper AI on the other hand uses GPT-3 learning technology which is a more advanced language model that can be used to create human-like articles.
The Jasper AI software also goes the extra mile of incorporating the AIDA and PAS writing frameworks which makes articles generated to be more attention-grabbing and interesting.
It's also worth mentioning that Jasper is always upgrading their AI software. For instance, now users can access the Boss Mode feature that enhances the content creation process significantly through voice command.
After seeing how important it is for an AI to support multiple languages, it is essential that you pick the one that supports more languages.
Article Forge supports at least 7 different languages, and Jasper can generate content in more than 11 languages.
Clearly, Jasper sounds like the ideal software to use when generating content for international or foreign users.
If you aren't heavily invested in crossing borders, then the number of languages supported may not be a feature worth prioritizing.
Neither Jasper.AI (Jasper) nor Article Forge features an inbuilt plagiarism checker.
But what you can be assured of is that you will get plagiarism-free articles from both content generators.
This is one of the similarities these two platforms share.
They both create original and unique content that you won't find anywhere else. However, to be sure, you could always run the articles generated from either AI writing tool through a plagiarism checker.
This is another area that Jasper excels most in. With Article Forge, the longest article it can generate for you is only 750 words. You can't get anything more than that.
But with Jasper, there is an actual feature that is designated to generate long articles for you. Jasper has got a long-form assistant that will help you craft long articles in seconds.
For those of us who specialize in marketing, we are all aware of how essential long-form content is. It converts more than short blog posts and gives you room to explain all your audience needs to know about that topic.
This is another reason that makes Jasper AI a better choice.
Undeniably, both these two AI's are easy to use. At first, it's easy to get lost in the myriad of features. However, the more you use either software, the sooner you learn how to navigate each.
Because it can take a while for you to learn how to access certain features, tutorials really help with understanding the various features and how they work.
Both platforms have tutorials, but Jasper AI has got more tutorials on how to use their robot, Jasper. With access to all of Jasper's guides, using the AI will be more of a breeze.
With Article Forge, you will have to learn some of the things on your own.
There are many advantages of using an article generator with a user community. First, you get access to tons of advice and tips from others who also use the software.
Secondly, it's a great opportunity for you to interact and learn from others.
If you visit Jasper's official website, you will see that they have a big online community on Facebook where its users interact with one another.
On Facebook, they have got a group that has more than thirty thousand members.
Even if you don't get support from Jasper customer support, you can still ask questions and get answers from this massive community.
It's very unfortunate that Article Forge lacks such a community. Their users have to fully rely on Article Forge's customer support for them to get answers to queries.
Jasper AI vs Article Forge [Pricing]
This is also another area that these two article generators differ. We are going to start with Article Forge's pricing.
They have the following plans;
There is a free 5-day trial that gives you access to the software's basic features. A free trial is a great opportunity for you to look at what this AI can do for you. and if you like it, you can subscribe to either of the following;
$57 Monthly Plan – This option gives you 24/7 access to an AI-powered writer. The articles generated are plagiarism-free and of high quality. With Article Forge's premium plan, you can create content faster (within 60 seconds). You can also publish directly to WordPress.
$27/MO Yearly Plan – This plan gives you access to all the above features. The only difference is that it's slightly cheaper and it's billed annually.
Here is the pricing plan for Jasper;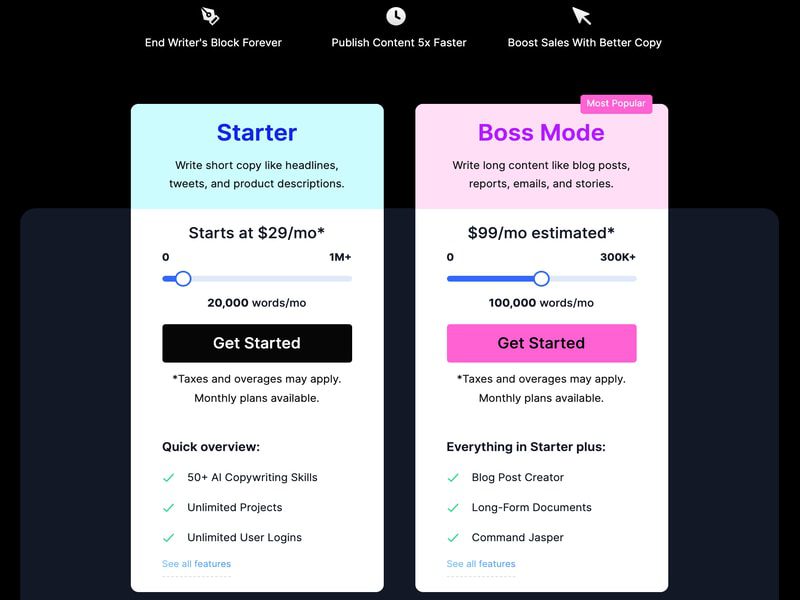 Starter Plan $29/Mo – With this feature, Jasper can create up to 20,000 words for you. And you can use it to access the 50+ templates provided by this software. You get chat support and the ability to generate articles in 25 different languages.
Pro Plan $109/Mo – There is no limit to the number of words you can create using Jasper. This package comes with all the features in the starter plan and additional features such as long-form assistance and access to workspace documents. You can also interact with the copywriter's community.
Boss Mode $119/Mo – This package offers you all the features you can ever need in an article generator. First, your articles will be generated twice as fast. You can use Jasper commands, make unlimited runs, and up to 3000-character look-backs.
In terms of simplicity, the Article Forge pricing plan is quite straightforward.
There is only one premium package. And the difference is that it's more affordable when billed annually than monthly.
Jasper pricing plan is more diverse and can therefore suit content creators with various needs and budgets.
Regarding features a person can get from both platforms, Jasper has got better features that will provide you with more quality articles.
Conclusion
If functionality and quality features are what you are after in an article generator then Jasper AI should be your top choice.
When we compare the prices, the monthly rates for Article Forge are nearly twice as high as the Jasper starter plan.
And when you look at the features you can get from the Jasper Pro and Boss Mode plan, Article Forge can't even come close.
To top it all up, Jasper supports more languages and can create content faster.
And also thanks to their community, as a Jasper user, you can interact and network with fellow content creators.
This is a luxury that Article Forge can't provide you with.
However, Article Forge does come with a gracing 5 days free trial which is more than enough to test out the platform to see how it really works.
So that's it on Conversion AI vs Article Forge, which of the two tools is most appealing to you?
Let me know your thought using the comment section below.
Learn More: