Jasper AI vs Copymatic: Best AI Content Writer?
In this article, we will be comparing Jasper AI vs Copymatic.
As a writer or business owner, you will understand that one way to stand out from your competitors is to create high-value content.
However, developing high-quality content can be time and energy-demanding. You have to develop valuable ideas to market your product and service.
Then organize them sensibly and interestingly to impress your readers
 The work becomes more burdensome when you have many marketing copies to write without assistance.
However, you can make your job easier by getting suitable writing software. Some prominent AI writing software is Grammarly, Jasper AI, Copysmith, Copy AI, etc.
While all of these tools present themselves as authorities in composing marketing copies, is there one that is more competent than the other?
Between Jasper AI vs. Copymatic, which is better for copywriting?
That is what we are said to find in this unbiased comparison.
Let's get into it!
What is Jasper AI?
Jasper AI is web-based quality software that helps marketers and copywriters ensure their audience converts after being exposed to the content on their website.
Simply put, it's a tool that uses artificial intelligence to create content for your business.
With Jasper AI, you can create a highly engaging copy for your ads campaigns: Facebook, Email, YouTube, or Natives Ads.
Not just that, it also can create amazing sales copy for your sales page, landing page, or squeeze pages.
With tools like this, you need not waste money on any expensive copywriter for your business.
And if you write yourself, you need not worry about writer's block again because, with software like this, you can sporadically increase your content production while converting your audience simultaneously.
The company was founded in 2016 and has already been used by top brands all over the internet.
Being used myself personally, I believe with Jasper AI, you can solve the following problem for your business:
Get rid of writer's block
Uniquely rewrite old content
Generate amazing email content for newsletters
Create eye-catching content titles
Write long-form content for your blog
Generate scripts for your video content
Save time and cost at the same time
Jasper features
Let's examine some unique features of Jasper AI;
1. Tone of Voice Setting
This feature makes Jasper AI a very interesting copywriting tool. with Jasper AI, you can set the tone of voice you want your content to be created.
You can create content using a professional voice tone or use a friendly tone. All this depends on your preference and how you want your content to be written.
2. Jasper Boss Mode
The Boss mode was the most recent update in Jasper.ai's pricing plan and features. This feature allows Jasper users to do anything they want via voice command without stressing themselves.
Just think of it as conversing with Siri on Apple devices. That's how cool the Jasper Boss mode is.
With this, you can 10X your content creation and create more content for your company or business.
2. Content templates
Jasper has over 50 templates that offer you the headstart you need for content generation.
These 50+ templates generate AI content constituting LinkedIn ads, Facebook ads, Google ads, social media posts, blog articles, picture headlines, email copy, marketing copy, and several others.
3. Surfer SEO
Surfer SEO is a prominent AI-powered SEO software that enables you to optimize your content for it to rank higher on Google's search engine.
Jasper AI can be merged with surfer SEO.
If you're eager about improving your presence organically and wish to obtain the most out of Jasper AI, I will suggest you use it with Surfer SEO.
It will benefit you in composing content that will rank higher on the Google search engine and drive traffic and conversions to your site.
Other amazing features you enjoy when you integrate Jasper with Surfer SEO include a keyword study and an active content editor that lets you include pictures, links, and other tools.
4. Over 25 Languages
One amazing feature Jasper AI has is its multi-language backing. It favors more than 25 languages, including English, German, Japanese, French, etc.
This feature makes it suitable for your business if you seek to target an international audience.
5. Jasper AI Academy
At first, you might not understand how Jasper works. But later, with few tutorials available on the platform, you'll be able to pull through.
There are so many features available on the software and so many things to do. If care is not taken, you might easily feel overwhelmed.
So you must go through the Academy section and watch the tutorial on how to use the available features of the software.
You can Sign-Up Here to go through these free courses. They also have a robust YouTube channel you can always go to for free content.
Pros Of Jasper AI
Contains more than 50 different templates to select from.
User-friendly interface.
Composes original and zero plagiarism copies.
Maintains an active Facebook community that can provide useful assistance & advice.
Integration with Surfer SEO is accessible with boss mode plans.
Cons Of Jasper AI
More expensive when compared to other software in the market.
The unused words in a month cannot be carried over to the next month.
Need to Fact Check Jasper Output
What is Copymatic?
Copymatic is an AI copywriting tool that helps you create high-quality and persuasive copy.
With copymatic, you can easily create compelling copy optimized for conversion. This software is known for providing real-time feedback on writing.
It also comes with a set of tools that you can use to analyze your competitor's copy and see how it works for them.
Copymatic provides you with a library of copywriting formulas that you can customize to your writing needs. It also has editing tools that you can use to improve an existing copy.
This tool is one of the copywriting tools that cover many content types.
With copymatic, you can write Blog posts, Landing pages, Meta Titles, SEO Keywords, FAQs, Product descriptions, and so on.
It also works perfectly for Social Media posts such as Facebook, Instagram, and LinkedIn.
Copymatic Features
Here are some of the salient features of Copymatics;
1. Long-form content
Copymatics supports Longform content, and therefore, it is one of the favorite tools for Bloggers.
To use this feature, you must enter some details about the article like a description or a content brief.
Most times, copymatic always requires that you write a long-tail headline for proper understanding.
After that, you will need to write your focus keywords. That is because copymatic is SEO-focused. Thereafter, you enter a few subheadings or ask the software to generate them for you.
Once all these details have been entered, click "Write my article". In about 30 seconds, your content is out.
You can go through it to make any corrections or adjustments where necessary.
2. SEO Content
Copymatic creates fantastic text for SEO purposes. It has different SEO tools that make writing SEO content very easy.
For example, when writing articles, it would require you to enter your focus keywords so that it can naturally include them.
Also, you can write Website content and Meta descriptions. The tool also helps you research SEO keyword ideas that you can use to grow your web traffic. 
It also has a full outline generator tool.
This is where Copymatic automatically generates an SEO-optimized outline based on the keywords you've gotten earlier.
3. Sentence Rewriter
Copymatic has a sentence rewriter feature that automatically rewrites text to produce a new, unique version of the original content.
This feature is helpful for various tasks, including content creation, SEO, and plagiarism prevention.
With this feature, you can generate multiple versions of an article, which can be used for different purposes, such as publishing on other platforms or targeting different keywords.
It also helps avoid plagiarism by producing a new text version that differs from the original.
Copymatics performs this function in some of these ways;
Rewrites the text to include your keywords in the new version
Expands a short sentence into longer ones
Rewrites the content into other languages
Summarizes a long text into shorter ones.
3. Grammar Checker
This feature can help users to structure their sentences clearly and coherently.
It includes options like correcting sentence fragments, using proper punctuation, and ensuring that sentences have a consistent structure.
Also, it suggests ways to vary sentence length and structure to make the text more engaging and easy to read.
It is designed to help users produce high-quality and well-written content. Every form of grammatical error is eliminated.
The goal of this feature is to make the text easier to read and understand for the intended audience.
4. Multiple Tools
Copymatic is one of the copywriting tools that cover a large variety of content types.
With copymatic, you can write Blog posts, Landing pages, Meta Titles, SEO Keywords, FAQs, Product descriptions, Social Media Posts, and a lot more.
It has over 80 writing tools. Therefore, there is virtually nothing you want to write that copymatic can not.
Pros of Copymatic
Has multiple content outputs
User-friendly interface
Has multiple languages
Comes with a free trial of 1500 words
Includes a plagiarism checker
Cons
You might need to generate multiple outputs to get the perfect copy
The free version is limited
Jasper AI vs Copymatic: Pricing
Let's look at the pricing of both tools.
Jasper AI Pricing Plan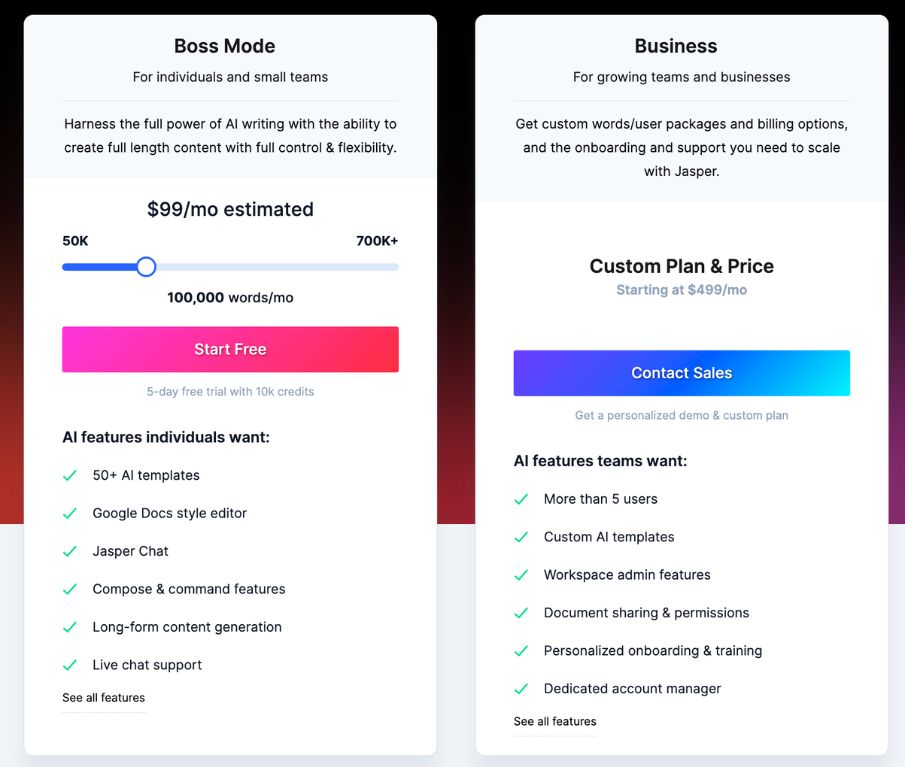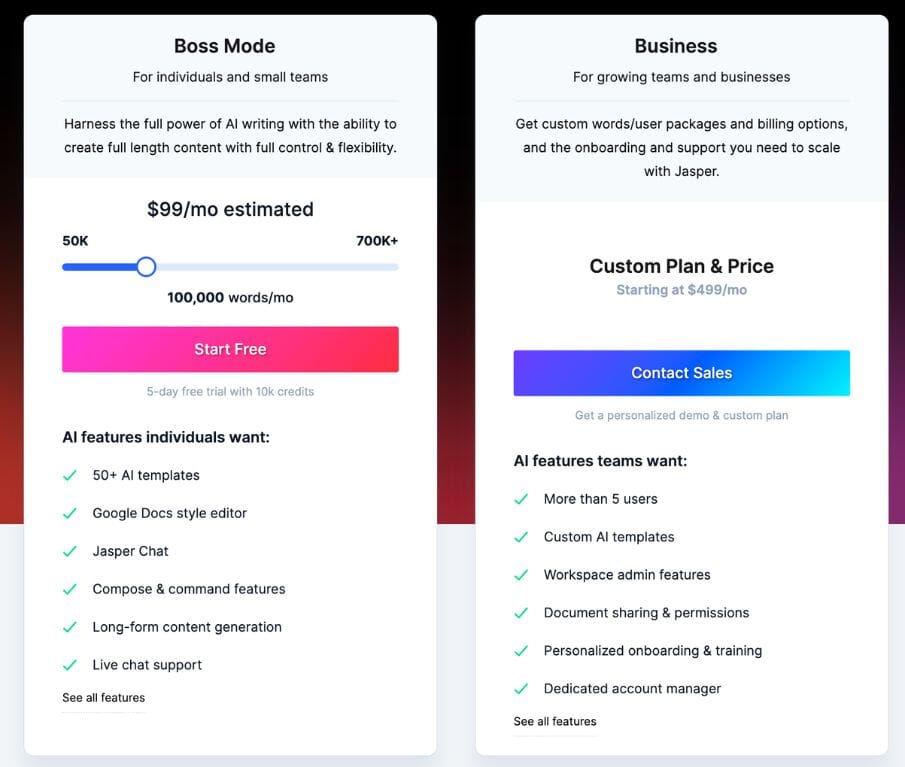 Jasper AI comprises 2 pricing plans which include:
Boss Mode – Begins At $99 Per Month
The privileges comprise everything in Starter Mode plus:
50,000 words per month. The more words you desire, the more the pricing increases.
Increased maximum of templates.
Priority client chat assistance.
This plan is ideal for bloggers and content marketers.
Both come with a 5-day money-back guarantee.
Business/Custom Plan
This plan is ideal for teams and businesses.
The pricing for this plan is not on their list. So you will have to contact the service provider to get the prices.
The benefits include:
Custom texts/user packages
Adaptable billing options.
Exceptional technical assistance
Orientation and tutorial sessions.
Committed account supervisor.
Copymatic Pricing
It comes in two pricing plans.
Pro Plan
The pricing plans depend on how many words per month you would love to go for.
It starts from as low as $9/month for 15000 words and it goes as high as $799/month for 3,200,000 words.
With any of the amounts you choose, you have access to;
Unlimited Users and projects
All the writing tools
SEO Keyword Research
Plagiarism checker
API
Enterprise Plan
This is meant for business owners. It is customized to fit your business needs. In this plan, you have access to everything in the Pro plan, including;
Human Editing and proofreading
SEO manager and account manager
Premium support
Advanced integrations
This comparison will not be complete without examining the similarities and differences between both tools.
Jasper AI vs Copymatic: Similarities
Both are copywriting tools
Both tools support teamwork
They are both excellent for SEO content
The two tools support Long-form content
Jasper AI vs Copymatic: Differences
Jasper has a voice command feature while Copymatic does not have
Copymatic does not offer a money-back guarantee whereas Jasper has a 5-day money-back guarantee
Copymatic has a free trial while Jasper does not.
Final thoughts on Jasper AI vs Copymatic
In conclusion, Jasper AI vs Copymatic are both wonderful AI writing tools that can meet your writing and marketing needs.
I would say that Jasper is great for teams and businesses due to their price options.
And Copymatic is great for writers who work more with web content.
Jasper allows you to use a voice command that will be converted to text. This feature is not common with most AI writing tools.
Jasper also allows for multiple integrations.
Therefore, if you want a copywriting tool that makes your writing journey easier, especially for businesses, I'd recommend Jasper.
Altogether from the whole comparison, Jasper AI seems to have a lot of features that would help writers when compared to Copymatic.