Jasper AI vs Grammarly [2023]: Which is Better For Copywriting?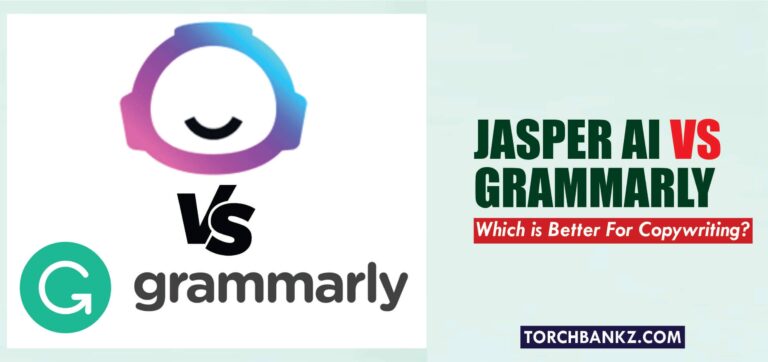 Today, we will be discussing Jasper AI vs Grammarly. Both are tools that can aid your writing processes.
Sometimes coming up with valuable ideas to market your product and service, plus organizing them sensibly and interestingly to impress your readers can be quite tasking.
The work becomes more burdensome when you have tons of marketing copies to write without assistance.
However, you can make your job easier by getting suitable writing software.
Some prominent AI writing software is Grammarly, Jasper AI, Closerscopy, Writesonic, etc.
For this article, we will limit ourselves to Jasper AI and Grammarly. They are both writing aids.
Between Jasper AI vs Grammarly, which is better for copywriting?
That said, this is an unbiased comparison between Jasper and Grammarly.
I'll review their main features, pros and cons, how they compare, price comparisons, and other relevant information.
This is to help you decide on the most suitable for your business.
Let's get into it!
Spoiler Alert

Grammarly is integrated with Jasper AI. This means you can use now use the tools together to created better content from inside your Jasper AI Account.
What Is Jasper AI?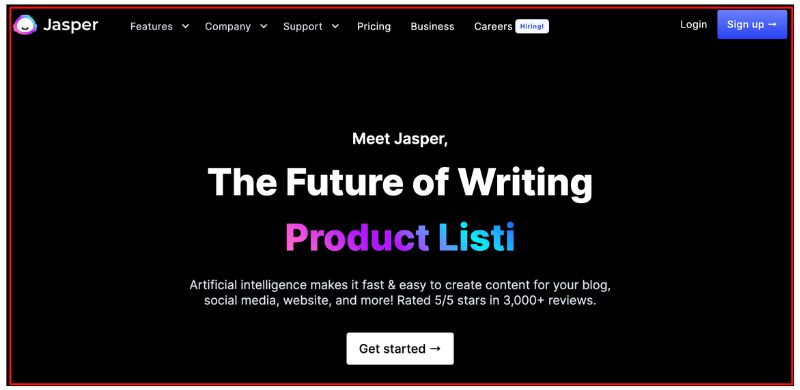 Jasper artificial intelligence (AI) is an automated writing software controlled by cutting-edge artificial intelligence technology.
It can thoroughly transform your content into a unique story.
Jasper AI permits you to compose blog posts, chapters, marketing copies, and articles automatically to suit your writing tone.
It can create copies 5x more rapidly than a typical human copywriter. Jasper AI helps you to achieve 100% unique content with no plagiarism.
Also, you are opportune to use templates for certain categories.
Jasper AI Features
The Jasper AI offers a lot of amazing features which we'll be discussing in this article.
1. Starter Mode Plan
The starter plan is for beginners, so if you are new to Jasper, you've got no worries.
In this mode, you are permitted to access vital features like a library of more than 100 million pictures, content quick creator, keyword research, and AI-created titles and subjects.
2. Boss Mode Plan
If you're interested in getting better-advanced features, Jasper also made provision of a boss mode with features like increased fastness and accuracy, smart keyword research, templates, improved commands, content scheduler, etc.
This plan is suitable for you if you're serious about improving your content marketing strategy.
3. Content Creation
Jasper AI can create a certain number of texts on your subject of interest. However, this feature is dependent on the plan you subscribed to.
You can utilize this feature by providing a few clues like captions, headlines, or a few paragraphs, then click on the provided button to see the outcome.
The software can also generate long-form AI content, AI blog articles, and headlines for your social media posts.
4. Contains Over 25 Languages
One amazing feature Jasper AI has is its multi-language backing.
Currently, it favors more than 25 languages, including English, German, Japanese, French, etc.
This feature makes it suitable for your business if you seek to target an international audience.
5. Paragraph Rewrite
Jasper AI comes with a "rephrase tool feature" that can reproduce various ways to write the same sentence should the original copy you created requires a tweak.
Also, it comes with a "fix grammar feature" and a "describe it to a 5th grader" regulator.
6. Surfer SEO Merges
Surfer SEO is a prominent AI-powered SEO software that enables you to optimize your content for it to rank higher on Google's search engine.
Jasper AI can be merged with surfer SEO.
If you're eager about improving your presence organically and wish to obtain the most out of Jasper AI, I will suggest you use it with Surfer SEO.
It will benefit you in composing content that will rank higher on the Google search engine and drive traffic and conversions to your site.
Other amazing features you get to enjoy when you integrate Jasper with Surfer SEO include a one-dollar discount for Surfer SEO when bought through Jasper, keyword study & recommendations, an active content editor that permits you to include pictures, links, and other tools plus a lot more features.
Pros Of Jasper AI
Contains more than 50 different templates to select from.
User-friendly interface.
Composes original and zero plagiarism copies.
Creates long and short-form content rapidly.
New template features are updated frequently.
Benefits over 25 languages.
Has keyboard shortcuts for straightforward access to tasks.
Boss mode provides plenty of content generation.
Ability to optimize blog articles effectively because of the integration with Surfer SEO.
Maintains an active Facebook community that can provide useful assistance & advice.
Integration with Surfer SEO is accessible with boss mode plans.
Cons Of Jasper AI
More expensive when compared to other software in the market.
Content can occasionally be factually inaccurate and the software does inform you about filler truths in their aid writings.
There might be reproduced text when wielding the long-form assistant.
Might seem moderately affordable for company users. However, it can be expensive for the majority of users.
Inability to use it to rewrite existing copies entirely.
What Is Grammarly?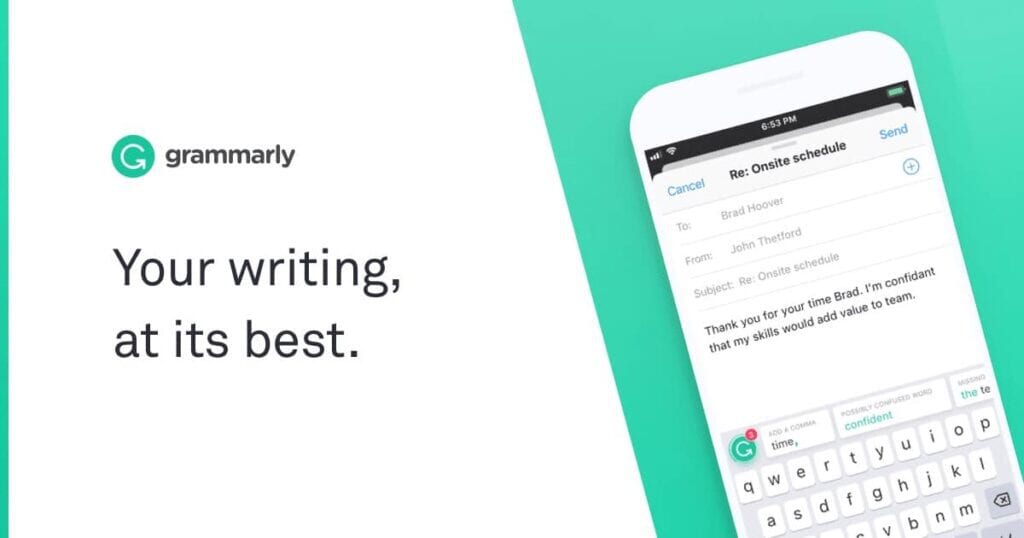 Grammarly is an AI writing tool that writers, editors, copywriters, and other experts can utilize to edit and proofread their manuscripts.
It examines your grammar, and punctuation and improves the use of vocabulary.
Grammarly permits its users to select editing input established on 6 unique modes of writing which are enterprise, educational, informal, technological, inventive, and general.
You can use this AI tool for free, however, you can only enjoy the complete range of its amazing features when you subscribe to the paid plan.
Learn more about Grammarly Here…
Grammarly Features
Here are some amazing and very vital features of the Grammarly AI writing tool
1. Grammar Checker
This grammar checker feature is accessible on free and paid subscriptions.
However, in the free Grammarly, you simply receive basic corrections while the paid Grammarly offers you expanded suggestions.
Grammarly also has an editing feature that verifies your grammar.
With the support of its front-line algorithms, Grammarly AI compares and evaluates your article to the principles and structures of nice writing.
It scans every paragraph and offers suggestions on the best way you can enhance it by using a sharp vocabulary phrase or rewriting a verb tense.
2. Tone Sensor
This is one amazing feature that Grammarly comes with.
If you have ever written an article and were concerned about whether your tone corresponds to how your reader will comprehend it then it's time to get Grammarly's tone sensor.
This way, you won't have to bother about hitting the correct tone for your content again.
It is pretty simple to recognize tone when you're discussing with someone as you have gestures and facial articulations that can assist you, but these are not included in text messages.
However, Grammarly AI comes with a tone detector that can assist you in striking the right tone so you can always make the best impression.
3. Plagiarism Checker
Grammarly's plagiarism detector can discover plagiarism from multiple web pages including ProQuest's educational databases.
It has both free and paid subscriptions. The free subscription will notify you whether your article has identical content or not.
The paid plagiarism checker features paragraphs that need references and offers you the aid you require to adequately acclaim your sources.
Aside from checking for plagiarism, the Grammarly plagiarism checker also inspects for other writing problems.
4. Analytics
With Grammarly AI analytics, you can assess and navigate your team's headway. Observe when your team responds to writing feedback & monitor the advancement by the numbers.
Observe trends for client-handling teams, company departments, and other additions with custom-made filters.
Also, with Grammarly Analytics, you can guarantee your team is creating a true impression with penning tone analysis.
With the tool, you can also assess the outcome of your team's time conservation and effectiveness, assess progress and recognize areas your team needs to improve.
5. Style Cues
If you're passionate about building a strong brand, then you need to be consistent in your writing.
The style guide feature will help you achieve this. It assists your entire team to capture your organization's unique style.
It functions to keep your team aligned with a shared archive of messages and expressions about your company.
The style guide helps to formulate principles to enable your team to avoid borrowing illogical acronyms or slang from clients.
It ensures your business, production, and tags are appropriately spelled.
6. Content Snippets
Content snippets provide your teams the ability to compose invariably, on-brand information with a distributed snippet archive.
Also, you can rapidly arrange sentences so you can pen them instantly in all your task flow.
You can formulate snippets to enhance productivity for everyone on your team. Finally, you can handily share succeeding lingo to heighten constant communication throughout.
Pros Of Grammarly
Accurate editing of articles.
Offers you suggestions to assist your learning.
Ability to establish your choice language, OFF it on certain sites, and also include new words you borrow frequently to the glossary.
The tone sensor feature eliminates all the fuzz in your writing and helps to detect your real writing tone.
Functions in most browsers, email, etc.
Captures most punctuation errors.
Easy to comprehend rationales so you can learn and expand.
Very easy to wield so you don't have to become a computer genius to use the software.
Carries an inbuilt plagiarism checker.
Permits you to create a brand guide by aligning you to your brand style.
Cons Of Grammarly
No plagiarism checker in the free plan.
Functions only in the English Language.
No priority is laid on indigenous African dialects, mostly in South Africa.
Does not permit offline editing
Absence of a translation tool.
Doesn't always function faultlessly.
Lags too much when editing bigger articles.
Cannot entirely displace manual proofreading.
Disgusting spam-like promotions and emails. However, there is a provision to unsubscribe from the email list.
Jasper AI Level vs Grammarly: Differences
Jasper AI and Grammarly are excellent AI writing tools that can assist you easily in your writing.
However, no two tools can be exactly the same.
We will be discussing some of these differences between Jasper AI and Grammarly.
Jasper AI level comprehends and supports languages other than the English language. This feature makes it an incredible software for global markets.

Jasper AI can generate copies in various languages including English, Italian, French, German, etc.

The AI level also enables you to translate content.
Grammarly on the other hand supports and understands only the English language and is unable to translate content.
Due to the absence of this feature, the AI level will not be suitable for use in international markets.
Jasper AI contains 50+ custom-made templates you can select from. Grammarly on the other hand does not possess this feature.
Grammarly's AI level makes it more straightforward to use for beginners than the Jasper AI level.

Grammarly is primary created to aid pre-written content.
Jasper, on the other hand, takes a little extended time to master.
However, watching the tutorial video will give you the headstart you need and you will be eligible to produce amazing content with it.
The Jasper AI level enables you to enjoy its impressive long-form content assistance, and the content that is produced is adept, adequately composed, and original. Grammarly on the other hand does not generate long-form content.
Jasper AI has a money-back guarantee. Whereas Grammarly does not.
Jasper AI Level vs Grammarly: Pricing Plan
Here, we are going to consider the pricing plans of both Grammarly and Jasper AI. Then we compare them.
Jasper AI Pricing Plan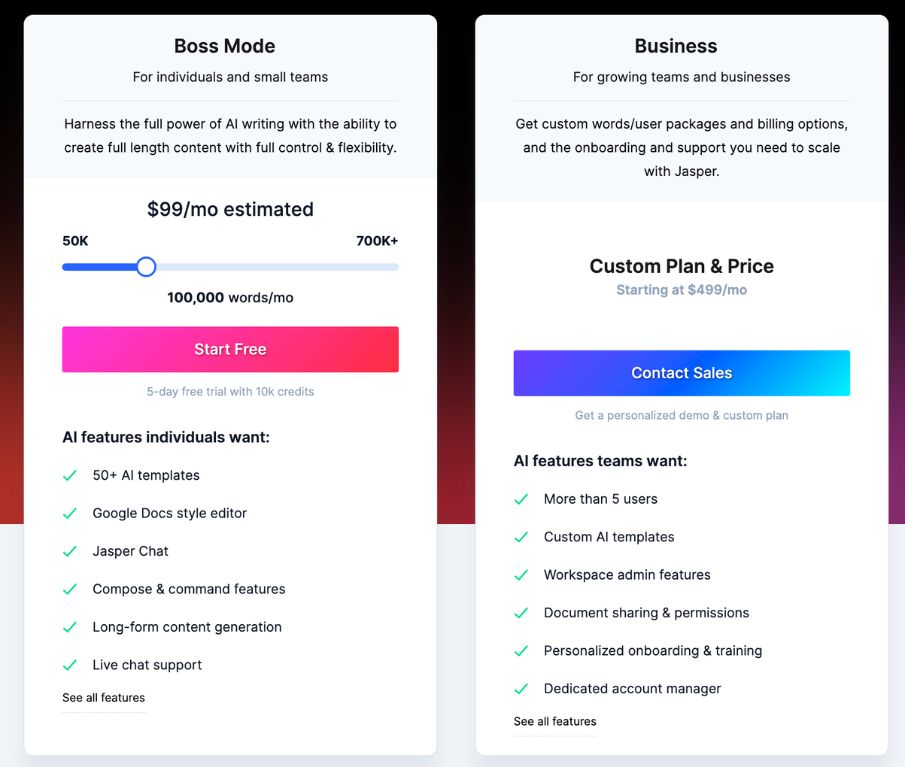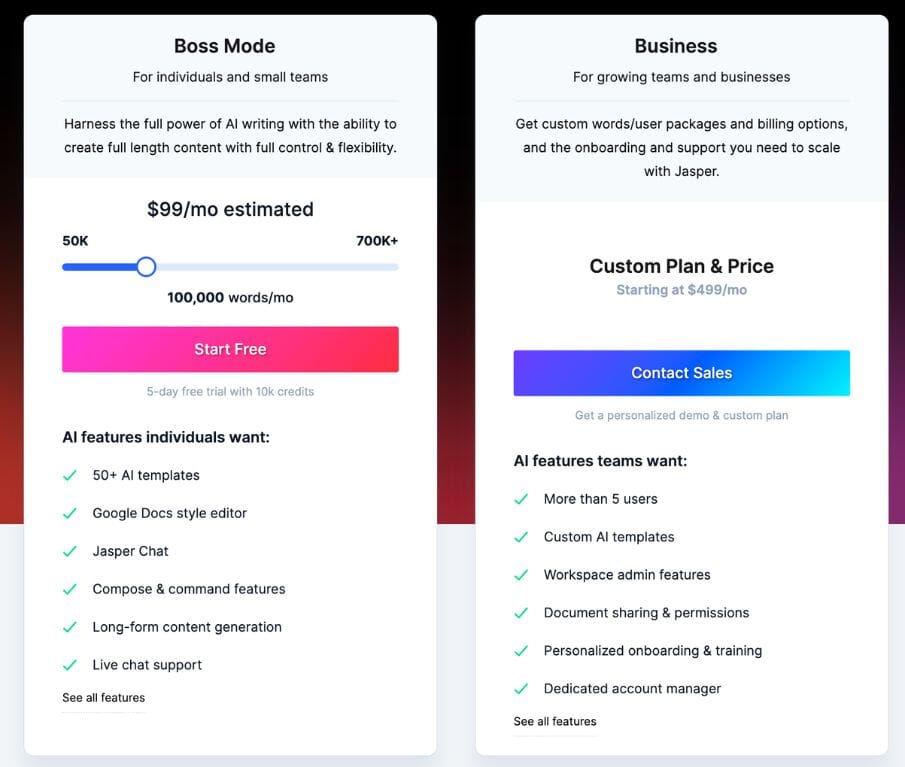 It has two pricing plans. They include;
Boss Mode – begins from $99/month
It includes everything in starter mode plus,
50,000 words monthly
Google doc style editor
Also, note that both plans come with a 5-day money-back guarantee.
Business and Custom Plan
They are mainly suitable for Teams And Businesses
These two pricing plans come with a special request. They will be customized to suit your business need.
You have to contact the representative for your special package and offer.
For the custom plan, you will be taken through some training sessions which will help you get accustomed to the way it works.
Grammarly Pricing Plan
It also comes with three pricing plans. They include;
Free Plan
This plan offers you all the basic suggestions you need to improve your writing. It also helps to detect the tone.
With the free plan, you can correct wrong spellings, and adjust punctuation and grammatical usage.
Premium Plan – $30/month
This pricing plan consists of everything in the free plan including;
Sentence restructuring
Citations
Business Plan – $45/month
This pricing plan is more suitable for teams and organizations. It consists of everything in premium including;
analytic dashboard
brand tone
single sign-in
You can analyze up to 100,000 characters with spaces at one time if you are using the Grammarly editor.
Grammarly for Windows or Mac does not have any threshold aside from the one inflicted by your content editor.
There is no money-back guarantee for Grammarly.
Final Thought On Jasper AI vs Grammarly
In this article, we have been able to compare Jasper AI vs Grammarly. We can see that both AI software performs excellently in writing.
Also, for the business plan, Grammarly is cheaper and permits more words than Jasper AI.
However, Jasper AI contains more advanced features including language support, generation of long-form content, etc, unlike Grammarly which does not.
basically, Jasper AI is more of a writing assistant while Grammarly does more of the editing.
When you also consider the features in both, Jasper AI seems to be doing a great job at making your writing journey easy.
More importantly, Jasper AI is a better choice for multilingual businesses.