Jasper AI vs Quillbot: Which is Better For Article Writing?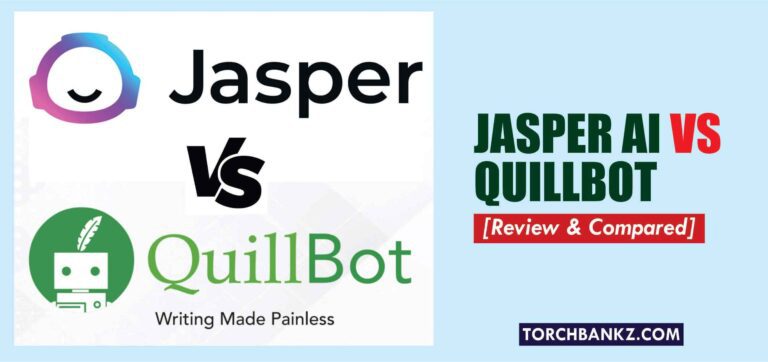 In today's article, our focus is on Jasper AI vs Quillbot, two of the most prominent AI writing software.
We will be comparing both.
If you're a writer or creator of any category of content, you will understand that one way to stand out from your competitors is to create high-value content.
However, developing high-quality content can be time and energy-demanding.
On the other hand, if you now decide to hire an expert writer, you will spend a lot of money.
This is the point where you'll need AI writing assistance. These tools are built to assist you to generate good content rapidly.
It achieves this by discerning your readers, performing analysis, and even producing whole chunks of content for you.
There are other amazing AI writing tools available in the market. However, in this article, we'll be discussing just Jasper AI vs Quillbot.
That said, this is an impartial comparison between Jasper AI vs Quillbot.
I'll go over their major features, pros & cons, how they compare, their pricing, etc.
The essence of this is to discern the most suitable for your writing needs.
So without further ado, let's get into it.
What Is Jasper AI
Jasper AI is an Artificial Intelligence writing tool that is trained to compose original and brilliant copies for websites, emails, social media posts, etc.
Presently, it is one of the well-respected AI writing software in the market.
Jasper AI is suitable for you if you need an entire AI writing adventure. With this AI tool, you can issue a command, and it will produce copies based on your injunction.
Furthermore, it can assist you in tracking and evaluating your impacts to detect how nicely your article is performing.
If you need an advantage in your digital marketing endeavours, Jasper AI may be the remedy for you.
Jasper AI Features
The features of Jasper AI differ relying on the pricing mode you choose.
Discussed below are only a selection of what might be provided and not just those restricted to a particular price range.
However, you will still find the features outlined later in the article according to their pricing plans.
1. Plagiarism Detector
Jasper possesses an inbuilt plagiarism checker that permits you to scan your content for resembling text and delivers you a percentage match.
This feature is not accessible for free and users spend per plagiarism inspection.
2. Customized Templates
Jasper comes with over 50 templates that offer you the headstart you need for content generation.
These 50+ templates generate AI content constituting LinkedIn ads, Facebook ads, Google ads, social media posts, blog articles, picture headlines, email copy, marketing copy, and several others.
3. Support Network
For some users, Jasper can be challenging to wield. However, the AI tool includes a first-rate user support network. Contained in this are practice videos, live meetings, and chit-chat support.
Furthermore, they maintain a thriving Facebook community where you have access to further guidance and recommendations.
4. Modifiable Voice Tone
Jasper can assume a unique persona for any idea you choose with its adjustable tone of voice feature.
One of the incredible features of this software is that it does not just belch words. It can completely make the phrases it joins together appear as if they came from an actual human being.
However, this feature is not a multiple-option mechanism, therefore you'll have to introduce your tone description.
5. Paragraph Rewriting
Jasper comes with a rephrase mechanism that can reproduce several ways to explain the same concept.
This feature is beneficial if your generated copy or original article requires a fine tune. Jasper's rephrase tool will convey your information differently.
This is particularly to make the message clearer and enable even a layman to understand the message.
6. Search Engine Optimization Keywords
Jasper AI arrives with a keyword insert tool to ensure your article integrates related keywords to boost its rankings in Google search engines.
You can put in more than two keywords and Jasper will ensure that it is well utilized throughout your article.
Jasper AI Pros
Functions across 25+ languages
50+ templates to kick-start your marketing actions.
Several support videos to get you started.
Offers you plenty of liberty in how you utilize it like the ability to rewrite articles and use varied layouts.
Comes with a commanding feature that allows you to create excellent content shortly.
Has a straightforward and neat interface that makes it simple to use and navigate around.
Has plagiarism detector for writing plagiarism-free content.
Support system service.
Content appears like it was written by a human being, even though it was generated by an AI tool.
Ability to generate topics and captions to ensure your content is better impressive.
Jasper AI Cons
Inability to pay once for an unlimited number of words.
Does not give sources so you cannot double-check where it obtained its input from.
Jasper's most expensive plan has a maximum of 50k words produced per month.
The plagiarism checker costs extra money.
Expensive for beginners.
Does not function without an internet network.
Deducts money from your account for every content it generates including junks.
Occasionally displays some unimportant words that you will require to edit.
What Is Quillbot?
Quillbot is an AI writing software that provides smart editing features for writers, especially publishers and students.
It includes tools like a text paraphraser, plagiarism detector, grammar checker, etc.
QuillBot also produces summaries of content for you, this way you can instantly understand the essence of an article without even having to scan it entirely.
This is an incredible AI writing tool if you are passionate about enhancing your writing abilities.
Quillbot helps you edit your writings without altering the definition, so you can prevent plagiarism and enhance your writing tone. Also, the tool is free!
Quillbot Features
Quillbot's free plan possesses limited basic functions while the premium plan accesses the majority of the advanced features.
The features that will be discussed below contain both the free and the paid versions.
However, more details of the free and the paid version benefits will be provided in the pricing plan.
1. Text Paraphraser
Quillbot alters the arrangements of phrases and texts, adds synonyms & eliminates complicated vocabulary using machine learning.
The articles are rewritten based on established writing styles like principle, fluency, conventional, straightforward & creative.
You are to select one depending on your intended readers.
2. Plagiarism Detector
The plagiarism checker tool is ideal for writers and students. It rapidly catches any word that appears even slightly plagiarized.
However, you are restricted to only 20 pages per month even if you subscribed to the premium plan.
While it's okay if you're writing a periodic paper, however, if your career is in writing then it won't be favorable enough.
You can still buy extra pages, but I bet you don't want to spend more for a product you are already spending on.
3. Summarizer
The Quillbot summarizer tool enables you to transform lengthy content into a summary.
You can use it to generate a content overview for an email copy.
Furthermore, you can use it to develop a Search Engine Optimization summary or meta illustration for an essay, blog content, or website page.
The paraphraser and the summarizer tool are related in use. You can test the two to see what works.
4. Co-Writer Tool
This tool permits you to bring all of the different tools and assemble them into a single outlet.
The co-writer tool includes a basic word processing window that enables you to compose your content and also use the summarizer, citation, paraphraser, etc all in a single spot.
Furthermore, the tool permits you to keep your content in the cloud, and this is a useful feature.
5. Grammar Checker
Quillbot grammar checker favors Australian, British & American English.
The tool is accessible via the website application or web browser plugin if you want to change grammar errors elsewhere online.
6. In-Built Thesaurus
The built-in thesaurus is powered by artificial intelligence.
It is simple to have a thesaurus handy when you want to swap a different text.
However, with AI, this procedure comes to be simpler.
This is because you will not just have the thesaurus alone, but you can understand which alternatives are more generally utilized.
This will make your sentences sound real, and avoid becoming redundant.
Quillbot Pros
Clear and straightforward to use interface.
Provides a Google Doc and chrome extension.
Ability to compare several interpretations of your article in the paraphraser and select the one you prefer.
Includes a 100% money-back guarantee within 72 hours.
Freedom to test the features without needing to subscribe for a paid version.
Has a paraphraser, summarizer, and citation generation.
Quite affordable.
Great for beginners.
You do not require a separate tool such as Grammarly to analyze your grammar.
Quillbot Cons
Contains only two writing modes for the free version.
Does not permit you to write with GPT-3 AI.
Selecting the sentence format and synonym options that sound best is always done manually.
May occasionally make irrelevant recommendations or rewrite what you originally meant to write.
Restricted in the number (150) of texts you can rewrite at a time.
Jasper AI vs Quillbot: Differences
Since no two AI writing tools are 100% identical. We will be discussing some significant differences between Jasper AI and Quillbot.
Jasper AI is competent in generating Google-level quality articles. Whereas Quillbot AI level isn't capable of that.
Quillbot is affordable ($9.95/mo). Whereas Jasper AI is quite expensive ($24/mo).
Jasper AI contains 50+ templates. Whereas Quillbot comprises 6 templates.
Jasper AI is capable of generating long-form content instantly and handily. On the other hand, Quillbot's AI level isn't capable of generating long-form content instantly.
Quillbot does not allow you to write using GPT-3 AI. So, you might have to perform extra tasks manually to select satisfactory paragraph format and synonyms. On the other hand, Jasper AI is capable of writing with GPT-3 AI.
Jasper comes with a 5-day money-back guarantee. Whereas Quillbot comes with a 3-day money-back guarantee.
Quillbot does not deduct money for generating junks. Whereas Jasper deducts money for every content it generates including junks.
Jasper AI vs Quillbot: Pricing Plan
Here, we will be comparing the pricing plans of both Jasper AI and Quillbot. We will also be discussing the benefits of each version.
Jasper AI Pricing Plan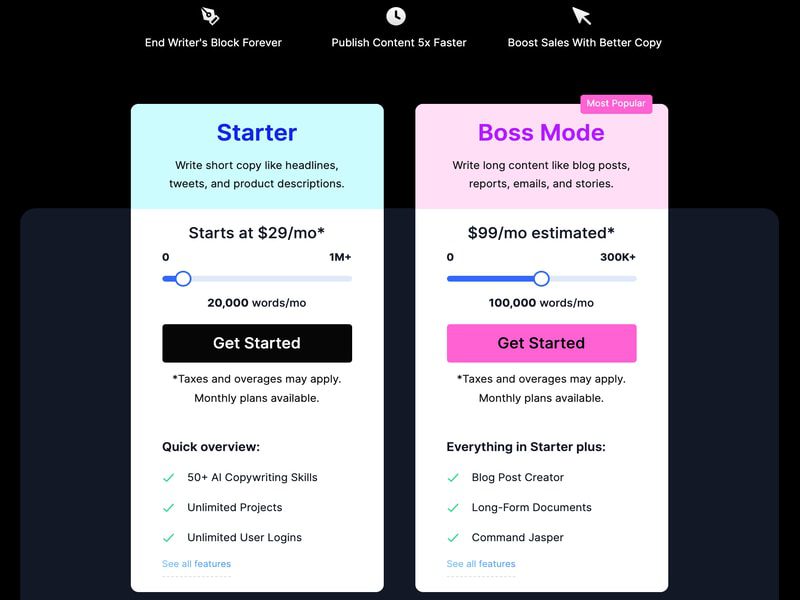 Jasper AI comprises 3 pricing plans which include:
Starter Mode – Begins At $24 Per Month
The benefits include:
20k words per month.
Command feature.
Access to 50+ templates.
Client chat assistance.
Gives room for up to 5 users.
Over 20 languages.
This plan is ideal for beginners.
Boss Mode – Begins At $49 Per Month
The privileges comprise everything in Starter Mode plus:
50,000 words per month.
Increased maximum of templates.
Priority client chat assistance.
This plan is ideal for bloggers and content marketers.
Both come with a 5-day money-back guarantee.
Business/Custom Plan
This plan is ideal for teams and businesses.
The pricing for this plan is not included in their list. So you will have to contact the service provider to get the prices.
The benefits include:
Custom texts/user packages
Adaptable billing options.
Exceptional technical assistance
Orientation and tutorial sessions.
Committed account supervisor.
Quillbot Pricing Plan
Quillbot comprises two plans which include:
Free Plan
Quillbot's free plan provides you with the basic assistance you need in your writing like:
125 terms in the paraphraser.
Three synonym selections.
1200 texts in the summarizer.
Standard & smooth styles
Premium Plan – $9.95 Per Month
The benefits include:
Limitless texts when you use the paraphraser.
Plagiarism detector.
Access to four synonym selections.
6k texts in the summarizer.
Tone checker.
Rapid processing rate.
It comes with a 3-day money-back guarantee.
Jasper AI vs Quillbot: Conclusion
In conclusion, Jasper AI and Quillbot are both wonderful AI writing tools that can meet your writing and marketing needs.
However, Jasper AI is quite costlier than Quillbot.
I can say that Jasper is great for teams and businesses due to their price options.
And Quillbot is great for writers or academics who desire an inexpensive alternative for checking out their articles or papers.
The 25+ languages of Jasper AI make it easy to engage in international businesses, unlike Quillbot which does not have this feature.
Altogether from the whole comparison, Jasper AI appears to be a superior AI writing tool to Quillbot.