Jasper AI vs Simplified: Which is The Best AI Writer?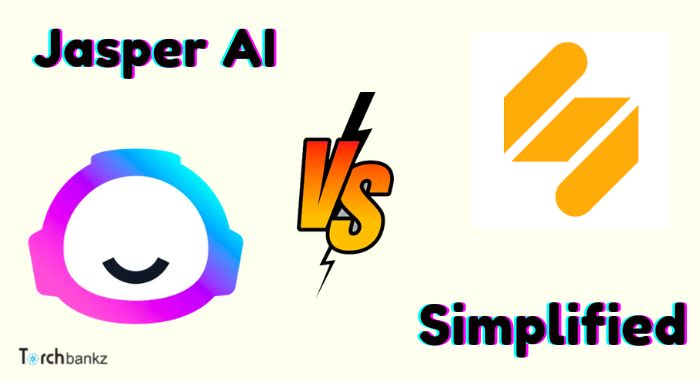 In this blog post, we will examine Jasper AI vs Simplified.
As a writer or business owner, you will understand that one way to stand out from your competitors is to create high-value content.
Well-written content on your website can make all the difference in attracting and retaining customers.
But the content creation process can be time-consuming and expensive.
Both tools are designed to help businesses and marketers create high-quality content for their websites and other online platforms.
But which one is the best fit for your needs? This article will discuss the key features of two popular content tools – Jasper AI vs Simplified
By the end, you should know which tool is the best choice for your content creation needs.
What is Jasper AI?
Jasper AI is web-based quality software that helps marketers and copywriters ensure their audience converts after being exposed to the content on their website.
Simply put, it's a tool that uses artificial intelligence to create content for your business.
With Jasper AI, you can create a highly engaging copy for your ads campaigns: Facebook, Email, YouTube, or Natives Ads.
Not just that, it also can create amazing sales copy for your sales page, landing page, or squeeze pages.
With tools like this, you need not waste money on any expensive copywriter for your business.
And if you write yourself, you need not worry about writer's block again because, with software like this, you can sporadically increase your content production while converting your audience simultaneously.
The company was founded in 2016 and has already been used by top brands all over the internet.
Being used myself personally, I believe with Jasper AI, you can solve the following problem for your business:
Get rid of writer's block
Uniquely rewrite old content
Generate amazing email content for newsletters
Create eye-catching content titles
Write long-form content for your blog
Generate scripts for your video content
Save time and cost at the same time
Jasper features
Let's examine some unique features of Jasper AI;
1. Content templates
Jasper has over 50 templates that offer you the headstart you need for content generation.
These 50+ templates generate AI content constituting LinkedIn ads, Facebook ads, Google ads, social media posts, blog articles, picture headlines, email copy, marketing copy, and several others.
2. Jasper Boss Mode
The Boss mode was the most recent update in Jasper.ai's pricing plan and features.
This feature allows Jasper users to do anything they want via voice command without stressing themselves.
Just think of it as conversing with Siri on Apple devices. That's how cool the Jasper Boss mode is.
3. Surfer SEO
Surfer SEO is a prominent AI-powered SEO software that enables you to optimize your content to rank higher on Google's search engine.
Jasper AI can be merged with surfer SEO.
If you're eager about improving your presence organically and wish to obtain the most out of Jasper AI, I will suggest you use it with Surfer SEO.
It will benefit you in composing content that will rank higher on the Google search engine and drive traffic and conversions to your site.
Other amazing features you enjoy when you integrate Jasper with Surfer SEO include a keyword study and an active content editor that lets you include pictures, links, and other tools.
4. Content Creation
Jasper AI can create a certain number of texts on your subject of interest. However, this feature is dependent on the plan you subscribed to.
You can utilize this feature by providing a few clues like captions, headlines, or a few paragraphs, then click on the provided button to see the outcome.
The software can also generate long-form AI content, AI blog articles, and headlines for your social media posts.
5. Over 25 Languages
One amazing feature Jasper AI has is its multi-language backing. It favors more than 25 languages, including English, German, Japanese, French, etc.
This feature makes it suitable for your business if you seek to target an international audience.
Pros Of Jasper AI
Contains more than 50 different templates to select from.
User-friendly interface.
Composes original and zero plagiarism copies.
Maintains an active Facebook community that can provide useful assistance & advice.
Integration with Surfer SEO is accessible with boss mode plans.
Cons Of Jasper AI
More expensive when compared to other software in the market.
The unused words in a month cannot be carried over to the next month.
Need to Fact Check Jasper Output
What is Simplified?
Simplified is an AI writing tool that helps businesses automate their marketing tasks, such as scheduling social media posts, creating a content calendar, and shortening links.
It also includes a content rewriter feature, which allows users to create unique versions of their content.
Simplified is offered in both a free and paid version, with the paid version offering additional features.
The AI software allows you to build, collaborate, and scale your marketing efforts.
All in one place: graphics design, writing marketing content, making videos, collaborating, and sharing on social media.
You can complete your social media marketing process with a friendly design editor, AI writer, attractive templates, and infinite workspaces.
Simplified AI makes it easier to design everything, scale your business, and interact with your team. You get to make unique designs and movies, as well as write compelling copy.
In summary, the tool aims to make the marketing process more efficient and effective by using advanced technology to automate and optimize various aspects of a campaign.
Simplified Features
Here are some of the features of Simplified;
1. Content Calendar
The content calendar allows users to plan and schedule their content in advance for various platforms and channels, such as social media, websites, and email marketing.
It is a planned content schedule, including blog posts, videos, images, and other forms of content, that is organized by date, topic, and audience.
The purpose of a content calendar is to help you create a consistent and cohesive content strategy.
By it, you can plan and ensure that your content is aligned with your overall marketing and business goals and that it is being published at the right time and on the right platforms.
Another benefit is that it allows teams to collaborate and share information more quickly, making it easier for multiple people to contribute and review content.
This can be especially useful for larger organizations with multiple teams or departments, as it helps ensure everyone is on the same page and working towards the same goals.
2. Social Media Post Schedule
The social media post scheduler allows users to schedule posts and content on social media platforms in advance.
This is particularly useful for businesses and individuals who want to maintain a consistent presence on social media but may not have the time or resources to post updates automatically.
It typically allows users to create and schedule posts across multiple platforms, including Facebook, Twitter, Instagram, and LinkedIn.
Users can create text, image, and video posts, as well as add hashtags, location tags, and mentions.
They can also schedule posts to be published at specific times and days.
Another benefit is that it also provides analytics and reporting features, which allow users to track the performance of their posts.
This helps them to understand how their content is performing and make adjustments to improve engagement and reach.
In summary, it automates the posting process and provides valuable analytics and reporting features to track the performance of posts.
3. Link Shortener
This feature shortens links for easier tracking and sharing. It is essential because it makes long and unwieldy links more manageable and easy to share.
This is useful when sharing links on social media platforms, where space is often limited.
It also makes it easier to track clicks and engagement, as they can be more easily shared and embedded in different content.
Additionally, it can mask and obscure the true destination of a link, which helps hide affiliate links.
It is a valuable feature for making links more shareable, manageable, and trackable.
4. Saas Mode
With this model, businesses can subscribe to the services they need on a monthly or annual basis.
The simplified SaaS model provides businesses with easy access to updates and new features on the internet, which helps them stay competitive in the market.
Furthermore, it reduces the workload on the IT team as the software updates and maintenance are handled by the provider.
It is an essential feature for businesses looking to streamline their operations and stay current with the latest technology.
5. Content Rewriter
Simplified can automatically create unique versions of your content for better SEO.
It is helpful for anyone who wants to create unique and engaging content by efficiently rewriting existing content to make it more readable and engaging for your audience.
This is particularly useful for SEO, as search engines are always on the lookout for unique and high-quality content.
The tool also helps you avoid plagiarism and copyright issues by ensuring that your work is original and not violating any laws.
Additionally, it helps you save time and effort, as you do not have to spend hours trying to come up with new ideas and write them from scratch.
Pros of Simplified
Easy-to-use interface
Affordable pricing
Offers a free version with basic features
Includes a content rewriter feature
Cons of Simplified
Limited analytics and reporting capabilities in the free version
Some users have reported issues with the link shortener feature
Jasper AI vs Simplified: Pricing
Let's compare the pricing plans of both tools.
Jasper AI Pricing Plan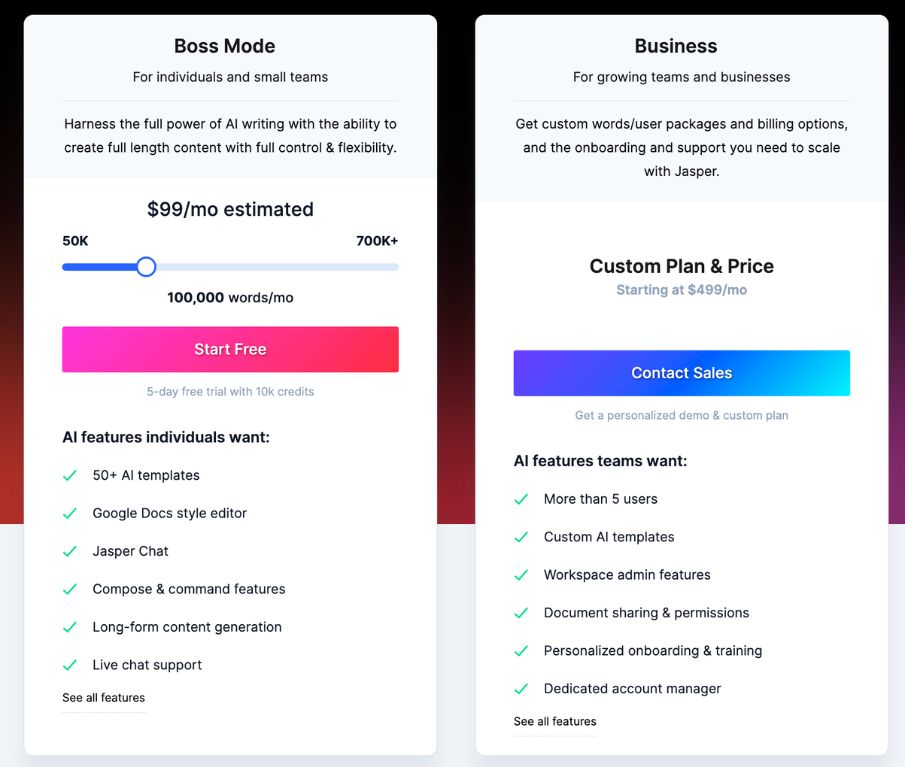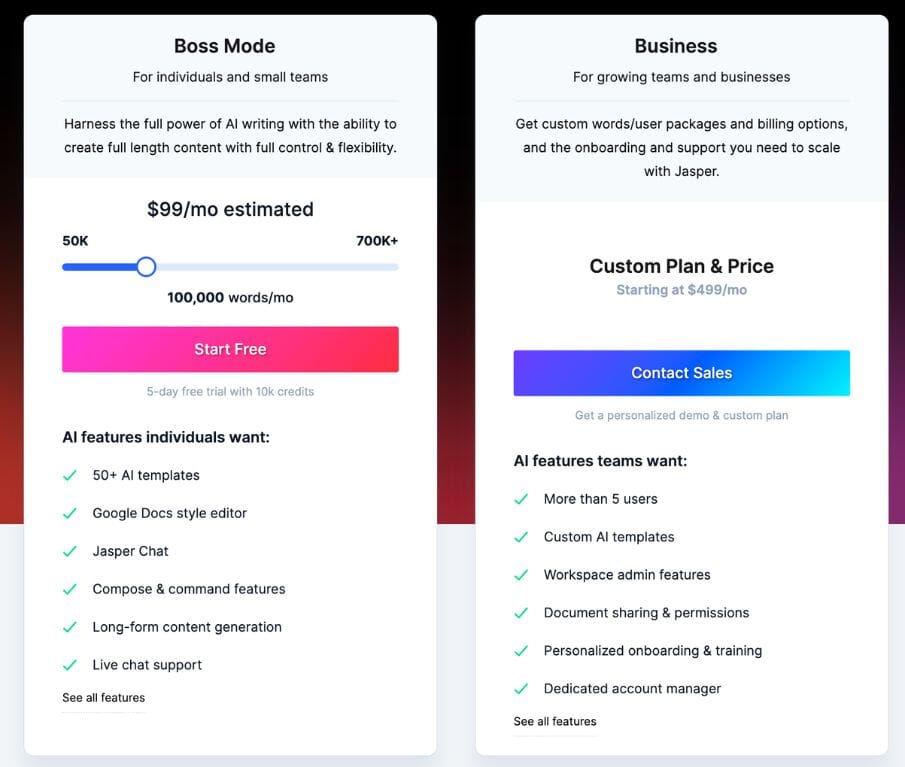 Jasper AI comprises 2 pricing plans which include:
Boss Mode – Begins At $99 Per Month
The privileges comprise everything in Starter Mode plus:
50,000 words per month. The more words you desire, the more the pricing increases.
Increased maximum of templates.
Priority client chat assistance.
This plan is ideal for bloggers and content marketers.
Both come with a 5-day money-back guarantee.
Business/Custom Plan
This plan is ideal for teams and businesses.
The pricing for this plan is not on their list. So you will have to contact the service provider to get the prices.
The benefits include:
Custom texts/user packages
Adaptable billing options.
Exceptional technical assistance
Orientation and tutorial sessions.
Committed account supervisor.
Simplified Pricing
This tool comes in four pricing plans;
Free Forever – No charges
You have access to;
1GB storage
Free customizable templates
Free designing and editing tools
3000 words per month
Folders for keeping documents and results
3 Social Media channels
10 scheduled posts per time
Video editing
Watermarked videos
Business Plan – $35/month
You have access to everything in the free plan including;
200GB storage
50,000 words per month
Integrated Plagiarism checker
15 Social Media channels
1500 scheduled posts per time
Growth – $85/month
You have access to everything in the Business plan, including;
500GB storage
250,000 words per month
Brand Logos
30 Social Media channels
5000 scheduled posts per time
Jasper AI vs Simplified: Similarities and Differences
Let's explore the similarities and differences between both tools.
Similarities
Jasper and Simplified are cloud-based and can be accessed through a web browser.
Both tools use natural language processing (NLP) to understand and analyze the input data and then generate written content based on that data.
Jasper and Simplified can be used for various activities, such as report generation and content creation.
They both support teamwork
Differences
Jasper works majorly on content writing. On the other hand, Simplified works for both content writing and video creation.
Jasper does not offer a free plan, while Simplified has.
Jasper has a money-back guarantee of 5 days, whereas Simplified does not have one.
Conclusion on Jasper AI vs Simplified
In conclusion, both Jasper AI vs Simplified is excellent marketing tools.
However, they are geared toward different types of businesses. If you're a small business owner or a digital marketer on a budget, Simplified is an excellent option with its affordable pricing and basic features.
However, if you're a larger business looking for more advanced analytics and reporting capabilities, Jasper may be the better choice for you.
It ultimately depends on your specific needs and budget.