Jasper vs Frase: Best AI Writing Tools?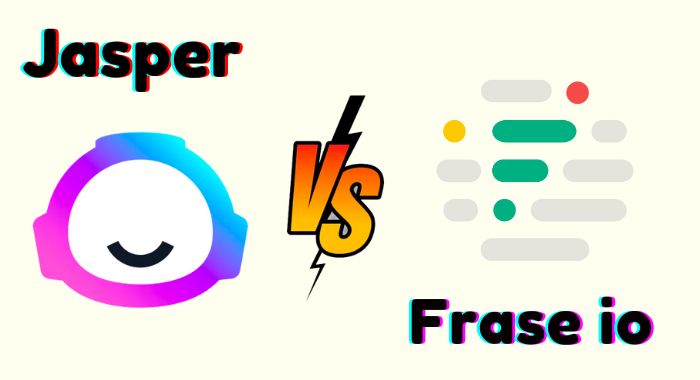 In this article, we'll be discussing Jasper vs Frase. Both are two of the best AI writing assistants.
As a copywriter, churning over 2000-word SEO-optimized articles daily and meeting deadlines can be quite challenging.
However, with the right tools, you can speed up your workflow and boost your marketing productivity.
Jasper AI and Frase are designed to help you consume less time at work and have more time to perform other relevant activities.
If you're searching for the right tools that will assist you in your content marketing efforts but are torn between two opinions,
This post will give you the head start you need to get started.
In this article, we'll be comparing both tools, including their similarities and differences.
I will also give my opinion on which software is better, so you know the one most suitable for your marketing demands.
What is Jasper AI?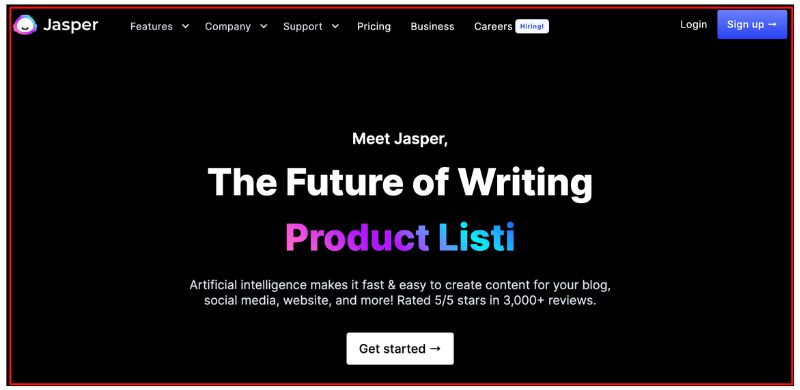 Jasper AI is web-based quality software that helps marketers and copywriters ensure their audience converts after being exposed to the content on their website.
Simply put, it's a tool that uses artificial intelligence to create content for your business.
With Jasper AI, you can create a highly engaging copy for your ads campaigns: Facebook, Email, YouTube, or Natives Ads.
Not just that, it also has the ability to create amazing sales copy for your sales page, landing page, or squeeze pages.
With tools like this, you need not waste money on any expensive copywriter for your business.
And if you write yourself, you need not worry about writer's block again because, with software like this, you can sporadically increase your content production while converting your audience simultaneously.
The company was founded in 2016 and has already been used by top brands all over the internet.
Being used personally myself, I believe with Jasper AI you can solve the following problem for your business:
Get rid of writer's block
Uniquely rewrite old content
Generate amazing email content for newsletters
Create eye-catching content titles
Write long-form content for your blog
Generate scripts for your video content
Save time and cost at the same time
Jasper features
Let's examine some unique features of Jasper AI;
1. Jasper Boss Mode
The Boss mode was the most recent update in Jasper.ai's pricing plan and features.
This feature allows Jasper users to do anything they want via voice command without stressing themselves.
Just think of it as conversing with Siri on Apple devices. That's how cool the Jasper Boss mode is.
2. Customized Content templates
Jasper comes with over 50 templates that offer you the headstart you need for content generation.
These 50+ templates generate AI content constituting LinkedIn ads, Facebook ads, Google ads, social media posts, blog articles, picture headlines, email copy, marketing copy, and others.
3. Customer Support
More interesting is that they have a huge FAQ resource section that can help you resolve any question or issue you might have faster than you think.
They currently have a LIVE CHAT box where you can have a real-time conversation with any of their customer care representatives.
And if that's not helping, you can send them a mail via hey@Jasper.ai and expect a response within a day.
Above all, they have an active resourceful Facebook group where you can get help from like-minded users that are always ready to help.
4. Surfer SEO Merges
Surfer SEO is a prominent AI-powered SEO software that enables you to optimize your content to rank higher on Google's search engine. Jasper AI can be merged with surfer SEO.
If you're eager to improve your presence organically and wish to obtain the most out of Jasper AI, I will suggest you use it with Surfer SEO.
It will benefit you in composing content that will rank higher on the Google search engine and drive traffic and conversions to your site.
Other amazing features you enjoy when integrating Jasper with Surfer SEO include a keyword study and an active content editor that permits you to include pictures, links, and other tools.
5. Content Creation
Jasper AI can create a certain number of texts on your subject of interest. However, this feature is dependent on the plan you subscribed to.
You can utilize this feature by providing clues like captions, headlines, or a few paragraphs, then click on the provided button to see the outcome.
The software can also generate long-form AI content, AI blog articles, and headlines for your social media posts.
6. Contains Over 25 Languages
One amazing feature Jasper AI has is its multi-language backing. It favors more than 25 languages, including English, German, Japanese, French, etc.
This feature makes it suitable for your business if you target an international audience.
7. Jasper AI Academy
At first, you might not understand how Jasper works. But later, with few tutorials available on the platform, you'll be able to pull through.
There are so many features available on the software and so many things to do. If care is not taken, you might easily feel overwhelmed.
So you must go through the Academy section and watch the tutorial on how to use the available features of the software.
Few of the resources you might want to check out when getting onboard includes:
How to publish a book in under 72 hours and sell it on Amazon Kindle
Promoting affiliate products using AI copies
How to write VSL and webinar copies with Jasper
And many other…
Pros Of Jasper AI
Contains more than 50 different templates to select from.
User-friendly interface.
Composes original and zero plagiarism copies.
Maintains an active Facebook community that can provide useful assistance & advice.
Integration with Surfer SEO is accessible with boss mode plans.
Cons Of Jasper AI
More expensive when compared to other software in the market.
The unused words in a month cannot be carried over to the next month.
Need to Fact Check Jasper Output
What Is Frase?
Frase is an all-in-one AI tool that uses natural language processing to automate the creation of SEO-friendly content.
It utilizes machine learning algorithms to assess a given topic and create a summary of key points & relevant information.
Frase can analyze a website's content, keywords, and competitors to generate ideas for new content and optimize existing content for search engines.
It also contains features like content scoring and performance tracking. This helps users to measure the effectiveness of their content strategy.
To start using Frase, you'll only be required to put your keyword into the search bar, then Frase scans the internet & retrieves the top responses associated with your keyword.
This enables you to notice what is already existing in related content ideas.
Frase will also help to generate a compelling article brief for you, offering ideas on how best you can create content around your selected keyword or subject.
Frase AI gives you many privileges when optimizing your site's content for Search Engine Optimization.
You can even streamline your content creation procedure with Frase.
This makes it straightforward for you to generate premium-quality marketing copies.
This is particularly achieved with the Frase correlational Search Engine Optimization; competition research features & automated content summary features.
Frase is greatly recommended for Search Engine Optimization purposes.
Frase Features
This tool has a lot of amazing features. Here, we'll be discussing some of its main features.
#1. SEO Content
Frase has an SEO content feature that assists you to consistently & easily generate Search Engine Optimized content that will rank high on the Google search engine.
Simply input your keyword & include the URL of the text to introduce it to the editor.
Frase will then relate your content with the best twenty-ranked results on Google & recommend modifications like:
Normal word count.
How many times you will cite a keyword.
Additional ideas you can add, etc.
As you continue creating the suggested modifications, your text score upgrades.
With this, your content stands out from the competition & your chances of ranking number one on Google search engine increase.
#2. Content Analytics
Frase can discover & prompt you about the ranking keywords to revamp the non-ranking keywords using the relevant text.
This will help you to recognize any content that is declining in clicks & rankings.
The Frase Content Analytics tool achieves this by dragging data from Google Search Console (GSC), then transforming it to be workable with Frase to:
Track & regulate organic expansion.
Uncover recent keyword options.
Prevent content decline.
Discover new content opportunities.
#3. High-Quality Content
Content relevance is deemed the most vital element in Search Engine Optimization by marketers, according to studies. 
Frase has a high-quality content feature that enables you to generate high-quality content.
It even specifies the content score for every particular keyword or topic.
Creating an adequate awareness of your content score helps your website rank higher than your competitors in Google search engines.
#4. Content Curation
With Frase, you can curate an SEO-optimized content summary using the correct outlines.
Frase will help to grab your visitor's interest, and anytime you type in your keywords, you will notice relevant & current information about your content.
Also, you will be permitted to swab into the briefs of several relevant contents, including the bullet points that can be subjected to summary & included in the article.
Pros Of Frase
Here are some of the pros of Frase AI writing assistant in content creation:
Ability to generate an SEO-optimized content overview instantly.
Has both paraphrasing & rewriting features.
Comprehensive content analytics to rank higher.
Ability to relate your content with that of your competitors.
Cons Of Frase
Here are some of the cons of Frase AI
Insufficient capabilities for AI writing.
Restricted to SEO content optimization & marketers.
Jasper vs Frase: Pricing
Here, we'll be discussing the pricing plan of both software.
Jasper AI Pricing Plan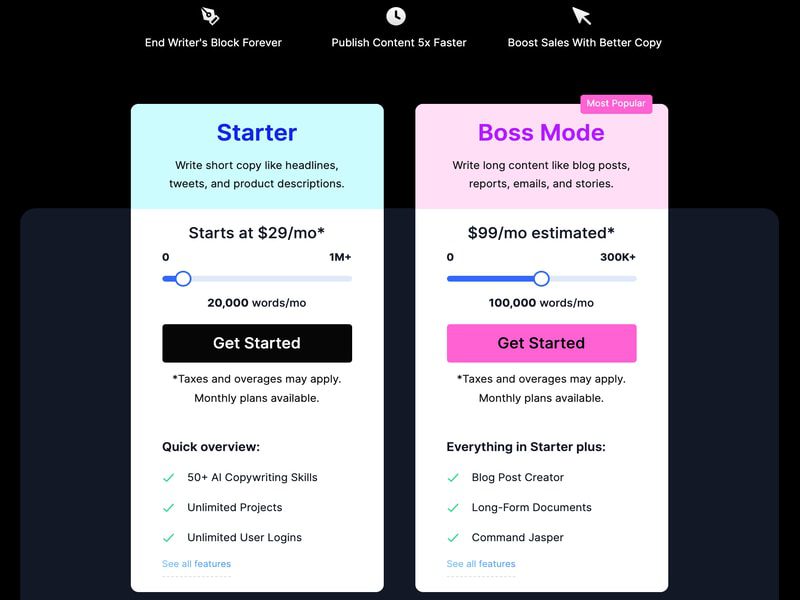 Jasper AI comprises 3 pricing plans which include:
Starter Mode – Begins At $24 Per Month
The benefits include:
20k words per month. The more words you desire, the more the pricing increases.
Command feature.
Access to 50+ templates.
Client chat assistance.
Gives room for up to 5 users.
Over 20 languages.
This plan is ideal for beginners.
Boss Mode – Begins At $49 Per Month.
The privileges comprise everything in Starter Mode plus:
50,000 words per month. The more words you desire, the more the pricing increases.
Increased maximum of templates.
Priority client chat assistance.
This plan is ideal for bloggers and content marketers.
Both come with a 5-day money-back guarantee.
Business/Custom Plan
This plan is ideal for teams and businesses.
The pricing for this plan is not included in their list. So you will have to contact the service provider to get the prices.
The benefits include:
Custom texts/user packages
Adaptable billing options.
Exceptional technical assistance
Orientation and tutorial sessions.
Committed account supervisor.
Frase pricing
Frase has about 3 pricing plan which includes:
Solo
This goes for $14.99 per month.
This plan is exclusively for you if you have new projects that need one article weekly.
The benefits include:
One user seat.
Write and optimize four posts per month.
Develop 4k AI words per month.
Basic
This plan goes for $44.99 per month.
It is best for you if you have a company with a content strategy & Search Engine Optimization intentions.
The benefits include everything in the Solo plan, plus:
Write and optimize 30 articles monthly.
Team
This plan goes for $114.99 per month.
It is exclusively for you if you have groups that require extra flexibility & cooperation.
The benefits include:
Three user seats ($25/month/extra).
Write and optimize limitless articles.
Create 4k AI words monthly.
You can include the Pro Add-on in your subscription for an extra $35 per month.
With the Pro Add-on, you have unlimited AI-Generated words plus other bonus features.
Also, you can get started with a 5-day trial for just $1. You're also free to cancel anytime.
Jasper vs Frase: Similarities And Differences
Here, we'll discuss the various similarities of both tools and what differentiates one from the other.
Jasper vs Frase: Similarities
Both have the content brief feature.
Both have Search Engine Optimization features.
Both have a 5-day money-back guarantee.
They both support teamwork.
Jasper vs Frase: Differences
Frase can compare your articles with your top competitors and give you a transparent outline. Jasper, however, cannot compare or peep into your competition.
Frase is cheaper when compared to Jasper. Jasper integrates with Surfer SEO, whereas Frase does not.
Jasper can generate content in over 25 languages instantly, whereas Frase does not specifically generate content but solely SEO-optimized content briefs.
Furthermore, Jasper has a free trial mode whereas Frase does not.
Jasper vs Frase: Conclusion
In conclusion, both Jasper vs Frase are wonderful for scaling your online marketing efforts.
Jasper AI is most suitable for content writing and creating compelling copies that are plagiarism free.
I can say that both software meets the different needs of different businesses. I'll recommend you make your choice based on your special business demands.
Although from the comparison, Jasper AI seems to have a lot of features that would help writers compared to Frase.
You can easily create new content from the beginning with Jasper AI. This is some relief.