Jasper vs GrowthBar: Best AI Writing Tool?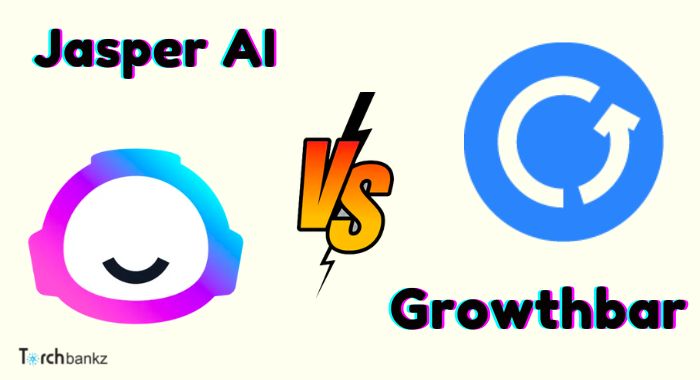 Today, we'll be comparing Jasper vs GrowthBar.  Both are tools that utilize AI algorithms to assist with your copywriting tasks.
Since the emergence of natural speech processing & especially GPT-3, an entirely new realm of tools that simplifies the life of content creators has been opened.
These Al writing tools are mainly built to help you improve your writing and streamline your workflow.
Some of the best Al writing tools online include Copy AI, Jasper, Rytr, Copysmith, GrowthBar, etc.
However, in today's article, our focus will be on Jasper vs GrowthBar.
We will be discussing their features, pros and cons, similarities and differences, including other information you may need to know about them.
So without further ado, let's get into it!
What is Jasper AI?
Jasper AI is web-based quality software that helps marketers and copywriters ensure their audience converts after being exposed to the content on their website.
Simply put, it's a tool that uses artificial intelligence to create content for your business.
With Jasper AI, you can create a highly engaging copy for your ads campaigns: Facebook, Email, YouTube, or Natives Ads.
Not just that, it also can create amazing sales copy for your sales page, landing page, or squeeze pages.
With tools like this, you need not waste money on any expensive copywriter for your business.
And if you write yourself, you need not worry about writer's block again because, with software like this, you can sporadically increase your content production while converting your audience simultaneously.
The company was founded in 2016 and has already been used by top brands all over the internet.
Being used myself personally, I believe with Jasper AI, you can solve the following problem for your business:
Get rid of writer's block
Uniquely rewrite old content
Generate amazing email content for newsletters
Create eye-catching content titles
Write long-form content for your blog
Generate scripts for your video content
Save time and cost at the same time
Jasper features
Let's examine some unique features of Jasper AI;
1. Jasper Boss Mode
The Boss mode was the most recent update in Jasper.ai's pricing plan and features.
This feature allows Jasper users to do anything they want via voice command without stressing themselves.
Just think of it as conversing with Siri on Apple devices. That's how cool the Jasper Boss mode is.
2. Content templates
Jasper has over 50 templates that offer you the headstart you need for content generation.
These 50+ templates generate AI content constituting LinkedIn ads, Facebook ads, Google ads, social media posts, blog articles, picture headlines, email copy, marketing copy, and several others.
3. Customer Support
More interesting is that they have a huge FAQ resource section that can help you resolve any question or issue faster than you think.
They currently have a LIVE CHAT box where you can have a real-time conversation with any of their customer care representatives.
And if that's not helping you can also mail them via hey@Jasper.ai and expect a response within a day.
Above all, they have an active resourceful Facebook group where you can get help from like-minded users that are always ready to help.
4. Surfer SEO
Surfer SEO is a prominent AI-powered SEO software that enables you to optimize your content for it to rank higher on Google's search engine.
Jasper AI can be merged with surfer SEO.
If you're eager about improving your presence organically and wish to obtain the most out of Jasper AI, I will suggest you use it with Surfer SEO.
It will benefit you in composing content that will rank higher on the Google search engine and drive traffic and conversions to your site.
Other amazing features you enjoy when you integrate Jasper with Surfer SEO include a keyword study and an active content editor that permits you to include pictures, links, and other tools.
5. Content Creation
Jasper AI can create a certain number of texts on your subject of interest. However, this feature is dependent on the plan you subscribed to.
You can utilize this feature by providing clues like captions, headlines, or a few paragraphs, then click on the provided button to see the outcome.
The software can also generate long-form AI content, AI blog articles, and headlines for your social media posts.
6. Contains Over 25 Languages
One amazing feature Jasper AI has is its multi-language backing. It favors more than 25 languages, including English, German, Japanese, French, etc.
This feature makes it suitable for your business if you seek to target an international audience.
7. Jasper AI Academy
At first, you might not understand how Jasper works. But later, with few tutorials available on the platform, you'll be able to pull through.
There are so many features available on the software and so many things to do. If care is not taken, you might easily feel overwhelmed.
So it's very important that you go through the Academy section and watch the tutorial on how to use the available features of the software.
You can Sign-Up Here to go through these free courses. They also have a robust YouTube channel you can always go to for free content.
Pros Of Jasper AI
Contains more than 50 different templates to select from.
User-friendly interface.
Composes original and zero plagiarism copies.
Maintains an active Facebook community that can provide useful assistance & advice.
Integration with Surfer SEO is accessible with boss mode plans.
Cons Of Jasper AI
More expensive when compared to other software in the market.
The unused words in a month cannot be carried over to the next month.
Need to Fact Check Jasper Output
What Is GrowthBar?
GrowthBar is a marketing and SEO tool that assists businesses to boost their online presence & improve their search engine rankings.
They offer SEO, pay-per-click, promotion, social media marketing & web design.
The goal of GrowthBar is to help your business grow by increasing its online visibility & driving more traffic to your website.
It was initially established as a chrome extension, and the goal was to assist users in optimizing their sites for search engines.
Presently, GrowthBar has been fully launched as a Search Engine Optimisation tool. However, it can still be utilized as a Chrome extension & as a single application.
It supports online-based businesses like startups, eCommerce companies & blogs in tracking down important data points & offering useful suggestions.
With GrowthBar, you can generate SEO-optimized outlines and ideas for your websites and blogs with just one click.
Furthermore, GrowthBar looks at your competition's FB promotions and keyword rankings including backlinks.
The tool can also help you to track your sales results and growth. This helps you to notice areas you're prospering in and areas you may need to direct your efforts.
It has a straightforward yet detailed feature outline that provides you with useful Search Engine Optimization analytics.
And with it, you can easily make mindful decisions to significantly improve your website's position on the SERPs.
Features Of GrowthBar
Here, we'll discuss some of the main features of GrowthBar that make it special to writers and digital marketers.
#1. AI Software (GPT-3)
GPT-3 is the most progressive machine-learning category for speech and the algorithm of GrowthBar is being powered by it.
GPT-3 is very detailed in denoting the following word in a progression. This is a vital element of several natural speech-processing undertakings.
This technology makes GrowthBar's algorithm a great tool for writing and SEO.
#2. Team Work
GrowthBar permits you to collaborate by bringing on your writers, editors & marketers and getting Search Engine optimized copies out rapidly, jointly.
#3. Keyword Research
This feature permits you to look at keywords & notice the search quantities they're getting & how difficult the tool thinks it will be for you to rank for the word also.
Also, it provides you with some relevant questions so you can observe a catalog of extra keyword recommendations the tool supposes would be a nice idea for you to look into.
You also get to notice the top-ranking websites for your chosen keyword including their domain authority.
The keyword research feature is a very nice alternative for basic SEO. It makes generating long-tail keywords simple & practical.
And you can target keywords with the highest traffic but the lowest number of competitors.
#4. Content Optimization
Content optimization for search engines is critical if you want to run a profitable website.
In addition to its keyword research feature, GrowthBar also displays:
A satisfactory number of headlines.
The number of pictures to add.
The suitable number of paragraphs for your article.
Backlinks.
The range for word count.
Readability count.
The readability count is very helpful and is not contained in all content optimization tools.
#5. Saas Mode
GrowthBar has a Software as a service (Saas) mode feature.
The Saas mode of a Search Engine Optimization tool would generally give several or all of the features listed below:
Keyword research.
competitor research.
Backlink analysis.
Tracking of ranking & reporting.
Integration with other marketing & analytics tools.
On-page optimization ideas.
Always remember that different Search Engine Optimization tools may show different features.
So it's crucial to review the product's site or testimonial to discover precisely what it offers.
#6. Long-form Content
GrowthBar has a long-form content generator feature that is used in SEO.
Long-form content can help to increase your site's ranking by providing relevant & informational content for users.
Also, it helps to establish your website as an authority on a particular subject, which can lead to improved traffic & engagement.
Pros Of GrowthBar
The Pros of the GrowthBar tool include:
User-friendly interface.
5-day free trial.
Great client assistance.
Detailed keyword research tool.
Chrome extension.
Google & Facebook promotion analysis.
Cons Of GrowthBar
The Cons of the GrowthBar tool include:
Quite expensive.
Basic SEO features.
Inability to function well with Safari.
Jasper vs GrowthBar: Pricing
Here, we'll be comparing the pricing plan of both AI tools.
Jasper AI Pricing Plan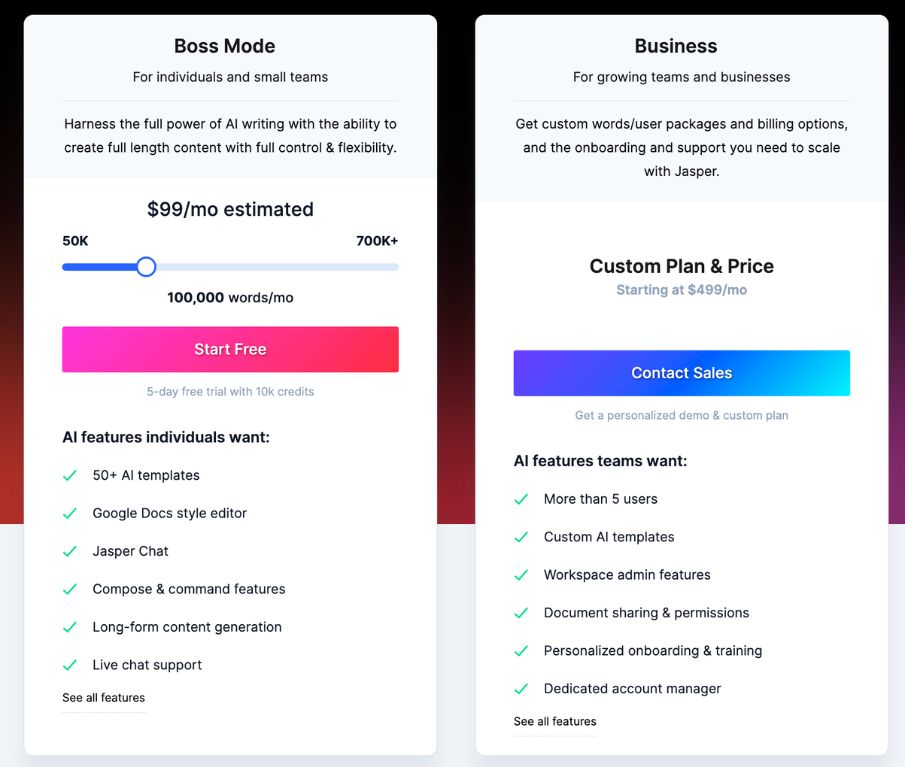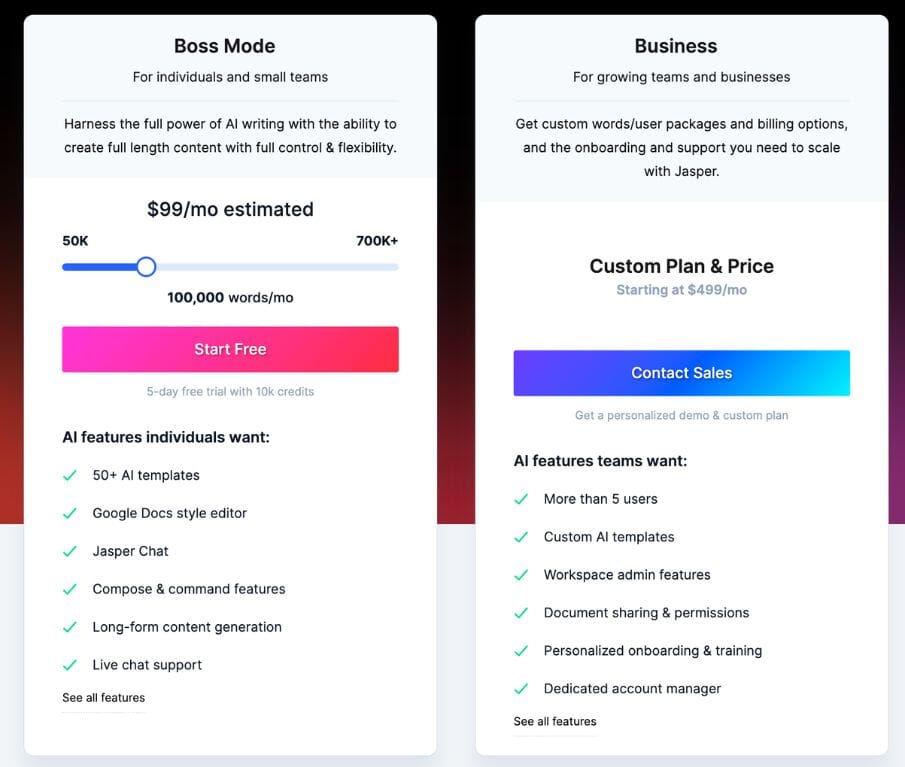 Jasper AI comprises 2 pricing plans which include:
Boss Mode – Begins At $99 Per Month
The privileges comprise everything in Starter Mode plus:
50,000 words per month. The more words you desire, the more the pricing increases.
Increased maximum of templates.
Priority client chat assistance.
This plan is ideal for bloggers and content marketers.
Both come with a 5-day money-back guarantee.
Business/Custom Plan
This plan is ideal for teams and businesses.
The pricing for this plan is not included in their list. So you will have to contact the service provider to get the prices.
The benefits include:
Custom texts/user packages
Adaptable billing options.
Exceptional technical assistance
Orientation and tutorial sessions.
Committed account supervisor.
GrowthBar Pricing
GrowthBar has 3 pricing plans which include:
Standard
This plan goes for $29 per month.
The benefits include:
2 user accounts.
25 AI content overviews.
Endless AI blog suggestions.
500 AI sentence generations.
Endless keyword analysis.
Email assistance.
Endless chrome extension usage.
Endless AI Meta descriptions.
Route 25 keywords across one site.
300 competitor Google ads per inquiry.
300 competitor keywords per inquiry.
300 competitor external links per inquiry.
Pro
This plan goes for $79 per month.
The benefits include everything in the standard plan, plus:
5 user accounts.
100 AI content overviews.
2,000 AI sentence generations.
Route 1,000 keywords across three sites.
1,000 competitor keywords per inquiry.
1,000 competitor external links per inquiry.
1,000 competitor Google ads per inquiry.
Agency
This plan goes for $129 per month.
The features in this plan include everything in the Pro plan, plus:
10 user accounts.
Live assistance.
300 AI content overviews.
5,000 AI sentence generations.
Route 5,000 keywords across 25 websites.
2,000 competitor keywords per inquiry.
1,500 competitor external links per inquiry.
2,000 competitor Google promotions per inquiry.
Note: GrowthBar has a 7-day 100% money-back guarantee.
Jasper vs GrowthBar: Similarities
Both have chrome extensions.
Both perform keyword research and tracking.
Both are GPT-3 software.
Both have a 5-day free trial.
Both produce long-form content.
Jasper vs GrowthBar: Differences
For Jasper, it has a 5-day money-back guarantee, whereas GrowthBar has a 7-day money-back guarantee.
GrowthBar is quite cheaper when compared to Jasper.
Jasper supports 25+ languages, whereas GrowthBar functions best in the English language. However, it is capable of supporting about 20 other languages.
Jasper integrates with Surfer SEO and Grammarly, whereas GrowthBar does not.
Jasper comes with over 50 templates, whereas GrowthBar does not.
Final Thoughts on Jasper vs. GrowthBar
We have been able to extensively compare Jasper vs GrowthBar.
Both tools are great and can provide analytics & insights into your site's performance and search engine rankings.
However, if you want to integrate with other platforms, Jasper is what you need, as it integrates with many tools.
Also, Jasper's support of over 25 languages is an advantage, especially when you want to engage in an international transaction.
Overall, Jasper is a better tool when compared to GrowthBar.