Jasper AI vs Rytr [Which AI Writing Tool Is The Best?]
In today's article on Jasper vs Rytr, we will be doing thorough justice to both AI software while exploring what we believe is true about them.
As the competition grows daily, workloads also grow, entrepreneurs tend to use AI software to generate quality and original articles to help them stand out.
As a result, so much AI copywriting software has been developed to help entrepreneurs get more work done in less effort time.
But the problem here is that this AI software tends to provide more features than each other in terms of functionalities.
Looking at them from the outside, you might not know which one is best for you which could also be the reason why you're looking into Jasper vs Rytr.
We go into deep research and here is what we found out about Jasper vs Rytr.
Let's start, shall we?
Jasper AI vs Rytr: Quick Overview
| Software | Pricing | Free Trial | SEO Integration | Long-Form |
| --- | --- | --- | --- | --- |
| Jasper.ai | $29/mth | 10k Words | Surfer | 10/10 |
| Rytr.me | $29/mth | 5k Words | N/A | 6/10 |
Jasper vs Rytr
What is Jasper AI?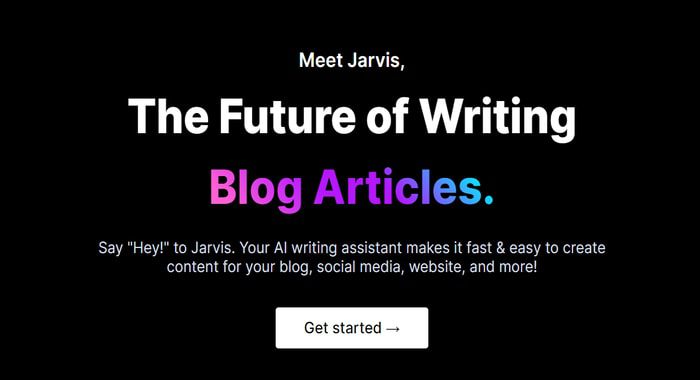 Jasper.ai formerly known as conversation.ai is a copywriting software that is developed on the latest advanced (GPT-3) AI machine to generate any form of copies within the shortest time possible.
The software is formally named conversion.ai because it is specifically made for conversion and that is to increase your button line sale.
The robot, Jasper uses artificial intelligence (AI) to automate your writing. This is made possible by typing few keywords into the robot and you sit back while it starts generating any form of copies for you.
Jasper is capable of writing a full blog post, generate answers for quora questions, generate copies for your Facebook ads, email copies, and likes.
As a result of Jasper's unique features and regularly update to the system.
It has since then gained so much popularity in the online community that most online big entrepreneurs prefer to use any other form of AI copywriting tool.
The reason those big companies have to decide to choose Jasper is that they have got a good reputation in form of writing quality and original content.
And we all know how important writing original content can actually be when it comes to SEO and building an online empire.
Jasper also supports different languages, in a situation whereby you will be able to write in different languages that you want.
Cyberspace is getting competitive every day and you just need to get creative if you must succeed online, writing in different languages to target different sets of audiences can boost your revenue.
The most interesting part of the Jasper is the fact that it is very easy to use. Either you are a complete beginner or a pro already, Jasper is a good option for you.
To make it better, we have reviewed Jasper AI and answer all the possible questions you might have.
Features Of Jasper
The first exciting feature of this AI copywriting software is the fact that it can write any form of copy. From the blog posts, email copies answer to quora questions, etc. The Robot (Jasper) is trained to write from over 50 templates so no matter what type of content you want to write, Jasper will always serve you.
Jasper has the ability to write a full blog post within minutes which other AI copywriting tool doesn't have.
Has a tone feature that you can edit to match that of your brand. This can help you maintain the quality content of your brand.
You can write in over 11 different languages which are really great for business expansion. It can also help you communicate better if you target native language-speaking countries.
The interface of the AI software is an intuitive layout. This means you don't have to struggle around to navigate it, all is at your fingertip.
Jasper is trained to create human-like articles without any form of errors or plagiarism.
It can really boost your Affiliate sales since it is specifically made for conversation.
It has the ability to write content that ranks in the SERPs while using SEO Surfer.
The AI software comes with a 7-day money-back guarantee which makes it a secure community for everyone to use. So if for any reason it doesn't serve you well, you can easily request a refund which will surely do.
It is the fastest-growing AI copywriting tool software.
What is Rytr.me?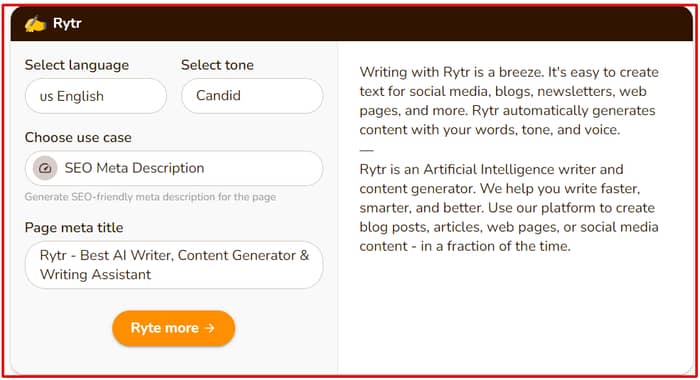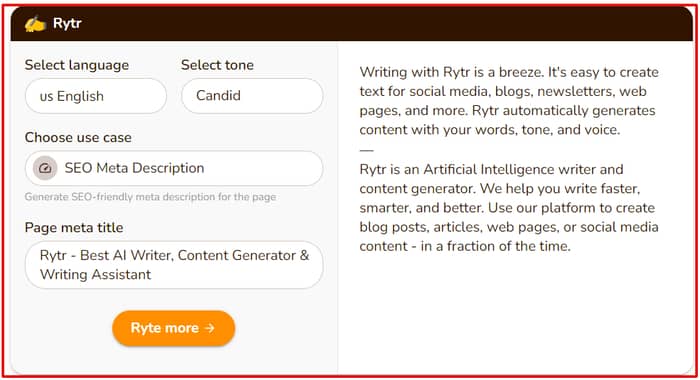 Rytr.me is an AI copywriting assistance software that is designed to help you in writing all forms of copies from product descriptions to a storytelling article.
It is developed to create well-optimized, engaging, social sharing articles within minutes.
However, whatsoever you put into the Rytr.me software is what is going to produce, the guidelines, the tone, and the likes.
Rytr.me provides an inbuilt layout and outlines in order to help you automate any type of content that you want.
The AI software is capable of writing any form of content that you might have ever imagine off, Jasper has more features in terms of this although.
Rytr.me can also go as far as writing your YouTube video script and that really makes it unique among its competitors.
However, the software platform is a newly designed one but it is now gaining more popularity among online entrepreneurs and storytelling writers.
In addition, it also runs on the same (GPT-3) machine that Jasper AI runs on.
Also, the AI software history feature ensures that whatsoever you have written on the platform remains under your fingertip.
You must keep in mind that you can't use Rytr to write long-form content like Jasper which makes the software below Jasper.ai.
Features of Rytr
Provide a very easy-to-use interface in the sense that while using the system you have the option to use the entire screen or the popo-up when. This fancy feature is part of the reason why content creators value it.
With Rytr, you can have multiple languages and tones written without even understanding the language. This can help tap more into the global market.
Another interesting feature about Rytr is the output variants. This means that you always get different outputs no matter how many times you decide to generate an article with it.
You will come to agree with me when I say that, most online business owners, individuals, and companies now prefer team collaboration and Rytr makes that really possible for you to do.
It provides a Chrome extension called the Rytr extension. This tool is designed to bring Rytr to everywhere you are on your system. With the chrome extension, accessing the Rytr tool becomes seamless.
The AI software also provides an SEO analyzer tool. In a world of today where everything is becoming competitive, you will not want to be left out when it comes to getting the latest SEO tactics, Rytr keeps everything intact in its dashboard.
Jasper AI vs Rytr.me (Comparison)
If you have been following this Jasper vs Rytr Review, you will have discovered that they are both copywriting software.
However, it is impossible for you to go for you the. You will need to choose one.
In order to help you make an informed decision, we have decided to include what both platforms have in common, what they share together.
And at the end of this article, we will tell you our recommendation and why we have chosen that.
AI Software
What is behind this two software or that makes them generate unique articles are both AI (Artificial Intelligence) so without the AI, they can't really do anything.
Truthfully, both AI software runs on an advanced GPT-3 learning machine technology which is the highest learning machine for AI software.
However, Jasper seems to be the best in this form because Jasper also goes as far as incorporating with AIDA and PAS writing frameworks.
Jasper also does regular updates for more new features and to keep it secure for its users to use.
For example.
Jasper recently introduced a Boss Mode feature which makes articles creation seamless to its users and significantly through voice command.
If you are the type that, time is money for you, then the voice command can really help you get things done on time.
It saves you and helps you reduce your workload.
Languages
Rytr.me supports multiple language and tones and that can really help you get creating with your writing.
As of the time of writing this article, you can generate content for up to 12 different languages which include:
English
French
Arabic
Hindi
German
Italian and 6 others.
Jasper on the other hand supports more than 25 different languages which means it covers all the types of languages rytr.me have and have even more.
If you plan to enhance your business by targeting different countries, this can help you get the language barrier done without spending lots of money on freelancer writers.
Although, if you just plan to use Jasper to write all your copies in the English language, the language feature might not be really considered important.
Plagiarism Check
In a word, Neither Rytr.me or Jasper conversion AI has a built-in plagiarism checker.
But one thing you can be sure of is that both AI software can create you article that is error-free and plagiarism-free.
Both AI creates unique and original content that you can't find anywhere else. By creating original content, you also stand yourself to gain higher rankings.
Thus, leading to more traffic and a high conversion rate.
Long-form Content
Starting with Rytr.me, Rytr doesn't have the ability to generate long-form content.
It is specifically made for creating short-form content, like Instagram posts, FaceBook posts, short storytelling articles.
I believe as an entrepreneur, those things are what you already do on a regular basis, so you already get used to it, you won't want to pay for software just because of that alone.
Although, it does help you create an excellent copy that you can't imagine off, and it also saves you the time of writing down to write those small contents yourself but requires a lot of thinking and creativity.
So instead of doing that, you leverage on it either.
Jasper, on the other hand, has the ability to write both long-form contents and can write the short form as well.
When it comes to article writing with AI software, Jasper is your one-stop shop for any type of writing that you might have imagined off.
So it carries the best in this term of long-form writing.
Ease Of Use
Sincerely, both AI software is really easy to use and beginner-friendly. However, the more you make use of the software the more good you become.
In terms of functionalities and features, you might sincerely get lost in which to use and how to properly use them.
But one thing that is sure and certain is that you become really good with either as time goes on and that is because you will always be a novice of any software when it is first introduced to you.
However, one thing you can be sure of is, either dashboard is easy to navigate around.
Thus, making it beginner-friendly.
User Community
You will come to agree with me that, when you first sign up, you will still be a novice of that platform.
And that is because you might don't understand the proper way to really utilize the platform and get the best out of it.
So by not understanding how to get the best out of a platform can really consume quality time.
One of the best ways to avoid that is by leveraging on the community platform, this won't only help you utilize the tools but also meets same-minded people.
Jasper has a huge online FaceBook community that you can join to ask any questions that you want and get answers in real-time.
By joining the Jasper Facebook community, you save yourself a huge time of sending emails to customer supports that may not provide answers in real-time.
Rytr.me also have a means of a community like live chat support, email, and social media platform that you can connect with them with.
Which I personally consider really great.
I believe it is safe to say that, Jasper community wins the best in this form of community and the reason is that, you are interacting directly with the same people that are using the same tool you are using.
They have experience and familiarity with the platform, the answers that you get from this set of people will really differ from charting with customer support.
The difference is experience and they are just a user and not a staff of the company, which will make you be on the safe side.
Jasper AI vs Rytr.me: Pricing
Both AI software shared nearly the same pricing system which I consider really great.
Although because Jasper has higher features than the Rytr, it also has some higher pricing plans which give you more opportunities.
Let us see how it goes!
Starting with the rytr.me, the software has 2 pricing plans of which you can just tap into and start using immediately.
Free Plan –
You will have access to use the system for completely a month for $0.
The interesting part is that you just have to sign up and start using it to generate any form of articles that you want for your personal blog and for your clients.
By testing the article for a whole month, will place you completely on the safe side and before the end of the month, you would have been well familiar with the system.
However, you need to keep in mind that, the free plan does have some drawbacks which means you will only be able to generate up to 5,000 words for a month which I personally considered low.
But you can start with this since you are new to the entire system.
Premium Plan –
This plan costs $29 a month. With this plan, you will have the access to explore all of the Rytr features and all it has in store.
This plan is really great if you are planning on using rytr in the long run and part of the reason I said that is what you can do with the AI software becomes unlimited with the premium plan.
As a content creator, blogger, eCommerce store owner, freelancer that you do have many projects to do at hand, this plan can literarily help you fasten the process.
If you really mean business and don't want to start playing around, just get started with this right from day 1.
Here is a Quick Overview of Jasper Pricing Plan
The starter plan of Jasper pricing plan costs $29 per month and you will be able to generate up to 20,000 words with that.
Also, the first pro unlimited plan costs $109 per month and you will be able to use the system without any form of limitations. (Recently replaced by the Boss mode)
While the Boss Mode costs $119 a month so many more powerful features.
You will come to agree with me when I say that Jasper's pricing plan is much more better and friendly.
Here is why you will be able to generate a completely full blog post and that will save you an average of 2-3 hours bloggers do spend to write 500 words.
You will also have access to the AI copywriter's community in order to help you get the best out of your content.
Jasper also creates an article that is well optimized to rank and increase your conversion.
The most interesting part, it uses a Powerful learning machine to create a like-minded article, error-free, plagiarism-free which I really consider great.
Jasper seems to be the best if you want more features and advanced functionalities.
Conclusion
It is clearly obvious that Jasper provides more quality features than Rytr.
So if you are after quality content that is designed to take your brand to the next level, then Jasper should be your go-to.
And another limitation to rytr.me is the fact that it can't write long-form content which makes it less valuable to bloggers.
However, Ryrt.me is also great in its ways, what makes the difference depends on what you are looking for. If you feel like it has all you need, then go for it.
But if you are to ask me which one you should use, then I strongly recommend Jasper because you can never go wrong with the platform.
Jasper won't just help you write great blog posts contents but it will also help you increase your conversions.
We are in this space to make more, so we all deserve quality AI software.
And another thing you would need to consider is the fact that the pricing plan of what software is the same.
And you are simply getting more with Jasper.
With that, we have come to the end of this Jasper vs Rytr Review. Which tool did you think is the best for you?
Do let me know what you think in the comment section below.
Related Content: