Jasper vs Scalenut: Best AI-Powered Content Tool?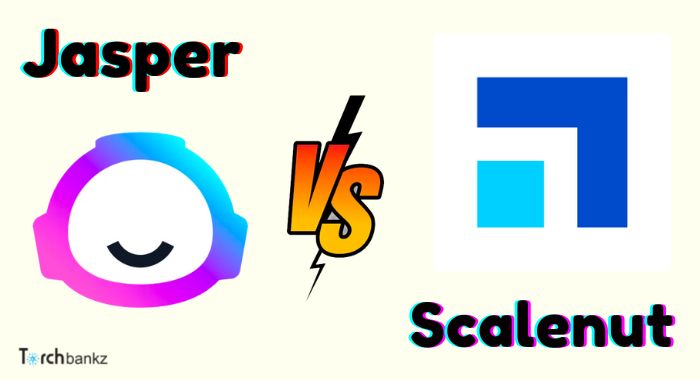 In this article, we'll be discussing Jasper vs Scalenut.
The market is buzzing these days about AI writers. Numerous AI writing tools are available that enable you to produce high-quality articles quickly.
Writing long-form content for users can take a lot of work, and by a lot, I mean A LOT of work, as brand owners and content producers.
The creation of content for blogs never stops because I work as a full-time content generator.
But the entire process can be made much more manageable with the correct AI authoring tools, and that's where Scalenut comes in.
It makes sense that, with the rise of AI-everything, AI would eventually be utilized to produce material for your blog, social media accounts, website, and more.
A wonderful approach to interacting with your audience and raising brand awareness is through content marketing.
But it takes time and effort to produce high-quality material. You must create worthwhile material that appeals to your target audience.
This is where the need for AI writing tools comes in.
Here is a concise summary of how Jasper vs Scalenut compared so you can make an informed decision.
What is Jasper AI?
Jasper AI is web-based quality software that helps marketers and copywriters ensure their audience converts after being exposed to the content on their website.
Simply put, it's a tool that uses artificial intelligence to create content for business .
With Jasper AI, you can create a highly engaging copy for your ads campaigns: Facebook, Email, YouTube, or Natives Ads.
Not just that, it also can create amazing sales copy for your sales page, landing page, or squeeze pages.
With tools like this, you need not waste money on any expensive copywriter for your business.
And if you write yourself, you need not worry about writer's block again because, with software like this, you can sporadically increase your content production while converting your audience simultaneously.
The company was founded in 2016 and has already been used by top brands all over the internet.
Being used personally myself, I believe with Jasper AI you can solve the following problem for your business:
Get rid of writer's block
Uniquely rewrite old content
Generate amazing email content for newsletters
Create eye-catching content titles
Write long-form content for your blog
Generate scripts for your video content
Save time and cost at the same time
Jasper features
Let's examine some unique features of Jasper AI;
1. Jasper Boss Mode
The Boss mode was the most recent update in Jasper.ai's pricing plan and features.
This feature allows Jasper users to do anything they want via voice command without stressing themselves.
Just think of it as conversing with Siri on Apple devices. That's how cool the Jasper Boss mode is.
2. Customized Content templates
Jasper comes with over 50 templates that offer you the headstart you need for content generation.
These 50+ templates generate AI content constituting LinkedIn ads, Facebook ads, Google ads, social media posts, blog articles, picture headlines, email copy, marketing copy, and several others.
3. Customer Support
More interesting is that they have a huge FAQ resource section that can help you resolve any question or issue you might have faster than you think.
They currently have a LIVE CHAT box where you can have a real-time conversation with any of their customer care representatives.
And if that's not helping, you can send them a mail via hey@Jasper.ai and expect a response within a day.
Above all, they have an active resourceful Facebook group where you can get help from like-minded users that are always ready to help.
4. Surfer SEO Merges
Surfer SEO is a prominent AI-powered SEO software that enables you to optimize your content to rank higher on Google's search engine.
Jasper AI can be merged with surfer SEO.
If you're eager to improve your presence organically and wish to obtain the most out of Jasper AI, I will suggest you use it with Surfer SEO.
It will benefit you in composing content that will rank higher on the Google search engine and drive traffic and conversions to your site.
Other amazing features you enjoy when integrating Jasper with Surfer SEO include a keyword study and an active content editor that permits you to include pictures, links, and other tools.
5. Content Creation
Jasper AI can create a certain number of texts on your subject of interest. However, this feature is dependent on the plan you subscribed to.
You can utilize this feature by providing clues like captions, headlines, or a few paragraphs, then click on the provided button to see the outcome.
The software can also generate long-form AI content, AI blog articles, and headlines for your social media posts.
6. Contains Over 25 Languages
One amazing feature Jasper AI has is its multi-language backing. It favors more than 25 languages, including English, German, Japanese, French, etc.
This feature makes it suitable for your business if you target an international audience.
7. Jasper AI Academy
At first, you might not understand how Jasper works. But later, with few tutorials available on the platform, you'll be able to pull through.
There are so many features available on the software and so many things to do. If care is not taken you might easily feel overwhelmed.
So you must go through the Academy section and watch the tutorial on how to use the available features of the software.
Few of the resources you might want to check out when getting onboard includes:
How to publish a book in under 72 hours and sell it on Amazon Kindle
Promoting affiliate products using AI copies
How to write VSL and webinar copies with Jasper
And many other…
You can Sign-Up Here to go through these free courses. They also have a robust YouTube channel you can always go to for free content.
Pros Of Jasper AI
It contains more than 50 different templates to select from.
User-friendly interface.
Composes original and zero plagiarism copies.
Maintains an active Facebook community that can provide useful assistance & advice.
Integration with Surfer SEO is accessible with boss mode plans.
Cons Of Jasper AI
More expensive when compared to other software in the market.
The unused words in a month cannot be carried over to the next month.
Need to Fact Check Jasper Output
What is Scalenut?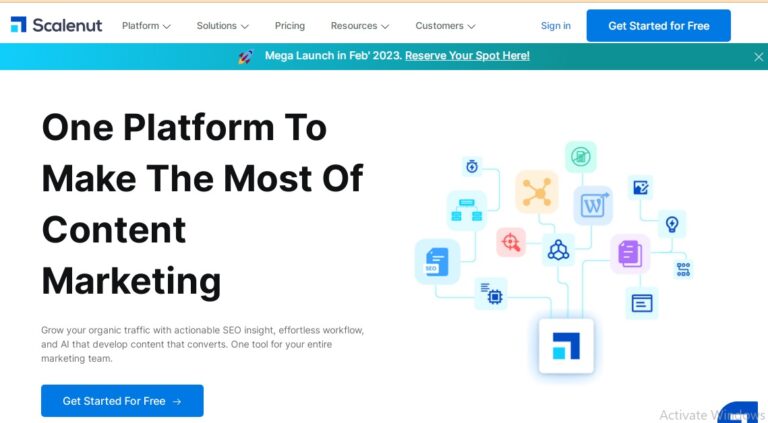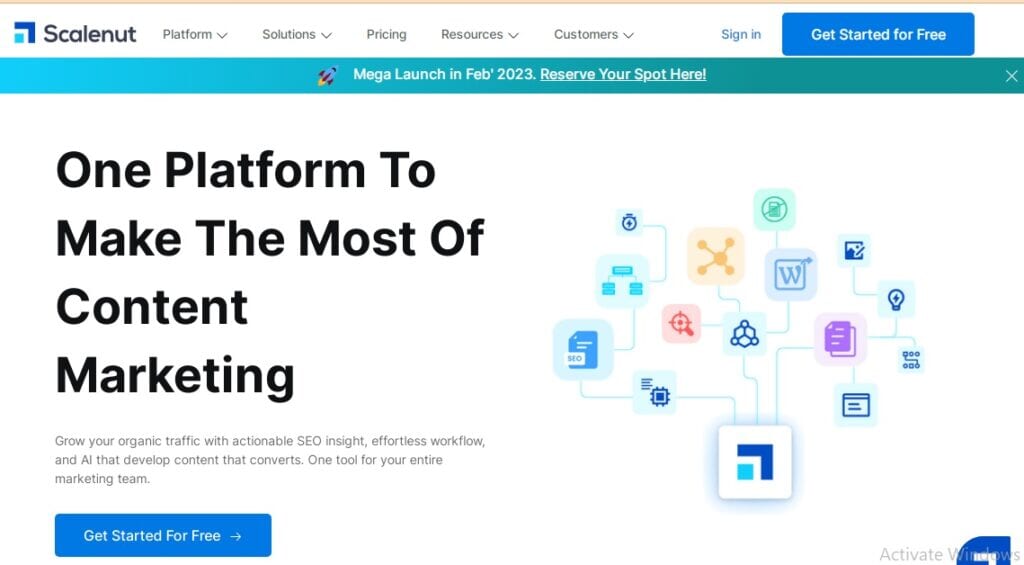 Scalenut is a cutting-edge AI-powered platform for content production and research that enables users to produce high-ranking content.
With the use of technological advancements like artificial intelligence (AI) and natural language processing (NLP), Scalenut helps marketing professionals all around the world produce exceptional content.
Scalenut is a program to make writing easier for you at every stage, from brainstorming content ideas to producing finished pieces.
The user interface is simple enough for beginners and helpful for seasoned marketing teams.
Therefore, anyone who has trouble coming up with ideas for first drafts and content development should check out Scalenut.
Without worrying about spending HOURS in front of a blank page staring you in the face, it enables you to write, edit, and design your blog entries.
This editor makes it simple to write articles with a clear structure that is well-organized and easy to read, as well as product descriptions for your online store.
You may easily and scalably create content that supports your company's objectives with the help of Scalenut.
Hire experienced creators and AI tools to assist you to outpace your rivals.
It uses information from various sources, including blog posts and articles on social media, to assist you in creating a better context that will rank highly on search engines.
Regarding producing long-form SEO content, Scalenut is a TRUE end-to-end solution that greatly reduces the time and works required.
Most competing products do not combine Keyword Reports with an intelligent built-in editor or one-click access to leading industry experts in case you need assistance.
Features of Scalenut
Here are some of the features of Scalenut;
1. Cruise Mode
Cruise mode, which offers a guided interface and makes it easier to generate long-form SEO content.
This model is a journey mode where you enter the subject and provide some background information.
You can streamline writing an informative article using Cruise Mode's set of phases in a well-thought-out workflow.
Scalenut then generates reports and gathers some data.
You then select the title, create outlines using the data it has collected, finish the article in editor mode, and then export.
Because you don't need to travel anywhere to investigate the outlines, introductions, particular titles, bullet points, FAQs, or anything, it is quite simple.
Scalenut takes care of everything so you can concentrate on making even more advancements and creating articles that your audience and Google will find valuable.
2. Long-Form content
An SEO assistant is made available to you, and it will help you write your content. You will be able to produce long-form content with the aid of AI.
This can be completed quickly and effectively. With the Scalenut AI technology, you may not only improve SEO and establish authority but also close many deals.
3. High-Quality Content
The high-quality outputs generated by Scalenut's AI are its most outstanding feature.
GPT-3, the most sophisticated language prediction model to date, is used by Scalenut. This guarantees the high quality of every output their AI tools create.
The content produced by their copywriting tools caught my attention in particular.
4. User-friendly Interface
Scalenut's user interface is cutting-edge, attractive appearance, and is simple for a newcomer to utilize.
The left panel of your Scalenut account appears after you log in and includes a summary of all the main features and functions, account settings, and the support center.
The most well-liked AI writing, and SEO tools are displayed on the home screen, where you can quickly access them. Overall, Scalenut's user interface is friendly and attractive.
5. Professional Guide
Scalenut offers a team of experts who can assist you in starting and developing your online content.
They have content developers for your sector, and there is even a Scalenut specialist on hand anytime you need them, so you can relate to them.
Pros of Scalenut
Create short and long-form content
24*7 available Support System
Marketplace to buy content
Affordable Price Plans
Efficient, easy, and systematic to work with
Cons of Scalenut
English is the only available language
You cannot customize the templates or the framework that Scalenut's AI offers you.
Scalenut supports no tones for content molding.
You must acquire Scalenut's most expensive Pro plan if you want to collaborate with your content writers there.
Jasper vs Scalenut: Pricing
Let's compare Jasper vs. Scalenut based on their pricing plans.
Jasper AI Pricing Plan
Jasper AI comprises two pricing plans which include:
Boss Mode – Begins At $99 Per Month.
The privileges comprise everything in Starter Mode plus:
100,000 words per month. The more words you desire, the more the pricing increases.
Long-form content generation
50+ AI Templates
Google Docs style editor
Compose and command features
Increased maximum of templates.
Priority client chat assistance.
This plan is ideal for bloggers and content marketers.
Both come with a 5-day money-back guarantee.
Business/Custom Plan
This plan is ideal for teams and businesses.
The pricing for this plan is not included in their list. So you will have to contact the service provider to get the prices.
The benefits include:
Custom texts/user packages
Adaptable billing options.
Exceptional technical assistance
Orientation and tutorial sessions.
Committed account supervisor.
Scalenut Pricing
Scalenut offers several plans to enable you to access a wider range of features.
You can pick a strategy that works for your company and offers you advantages in several areas.
Additionally, Scalenut offers its consumers a free trial when they can explore, evaluate, and use all of the company's tools in addition to the core program.
Scalenut's monthly prices range from $29 to $149, and if you pay yearly, you receive nearly two months for free.
Additionally, they have a free plan that may be adequate for one website user and a free trial to explore the paying features.
Free Plan
It should go without saying that this plan is free and available forever.
To enhance the semantics of your articles or pages, you will have the ability to create two SEO reports each month.
You'll be able to produce 2,000 pieces of both long and short-form content.
Features Includes:
2 SEO Documents
2,000 Short form AI words
2,000 Long form AI words
40+ AI tools
Individual Plan– ($29 monthly/ $17 yearly)
This plan is Perfect for individual creators and consultants.
It is ideal for someone who needs to produce five documents for reports each month or short-form material each month.
The benefit of this plan is that it enables you to produce 20,000 pieces of long-form content and an infinite number of pieces of short-form material per month.
Features include
100,000 AI Words
5 SEO Reports
40+ AI tools
Write
24×7 email and chat support
Growth Plan ($79 monthly/ $47yearly)
Ideal for budding startups and growing businesses.
This plan gives you unlimited access to short-form content creation, which is another plan that Scalenut offers.
Additionally, you receive 30 SEO docs each month with that.
Features include everything in the Individual plan and also:
Unlimited AI words
30 SEO Reports
30 Topic Clusters
Cruise Mode
Instruct
AI Settings
Paraphrasing
SERP Facts
Collaboration
Pro Plan ( $149 monthly/ $89yearly)
Ideal for large teams, businesses, and agencies
With the Pro Plan, you may create an infinite amount of long-form and short-form content each month, as well as an unlimited number of SEO reports.
It includes everything in Growth Plan+
Unlimited SEO Reports
100 – Topic Clusters
The dedicated customer success manager
2 users; add more @ $49/user
Jasper vs. Scalenut: Similarities and Differences
Let's explore some of the similarities and differences between Jasper vs. Scalenut.
Similarities
Both help in producing high-converting content for marketers, content writers, and entrepreneurs
They share similar templates
Differences
Scalenut is the best All-in-one for SEO and Powerful AI Commands while Jasper is best for Power Users.
To help you improve your article with NLP keywords and insights, Scalenut has an SEO optimization feature that analyzes the top 30 of the SERP. This is the main distinction between Scalenut and Jasper AI. If you purchase SurferSEO, Jasper AI (formerly Jarvis) will have this capability.
There is no Money back guarantee for Scalenut users but Jasper users have a 5 days Money back guarantee
Scalenut gives a 7-day free trial whereas Jasper offers no free trial.
Scalenut only generates content in English, unlike Jasper.
Scalenut's website features a live chat feature, so they might respond in under 5 minutes. Sadly, Jasper doesn't have a live chat feature.
Final Thoughts on Jasper vs Scalenut
We have been able to compare and contrast Jasper vs Scalenut.
If you want something simple to use, Scalenut is probably your best bet. But if more changes and capabilities are needed, Jasper is the better option.
Jasper is the best option if you need to produce material in a different language with higher quality.
All that matters when choosing between Jasper and Scalenut are your requirements and preferences.
We hope this information has aided you in making a decision.