kartra vs builderall: Best Marketing Platform For 2021?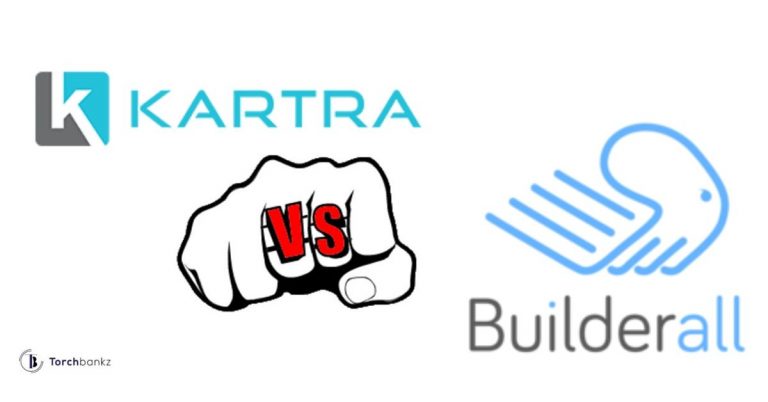 Are you by chance looking for the better tool between Kartra vs Builderall? If you are, then you're totally in the right place.
In the time past, most people use multiple platforms integrated together with the sole purpose of making more sales.
However, with these two platforms, everything is integrated together without you going to other platforms for integration.
This way, you can have your business incorporated with everything you need to market them and get more conversions.
These tools offer various features like sale funnels, Web-hosting, automation, email capture and much more.
Thus, making it easy for businesses to market their services.
Using these tools simply eliminates the need to hire a coding guru to design your website because they do everything for you!
All that's need of you is follow a few straightforward instructions and a few tweaks around the template.
Although Builderall and Kartra have some things in common, these two marketing tools differ significantly from each other.
We'll be going to be looking at all the differences to help you make an informed decision as regards the best platform.
In this article, we are going to cover everything about Kartra and Builderall, from A to Z to help you decide which tool suits your online business.
So, let's get right to the Builderall vs Kartra battle, shall we?
Builderall Vs Kartra
Before we go along with the comparison, here's a quick jump link to everything we'll be covering in this article:
What is Kartra
Overview of Kartra
Basic features of Kartra
What is Builderall
Overview of Builderall
Best Features of Builderall
Similarities [kartra vs builderall]
Differences
Pricing Plan [kartra vs Builderall]
Which Is One is Better?
What is Kartra?
Kartra is an online marketing tool that hit the market in early 2018. It offers everything that you need to market your business online and attract visitors.
Basically, it is an all in one platform that offers and substitute Software like:
Auto-responder
Website builder software (e.g landing pages, squeeze pages, sales pages, thank you pages, product launch pages, checkout pages, video sales letter pages, and more)
Sales funnel
Affiliate marketing tool
Split testing and link tracking software
Online form builders
Calendar and appointment scheduling
Shopping carts
Advanced marketing video hosting system
Membership portal builders
Helpdesk ticketing systems, including live chat
Affiliate management system
Campaign analytics platform
Custom programing to seamlessly integrates all of the above
Graphic designers etc.
In simple words, Kartra is a collection of essential business tools that you need to run your online business successfully.
The platform has integrated many features all under one roof to make it easy for you to market your business online.
Kartra was founded by two renowned online marketers: Mike Filsaime and Sandy Jenkins. The two have launched many big and projects together, and it is not a surprise that Kartra has also been an enormous success.
When Kartra was first launched, it mainly targeted e-commerce marketers, but it was later re-launched and made an all-inclusive platform.
The reason why this platform has performed well on the market is that it has made the process of opening an online business and marketing quickly.
With Kartra, Everything is automated.
All that you need to do is click a button, and the platform will do the rest for you. Thanks to it simple and ease of use interface, you can get started right away without any training.
I've written the most in-depth Kartra review out there, I think you should check it out and learn more about it core.
Overview of Kartra
This marketing platform creates pages that are more diverse, authentic and marketable.
Unlike other platforms that are task-oriented, Kartra is a goal-oriented platform. This means that you don't need to design a sales funnel webpage as it is usually the case with other platforms.
Instead, Kartra works in reverse, meaning that you first focus on what you want to achieve instead of thinking about creating a sales funnel.
For instance, most sales funnels usually end with a "thank you" page. However, with Kartra, you begin with a "thank you" note then work your way down. The process may seem complicated, but it is very easy and straightforward.
Kartra Features
Below are some of the Kartra features and what you can expect if you want to use the platform for any of your digital marketing business.
#1: Products
The Products feature on Kartra allows you to set up a product page for either digital or physical product with upsell and downsell to maximize your profits.
This feature is cool for e-commerce products; physical or dropshipping. It is designed to help generate more quick sales compared to usual of selling e-commerce products.
You'll also be able to integrate payment gateway for secured checkout of your customers and also have affiliate marketing tool integrated to have people promote your product and drive sales for you.
#2: Forms
The lead capture form feature that lets you create a variety of form with different field based on what you want from your customers.
You can choose from several of templates on Kartra that fit your page design and also have them confirm their subscription if you want.
If you have an existing WordPress site, you can easily integrate or embed your Kartra form to your WordPress pages or your Kartra pages.
#3: Pages
Here, you can easily design pages from your Kartra account using the drag and drop feature. You can easily create pages to take orders or capture leads of potential buyers.
All Kartra pages are 100% optimized for all types of screen size: Laptop, desktop, mobile devices or even tablets.
This feature also allows you to create a split test with your pages by rotating different version of them to monitor the one that pulls the higher conversion rate.
Finally, they all come with an analytic tool to track every bit of action going on your website!
#4: Communication
This covers the communication aspect of your business. From here, you'll be able to create your list, distinguished the paying customer from prospective customers.
You'll also be able to set up your email campaign as well as your auto-responder for your new leads.
#5: Membership
Kartra also makes it easy to create a membership website for your prospect and give them access based on their levels.
Every user will be able to see their membership plan and all levels they have access to base on their subscription plan.
It also comes with an easily integrated payment gateway to accept payment from your customers seamlessly if they want to upgrade their current plan.
#6: Calendar
If you are a consultant, then Kartra can also automatically handles your appointment for you either paid or free appointment.
This feature lets you have a branded calendar with your brand logo on it for scheduling live sessions with your customers.
You can define your available free times and days so your registrants can choose their preferred date and time slot.
The calendar also notifies both parties about the appointment so no one forget about the appointment.
Finally, it comes with a centralized dashboard where you can view, cancel or reschedule classes or session with your clients.
#7: Videos
This Kartra features is one of the latest. It gives you access to a clean and sleek way to showcase your video to your customer.
We all know embedding YouTube videos on your website will still show links to YouTube which can be distracting to your potential customers.
However, with Kartra you don't have to worry about that.
#8: Done for You Campaigns
The done for you campaign are lists of campaigns from frank kern and others that you can click and install from your dashboard. It includes everything you need from the opt-in page to the sales and thank you page.
All you need to do is just edit the copies after you must have deployed them to be used. There's basically a done for you campaign for any kind of marketing you want to do.
Among the done for you campaign includes the following: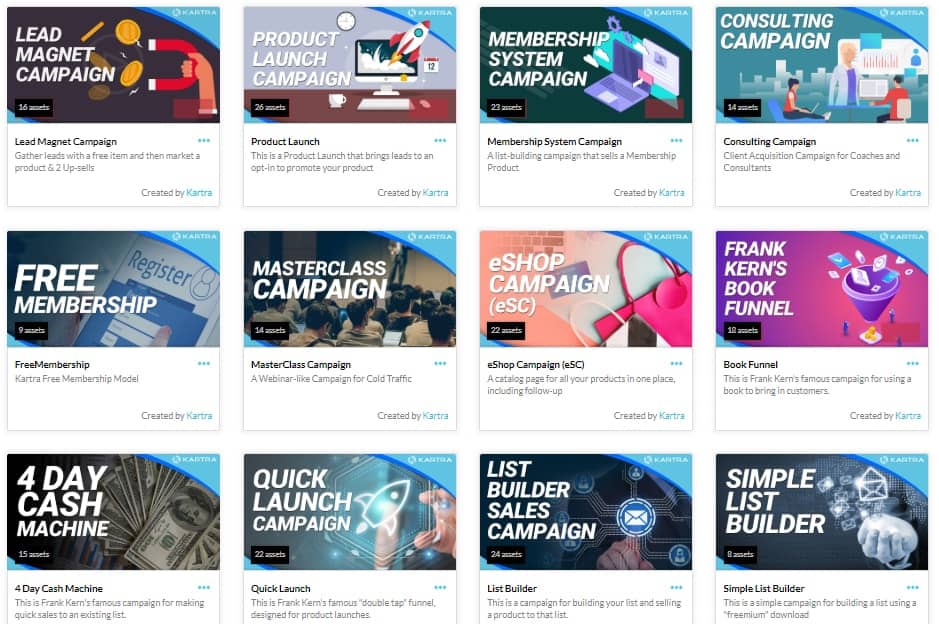 Lead Magnet Campaign
Product Lunch Campaign
Membership System Campaign
Consulting Campaign
Free Membership
Masterclass Campaign
eShop Campaign
frank kern Book Campaign
4Days Cash Machine
Quick Launch Campaign
Simple List Builder
List Builder Sales Campaign
#9: HelpDesk
This feature is a built-in system that allows you to create a helpdesk support for your customers.
You can easily handle customer's complaint; provide billing support, technical issue and other pressing issues from your customers.
#10: Affiliate Management
Kartra gives you the opportunity to have your own affiliate program and list your product for other affiliate marketer to promote as and you can equally promote their product as an affiliate marketer too.
What is Builderall?
Builderall is a great marketing platform that provides beginner-friendly tools, Internet marketing training and sales funnel builders.
This online marketing tool was designed to help businesses increase sales and conversions. It can help you create an attractive and creative website that will drive more customers.
However, you do need to take time into tweaking around the dashboard because it can be a little overwhelming and hectic if you're mostly new to the platform.
Builderall was launched in South America by a renowned online marketer Eric Salgado.
He decided to create this online marketing platform after he saw that most online businesses in his area were not getting an online presence that they deserve.
Eric used the best technology to help online entrepreneurs within his area get the best online experience.
Some of the things that Builderall can do include:
Create websites and blogs
Designing and selling learning courses
Run e-commerce stores
Runs social media campaigns and ads
Track your analytics and spits test design
Send emails campaign
Capture leads
Create sales funnels with a pre-built templates
Create eBooks webinars and videos
Build membership sites
Run ads and social media campaign and much more
Also good for running an affiliate marketing campaign.
Overview of Builderall
Builderall is a cloud-based platform, meaning that you don't have to install or download it. All that you need to do is visit the official Builderall website and create your account.
You can also synchronize different online marketing tool. Once you have created your account, the next step is to create new web pages. And most of this can be done with just a click of the button.
Basic features of Builderall
lets take a look at builderall features and let's see why it's an attractive platform for digital marketing.
Drag and drop site builder
This is basically the primary feature of Builderall. It allows you to easily create landing pages, sales funnels and beautiful websites.
It's an HTML5 run website which is designed to create several kinds of websites that gives your visitors great user experience.
Presentation Builder: This feature allows you to create unique and professional slideshow presentations for your business. This feature works just like PowerPoint but has more advanced options.
Floating video: This exclusive feature allows you to upload your videos that you have made.
Design studio: This feature allows you to add images or videos into a given area of an image, such as picture frame, mobile screen TV screen, among other areas.
Email marketing: This feature allows you to run autoresponders and control your leads with ease. Builderall allows you to send as many emails as you wish to your customers.
App creator: The feature will enable you to create, edit and publish mobile apps in different platforms to can use your app to make money by creating your Play, Amazon or Apple account.
Script generator: This exclusive feature allows you to create videos, emails, sales letters, webinars sales page and much more.
Similarities and differences
After going through some of the major features of both platforms, let's take a look at their similar features while comparing them to together.
Similarities: [Kartra vs Builderall]
Kartra and Builderall differ from each other. However, they have some things in common. In this section, we are going to discuss things that both Kartra and Builderall have in common.
#1: Drag and Drop
Both Kartra and Builderall have the drag and drop feature, which gives you the functionality of creating a sleek websites and landing pages easily.
The drag and drop technology that both platform use combined with other applications can help you build a professional website that will capture quality leads to boost revenue.
#2: Analytics
Both Kartra and Builderall provide analytics that gives relevant information to help you get the best results.
For instance, both platforms have the A/B test, a feature that allows you to find out which sales page attracts most customers.
Both platforms are equipped with powerful analytic tools that provide valuable information to help you make an informed decision.
However, Kartra analytics comes in a very detailed way and easy to understand compared to the other tool.
#3: Email Marketing System
Both Kartra and Builderall are equipped with a powerful email marketing system which allows you to create and automate your customer's contact (new or existing).
However, one outperformed the other here. Kartra is known for 99% deliverability of all email sent to your leads.
What this means is that you don't have to worry about your email hitting the spam folder of your subscribers.  Everything gets delivered!
Builderal email marketing features works fine too but it can't compete with the big dudes out there!
#4: Customer Support
Both Kartra and Builderall have a fantastic customer support team that is very professional and highly responsive. Both offer a 24/7 customer support service.
This way, you won't have to worry about getting support when it's very important.
#5: Inbuilt affiliate marketing Software
Both platforms have inbuilt affiliate program management software that users can use to manage their affiliate program or affiliate marketing business.
The software tracks all affiliates marketing activities, including the number of customers that affiliates have directed to your website and commission that they have earned.
Kartra on the other end has a larger and broad affiliate program system and equally a marketplace where affiliate can sign-up and promote other people's product.
other than that, they have a nice in-house affiliate program that's very attractive to users, but builderal affiliate program is more robust compared to Kartra affiliate program.
#6:  Shopping cart
Both Karta and Builderall and shopping cart feature. However, Kartra shopping cart is highly advanced and is equipped with many amazing features.
It comes with done for you campaigns that can be used to sell your physical products with upsell and downsell.
#7: Membership site creation
Both platforms are equipped with a membership site feature which allows you to monetize your site and collect monthly subscription fee from your members
#8: Templates
Both Builderall and Kartra have a wide range of templates for their users. This means that both platforms allow users to create sales funnels, website, standalone landing page among many others.
#9: Sales funnel
Both platforms are equipped with sales funnels templates, a feature that helps to increase sales and conversations.
Differences: [Kartra vs Builderall]
Although both Kartra and Builderall have many things in common, the two platforms are different from in other. In this section, we are going to discuss features that make these two platforms differ from each other.
#1: Quantity and Quality
If you take a deep look you'll see that both platforms are more of a robust all in one platform for marketing your business.
However, after going through the two, you'll understand one is more of quantity while the other is more of quality.
While builderall have a whole lot of useful marketing tool integrated together inside one tool, they can't really compare with their relative counterparts.
Kartra, on the other hand, is more serious when it comes to each of their features. Which is exactly the reason they are in close competition with Clickfunnels.
For Quantity, I'll give it to Builderall and for Quality, Kartra is the BOSS!
#2: User-Friendly
When it comes to user-friendliness, Builderall is a bit bunglesome or clumsy. They have so many tools under one dashboard that tend to be overwhelming.
Kartra on the underhand is actually sharp, precise and very focus when it comes to their features.
Most of the features are really easy to use but they still have a handful of training to get you onboard and so does builderal.
So for speed and responsiveness, both tools are actually good but Kartra out-perform the other!
#3: Pricing Plan                                                          
There is a huge difference in price. Although the two online marketing platforms (kartra vs builderall) have many features in common, Kartra is more costly than Builderall.
You can get started with $29.90 with builderall while the starting plan for Kartra is $99. When it comes to affordability, I think builderall takes it on this one.
#4: Webinar Tool
Builderall provides a webinar tool that enables users to create quality videos that are appealing and engaging.
The webinar tool is inbuilt and fully automated. On the other hand, Kartra does not have this feature. Users who want to use webinar funnel must integrate sister tools like WebinarJam and EverWebinar.
They are, however, owned by the same parent company as Kartra.
Pricing Plan [Kartra vs builderall]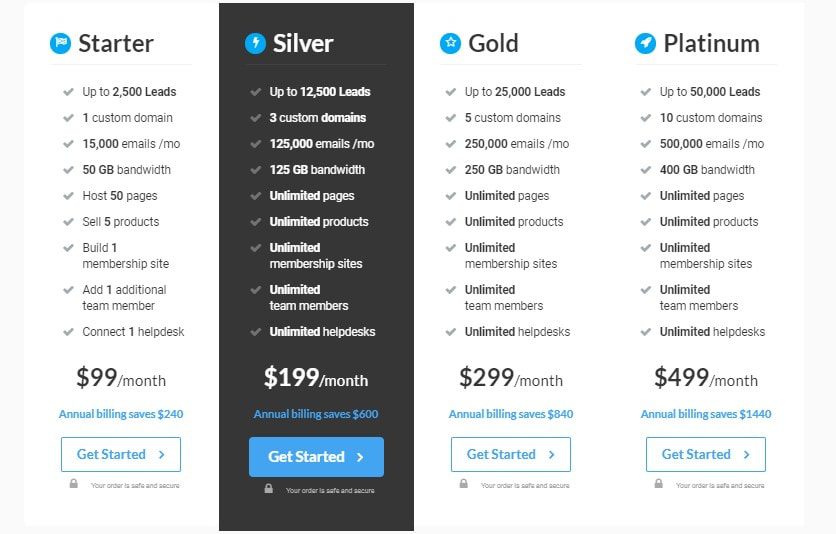 Below is a price break-down of both of the platform.
Kartra pricing
Karta has four different pricing options, from starter, silver plan to platinum. Additionally, it also offers a 14 days trial period at the cost of $1. Below is a breakdown Kartra pricing.
Starter Plan [$99/mth]
Silver Plan [$199/mth]
Gold Plan [$299/mth]
Platinum Plan [499/mth]
All features included in Kartra can be found on every plan you choose to start with. And if you prefer a 30 days trial to the 14 days trial, you can learn how to do that here!
Builderall pricing
The Builderall software comes with 100% free trial 7 days, unlike Kartra that cost $1 for 14days free trial. Builderall actually comes with 3 plans but with the new update it's now 2 plans.
Essential Plan [$29.90/mth]
Premium Plan [$69.90/mth]
The Builderall Essential plan is mostly limited as the majority of the features can be found on the premium plan.
Kartra vs Builderall: which is better?
They are both wonderful tools to get started with it. Builderall basically has everything to get started with and more importantly it's cheaper compared to Kartra.
However, Kartra on the other has great quality features, focus and great user experiences for all it users. It's great for users that don't want to switch platform but run a full-time marketing campaign for the business.
Personally, I've tried both platforms, tried Builderal first in 2018 and I'm currently using Kartra for my business.
The price may be a little up compare to Builderall but trust me; you're paying for quality compared to quantity.
If you're a little low on price, you can start out with Builderall. They have a free 7days free trial while you can try out Kartra for 14days for just $1.
And if you prefer a 30 days trial with Kartra for just a dollar too, you can refer to this article.
Over to you now, so which one is it going to be?
Or
Let me hear your opinions about this using the comment section. That's it on Kartra vs Builderall!
Learn More: