How To Make Money With Vendasta In 6 WAYS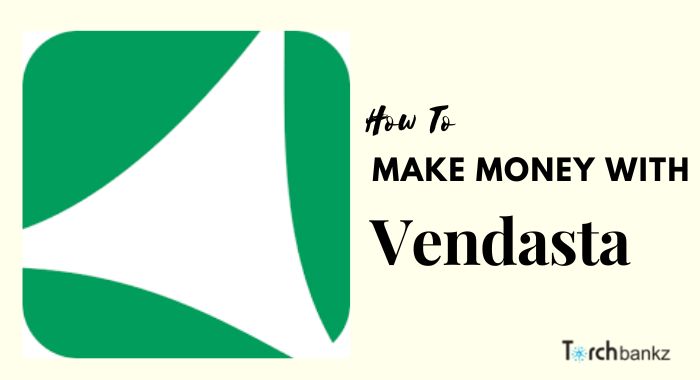 Today, we will be discussing how to make money with Vendasta.
Vendasta is an incredible CRM tool that helps you manage all your sales activities, manage your clients' accounts and help you scale your business.
With Vendasta, you can find new products to sell, sell them effectively, and also attract more clients.
If you need detailed knowledge of Vendasta, read my review of this software here.
But beyond using the tool to manage your business, you can also make good money from it. That is what I will be showing you in this article.
It does not matter if you don't have a business you use Vendasta for; there are other ways to make money from it.
The vital point is that you must have an account with Vendasta. Therefore, if you do not have an account yet, do that first by signing up (here)
That said, let's get started on how to make money with Vendasta in 6 different ways,
6 Ways to Make Money with Vendasta
Resell Saas Products on Vendasta
Start White Label Agency with Vendasta
Sell Vendasta Funnels to clients
Promote Vendasta as an Affiliate
Sell your Digital Products on Vendasta
Start your Personal Agency and sell your services
#1. Resell Saas Products on Vendasta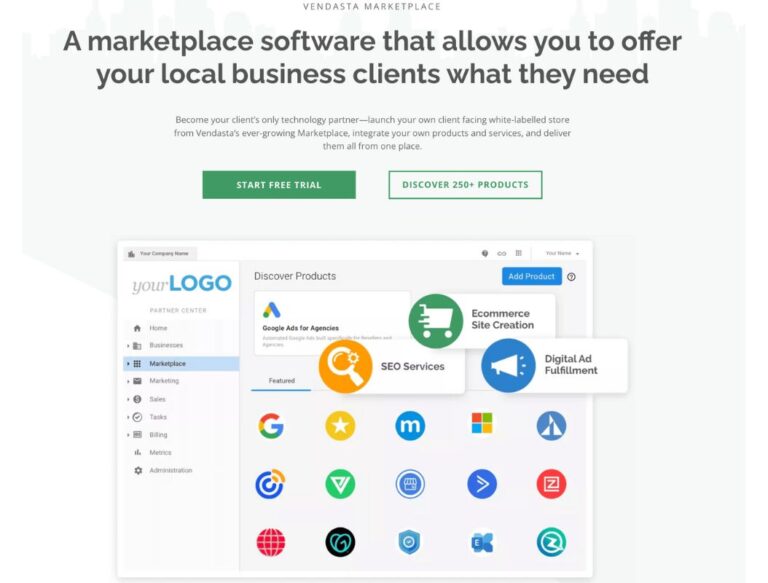 SaaS means "Software-as-a-Service." It illustrates the method of providing access to virtual website platforms in return for payment, either monthly or annually.
The website platforms are cloud-based and are usable via any browser. All you need to commit to is paying your subscription tariff.
Selling Saas Products is a way to make good money on Vendasta.
It is just like selling physical products where you buy in bulk at a discount and then resell, adding your markup to give you profits.
However, Saas products work just like drop shipping. You do not have to purchase the software until a client demands it.
It is when a client places an order for the software that you buy from the host platform and resell at a higher price.
Vendasta has a marketplace where all these sales can take place. Create a dashboard where all the products can be seen. Then advertise to your clients.
It is quite profitable because there are no overhead costs.
Asides from that, you can add additional services to reselling the software and thereafter increase the price of the software.
The good part of this is that you can sell as many digital products that are relevant to your niche. Some of the Saas products you can sell include;
Google Workspace
SEO tools
Schedulers
CRM
#2. Start White Label Agency with Vendasta
If you are looking to start your white-label agency, Vendasta is a great platform to use. It is also a good way to make money with Vendasta.
With Vendasta, you can create a branded website and marketing materials for your agency. Then you can resell those services to your clients.
To start this white-label agency, you must sign up on the website first. Thereafter, select the white label agency option when creating your account.
The next thing is to select which products and services you want to offer through your agency. With your agency, here are some products you can resell;
1. Hosting
You would agree that there is virtually no business that does not want to own a website these days.
Having a website for your business gives it a level of credibility. It is also a good place to display your work and services to potential clients.
To build a website, there is a need for hosting.
That is where you come in as a hosting reseller. It is a good way to make additional income. Research (GlobeNewsWire) showed that Hosting sales reached about $ 70 billion in 2020.
That is to show you how much people are buying hosting services.
Therefore, with other digital products and packages that you sell, you could add web hosting packages.
The good part is that you do not necessarily have to build a hosting platform from scratch. You could partner with a reliable hosting service provider that will not disappoint when needed.
In addition to that, here are a few tips that could help you thrive better as a hosting reseller
Make sure you understand how the hosting service works. This is because your clients could ask you questions about how it works. They have seen you as an authority in hosting services. Be sure whether the hosting is a shared one or a private hosting.
Provide tech support. You make your web hosting package more enticing when your clients know that they can reach out to you whenever they are stuck.
Understand the type of hosting services that suit your customers.
Lastly, make room for add-ons and integrations on the hosting platforms.
2. PPC
This is another highly-recommended product you can resell on Vendasta. PPC (Pay-per-click) is a type of digital advertising whereby the advertiser only pays when someone clicks on the ads.
Businesses are leveraging digital advertising to improve sales and attract customers. That is why with PPC and digital ads solutions from Vendasta, you can provide tools that will help these business owners manage and monitor their online ads.
With Vendasta's PPC solutions, clients can track their ads from the number of clicks to the Click-through-rate and also impressions. That will help them ensure that each click coming to their ads is worth it.
Vendasta has the white-label PPC that you can resell in your white-label agency. It would be branded as yours.
Some of the benefits of opting to resell the Vendasta PPC include;
Automated Advertising
Ad Builder- HTML5 Banners
In-store signage where you can create designs that are sharp and clear for promotions and other visuals.
Track the ads from a central point
You can resell this product on the Vendasta Marketplace.
3. SEO
SEO is a valuable product that you can resell to clients. You already know how SEO is vital when it comes to Google searches. Not every business will want to run ads every time on their products. But if SEO is leveraged, they could be driving good sales.
There is a prediction by experts that SEO will be worth over $134 billion by 2026. This is why you should include SEO in the list of digital products you sell.
It is also very important that you know what your clients want. It could be the SEO software package or an SEO analyst that can help them perform the SEO services.
After that, research the SEO vendors you want to partner with. Check their credibility because you do not want to offer a service that is low-quality. Remember that you would be selling it with your white-label brand.
Just like the hosting, you could also offer some extra services to your package. It could be tools that will help clients with blogging or any other related marketing feature.
Lastly, it is advisable to go for SEO services that have different pricing plans so that your clients can have the luxury of choice.
#3. Selling Vendasta Funnels to Clients
Selling Vendasta funnels to clients is another way to make money with Vendasta.
The sales funnel is the direction your client follows to buy from your business or agency, following from the attracted potential buyers to converted clients.
It comprises components like the sales page, the upsell page, the order page, the "Thank You" page, and any additional pages directly impacting the actual conversion game.
A sales funnel enables businesses to know what potential clients are feeling and performing at each phase of the purchasing adventure.
This understanding enables you to invest in the exact marketing actions & channels.
Furthermore, it helps you cultivate suitable messaging following each phase and convert potential customers into engaging customers.
The sales funnel is important if you're concerned about online or affiliate marketing.
This is because it allows you to make money from the product or service you render or through an affiliate product.
Landing pages, social network elements, subdomain sites, and content may all be utilized to nurture your sales funnel.
However, any or every one of these strategies may be utilized depending on your digital marketing goals and systems.
So basically, when you sell Vendasta funnels to clients that are passionate about expanding their sales and marketing techniques, it will assist to:
Understand how to connect to their prospects.
Generate further sales.
Give them an edge over other novice entrepreneurs.
Enable them to expand their business.
Encourage their visitors to remain and finalize the sales procedure.
#4. Promote Vendasta as an Affiliate
As an affiliate, when you promote Vendasta, you can earn a 30% commission for every referral that signs up.
You could earn as high as $22,300 over two years. Some of the benefits of being an affiliate partner with Vendasta include the following;
Fast payout
High earnings as commission
90 days cookies. This means that once a client visits your affiliate link and makes a purchase within the 90-day framework, the commission goes to you.
Resources to guide you on how to maximize the affiliate program
Once you sign up for the affiliate program, Vendasta creates a customized affiliate link.
Then, it provides high-quality images for you to advertise with. After which, you have access to a central hub where you can monitor your earnings and commissions.
Apart from that, you can create Posts & Videos on Reasons why you switched to Vendasta.
This will help you stand a bigger chance for interested marketers to discover them in search results and connect through your affiliate link.
Don't forget to hyperlink all footnotes of Vendasta with your affiliate connection.
#5. Sell Your Digital Products on Vendasta
Vendasta is one of the best online course hosting platforms you should try.
Selling digital products lets you include a product revenue stream in your enterprise with a considerably lower churn rate than conventional transaction services.
The membership feature on Vendasta is a steady means of hosting and providing courses and e-publications.
It is incredible when it comes to selling digital products, online courses, and content.
One outstanding feature of the Vendasta membership site is its ease of use. This brings about the potential of hosting digital platforms with lesser tech problems.
The ability of Vendasta to regulate everything, from hosting your content to fee processing through streak incorporation, gives you extra time to concentrate on the important matter, which is building an extraordinary digital company.
The interface is straightforward to use, and even your online students won't find it difficult to navigate.
Also, Vendasta allows limitless usage, recommendations, and products for your online courses.
You are allowed to create online courses for your customers or your agency.
#6. Start Your Personal Agency and Sell Your Services
Vendasta is excellent when starting your agency, bringing clients, maintaining them, and selling your services.
It was developed primarily with the interest of digital agencies at heart.
When you launch your agency with Vendasta, one amazing thing you stand to gain will be assistance in closing sales.
This is done by providing you with the correct tools, assistance, and aids for your marketing endeavors.
With Vendasta, you obtain internal marketing methods for building landing pages, funnels & sites to generate leads effortlessly.
Also, you receive CRM & tools to facilitate your leads into clients on the backend.
You can also generate tailored, automated campaigns to connect your leads through many media like Facebook messenger, calls, emails, etc.
Vendasta is dedicated to supporting the world of businesses and assisting them to generate multiple revenues.
There is also an avenue for development which was why they created a community board.
You can discuss and elect opinions to help lead the direction of growth.
Also, you can discover tips about what different agencies are accomplishing with Vendasta all inside the community.
Conclusion
We've shared with you everything we believe you should know about how to make money with Vendasta
Are you passionate about scaling your business or agency using the right marketing tools?
As a business owner, are you looking for strategies that will help you to generate multiple revenues?
If these are your concerns and more, you should consider having a Vendasta account. Also, pick up any of the above-mentioned ways and make extra cash.
Sign up above, and let's get you started!