Need an Affordable Oberlo Alternative for WordPress?
For you to need an Oberlo alternative for WordPress should either be the fact that you're tired of the monthly recurring fee of Shopify. So you need something not costly but at the same time highly scalable.
Or you've heard about the powerful Shopify App for dropshipping. Which of course is "Oberlo" but you prefer the WordPress platform over Shopify. So as a result of this you need something that can fill the gap for Oberlo.
Luckily for you, there is an Oberlo alternative for WordPress and as a matter of fact, it's even better. The alternative is no other than the AliDropship Plugin. The Alidropship plugin works just like the Oberlo App. It's created to allow seamless importation of products from AliExpress to your online store.
Like I said earlier, this is the best Oberlo alternative out there. You don't just have to take my word it, you could take a look yourself. The features of the Alidropship plugin makes it more of a better tool compare to Oberlo.
Oberlo is a unique tool for dropshipping. It helps by easing the process of moving products from AliExpress to your store. It's a complete semi-automated tool that automates processes such as bulk ordering, shipping, update-changes, and price-automation etc. But as unique as it is, it only works with Shopify. Integrating Oberlo with WordPress will prove to be impossible.
This is where Alidropship plugin comes in, it works gracefully just like Oberlo and even better in a sophisticated way. The Alidropship is more like a store builder that creates an online store for the sole purpose of dropshipping. Although it's not a stand-alone platform, but more of an extension or plugin for WordPress.
Even better the plugin also comes with the WooCommerce version of it. In case you need an Oberlo alternative for WooCommerce.
Oberlo alternative for WordPress
Let's take a look at the features of both tools and why Alidropship is considered the best Oberlo alternative for WordPress.
Automated Order system
Drop shipping with Oberlo couldn't be easier with the feature of the automated order system. Oberlo took drop shipping to the next level. It does this by reducing the stress attached to sending of order manually to your supplier on AliExpress. The Shopify App works easily that you don't need to input all your customer data to order a product from your supplier.
Whenever you receive a product order from your customer, all you need do is simply browse the product via Oberlo. Then hit the order button. The coolest part is that your customer will actually think you're the owner of the product. It's hassle free, you have no issue with product inventory or shipping problems. All you need do is sit by your computer and hit some buttons.
When it comes to WordPress all the above features work perfectly fine with the Alidropship plugin. It's actually even more flexible with WordPress. Oberlo is limited in the amount of products order you can receive on a monthly basis. Alidropship, on the other hand, is unlimited and more affordable for just one-time fee of $89.
The Alidropship plugin is specifically built for WordPress dropshipping and it also comes with a 24/7 lifetime support. Everything you need to succeed in your dropshipping business is at the tip of your finger while using the Alidropship plugin.
100% Ownership
What's even better with the Alidropship plugin is that you get 100% Ownership of the plugin. What this means is that you can do whatever it is you want with the plugin. You can buy it and decide to use it later; there is no recurring monthly fee you have to pay except for the one-time $89.00 fee.
Unlike Shopify, WordPress is a free platform so it gives you full access to the system and allows you to do whatever it is you like.
Since Shopify is a third-party e-commerce platform, so your freedom for using the store and the Oberlo App is actually limited. As a result, using the WordPress platform with the Alidropship plugin is more like a wise business decision.
Product Sourcing on AliExpress
If you have an experience with the Oberlo App you will understand how easy it is to add products from AliExpress to your online store rather than doing it manually. Without the tool like Oberlo, adding over 50 products manually from AliExpress could be like a lifetime project. But with Oberlo it could take like few minutes to import everything to your website.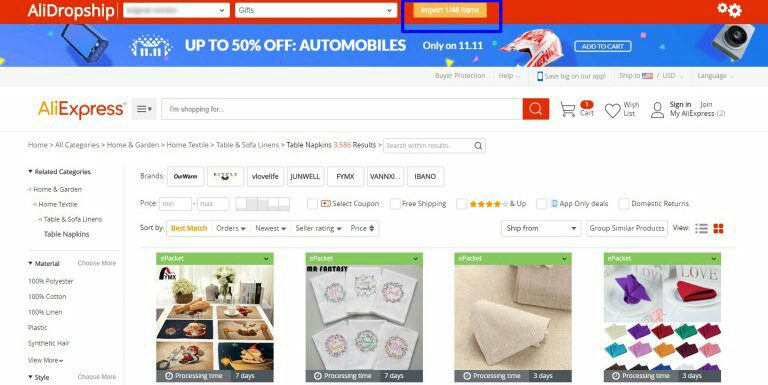 The same thing goes for WordPress and Alidropship. This feature makes it possible to access thousands of product pictures, price, reviews and different suppliers. The ease of use of the Alidropship plugin makes it easy to move product details in bulk from AliExpress and add them to your website. Although you might want to do some edit on the product details. But not to worry, you still get to do everything in bulk while hitting a single button.
It would have been a different scenario if Oberlo can work with WordPress. But the fact that it doesn't make alidropship the perfect alternative for it. Expect there is a better dropshipping plugin out there, which I'm yet to confirm.
Product & Price Updates
This is also an important aspect of dropshipping. You need to always check the product inventory of the product you're dropshipping from your suppliers from time to time. This is to keep you assured that whenever you received an order for a product, such product will still be available in your supplier inventory.
However doing this manually could cost you plenty of time and stress, but not with tools like Oberlo. What Oberlo does is that, whenever a product is out of stock from your supplier the App notifies you immediately without having to go over to your supplier website.
The same thing goes for price updates; you'll receive a notification whenever a price of a product reduces or increases. It's is then going to be left for you if you going to use the price changes to your own advantage.
Likewise Alidropship, the plugin offers all the features and functionality available in Oberlo App. Using Alidropship plugin you could easily use a simple math formula to automatically set price for your products in bulk in such a way that guarantee profits.
Need an Oberlo alternative for WordPress? Then you need to see the Alidropship plugin! It's available for both WordPress and WooCommerce dropshipping. 
Price & plans for both Oberlo and Alidropship plugin
Using the Oberlo app gives you a 30days free trial with limited functionality to test the app. At the end or before the 30days free trial, if you feel like you want to upgrade, you can either choose the basic plan or the pro plan.
The basic plan is going to cost you $29.90/ month while the pro plan will cost you $79.90 a month. This is excluding the normal Shopify monthly fee. By the time you add the Oberlo fee each month with the Shopify monthly fee together, you'll see the difference between Oberlo and Alidropship.
Using the WordPress Alidropship plugin will only cost you a one-time fee of only $89.00. I mentioned earlier that the plugin is more like an online store builder that comes with its own e-commerce theme at no additional cost. But if you want your website to be hosted by Alidropship hosting, you can then add additional $48 for a year that will round everything up to $137.00.
It just keeps me amazed while Alidropship will sell the plugin with all it features and functionalities for a just one-time fee of $89.00. While it competition Oberlo goes as high as that. What this means for you is that you get to save a lot using the Alidropship plugin with WordPress instead of Shopify.
Other extensions to optimize your dropshipping business with WordPress
Another reason why Alidropship is the perfect Oberlo alternative for WordPress is the fact that you also get to use other WordPress add-ons both free and paid by Alidropship to optimize your dropshipping business.
With Free Plugin like Customers Gallery, you can easily generate more sales by providing your website visitors with a better understanding of your products. Through the help of the plugin, you can easily inspire trust in your customers and enjoy passive income flow. And finally, allow your customer to share their buying experience on your website.
Another free plugin you can easily use with the Alidropship plugin is the Abandoned Cart. This free plugin by Alidropship is a powerful call-to-action tool for claiming back perceived lost incomes. It helps to collect contact details of potential customer and then forward email notifications for re-purchase at your online store.
Here you can see over 10 plugins and add-ons by Alidropship to accelerate and supercharge your dropshipping business.
This is one the flexibility alidropship has over Shopify. Hardly can you see a free app on Shopify without a monthly recurring fee.
Oberlo alternative for WordPress – Conclusion
Oberlo is a wonderful dropshipping tool but too bad its exclusive to Shopify. WordPress is a great platform as it offers more flexibility compared to Shopify even for a free platform. Using the Alidropship plugin as an alternative to Oberlo with WordPress it's a bonus for your dropshipping business.
There is no better plugin for WordPress that works in the exact same way as Oberlo with all its features and functionality like Alidropship. The bonus point is that the plugin will cost you $89.00 for a lifetime with full updates and support. Oberlo, on the other hand, will cost $58.00 a month and $706 a year, Shopify monthly fee included and that is just for the basic plan.
Why spend more when you can actually get a better tool at an affordable price. The price you save with Alidropship compare to Oberlo could further be diverted into marketing your business and scaling it up.
Read Full Review
Learn More