PiPiads Pricing: How much is PiPiads? [Plus Discount Code]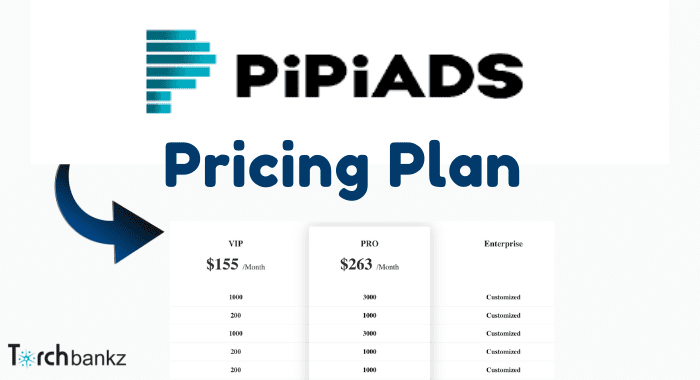 Are you looking for PiPiads Pricing? If yes, then you are in the right place.
In this article, I'm going to analyse PiPiads Pricing Plan in detail. This will help you determine which of the PiPiads plans suits your need.
I will also give a clear comparison between the Pro and VIP Plan.
But if you will like to know more about the PiPiads tool itself, we've written a detailed PiPiads Review for you to learn more about the tool.
The good part of this tool is that it comes with a Free Trial Option. You can start with the Free Trial and thereafter, decide if it's the right tool for you.
Knowing the pricing plan will help you with the right budget for using this tool for your business.
PiPiads Pricing (Monthly Cost, Features & Breakdown)
PiPiads Pricing Plan is majorly divided into three categories- PiPiads VIP, PRO and Enterprise
#1. PiPiads VIP
$155/month or $1531/year (which is equivalent to $128/ month)
PiPiads VIP Features
Below are what to expect when you opt-in for the PiPiads VIP pricing plan.
200 view ad details per day
From the 1000 ads that are running, you can view the details and progress of 200 of them. Not only that, you can also view 200 ad details of competitors as well.
Details such as the ad impressions, the number of days the ads will run, and the level of popularity of the ads.
200 Advertisers view per day
After getting the search results of the different advertisers in that niche, you will be able to go further to check the details of 200 of them.
You get to see what they do, the different ads they also run, their location and who their target audience is. You even have access to see the type of device used in running their ads.
1000 TikTok ads per time or search per query
This means that you can run 1000 ads simultaneously on this plan
1000 Search advertisers per query
The essence of searching for advertisers is to see those who are running the same ads in your niche. You can see the number of people running those same ads.
With that, you will be able to make an informed decision to either proceed with it or not.
200 product searches per month
You have access to 200 products that you can run ads on.
The essence of this PiPiads feature is to help you narrow down your search to products that have a high record of performing well just as you will see in the next point.
Easy access to winning products.
PiPiads, with the aid of its advanced features, makes available, products that have good traffic.
You will agree with me that there is no point in running ads on products that might eventually not thrive in the market.
The winning products are also according to the niche you have chosen while filling in your details.
that is, it can only be used by one computer.
With this PiPiads feature, you create a group and classify all your ads. It is also similar to the "favourite" feature; that is, you view an ad and see how well it is doing, you can collect it together and group them.
The plan can be cancelled anytime you desire to
If after using this PiPiads pricing plan for a certain period, and you feel like it does not satisfy you anymore, you are free to cancel the plan. No deduction will be made after the cancellation.
The same features apply to both monthly and yearly subscriptions.
#2. PiPiads PRO
$263/month or $2167/year (which is equivalent to $181/month)
PiPiads Pro Features
3000 search ads query
1000 ad details per day
3000 search advertisers per query
1000 view advertisers' detail per day
1000 product searches in total
Presence of Advanced Filters
Easy access to winning products
Block history and advertiser feature
5 users; that is, it can be shared with 5 different computers.
The plan can be cancelled anytime you want to.
A sales consultant is readily available for you.
#3. PiPiads Enterprise
This is the most advanced PiPiads pricing plan. The pricing is dependent on your TikTok ads need. It is specially customized to suit your niche, type of business and goals.
All the features of the PiPiads Pro are present in the PiPiads Enterprise as well except that it is customized just for you.
The Pricing plans for PiPiads were considered to be on the high side. That was why the PiPiads Group buyers were put in place.
Originally, PiPiads- especially the PRO and Enterprise; were made for large business owners in the eCommerce niche.
PiPiads has made it possible in such a way that going for the yearly pricing plan for either the VIP, PRO or Enterprise earns you a huge discount.  How do you go about that?
PiPiads Discount: How to Switch to a Yearly Plan to Get a Huge Discount?
First of all, if you are looking for a discount code, then you can use (OLUSOLA) to get 20% off your PiPiads cost. Other than that, you can still get a huge discount on PiPiads Yearly Plans.
For example, if you purchase PiPiads Yearly Plan, you would have successfully saved $324/year on the VIP plan and $984/year on the PRO plan.
You will agree with me that this is a better offer than the monthly plan.
How then do you get this huge discount? Follow these simple steps to get started on assessing the discounts on PiPiads Yearly Plans.
STEP 1: Click on this special link. It will take you to the special discounted pricing page of PiPiads.
STEP 2: Now, click on the Annual Discount Tab. Choose any of the PiPiads Yearly Pricing Plans to get started.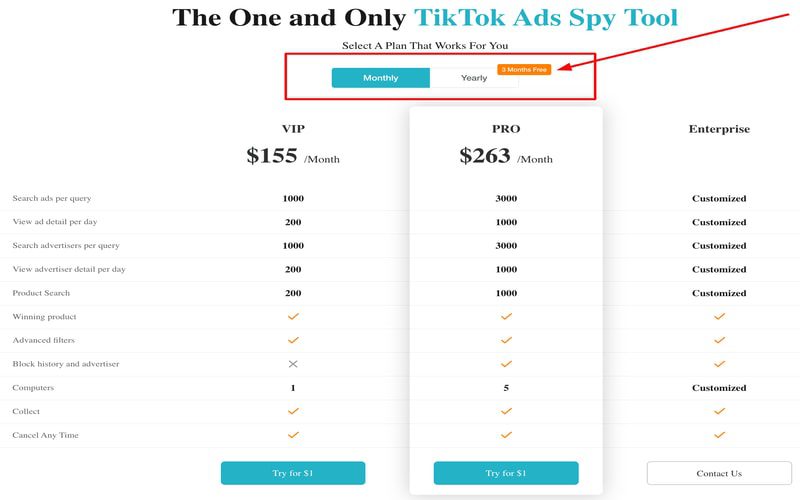 STEP 3: Grab a huge discount on both VIP and PRO plans.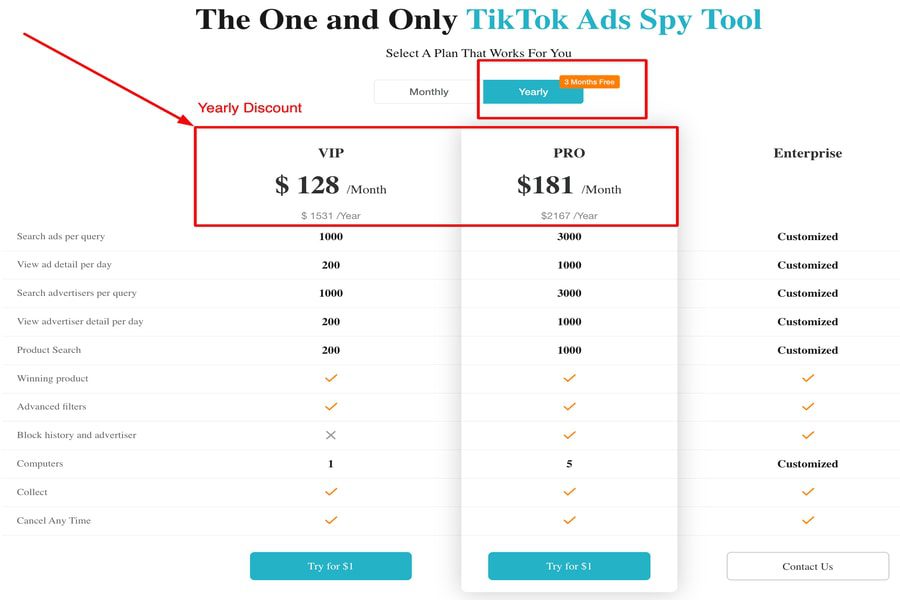 PiPiads VIP vs PiPiads PRO
The PiPiads VIP and PiPiads Pro are both recommended pricing plans if you want to make the best use of PiPiads for TikTok ads or dropshipping. business ads.
Let's take a look at the similarities and differences between these PiPiads pricing plans.
PiPiads Pricing Plan Similarities
Presence of Advanced Filters in both
Easy access to winning products
Both have the collect feature
You can cancel the plans of both PiPiads plans anytime you desire
PiPiads Pricing Plan Differences
While PiPiads VIP only grant access to 1000 search ads per query, PiPiads PRO brings out 3000 search results.
With the PiPiads VIP, you have 1000 search advertisers; whereas, with PiPiads PRO, you have 3000 search advertisers.
Unlike PiPiads VIP which has 200 view ads details per day, PiPiads PRO has 1000 view ads details.
PiPiads VIP can only be used by 1 computer/user while PiPiads PRO can be shared by 5 users.
Product Search in PiPiads VIP is 200, while in PiPiads PRO, it is 1000
Therefore, depending on how large your business is, you go for the best plan that suits you. PiPiads VIP might not be able to satisfy a large business owner.
For example, if you use the PiPiads PRO, you can easily connect with 5 other users, who could be your employees.
With that, you can perform numerous tasks simultaneously. Better still, the 5 users can come together and purchase the PiPiads PRO.
That can also help to minimize the cost of one user.
Using the PiPiads PRO also saves time better than the VIP plan. At a single search, you have 3000 results in the PiPiads PRO plan, whereas it will take the VIP plan thrice that effort to achieve that.
However, due to the high payment plan of the PRO version, you could start with the VIP plan and later upgrade when the business is larger.
Another challenge that might be faced with the PiPiads PRO is that the voluminous search results can make it confusing.
Even after the advanced filter feature has been applied, you would still have a relatively large number. It might make it difficult -especially for new users to make decisions.
I have been able to walk you through the PiPiads Pricing Plan. By now, you most likely know which of the plans suits your business.
In case, you still have some doubts about what PiPiads is all about. Let's look at the benefits of PiPiads.
PiPiads Pros
You have access to high-quality ad materials. This means that even if you have zero knowledge about running ads, PiPiads make provision for quality materials that can put you through. It also helps you get updated with any latest information.
Opportunity to study other advertisers' ad strategies. This is why it is also called the TikTok ads spy tool. When you check out other people's strategies- especially ads that are thriving well, you will be able to adapt some of the strategies and also leverage their shortcomings. It will help you produce better results.
Discover high-traffic and fast selling products. PiPiads has a column for winning products according to your niche. Right there, you will see the products and their traction level.
PiPiads can also be used for dropshipping- most especially if you're using the Shopify pl This is why PiPiads included a tool called the Free Shopify Analysis Tool. It helps you discover the best strategy for your dropshipping business.
PiPiads Cons
Based on customers' reviews, here are a few cons we have been able to gather.
The pricing. Some customers feel that the PiPiads pricing is on the high side and it might not be easily affordable to someone who is just starting a
A solution to this is to opt for the PiPiads PRO where 5 people can come together to purchase the plan.
PiPiads does not make available the pricing list in public. You have to sign up to become a member before you have access to this information. However, reading this article has solved that challenge for you.
Product Description. You might have to write the product description by yourself as there is no automated product description.
PiPiads Pricing FAQ
Below are the frequently asked question about PiPiads pricing plan
Is there PiPiads Free Trial?
Yes. The PiPiads VIP and the PiPiads PRO come with a free trial. When signing up, you only need to sign up for a free account.
How Do You Cancel PiPiads Subscription?
Cancellation of PiPiads subscription can only be done when the existing membership has expired.

Seven days before the expiration, a notification email will be sent to you. You can then click on Payment management to cancel the subscription. With this, the next payment will not be deducted.
How Do I Upgrade My PiPiads Membership?
Click on your current membership plan. You will see the "upgrade" icon beside it. It brings out the other membership plan and you simply upgrade to your desired plan.

If you upgrade before the expiration of the current plan, the duration left will be added to the duration you subscribed for in the new plan.
What is PiPiads Payment Method?
The official payment method for PiPiads is PayPal and Credit card.
Final Thoughts on PiPiads Pricing
The essence of this article is to give you a breakdown of the PiPiads Pricing Plan so that it will be easy to understand what you are signing up for.
I believe this article did justice to that.
PiPiads' pricing might be on the high side but it is a good investment for your business. Pipiads gives you access to all the data you need to give your business a game-changer.
You will be able to target the right audience, discover your audience's location, and help you build an audience list.
Hence, creating a better strategy for your business.
Not to forget that you can look through the analytics of your competitors and make your ads do better than theirs.
Having known all these, you can easily choose any of the PiPiads plans that you want and then use my discount code (OLUSOLA) to get 20% off.
Peradventure you still feel uncertain about the tool, I will recommend that you go for the PiPiads free trial immediately to see what your business would be missing out on.