PiPiads Review 2023: TikTok Ad Spy Tool [Eveything To Know]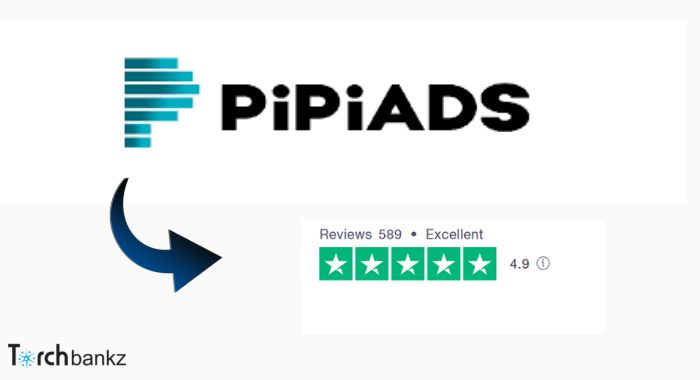 In today's post, we are going to be exploring PiPiads Review. PiPiads is the #1 best TikTok ads spy tool when it comes to researching ads on TikTok.
With this tool, you can gain access to tons of products that are recording high sales rates on TikTok with just a click on the button.
As you already know, winning products is KEY when it comes to running a successful dropshipping business.
But how do you gain access to these products?
Other dropshipping product research tools claim to provide winning products. There is nothing compared to seeing a well-performing product generating sales already with dropshipping.
With this tool, you can easily grab what is doing well already and duplicate it on your dropshipping website.
This will not only save you time but most importantly, generate more money in return with just a few clicks.
In all, would you say PiPiads is really up to these tasks?
This is why we are exploring the platform (PiPiads Review) to highlight all of their strengths and weakness. Most importantly, to discover if you will be getting value back for your money.
Let's get started, shall we?
What Is PiPiads?
PiPiads is currently the World's number one best TikTok advertising Platform. With PiPiads, you can run creative ads, monitor them and also spy on your competitor's ads and strategies.
You will be able to discover high-traffic products in your niche that you can advertise.
More importantly, you will have access to relevant information that will help you in running the ads such as Ads impressions, target audience and suitable dates.
With this TikTok ads tool, you can easily determine the specific type of ads that meet your goals. It could be to make sales (eCommerce selling) or for brand awareness and exposure.
This simply means that even if you have zero knowledge about TikTok ads, PiPiads got you covered.
Asides from using PiPiads as a TikTok ads tool, it can also be used in your dropshipping business- especially with Shopify. It recommends winning products to you, helps you filter your search and also run ads for your business.
PiPiads Review: Features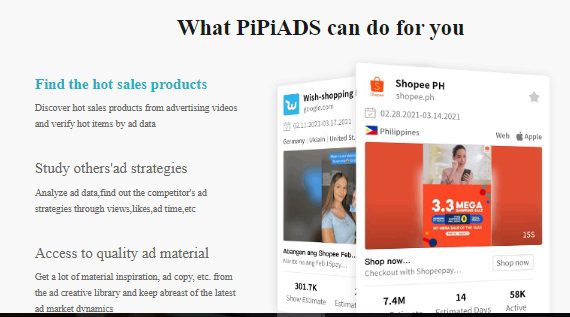 Getting the best from a tool and its ability to meet customers' needs is an important factor to consider when purchasing a tool.
Here are some of the PiPiads Features that make it the best TikTok ads spy tool.
You must go for products that you are certain will do well or has records of high traffic. With PiPiads, you can easily locate products that have a high record of attracting traffic.
You will find an icon for winning products after signing in.
There, you will be able to access these products according to your registered niche. In another way, you can locate winning products by using the different recommended filters.
PiPiads is your ads spy. It helps you look into your competitors' ads; check out their highest performing ads and what strategies they used.
You get to see the construction of the copy that was written for their ads
The essence of tracking competitor ads is to help you see how others that have been in the business are doing theirs.
It will save you the stress of figuring out how what to do from the scratch.
Asides from this, you can easily look at what they are not doing well and leverage on those lapses.
Therefore, PiPiads is not a means of copying what exactly another competitor is doing.
It is just a way to make your ads do better. You see their approach, the analytics (views, likes and percentage performance) and the duration of the ads.
Not only that, you can see their scheduled upcoming ads as well.

As seen in this image, you can also check out the details of the advertisers.
Access Quality Ad Material
You may have little or no knowledge about TikTok ads or maybe ads in general.
That is why PiPiads has made provision for quality ad materials that will serve as a blueprint for running your TikTok ads.
More importantly, these materials keep you updated on the latest trend and information regarding PiPiads or your sales.
The ad materials also help you navigate your way into discovering profitable niches that you can venture into.
As earlier mentioned, the PiPiads tool is not only for TikTok ads. It is also meant for a dropshipping business. PiPiads come with an exclusive Shopify spy tool for your business.
With this, you can do a thorough analysis of your store- the theme, operations, the social channels it operates on, the best-selling products for the store and newly added products.
You can also monitor sales as they are being made per period (live sales). All you need to do is keep your sales page open.
The Shopify Spy tools also help you check out your competitor's stores. It will grant you access to the hidden tools and apps that boost sales for your competitors.
Best selling Store and Product on Etsy
Etsy is an international online market space where different people come for buying and selling of products.
It is a global store and as such has a high rate of eCommerce business.
PiPiads has an Etsy store as one of its features.
There, you can see products that are in high demand on the platform. This will give you leverage compared to others that are using other types of ad tools.
How To Use PiPiads
In this section, I will take you through the process of getting started with PiPiads.
STEP 1: Sign up on the platform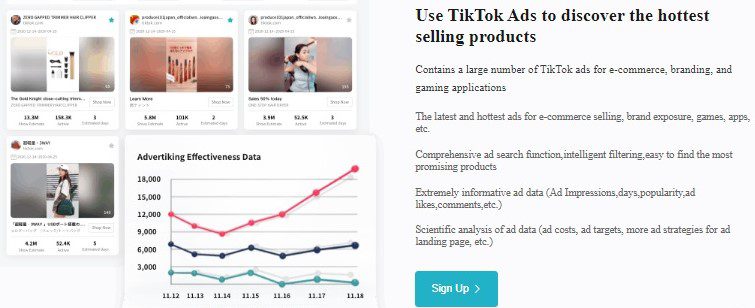 To use PiPiads, you need to sign up first. You could decide to begin with the free trial or go right into the pricing plans (the pricing plans will be discussed in this article).
After signing up, you will see different icons arraigned at the top of the page.
This takes you to the process of researching different ads.
STEP 2: Research Your Ads
The first icon is the TikTok ad search.
This will bring out a display of products that have high performance on TikTok. You could narrow it down by selecting a particular category ranging from eCommerce, games, brand and dropship.
You further filter your search by entering the specific keywords of the products you are searching for, entering the impressions for the ads you are searching for, and the countries- you can select about two or more.
After putting all the necessary details, PiPiads will show you different products that fall into your filtered search.
Instead of using the TikTok ad search, you could go directly to the product search-most especially if you have a few products in mind already. Another icon that could help is the winning products.
By entering the keywords of the desired products, you get to see products with higher traffic in that niche.
If you are into eCommerce, it is also important that you check out the landing platforms that your competitors are running the ads to. It could be Shopify, WordPress, Wix etc.
The eCommerce platform you use will determine the one you will search for.
STEP 3: Run Ads on Desired Products
Let's assume you use Shopify. Once you have been able to determine which products to run ads on, you go on AliExpress to search for the products.
After which you will look for a supplier on AliExpress. Thereafter, copy the product description and go back to upload it to your dropshipping website. Then, you start running the ads on TikTok.
PiPiads also come with a chrome extension Shopify tool. The Shopify tool enables you to see products that are currently selling (i.e. live sales). You see how many quantities of different products are being sold per time.
To activate that, click on the Shopify tool icon. Thereafter, click on "add to chrome" to install it.
It is important to note that while selecting products that you want to run ads on, avoid products that are oversaturated in the market; that is, products that a lot of people are selling.
It is smarter to go for products that are slightly undersaturated but have a high record of sales.
Getting the best of this platform begins when you upgrade from the basic plan – PiPiads Free Trial. The results of your searches will be limited with the free trial.
How Much is PiPiads? (Pricing)
As their custom, PiPiads does not make their price list public unless you create an account first. Nevertheless, I have been able to make it easier for you by bringing the details of the Pricing here.
PiPiads Pricing comes in three subscription plans- PiPiads VIP, PiPiads PRO and PiPiads Enterprise.
PiPiads VIP- $155/month or $1531/year
The features of this pricing plan include-
1000 TikTok search per query
200 view ad details per day
1000 search advertisers per query
200 advertisers view per day
200 product searches per month
Advanced filters
Ease of access to winning products
1 user
The collect feature
Cancellation of plan
PiPiads PRO- $263/month or $2167/year
Its features include-
3000 search ads query
1000 ad details per day
3000 search advertisers per query
1000 view advertisers' details per day
1000 product searches per month
Advanced filters
Access to winning products
Block history and advertiser feature
5 users
Plan cancellation option
Availability of a sales consultant
PiPiads Enterprise
This plan includes all the features of the PiPiads VIP and PiPiads PRO. Coupled with the fact that you also get a customized feature that suits your business.
Read more about the pricing plans in (PiPiads Pricing)
PiPiads Review: Pros and Cons
Like every other product, PiPiads has its good sides and shortcomings as well. This is what we'll be exploring in the pros and cons section of this PiPiads review now.
PROS of Using PiPiads
Below are the benefits and what to expect while using PiPiads
The interface in PiPiads is quite friendly. Well, it should, considering how user-friendly TikTok is, any tool that will be used in running ads on that platform must also have a user-friendly interface.
There is no complexity while using it. You can easily locate your desired brands, products, niches and a lot more.
Once you sign up, you have all the icons displayed and without any guide, you can easily manoeuvre your way around the tool.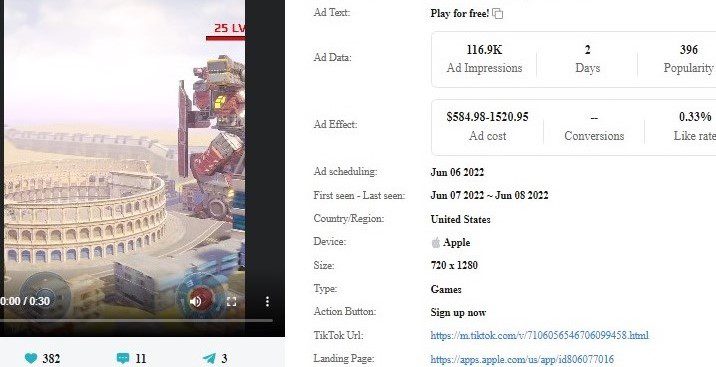 For the PiPiads PRO, there is a sales consultant attached to you that you can easily contact if anything goes wrong.
PiPiads grant you access to high-quality ad materials. You get template inspiration for your ads, different market trends that can help boost sales and updated information about PiPiads and TikTok ads.
PiPiads also assist you in discovering profitable niches that you can venture into.
Therefore, even if you zero or minimal knowledge about TikTok ads, PiPiads ad material will provide a soft landing.
Each of PiPiads VIP and PiPiads PRO comes with a free trial. With PiPiads' free trial, you can get accustomed to the features in the tool while getting ready to upgrade.
Also, you cannot access any of the features without first signing up. The free trial plan comes to the rescue.

CONS of Using PiPiads
Not everything is sunshine and rainbow when it comes to PiPiads. So in a bid to make our PiPiads Review complete, below are what we don't like when it comes to PiPiads.
Limited Free Access
As earlier mentioned, you cannot have a sneak peek into the PiPiads feature without signing up first. Asides from this, the free trial plan comes with limited access.
You might not be able to get the best out of your ads if you operate at the basic level. Most especially in terms of wider audience reach and to have detailed analytics on the ads.
Costly Plan
For someone who is just starting a business on TikTok, the pricing plans might not be affordable. A good solution to this is to purchase the PiPiads PRO membership plan that grants access to 5 users.
Therefore, 5 different new business owners can come together to purchase it. It minimizes the burden on one person.
PiPiads Review: Alternatives
Some of the major alternatives for PiPiads are – BigSpy and AdSpy.
PiPiads Vs. BigSpy
BigSpy is one of the highly used free ads tools. It is used on various platforms such as Shopify, Facebook, google ads and TikTok Ads.
Just like PiPiads, you can also get quality information about your store and the ad updates for the platforms used.
In terms of pricing, BigSpy is relatively cheaper than PiPiads. Also, you do not have to create an account before accessing the pricing and other features, unlike PiPiads.
BigSpy Pricing has 3 membership plans which include-
Basic- $9/month
Pro – $99/month
VIP Enterprise – $199-499/month
However, its limitation is that it doesn't do well with TikTok spying compared to PiPiads. This means that unlike PiPiads which grants you access to track competitors' ads; you might not be able to completely carry that out with BigSpy.
Even if you can, the analytics you will get is not as detailed as that of PiPiads.
BigSpy Customer support is only made available when you subscribe to the highest plan, the VIP Enterprise
PiPiads Free Trial grants you access to more information than BigSpy Free Trial.
With BigSpy free trial, you can only access Facebook ads, and make 5 searches in a day and the search features are quite limited. Even with an upgrade to the basic plan, you can only access the Facebook and Instagram ads.
PiPiads Vs. AdSpy
AdSpy- just as its name implies is another ad spy tool that helps you track your ads and that of the competitors on social media platforms. It shares almost the same feature with PiPiads except that it only covers Facebook and Instagram ads.
Its features do not include tracking ads on TikTok. Therefore, if you intend to run ads on TikTok, it might not be a recommended tool to use.
AdSpy also includes a free trial and its pricing begins from $149/month.
It also does not come with a sales consultant until you subscribe to the highest plan.
PiPiads Frequently Asked Questions
Below are some of the most frequently asked questions on Pipiads
Is there PiPiads Free Trial?
Yes. PiPiads comes with a free trial option. Each of the pricing plans- PiPiads VIP and PiPiads PRO also come with a $1 initial trial as well.
Can I cancel the subscription if I don't feel satisfied?
Yes, you can. However, you can only cancel a subscription when the current one is getting expired. Once it's 7 days to your renewal date, a notification email will be sent to you.You can then decide whether to renew or cancel. This simply means that once you have subscribed to a plan, there is no refund.
Is there any form of a discount on PiPiads subscription?
You can take 20% off your subscription when you use the coupon code (OLUSOLA) while making payments.

Another way of subsidizing your payment is by opting for the yearly plan instead.
The yearly plan saves costs better than renewing every month.
How do I upgrade my PiPiads Membership?
To upgrade your PiPiads Membership, simply click on the current membership plan. Beside it, you will see an "upgrade" icon that you can click on.

It will display other membership plans and you click on the plan you desire.
If for any reason, you decide to upgrade before the expiration of the current plan, be rest assured that you will not lose out on the time left for the previous plan.
The number of days or months left will be added to the duration of the new plan.
What is PiPiads Payment Method?
The official payment methods for PiPiads are Credit cards and PayPal.
Can I reach out to a virtual assistant for help?
Yes, but it is only limited to the PiPiads PRO and PiPiads Enterprise.
PiPiads Review: Conclusion
PiPiads has found a way to stand out among other ads spy tools by being the best TikTok ads spy tool.
No doubt, TikTok is currently the most popular video-sharing app and has also helped individuals grow their businesses more.
With the high increase in the number of businesses and dropshippers these days, you need a leveraging tool.
Therefore, any tool that can help track numerous ads on TikTok is a cash-generating tool.
PiPiads is that TikTok spy tool for marketers and advertisers that provides all the necessary information to create an effective and high-performance campaign.
If your campaigns have not been thriving well on TikTok, try PiPiads for free.
Why are you delaying?
Hurry up now and sign up on PiPiads and begin to enjoy the bounties of using a unique platform as such.
Do not forget to use the discount coupon code (OLUSOLA) to get 20% off your payment plan.