List of BEST Print-on-Demand with Etsy integration 2023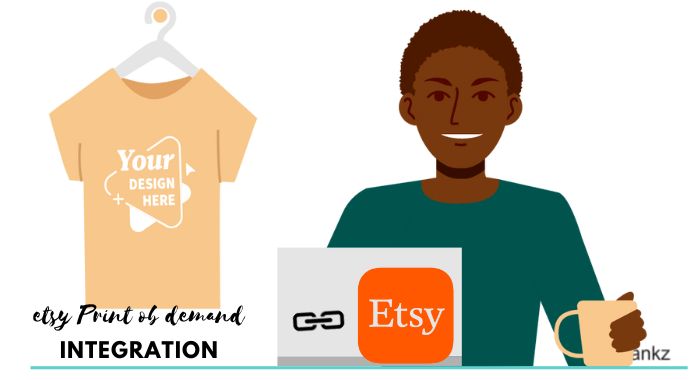 In this article, we will be exploring the best print-on-demand with Etsy Integration. There are a ton of print-on-demand websites to go at and things to consider.
The Etsy marketplace is a great place to introduce your niche products to a broad customer base if you're new to print-on-demand.
Customers on Etsy tend to be discerning and are typically looking for unique items. You can help here, of course!
This could be the ideal place to position your printables for sales success if you have a distinctive, quirky, or creative design idea!
Print-on-demand services allow you to start selling personalized products in minutes.
Leveraging Esty Integration with your print-on-demand business is a good way to improve sales. But not all Print-on-demand products support Etsy Integration.
That is why I will be sharing with you the list of best print-on-demand with Etsy integration.
What is Print on Demand?
Print-on-demand (or POD) provides a full e-commerce fulfillment solution, including product sourcing and storage, printing products and packaging materials, and shipping orders to clients.
Publishers and booksellers both love the idea of print on demand.
T-shirts, hoodies, coffee mugs, and many other items are available through print-on-demand.
Print after order is the one basic guiding principle of the print-on-demand model. Customers place an order, and only after that purchase has been placed in the product made.
The answer for small businesses and independent artists to manage their output without worrying about storage and the supply chain from the point of production to the customer's hands is print on demand.
Is Esty a Good Platform For Print on Demand?
Etsy is one of the most well-known creative marketplaces in the world right now.
Customers go there to find one-of-a-kind goods and handcrafted masterpieces that are unlike anything else on the internet.
Additionally, it is a place where aspiring entrepreneurs can make a tidy sum by selling their creations.
A successful Etsy seller can earn an average of $44,380 annually, according to some studies.
Etsy is a great platform for applying the brilliant business concept of print-on-demand.
If you can locate print-on-demand fulfillment companies that link with Etsy, you'll be positioning yourself for a lot more passive and automatic money.
Considering Etsy's enormous volume of visitors, having an Etsy print-on-demand is a good place to start for your company.
In the long run, you'll still need to invest in marketing initiatives to stand out, but Etsy is still a cheap way to get in touch with a sizable client base.
Etsy takes every precaution to guarantee the originality and authenticity of each design.
Etsy is a marketplace that connects artists and buyers. Products crafted by hand and made to order are available on Etsy.
Additionally, you can provide your design for printing. Etsy is a good platform for those who run print-on-demand businesses.
You may easily create an increasing number of print-on-demand products and market them for a profit.
The ability to make a good quantity of money is the main benefit of using Etsy.
Best Print-on-Demand with Etsy integration
Here are some Print-on-Demand platforms that integrate with Etsy
1. Printful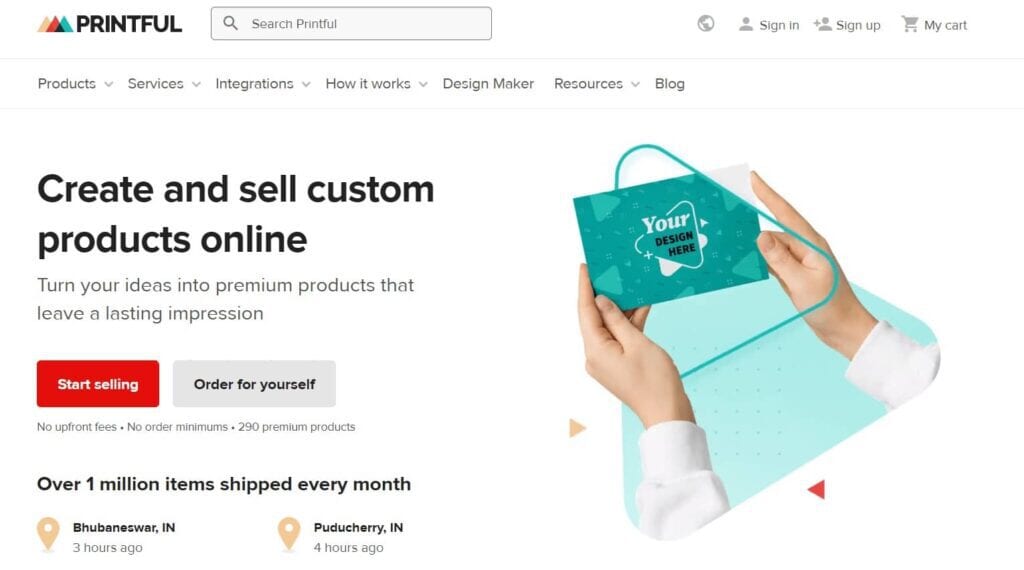 One of the most well-liked POD tools available today is Printful.
With so many great features, which include a brilliant mock-up generator and an easy-to-use user interface, it has quickly become the top option for many creative professionals worldwide.
With your designs, labels, and extras, Printful enables you to sell items such as apparel, accessories, and works of art.
Even the packaging can be changed to meet your unique requirements.
That is why, with access to over 300 products overall through Printful's service, expanding your product line won't be an issue.
Most especially, if you want to increase your online revenue.
Additionally, Printful provides fast shipping. Most goods may be shipped anywhere in the world within 15 days using services from USPS, DPD, DHL, and FedEx.
They also make use of personalized packing slips, box inserts, and business cards.
Features of Printful
No order minimums
Numerous customized goods
Several e-commerce integrations
All-over sublimation, screen printing, direct-to-garment printing, and screen printing
Services for warehousing
Shopify and Amazon are just two of the many online selling platforms that Printful interacts with. It also has a specific Etsy solution.
Does Printful Integrate with Etsy?
Yes, Printful integrates with Etsy and other platforms like:
Shopify
Wix
WooCommerce
Square
Ecwid
BigCommerce
Webflow
Squarespace
Ebay
Amazon
Weebly
TikTok Shop etc.
2. Printify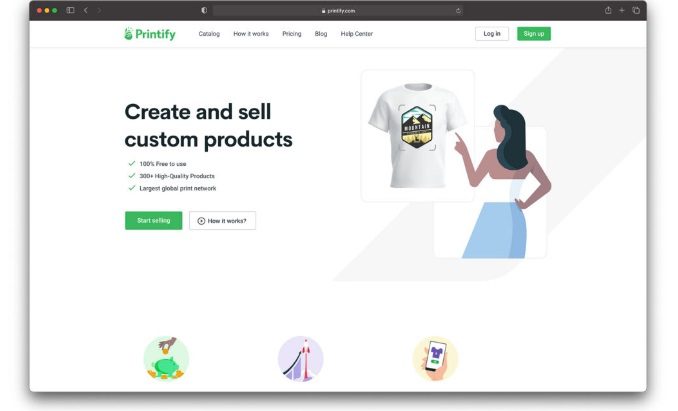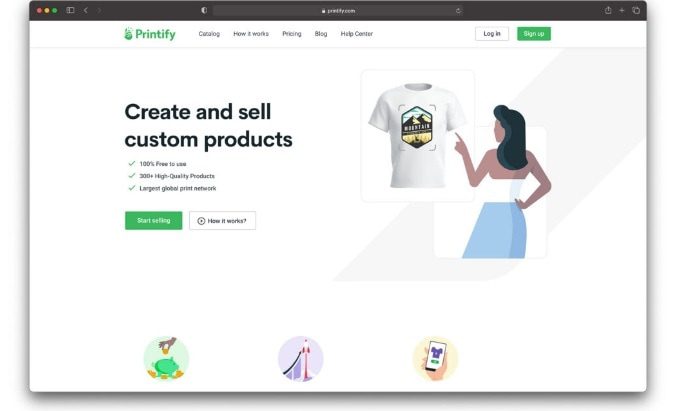 This is another Print-on-demand platform. Printify offers more than 600 print-on-demand products, including clothing for children, accessories, and household goods.
With Printify's handy mock-up generator, you can also see in advance how each item will appear.
The platform offers seamless customer assistance along with delivery services that are available worldwide.
Its features include:
Mockup generator
Integration with Shopify, Etsy, eBay, and more
Manual order creation
24/7 merchant support
Self-serve help center
Custom order import
Up to 20% discount on all products
Early access to new features
Custom API integration
Dedicated account manager
Branded customer support
You can link an existing Etsy store or create a new one within your Printify account with the Etsy connection.
From there, you may post your original creations straight to Etsy. Therefore, any incoming orders will be sent immediately to your shipping partner.
Does Printify Integrate with Etsy?
Absolutely, yes! Printify recently received authorization to work with Etsy, enabling you to sell all of the company's products.
Here is another platform Printify integrates with:
Printify integrates with all of the main online marketplaces, including
Shopify
Etsy
WooCommerce
eBay
BigCommerce
PrestaShop
Squarespace
WixStores etc.
Additionally, they also provide enterprises and advanced users with our unique API solutions.
 3. Redbubble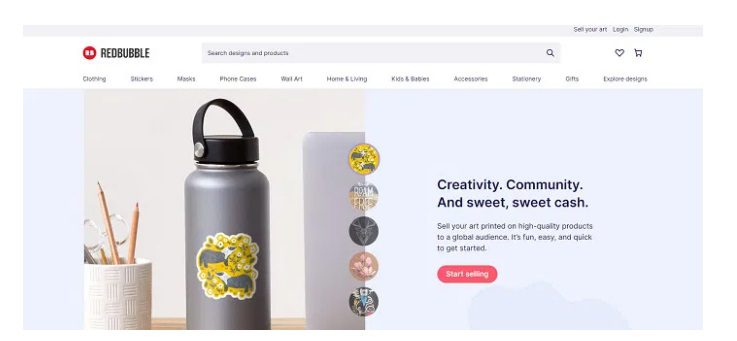 RedBubble is a fantastic approach to increasing your access to a potential customer base.
There is currently a sizable client base in place who wants to use the service regularly to purchase new things.
There are several products available as well, including different hat styles and also clothing items.
Redbubble's service is simple to use and excellent for quickly fulfilling orders for customers.
If something goes wrong with your purchases, you may also take advantage of free exchanges and returns.
Its features include:
A large selection of customizable goods
A tool for producing mockups of your designs
Options for marketing and promotion
Strong market with lots of repeat customers
Strong community backing.
Does Redbubble Integrate with Etsy?
These two sites are rival marketplaces, there is no direct interaction between them.
But once you get the items on your Etsy account, nothing is stopping you from placing purchases through Redbubble.
There are workaround strategies you can employ even if, as was already indicated, you won't be able to directly synchronize or integrate RedBubble and Etsy.
When someone places an order through your Etsy store, you can, for instance, send the order through to Redbubble on their behalf.
Integration with other platforms
Redbubble doesn't integrate with other platforms. It recognizes it's intended to be a fully functional online marketplace, so that's what they keep with.
Redbubble does, however, support outside programs like Google Analytics and Google Maps.
4. Shirtly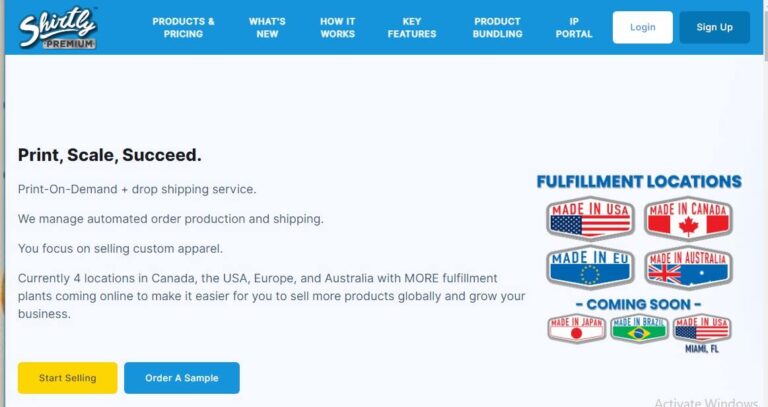 This is a great source of high-quality items for your Etsy or Shopify business, while not being as well known as some other print-on-demand vendors.
Shirtly is a POD eCommerce platform that allows users to make and sell a wide range of personalized products online.
 The business also focuses on offering designers cost-effective packages for white-label clothing products.
You won't be able to sell a ton of additional items, such as wall art and housewares, with this offering.
Shirtly functions a little differently from the other Print on Demand companies. This is because you don't build any of your product listings within Shirtly itself.
Instead, Shirtly employs a "pull" strategy in which it downloads orders from your store for you to fulfill.
However, you may make a variety of accessories using Shirtly, such as stickers and posters.
A small business, a home-based business, an online store, a charity event, and more can all benefit from the Shirtly platform.
They offer POD services without any setup or minimum expenses.
To cut down on waste and extra stock, Shirtly keeps all of the items offered on the platform in stock in our warehouses and decorates them as you make sales.
Its features include:
Shirtly Facility: They take care of production and shipping very fast.
Effortless Scalable
Lifetime customers
built-in IP defense
Products with a focus on sustainability
several decorating choices, including embroidery and DTG
a wide product selection and a comprehensive catalog
A cutting-edge printing facility
No monthly fees or order minimums
Does Shirtly Integrate with Etsy?
Yes Shirtly integrates with Esty and other platforms like: Shopify, WooCommerce, BigCommerce, and BigCartel
5. Gooten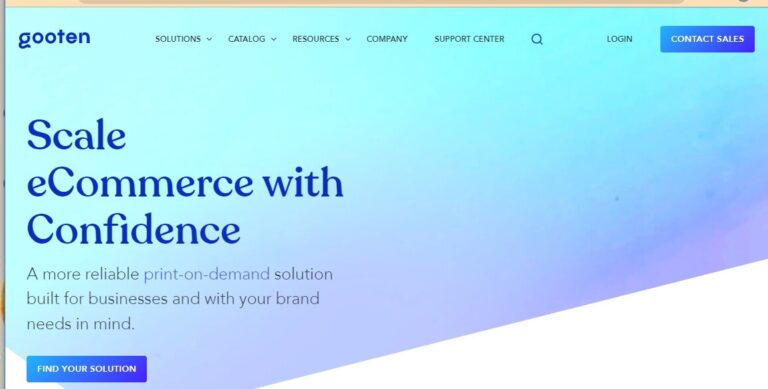 Gooten is one of the best print-on-demand with Etsy integration. This platform makes it simple to create your online store and sell customized goods.
An eCommerce platform like Gooten focuses on enhancing the effectiveness of supply chain procedures.
It accomplishes this by giving brands the features and functionality required to put a print-on-demand production strategy in place.
With a large selection of items to pick from and several useful tools to get you going on your business journey, Gooten is all about making print-on-demand simple.
Gooten is appropriate for companies of all sizes, from startups to well-established market leaders to micro businesses.
Anyone who doesn't want to store goods in their warehouse or doesn't have the resources to do so would also benefit greatly from Gooten's POD solution.
The use of Gooten is quite successful for many drop shippers.
To sell with Gooten, you don't even have to make your designs. To diversify your portfolio, you can access works by other artists and include them in your list of items whenever you choose.
Its features include:
Mockup generator that is simple to use and access to artist designs
Large selection of customizable items (over 100)
Tools and advice for beginners in education
More than 70 global routing locations are available.
The average shipping time for most products is 3.9 days.
Does Gooten Integrate with Etsy?
Yes, Gooten integrates with Etsy, You may easily link your store to your account with Gooten's straightforward Etsy integration.
To begin, simply select "Connect new store" in Gooten. You can select Etsy directly on the platform and enter your URL in the search field.
 Also If you're a developer, Gooten provides a JSON-friendly and well-documented API, allowing you to code to your heart's delight.
Apart from that, Gooten has a limited range of native integrations: Shopify, WooCommerce
6. Merchize
This is another print-on-demand with Etsy integration. It is a printing and warehousing startup that assists brands in growing their operations without taking inventory risks.
Merchize enables you to worldwide fulfill and deliver at the doorstep of your customers.
You can begin your fulfillment by setting up a fulfillment store with Merchize. Next, link Merchize to your integrated selling store.
Clients place orders. Merchize produces orders, and they charge for delivery.
Its features include:
Superior print-on-demand goods
Automated shipping and order fulfillment
A large selection of high-quality items a phone case, a blanket, a mug, a canvas, a poster, and a pocket t-shirt
Listing Shipping Solutions for Inventory and Order Management
Multi-Channel Ecommerce Solution Connectors
Does Merchize Integrate with Etsy?
Yes, they integrate with Esty and also they integrate with platforms like: Ebay, Amazon and Shopify
7. Gelato
Gelato is an online store that enables users to sell their goods to clients worldwide by printing on demand.
It is a rapidly expanding business that aims to offer customized products with an end-to-end solution.
It activated the first global network of on-demand print services and logistics companies in localities.
Gelato is becoming more and more well-known in the US, UK, Germany, Australia, and Asia.
An e-commerce system called gelato enables companies to localize their offerings. For the greatest possible client experience, the platform is connected with the Shopify platform.
The service is accessible through Frontify's integration and provides a straightforward, user-friendly interface for ordering and billing.
The user only needs to sign in to their Frontify account and choose a payment method.
Its features include:
Faster delivery: Access your network of more than 100 print hubs in 33 countries to get your message to your clients faster.
Superior quality: Leave a lasting impression on your clients by using materials of the highest caliber and supplied ethically by renowned companies.
Free design resources: Use our free design editor and mockup generator to create stunning designs and mockups for your store.
Our customer service team works tirelessly to get you the most out of the platform and provide you with 24/7 support wherever, at any time.
Does Gelato Integrate with Etsy?
Yes, Gelato integrates with Esty and They assist numerous platforms, including Shopify, Amazon, Etsy, WooCommerce, Wix.com, and eBay.
8. Teelaunch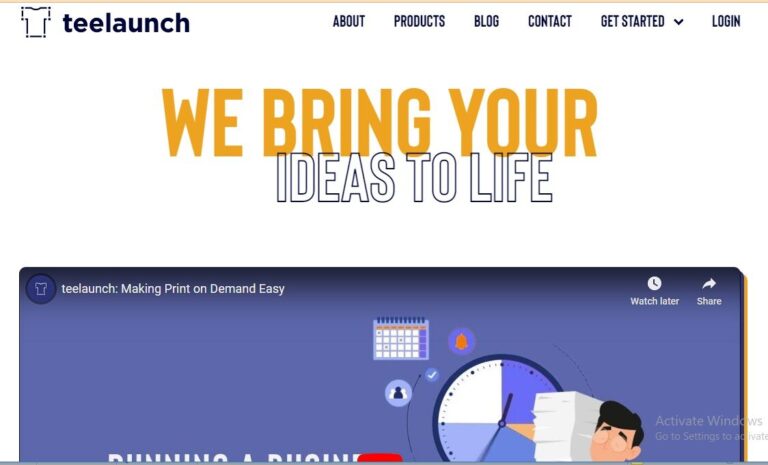 Teelaunch is a well-known print-on-demand platform created to integrate with several services, such as Etsy and Shopify.
Men's and women's clothing, wall art, drinkware, and household goods like beach towels are just a few of the many options available on Teelaunch.
Even better, you can design your unique balloons.
Teelaunch's global production approach is one of the things that makes it so alluring.
It is simple to transport things fast to your consumers in the UK, the US, Canada, Spain, and Australia thanks to the company's extensive network of facilities.
To provide better services to more consumers, Teelaunch also changes its shipping network regularly.
Its features include:
Easy-to-use mockup generator
Simple connections with a range of top tools
A large assortment of distinctive goods
Exceptional client service
Quick shipment to locations worldwide.
Does Teelaunch Integrate with Etsy?
Through their Shopify application, TeeLaunch configures the integration with Etsy. This isn't ideal if you want to launch a PoD store that sells only on Etsy.
It also integrates with other platforms like Shopify, WooCommerce, and other top e-commerce platforms.
Conclusion
With this guide, it can be much easier to find the right print-on-demand with Etsy integration. Etsy can be a reliable source of revenue, but like anything else, it takes work.
You only need to check out which of the platforms offer the services you desire.
Once you have determined the right print-on-demand with Etsy integration, begin to leverage Etsy's marketplace to boost sales.
We recommend Printful and Printify as the best Etsy POD integration to get started with.