List of BEST Print-On-Demand Sites For Artists [2023]
In this article, we will be discussing the best print-on-demand sites for artists.
If you are an artist, you can easily make quite a fortune for yourself by starting a print-on-demand business.
This business allows you to sell your custom-made designs, printed on accessories like shirts, phone cases, and even wall art to those who wish to buy them.
You simply provide the designs to your chosen site, while the more difficult processes like printing and shipping are handled for you.
All you will need to do is to create some amazing designs, upload them, and in some cases – market your finished products.
Overview
Printify offers artists a user-friendly platform to transform their artwork into a wide range of customizable products, from T-shirts to posters. With seamless integration into e-commerce stores and reliable print-on-demand services, artists can focus on creating while Printify takes care of production and order fulfillment, making it an ideal choice for selling art online.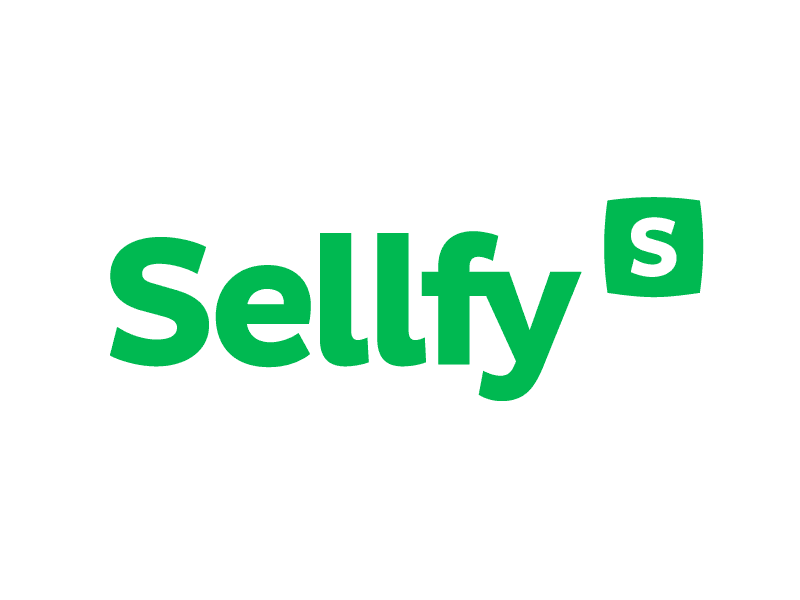 Sellfy is an all-in-one e-commerce platform designed for artists and creators. It allows artists to easily set up their online stores to sell digital products like ebooks, music, art, and more, with features for product hosting, payment processing, and marketing tools to help them reach a wider audience and monetize their creative work.
Printful is a versatile platform that empowers artists to turn their designs into a wide range of custom products, including apparel, accessories, and home goods. With seamless integration into online stores, it handles everything from printing to shipping, freeing artists to focus on their creativity while reaching a global audience with their unique creations.
What Are Print-on-demand sites?
Print-on-demand sites are those companies that allow you to start selling customized products and merchandise within a few minutes by providing you with complete all-in-one fulfillment solutions – from production to packaging and eventually shipping.
Print on demand is a dropshipping model that allows you to create attractive and noteworthy designs, sell them, and earn profits while other processes are handled for you by your chosen company.
In summary, these sites are marketplaces or eCommerce platforms where you offer your products – usually printed upon, for sale.
So which print-on-demand site are you going to choose? Let's look at the best of them.
Best Print-on-demand sites for artists
Below are lists of our prints on-demand sites for artists looking to sell their products online.
1. Printify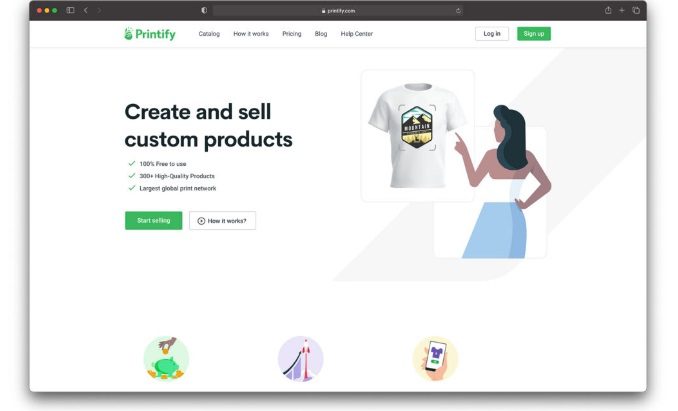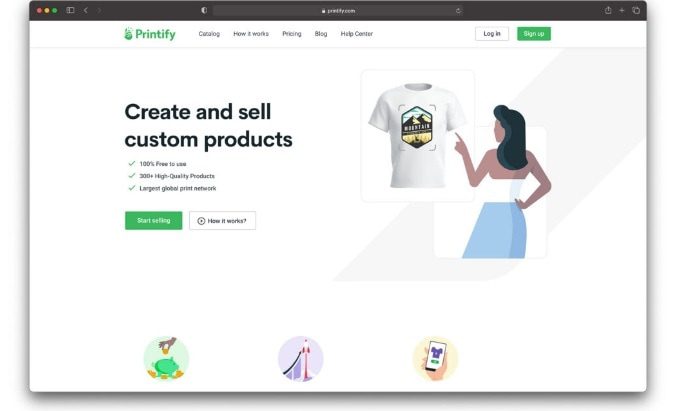 Printify is one of the best print-on-demand sites for artists. It is a service provider that integrates with your existing website to enable you to start selling products through it.
Hence, it is a great choice for artists who already have an up-and-running online store.
To begin using Printify, sign up and connect it to your eCommerce website as It integrates automatically with main eCommerce platforms like Shopify and Wix, making the process quite easy for you.
After connecting your store, check out the product catalog and select the items you wish to sell.
On Printify, there are hundreds of high-quality products to choose from like mugs, t-shirts, socks, and even home decoration materials.
After you are done selecting the products, create product mockups using the free built-in design tools on Printify.
The Mockup Generator makes it easy for you to create and edit designs of your chosen products, plus you will get to view them in high resolutions.
Once you are satisfied with the design, you can proceed to order samples from your print provider to be sure that they look and feel like you desire them to.
After that, you can then move ahead and publish your designs on your store online, and start making sales.
Once an order is made, your product is automatically produced and shipped to the customer at his or her location, plus you can keep track of the entire process using built-in tracking tools in your Printify account.
It works with numerous print providers on a global stage, so you can easily switch to a different print provider if you are not happy with the quality of the one you use.
Pros:
Many of their printing partners are scattered across the world making it easy for your orders to be delivered anywhere
Over 900 products are available in their catalog.
The cost of printing is low
Automatically integrates with major eCommerce platforms
Cons:
Custom branding options are limited
The quality of printing depends on the provider
Pricing
There's a free plan for up to 5 stores. On the other hand, premium plans start at $24.99/month and allow you to add more stores and products to your store.
2. Sellfy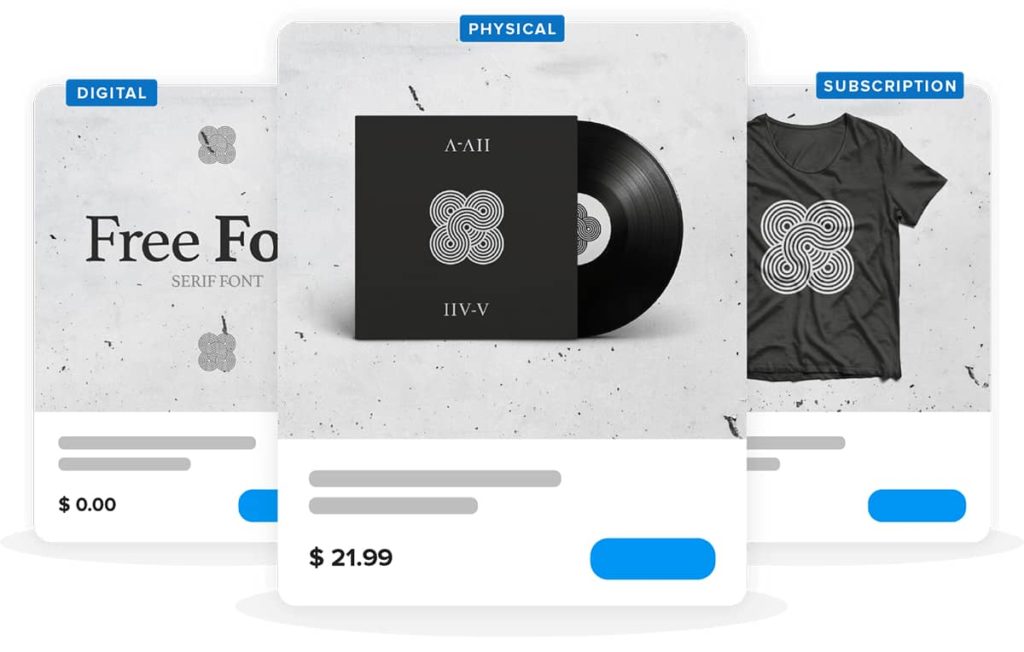 Sellfy is a platform built for creators, with all the required tools to design, create, and sell Print On Demand goods from their online store to customers.
To start with Sellfy, you first sign up and build an online store using a new domain, or a custom domain you already use.
After which you use the available POD feature to upload text and graphic print designs of your products to Sellfy's Print On Demand catalog and then you can start selling directly from your store.
While there are numerous products that you can choose from based on which products you wish to offer, you can also add custom logos, designs, and embroidery patterns.
Once you have successfully made a sale, the order is immediately printed and shipped to the customer who made the order directly from their facility.
The quality of their material is top-notch, and you will be charged for only the primary cost, so in essence, you can control your profits.
Not only can you sell POD, but you can also sell numerous other physical and digital products across wide categories on Sellfy.
With Sellfy, you can customize your site easily to portray you as an artist who sells merchandise.
Additionally, you get to build your traffic and audience from the ground up with in-built marketing tools, and won't have to compete with others for customers.
Pros:
You get complete control over your POD business.
Comes with a complete eCommerce package.
You can sell other products like digital products and services.
Comes with marketing and sales tools.
Built with creators specifically in mind.
A Free 14-day trial is available.
30-day money-back guarantee.
Cons:
Doesn't have an available audience like other marketplaces, where you don't need to invest in advertisements.
No return option for customers.
Pricing
Premium plans start from $19/month.
3. Printful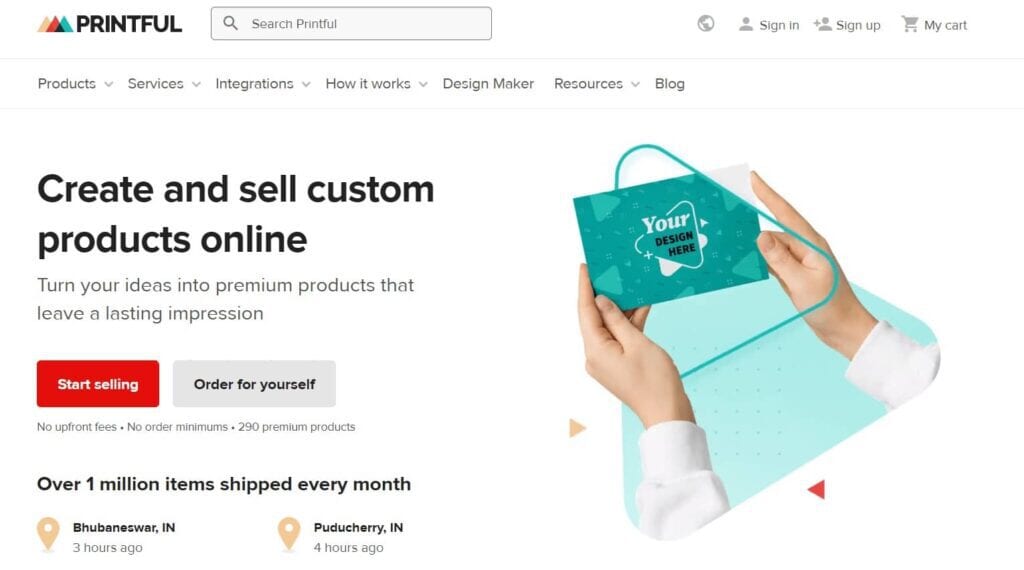 Printful is another Print-on-demand site that you can connect with your existing store. I.e, if you have.
It's an alternative to Printify, for those who don't mind paying extra money to get products of higher quality and standard.
It integrates well with Shopify, Amazon, WooCommerce, Etsy, and other eCommerce platforms, and works similarly to Printify.
You first upload the design you wish to use for your product, then sell the product on your site while Printify handles complex processes like printing, packaging, and shipping for you.
Printful outshines many of its competitors as an excellent choice for artists due to its built-in design tools that allow you to easily create product sketches and designs.
Another reason why it stands out is its white-label feature. You get to customize the inside labels and add a personalized gift message on your order which is unavailable on Printify.
The printing quality is also top-notch, as they serve their customers with quality materials using the best printing technology and inks.
The only downside is their pricing; the costs for printing are much higher than those of Printify, though Printful's products are of higher quality – which is worth the extra costs I might add.
Though this depends on your budget and priorities.
The product catalog is also very large and allows you to add your designs to pet products, homeware, clothing, and other different items.
There are also dedicated lines for target markets like personal care items and beauty products.
Their shipping process is quite fast, with a turnaround time usually between 2-7 days.
Their numerous fulfillment centers are scattered across different parts of the world, with some of their facilities in Canada, South America, and even Europe.
Pros:
The product catalog is extensive
Integrations with other tools
The printing quality of products is excellent
Built-in design tools are superb
White-label branding option
Cons:
Marketing tools are limited in the free plan
Much more expensive compared to other providers
Pricing
You can get started with the free plan but will have to upgrade to the premium plus or pro plan. These go for $9/month and $49/month respectively to be able to access more features.
4. TeePublic
Owned by Redbubble and another popular print-on-demand service is TeePublic.
Its unique approach to design has made it quite popular with creators, and its simple uploading process distinguishes it even more.
The entire process is relative, as you can upload designs to your products within minutes and have your products ready for selling.
Categories that you can sell products on are pretty limited compared to Redbubble, but tick all boxes for main categories like stickers, phone cases, and apparel.
Teepublic also has a decent group of customers and a fixed pricing model where the amount of profit you earn on your products is limited.
For example, you make a profit of $2 when you sell a shirt or mug.
This method has proven advantageous because it reduces competition amongst sellers as there won't be others lowering the price of their products simply to attract customers, and nobody will copy your work and earn more than you.
Pros:
The uploading process of designs is easy
It is a perfect platform for those looking to sell apparel
It is not as competitive as other market platforms
You can upload your designs in bulk
Cons:
The amount you earn on products is fixed
Product categories are limited
Pricing
It's free to set up a shop on TeePublic. Your royalties are fixed, while the remainder is retained by Teepublic.
5. Merch by Amazon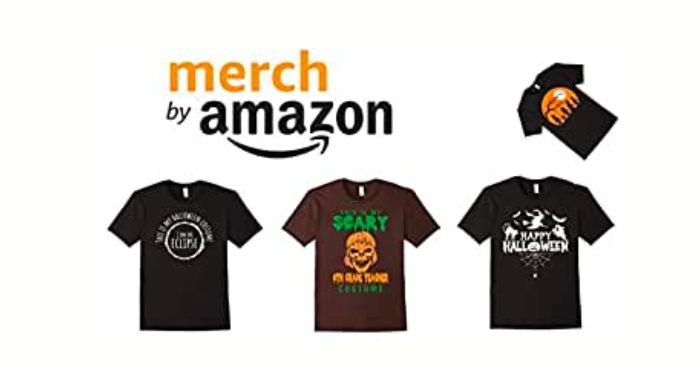 This is also one of the best print-on-demand sites for artists. Owned by Amazon is Merch. A print-on-demand program made by Amazon itself for selling products.
This top-class eCommerce platform allows you to sign up, and sell your products to millions of buyers.
To start selling on Amazon using Merch, you will have to apply, as it is strictly by invitation only. This doesn't mean Amazon itself will have to invite you.
You will just need to head over to Amazon's website and sign up to get your account approved.
Once your account is approved, you can then upload your designs and start selling your products.
Once your products are live, Amazon handles the rest of the process up until your customer receives his/her order.
The amazing thing about selling on Amazon is that you are guaranteed to make sales once your account is approved.
This is due to its extensive reach. Additionally, you can offer the prime version of Amazon to enable fast shipping of products to your customers.
These two exciting benefits are rarely found on other sites.
Pros:
Increased trust amongst customers due to Amazon's international recognition
Amazon's large user base allows you to reach millions of potential customers.
Conversion rates for sellers are high
With Amazon Prime, fast shipping to your customers is guaranteed.
Cons:
Strictly by invitation only.
No third-party integrations
Pricing
It is free to sign up for Merch by Amazon. Costs of shipping and production are deducted when you make sales.
Get Started with Merch By Amazon
6. Gooten
Gooten is another popular and easy option for selling print-on-demand products. It offers numerous helpful resources to get you started on selling your products online.
To get started, you first upload your custom designs and test them to see if they have been applied to the selected product.
Once you have confirmed the application of the designs on your products, you can then proceed to start selling them online.
Gooten allows you to sell your products and designs to other artists, and even lets you collaborate with other creators to gain wider coverage and a much bigger portfolio.
Gooten also simplifies the selling process for you by allowing you to track orders automatically, and see how your products will look like when they are ready to be delivered.
There are over 100 different categories you can choose from to offer for your products, and it integrates seamlessly with other eCommerce platforms like Wix, WooCommerce, and Shopify.
As an additional feature, you get the ability to send ordered products to over 60 different global locations and can gain access to the assistance team whenever you encounter a major issue or problem.
Pros:
Extensive range of categories for you to choose from
Wide variety of tools for your store's maximum performance
It can be automatically integrated with other top shipping platforms.
Shipping is on a global level across all locations
Shipping takes a short time
Orders can be tracked automatically using tools
Cons:
No available tools to help you out with marketing.
Some products are relatively expensive.
Pricing
Costs depend solely on what products you wish to sell. You will however be charged for the item, shipping cost, and custom labeling.
So in essence, it isn't free, and you will need to pay for services.
7. Zazzle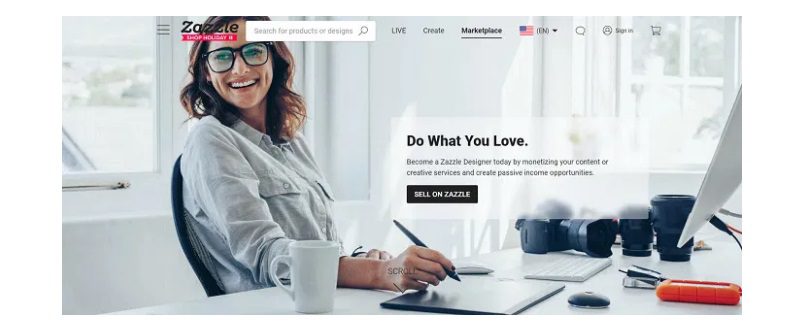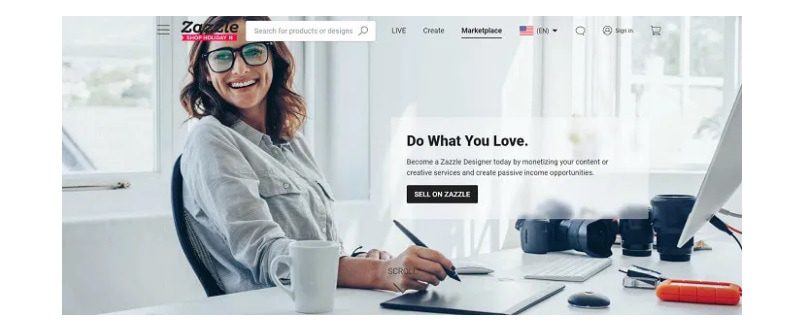 This is also one of the best print-on-demand sites for artists regarding royal apparel.
With over 5 million visits every month, this Print on demand option is the second most popular destination for shoppers online after Redbubble.
To get started with Zazzle, simply sign up to create an account, open a shop for products you wish to sell, upload your designs, select the rates which you want to sell for and its proportioned royalties, and proceed to start selling.
The rest of the process will be handled for you by Zazzle.
Its product catalog is rich and features many different categories like apparel, accessories like flip flops, and drinkware.
Once you can sell your products well with decent amounts of traffic, Zazzle will bolster the sales of your products by featuring you and your store in the "Featured Creators" or "Trending Independent Creators" lists.
Additionally, you can work alongside your customers using the Zazzle LIVE program to promote your products and offer in-depth analysis of them to do more convincing to your customers.
Pros:
Has a large customer base
The product catalog is extensive
Royalties are not fixed (i.e flexible) and are high
Can be afforded by most sellers
Cons:
Competition among creators is high
Doesn't give you the option to create your website
No integration with other platforms
Pricing
Zazzle is free to use, but a percentage is taken out of your sales by Zazzle – and you are paid royalties.
8. Society6
Society6 is the best print-on-demand option for artists who are independent to sell their products.
It is far from popular in terms of traffic, and customer base, but it offers a decent amount of traffic and sales for users.
The product catalog of Society6 isn't as plentiful as that of Redbubble, but its's categories are pretty much extensive with more focus being placed on art and home decorations.
Other aesthetic categories offered include pop-culture prints, watercolor patterns, and even floral prints.
If you want to sell design-related products, then Society6 is an option you should consider.
Due to their huge social media presence and a decent amount of traffic, you can make sales and also quite easily too.
Its branding options are also a huge advantage for artists on the platform, as you can easily customize your store – from your artist bio to the header and profile image.
Customers can also choose to follow you using the follow function so they get to know whenever you make an update or make a new product.
Even though you will not be able to customize your store a hundred percent, these custom options are more than a great fit.
Pros:
It is relatively easy for artists on the platform to become successful
Custom branding options for artists
A large number of customers
Increased flexibility for creators
Cons:
It isn't very popular among buyers
Its categories are limited
Low compensation for sellers
Pricing
You can open a Society6 shop for free. However, you earn 10% of every sale, while the remainder goes to Society6.
9. FineArtAmerica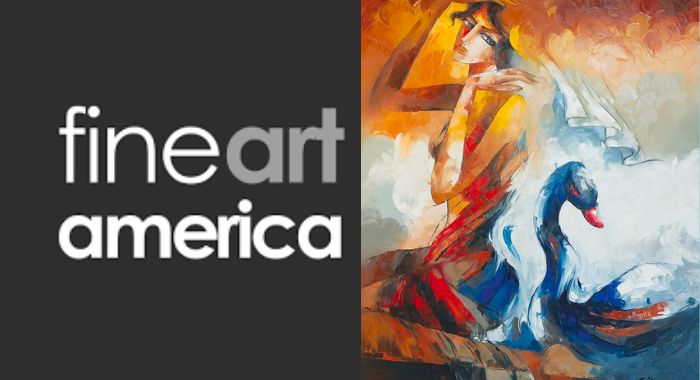 Fine Art America is one of the best print-on-demand sites for artists who wish to sell merchandise like prints and posters.
Fine Art America is quite different from other Print on demand options out there because it specializes in wall art.
This is not to say that you can't sell products in other different categories.
You can sell in other categories, but won't make as much money as those selling wall art, because the demand for wall art is highest in Fine Art America.
To start selling on Fine Art America, first, create an account, then upload your designs, select a product from the different categories, and customize it.
Because they are one of the largest framing companies in the world, you easily gain access to hundreds of frames that you can choose from.
These frames are in numerous colors and categories so you have a lot of options.
Once an order is placed, Fine Art America will print, frame, package, and ship it for you. Plus due to their size, your products can be sold anywhere in the world.
Pros:
Numerous customization options
One of the best places for artists to sell wall art
A huge number of customers are on the platform.
You determine what your rates will be
Cons:
You are better off with other platforms if you wish to sell products in other categories.
Design uploads are limited to free users
Pricing
Fine Art America is free for users to upload up to 25 different designs to start selling. To upload more designs, you will need to pay for Premium plans that start at about $30/year.
10. RedBubble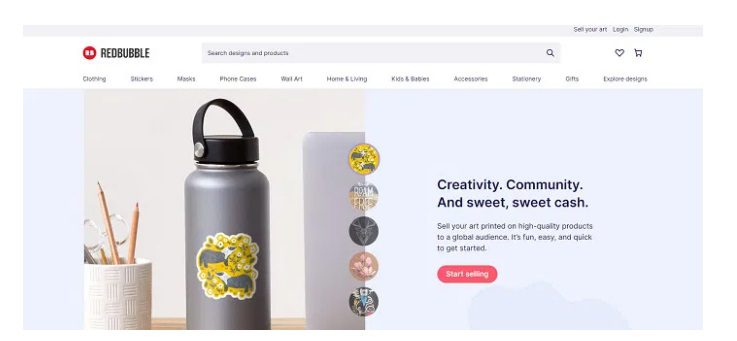 Redbubble is officially the largest POD marketplace with over 30 million customers and 500,000 artists and still counting.
Millions of products are sold on Redbubble every month, with an estimate of over $10 Million in trading volume.
It stands out in comparison to the other print-on-demand websites because users on Redbubble who sell their products do not use their website to sell, but instead list their products on the Redbubble market to numerous available customers.
As a user on Redbubble, you automatically gain an advantage over other sellers due to the millions of shoppers already on Redbubble, and all the marketing is handled for you by Redbubble itself.
You wouldn't need to spend a single cent on marketing.
The downsides to using Redbubble are;
You'll be selling your products on a marketplace, so you will have limited control over your store.
Your designs are at risk of getting stolen by others once you list your products for sale.
This is because anyone can access your store from the inside, though Redbubble offers artists features like watermarks to protect their designs – your style can still be copied.
Competition for sales is fierce amongst artists on the platform. You will be vying for the attention of customers alongside numerous others.
Overall, using Redbubble is easier for artists who wish to use a platform that enables them to sell their designs very easily, and for those who do not wish to build their site from the ground up.
Artists can easily upload their designs, set custom prices for their products, and start selling while complex processes like production and shipping are handled by Redbubble.
Pros:
No form of marketing is required.
Millions of existing customers are already on Redbubble
You can easily get started for free
Numerous categories to choose from
Cons:
Competition amongst customers is very high
Control over your store is limited
Your designs can be copied by other artists
Pricing
It is free to open a shop on Redbubble. You take the remainder of your earnings once the cost of production and shipping has been deducted.
Conclusion
In this article, we have been able to explore the 10 best print-on-demand sites for artists.
While you might have your reasons for choosing a print-on-demand site, you should keep in mind that your best option should be one that offers products of good quality.
Not only that, fast shipping to virtually any location, customization options, and a sense of control over your merchandise and store.
Also, here's a great tip for you; you can list your products on more than one POD site! But make sure to check if the sites you wish to use permit you to do so.
So which print-on-demand sites will you be opting for?