Funnel Genie Review: COD Dropshipping By Product List Genie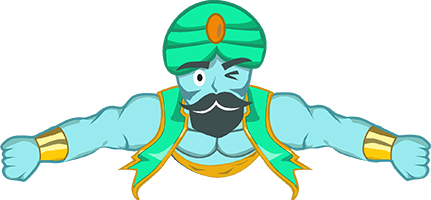 Ever thought of starting cash-on-delivery (COD) dropshipping? If yes, then you need to read this funnel genie review.
A sales funnel tool for e-commerce products by the popular product list genie.
This funnel tool was pioneered by the popular Giancarlo Barraza AKA (Coach Giani) who himself has killed millions of dollars in the eCom Niche.
Today, however, we'll be looking at his tools, Funnel Genie for starting your own profitable e-commerce business and getting paid for both product sales and leads.
Oh yeah!
I mean… Leads!!!
You don't just get paid for selling products you also get paid for each and every lead generated!
How cool is that?
It is true; dropshipping is one of the best ways to get started with e-commerce because it offers some promising features.
There's no need for product inventory and shipping logistics. All these are sorted by the seller which I bet you know all about already.
But if it's quite promising, why isn't everybody successful already? Chances are this kind of question must have crossed your mind before.
Dropshipping is just like every other business whereby you'll need to strategize, plan and work with the right BLUEPRINT.
But right now, I don't know if you noticed the competition is getting fiercer. Now, you'll have to hunt for winner products and at the same time deal with the long shipping time.
There are just so many strings attached to being successful with dropshipping right now, most especially when everybody is almost into it.
Amongst this, is the issue of stripe payment for non-US and various other to say the least.
Funnel Genie, on the other hand, promises a better future with dropshipping and e-commerce as a whole whereby everything is done for you.
Funnel Genie Review
In today's post, we'll be looking into Funnel Genie, a sales funnel tool for e-commerce by the popular product list genie.
We'll be looking into the GOOD and the BAD of Funnel Genie and every other thing you should know before you join the bandwagon.
But before we get started, here's what we'll be looking into:
What is Funnel Genie
How Does Funnel Genie Works
What is Product List Genie?
Why Is Funnel Genie A Unique Tool
Funnel Genie Features
Funnel Genie Pricing
Frequently Ask Questions
Final Thought on Funnel Genie Review
What is Funnel Genie?
The funnel Genie is an all-in-one cash-on-delivery sales funnel software for dropshipping and eCommerce as a whole without having to build a website.
It is more like a "done for you" eCommerce funnel that only requires you to pick a product, launch the exiting funnel for the products and start promotion.
Do you know the most amazing part?
You also get paid for leads of your customers that show interest in the products you're selling. Funnel Genie is practically a game-changer when it comes to eCommerce.
Here, you don't have to worry about:
Suppliers
Product delivery
Winning products
Payment Gateways
Website etc.
Everything is practically done for you, all you need to do is create your account choose your product and start selling.
There are several tutorials on how to set it up yourself on the products list genie. What's so cool about this is that you don't need to pay for any other sales funnel app like Clicksfunnels to use it.
Everything can be set up within your product list genie account using the drag-and-drop software. With this, you'll be able to create several upsell and downsell to even make more money with a single product.
One of the trending factors with e-commerce now is the sales funnel model for selling products. So, this is definitely what everybody should check out.
How Does Funnel Genie Works?
Funnel Genie is a dropshipping business that allows you to sell products based on the Cash On Delivery (COD) business model.
That is, you get paid for each of your products when the customers pay for the product upon delivery which is usually around 2-5 business days.
When it comes to fulfilment, Funie Genie has got you covered because every member has an exclusive courier And fulfilment agreement.
For every sale made, all payout are been processed on a weekly basis.  So, you don't have to worry about the payment gate because the funnel genie has got you covered on that too.
Finally, you'll gain access to the product list genie that will give you access to the following:
Ad Copy
Video Ads
Product Copy
Targeting & Demographics
Lastly, one-click Push Funnel To Your Dashboard
What is Product list Genie (PLG)?
Funnel Genie was formerly Product list genie which is an all-in-one dropshipping app that allows you to import products from several suppliers in China and in the US.
The app comes with a chrome extension that allows you to import products from AliExpress with just a single click and also fulfil products automatically.
However, it's primarily known as a product hunt tool. This is because they have a wide catalogue of curated products ready to be pushed to your Shopify store.
Product List Genie is pioneered and created by the popular Giancarlo Barraza AKA (Coach Giani). Coach Giani is one of the top internet gurus and he's also the CEO of Millionaire Mastermind where he teaches about affiliate marketing.
The primary goal of the app product list genie isn't just to provide you with winning products. But how to actually make a successful business with dropshipping.
Having gone through the app myself, I think it's more of a copy-and-paste dropshipping with one of the top eCom experts Coaches Giani. There are tons and tons of coaching on how to make your first buck.
Being a user of the app will give you access to their closed Facebook group where several live training that you can copy is being carried out.
This training includes how you can use sales funnel for dropshipping and how you can set it up using the product list genie funnel app.

Why is Funnel Genie a Unique Tool?
Funnel genie provides you with winning and hot products and a sales funnel quite alright, but there's more to the app than just that. We're going to be looking at the reason why it's a standout app for dropshipping:
#2. CPA Offers
This feature allows you to promote other people's products and earn a commission for them. They also have several tutorials on how to do this.
The training includes how to set up a funnel to do this very purpose and another cool thing about this is that you could also make your products available for the CPA offers.
This way, other people can promote your product and drive traffic to them with less work from your side. Thus, making you passive income with your dropshipping business.
#3. AliExpress Chrome Extension
The AliExpress Chrome extension allows you to import products from AliExpress with just a single click. Having installed the product list genie extension on your chrome gives you the privilege to do that.
This way, you can search for the product yourself on AliExpress and have them pushed to your store with just a single click. Hassle-free!
#4. High Ticket Products
High ticket drop shipping is known for crazy profits. This feature gives you access to high ticket product that is bound to make you crazy income.
This is one of the reasons dropshipping is so unique. There's no special procedure to this, this same way you run ads to lower ticket offers is the same way you do for high ticket offers.
This is a great deal for those looking to promote high-ticket products with huge profit differences. The product list genie allows you to do just that.
#5. Bundle Genie
Bundle genie is another feature that allows you to sell products in bundles. With this, you can sell to wholesalers or even increase your conversion with a product bundle.
The product list genie gives you the ability to push bundled products to your Shopify store with just a click of a button.
#6. US Warehouse
This is actually top on the list for product list genie. You don't have to worry about long-time shipping. Your customer can receive their product in less than 7 days.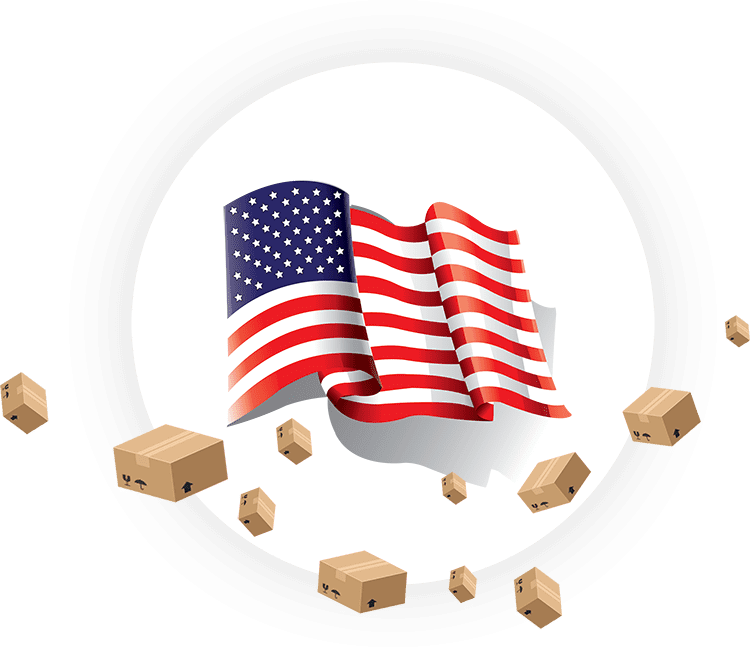 What's even cooler is, that if you have your product inventory business other than dropshipping, you could also take advantage of their warehouse in the US and have your products fulfilled by the product list genie team.
With the US warehouse, you can source products and have them fulfilled as fast as possible and the same thing goes for inventory.
#7. Brandable Training
This training comes with being a user of product list genie and it's particularly good for beginners. It's training on how to get started with dropshipping and build a 6figure brand for yourself.
If you're a newbie with e-commerce, or you just want to take your business to the next level then this might just be what you need.
The training includes:
How to create a funnel or website for your products
Get a domain name
Setting up your checkout page
How to set up stripe payment
Stripe webhook
How to attach a domain name to your funnel
Creating Upsell and Down-sell to customers
How to create legal pages
Setting up your business manager
Installing your pixel
Adding a pixel to your sales funnel
PayPal integration
net set up
Creating your ads
This basically includes everything you need to get started.
#8. 14Days Challenge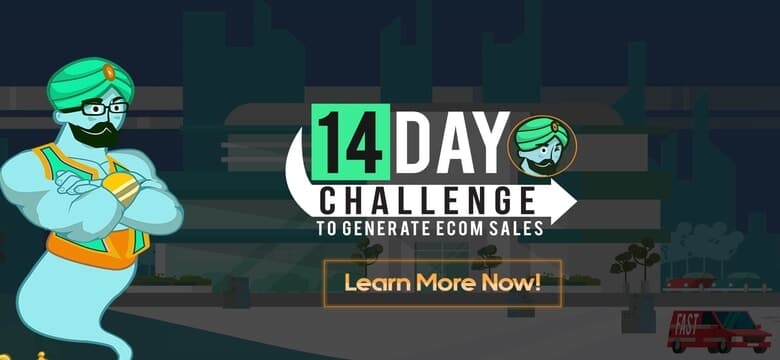 The 14Days challenge is a revolutionary course by the famous Giancarlo Barraza AKA (Coach Giani). He revealed the formula to his success that took him from a struggling retail worker to an e-commerce business owner.
Over the course of the 14Days challenge, Coach Giani revealed the step-by-step process of how he scaled a single product to over $80,000 monthly sales and $200,000 in total sales with no previous experience for him.
The 14Days challenge includes the following course respectively from Day 1:
Getting the right attention
Finding a winning product
Editing videos and Ads
Looking at Data
Recovering lost sales
Emails
Retargeting
Psychology Marketing
Breaking Down Campaigns
Selling More
Reminding them of your offer
Audience Insights
Lookalike Audiences
Bonus Day
#9. Loyalty Program
The loyalty program is another perk of the product list genie. However, this is only available after the two months recycles fee.
The loyalty program gives you more information on how to build a profitable company and e-commerce empire.
It gives you exclusive access to training that's can't be easily gotten elsewhere.
Plus, a repeatable (Copy & Paste) guide on how to start from the very scratch and how to monetize e-commerce with affiliate marketing.
The loyalty program gives you access to the following:
Exclusive traffic source
Selling products with CPA offers
Market like a pro
Create a branded company
Funnel Genie Review – What are its Features?
Let's quickly do a quick run-down of the basic features of funnel genie and see how it's fair for your business:
Automation
Funnel genie allows you to run a completely automated dropshipping business without a website. It gets your store set up and ready to start selling and also fulfilling products with no effort from your side.
Thus, giving you the ability to make money from the comfort of your home with the funnel genie automation system.
Winning Products
Funnel genie has its expert curate winning products on a daily basis. These are products that fall under certain key parameters for the success of your dropshipping business.

You can either search for products using ad strength or based on product rate to suit your product preferences.
In addition to this, all winning products come with a unique copy for adverts that are specified by e-commerce experts.
Facebook Pixel & Google Analytics Integration
For those that don't like coding and want to integrate your Facebook pixel and Google Analytics tag with your sale funnel, Funnel Genie has got you covered.
You just need to put your Facebook pixel and Google tag id and everything is set. With this, you'll be able to retarget and create some custom adverts with the help of your pixel.
Fulfilment
Funnel genie has inventory and at the same time has a courier agent that handles product delivery. Every member has a courier and fulfilment agreement.
So, you don't have to worry about product fulfilment.
Ad Copies
Every product on Funnel genie comes with a unique ad copy to promote it across social media. They also include detailed targeting on how to reach your targeted audience.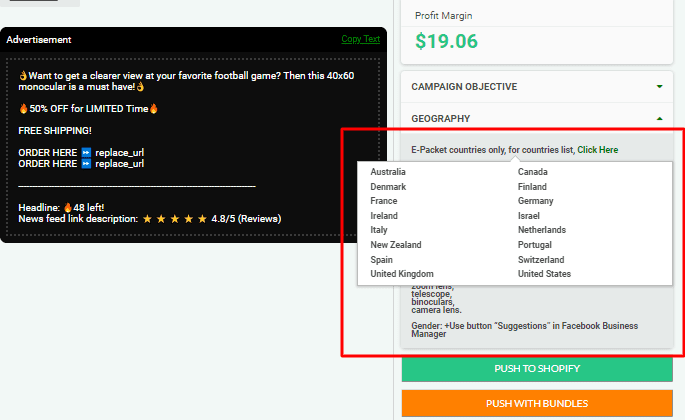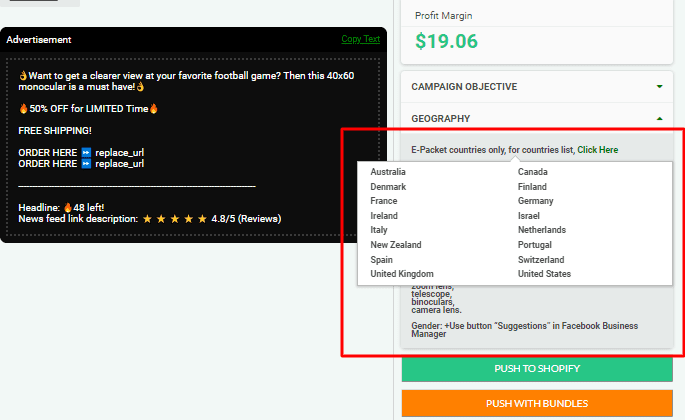 While running your ads, you'll be able to filter countries with the ePacket shipping options and interest template to promote your product well.
Abandoned Cart Email Recovery
The abandoned cart feature is another feature that works on automation with little effort from your end.
For most e-commerce businesses, one of the biggest leaks in their sales and marketing funnel is shoppers who add products to their cart, but then abandon them at checkout.
Well, with Funnel Genie you don't have to worry about losing those customers that left their cart without checking out.
The abandoned cart recovery emails will send a reminder email to them to finalize their checkout and it's done on automation
Reviews on Genie
Reviews are quite a big deal when it comes to buying products online. Your customers are going to take you seriously; reviews of the previous buyer compare to your promises. So, reviews are very important for every online store.
This feature on product list genie allows you to easily push reviews to your online store with just a click of a button. Thus, increasing your customer's trust.
Support
When it comes to dealing with a company support is one of the most important features that should be looked upon.
However, for Funnel genie, their support is checked. They offer a live chat channel to reach their customer service.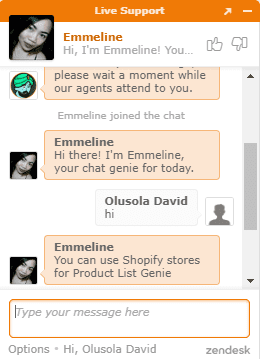 I reached out to them when I needed to verify my account and the customer service relationship was on point.
Funnel Genie Pricing: How Much Does Funnel Genie Cost?
Funnel genie comes with 8Days free trial and a 30Days money-back guarantee if you want to cancel your account.
They only have one pricing plan which is $97.00. However, they have a few upsells and downsells that are going to be thrown at you.
The good thing is, you can always reject them if you don't want and if it's something you want you can as well go for them.
The payment plan is also flexible in the sense that they come with a few bonuses. Apart from the 8Days free trial, if you want to pay the $97.00 straight without the free trial, you'll get 2month free access which is totally worth it.
Other than that, there's another offer of $297.00 that'll get you free 6month access. The two previous offers also come with a free premium theme for your store.
What's Not Cool About Funnel Genie?
Well, sorry to burst your bubble. Product list genie equally comes with some shortcomings I'm about to spell out.
#1. Limited Products
You can't just sell any products on Funnel Genie. It has to be the listed products on the platform, which is because they are tested and proven products that are going to sell.
#2. Old Products
While going through the winning products catalogue myself, I found some old products among the listed product that are considered a winner.
Frequently Asked Questions
let's go over some of the frequently asked questions about Funnel Genie so as to equally find answers to some of your questions.
How Does Cash on Delivery Work?
It's very simple, all you need do is sell online and your customers pay for your products upon delivery.
Do I Need Shopify Store?
No, you don't! Funnel genie works on its own. It comes with a professional dashboard where you can monitor your orders and statistics.
Do I Need To Invest In Inventory?
No, you don't! Funnel genie has done that already, you just need to pick a product and promote it.
Can I Sell To Any Country?
Unfortunately, you can't! Cash on delivery doesn't work in all countries. So, funnel genie focus on the countries where they have inventory.
Final Thoughts
After gaining access to the funnel genie myself, I found the software to be more than a sales funnel. It's actually everything you need to set up a dropshipping/e-commerce business.
The courses, training, and live seminar you'll get access to are worth more than the price you're paying for the software.
Most especially for those trying to scale up e-commerce with a sales funnel, the funnel genie is going to do a lot of help as regards that.
Ready to try out funnel Genie with the 8Days free trial?
Let me hear what you think using the comment box.
Learn More