RedTrack vs Hyros – Best Ad Tracking Tool?
You are probably looking for the best tracking service between RedTrack vs Hyros.
RedTrack and Hyros are one of the best tools when it comes to tracking conversion and ad effectiveness.
Both tools help you analyze how best your ads are thriving and if they generate the revenue your business deserves.
No doubt, both tools perform similar functions. That is why it might be unclear when choosing one of the tools.
Not only that, but knowing which of them is suitable for your business.
Therefore, in this article, I will give you a non-fluff comparison of RedTrack vs Hyros.
After reading this article you will be able to choose the best one of the two that best suits you.
Who is RedTrack for?
RedTrack is used by advertising agencies, traditional marketing companies, and eCommerce marketing agencies.
It is popular among online marketplaces and consumer review websites. Companies that use RedTrack as examples include:
Grand Slam Media Inc., Facebook, Capterra, Trustpilot, Adavice, Mobfolio.
Who is Hyros For?
Numerous companies, including startups, huge enterprises, and small businesses, all across the world use Hyros.
Several online courses that teach you everything you need to know about Hyros are also free.
While spending more than $10K, and spending more than $20K is even better,
It is ideal if you combine many traffic sources and have trouble with cross-platform attribution.
If you are growing e-commerce websites, info product funnels, and call funnels.
Lastly, if you use Google Ads, Facebook Ads, and so forth.
RedTrack vs Hyros: RedTrack Overview
RedTrack is an industry-leading affiliate marketing platform that supports tracking and analytics.
The platform was established in Lithuania in 2015 to assist media buying teams and affiliates globally in achieving higher ROI.
The service provides many effective tools, such as an analytics platform and affiliate marketing tracker, to assist media buying teams and affiliates in maximizing their return on investment.
The platform supports all cutting-edge data deployment techniques, including cloud, SaaS, web, etc.
For a normal marketing manager or product owner to be able to meet their revenue targets, they would need to spend money on hundreds of tools.
The cost of all those items is high, and it is quite challenging to combine data from so many different sources.
RedTrack appears to be changing the game by offering an all-in-one solution that natively satisfies most of your tracking and attribution requirements.
And the word "natively" is essential since you may achieve your objectives without a hack. Everything functions as intended.
RedTrack Key Features
Here are some of the unique features of RedTrack.
Tracking & Attribution
Tracking users is getting much harder as more people choose not to use cookies and prevent their browsers from using them.
RedTrack provides an alternative to third-party cookies for tracking purposes.
You can use this function to shrewdly keep tabs on every visitor to your website.
As a result, tracking visitors and turning them into clients is simple for advertising agencies and media buyers.
Publisher Management
Continually broaden your business beyond media buying to include dealing with direct publishers and referrals.
This includes:
Publisher sign-up
Publisher access to campaigns
Publisher campaign setup
Creative upload
Publisher payout set-up
Publisher postbacks
Teamwork & Productivity
With these, you can Save time, simplify tasks, delegate access and automate processes.
This feature includes:
Workspace settings
Teamwork
API Access
Special Solution
Integrations
With this feature, you can connect all of your data and activate built-in integrations.
These integration features include:
API
Traffic Channel
Affiliate networks
E-Com Solution
CRM
Other solutions
Reports & logs
Use data to enhance your results.
This includes
Dashboards
Report types
Report customization
Log types
Report sharing
Automation
At RedTrack, automation enables you to define rules for how algorithms will manage your traffic.
This means that algorithms will either pause subpar offers or identify better-performing offers and move traffic to them (functions like a SmartLink).
Everything depends on the configuration you select.
Hyros Overview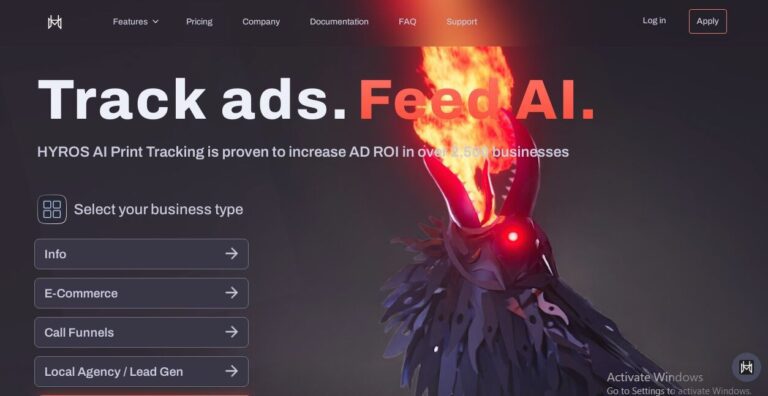 Hyros is an AI tracking device that can keep track of your conversations, emails, and other crucial information, like the length of each call or email.
Additionally, it features an integrated CRM system that enables you to manage all of your contacts and leads in a single location.
Hyros integrates into your business and ad management, enabling you to track conversion and ad effectiveness with high levels of precision.
Hyros asserts that it can uncover ad revenue that Google, Facebook, and other websites aren't disclosing.
They assert that they can track your ad conversions considerably more accurately than any other software, enabling you to make the best choices for your company and eventually boost sales.
Hyros can monitor the success of your email marketing, track call funnels and long-term value, and monitor ad attribution to the point that you can identify which ads led to which purchases.
What most ROI ad tracking software does, Hyros performs successfully.
It offers a streamlined, dependable platform to examine the data and analytics of your ads, produces conversion and ROI/ROA calculations, and provides this data.
It will save you a ton of time while operating your business and is quite simple to utilize.
Hyros Key Features
Here are some of the unique features of Hyros.
Ad attribution
You should look into this option if you're trying to expand your business. With it, you may expand your database of contacts and begin interacting with new people.
Email tracking
Hyros is fantastic for tracking paid advertising funnels, but you can also track email marketing ROI and link it to paid advertising.
Having a complete tracking perspective of your funnel is a huge benefit.
To make the ROI very evident, Hyros can efficiently track, separate, and segment emails. This way, each time you send an email, you can see exactly what your return on investment is.
The technology also aids in distinguishing between the outcomes of sponsored advertising and organic email.
With Hyros, you can tell which ad converted into an email lead, which email converted that signup into a buyer, and more.
Hyros enables you to distinguish between free email activity and results from paid advertising.
Call tracking
This is yet another crucial aspect of Hyros. It functions remarkably like ad attribution. Here, you can tell where the call originated.
Asking the prospect to schedule a sales call with your team is typical in high-ticket information product funnels, but tracing call conversions back to sponsored ads may be a major pain.
You'll be able to identify which of your advertisements generated the call. It shows the caller's IP address, phone number, and geographic location.
You may track your ROI using the call tracking feature. Full customer assistance, including round-the-clock customer service, is one approach to raising your ROI.
Hyros makes it simple by tracking calls in your funnel with a small piece of code that is placed in the header of your website.
Revenue tracking
Any marketing strategy's primary objective is to increase sales. You should also be aware of the revenue that each of your advertising is bringing in.
You can track your revenue from every quarter with the aid of Hyros.
RedTrack vs Hyros: RedTrack Integrations
Some integrations help RedTrack perform its functions effectively.
Traffic channels
Some of the traffic channels include:
Maximize Signals
Google Ads
Google SA 360
Facebook Ads
Bing Ads
TikTok
Other Channels – Cost Updates
Other Channels – Conversion Data Sharing
Other Channels – "Stop" Rules
Other Channels – Notifications
Affiliate Network
ClickBank for Affiliates
ClickBank for Vendors
Other Solutions
E-commerce platforms
This includes:
Shopify
WooCommerce
PrestaShop
Other Solutions
CRM tools
This includes:
ClickFunnels
Konnektive CRM
HubSpot
Other Solutions
Google Analytics
RedTrack can directly send all or some of your conversion data to Google Analytics.
While integration functions right out of the box, having sophisticated GA abilities is unnecessary when using RedTrack.
Google Data Studio (New Looker Studio).
As a teaser, RedTrack incorporated Google Data Studio.
They'll create a template for a Google Analytics connection if they can gather at least 10 requests from their customers, saving you the trouble of having to do it yourself.
Think of this as a very low-stretch goal.
Hyros Integrations
There are numerous ways to connect with other programs using Hyros. You can make use of native Integrations, the API, or Zapier.
The next best option, if Hyros doesn't already have a connection with your software enabled, is to utilize Zapier to deliver event data back to your software.
The business also explains how users can incorporate its analytics into their current data conversion configuration in a video by its CEO Alex Becker.
Your data management team won't need to learn a completely new piece of software, and you won't need to log into their platform whenever you want to review your advertising and conversions.
Here are some Hyros Integrations:
Ad and Reporting Integrations
Using this integration, you may keep track of the following;
LinkedIn Ads
Snapchat Ads
TikTok
ManyChat
Madgicx
Facebook Lead Ads / Facebook Ads
Google Ads
Hyros is recognized as the best ad-tracking software because of this. Hyros has you covered regardless of the platform you intend to employ.
Landing Page Integrations
Hyros also enables you to incorporate many landing pages, these include:
LeadPages
GoHighLevel (read our GoHighLevel review)
Unbounce
ClickFunnels
Convertri
Shopify
And several more…
Call Tracking Integrations
This includes:
YouCanBook.me
GoHighLevel (also for landing pages)
Phone Close Forms
Jotform
Typeform
Acuity call booking
Schedule Once/Once Hub
Calendly
Checkout/Payment Integrations
There are more than 20 ready-to-use payment processing and checkout software integrations in Hyros; here are a handful of the more well-liked ones:
Magento
PayPal IPN
ClickBank
SamCart
ClickFunnels Checkout
PayKickstart
Ontraport
NMI
MemberPress
Kajabi
Bigcommerce
Authorize.net
RedTrack vs Hyros: Reviews
let's see what popular sites are saying about RedTrack and Hyros.
RedTrack reviews from Trustpilot
On Trustpilot, RedTrack has an average rating of 2.6 from the 13 reviews. Customers particularly talked about how much it helped while running ads on multiple platforms.
Hyros Reviews from Trustpilot
On Trustpilot, Hyros has an average star rating of 4.6 from the 116 customer reviews.
Also noteworthy is the fact that most reviews commended the fact that the tool is customized to suit their individual needs.
RedTrack vs Hyros: Pricing
Let's compare RedTrack vs Hyros based on their pricing.
RedTrack Pricing
RedTrack customers who purchase annual plans receive a FREE 2-month subscription.
You can use the RedTrack promo code to receive a 14-day free trial and a 25% discount for the first three months.
Let's check out what they have for each category now:
In RedTrack, there are primarily two types of plans: individual and corporate. Each of them is then
Solo Plan – $124/month
You have access to free SSLs and unlimited tracking and attribution.
Team Plan – $208/month
Take charge of every aspect of your business, from purchasing resources and affiliates to sizing influencer activities through diverse work teams.
Enterprise Plan – $624/month
For groups buying assets, suppliers, or organizations managing extensive operations.
Finally, there is the custom plan, which enables companies with more specialized demands to maximize RedTrack and concentrate solely on those needs.
The Pro plan (individual) and the Team plan are the ideal options depending on what you want to accomplish with the app (for agencies).
For a very low cost, these plans include the app's best features. You still have access to a variety of plans, of course.
The more advanced plans could contain too many features that you might not use, while the more basic ones could not be adequate.
In any event, you may always rely on the Custom plan if you feel that you need certain special features.
Hyros Pricing
What is the price of Hyros?
Hyros pricing plan is quite different from its competitors because it prides itself in what it can do for its clients.
The Hyros pricing plan starts from $199 dollar a month. If your services require more, you'll need to schedule a call with Hyros
Even if Hyros' fee is within your means, they won't accept you as a client unless you're currently spending at least $10,000 a month on advertising.
Before becoming a customer, you must call Hyros to discuss your needs and obtain a price quote.
The Hyros team will invite you to use the program if they determine that you are a good fit.
RedTrack vs Hyros: Customer Support
Let's see how the customer support system of both tools compare;
RedTrack Customer Support
RedTrack.io is a SaaS ad tracking and conversion attribution platform that prioritizes privacy.
It offers marketers real-time data, alerts, and automation to maximize return on ad spend, document the customer journey, and assess marketing effectiveness across all digital channels.
You can always send them an email at info@redtrack.io if you need any assistance.
Hyros customer support
They offer top-notch customer service. They also answer more quickly, stay in touch, provide you with information, and let you know when something goes wrong with your account.
A live chat window that asks you if there are any difficulties will occasionally appear on the web interface. Support via email is an additional choice.
You can always send an email to support@hyros.com if you need assistance. Their committed support staff is constantly prepared to respond quickly.
Which ad-tracking software is best for you?
Hyros suits agencies, e-commerce store owners, and online course creators.
On the other hand, RedTrack is more suited for small business owners in general and businesses in the media buying industry, e.g, performance marketing agency for Facebook ads, Google ads, etc.
RedTrack vs Hyros- Final Thoughts
Should you use RedTrack or Hyros for tracking after reading this review's explanation of everything they offer?
Hyros may not be the ideal option for many businesses that don't spend more than $10,000 per month on advertising.
But they sure know what they're doing and the value they're offering.
Looking at the reviews on Trustpilot, this is what we saw.
Hyros reviews on Trustpilot
RedTrack Review on Trustpilot
Based on popular demands, I think it's obvious that Hyros is popularly accepted compared to its Competition.