Royal Q Bot Review: Still Working? [July 2023 Update]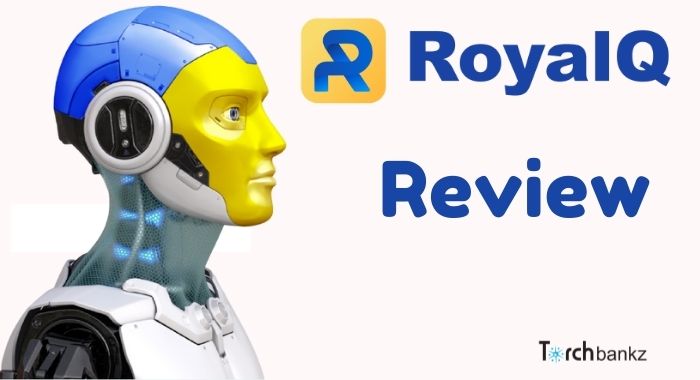 In today's Royal Q trading robot review, we're going to be looking into the platform to see if truly you can make money with the Royal Q trading bot.
Or if it's just another scam platform…
Disclaimer: I am not a financial advisor or Crypto Expert. All opinions shared on my blog are for information purposes only. It is not intended to be a piece of investment advice
There are so many ways to make money online and one of the quickest ways to know a business that's doing well is to spot what they are selling and how they are selling it.
Oftentimes, when I see a business that promises the MOON, what I look for is what they are selling.
If there's no tangible VALUE a business is offering, then it's only a matter of time until the business comes down crumbling!
So in today's article, I'll be doing a thorough Royal Q review by unveiling how the platform works.
And also how you can expect to make money with Royal Q trading if truly it's a legit platform.
The truth is everybody loves the idea of making money when they sleep without having to do much work.
I mean, who wouldn't love that, right?
But when there's too much HYPE around a product or service decent research is necessary before bagging away your money with them.
Hence our Royal Q review.
So at the end of this article, I believe I should be able to provide answers to the majority of your questions about the Royal Q trading BOT.
What is Royal Q Trading BOT?
Royal Q trading BOT is a computer program based on a set of cryptocurrency trading signals that helps determine whether to buy or sell a crypto pair at a given point in time.
It was developed in China and owned by a Chinese company. The royal q robot is designed to remove the psychological element of trading, which can be detrimental in investment or trading cryptocurrencies.
Robots like Royal Q are designed to automate crypto trading on your behalf.
You on the other hand need to pay attention to market statistics in trading and then pick which cryptocurrency to trade and at what time.
These bots help automate the analysis and interpretation of market stats.
They can gather market data, interpret it, calculate the potential market risk, and execute buying or selling crypto assets on your behalf.
Just think of it as hiring a cryptocurrency trading expert to do your crypto trading while you can sit back and watch the profit grow.
The Royal Q Crypto trading bots can often save you a lot of time and are more cost-effective than hiring human experts.
The truth is Cryptocurrencies are known for being extremely volatile, and the majority of the time prices fluctuate drastically even in the space of minutes.
So traders in many cases, are unable to react quickly enough to changes in the market price to achieve their trading goal.
This is where crypto robot-like Royal Q (Royal Quantitative) gets into the picture. They are nothing but automated tools that conduct trades and execute transactions on behalf of the users.
How Does Royal Q Trading Bot Works?
In other to use the Royal Q trading bot users needs to integrate the app with a third-party exchange or trading platform.
Currently, Royal Q only integrates with the following exchange platforms:
So to get started, you'll have to Register an account with Royal Q and download the app from Google play store for Android users and Apple store for IOS device users.
If you don't already have an account with Binance you can also create one here…
But if you do, just log in to your Binance account to connect your Royal Q app with your Binance API keys to start trading with the APP.
However, to start using the Royal Q app, it cost an activation fee of 120usdt (TRC-20). 120 for a one-year subscription and another $20 for gas fuel making it a total of 140usdt for both gas fuel and activation fee.
The gas fuel is a tiny fee the BOT charges whenever it picks trades (Buy/Sell) for users.
The actual trading capital is going to be in your Binance or Huobi account. So there's limited access to your funds.
In fact, you have total control over your money since they are all inside your Binance account. The Royal Q app only uses capital in your USDT wallet and the traded profit or loss drops in the pair wallet.
So basically, the only money that goes to Royal Q is the 120usdt activation fee.
How to Make Money with Royal Q?
Now let's talk about the ways to make money with Royal Q. Think about it, if Royal Q is just like every crypto trading robot out there…
Then why is it popular?
Because of their network marketing and revenue sharing program…
Basically, there are two ways in which users can make money from Royal Q. This includes:
Trading Cryptocurrency
Referral (MLM)
The first way to make money with the Royal Q app is through trading with the robot from your available capital inside your Binance or Huobi account.
However, for others that are down for the multi-level marketing (MLM), they can even make way bigger money than just trading with their capital.
So this is why the program is popular because the majority of the participants are trying to build their network through the MLM opportunity.
Let's explain how both of the income opportunities works (Trading and MLM)
#1. Trading Cryptocurrency
The robot trades cryptocurrency for you based on your capital amount and the ROI varies from 1 -50% based on your trading preferences using compound interest.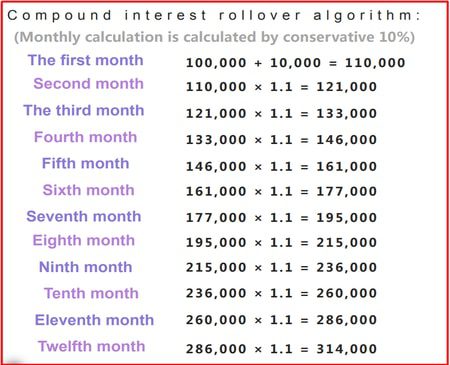 It also comes with features whereby you can sync or automatically copy expert traders on the platform.
So if you don't know what to trade then syncing with expert traders on the platform is the best guess for you.
#2. Referral (MLM)
The Royal Q referral or networking part of the program is the most sort after of the Royal Q system. This is because by referring others you get to earn passive income.
The First Level is referred to as V1…
At this level, you'll get to earn a $30 instant commission on everyone you referred and also earn a piece of commission on their trades.
The Second Level is referred to as V2…
To attain this level, you need to personally refer at least 3 users and an overall team of 20 users. Directly by you or indirectly referred by the users you've registered.
At this level, you'll get a $40 direct referral bonus and a 30% reward bonus from the entirety of your team and you'll also earn $10 commission from new member activation from your downline.
The Third Level is referred to as V3…
This level gives you access to a $50 direct referral bonus and a 40% team reward.
But to achieve this, you need 5 direct referrals and three V2 members from your team, and a totality of 100 team members to achieve this level.
At this level, you'll get a $20 commission from your direct downline when they activate new members.
The Fourth Level is Referred to as V4…
This level gives you a direct referral bonus of $60 whenever you directly referred someone and a total of 50% team reward from trading profit.
To attain this level, you need 8 direct referrals, three V3, and a total team of 300. Then you'll get an extra $30 commission when your direct downline activates new members.
Using the image below you can see how the MLM structures work and why the robot is very popular.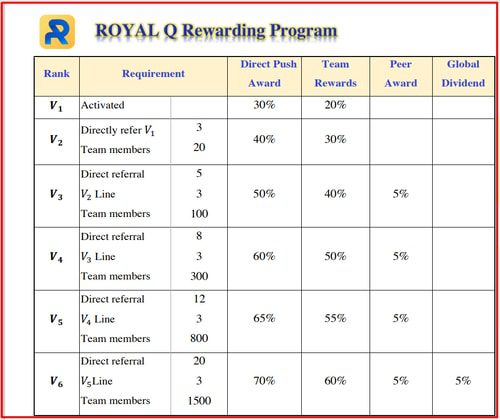 So people trying to refer you might just be doing so because of the referral bonus and the money they want to make without caring about your capital.
So be careful to know how the platform works before parting away from your hard-earned money while investing in the Royal Q BOT.
Here is my detailed guide on the Royal Q referral program or Royal Q affiliate in case you want to learn more.
Royal Q Registration
Creating an account with the BOT is actually easy.
To get started, click on the Sign-Up link here… then fill out the form as seen in the image below!
Enter your email address, after that, click on send verification code to receive the code in your email address.
Once received, enter it in the verification code box and enter your password. Once you're done, click the Register button to proceed.
Don't download the App directly on play store so you don't download a lookalike app.
First, register an account, and once done, you see the link to download the app on the next page.
So from there, install the app and log in to activate the app on your mobile device.
Royal Q Activation for Trading
After you've login, you will need to activate the app to start trading. To activate the app, go to ===> 'Mine' at the extreme right-hand side below (footer of the app).
After that click on 'Asset', on the third row. There you'll see 'deposit', 'withdraw' and 'transfer'. Click on deposit to copy your Royal Q account USDT wallet address.
You can then send 140usdt (TRC-20) to the wallet address and click on activate in order to have your account activated.
Immediately after clicking activates, it will ask you to confirm your country, choose the right one and proceed.
Next, you'll see something like the image below, leave it that way and click on activate to activate the account.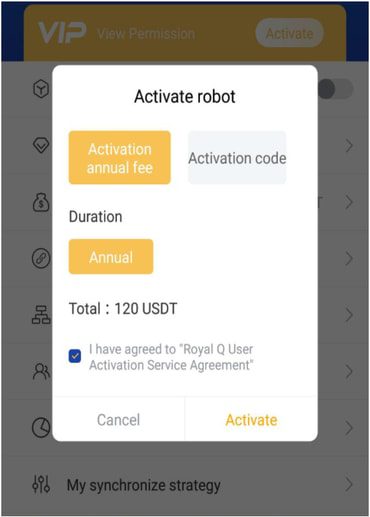 So to start trading, you'll need to link the account to your Binance or Huobi account by copying your API keys.
Binding Royal Q with Your Binance Account
The above is a video tutorial on how to easily bind your Royal Q account to your Binance account. If you prefer to read, you can read through the pictorial description below. 
From your Binance account click on more…
Then scroll down to the "Others" section (Last section) and click on API Management.
Once there you'll need to create a new API key by giving it a name. After that click on create.
Next, click on edit on the new API you just created and set restrictions for the API.
The only box you're going to enable is the "Enable Reading" and "Enable Spot & Margin Trading" leave the remaining box unticked.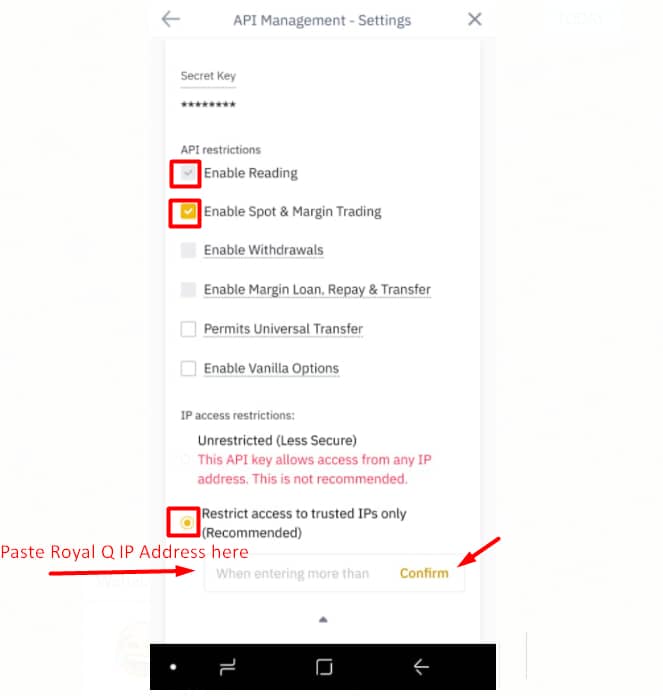 Then scroll down to API access restriction.
Click on the second box above that says "Restrict access to trusted IPs only (Recommended). After that, go back to Royal Q then copy the IP address from Royal Q and paste it in the space there and click confirm.
With these settings, the robot has limited access to your trading account and funds in the account.
So all funds in your account are safe!
The only thing it can do is to trade with funds in your USDT wallet. So copy the API keys and the secret keys.
Then go back to the Royal Q account, at the home page, you'll see four icons
API binding
Revenue
Transaction
Invite Friend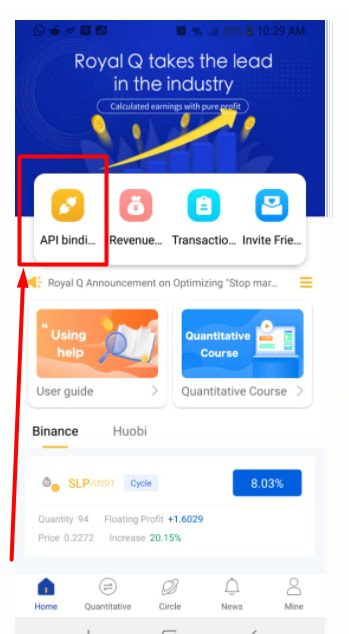 Click on the API binding and choose the exchange you want to bind. For Binance users, click on Binance and paste the keys respectively.
Go and copy your API keys and Secret Keys one after the other from Binance and paste them accordingly in the space provided in Royal Q. As you can see from the image above.
After pasting them, click on "send" verification code and copy the code sent to your email address by Royal Q and paste it inside the space provided for it.
Next, click on the risk box and click on Bind.
So to start trading, at the home page of the app, when you look down, you'll see Quantitative.
Click on it and choose the pair you want the app to start trading on your behalf. To check your profits, at the home page, you'll see "Revenue", click on it to see your daily profits.
If you are interested, here's the Sign-up Link.
Royal Q Trade Settings 
After clicking on any pair, you should see something like the image below.
This is where you configure the trade setting that the robot is going to trade with. 
Please, it is very important that you understand that your trade setting only works with the capital you're trading with. 
Someone trading with $100 is going to have a different trade setting with someone trading with $1000 or $10,000. 
But I'll try to break it down as much as possible so everyone can understand how the settings work. 
To start trading, you'll need to click on the trade setting and after that, you'll see something like the image below.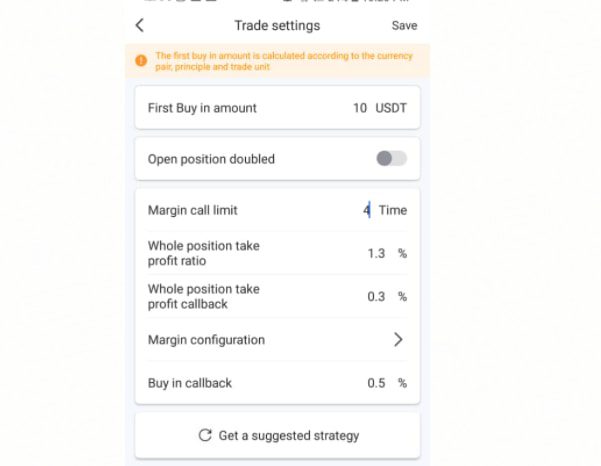 As you can see from above we have: 
First Buy In Amount 

Open Position Doubled 

Margin Call Limit

Whole Position Take Profit Ratio

Whole Position Take Profit Callback

Margin Configuration 

Buy In Callback
#1. First Buy-In Amount
This is the amount you're going to start the trade with depending on your trading capital and the total number of margin calls (Numbers of deep you're going to be buying when the coin decrease after you enter the trade).
It's very important that you don't make your 'First Buy In Amount' your total capital. 
If my trade capital is around $100 I can decide to make my 'first buy-in amount' to be $10 or $20 depending on the numbers of margin calls I'll be making
More on this later… 
#2. Open Position Doubled  
This simply means you're going to be buying double of any market you entered. This will simply double your first buy in amount and as well as margin calls you'll be buying. 
But it's not recommended. So why setting up your trade I won't recommend you tick the box. It's not needed!
#3. Margin Call Limit 
The margin call limit simply means the total numbers of DEEP you want the BOT to buy when there's a drop in market after you've entered the trade. 
You should understand the "Margin Call Limit" if you're familiar with what's referred to as Dollar Cost Averaging (DCA)
DCA is simply referred to as a strategy whereby you invest a total sum of money in small increments over time instead of all your capital at once. 
The goal here is to take advantage of market downturns without risking too much capital at any given time. 
If the price of an asset drops during the time you are dollar-cost averaging, then you stand to make a profit if the price moves back up.
So the total number of "Margin Call Limit" you set means the total number of times you'll be buying the coin based on the percentage drops. 
#4. Whole Position Take Profit Ratio 
After entering the trade, this is the position you want the BOT to take profit for you. The default setting is always around 1.3%. 
But based on your preference you can always increase or decrease it as you wish. This means the robot will sell for you automatically after the set percentage has been reached. 
#5. Whole Position Take Profit Callback
The whole position take profit callback is the trigger for your take profit. When your profit percentage is reached, it doesn't sell immediately. 
But when there's a slight decrease and it hits the percentage set, it's going to sell and take profit for you automatically. 
#6. Margin Configuration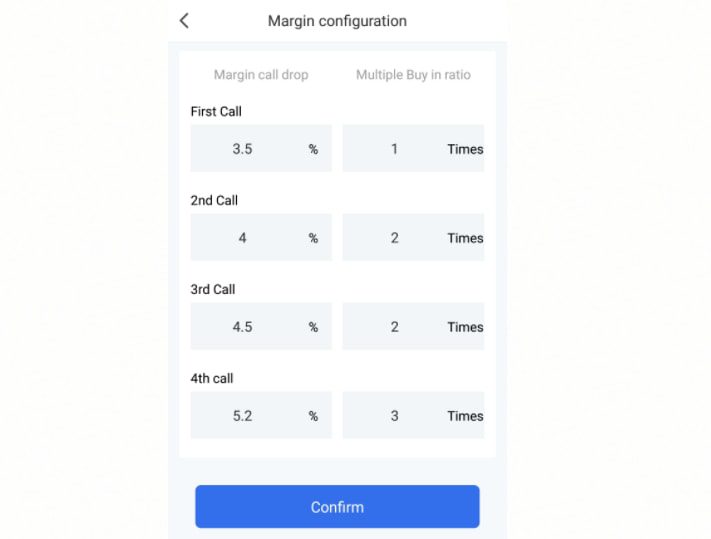 This configuration indicates the amount of deep you're going to be buying based on the percentage drops. 
Take for example if your trading capital is $100 with a $10 first buy-in amount and you're using 4 margin calls like the image above. 
This means your first call is 1 time at 3.5% market deep. That is, when the coin you're trading drops by 3.5%, the robot will buy an extra 1 time at the "First Buy-In Amount" of $10. ($10 x 1 = $10) 
Looking at the second call on the image above… we have 4% and 2 times. This means when the coin drops further by 4%, the robot will buy 2 extra at your "first buy-in amount" price. 
That will be $10 x 2 = $20. The same thing goes for the rest of the margin calls.
#7. Buy In Callback
This simply means after your first take profit, the percentage at which you want the bot to buy again, so you can make additional profits when it keeps increasing is "Buy in Callback"
Once everything is checked, you just simply need to click on start trading and the robot will begin the trade on your behalf. 
Royal Q Trading Bot Review: Pros and Con
This Royal Q trading robot review won't be completed if I fail to mention its pros and cons. So have a look at both the bad side and good side of trading with robots generally.
Pros
Below are the good things you can expect while trading cryptocurrency with robots.
Trades 24/7 nonstop
Funds are safe on the exchange website
You can easily trade without emotions
Simplified trading
Efficient trading
Con
Below are the bad sides of using robots to trade cryptocurrency on your behalf and what you should be aware of.
Robots are not perfects
There could be programming errors
Don't expect to make money overnight
Royal Q Frequently Asked Questions
Perhaps you're still having one or two questions right? Hopefully, I'll be able to provide answers to them in this section.
These happen to be most of the frequently asked questions about Royal Q. So if you're having one yourself chances are you'll find answers to them here.
  #1. What is the minimum investment for Royal Q Bot?
The only money that goes to Royal Q is the activation fee which is the $120. 100 for the annual subscription while the remaining 20 is for the gas fuel.
So your trading investment will be deposited on Binance, and the minimum you can use to trade on Binance is $10.
Technically, I could say the minimum investment is $130, but for reasonable returns on your trading capital, I would say anything from 100usd and above.
Making it a totality of $220 to activate the BOT and start trading on Binance. However, the bigger the capital the bigger the returns.
  #2. Is Royal Q Robot Scam or Legit?
Royal Q is not a scam. You just need to understand how the platform works. Think about it yourself, the only money that goes to royal q is the annual subscription fee of $100.
And the Robot trades for you 24/7 using funds inside your Binance account.
Your trading capital is safe because they are deposited inside your Binance usdt wallet and Binance happens to be one of the safest crypto exchanges out there.
There are several other popular trading bots that charges as high as $100/month and Royal Q is just $100 a year.
  #3. Is Royal Q Compatible with Other Crypto Exchange?
This is part of the limitation that comes with the Royal Q app, currently, you can only trade on Binance and Huobi cryptocurrency exchange.
But since Binance is one of the most popular exchange sites out there, hardly will you find it difficult to trade with.
 #4. Is Royal Q safe, Can I Lose My Money?
Royal Q is practically safe for everybody because the robot only trades spot on Binance and it doesn't use leveraging.
Basically, the robot just buys when the market is low then sells again when the market is high.
However, in the case of loss, it's possible due to floating loss. But you should also understand that a floating loss is not actually a real loss until you sell the asset.
Let me explain how it works…
Take for example you bought Litecoin at a $100 value and the coin drops by 30% that means you having a floating loss of $30 until the coin gain back the value.
So if you leave it and let say it comes back in value, there's no loss but if you sell it inside the floating loss you've then incur a real loss.
So YES, you could lose your money.
But mind you, the same thing applies to your crypto asset if you just buy them and leave them to wait inside your wallet with the hope they will grow someday.
So this is just the nature of the crypto market and not because of Royal Q.
  #5. Is there Customer Support For Royal Q?
Yes, Royal Q has customer support that works 24/7. For you to contact them, you'll need to login to your account and click on "Mine" >> "Royal Q FeedBack" to contact support.
Royal Q Trading Robot Review: Conclusion
Technically, looking at it, the only money you're giving away to royal q is the activation fee of 120usdt.
The rest of the investments are within your control because the app has no control of your asset in Binance. Except for the funds in the USDT wallet that it uses for trading.
The Crypto market can be a volatile market hence you might be risking your funds. So only invest the money you are comfortable with losing.
As for me, I did test the app. I started with $10 then increase the trading capital to around $180 on the 5th day and the return in 8days is $10.1 and counting.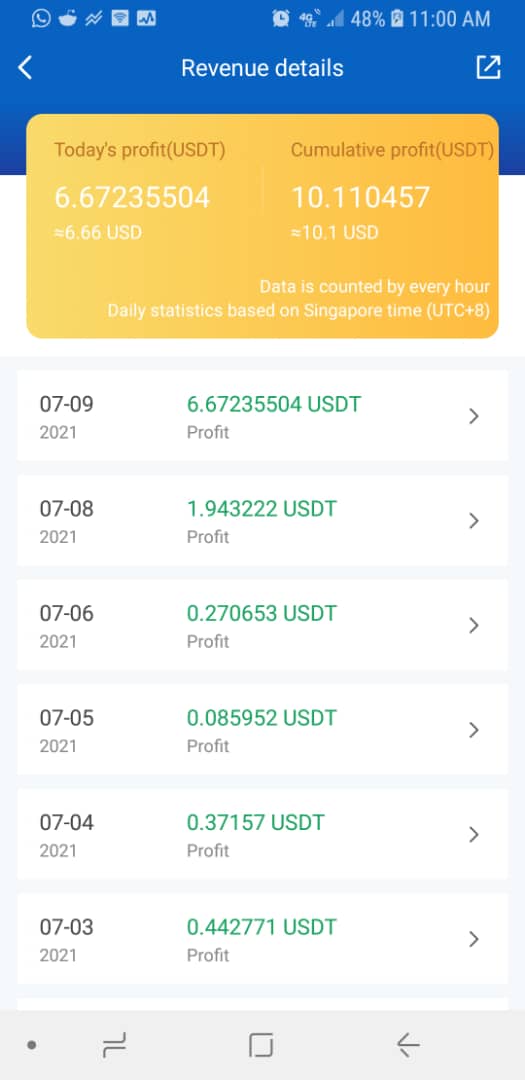 I'm no trading expert myself, just testing it to know how it works. That said… if you want to give it a try, ==> you can get started here
I do have a VIP Group on WhatsApp for members that are registered via my link.
Inside the Group we share trade settings for new members and ideas on how to grow their referral team to make more money.
If you're interested in joining our team, chat me up on Whatsapp here at +23408127302386 and let me add you up to the team.
We can also help with your account activation if you run into any challenges.
Additionally, there's a Crypto Signal App I also use and I think you should check it out. It cost around $50 for 3month.
You could also use it to trade One-Shot on Royal Q or on Binance directly.
So that's it on today's Royal Q trading robot review. What do you think about this App? Do you think it's worth your time?
Disclaimer: I am not a financial advisor or Crypto Expert. All opinions shared on my blog are for information purposes only. It is not intended to be a piece of investment advice