Rytr Review: AI Content Generator Tool [Does it Work?]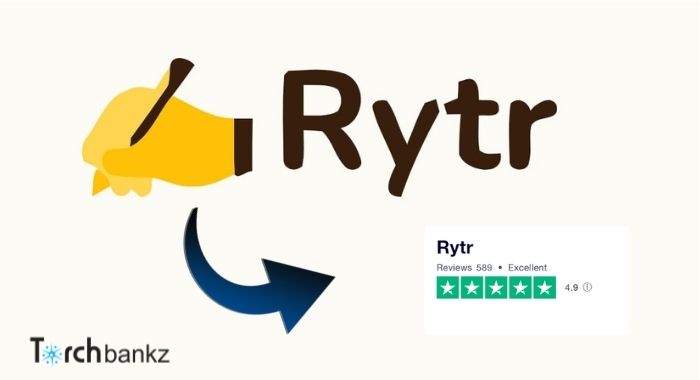 In today's post, we'll take a cursory look at Rytr review and see what potential it has for the AI copywriting industry for those looking to scale their copywriting.
Don't you think coming up with content should be listed in the Guinness world book records amongst the top 100 most difficult things to do?
I mean… creating the ideal article for your readers and clients isn't always easy. It even gets harder when you are currently experiencing writer's block.
However, in other to ease this process, software developers have been able to come up with AI copywriting tools such as Rytr. This is one of the fastest-growing article generators software and it's known for creating quality and unique content.
Rytr incorporates GTP-3 artificial intelligence and other learning models that have been trained to use the information on the internet to help you create the best content for your website or brand.
In the Rytr review below, we are going to look at all you need to know about this AI writing assistant and whether it's the best in the market.
What is Rytr?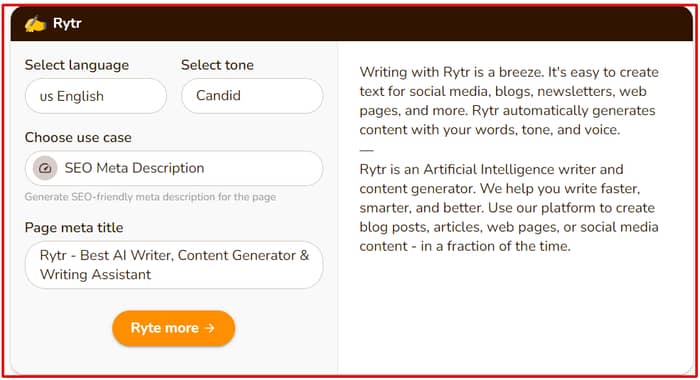 As mentioned earlier, Rytr is an AI copywriting tool that creates different types of articles. For it to work, you just have to type in a description of what you would like written and in seconds, it will generate a highly engaging article for you.
As an AI writing assistant, Rytr simplifies the entire writing process. An article that would have taken you hours, Rytr can complete it in seconds.
And when you compare the subscription fees for Rytr, it's way less than what you would spend hiring a freelance writer or a marketing agency.
Rytr isn't your ordinary AI writing assistant. It's based on GPT-3 technology which has taken the world of content creation by storm.
And other than that, as a copywriting generator software, Rytr is packed with tons of useful features that will help you get the job done.
Another key thing that you need to know about Rytr is that the content generated by this AI is 100% unique.
Even when you command the AI to create three outputs. They will all come out differently. This is thanks to the way this software has been modeled and structured to create creative and original content.
It has an intuitive interface, you can produce different types of texts, and it's available 24/7.
What Can Rytr Write for You?
The list of things Rytr can write for you is almost endless. And that's why it's such a great AI writing tool.
And you just don't get the ability to generate many types of content but everything that is created with the help of this AI is authentic, unique, and features that element of human touch.
Here are some of the things Rytr can write for you;
Blog ideas and outlines
Business idea pitches
Blog posts
Emails
Landing pages
Job descriptions
Product descriptions
Video descriptions
Video ideas
Reviews and testimonials
Headlines and taglines
Story plot
Meta descriptions
Meta titles
Video Descriptions
All the above types of content feature the PAS and AIDA copywriting frameworks.
These make your articles more engaging, interesting and at the end, they persuade the reader to take a certain actions.
How Does Rytr Work?
First, you have to sign up for a free trial, and then choose a language that you prefer. The next thing you should choose is the tone. From there, the process gets even easier.
Choose Your Use-Case – This is where the creative abilities of Rytr start coming into play. As mentioned earlier, there are many use-cases offered by this AI. They include blog ideas, product descriptions, landing pages, testimonials amongst others. You should navigate to the type of article you want to create and click on it.
Add Some Input For Context – The next step is to add some input for context. This is very important as it helps the AI understand the context you would like to have in your article. It can be three to four lines worth of description. That's enough for Rytr to know the message you could want to pass across.
Let Rytr Magically Write For You – After completing the above, what follows is you taking a step back and watching Rytr do its magic. This can happen so fast that you may not even realize it because Rytr generates content in seconds. Once you have your blog post or landing page, you can go through the content, edit it, this is however not usually necessary as Rytr generates grammatically correct articles.
Who Should Use Rytr For Their Business?
Rytr.me was developed for everyone who needs or creates content. By providing you with high-quality articles, Rytr lessens the workload for everyone involved with content creation.
Here are the main groups of professionals that can benefit from Rytr.me
#1. Bloggers
Running a successful blog requires consistent publishing. If you do not regularly update your blog, it's very easy for you to lose readers.
Most bloggers find themselves struggling with writer's block where they feel emotionally drained and can't come up with creative content.
Once again, Rytr.me gets to make work easier for you as a blogger. Using its quality article generation abilities, you can create new content in seconds.
All you need is to feed the AI a line or two of descriptions and wait for content to be generated. Your blog will always be updated as long as you have got Rytr.
#2. Digital Marketers
The first lot which Rytr was created for are digital marketers. Running successful digital marketing campaigns entails more than just writing content.
You have to do identify a product, craft a marketing campaign, and monitor the efforts of your campaigns and a bunch of other activities.
Rytr helps with an essential aspect of your digital marketing efforts and that is providing you with quality content consistently.
A lot of digital marketers have to outsource writing services because they are so busy. Unlike writers, Rytr.me is always available 24/7.
It is affordable and it gives you more control over determining the type of content you would like written.
#3. Ecommerce Brands
Ecommerce and content go hand in hand. Even big eCommerce stores such as Amazon, rely on market reviews in order for them to make sales.
Whether you own or you are working for an eCommerce brand, it is very important that you have the best writing tools on your hands.
As it is, running an eCommerce store is hectic more so if you are doing it by yourself.
An article generator such as Rytr can be of immense assistance when you are struggling with creating content for your eCommerce store.
And other than blog posts to drive leads to your e-store, Rytr can help you create product descriptions, social media ads and even landing pages.
All of which will increase your brand presence.
#4. Ads Agencies
In an advertising agency, the need for ad copies never ends. Because the more clients you've got the more copies you'll need.
If you are a small ads agency, chances are you don't have the resources to craft as many copies as you would like.
Rytr can help you with that. This AI writing software is capable of coming up with powerful and captivating ad copies that will help your clients drive more leads to their websites or businesses.
If you read through Rytr reviews, you will realize that this AI-powered content generator is relied on by thousands of online entrepreneurs.
Rytr Review: Features
let's go over the features of Rytr and see what it looks like from the inside out.
#1. Easy to Use Interface
Other than providing you with quality content consistently, there is another impressive feature of Rytr that makes it so popular amongst content creators.
And that is it's easy to use interface.
The UI looks quite appealing and it's very easy to navigate. Even for an individual who has never operated an AI writing assistant, you can be assured of a seamless experience with this particular one.
All the tools and features are strategically placed on the dashboard so that you can have an even easier time creating content.
When using the AI, you have the option to either use full screen or the popup menu. The latter gives Rytr a very fancy layout that most content creators appreciate. And despite having an intuitive interface, they also have a bunch of tutorials that will teach you all you need to know.
#2. Multiple Languages & Tones
The availability of multiple languages and tones expounds your limit on how creative you can get with the AI.
Most AI writing tools only support English.
And even though that's enough for some content creators, for those of you who aspire to cross the international waters and venture into foreign markets, having an article generator that can create articles for you in multiple languages is an added advantage.
The other benefit is that this AI can also support multiple tones. So, irrespective of the niche your business specializes in, you can find the right tone to communicate with your clients.
The languages supported by Rytr include;
English,
French,
Arabic,
Hindi,
Hebrew,
German,
Italian,
Chinese,
Korean,
Polish,
Norwegian,
Indonesian amongst others.
The tones supported range from convincing, joyful, passionate, inspirational, enthusiastic, funny, worried, urgent, thoughtful, and humble.
#3. Output Variants
There are times when you may need multiple texts from one blog post, title, and context. Rytr excels at giving you different output variants.
This AI gives you the freedom to choose as many output variants as you may want.
It will cost you more when you are on the free plan, and that's why it's recommended that you choose a premium package if you may ever need to create such content for your website or blog.
This feature also comes with another advantage and that is you get to counter something most writers find impossible.
If you usually create content by yourself, then you can testify how hard it is for one to create several text variations from one topic, context, and idea.
This is a very small issue that Rytr AI can tackle in seconds.
#4. Team Management
Most online businesses today prefer software that integrates team collaboration and Rytr has not been left behind.
This platform allows you to manage team members and their billing through one account.
Their team management tool is quite powerful and comes in very handy when you work either as a group or you run a marketing agency.
By giving your team access to Rytr's team features, your agency can be at the top of the content creation game.
You can work on multiple projects at once, assign every member their own projects to work on. This tool can make you very productive when you are working both as an individual or a team.
#5. Rytr Chrome Extension
To improve your access to the Rytr AI writing tool, this software has a chrome extension that you can add to your browser.
When installed and you sign-up, accessing Rytr can be super easy and fast. As a chrome extension, Rytr doesn't limit the number of features you can access from their software.
And this comes in very handy for content creators that prefer an AI writing assistant that is always around 24/7.
#6. SEO Analyser
If there is one thing all digital content creators and marketing gurus share is the fact that their personal computers and mobile phones are full of SEO writing apps.
Obviously, because of the nature of their work, every professional who deals with digital content must have the latest SEO apps, grammar tools and plagiarism checkers, and many more.
Rytr helps keep your life as a content creator saner by bringing you all the tools you could ever need at your fingertips.
With this software, forget about juggling articles from one tool to another. Everything is strategically placed around you ensuring that once you are done creating content, all that's left to do is publish it directly to your website or blog.
One of the key features that we find very special is the SEO analyzer. Before publishing articles, you must analyze the SEO impacts that post will have on your website.
On your own, it may be hard to make this analysis. But, Rytr gives you access to an SEO analyzer that checks whether you have used the right keyword density and a bunch of other things that can help optimize your post for search engine result pages.
Rytr Pricing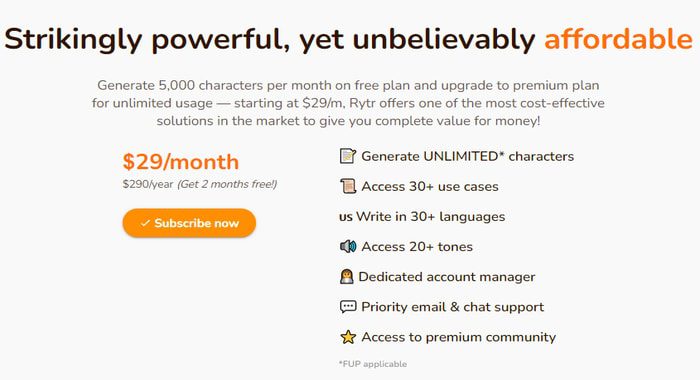 The pricing plan for Rytr is quite straightforward. There are two main options, the free package, and the premium option.
Before listing what each entails, you should know that Rytr has one of the most affordable rates for their AI.
And don't be misled to think that because it's affordable, the AI writing tool isn't powerful. It is a robust platform that has got tons of distinct features.
Free Plan – For $0 a month, you can use Rytr to create content for your blog or clients. All you have to do is sign up and get started with your journey of exploring the world of Rytr's powerful AI. It's that straightforward. The free plan however does have its drawbacks. You can only generate up to 5,000 characters in a month. And features such as team collaboration aren't available on this package.
Premium Plan – Going for $29 a month, you can explore all of Rytr's features and tools. Compared to other platforms, this is usually the rate for the basic package. However, Rytr gives you all the above features for a price as low as $29 a month. The deal even gets better because if you get billed annually, you are charged $290. Meaning that you get two months free.
Rytr's premium plan comes with unlimited characters. You can therefore generate as much content as you may want.
You can get access to more than thirty use cases, write in more than twenty languages, have the freedom to choose from more than twenty tones, and have priority support.
All members of this package are welcomed to the premium community where you can gain insight from fellow content creators.
Rytr Review: Pros and Cons
Let's go over the pros and cons of this rytr review and see what to expect before committing to Rytr copywriting software.
Pros
An easy-to-use interface. It doesn't matter whether you are tech-savvy or not, Rytr's highly intuitive interface is easy to navigate and operate.
For users who prefer a more hands-on experience, you can benefit significantly from the chrome extension.
Rytr supports more than twenty tones. This gives you room to be creative and communicate better with your audience.
It also supports more than thirty languages. This is an added advantage when you are looking to venture into foreign search engines.
Rytr uses GPT-3 language model that had been advanced and fine-tuned to create interesting articles.
They have a free package. And their premium plan is also quite affordable.
It contains essential tools such as an SEO analyzer.
Cons
The free package has a very low character generation limit.
The UI is intuitive but a couple of the tools require some getting used to.
Conclusion
Anyone who has got some form of online presence or business can benefit from this robust AI writing assistant.
Bloggers and website owners can get outlines for their blog posts and get the entire content generated within few minutes.
YouTuber's can get descriptions for their videos, and story writers need not struggle with writer's block anymore.
This software was made for almost everyone, and that is evident when you look at its numerous use-cases.
Their rates are quite affordable and their customer support is amazing. Even amazing is the fact that it comes with a free trial to test out the platform. '
So obviously, you have nothing to lose, if it works out, good and it doesn't you won't be charged for your trial. That's it on Rytr review let me know what you think using the comment section.
Related Content