SaleHoo Review: Dropshiping Directory [Pros & Cons]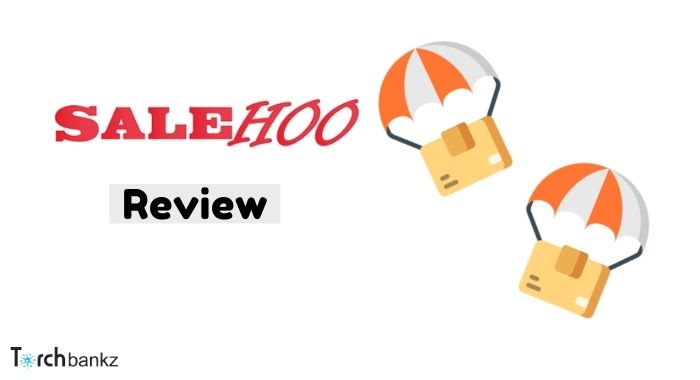 Are you looking for a detailed SaleHoo review? 
Then you have nothing to worry about as I'm going to spill out the whole gist about SaleHoo.
According to the latest dropshipping statistics, 84% of dropshippers cite the initial stage of finding a supplier as their biggest obstacle.
As profitable as dropshipping can be, your success is also reliant on your supplier. 
Your supplier in some way contributes to your overall customer experience and performance in the business.
This is why finding the right supplier is a pain in the neck. If you want quick delivery, it depends on your supplier. 
Delivering quality products to your customers is also dependent on your suppliers.
However, thanks to verified dropshipping directories like SaleHoo, finding hot products and suppliers hasn't been any much better
To ease the process of finding a reliable supplier, several dropshipping directories have been created of which SaleHoo is one. And hence our SaleHoo review.
Want to know if SaleHoo is worth getting? Here's a detailed review.
Let's dive into it.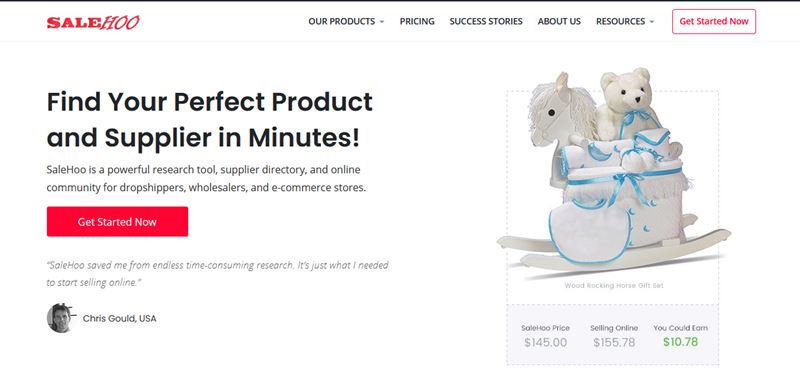 SaleHoo is an all-in-one dropshipping solution that makes it easy to find winning products and suppliers to deliver the product on your behalf. 
SaleHoo also offers other amazing and unique features that make dropshipping easier.
However, the story of how SaleHoo came to be is quite interesting.
Unlike some dropshipping tools, SaleHoo co-founder, Simon Slade had hands-on experience in running dropshipping sites.
Simon Slade started SaleHoo due to the frustration of how challenging it was to run a dropshipping business.
Think of how difficult it's to find a verified dropshipping supplier that you can trust your brand with.
This was what led to the birth of SaleHoo.
SaleHoo was founded by Simon Slade in 2005, New Zealand. 
It started as a wholesale directory alone like eSources but has enjoyed improvement with newly added features, unlike other directories.
In a quest to solve these problems, SaleHoo focuses on helping dropshippers with:
So far, here's what SaleHoo looks like:
Let's dive deeper into the features of SaleHoo.
Dropshipping vs Wholesale: Difference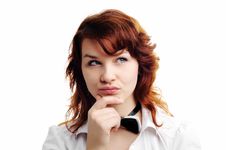 Since SaleHoo offers supplier for both dropshippers and wholesalers, I think it will be wise for us to understand what they both mean as well as the difference between them.
The main difference between the two business models is mostly in the area of  inventory. Both wholesale and dropshipping are product acquisition businesses that relate to retails.
Dropshipping –
This model is a retail eCommerce business that lets you sell products to customers  without keeping inventory of the products. Instead, you sell and forward the order to the supplier and he or she have the product shipped to your customer on your behalf.
Your profit, however, is the difference you paid the supplier and how much your customer pays you. It's as simple as that.
Wholesale –
This on the other hand, is a process of buying a large number of products from a supplier at a huge discount then reselling at a high price.
As you can tell, this gives you a larger profit margin as compared to dropshipping. But you do need to handle or carter for inventory whereas you don't need that when it comes to dropshipping.
So, based on your objective you're left to choose your business and either of the two is going to require a genuine and reliable supplier for supplying your products.
Which is once again the reason we're here in the first place looking into SaleHoo review.
Below are the unique features of Salehoo and factors you might want to consider before doing business with them or choosing them as your supplier's platform. 
Dropshipping Suppliers
Speaking of what dropshippers find most challenging, it's finding a dropshipping supplier. And this is what SaleHoo set out to solve.
Without mincing words, SaleHoo has one of the best dropshipping suppliers.
While there aren't millions of suppliers, the few thousands of suppliers on the platform are vetted and verified to be original.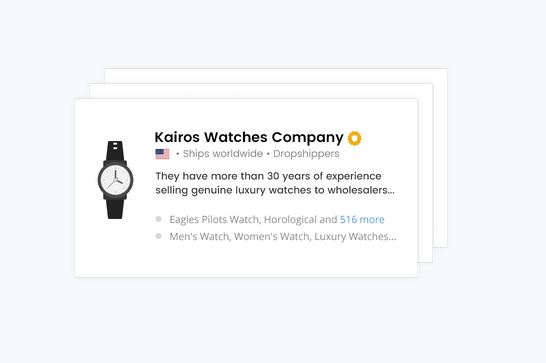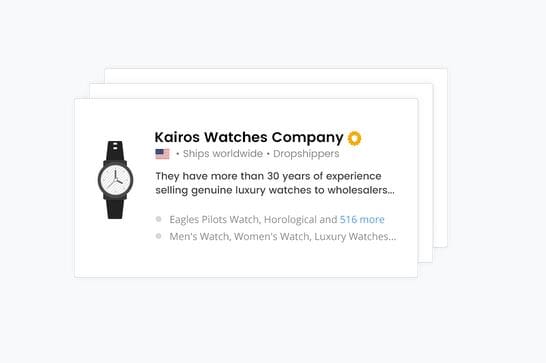 All SaleHoo suppliers are vetted. So you don't need to accommodate the fear of picking the wrong supplier on their database.
Besides, SaleHoo goes all out to build relationships with hard-to-find dropshipping suppliers.
So far, SaleHoo has been able to build their suppliers' database to over 1,000 vetted dropshipping suppliers with the list still growing.
Irrespective of the country you want to dropship your product to, SaleHoo has got you covered with their fast-growing database of verified suppliers.
SaleHoo has a search box that allows you to search for suppliers based on the product you want to dropship.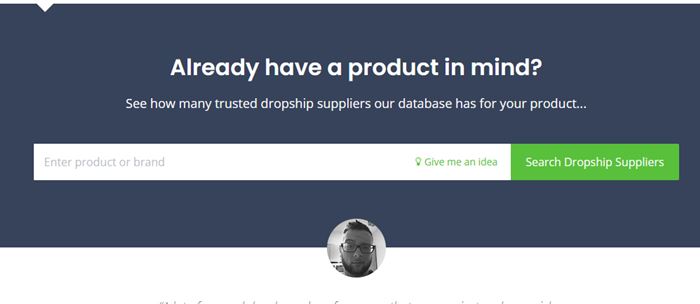 While it's good to stay away from branded products to avoid selling counterfeit products, SaleHoo also solves that by connecting you with verified suppliers of branded products.
So you can be assured of getting quality branded products delivered to your customers.
Finally, as a dropshipper, you would want to work with more than one supplier to have a supplier to fall back on if one fails to deliver. 
Yeah, we have to agree that this could happen sometimes.
Besides if you're dropshipping different products, then you have to work with multiple suppliers.
This could have been hectic, but SaleHoo saves the day by providing a dashboard to manage your suppliers.
Wholesale Suppliers
As much as I would want to say SaleHoo is only for dropshippers, but it isn't. 
SaleHoo also houses wholesale suppliers which makes it possible to order products at wholesale getting a good discounted price.
Compared to SaleHoo's dropshipping suppliers' database, their WholeSale suppliers' directory is 8X bigger.
SaleHoo Wholesale supplier directory houses over 8,000 verified suppliers that ship both local and international.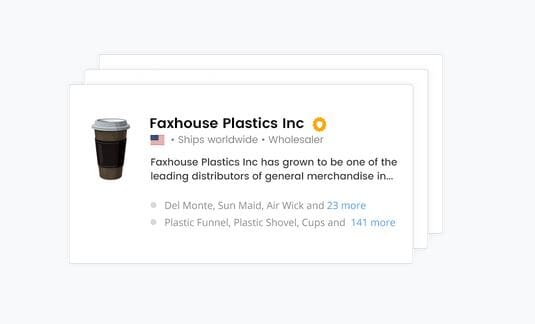 There's a filter option to filter your results and find the best wholesale supplier close to you.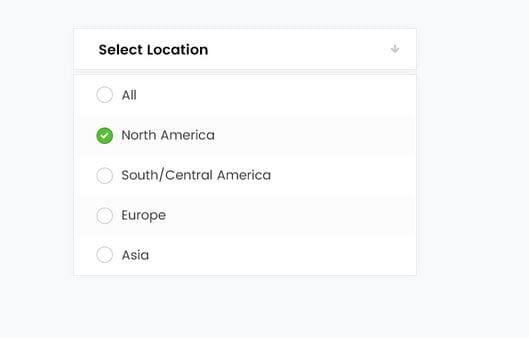 The wholesale supplier directory also provides a tool to manage your suppliers and also communicate with your suppliers.
In-depth Market Research
Besides finding the right supplier, uncovering winning products is hard. Not all products can do well with dropshipping.
And as a beginner or a veteran, you have to consistently find good niche products to dropship.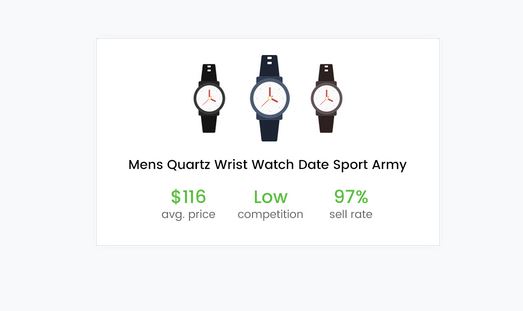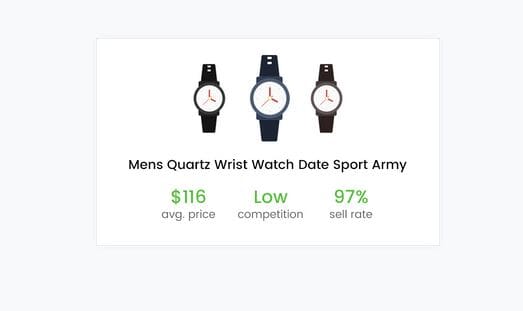 With SaleHoo, there's nothing to worry about. SaleHoo has a track record of uncovering hot products to dropship.
Nothing beats taking the guesswork out of your process.
So far, SaleHoo has over 1.6 million products in their directory of products which you can dropship.
SaleHoo consistently tracks these products and shows trends for each product. 
You get to see the competition score and what the sales trends look like to vet if it's worth dropshipping.
Salehoo lets you filter your product research based on the price range you're looking to dropship.
What's more, SaleHoo allows you to save and compare product ideas over a set period.
You can monitor the competition score, sell rate, average price of product ideas you have an interest in.
Training & Resources
As simple as dropshipping might have sound, there are technical aspects that can bore you or give you an opposite experience compared to the beautiful stories successful dropshippers told you.
Like many other businesses, dropshipping also has its technical aspect that requires either spending time and money to learn or taking the time to understand before venturing.
In this case, SaleHoo has a guide section that contains valuable guides on starting, running, and managing dropshipping stores.
These aren't guides from writers with no experience on how to start and run a successful dropshipping store.
Simon Slade, co-founder of SaleHoo is an ecommerce entrepreneur and dropshipper before starting SaleHoo.
Just like you have guessed, Simon authored some of these guides.
Besides the solid guides on dropshipping, Simon and his team consistently host webinars on dropshipping.
SaleHoo also covers case studies on how successful dropshippers are killing it with their dropshipping store.
Signing up for their email newsletter gives you access to top-notch content on dropshipping. So it's a win situation because some dropshipping courses cost hundreds of dollars.
As at the time, SaleHoo has over 50 guides and videos on dropshipping to help you get started with your first ecommerce business.
In addition to the guides and videos, SaleHoo has a forum with over 137,000 members in the forum.
These members range from beginners to experts and veterans of the field. There's no better place to be as a dropshipper.
Nothing beats being able to seek advice from veteran dropshippers who have found success in it right from a forum.
For the forum alone, it's worth a lot.
Lastly, what I would call the gold, SaleHoo offers one-on-one support to assist you whenever you have problems.
The SaleHoo team is ready to help with the hard task like finding and choosing a product, launching your ecommerce business, etc.
Intuitive Dashboard
Are you familiar with taking onboarding training to understand how a tool works? Well, it isn't the case for SaleHoo.
From the first sight of SaleHoo's dashboard, it's quite easy to understand. 
SaleHoo organizes your dashboard with your favorite products and suppliers.
These are products and suppliers you have saved. 
They are displayed on your dashboard to make it easy to locate them.
Plus, SaleHoo has an inbox section that allows you to communicate effectively with your suppliers.
You can leave a note for your supplier to know what's next.
What's more, SaleHoo's dashboard also accommodates and keeps track of your progress in their various courses and guides.
This gives you the same experience offered by other online courses without tools. 
You can track your progress and pick up from where you stopped.
Lastly, SaleHoo has a section on their dashboard that makes it easy to track the activities on their forum.
In case you find any of the discussions pick your interest, you can easily make your way to it. 
This feature makes it easy to join interesting conversations.
SaleHoo Customer Support
A stellar feature offered by SaleHoo is their customer support. 
Unlike some SaaS tools that make it difficult to contact their customer support team. 
SaleHoo has their contact details legibly on their page.
SaleHoo also goes to the extent of offering one-on-one support for its users. 
They offer free assistance with picking a profitable product and launching your dropshipping store.
You can contact their support via telephone, email, Twitter, and through live chat right from their site.
SaleHoo Shopify Automation
One of the latest features to be added to SaleHoo is the Shopify automation feature that allows you to import products from Aliexpress to your Shopify store with a click.
This feature is offered by some other apps like Oberlo, Spocket, etc.
Connecting your store to SaleHoo isn't hard either. SaleHoo offers a quick and easy integration.
But there's a catch, this added feature comes at a price different from the pricing for the directory.
That is, if you want to get access to both the directory and the Shopify automation, you have to pay for tools separately.
As per our SaleHoo review, we've highlighted the benefits or advantages you're expected to enjoy while using SaleHoo.
Below are the pros of SaleHoo
Well, as you may have thought, this SaleHoo review won't be a complete one if we deem fit to ignore their shortcomings.
So with SaleHoo, not all is sunshine and rainbow
While SaleHoo brands itself as a dropshipping solution, it isn't just for dropshippers.
SaleHoo also serves as a directory for ecommerce business owners that buy wholesale and import to their country.
If you're an Amazon FBA seller, you can also take advantage of SaleHoo wholesale directory to obtain your products.
SaleHoo serves eBay dropshippers well too.
SaleHoo Pricing - How Much Does It Cost?
While there are no hidden fees, SaleHoo offers three different packages.
SaleHoo Directory Pricing Package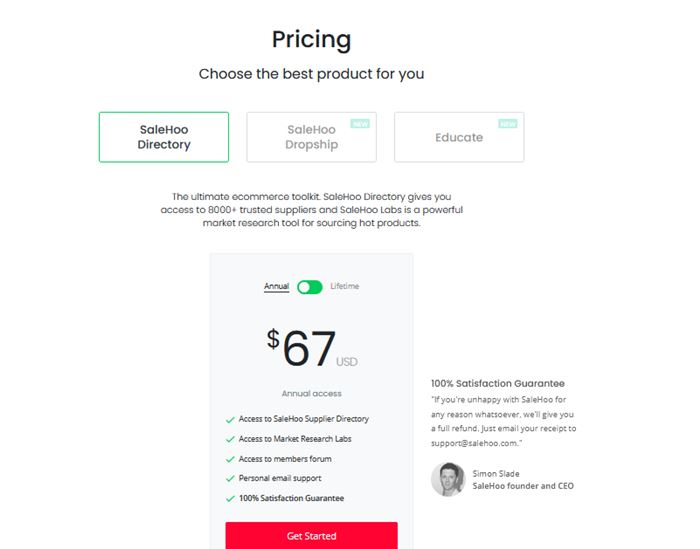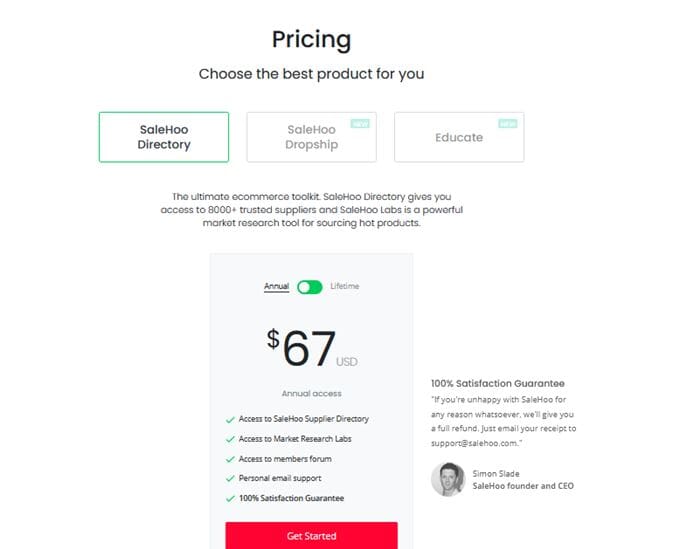 This is the main service offered by SaleHoo and it's for everyone to get including dropshippers.
SaleHoo Directory plan costs $67 per year. Besides the $67 plan, SaleHoo offers a lifetime plan that gives you lifetime access to the directory.
The lifetime plan comes at $127 for a lifetime.
SaleHoo Dropshipping Package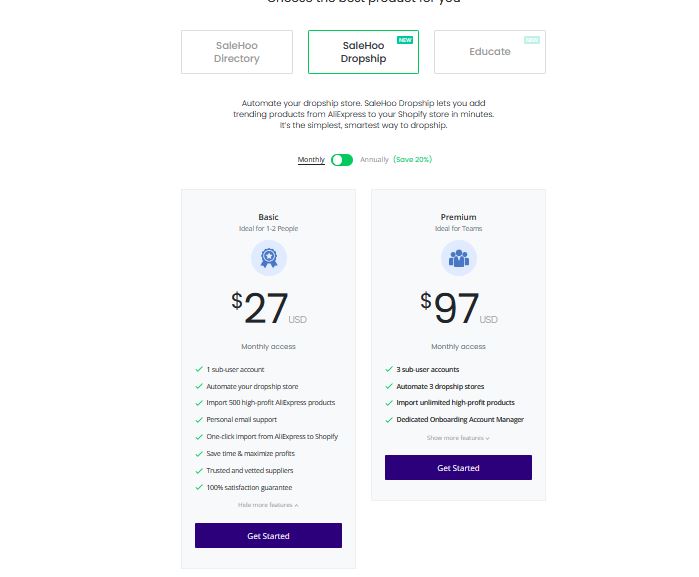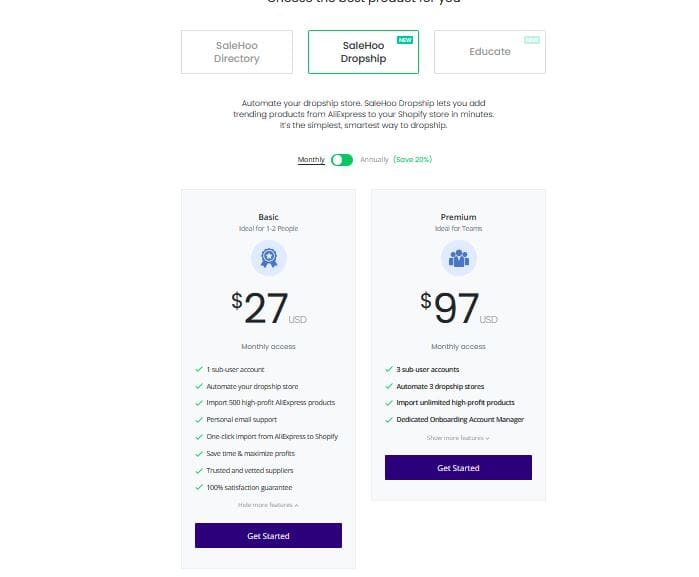 The SaleHoo dropshipping package is the newly added import feature that allows you to connect SaleHoo to Shopify and also import your products from Aliexpress to your Shopify store.
This is exactly what you'll be paying for in this plan; the automation to import directly from Aliexpress to your Shopify store.
The Shopify dropshipping package is in two plans; Basic and Premium.
The Basic plan costs $27 per month and allows you to import 500 products. While the Premium plan costs $97 per month for unlimited product imports.
Education Package
This is the package for their premium dropshipping course. But with the amount of free information on SaleHoo about dropshipping, I don't think you'll need this.
SaleHoo has over 50 free videos about dropshipping and that should be good enough to set your feet into dropshipping.
But you can consider investing in it if you want. It costs $47.
SaleHoo and Oberlo have a lot in common in terms of features. However, there are still some clear differences in their features.
SaleHoo makes it easy to find verified suppliers from their directory and at the same time also import your products to your Shopify store.
In contrast, Oberlo allows you to find an Aliexpress supplier and import the products directly from Aliexpress to your Shopify store. Oberlo also makes it possible to fulfill orders automatically with one-click. This feature is missing on SaleHoo.
What makes SaleHoo better is its directory and its updated list of hot products to dropship. And the added advantage of a carefully vetted suppliers' list.
Rather than competitors, SaleHoo and Oberlo both complement one another.
You use SaleHoo to find trustworthy suppliers and import them to your Shopify store. You can then use Oberlo to track the sales and fulfill them on your Shopify dashboard.
SaleHoo Vs Spocket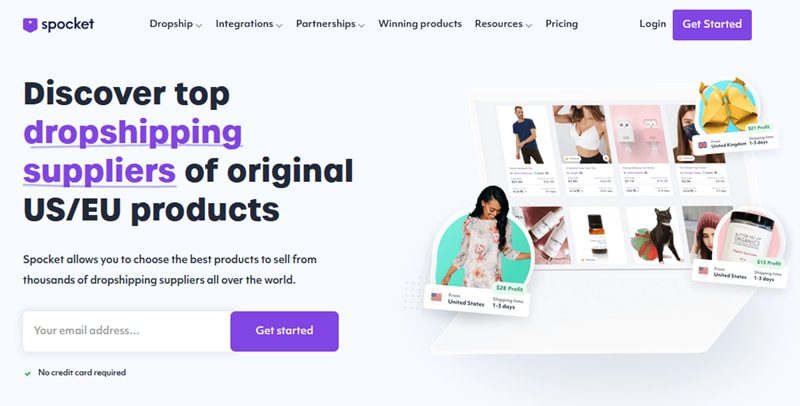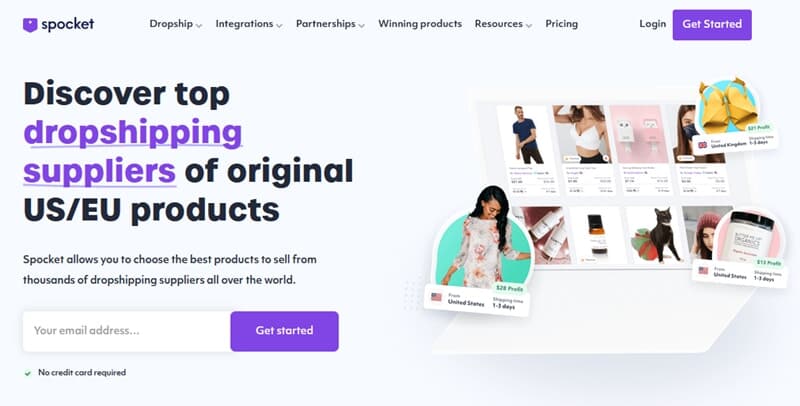 Spocket is a dropshipping app that makes it possible to dropship US and EU products.
It's specifically created for dropshipping too. Similar to SaleHoo, Spocket allows you to find winning products directly from your dashboard.
You can order product samples before settling down a supplier from the dashboard.
Where Spocket beats SaleHoo is its advanced integration with other ecommerce platforms (BigCommerce, Shopify, WooCommerce, Wix, etc) and its free plan.
However, SaleHoo takes the lead when it comes to dropshipping suppliers. It has a vetted list that you can rely on.
SaleHoo Vs InventorySource


InventorySource is a fast-growing dropshipping app that offers a unique service to dropshippers.
For starters, InventorySource allows you to automatically upload products, sync suppliers with your dropshipping store and automates order routing.
Rather than products and suppliers, InventorySource focuses on offering advanced dropshipping automation like order routing optimization.
However, it has a small list of verified suppliers (about 240 suppliers) they work with.
It lacks the feature of finding hot products. Instead, it focuses on automation.
A hitch in their service is the starting price. Their pricing starts at $99 per month. 
Although there's a free plan that gives access to their suppliers' directory alone. But it's a small list.
One man's opinion isn't always the best right? Even after comparing it with other tool. 
Yeah, I know. This is why I did some digging to find out about what others are saying about SaleHoo.
On TrustPilot, SaleHoo has an average rating of 4.8 from 359 reviews. This is an excellent rating.
Here are some of the reviews I picked up: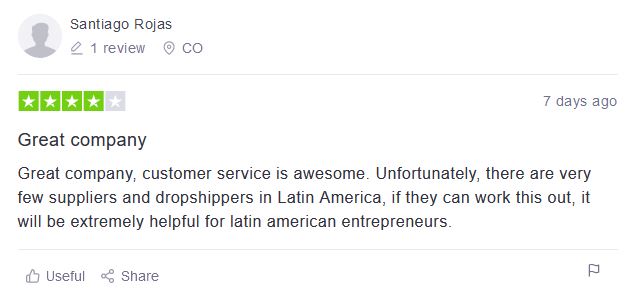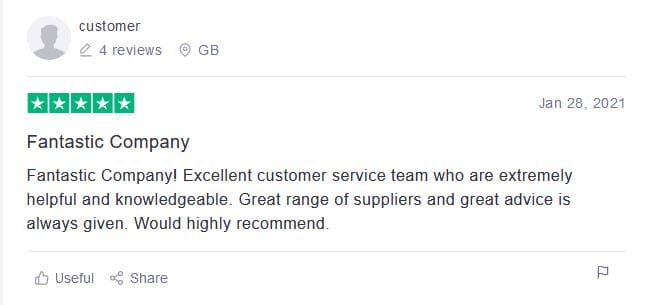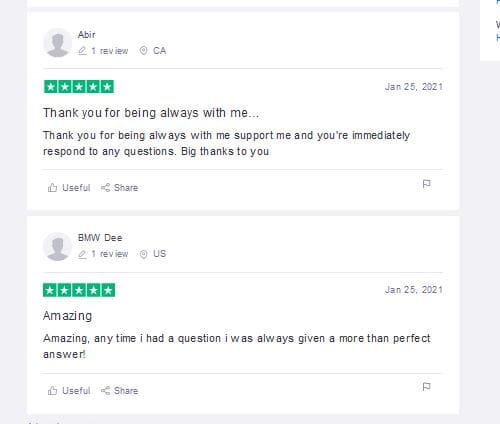 So far, there is nothing but positive reviews.
But there are some comments about just having 1000 dropshipping suppliers. And a lot of comments about their excellent customer service.
SaleHoo is one of the moderately priced dropshipping tools you can lay hands on. It offers a dropshipping supplier directory, wholesale directory, integrates with Shopify, and a lot more.
SaleHoo's market research tool makes it possible to find hot products to dropship. There's their customer support team ever willing to assist you in your dropshipping journey, and a lot more.
There isn't a tool without a glitch. SaleHoo has some drawbacks that have been highlighted like the absence of a free plan.
But overall, SaleHoo is worth it and a good tool for both beginners and veterans.
So that's it on our SaleHoo review. Let know what you think about it using the comment box.