SaleHoo vs Worldwidebrands: Which is Best For Dropshipping?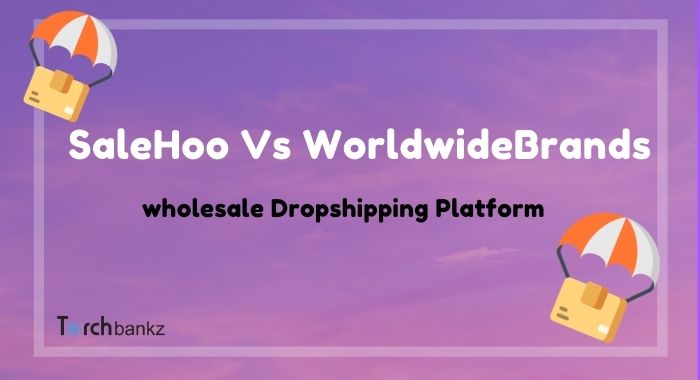 Thinking about the right brand between Salehoo vs Worldwidebrands for your dropshipping or wholesale business?
I understand choosing the right business partner can be tricky most especially when you're just getting started.
However, you do have nothing to worry about because that's the reason we've put together this post.
SaleHoo and WorldWideBrands are good directories to find a supplier for your dropshipping business.
But as in the case of dropshipping, your supplier plays a big role in the success of your business and this makes it very crucial when deciding which tool to go for.
While both parade themselves as one of the best dropshipping tools that house suppliers for you to harness, in this post I'll spill the beans as to which to go for.
So today, we're going to look at both directories and conclude on which is better.
It might be a tight argument but the conclusion will be based on the features, pricing, and differences between both tools.
And at the end, you'll be able to go for what matches your plan, budget and most especially the business you want to run.
But for now let's give a meaning to both platforms(SaleHoo vs Worldwidebrands), we'll start with SaleHoo.
So grab a cup of tea and let's proceed.
What is Salehoo?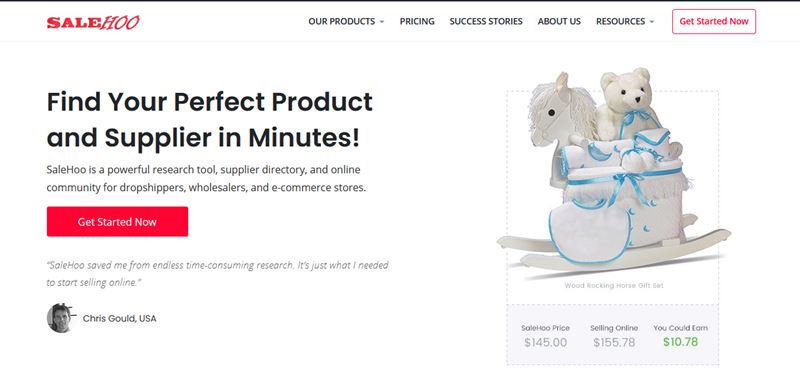 The ideal Directory company with thousands of reliable suppliers to ensure good business. Salehoo is one of the best online directories in the world, although young but with thousands of reliable suppliers.
Under specific categories, they handle millions of products. They give guides on selling items to yield huge profits.
The co-founder himself, Simon Slade started off as an eCommerce entrepreneur selling products online.
So they know exactly what it is you need to succeed online with your eCommerce business.
Why is Salehoo Peculiar?
Salehoo offers good marketing tools for clients to get the right products to sell. The platform is very easy for beginners to use.
There are a series of guides for users to follow when there are issues. Forums are also organized for active users.
Salehoo carefully inspects the suppliers that they recommend in their directory. The suppliers must have gone through standard checks and balances.
The reasons are just to ensure the trustworthiness of the supplier, safety of goods and services, etc.
One of the problems most retailers face today is trying to put their trust in someone. You can imagine how heartbreaking it will be to find out that you have been duped.
These worries are what Salehoo helps retailers avoid.
The portal provides information about the shipping of goods, confirmation of authenticity, and so many other services.
Salehoo has helped businesses to make so much money from huge-profit products. People get more than they need info-wise from Salehoo.
What is WorldWideBrands?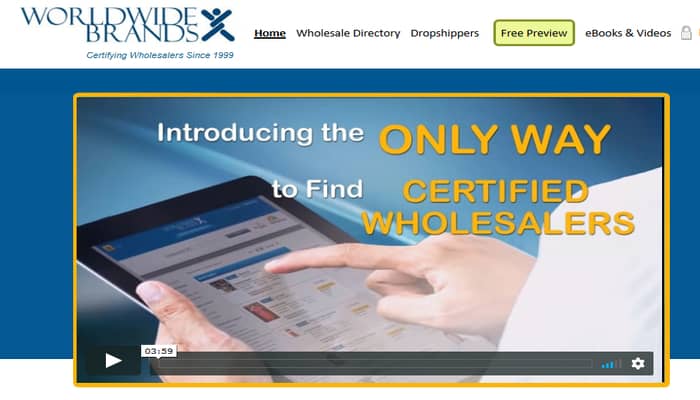 The best Online Directory market providing high-quality products for huge profits.
WorldWideBrands is another big wholesale directory company. They have been in operation for over 20 years.
In these long years of experience, they have been able to gather the best suppliers to deliver the best and high-selling market products.
Why is WorldWideBrands Peculiar?
WorldWideBrands gives a stamp of approval to suppliers qualified to work with their clients.
They offer free training to online retailers, these training entails sharing helpful guides on all you need to know.
WorldWideBrands add fresh suppliers to their list every day for sellers to experience different hands.
They save you the risks of falling into the traps of internet scammers and cyber frauds. On the site, there is a tab for you to search for the right suppliers.
You search by inputting the name of your product, the brand you want, and your location. After clicking the search button, you would see a list of suppliers for you to pick from.
The reason for this detailed search is for you to see providers that are experts in supplying your type of products.
WorldWideBrands is just perfect for any online seller who wants to run their business without the problems of looking for suppliers all over the web.
Salehoo vs Worldwidebrands – Main features
Now let's compare both platforms by taking a look at the unique features and see what they fair over each other. We'll start with SaleHoo…
SaleHoo Unique Features

#1. Dropshipping and Wholesale Suppliers
SaleHoo's main offering is its directory of dropshipping suppliers and wholesale suppliers. It has a suppliers' directory of over 1000 dropshipping suppliers and 8,000 wholesale suppliers.
While this is a small number compared to the large list of WorldWideBrands, SaleHoo boasts of having carefully vetted its suppliers.
With SaleHoo suppliers, you can rest assured that your dropshipping business is in good hands. There are advanced filters to assist you with narrowing your search to suppliers based on location and other parameters.
#2. Intensive Training for Retailers
Salehoo provides lots of manuals for sellers to make use of, some are even available for non-members. Some examples explain things like;
Setting up an online store – They have manuals to give you tips on how to start an online business store.
Many people need guides like this but they find it hard to get one of them. It should be a 'plus' on your side for having this knowledge.
What to sell – They also give insights on what to sell. They look at the market flow, check for products that are in high demand, and yield profits.
They give this knowledge to their clients whose businesses are not moving as expected.
Sourcing for suppliers – They give guides on how to recognize a good and trustworthy supplier among tons of them.
This tip is priceless considering the number of people that fall into scams every day. So this is something you won't want to take very lightly.
#3. Forums and Informative Materials
Salehoo coordinates forums and gives access to educational materials. In the forums, the Salehoo team addresses lots of members on wholesaling and dropshipping issues.
The team also provides answers to many questions bothering the members. They give instructions on what to do to make your business grow rapidly.
The educational materials also contain helpful tips on international sales. The tips contain everything you need to know about importation and exportation of goods.
The guides share ways on how to prevent scams, find the best products to sell at a particular time, and also the right source for the products.
#4. Excellent Customer Service
The Salehoo customer service team is very hardworking. Although clients rarely have issues.
If there are any, the team is always active to respond in a short time, which is one of the things Salehoo is popular for.
They don't disrespect their customers for any reason. No matter where the fault is coming from, they attend to people with kindness and politeness.
Another good thing about the team is that they make refunds when necessary. Some clients might want a refund due to some circumstance, the service team grants the request willingly.
The FAQ section is also educational, some answers to your questions will be found there.
#5. Good Marketing Tools
Salehoo has research tools that carry out lots of Ops. They guide your energy into selling products that bring profits.
These guidelines are available for both retailers and drop shippers.
Salehoo provides data for high-selling products, with low competition in the market.
This feature enables you to focus on goods within your budget. Salehoo helps with updated market trends to inform you on what is buzzing the online market.
There is a feature that allows you to save goods and compare their details in a tabular form. This way, you can handpick products to give you the desired output.
#6. SaleHoo eCommerce Integration
The eCommerce integration known as SaleHoo Dropship is a new feature by the SaleHoo team though with additional pricing.
The tool basically functions like the popular Oberlo or Spocket app, meaning it integrates your supplier's products with your ecommerce store.
This means, whenever you see a product you like on AliExpress or SaleHoo with the help of the tool, you can easily import every details of that product to your Shopify store.
These include product variations, images, descriptions,s etc. You can also edit to your preferred taste.
So with this, you can basically do everything Oberlo app can do using the Salehoo dropship app.
If you'd ask me I'll say Salehoo is more like an all in one dropshipping platform just like Spocket.
WorldWideBrands – Main Features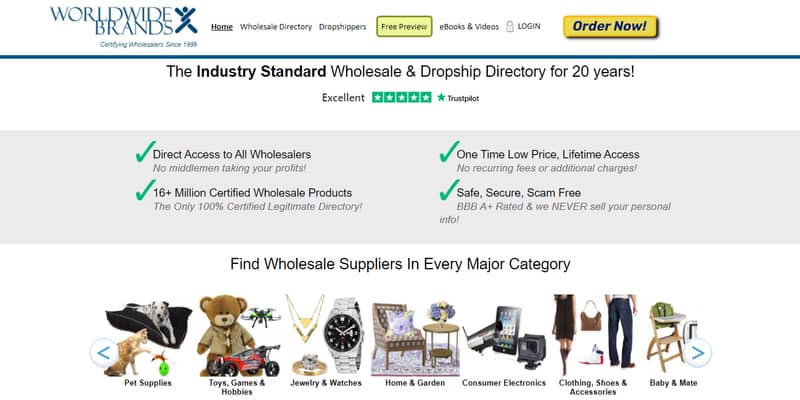 #1. Online Sellers Training
WorldWideBrands organizes free training for new users just like some other directories.
They make the training flexible for a wide range of customers, the training is in the form of online books and videotapes.
The training entails good tips on how to start your business in the right and unique way (yours must not be the way everyone's is).
WorldWideBrands training also shares guides on the right products to sell in your niche.
This might be looking like a common feature for all directories, but WorldWide's own is different, trust me.
The videotapes share some information about wholesaling and dropshipping, I am sure you wouldn't want to miss out on something like this.
#2. Sourcing for the Best Suppliers
WorldWideBrands puts so much energy into looking for the best suppliers for your products. The research team works effortlessly on updating the directory every week with fresh suppliers.
They meet suppliers in product exhibition shows, talk to them in person, and also thoroughly check the quality of their products and their reliability.
The suppliers will be granted the directory's seal, it is just another step of approving the suppliers for their clients. If you work with WorldWideBrands, you are sure not to run into scammers.
Compared to SaleHoo, WorldWideBrand has over 8,000 dropshippers in their directory alone.
#3. Wide Range of Products
WorldWideBrands are known for their available wide range of products. They have one of the largest selections of products online.
On your online stores, you can add your best suppliers to a tag called 'favorites', then turn on your notifications. You will be notified when new products are available.
There are millions of products under many categories like:
Gadgets and Electronics
Baby Accessories
Sports, Yoga, and Recreation
Apparels
Books and Novels
Artistry
Travels and Tours
Foods and Drinks, etc.
These are just a little out of the numerous categories under WorldWideBrands directories.
Salehoo vs WorldWideBrands – Differences
As an online retailer trying to boost his/her business, you need to know the differences between the top wholesale directories. Each directory has its specific features and everyone needs to be aware of these before signing up with one.
I will share some key differences between Salehoo vs WorldWideBrands below, read on to know the right one for your business.
Let's get started
#1. Customer Support
Like we have explained earlier, the service team of both directories is amazing. But there is a little difference between them.
Salehoo offers a great collection of guides for clients to make use of. They organize forums for members to discuss issues and answer questions.
They enlighten members on the new updates in the market. Talking about customer service, you can always contact Salehoo's customer service team via email or phone numbers.
If you can get them through emails, you would be able to get them on the phone.
For WorldWideBrands, if you need extra support, you can contact them through emails. WorldWideBrands has several email addresses to answer several issues.
The service team doesn't use a phone number, it can be a bit stiff for customers. Nevertheless, regarding the emails, they respond rapidly.
#2. Number of Products
Online retailers find it hard to get directories from companies with large collections of products. However, that is not the case for Salehoo or WorldWideBrands.
Salehoo offers over a million products for their customers. That is quite a large number for any business to pick from.
WorldWideBrands offers over fifteen million products for customers. With this huge range of products, I doubt if any business has to search tirelessly before developing an interest in a product.
Another advantage is the freedom to switch sales anytime you like.
If you have been selling a product for a while and then suddenly you are not making huge profits again, you can switch to another product from the wide selection.
#3. Market Research Tools
Talking about market research tools, Salehoo has a few tools while WorldWideBrands don't have.
Research tools have so many functions like checking trends for hottest products, giving leads on the idea of dropshipping and wholesaling, providing tips on import and export of goods, etc.
Every online seller needs information like these as they run their business, it might not be satisfying if a directory does not provide this feature for its customers.
The tools also hint retailers on buying products that yield huge profits and avoiding products that won't sell.
This is a vital guide, some businesses have crashed because they buy products that are not moving fast, so they end up tieing a lot of money down.
#4. Ease of payment options
Looking at the payment options, Salehoo is quite different from WorldWideBrands.
Salehoo allows annual payments or a lifetime payment. This is quite a flexible method for a lot of people.
If you can't afford to pay once for lifetime access, you should be able to afford an annual payment.
However, there is a percentage discount if you make a lifetime payment. Again, if you just started your business, you might find it hard to make a lifetime access payment.
You can begin with an annual payment and then when your business is moving fast, you can proceed to a lifetime payment.
WorldWideBrands offers only lifetime access payments. They don't have the monthly or yearly payment feature.
Although it is a stiff option, an advantage is that payment once is sufficient for your business forever. You don't have to worry about the renewal of payment when the time is due.
Salehoo vs WorldWideBrands – Pricing
With the pricing structure you can decide how you want to run your business based on your budget. Worldwidebrands offers a one-time access fee for a lifetime while SaleHoo renews annually and a more affordable lifetime access.
If you'd ask me they are both flexible based on their suppliers catalogue.
Salehoo Pricing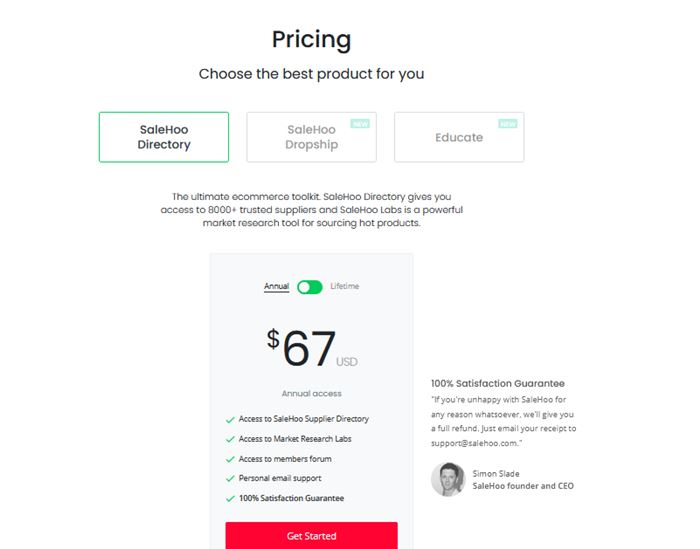 Salehoo has two main pricing options, it is either you pay $67 per annum or you pay $127 for a lifetime.
SaleHoo used to cost $67 for lifetime access, but the rate has increased due to the service upgrade.
Over the years, some new features have been added to improve the efficiency of the directory -a reason why the pricing changed.
If you want a year's access, the membership price is $67. This payment is for Salehoo wholesaling. Even with this payment, you have lots of benefits to enjoy. Some of the benefits are:
Access to community forums
Access to new, trustworthy suppliers.
Access to market research feeds
Email support and complete satisfaction.
The pricing for Salehoo Dropship (eCommerce Integration, for auto importing and fulfilling others) is slightly different. They have the basic plan (suitable for 1 or 2 persons), which costs $27 for monthly access.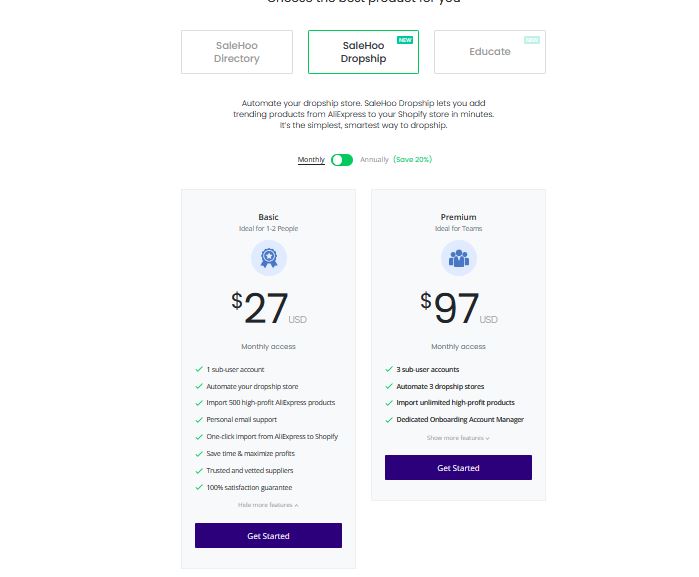 They have features available on this plan. Examples are personal email support, trusted suppliers, 100% satisfaction, etc.
The other plan is called the Premium plan (ideal for teams). It cost $97 for monthly access and it has more features than the one available on the Basic plan.
The difference is just an upgrade in the number of available features. If you wish to make the payment on an annual basis, you would pay $270 for the Basic plan and $970 for the Premium plan.
You get the chance to save 20% if you pay annually. Salehoo has a different pricing option for the educational programs. You just need to pay $47 for lifetime access to the training.
The amount you pay is per every course you take. After paying this amount, you are open to exclusive written, audio, and visual training on how to build a successful online store.
WorldWideBrands Pricing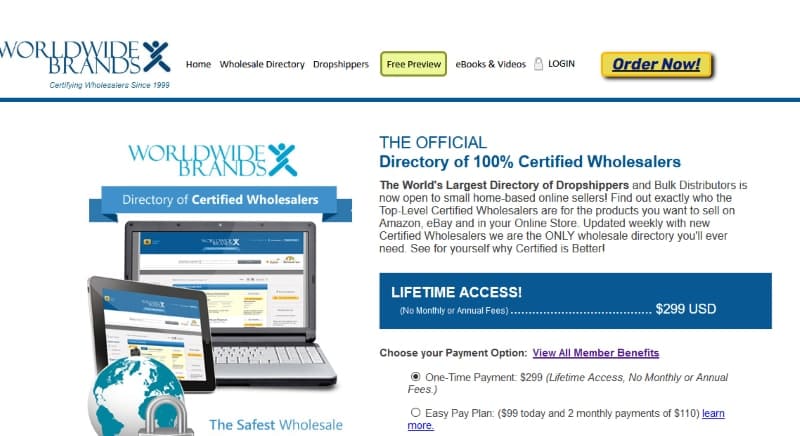 WorldWideBrands offers a free demo of its services.
For the paid plan, WorldWideBrands costs $299 for lifetime access. They don't deal with monthly fees, annual fees, "middleman" fees, etc. Once you make payment once, you don't need to bother again.
There's also an easy payment plan of $99 today and two monthly payments of $110.
An advantage is the evasion of worries of renewal regularly. On a monthly basis, you would have to renew every 30 days, and on an annual basis, you would have to renew every 12 months.
This can be disturbing especially when you are not making as many profits as you envisaged when you started the business.
WorldWideBrands also offers an unlimited FREE account set up for its members.
SaleHoo vs Worldwidebrands: Conclusion
There is no doubt that Salehoo and WorldWideBrands are some of the best online directories presently.
Their customer service team is amazing, they offer top-notch services to millions of customers. With their regularly updated features, they help hundreds of thousands of businesses to grow daily.
However, considering the similarities and differences, Salehoo is the better option in terms of affordability and support. They operate a more modern platform and give customers an easy-to-navigate advantage.
However, due to your niche, WorldWideBrands might offer a better service and give you access to wide range of more products
So it boils down to what you want and your business budget. That's it on SaleHoo vs Worldwidebrands. Which of the platforms do you think meets your needs?
Let me know in the comment section.