SellFull Review: Is it the Best White-Label Website Builder?
In this article, we will be explaining in detail everything you need to know about SellFul Review.
When it comes to having a business, your marketing strategy is key.
One of them is to have a good website. Having a website gives your business a professional touch and feel.
It also gives your business credibility and trust.
But building a good website these days almost costs a fortune and that is why you need Sellful in your business.
Sellful is a white-labeled website builder.
Not only that, as you go about your business, you want to ensure that you retain your customers as well.
Studies show that it costs 6 times more to get a new customer than to retain existing ones. Therefore you should pay close attention to your customer retention service.
These tasks can be so draining if not well handled.
This is where Sellful comes in handy. Sellful is not only used to build websites, it is a CRM platform and a project manager.
As we proceed in this Sellful Review, you will get to know other functions that Sellful performs, its features, pros and cons, and every other thing there is.
Let's go right into it.
What is SellFul?
Sellful is a white Label website builder. It is a business software that helps business owners build an online platform for their businesses.
This is done by creating websites, mobile applications, social media pages, email platforms, and a host of others.
This software also offers the opportunity to build your website as a white label.
That is, you can completely rebrand the website as yours. In that regard, Sellful has 2300+ free templates that you can choose from.
It has a drag-and-drop feature that can help you adjust the website to suit your business.
It does not matter how complex your website might be, Sellful has more than enough features to help you get it up and running.
One of the things that make Sellful stand out among other website builders is the fact that it also provides a database that you can use to arrange your data in an orderly manner.
You can use the Google cloud form to host your files. There is also amazon's SES that you can use to send your mail and you will be sure it was delivered.
All these tasks you can carry out on Sellful without any background knowledge of coding.
Oftentimes, we refer to Sellful as an all-in-one platform. That is because it covers the activities of your business from website building to marketing your business to managing your customers.
Sellful offers a lot of benefits that we will look at as we proceed. But then what are these features of Sellful that help it perform all these tasks?
Sellful Review: Features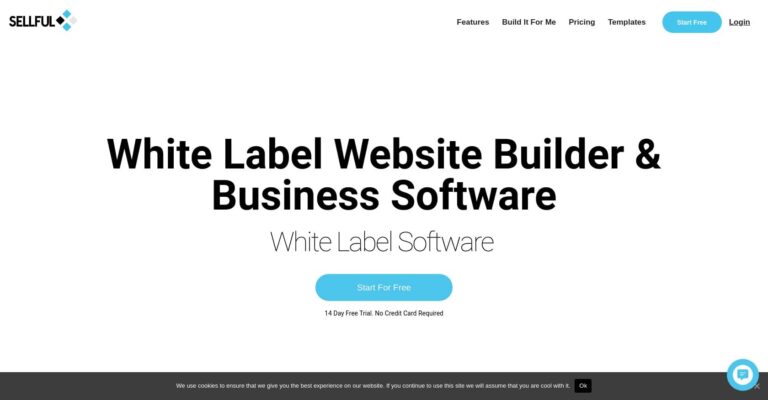 Most often, the features of a tool contribute largely to how efficient it can be. From a software's feature, you can easily determine if it is the right tool for you or not.
Therefore, let us examine some of the features of Sellful that helps it stand so tall.
CRM Platform
This is the Customer Relationship Management feature that helps you interact with customers. Once a tool offers a CRM service, half of your work is done.
This is because, in business, customer retention is important.
A customer who is happy and satisfied with your services has a higher probability of buying again from you than a new customer.
Asides from that, their opinion about your business goes a long way in growing your business.
The CRM also handles all pipeline management. This feature helps to keep you on the right track to avoid errors and mistakes like wrong communication and missing information. All your sales processes are managed.
You can even collect visitors' email and contact right on the website. After which, you categorize your customers and send emails accordingly.
It could be a welcome message after signing up to your website, or an appreciation message after buying from you. It could also be a reminder message for them to take an action.
Sellful CRM has web forms that help in capturing leads and monitoring the conversion process. You can manage the calendar to keep up with appointments with customers on it.
It also has a Zoom and Google Meet integration that you can use for meetings.
Not only that, it provides real-time necessary information that can help you see how your sales activities are faring and which deals you should handle at the moment or later.
With Sellful, you can generate invoices and also create a payroll for your workers
This will help you pay attention to other physical aspects of the business.
That's quite a relief on the path of Sellful. It saves you from having to purchase multiple platforms for each of those tasks.
White Label Websites
The essence of a website in a business cannot be overestimated. Having a website gives your business a certain level of credibility and trust.
Have you noticed that the first thing people do when you mention your business is to confirm if you have a website?
That is to tell you that having a website is key to growing your business. The major reason most people run away from building a website is the thought of the complexity that comes with building one.
Then, if you cannot build, you might have to hire a web developer who will give you a bill of hundreds or thousands of dollars.
This might be too much, especially for a small business owner.
But Sellful has taken that pain off your hands. With its website builder, you can build any type of website- either simple or complex.
There are over 2300 templates for different types of niches that you can choose from.
The good part of this is that it comes with a white label. You can remove the Sellful logo and make it yours. This is why Sellful is a better tool for your website.
Several other website builders do not come with white labels and therefore, the logo of the platform is still reflecting which will be very visible to your clients.
Apart from fixing the brand logo, you can adjust the website to suit your business needs. Also, the URL created will be in your business domain name.
Online Store
This is perfect for eCommerce business owners and dropshippers. Having an online store for your product is very important. Customers want to see what you sell.
They want to see short demonstration videos as well.
You can integrate your online store into your website. The presence of an online store saves you from the back and forth of explaining your products and their pricing to prospective clients.
They can easily visit your store to search for any product they want and place an order for it.
Sellful helps you build your online store to suit the products you sell. It also comes with templates that you can use to set it up
When your online store is well-optimized for search engines, you are easily located when any of the products you sell are searched for.
Also, an online store helps you to have a wider audience reach beyond your geographical area.
That is why you should pay close attention to how you build your online stores.
One way to make your store and products rank is by writing a well-optimized product description for each of the products.
You can easily do that with its Advanced SEO tools or use some of the (best AI copywriting tools) like (Closerscopy).
Marketing Automation
Sellful helps you to automate all tasks – especially the ones you have to carry out repeatedly.
This feature helps to maintain a level of consistency and organization in the marketing process. It also helps to meet up with all the demands that marketing entails.
With Sellful, you are sure that the right content is being delivered to the right people at the right time.
The platform also helps you to run email campaigns with content that is personalized to each category of the contacts.
It sends emails such as welcome emails, reminders, new product releases, and so on.
In building the emails, there are email templates that can guide you in setting them up. You also have an autoresponder that helps in responding to inquiries from the mail.
This saves you a lot of time and you rest assured that your email and marketing campaigns are going on as and when due.
Project Management
Sellful helps you to handle different projects with this feature. This is a result of its workflow automation and the ability to bring in more than one user.
Landing Pages
A landing page is a lead capture page where visitors get to for more information about any of your products or services.
In creating a marketing strategy, it is important that you put some sales funnel in place. This will lead your prospective clients to the landing page where they can get more information.
Having a landing page increases conversion and helps to convert more traffic.
You can have as many landing pages as possible according to the number of products you sell.
It might be tasking having to create different landing pages all by yourself. It might also cost more if you have to hire a developer to do that.
Sellful comes with a sales funnel and landing page builder that can help you set it up within a few minutes.
The landing pages are also white label as you can brand them to suit your business needs.
How Does Sellful Work?
This sellful review will not be complete without showing you how sellful works.
On its own, Sellful has an easy-to-use interface that can help you navigate your way through. The moment you sign up for any of the plans, you have access to the dashboard.
From there, you have access to over 2300 templates that you can use to build your white-label websites.
You only need to determine the niche you want to go into or that you are currently into. Then select any of the templates that best describes it.
After selecting any of the templates, you still have the drag-and-drop builder that you can use to edit-add and subtract, to suit your business needs.
Sellful has millions of quality images that you can also select from to add as illustrations to your website.
Once the website is up, you can start leveraging other features for your business.
With Sellful, you can set up your online store from scratch.
Apart from that, Sellful helps you to collect visitors' contact details and helps you build a list. After building the list, it goes further by automating all your email campaigns.
Other ways Sellful works is to take and manage inventories, manage projects, and also help you with your social media presence with its social media tools.
Who should use Sellful?
Peradventure you had been wondering what category of people should use Sellful, let's look at some of them in this sellful review;
Web and Marketing Agencies
As a marketing agency, you can easily manage all your clients' accounts with ease.
With all the marketing automation, CRM, and workflow features that Sellful has, managing different accounts will be quite easy.
Business owners
This tool will help you manage and automate your business activities as a business owner.
You can manage your social media accounts, build a website, create a payroll for your workers, and also generate an invoice.
If you are looking for software that can help you carry out all aspects of your business in one place, Sellful is your choice.
Software developers
Sellful helps you to build diverse mobile and web applications through its website builder feature.
Apart from that, you can link different applications together to create a workflow that your client needs.
App builders and Web developers
With Sellful, you can create different white-label websites that will meet their individual needs.
Freelancers
Are you a freelancer who is into website development? Or one who is into social media management?
With Sellful, you can create as many websites as possible within a short time. This will help you meet up with customers' deadlines as and when due.
With social media tools as well, you can easily navigate your way through the different social media platforms.
Sellful Review: How much is sellful (Pricing)
It comes in three pricing plans that you can choose from considering the features that each of them has.
Basic – $299/month
This pricing plan includes the following features;
Over 2300 website templates
White label
50GB file storage per site
Two users
Over 1500 App integrations
SEO tools
10,000 visitors per website
10 pages per site
Marketing Automation
Scheduling and Calendar
1 domain and 50 blog posts per site
Small Business – $499/month + $10 per site
This includes all the features in the basic plan, including;
Online Store that can house 500 products
Payments gateway
Affiliate programs
Digital product licensing
CRM and funnel builder
500,000 Emails
50 users
500GB file storage per site
200 blog posts per site
Unlimited visitors per site
50 pages per site
And a lot more
ERP and Saas – $699/month +$15 per site
This plan includes all the features in the small business plan, including;
Payroll
1,000,000 emails
Unlimited users
Unlimited blog posts and landing pages
Unlimited domains
Unlimited file storage
All these pricing plans come with a 14-day free trial. Depending on the strength of your business, each of the payment plans has been designed to suit different needs.
If you are just starting out, you could begin with the basic plan. As the need increases, you upgrade.
However, if you are already a big gun in your business and need more diversification and a wider audience range, simply sign up for the ERP and SAAS plan.
Sellful Review: Pros and Cons
Sellful is one of the best tools when it comes to building a business and running it. However, for every tool, there will always be an advantage and a disadvantage
Pros
It saves you from having to purchase different tools as it has combined a larger percentage of all you need in one platform.
Its marketing automation helps you to reach out to the right audience at the right time with the right message.
You can build high-quality websites that build your brand's credibility
It is easy to use and it operates a smooth transition
It auto-updates itself
Cons
From some of the reports we could gather from users, we have the following
No professional guide and tutorial
The pricing might be too high for a small business owner who is just starting out.
The free trial is too short to explore everything about the tool.
Sellful Review: FAQs
Below are some of the questions people are asking about the Sellful Review
What is Sellful?
Sellful is a white Label website builder. It is a business software that helps business owners build an online platform for their businesses. This is done by creating websites, mobile applications, social media pages, email platforms, and a host of others.
Is Sellful worth the price?
Yes, it is. When you consider the cost of buying different tools such as WordPress, Wix, Clickfunnels, etc, to carry out the different activities, it's a better deal.
Is Sellful a CRM?
Yes, Sellful is a CRM where you can manage all aspects of your customer's needs, build a sales funnel and track leads.
Does Sellful integrate with Social Media?
Yes, Sellful comes with social media tools and integrates with social media platforms such as Facebook, LinkedIn, Twitter, and even Google My Business. This will help you to run social media marketing for your clients and your business.
Sellful Review: Conclusion
In this Sellful Review, we have been able to see how much of an all-in-one marketing software Sellful is. It covers everything you need to successfully run your business and grow it from scratch.
Its unique feature which is the White label website builder has removed the pain of having to look around for a web developer to build your business website.
Even without any knowledge of coding, you can set up your website.
It does not matter if you have no idea how to go about it. With over 2300 templates and millions of images, building a website will be a piece of cake.
Also noteworthy is the fact that for any of the plans you opt for, you get a mobile app for any website you desire.
Sellful is indeed an incredible software that every business owner should embrace.
This software is not just a marketing platform; it is a business support and growth platform.

What are you waiting for?
Hurry up now and sign up. You could begin with its free trial offer if you are still in doubt.