Sellfy vs Shopify: Choose The Best eCommerce Platform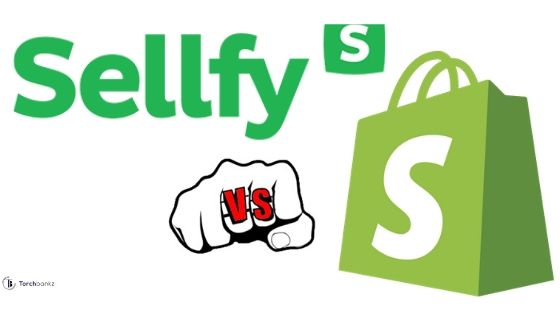 In today's post, we're going to be doing a detailed comparison between Sellfy vs Shopify by exploring both platform strength and weakness.
Both Sellfy and Shopify are among the most used eCommerce platforms around the globe. They allow users to create and manage their digital stores with ease, even without specialized web development skills.
They both have incredible tools that enable users to sell their products with ease and allow them to customize their shape to make them unique and more appealing to your target customers.
However, although these two eCommerce tools are similar in some ways, they also differ in many ways which we're going to be exploring soon.
So, if you've been searching for the best eCommerce platform to host your digital business between Sellfy and Shopify, this post might just be the right thing for you…
In this article, we will compare these two eCommerce platforms to help you make an informed decision on which platform to choose.
Let's get started, shall we?
Sellfy vs Shopify
below is the quick overview of what we're going to be discussing:
What is Sellfy?
Sellfy Features
Pros & Cons (Sellfy)
Whats is Shopify
Shopify Features
Pros & Cons (Shopify)
Sellfy vs Shopify (Similarities)
Shopify vs Sellfy (Differences)
Conclusion
What is Sellfy?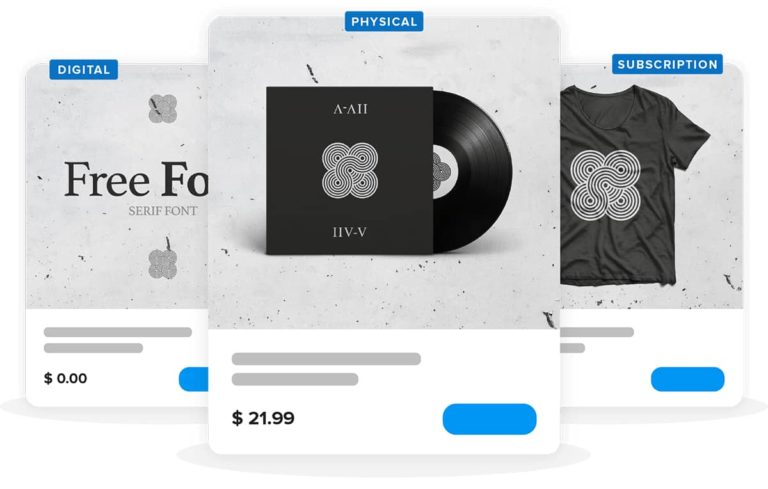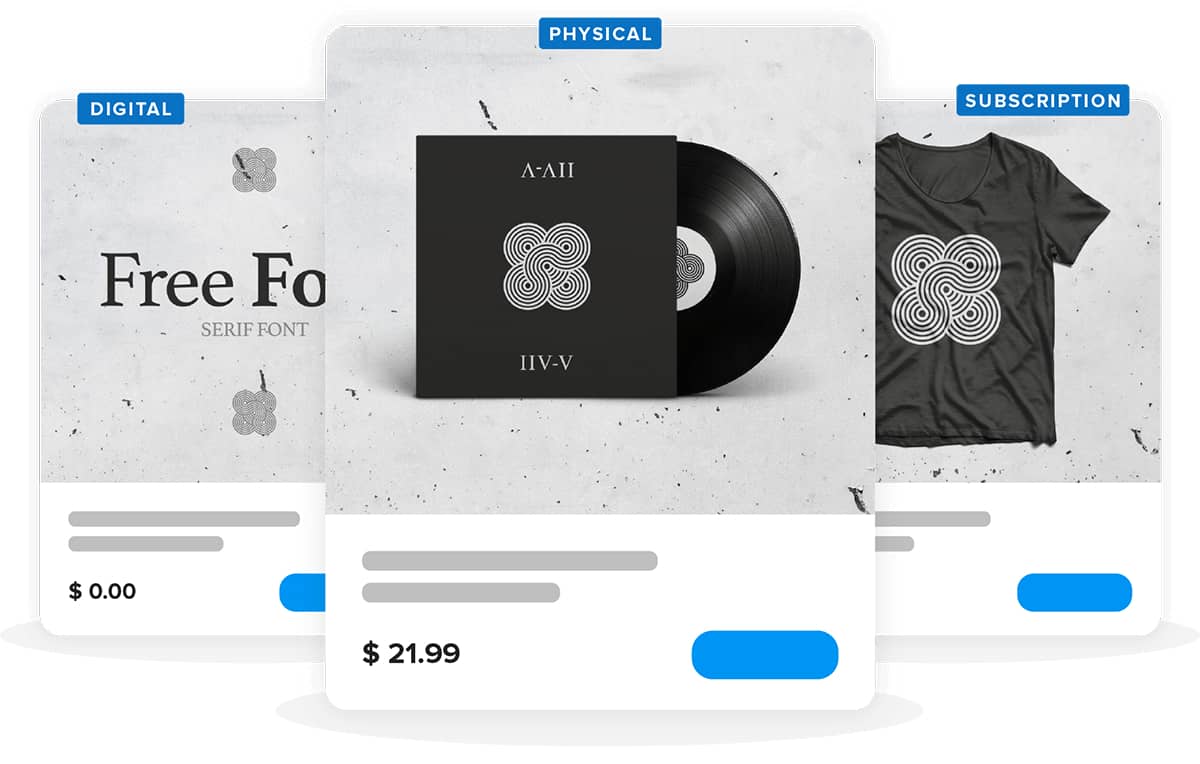 Sellfy is an eCommerce platform designed to help you sell your digital and physical products online with ease.
You can build a new store directly on Sellfy or incorporate it into your existing website.
It is a simple, easy-to-use, and secure eCommerce tool that can host your digital and physical products in a secure platform.
Sellfy is ideal for people who want to sell:
eBooks
Design assets
Audio
Software audio files
Films
Physical products
And much more…
Sellfy provides checkout functionality and delivery of products once an order is confirmed.
It also provides a checkout functionality of physical products, but you need to handle the shipping and delivery of products to the customer.
This tool has plenty of features designed to help you run your online store simply and efficiently.
Most of its features are automated, meaning that this eCommerce tool will handle most of the functions on your behalf.
All you need to do is monitor how this software manages the functions of your store from the dashboard.
Sellfy is a cloud-based software that is suitable for anyone who wants to run their online store with ease.
You don't have to be a web development expert or have vast experience in operating an eCommerce shop to benefit from this tool.
Anyone, including those who are new to eCommerce business, can use this tool to run their digital shop.
Sellfy Features
Let's go over the features of Sellfy and see how unique this platform is as compared to Shopify
Sellfy allows users to set an online storefront with ease and have their digital shop up and running in as little as five minutes.
You can customize your storefront to your liking by changing the colour, navigation, adding unique logos, and adding information to make your store unique and enticing your customers.
Sellfy provides all the necessary tools that enable you to create an online store that will give your customers an incredible shopping experience.
Sellfy allows you to sell both physical and digital products. The platform atomically ships and delivers digital products such as graphics, eBooks, audio, and film once the order is confirmed.
You can sell any physical or digital products, provided they don't violate their policy.
However, when selling physical products, you will have to take care of shipping and the delivery costs for your products.
Sellfy accepts two online processing options, including PayPal and Stripe. These two integrated payment options allow you to access payment instantly from your clients.
This eCommerce tool has also integrated stringent security measures that ensure that client information is protected.
Some of these features include limited download attempts. PDF stamping and unique download links.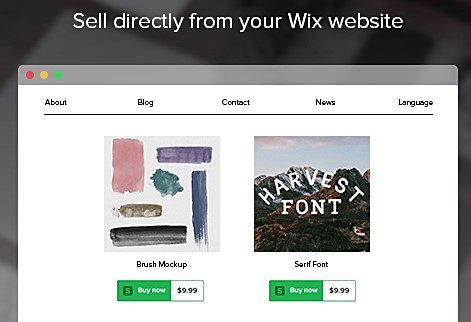 Sellfy has a unique sell download app that you can integrate on your already existing websites and start selling both digital and physical products for your websites.
However, you are required to pay $9.99 per month to use this app.
Sellfy has plenty of integration options created to help you run your digital store with ease.
Some of these integrations include Google analytics that allows you to monitor your shop performance, Zapier, Patreon, and Facebook live chat.
Pros
It is easy to use
It has excellent customer reviews and rating
Great customer support
Affordable
All in one platform
Instant payout
Cons
It has limited customization options
Limited payment gateways
What is Shopify?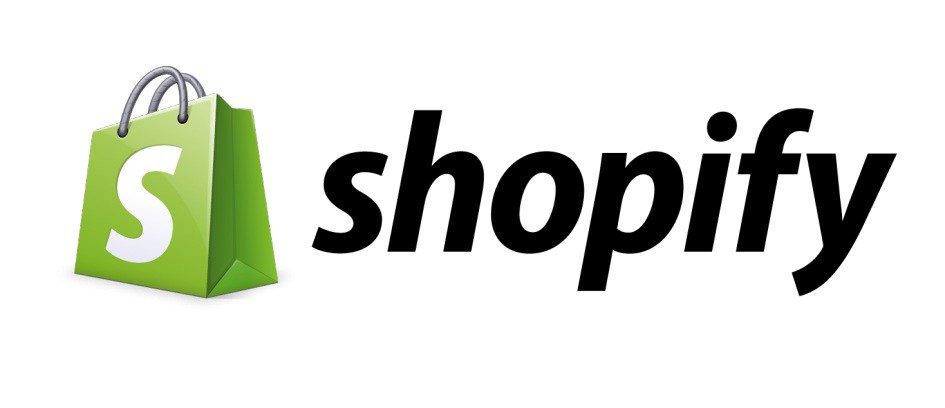 Shopify is an eCommerce tool designed to help online entrepreneurs and merchants create their online shop with ease.
It is an all in one eCommerce platform, meaning that it has everything that you need to help you create your online shop with ease.
Shopify is one of the most popular online eCommerce platforms, and it is currently used by over 1 million active users across the globe.
This digital tool has dominated the eCommerce platform because it is easy to use and comes with everything you need to run your eCommerce platform efficiently.
You can create your store in minutes with or without coding skills. Shopify is a hosted eCommerce platform meaning that you don't have to worry about purchasing web hosting or software installations.
You can also customize your store to make it unique and more attractive to your target audience.
Shopify features
Below are features that make Shopify a unique platform compare to Sellfy and every other eCommerce platform out there.
Shopify has customizable templates, and each one comes with an inbuilt setting that allows you to customize your store to meets your perfect needs.
Over 70 Professional Templates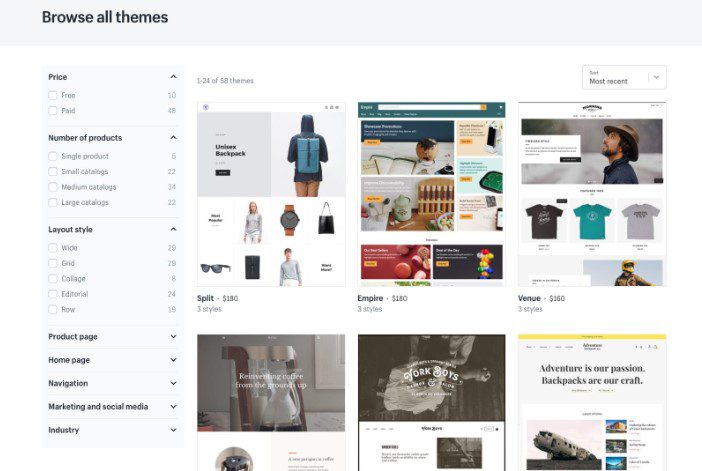 This eCommerce platform has over 70 professional themes. This means that you have a wide variety of options to choose from when selecting the perfect theme for your store.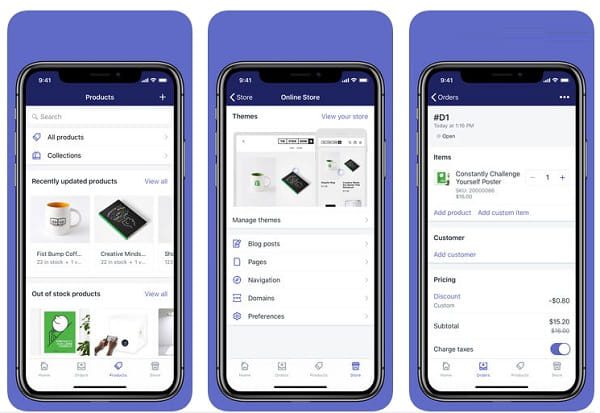 Your Shopify eCommerce store will be accessed easily by your clients via their mobile devices or smartphones.
Shopify has a built-in shopping cart that allows users to make a purchase easily using their tablets or smartphones.
The Shopify platform provides full access to HTML and CSS, allowing users to customize their digital shops with ease to meet their needs.
Over 100 Payment Getaways
Shopify has integrated over 100 payment gateways from around the globe. Some of the payment options include PayPal, Bitcoin, Stripe, and much more.
This eCommerce platform has integrated apps like Oberlo, Spocket, ShopMaster etc. that allows you to set up a dropshipping business with ease.
You can integrate all social media platforms, including Twitter, Instagram, Facebook, Tumblr, and Pinterest to your Shopify store.
Pros
Shopify is fully hosted meaning that you don't need to worry about the server cost and maintenance
It is an all in one platform
Friendly interface
Easy to use
24/7 customer support
Highly engaged community
Cons
Additional transaction fees for using external getaways
It does not have a free plan
Customization is limited to theme and platform capabilities
Sellfy Vs Shopify- Similarities
These are unique features that can be found on the two eCommerce platform
Both Sellfy and Shopify are all in one eCommerce platform equipped with many features that you need to create and run your online shop.
If you use any of these eCommerce platforms, you don't need to purchase a third-party tool, as it is usually the case with most eCommerce platforms.
They all have everything that you need to run your eCommerce store smoothly.
Both eCommerce platforms have put in place very responsive customer support. Sellfy has a knowledge base customer support and dozens of articles to help users who need help.
They also have live chats, ticketing stems, and phone for users who require additional assistance.
Shopify, on the other hand, has a vast collection of how-to articles, guides, and tutorials that provide solutions to problems that users may face.
They also have a 24/7 customer support that can be reached via a live chat, email, and phone.
Both eCommerce platforms have integrated analytic tools that allow you to track the most selling orders, observe transactions, and monitor your orders.
Sellfy is equipped with multiple analytic tools, including Google Analytics that enables you to monitor everything that is going on in your store in real-time.
You can track things such as your current sales, most ordered product, where most of your traffic is coming from, total revenue generated, and much more.
Shopify, on the other hand, also provides detailed analytic and reporting. It has a system that creates automated reports, including tracking products that are ordered the most, traffic sources, effective sales channels, and much more.
Both Sellfy and Shopify have done their best to make their platform simple and easy to use. The registration process for both platforms is easy.
Their dashboard is also straightforward and easy to use. The addition of products to the store is easy for both platforms.
One of the key selling points for both Shopify and Sellfy is their ease of use. Both platforms don't require users to have web development experience.
Most of their functions are fully automated, making it easy for users, including those with no prior experience, to use the platform with ease.
Sellfy vs. Shopify- Differences
Plans and Pricing
One of the main differences between these two eCommerce platforms is their pricing plans.
Both eCommerce platforms have a 14 day trial period that allows users to test the system before making their final decision. If you are satisfied with the platform, then you can choose your suitable plan.
Shopify Pricing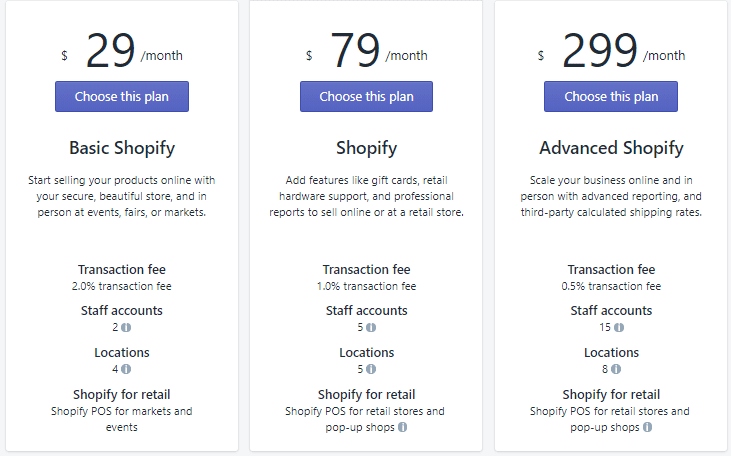 Shopify has four pricing plans. They include:
With the Shopify Lite plan, you can't have a complete online store. Instead, you can integrate with a pre-existing website or social media page, letting you chat with customers, accept credit cards, and create invoices.
This option is great for a hobbyist who already has an established corner of the internet, and no plans to expand. It costs just $9/month.
Basic Shopify -$29 per month
The Basic Shopify Plan is for users that are just starting a small business or trying to build an online storefront for an existing business.
If your store is tiny, and you just need a little eCommerce functionality, this is the plan for you. But if your products are expensive or you sell a lot of them, that pricey 2.9% + 30¢ transaction fee will add up fast.
Professional Shopify -$79/month
This is for small business with the aim of growing quickly. The Basic Shopify Plan includes more granular reporting data and features like gift cards and abandoned cart recovery.
A small business might not miss these features, but the bigger you grow, the more revenue you'll add. So, if your site currently returns around $3000 in monthly revenue, then this might actually be the plan for you.
Advanced Shopify-$299/month
If your business goal is to grow ten times bigger, then this plan might actually be what you need. It comes with stellar shipping, rock-bottom transaction fees, and even more advanced reporting.
The Advanced Shopify Plan designed for eCommerce store owners with monthly revenues of over $10,000. Yeah, it can pricey but it comes with is own advance features that can't be found on the preview plans.
Other Pronounced Features with the Advanced Plan includes:
Credit Card Rates – reduces marginally for higher plans
Transaction Fees – also reduces significantly for higher plans
Abandoned Cart Recovery – a very useful tool to help you earn more profits automatically.
Sellfy Pricing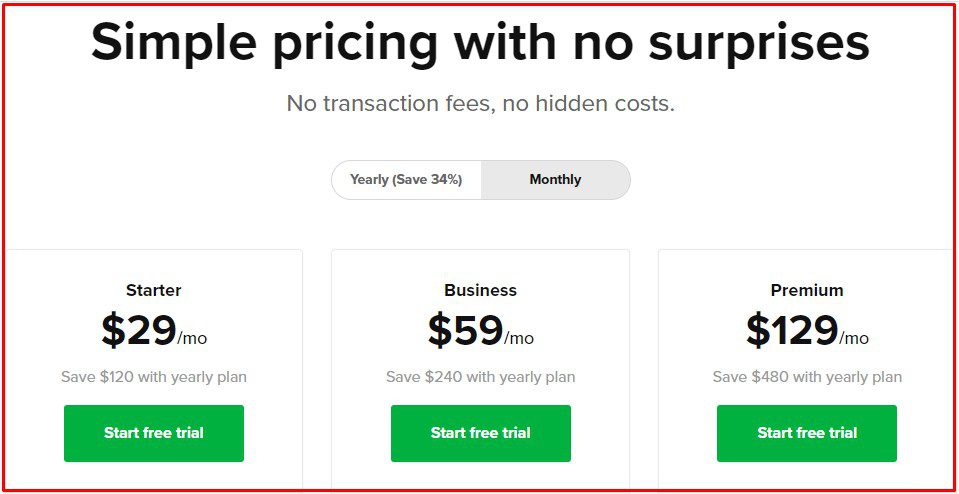 Sellfy has three pricing plans. They include
#1: Starter plan- $29/Month
This is the entry-level plan and is suitable for people who are just starting. The Starter Plan cost $29/month and offer a wide array of features including:
Up to 10,000 in sales per year
Unlimited products
0% transaction fee
Custom domain
Store customization
#2: Business plan- $59/Month
This plan is ideal for businesses that have a relatively large number of customers. The Business Plan costs $59 per month and offers the following features.
Up to 50,000 in sales per year
Product upselling
10,000 email credits
Custom domain
Store customization
Discount codes
0% transaction fee
#3: Premium plan – $89/Month
This plan is ideal for businesses that make huge amounts of sales each month. The Premium Plan costs $89/moth and offers the following features:
Up to $200K in sales per year
Discount codes
Store customization
50,000 email credits
Discount codes
Priority support
0% transaction fee
Unlimited products
Custom domain
Free migration
Customization
Both Shopify and Sellfy offer store customization features. However, the customization features that Shopify offers are much better than those that Sellfy.
Shopify is a fully functional eCommerce platform meaning that it has many tools that you can utilize to change the structure of your online store.
Shopify comes with over 70 professional and customizable templates that you can use to change the layout of your digital store.
Sellfy, on the other hand, does not provide much customization opinions to users. The platform has a basic shop builder that allows users to do basic customization like editing colours and styles.

Or modify header for their online store but does not provide readymade templates, as is the case with Shopify.
Payment options
Shopify has the upper hand when it comes to shopping options. Sellfy only provides two payment options:
On the other hand, Shopify provides over 100 payment options to its users, including;
Bitcoin
PayPal
Stripe
And much more.
So, if you are looking for an eCommerce platform that provides multiples payment options to its users, then Shopify is a great choice.
The limited payment option is one of the downsides of Sellfy.
Apps and add-Ons
Even though Sellfy has its app market, it has only integrated a few apps and add-ons, including Facebook pixels and Google analytics.
Sellfy also allows users to intergrade third-party apps.
However, when it comes to apps and add-ons integration, Shopify has the upper hand. It has plenty of apps and add-ons, including:
Helps desk
Shopping cart recovery
Business charts
And much more.
Sellfy vs Shopify:  Which one is better?
Both Sellfy and Shopify are incredible eCommerce platform designed to enable entrepreneurs to run their online store with ease.
They both have incredible features needed to allow you to run your online store with ease. Additionally, they are both simple and easy to use.
Sellfy is a great platform to choose if you are just starting. It is equipped with incredible features that will help you run your store with ease.
On the other hand, Shopify is ideal for creating a professional eCommerce store with advanced marketing tools.
We recommend that you consider your online store's individual needs when deciding which eCommerce platform to choose for your business.
But overall we find Shopify to be more sophisticated in terms of customization and integration with other apps.
Sellfy on the other hands happens to be more affordable overall compared to using the Shopify platform.
Which one would you prefer as your favourite eCommerce platform;
or
Let's hear your thought on this!