Sellvia Custom Store Review 2023: [PROS and CONS]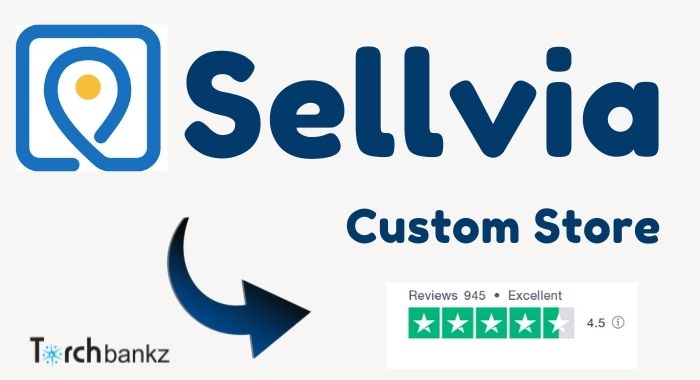 In today's post, we'll be looking at Sellvia Custom Store Review. We'll have a look at its features, pricing amongst other things.
This will allow you to know what to expect and if it's worth investing in.
The truth is, when it comes to dropshipping, some of the main factors that will guarantee your success includes having a well-designed eCommerce dropshipping store.
While the second thing is a reputable supplier of products. Quite often, most people struggle with finding a reputable wholesaler that will deliver goods on time.
The other problem is creating a functional and responsive online store, especially if you lack coding and web design skills.
However, what if I told you there is a platform that can address both of these issues?
Sellvia custom store is a service provider that promises to create a stunning eCommerce store for you.
And not just that, this team will also offer you a quick and convenient drop shipping service, which includes product sourcing and order fulfilment with just a click of a button.
But being a savvy entrepreneur, every business is worth reviewing, hence our Sellvia Custom Store Review. So in this post, we'll be covering all there is to know about Sellvia.
Let's get started, shall we?
What is Sellvia Custom Store?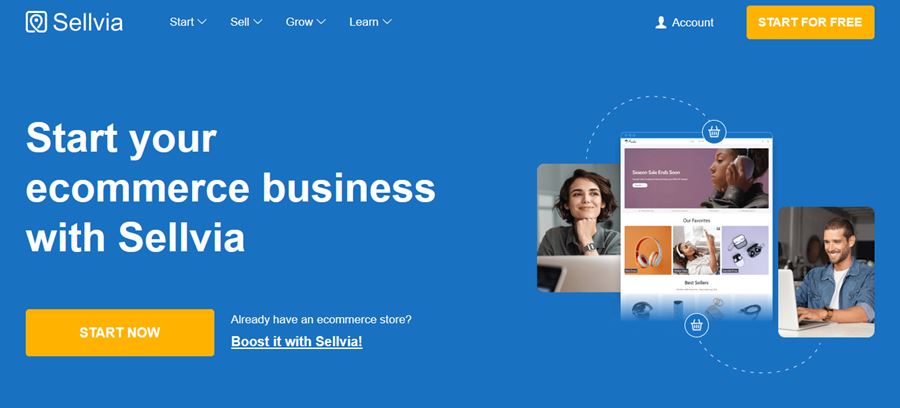 The Sellvia custom dropshipping store unlike their plugin is a full package store that's already built from scratch with product included.
All you need to do is get your login details to access the store after creation and start selling. It also comes with marketing materials to aid your marketing efforts.
However, to get one of the Sellvia customs made stores, you need to answer a quick questionnaire to allow them to know the kind of store you want them built for you.
This includes questions like the niche store you're interested in and your choice of domain name.
You'll also get to choose the kind of theme's you want, which includes both premium and free themes.
There's also an additional package for products in case you want more products in your store. This ranges from additional 100 products to 1500 products.
Finally, you can also specify if you want them to handle your social media marketing for your dropshipping website.
Once you're done with the questionnaire, it going to take exactly one business day for them to deliver the custom store.
After that, you can now integrate your payment gateway and start selling immediately.
NOTE: Sellvia custom store creation isn't the only service rendered by the company, they also have the Sellvia monthly subscription plugin for WordPress as well as Sellvia Shopify App.
I'll suggest you read my in-depth Sellvia review to have a grip understanding of the whole Sellvia dropshipping platform.
How Does The Sellvia Custom Store Works
Getting started with the Sellvia Custom Store solutions is fast and easy.
Because the Sellvia team is the one doing most of the work, all you have to do is make a subscription and wait for them to set up your store. And this is usually ready within one business day.
Here is how it works;
Step 1 – Subscribe to Sellvia Pro
The first step entails navigating to the official Sellvia website. There you will see an icon labelled as, 'Get my store for free. When you click on that icon, it should take you to the subscription page.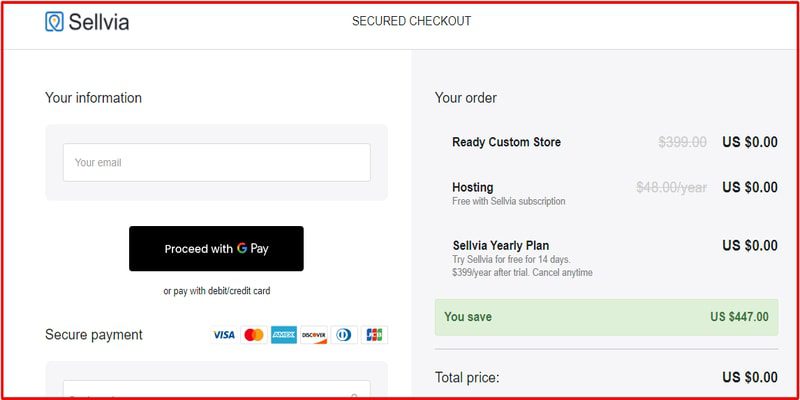 The good thing about Sellvia is that it comes with a free trial. Therefore, you don't have to worry about losing your money once you subscribe. You can always cancel the subscription and get your money back.
Step 2 – Fill Out a Survey
Once you are done with the subscription, the next step is to inform Sellvia about your interests. This is very important as it ensures the website created reflects your personality.
The team at Sellvia won't be able to proceed without your data from the survey.
You have nothing to worry about, the survey is a very short one and it's designed just to understand the niche that interest you. And also the domain name that'll be assigned to your store.
Step 3 – Let Them Do Their Job
When you are done sharing your preferences, Sellvia will start to create your website. It will be customized to reflect your interests.
During the creation process, Sellvia will give you a team line, and you can check in from time to time and track the progress. The store creation is usually done within 1 business day.
So you're definitely getting your store in the next 24hours after placing an order.
Step 4 – Become an Online Business Owner
That's how easy Sellvia makes it for you to become an online entrepreneur. Once your store is ready, they will contact you and give you access to it.
Best part? You can start selling immediately so far you have your payment gateway integrated to the website.
Sellvia Custom Store Features
Having understood the whole idea behind Sellvia, let's have a look at the key features of this dropshipping platform.
#1. Ecommerce Platform
Just like the popular Shopify, Sellvia gives you the opportunity to have an amazing eCommerce store hosted and ready to start selling.
This allows you to launch, host, run, and manage your eCommerce store on their platform – hence the reason they call themselves an ecosystem.
However, it is not compulsory to use their e-commerce platform to enjoy their services.
Sellvia also works with other e-commerce software like Shopify and WooCommerce. Everything you'll ever need to run a successful dropshipping store from scratch to finish is included in this platform.
Actually, they currently integrate with WooCommerce (WordPress) only while their Shopify integration is a work in progress.
#2. Done-for-you Dropshipping Store
Sellvia doesn't give you the dose of stress with setting up a store on their platform. They offer a Done-for-you service which is free.
Sellvia will set up a store for you to fit your requirement and niche without charging you for that.
The only thing you will pay is the subscription fee to use Sellvia. The good part is that, it also comes with 14 Days free trial to try out the platform and see if it any good at all.
Mind you, if you're very intentional with your business plan, chances are you can even make the custom fee before your free trials lapse. NB, this won't be the case for everybody.
So know what you're doing before engaging in any business plan.
#3. Products Catalogs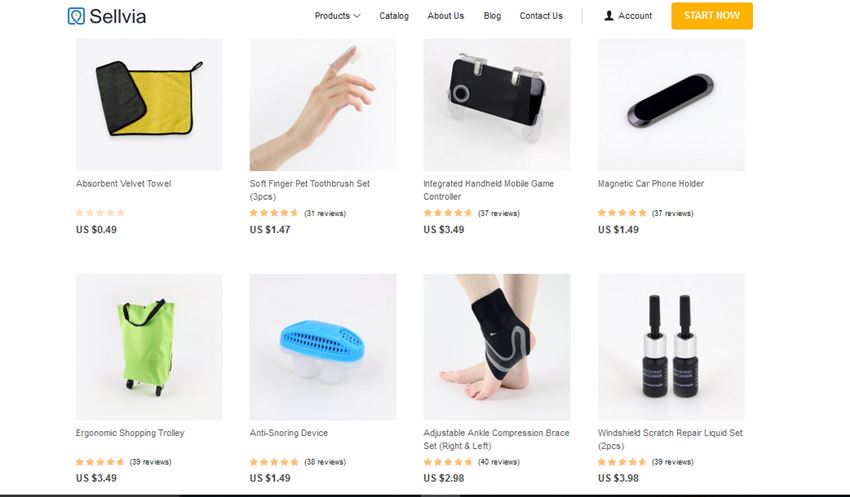 As if creating a functional online store isn't enough, Sellvia will also provide you with products. They have a warehouse in California that has all the products in their catalog.
Using Sellvia, you can add as many products as you want from their catalog.
These products come with pictures and detailed descriptions. Your job will only involve adding or removing products. The description part is already taken care of by Sellvia.
What's also interesting about the Sellvia catalog is the unique buyer reviews that come with each product. Each product comes with SEO friendly titles, clearly written product descriptions and high-quality product images.
So technically you don't need to do anything again once you imported any product to your store.
#4. Sellvia Logistics
Another reason why Sellvia is an all in one dropshipping platform is that it handles the stocks and the fulfilment of your orders across the USA.
Not only do you enjoy quick delivery, but it also helps you build a good brand image with your customers.
Think about it, most customers are impatient and this is usually the biggest reason I get charge-back on my store because of the long shipping time.
However, using Sellvia, it's guaranteed that your customers will definitely get their product in less than a week time.
This will reduce chargeback and also increase the overall experience of your customer causing them to return and shop again on your website.
No matter where your customers are based in the US, Sellvia will ensure that your customers receive their orders in the shortest time possible.
Sellvia's order fulfilment rate is relatively high. And they handle cargo carefully to ensure that it arrives in one piece. In case of any delivery issues, the support team is always around to offer assistance.
#5. Marketing/Ads Materials
Sellvia has streamlined the entire process of helping you become a successful online entrepreneur. Guess what accompanies each product? A ready-made ads materials.
We all know that advertisements is an excellent marketing strategy. However, getting started with ad campaigns takes time and a lot of effort.
With Sellvia, they have already done the research and tested each product themselves. What's left is the implementation of ads. This is easy, and it gives you the freedom to promote your products the right way.
The marketing materials include a preview of pre-designed Facebook ads copy which includes the product image and texts to display in the ads.
This is a rare feature in other dropshipping solutions. Most dropshipping companies that I know only provides you access to the product you want to sell and you are good to go.
But Sellvia makes it their responsibility to make sure you sell the products by providing ads materials you can use to easily scale your business.
With this, all you need to do is to edit the ads copy and run whether on Facebook or Instagram.
#6. Fast shipping Badge
The fast shipping Badge is a visual that provides estimates of the shipping days and other shipping details that your customers should know.
The options under the Fast Shipping Badge include:
Activate FAST shipping Badge – this is the option that allows you to either activate the shipping Badge or deactivate it. When you activate it, it becomes visible to customers in the US.
Processing Time – Sellvia allows you to add processing time for products. The processing time tells your customers the time or days it takes to process an order.
Arrives By – This option allows you to give your customers an estimated delivery date to expect their orders.
This option can either be activated or deactivated.
Ensure to put public holidays and weekends into consideration when adding estimated delivery dates.
Free– this option is for you if you offer free shipping to your customers but if that isn't the case, then deactivate this option as it's always the default option.
Color settings – this setting allows you to make changes to the text and icon colors.
#7. One-click Import
Sellvia offers a One-click Import feature that allows you to import additional products into your store with just a click. Sellvia will also import the product images and descriptions into your store.
As mentioned earlier, all of these can be done with just a click of a button. All you need to do is specify the category to which you want the product to be imported on your website.
After that, you can import as much as your website can contain at no additional cost and all with just a click of a button. It is also worth mentioning that the same thing applies to order fulfilment on your website.
Whenever a customer placed an order, you can fulfil it with just a click of a button and the Sellvia team carry with the rest of the process on your behalf.
What is Included in The Sellvia Custom Store?
Below are what to expect after successfully placing an order for the sellvia custom dropshipping store.
These are extra products and services that come with the Sellvia custom store package.
#1. Sellvia Plugin
The first thing that you will get as a Sellvia client is the Sellvia plugin. This tool allows you to import products from the company's catalog to your store.
This is a process that takes seconds. Secondly, it also enables users to transfer orders from clients to Sellvia.
#2. AliDropship Plugin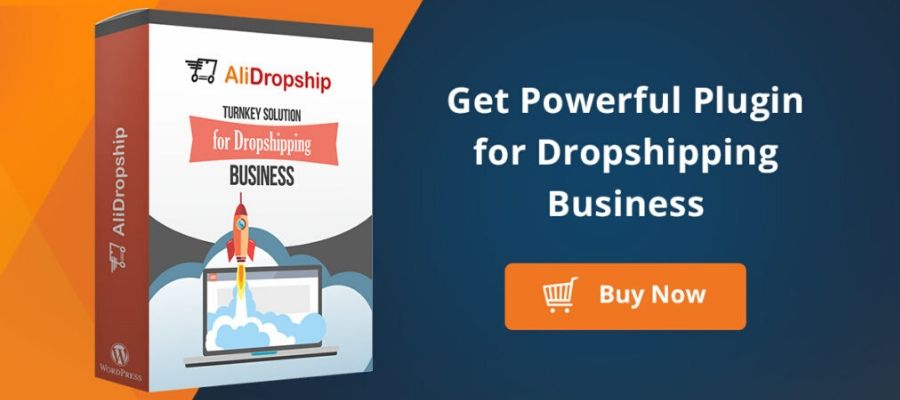 Most platforms similar to Sellvia can limit where you source products for their own gains. However, this brand has a very different approach.
When you subscribe, you receive an AliDropship plugin. This tool enables you to add products from AliExpress.
As a result, you can complement the products from Sellvia with others that they do not have in their catalog.
Using this feature, you can ensure you have every product in demand in your niche and ship products to other countries Sellvia couldn't ship to.
#3. Branded Social Media Accounts
It is essential to improve brand awareness as you run your online store. To support your efforts, Sellvia will design and create branded social media accounts for you.
They will also include social media widgets into your website based on your preferences.
You can also use these accounts to increase user engagement and brand awareness on Facebook and other social media platforms.
#5. Best Selling Products
As you will see later on, most products on the Sellvia catalog are in high demand. This is because the majority of the products have been tested and sold themselves.
This is also the reason they readily have marketing materials for each product because every product is tested and researched already.
#6. Personal Manager and Lifetime Support
Every Sellvia account user has a unique account manager you can reach out to in case you need clarification on any matter concerning your store.
You'll also have lifetime support access in case you needed help with your online store and issue that has to do with Sellvia
#7. Mobile and SEO Friendly Store
The majority of internet users prefer mobile devices over desktops. Your website must be mobile-friendly if you want to appeal to such a group.
Sellvia custom stores are optimized to be very responsive on mobile devices, thus improving user experiences and increasing your store conversion rate.
#8. Amazing Design
Before subscribing, feel free to check some of the Sellvia website designs.
They are outstanding. During the survey, you'll be able to choose your store template design.
And their store design is one of a kind when it comes to WordPress or Woocommerce store customization.
Sellvia Pricing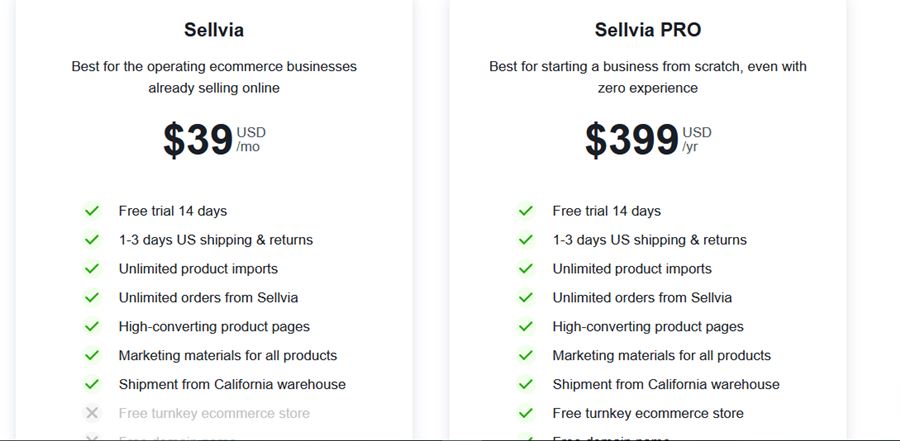 The Sellvia offer starts with a 14-day free trial to try out their software after which you can settle for their monthly plan which costs $39/month.
You get to save $78 when you purchase the annual plan which costs $399.
The latter package is best for those that don't want to stress themselves. It comes with everything you'll ever need to be successful on the platform.
Heck, the store is also built for you free of charge using the two weeks trial that comes with the custom store package.
A store manager will also be assigned to you that you can easily shoot an email whenever you need clarity on anything.
Sellvia Custom Store Review: Pros
Here are some of the things to love about Sellvia:
#1. Reduced Risks
Dropshipping generally is known to have lower risks involved as you don't stock products or buy in bulk – instead, you have an intermediary fulfil the orders on your behalf.
However, some of the risks it comes with are poor branding and you are at the mercy of suppliers.
If a supplier fulfils your orders with low-quality products, your business won't be able to stand the test of time.
This is one of the major risks dropshippers face and Sellvia solves this problem uniquely.
Sellvia vets its supplier and also partners with them.
They buy the products in bulk from suppliers and store them, this not only reduces the likelihood of running out of stocks but also reduces the risk of dealing with bad suppliers.
According to statistics, 80% of dropshippers find the early stage of finding suppliers the hardest part of dropshipping.
With Sellvia, you don't have to do the finding or searching anymore.
You're only dealing with one company which is Sellvia. They do their due diligence in sourcing products from their tested and trusted suppliers.
#2. Affordable Good Quality Product
One of the benefits of not having to deal with suppliers directly and having an intermediary like Sellvia take care of it is that you'll get good quality products.
Before stocking their warehouse with products, Sellvia does its due diligence to ensure they are getting only quality products.
About affordable and cheap wholesale products, most people, believe the place to get this is on AliExpress, but with Sellvia you'll be wrong about that.
The image below is a wholesale product on AliExpress and the price goes for $28.65 which will also be shipped from the united states.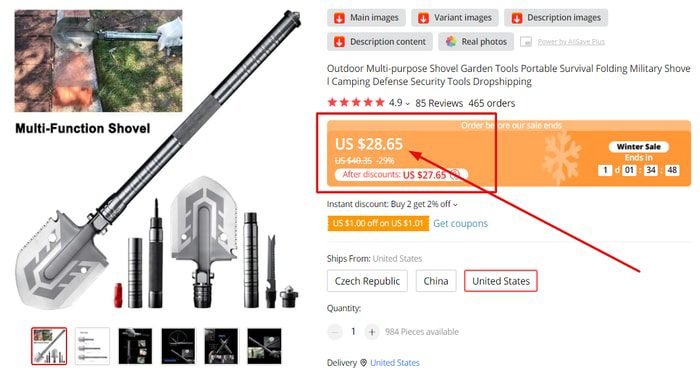 Now, let's compare this to another wholesale product on Sellvia which will equally be shipped from their US warehouse then compare the price together.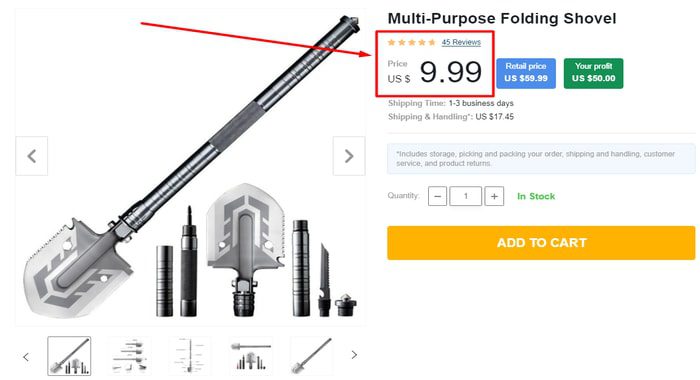 From the image above, you can see the same product that cost $28.65 on AliExpress can be gotten for $9.99 on Sellvia.
Looking at the Sellvia image closely, you'll also see that the retail price goes for $59.99. Meaning you'll be making a whopping $50.00 profit on each of these products that you sell.
Sellvia Cons – Its Limitations
Sellvia isn't without limitations. It also lacks in some areas.
#1. Doesn't Support Global Delivery
Although it is a plus that Sellvia ships products across the US faster and better, it is at the same time a con that it doesn't support global shipping.
So if you run a global dropshipping store, then Sellvia might not be able to fulfil all.
However, since it comes with the AliDropship plugin you can use that to fulfil your global orders directly on AliExpress with just a click.
Conclusion
I personally have a store with Sellvia and I've been enjoying their services every bit of the journey.
So if you're considering launching your own dropshipping business with minimal stress from your end then I'll suggest you go with Sellvia.
It comes with unique designs and products you can start selling immediately. All you need to do is connect your payment gateway to receive payment from your customers and you're good to go.
Learn More: