5 BEST Sellvia Marketing Tools For Dropshipping
In today's post, I'll share with you 5 best Sellvia marketing tools you can use to boost your Sellvia dropshipping store sales.
I know how it feels after launching your store only to discover there's actually little you can do to promote it.
This is where the Sellvia marketing tools come into play to give your business the necessary boost it needs.
You might be thinking you don't need these tools…
But if you really want to scale and you care about the long-term profit of your dropshipping store then you might want to look into some of these.
Just look through one or two you think can provide the value you need for your store to make more sales and get it.
That said, let's explore the Sellvia marketing tools and see what they offer.
5 best Sellvia marketing tools
Below are the best Sellvia marketing tools you can use to optimize your dropshipping store with the Sellvia platform.
SEO Packages
Social Media Packages
Brand Awareness and Promotion
Promo Tool Bundle
Email Marketing Set-Up
#1. SEO Packages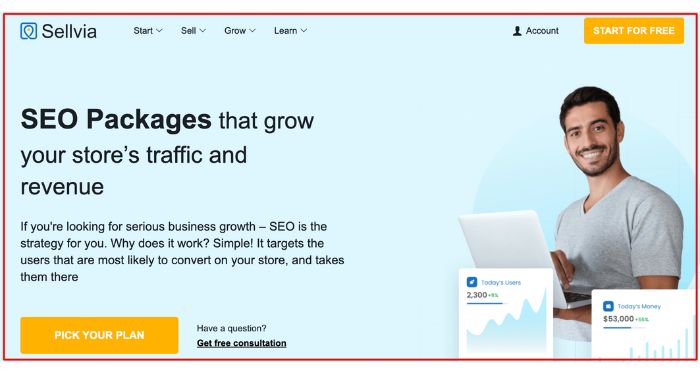 Sellvia features a wide array of SEO packages useful for improving and optimizing your store's rankings and performance on search engines.
The packages come in three different plans – Silver, Gold, and Platinum, with Platinum and Silver being the most and least expensive respectively.
Each plan provides methods for growing traffic, engaging visitors, and boosting the credibility of your store.
Also included in every plan is a perfect fit custom SEO strategy for your dropshipping store.
Putting in mind your goals for the business, professional assistance from a first-class support team to answer all your questions, and a free consultation with experts to guide you in making the right choices.
#2. Social Media Packages
Sellvia's social media packages ensure you find your store's target buyers on social media.
Irrespective of where they may be, either Facebook, Twitter, Instagram, or Pinterest by helping you to create a professional account, with attractive content posted regularly for a given period.
The packages are available in three different plans;
Silver,
Gold,
And platinum.
The platinum plan offers the best promotional resources of the three.
All packages provide your dropshipping store with the maximum possible outreach.
Coupled with engaging and compelling posts that promote your store and products, and of course, professional help to answer all your questions.
Sellvia's social media packages help you reduce the stress and hassle of setting up your store's page or business account on social media.
#3. Brand Awareness & Promotion
Sellvia advertises your store online to millions of internet users by leveraging the powers of influencer marketing.
It leverages guest posting, promo articles on google news, press release writing, and distribution on various news outlets.
They spread the word and give vast exposure to your store.
Whichever plan you choose; silver, gold or platinum, expensive or cheap, you will get – top-notch promo materials.
This package helps in putting your brand out there. The truth is, to make a killing with dropshipping you need lots of eyeball on your store.
Doing this yourself with no experience will barely have any effect on your store. Why not Sellvia with years of experience? This is where their expertise comes into play.
#4. Promo Tools Bundle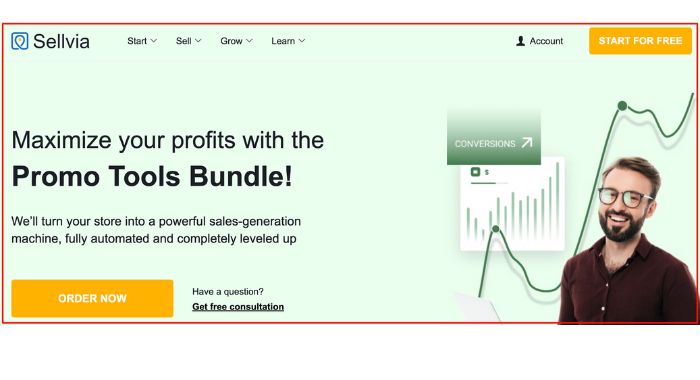 This feature enables you to maximize your store's profits by boosting conversions, automating complex processes, and generating a higher order value.
The promo tools bundle increases conversions by using strong motivational tactics like F.O.M.O (The fear of missing out).
It also works by providing reminder emails to your shoppers for abandoned carts, as well as giving a well-understood presentation of your products and services to buyers.
Included in every promo plan are tools that will motivate shoppers to order more of your goods or services.
From having an increased income to creating a top brand image with unwavering customer loyalty, Sellvia's promo bundle tool boosts your store's performance and engagement.
Sellvia's email marketing setup provides store owners with tools and resources to convert visitors into paying customers.
This feature includes tools like signup forms, coupon codes, lead generation popups, and various email marketing resources.
#5. Email Marketing Setup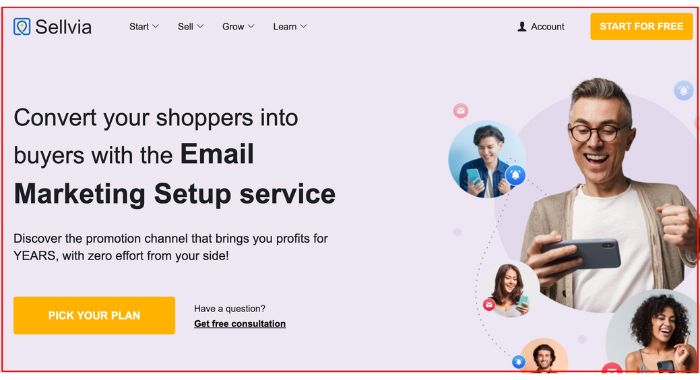 There are three plans available, with each providing lead generation tools and resources.
This also includes hot deals to convince buyers, custom-made email templates to help in designing marketing campaigns, detailed instructions on how to use tools, and professional advice on how to set up campaigns.
Sellvia's email marketing setup ensures you get over 100% return on your investment by helping you optimize your emails to perform better and give maximum results.
Conclusion
Whichever of Sellvia's marketing tools you require to help boost your sales and profits, you can be sure that you will be getting the best for your dropshipping store from it.
With powerful setups and professional advice, Sellvia might be the perfect fit for your dropshipping store to give a high return on your investments.
Including good customer service, profitable resources, and a wonderful user experience, Sellvia offers you nothing but the absolute best.
Feel free to share your thoughts using the comment section.