Sellvia Pricing: Packages, Plan and Free Trials [+ Discount]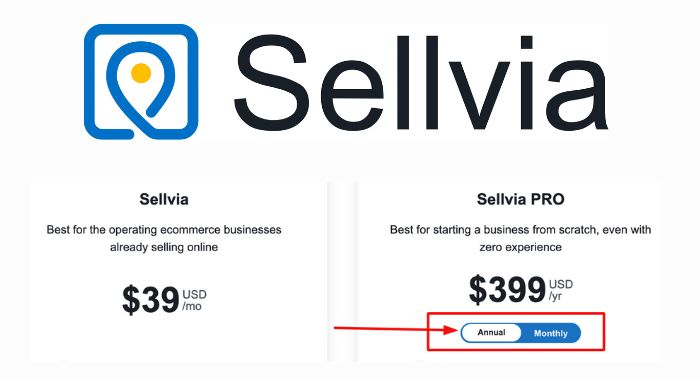 Are you looking for the complete breakdown of Sellvia Pricing plans and packages? If yes, then you are in the right place.
Checking out Sellvia pricing plans shows that you want to start a dropshipping business using the Sellvia tool.
In dropshipping, the bulk of your work is to promote different products, send orders to product suppliers and ensure that your customers get their packages.
Nonetheless, it might not be easy to carry out this process as simple as it looks.
You certainly need tools like Sellvia to ease the work processes.
If you will like to know more about the Sellvia tool itself, we have written a detailed Sellvia Review for you to learn more about it.
However, the question is; which of the Sellvia Pricing plans and packages should you opt for?
In this article, I'm going to discuss everything about the Sellvia pricing plans and packages in detail.
The good part of this tool is that it comes with a Free 14-day trial. You can start with the free trial and thereafter, decide if it's the right platform for you.
So let's check it out.
Sellvia Pricing (Monthly Cost, Features & Breakdown)
#1. Sellvia – $39/month
Below are some of the features that come with this plan;
Free 14-day trial
Sellvia comes with a free 14-day trial that you can operate the platform on and then see if it is right for you. After the 14-day trial, you can then decide if you want to upgrade to any of the pricing plans.
In the process of signing up for the free trial, your card details would have been collected.
This will help the fee for your chosen plan to be easily deducted.
However, when it is getting to the expiration of the 14-day trial and you feel like you no longer want to proceed with the plan, you can easily cancel so that the subscription will not be deducted.
Unlimited Orders
This plan allows you to take as many orders as you desire from Sellvia. Sellvia is an e-commerce system on its own which makes it a good platform for different marketing activities.
As much as there are a lot of people selling via the platform, we also have varieties of people coming in there to make purchases. This has come to be a result of the integrity the platform has built over the years.
Therefore, Sellvia connects with you lots of orders.
Unlimited products to import
Being a widely used platform, the number of products that you can import into your store is unlimited. Having different varieties of products in your store increases the number of orders.
This is because you are always providing what someone needs at one point or the other.
Not all platforms give avenues for unlimited products. They have a specific number of products you can import especially for a beginner plan like this.
High-converting product pages
What is the essence of a product page that will not convert?
As much as it is important to have good products in your store, having product pages that would interest your customers should be another point of consideration.
Without a high-converting product page, you would not be able to sell your quality products.
Sellvia's product pages are highly converting. This is because it has been designed with making great sales in view.
The product page comes with the following;
Product titles are generated based on what people are looking for in the search icons. The titles are clear and catchy.
Product images. The images of the products are of high quality. Having quality and attractive images is another feature of a product page that spikes customers' interest in your store.
Product Descriptions. This is why most dropshippers seem to have challenges. Writing a good product description that converts requires a certain mastery of copywriting. A good product description does not just describe the physical features of the product; rather it explains how the product can be of benefit to the customers. This is exactly what the customers are interested in knowing.
Sellvia has taken this burden off your shoulder. The platform has a professional copywriter who does this job for you.
Product reviews
Sellvia makes it easy to import customers' reviews from the platform pages into your page.
Reviews are a good way to build credibility for your brand. It makes other customers believe that the product offers the benefits it claims to have in the description.
Not only that, it is an online transaction, therefore, customers want to be sure that the products will be delivered as and when due.
Reading past reviews from customers about this gives them a certain level of confidence and peace.
All these are what make the product pages high-converting.
1-3 days shipping from the US
Once an order is received, Sellvia processes it within 24 hours regardless of the quantity and the order is sent out.
It takes about 1-3 days to ship products across the US.
Once the order is shipped, your customers get a tracking number that they can use in monitoring the process. Sellvia also has a Fast Shipping badge that can help increase your profit by about 45%.
Also important to note that Sellvia packages are always neatly done and so your customers' products are safely delivered.
Then, the dropshipping prices of Sellvia are lower compared to some other popular stores. This makes it easily affordable for your customers.
Technical support
Peradventure you get stuck with setting up your store or any of the processes involved in getting your business running, Sellvia has technical support that can be of help.
#2 Sellvia Pro – $69/month
This pricing plan consists of all the features in Sellvia, including;
Free Turnkey e-commerce store
This plan comes with a free domain name and hosting which you will use freely for the next 1 year. Thereafter, you will be asked to renew it. You need the names to build your e-commerce store.
It is very much helpful if you are just starting an e-commerce business. You would have generated enough revenue to be able to renew the hosting after 1 year.
Apart from offering free hosting, Sellvia builds an e-commerce store for you from the scratch.
Everything your store needs to kick-start is already made available.
You have all the products in stock and you can also import new ones and marketing materials that will help you get up and running.
For those that build their e-commerce store from Sellvia without the Sellvia subscription, it costs them $447. This is what you get to save when you subscribe to Sellvia.
Remember that the pricing plan comes with a 14-day free trial as well, it is possible to have successfully set up your store even before the expiration of the free trial.
On-site SEO
Sellvia is also known for its prowess in On-site SEO. You need your site to rank on search engines. More importantly, your product page should easily pop up whenever any product you sell is being searched for.
When your website ranks high on search engines, it improves its credibility. The SEO feature comes with;
High-quality SEO backlinks
SEO articles
Classified ads posting
Quora answers
Social bookmarks
All these will help to attract more visitors to your store and also keep them engaged. More visitors mean more sales.
Beyond this, Sellvia comes with different SEO packages that you might want to leverage to suit your business needs better.
Professional design
The designs of your e-commerce store also go a long way in boosting sales. There is this confidence that customers have in you when your set-up reeks of class and professionalism.
From the build-up of the store to the designs on each compartment to the layout of the product images, Sellvia gives your brand a good touch of professional designs.
Email integrations
It is an established truth that email marketing remains one of the best forms of marketing. Sellvia comes with an email integration that can help you convert random store visitors to customers.
The email integrations are fully automated. It starts with a lead generation system that collects your visitors' emails as they get to the site.
Thereafter, it sends them email campaigns and other follow-up emails will follow suit.
Sellvia mostly makes use of MailChimp and on signing up for this plan, you will be enlightened on how best to make use of MailChimp for more profitable use. It also comes with different email templates that you can use to set up your email campaigns.
Store manager with free consultations
When you opt for this plan, you have a store manager that is attached to you. He gets to answer all your questions more specifically. You could also set up consultations with your manager at no cost.
Niche research
Peradventure you have no idea on what niche to venture into yet, Sellvia got you covered. Sellvia has a display of highly profitable products and their niches from which you can decide.
Sellvia recommends a niche that has a lot of people who want the products but fewer sellers to offer them. This reduces competition with your brand.
You can also make your decisions from the marketing materials that Sellvia offers.
Difference between Sellvia and Sellvia Pro
Here, I am going to highlight the differences between Sellvia and Sellvia Pro.
On Sellvia Pro, you get a free turnkey (Ready-to-use) e-commerce store. This is not available for Sellvia
Sellvia Pro allows you to own your domain name and hosting. These you can use in setting up your website and e-commerce store.
Sellvia Pro comes with email integrations that Sellvia does not.
Sellvia Pro helps you to increase your search ranking by improving your On-site SEO. Sellvia can also improve your search ranking because of its high-converting product page but it is not as pronounced as Sellvia Pro.
Subscribing to Sellvia Pro grants you access to a personal manager that can handle your day-to-day questions. The Sellvia plan only provides you with technical support.
With Sellvia Pro, you can set up your payment gateways. Sellvia does not do this.
Sellvia does not have an annual plan, Sellvia Pro has.
In all, Sellvia is a good plan if you already have your e-commerce store operating online. However, if you have zero experience in an e-commerce business, Sellvia Pro will be a better option.
It will assist you from scratch in the business till you become a bestseller.
If you are already in operation as an e-commerce business but cannot afford the pricing plan for Sellvia Pro, you could start with Sellvia and later upgrade. In another way, you leverage the discount you get by switching to a yearly plan.
See how to get this Sellvia discount below.
Sellvia Discount: How to Switch to a Yearly Plan For Discount
If you'll purchase Sellvia yearly plan, then you'll save $429 on Sellvia Pro.
How then do you get this huge discount? Follow these simple steps to get started on assessing the discounts on Sellvia Yearly Plans.
Click on this special link. It will take you to the special discounted pricing page of Sellvia
Now, click on the Annual Discount Tab. Choose the Sellvia Pro annual plan as opposed to the monthly to get started.
Sellvia Pricing FAQ
Below are some of the most frequently asked questions about Sellvia pricing and the whole platform in general.
Is there a Sellvia Free trial?
Yes. The Sellvia and Sellvia Pro come with a 14-day free trial. When signing up, you only need to sign up for a free account.
How to cancel Sellvia Subscription?
To cancel your Sellvia subscription, go to your Sellvia account. Then, go to the settings icon down left.

It will display the subscription settings and other settings. On the top right corner of the subscription panel, you will see CANCEL. Click on it and your subscription is cancelled.

However, your subscription status remains active and you can still enjoy all the Sellvia features until the expiration of your payment.
How to Upgrade Sellvia Membership?
Go to the settings icon in your Sellvia account. On the subscription panel, you simply click on Sellvia Pro if you are already on Sellvia. There, it upgrades you to Sellvia Pro.
What is the Sellvia Payment method?
Sellvia accepts payments in different ways- Credit/Debit Card, PayPal and also cash on delivery.
Final thoughts on Sellvia Pricing
The essence of this article is to give you a breakdown of the Sellvia Pricing Plan so that it will be easy to understand what you are signing up for.
I believe this article did justice to that.
Sellvia is suitable for you if you are already into the business or if you are just starting. Sellvia gives you access to all the data you need to give your business a game-changer.
You will be able to target and reach the right audience with SEO techniques and high-converting product pages.
Deliveries to your customers are done between 1-3 days.
Having known all these, you can easily choose any of the Sellvia plans that you want.
Peradventure you still feel uncertain about the tool; I will recommend that you go for the Sellvia free trial immediately to see what your business would be missing out on.
You May Also Like: