Sellvia Review: Real User's Experience 2023 [Pros and Cons]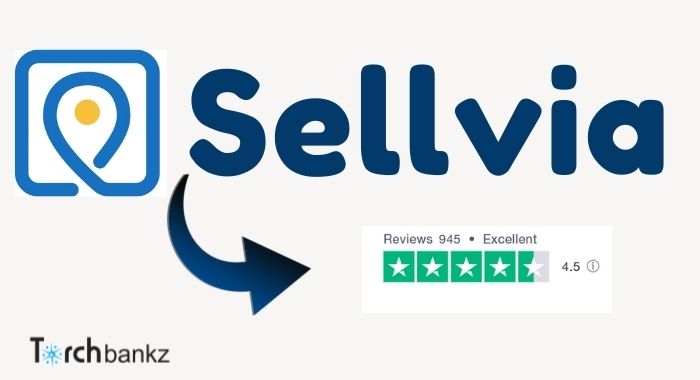 In today's article, I'll be covering Sellvia review. One of the latest dropshipping suppliers in the industry.
Sellvia is a unique eCommerce solution that uniquely solves dropshipping needs offering you both Done-for-you and done-with-you services.
As an eCommerce entrepreneur and dropshipper, I have used several dropshipping solutions including Sellvia.
And in this sellvia review, I'll share my thoughts about using Sellvia and who it is best for, its features, plans, and downsides.
The truth about dropshipping is that it might sound fascinating when you think about the business idea, but the actual success comes down to your supplier.
The supplier plays the larger role.
They are responsible for the quality of the products, the shipping experience, and most especially, your overall customer experience.
So it is very important you know what you're doing when choosing the supplier responsible or in charge of your dropshipping business.
Because this will determine your success in this business model whether you like it or not.
So sit tight as we both dissect this sellvia review to see if it's worth it or not.
Let's get started, shall we?
What is Sellvia?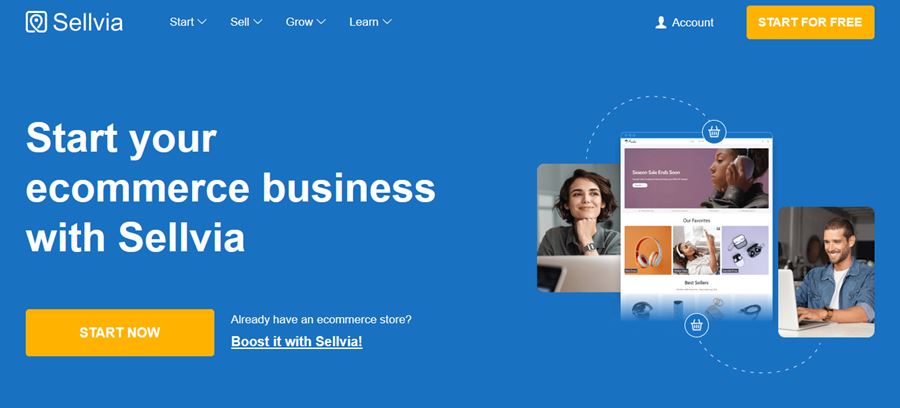 Sellvia is a software that brands itself as a complete e-commerce ecosystem. It offers everything you need to start an eCommerce store and dropship products across the US.
What makes it unique is its Done-for-you and done-with-you approach. Sellvia is both an eCommerce platform and an eCommerce supplier for the US market.
In other words, it replaces Shopify (an eCommerce platform) and allows you to build and manage your store with their software.
It also replaces Aliexpress which is the most popular marketplace dropshippers use to source their products.
If you currently dropship, there's a high chance that Aliexpress is your preferred product source because of its big catalogs of affordable products.
However, a downside to Aliexpress is how slow their shipping is when shipping to the US and other countries.
Sellvia, on the other hand, is a software that operates in the US and ships products across the US faster than Aliexpress does.
This is the most selling feature of Sellvia and when you consider how large and profitable the US market is, you know it's worth it.
How Does Sellvia Work?
You can benefit from Sellvia services in two different ways.
You can either subscribe for the Sellvia yearly 'Done-For-You' custom dropshipping store or get the Sellvia monthly subscription plugin to your existing WordPress/WooCommerce site.
Using either will connect your store to the Sellvia warehouse located in the US.
Whenever you receive an order, you can easily fulfill it with Sellvia and have it delivered within 1 – 3 business days.
Now let's talk about the TWO packages available in sellvia. This include:
The Sellvia Monthly Subscription plugin
And the Yearly Subscription Ready-made Dropshipping Store.
#1. Sellvia WordPress Plugin
The Sellvia WordPress plugin can be downloaded after subscribing to their monthly service that cost $39 a month.
After downloading the plugin, you'll need to install it on your website and start using it to process order directly on the Sellvia website.
However, before you can start using it you'll need to activate the plugin by entering your API key that will be sent to your email after you've successfully purchase the plugin.
The image below was my public key and secret key when I purchase the plugin.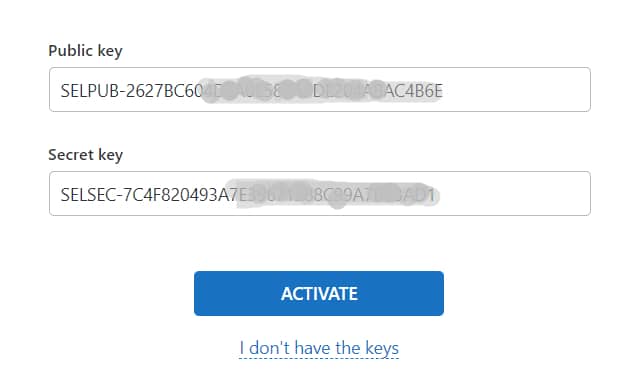 Once you've entered the API keys and activated them, you can start using the plugin seamlessly.
To import products, you'll see the list of products available on the platform. You can also explore them by categories.
Once you've seen the products you'll like to import to your store, you'll need to select the category at which you want the product to be imported to on your website.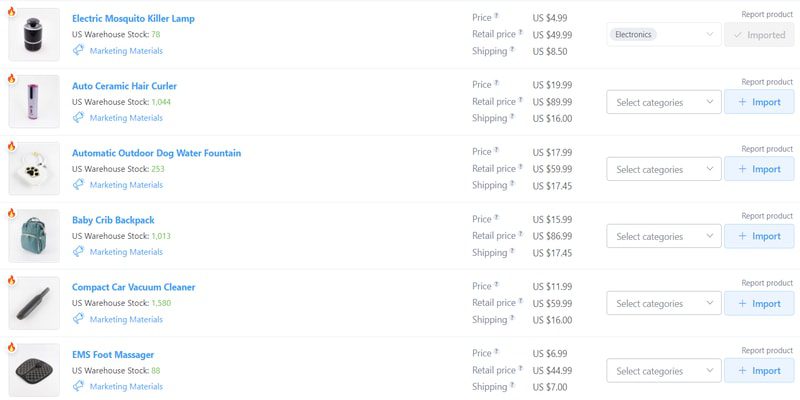 All these can be done with just a click of a button, even fulfilling the products after a customer has placed an order.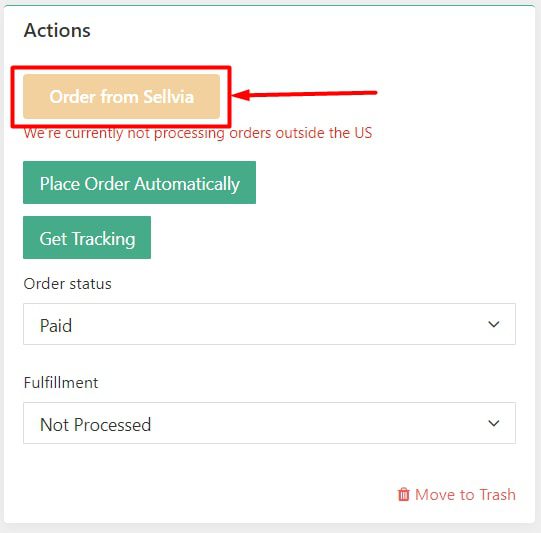 However, you need to understand that the plugin can only process orders from the united states.
Every order from other countries can be fulfilled by the AliDropship default plugin via AliExpress automatically.
So to fulfil with Sellvia, all you need to do is click 'Order from Sellvia' as you can see from the image above.
#2. Sellvia Custom Dropshipping Store
The sellvia custom dropshipping store unlike their plugin is a full package store that's already built from scratch with product included.
All you need to do is get your login details to access the store after creation and start selling. It also comes with marketing materials to aid your marketing efforts.
However, to get one of the Sellvia customs made stores, you need to answer a quick questionnaire to allow them to know the kind of store you want them built for you.
This includes questions like the niche store you're interested in and your choice of domain name.
You'll also get to choose the kind of theme's you want, which includes both premium and free themes.
There's also an additional package for products in case you want more products in your store. This ranges from additional 100 products to 1500 products.
Finally, you can also specify if you want them to handle your social media marketing for your dropshipping website.
Once you're done with the questionnaire, it going to take exactly one business day for them to deliver the custom store.
After that, you can now integrate your payment gateway and start selling immediately.
Sellvia Review: Features
Here are some of the key features that you get when you subscribe to Sellvia. This includes what makes them unique or what you should be on the lookout for if you're ever going to be using the platform.
#1. Ecommerce Platform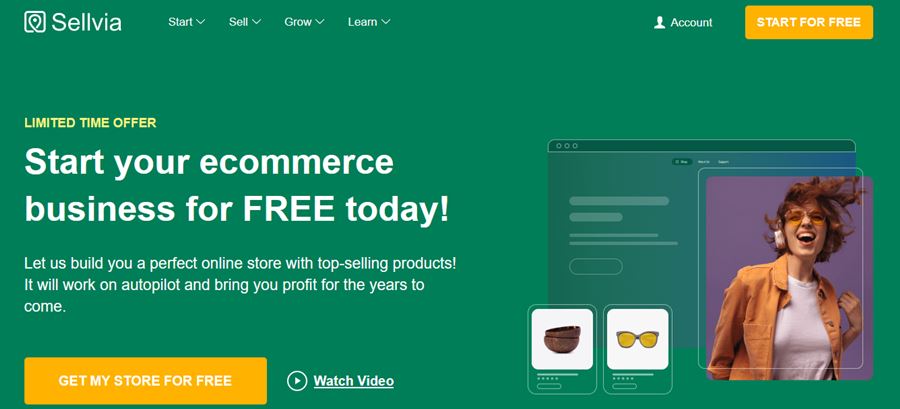 Sellvia offers an eCommerce platform that allows you to launch, host, run, and manage your eCommerce store on their platform – hence the reason they call themselves an ecosystem.
However, it is not compulsory to use their e-commerce platform to enjoy their services.
Sellvia also works with other e-commerce software like Shopify and WooCommerce. Everything you'll ever need to run a successful dropshipping store from scratch to finish is included in this platform.
Actually, they currently integrate with WooCommerce (WordPress) only while their Shopify integration is a work in progress.
#2. Done-for-you Dropshipping Store
Sellvia doesn't give you the dose of stress with setting up a store on their platform. They offer a Done-for-you service which is free.
Sellvia will set up a store for you to fit your requirement and niche without charging you for that.
The only thing you will pay is the subscription fee to use Sellvia. The good part is that, it also comes with 14 Days free trial to try out the platform and see if it any good at all.
Mind you, if you're very intentional with your business plan, chances are you can even make the custom fee before your free trials lapse. NB, this won't be the case for everybody.
So know what you're doing before engaging in any business plan.
#3. Sellvia Products and Catalogs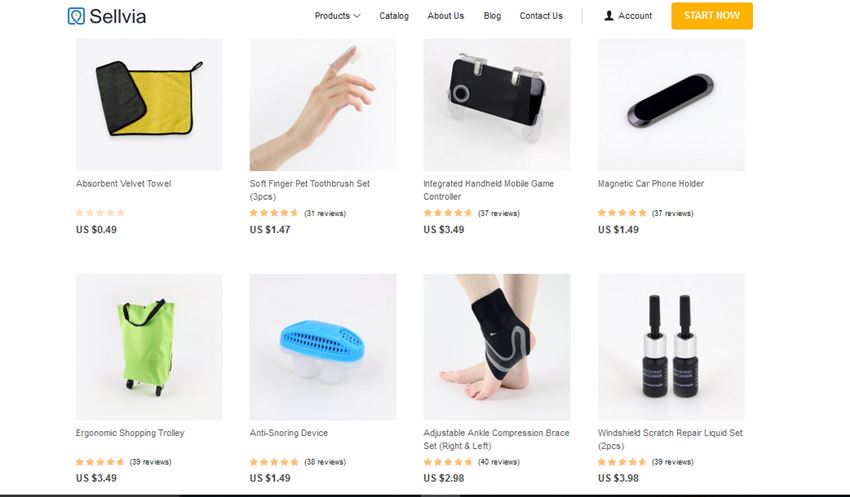 A key feature of Sellvia is its product catalogs. It has products from various categories and also offers good and profitable deals.
Its product categories include Auto, Family store, fashion, festive, gadget, health & beauty, home & garden, hoodies, kids & babies, Made in USA products, outdoors, pets, and sport.
What's also interesting about the Sellvia catalog is the unique buyer reviews that come with each product. Each product comes with SEO friendly titles, clearly written product descriptions and high-quality product images.
So technically you don't need to do anything again once you imported any product to your store.
#4. One-click Import
Sellvia offers a One-click Import feature that allows you to import products into your store with just a click. Sellvia will also import the product images and descriptions into your store.
As mentioned earlier, all of these can be done with just a click of a button. All you need to do is specify the category to which you want the product to be imported on your website.
After that, you can import as much as your website can contain at no additional cost and all with just a click of a button.
#5. Pre Designed Marketing Campaigns
Sellvia provides pre-designed marketing materials that make it easy for you to create and set up ads campaigns for your eCommerce store.
The marketing materials include a preview of pre-designed Facebook ads copy which includes the product image and texts to display in the ads.
This is a rare feature in other dropshipping solutions. Most dropshipping companies that I know only provides you access to the product you want to sell and you are good to go.
But Sellvia makes it their responsibility to make sure you sell the products by providing ads materials you can use to easily scale your business.
With this, all you need to do is to edit the ads copy and run whether on Facebook or Instagram.
#6. Sellvia Logistics
Another reason why Sellvia is an ecosystem is that it handles the stocks and the fulfilment of your orders across the USA.
Not only do you enjoy quick delivery, but it also helps you build a good brand image with your customers.
Think about it, most customers are impatient and this is usually the biggest reason I get charge-back on my store because of the long shipping time.
However, using Sellvia, it's guaranteed that your customers will definitely get their product in less than a week time.
This will reduce chargeback and also increase the overall experience of your customer causing them to return and shop again on your website.
#7. Sellvia Plugin
This is for dropshippers and e-commerce store owners that use a third-party e-commerce platform like WooCommerce.
Sellvia offers a plugin that allows you to use Sellvia with WooCommerce (WordPress).
So you don't have to move your store to Sellvia to enjoy their services. Their plugin gives you access to all the features and services needed to run your dropshipping business.
The Sellvia app for merchants using Shopify is also coming soon.
#8. Sellvia Shopify App
The sellvia Shopify app is the Shopify version of the Sellvia plugin that allows you to automatically import and fulfil orders easily.
This is particularly good for those that prefer the Shopify eCommerce store over WordPress and WooCommerce.
So with the App, they will have the opportunity to do exactly everything the app can do using their Shopify store.
Which includes access to Sellvia US-based suppliers and fast logistics services.
Below are what to expect with the Sellvia Shopify app:
1-3 business days US shipping
Best-sellers products
huge profit margins
Lower prices than on AliExpress
uniquely designed product pages
#9. Automation Tools
Besides the aforementioned, Sellvia offers automation tools that allow you to automate some aspects of your eCommerce business.
The most common automation it offers is order placement.
Whenever a customer orders a product on your store, Sellvia automatically forwards the order to their fulfilment centre to fulfil the order on your behalf.
There are many other automation you'll find on Sellvia.
#10. Fast shipping Badge
The fast shipping Badge is a visual that provides estimates of the shipping days and other shipping details that your customers should know.
The options under the Fast Shipping Badge include:
Activate FAST shipping Badge – this is the option that allows you to either activate the shipping Badge or deactivate it. When you activate it, it becomes visible to customers in the US.
Processing Time – Sellvia allows you to add processing time for products. The processing time tells your customers the time or days it takes to process an order.
Arrives By – This option allows you to give your customers an estimated delivery date to expect their orders.
This option can either be activated or deactivated.
Ensure to put public holidays and weekends into consideration when adding estimated delivery dates.
Free– this option is for you if you offer free shipping to your customers but if that isn't the case, then deactivate this option as it's always the default option.
Color settings – this setting allows you to make changes to the text and icon colors.
#11. Refunds and Returns are Allowed
One of the downsides to dropshipping is the fact that you as a store owner can't defend the quality of products your supplier ships to your customers.
And hence, there are chances of refunds and returns, and a scenario where the refund process is complicated, prospective customers will look elsewhere.
Aliexpress for instance has a complicated return and refunds process and your best bet to keep your brand clean is to find a trustworthy supplier. However, the case is different for Sellvia.
Sellvia offers a simple refund and return process. Given that it's based in the US and only ships across the US, it is able to manage orders and refunds much more effectively.
Hence, it is a company you can rely on to keep your brand clean and trustworthy.
Sellvia Pricing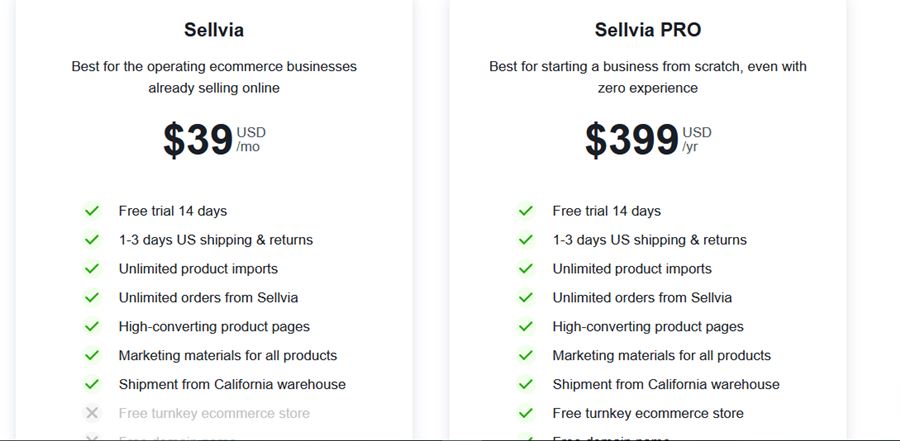 The Sellvia offer starts with a 14-day free trial to try out their software after which you can settle for their monthly plan which costs $39/month.
You get to save $78 when you purchase the annual plan which costs $399.
The latter package is best for those that don't want to stress themselves. It comes with everything you'll ever need to be successful on the platform.
Heck, the store is also built for you free of charge using the two weeks trial that comes with the custom store package.
A store manager will also be assigned to you that you can easily shoot an email whenever you need clarity on anything.
Sellvia Review: Pros – What I Like About It
Here are some of the things to love about Sellvia:
#1. Reduced Risks
Dropshipping generally is known to have lower risks involved as you don't stock products or buy in bulk – instead, you have an intermediary fulfil the orders on your behalf.
However, some of the risks it comes with are poor branding and you are at the mercy of suppliers.
If a supplier fulfils your orders with low-quality products, your business won't be able to stand the test of time.
This is one of the major risks dropshippers face and Sellvia solves this problem uniquely.
Sellvia vets its supplier and also partners with them.
They buy the products in bulk from suppliers and store them, this not only reduces the likelihood of running out of stocks but also reduces the risk of dealing with bad suppliers.
According to statistics, 80% of dropshippers find the early stage of finding suppliers the hardest part of dropshipping.
With Sellvia, you don't have to do the finding or searching anymore.
You're only dealing with one company which is Sellvia. They do their due diligence in sourcing products from their tested and trusted suppliers.
#2. Affordable Good Quality Product
One of the benefits of not having to deal with suppliers directly and having an intermediary like Sellvia take care of it is that you'll get good quality products.
Before stocking their warehouse with products, Sellvia does its due diligence to ensure they are getting only quality products.
About affordable and cheap wholesale products, most people, believe the place to get this is on AliExpress, but with Sellvia you'll be wrong about that.
The image below is a wholesale product on AliExpress and the price goes for $28.65 which will also be shipped from the united states.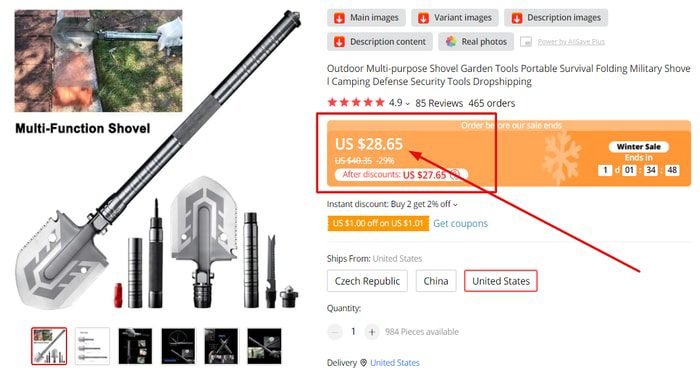 Now, let's compare this to another wholesale product on Sellvia which will equally be shipped from their US warehouse then compare the price together.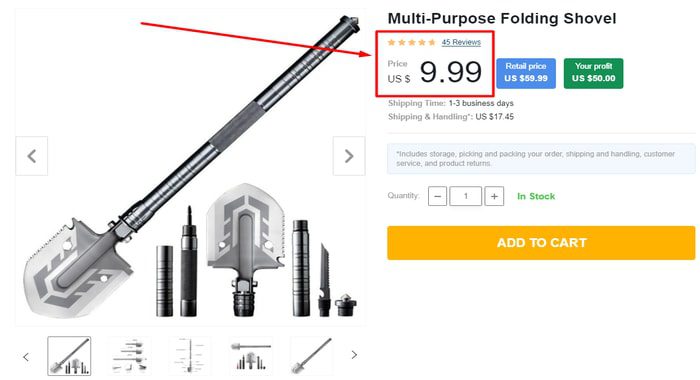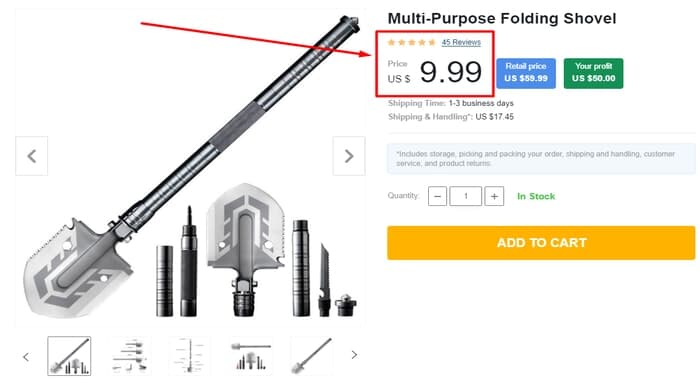 From the image above, you can see the same product that cost $28.65 on AliExpress can be gotten for $9.99 on Sellvia.
Looking at the Sellvia image closely, you'll also see that the retail price goes for $59.99. Meaning you'll be making a whopping $50.00 profit on each of these products that you sell.
#3.Top-Notch Packaging
Sellvia offers top-notch packaging for products they ship to your customers.
You can rely on them to do well with the packaging. Sellvia protects your brand by not including any name on the packaging and the product. The packaging is neat, plain, and attractive.
#4. Free Courses
This is another goldmine that makes Sellvia a very unique platform, your subscription to their service also comes with access to their premium dropshipping courses.
There are several dropshipping courses that cost over a thousand dollars. But with Sellvia, you don't have to worry about courses anymore, because what's provided is good enough to take you all the way.
Sellvia Cons – Its Limitations
Sellvia isn't without limitations. It also lacks in some areas.
#1. Doesn't Support Global Delivery
Although it is a plus that Sellvia ships products across the US faster and better, it is at the same time a con that it doesn't support global shipping.
So if you run a global dropshipping store, then Sellvia might not be for you.
Another option is to use Sellvia to attend to your US-based customers and use Aliexpress any other solution that supports global shipping.
#2. You Don't Have Direct Access to Suppliers
Direct access to suppliers can either be an advantage or a disadvantage.
The disadvantage here is that you can't negotiate for a cheaper price (even though it already comes cheap).
Also, if you could negotiate with a supplier, you might be able to take your dropshipping to the next level by having the supplier print your name on the product packaging materials, etc.
Although these are the demerits for not allowing direct access to suppliers, I wouldn't give this much weight as it is a way of protecting store owners.
#3. Limited Available Products
No matter how many products Sellvia claims to have, it can't be up to the number offered by Aliexpress.
By using  Aliexpress, you might feel restricted by the fewer products on Sellvia when compared to Aliexpress.
Sellvia claims that it only provides best-selling products. So in that case, you can trust their lead.
Sellvia Review: FAQs
Let's look at the common frequently questions usually asked on Sellvia.
Can I Use Sellvia with Shopify?
You can't use Sellvia with Shopify as they are still working on the integration.
To use Sellvia with Shopify, you'll have to use it alongside Alidropship.
Is Sellvia legit?
Absolutely! Sellvia is legit and a trustworthy platform for dropshippers and e-commerce store owners.
How Much Does Sellvia cost?
The Sellvia monthly plan cost $39/per month and this includes unlimited product imports and orders from Sellvia catalog with 1-3 days US shipping,
The Yearly Plan cost $399/per year and this includes 1-3 days US shipping, unlimited product imports, and orders from Sellvia catalog.
How do I cancel my subscription on Sellvia?
If for one reason or the order, you'll like to terminate your subscription to Sellvia, all you need to do is contact them at support@sellvia.com and have them cancel your subscription.
Conclusion
If you really want a sustainable dropshipping that target the united states with a guaranteed excellent customer experience, then you definitely need to go for sellvia.
I personally use it myself and the experience as being wonderful.
That's it on Sellvia review. Let me hear your thought using the comment section below.