Sellvia SEO Package Review: Grow Your Store Traffic
In today's post, we are going to be exploring Sellvia SEO Package Review. Sellvia is an e-commerce dropshipping solution provider.
It is a great platform for dropshippers and entrepreneurs in the e-commerce niche.
Sellvia offers different packages in its e-commerce solution. One of which is the Sellvia SEO Package.
As an e-commerce entrepreneur, you do not just want to have an online store that has low visibility.
The more visible your store gets, the more traffic; which in turn leads to more sales.
One of the ways to gain more visibility is having your store Search Engine Optimized (SEO).
This is one of the packages that Sellvia offers when you use the tool.
In this review, we are going to explore everything you need to know about the Sellvia SEO Package.
You will get to see how it works and what you stand to gain in the package.
Let's delve right into it.
What is Sellvia SEO Package?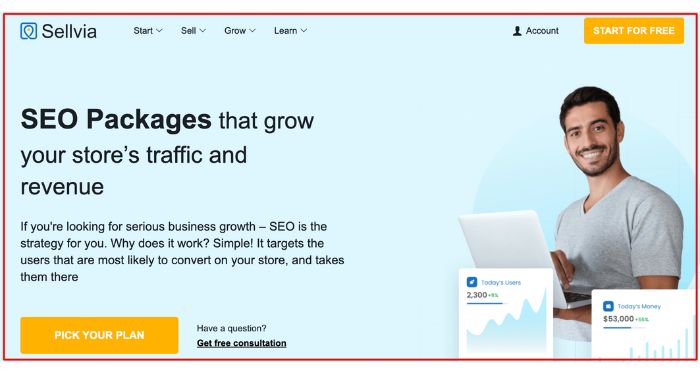 The Sellvia SEO package is one of the packages designed by Sellvia for your e-commerce business.
SEO is an important part of any Web business and Sellvia knows this.
Sellvia has built SEO expertise for over 11 years and has shown a Google rank growth of 100%.
This is to show you that when it comes to SEO, Sellvia has proven to be the best.
The Sellvia SEO package helps you to build organic traffic to your store.
With good and stable traffic being driven to your store, you will not need to spend extra money on paid ads.
Once you sign up for any of the packages, Sellvia submits your domain name to Google and other top search engines.
This will boost the influx of traffic to your store. The SEO package also comes with writing SEO articles for your website.
You know how important content marketing is to businesses.
Sellvia does not just create marketing content and articles for you, it makes them rank on top sites such as Google.
Probably you are not sure why you need SEO for your e-commerce business. Let's look at some of the reasons.
Benefits of SEO for E-commerce Dropshipping
#1 Increases Brand Awareness
What is the essence of a brand that is not seen?
When your e-commerce site is Search Engine Optimized (SEO), it means that it is easily seen on Search Engines.
Anytime there is a Search query around what you do, your site pops up as a solution to the query.
This helps you to drive sustainable and quality traffic to your site.
It is quality in the sense that you will have more visitors that are ready to buy what you sell.
The traffic is also sustainable because you will continue to see the results of the efforts you have put into SEO over a very long period.
All you need to do is to keep your content and website updated. Most investment is done at the earlier stage.
It is an advantage over Paid Search because, in Paid Search, you have to keep paying the ad provider before you can generate traffic.
The more traffic you get, the more your brand begins to show up in other web conversations.
Even when the search is not directly targeted toward your site, the Search Engine will still display yours alongside the results.
This will make your website look like an alternative to the other website.
In case the other website does not satisfy the customers, they can always visit yours.
#2. Improves User Experience
As an e-commerce business owner, improving the user experience of your site is one of the things you should pay attention to.
Once your site's user experience is well optimized, it skyrockets your rankings.
When users enquire on any of the search engines, they look for websites that have an immediate answer to what they are looking for.
This is why SEO will help you to use keywords that people are searching for.
Once you use those keywords, it will help your website rank on the first page of Search Engines, especially Google.
Research has it that only 0.78% of users proceed to visit the second page of Google's search results.
Therefore, ranking on Google's first page should be every e-commerce business owner's desire.
SEO does not just help you to use the right keywords in your subject line alone.
It guides you in optimizing your content such that when users get into your website, they get their needs met.
If users visit your site and immediately get back to the search results, it means your site could not provide answers.
Google then assumes that your site is not relevant to the search. This can in turn affect your Google rankings.
But with SEO, you have the right suggestions to avoid such situations.
#3. Boosts Brand Trust
Trust is a necessary ingredient in business. Customers want to buy from brands that they find reliable and trust.
This is easily achievable with on-site businesses.
When it comes to dealing with customers online, extra efforts need to be put into reposing customers' trust in your brand.
One way to boost brand trust is by increasing your rankings on Search Engines, especially Google.
This is where SEO comes into play. Everyone trusts Google and Google in turn, only ranks websites that it trusts.
When your website ranks higher on Google, people automatically trust you.
The higher your website ranks, the more the trust. There is a feeling it gives users that your website has been in existence for a longer period.
It also gives the notion that since your website is ranking that high, a lot of customers must have been patronizing your brand.
When you have a lot of people trust you and buy your products, they would also leave reviews on your site that encourages others to buy.
You already know how important customers review can be to businesses. The more reviews you have on your site, the more trust customers have in your brand.
#4. Helps to build a remarketing audience
As an e-commerce business owner, remarketing is a powerful tool you should leverage.
In remarketing, you install a smart data collection piece on your website. It helps you to capture the details of all the visitors to your site.
You will then use the details generated to target the visitors and remarket to them.
A case study is this,
If you sell kitchen equipment in your store and you had visitors who spent a long time on particular equipment.
However, they left without buying the equipment.
Staying long on the equipment might mean that they have a level of interest in it.
You can then strategize on how to remarket that equipment to them by running ads on social media platforms that you know you are likely to reach them.
They would see the equipment and visit your store again. This time around, they might decide to make the purchase.
As you have visitors who come in to buy your products immediately, you have ones that visit but can still become buyers in the long run.
This is sales all-around.
These visitors can only visit your website when it is seen. SEO helps to drive this traffic to your site.
Sellvia SEO Package Features
So when you get the Sellvia SEO package for your dropshipping store, what should you expect?
Below are a few features of the Sellvia SEO package for your dropshipping business.
#1. Search Engine Rankings
Sellvia SEO helps you to rank on Search Engines such as Google, YouTube, Bing etc.
If you are not versed in the usage of SEO, it might be difficult to get your website to rank high.
We already made mention of why your website should rank higher on Search Engines.
If you have to study everything you need to know about SEO, it might take all the time you need to focus on the other aspect of your business.
With Sellvia SEO features, you do not have to worry so much about that.
All it does is bring the best suggestions to you, you follow them and you are good to go.
It also saves you the cost of having to employ an SEO analyst for your website.
#2. SEO Articles
Sellvia helps you to create SEO content for your brand and products. Content marketing is one of the best marketing tactics.
When people find your content valuable, they subconsciously love your brand. They want to check what you have to offer.
This feature also works by;
Guest posting on relevant sites with high traffic with your store's link attached. The more people visit that high-traffic site, the more people visit your store from there.
Publishing articles about your brand on Google News sites. This is one of the biggest news networks that people visit. Having your brand on it will boost the credibility of your brand.
Writing irresistible product overviews for your products. When your product overview is compelling, it drives customers to buy them.
Submitting the product overviews to directories. Sellvia SEO has a way of submitting your product overviews to people who are willing to buy and has the purchasing power to buy.
#3. White hat SEO
The White hat SEO is a body that approves all Search Engine Optimization tactics to be sure they are following the approved methods.
This body helps to distinguish between organic search results and paid search results.
The white Hat SEO helps to improve your search rankings on the search engine results page (SERP) without breaking any rules.
It achieves this by;
Increasing your site's loading speed. Humans generally have a short attention span. Once it takes users a long time to access your site, they leave for another. You already know what it means to Google when people immediately return from your site to the Search Results.
Improving navigations on your site. Users can easily access all the pages on your site.
Using meta tags that are descriptive and rich in keywords. The meta tag is the short description directly below the headline in search engine result pages (SERP). Your meta tag goes a long way in determining if users will click on your website or not.
Sellvia only makes use of SEO strategies that complies with the rules and guidelines of Search Engines.
#4. Social and Promo Backlinks
Sellvia drives massive traffic to your store through its social and promo backlinks.
Sellvia places your store on significant social bookmarking sites such as Pinterest, Twitter, Google Bookmarks, Reddit, Tumblr and so on.
This will help people to easily save your store to visit it later. People visit social bookmarking sites when they want a more refined search.
When you have your store on such sites, it is most likely that the visitors you get from there are the serious-minded ones.
This of course also places you in a better position on Google.
Sellvia also creates ads for your store and thereafter posts them on about 50 American classified sites.
If you would ask me, that is a huge marketing strategy employed by Sellvia.
Sellvia answers questions with relevant answers for you on Quora.
If you know Quora, you would realize that it is one of the world's most popular Question and Answer sites.
#5 Increase Domain Authority
Sellvia helps in building your domain page such that it places you in a better position on Google.
It works on your Off-page and On-page SEO.
When your websites are ranking high and you have a huge traffic – base, you become an authority in that niche.
This is coupled with the articles and Quora answers that the platform creates for you. People begin to look up to you as a professional in your niche.
How Much is Sellvia SEO Package?
Here are the different pricing plans for Sellvia SEO Package;
Silver – $399
The features in this plan include;
100 high-quality SEO backlinks
1 guest post with backlinks
1 product review writing
Articles submissions to directories
Increase domain authority
50 classified ads posting
10 answers on Quora
50 social bookmark
5 business days delivery time
Detailed report
Gold- $699
This plan includes everything in Silver, including:
200 high-quality SEO backlinks
2 guest posts with backlinks
1 article on Google news sites
2 products review articles writing
100 classified ads posting
30 answers on Quora
100 social bookmarks
5,000 social signals
7 business days delivery time
Platinum- $999
This plan includes everything in Gold, including;
300 high-quality SEO backlinks
3 guest posts with backlinks
2 articles on Google news sites
3 products review articles writing
200 classified ads posting
30 websites Coupon codes submissions
50 answers on Quora
200 social bookmarks
10,000 social signals
8 business days delivery time
You could select any of them according to how developed your business is.
However, if you are looking for mind-blowing results in your e-commerce business, you should opt for the Platinum Plan.
Sellvia SEO Package Review: Pros and Cons
below are the pros and cons of the Sellvia SEO package.
Pros
drives quality and sustainable traffic to your website
saves you the cost of hiring an SEO analyst
saves you the time of getting your website to rank by yourself.
It is reliable
It generates fast results
It works for any type of website
Cons
Not easily affordable
Has no free trial
Sellvia SEO Package Review: Conclusion
A lot has been said about the Sellvia SEO package so much that by now, you understand why Sellvia had to include SEO as a full package.
Sellvia SEO Package is a complete package.
Even if you have zero experience with the use of SEO and how it works, Sellvia SEO got you covered.
Even if you do not have a Sellvia website or purchase any of the Sellvia plans, you can still purchase the Sellvia SEO Package.
You can start with the least plan and gradually upgrade as the need comes.
Why lose out on the huge traffic that would have been driven into your store today?