Sellvia Vs AliDropship: Best For Dropshipping?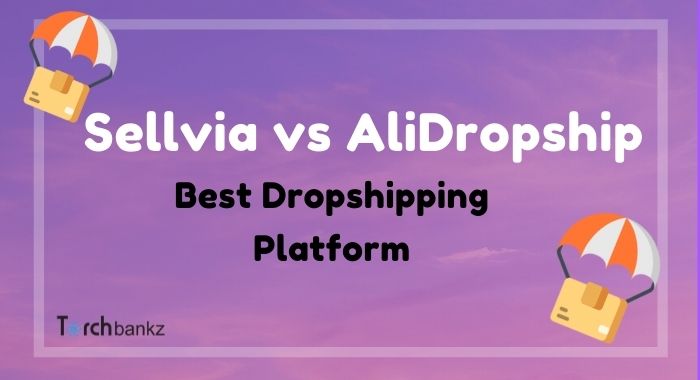 Dropshipping is an order fulfillment business model that doesn't require a store owner to keep the product it sells in stock. Instead, the store owner sells the products and passes the order to the supplier who fulfills the shipment.
It is however in opposition to the contrary belief system that you can make money overnight from this business model. Why? Because there's more to it than meets the eye.
Yes, it appears to be free money – you sell other people's products and you take a cut for yourself each time you make a sale. But when you consider all the drawbacks, like day-to-day management of your store, things can be far from easy and be hard work.
If you approach dropshipping with the right strategies, tools, it can still help you build a sustainable business in the long run.
And this is why we are looking into Sellvia vs AliDropship. 
Both owned by the same parent companies they've left a mark in the dropshipping industry. One is known to be the best with AliExpress while the other is known to be lightning FAST with product delivery in the US.
The latter being Sellvia major in the US, that is, they can only sell and fulfill orders in the US, while AliDropship through the help of AliExpress can sell both to the US and other countries.
However, using AliExpress, you'll still need to consider the issue of longer shipping time. So as it is, it seems they are both unique in their area of specialization alongside their area of shortcomings.
So in this article Sellvia vs AliDropship, we'll be splitting everything you need to know about the two platforms, their strenth alongside their weaknesses.
What Is Sellvia?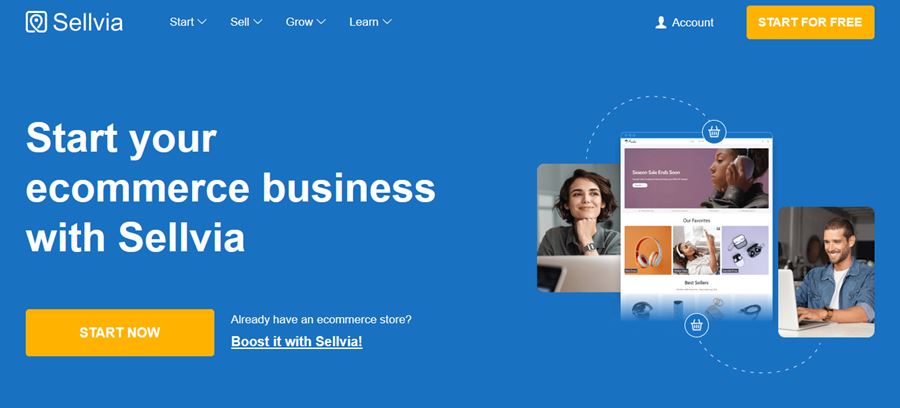 Sellvia is a newer dropshipping platform that brand itself has a complete solution for dropshippers, both beginners and pros.
The one platform Sellvia is an ecosystem that includes all the eCommerce, custom service, and marketing features you need to start, run and grow your internet dropshipping business.
Sellvia makes it possible for you to create your own internet store and also helps you in running the day-to-day activities of your dropshipping business.
With Sellvia, the only thing you are entitled to do is to handle the sales ends while the team behind Sellvia handles the remaining ones.
However, I must say that Sellvia is only good for dropshippers who are looking to tap into the US market. 
The reasons are clear; 
Sellvia has its own order fulfillment center in California as well as being a US supplier-based company. All products sold within the US market are delivered within 1-3 business days.
I've written an in-depth Sellvia review here, in case you'll like to learn more about the platform.
What is AliDropship?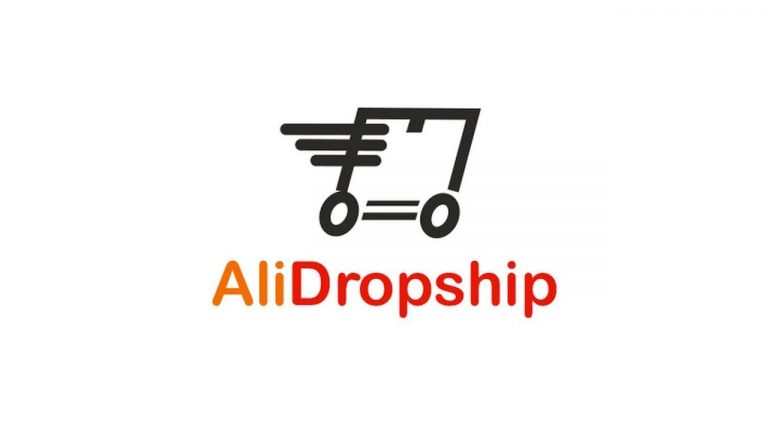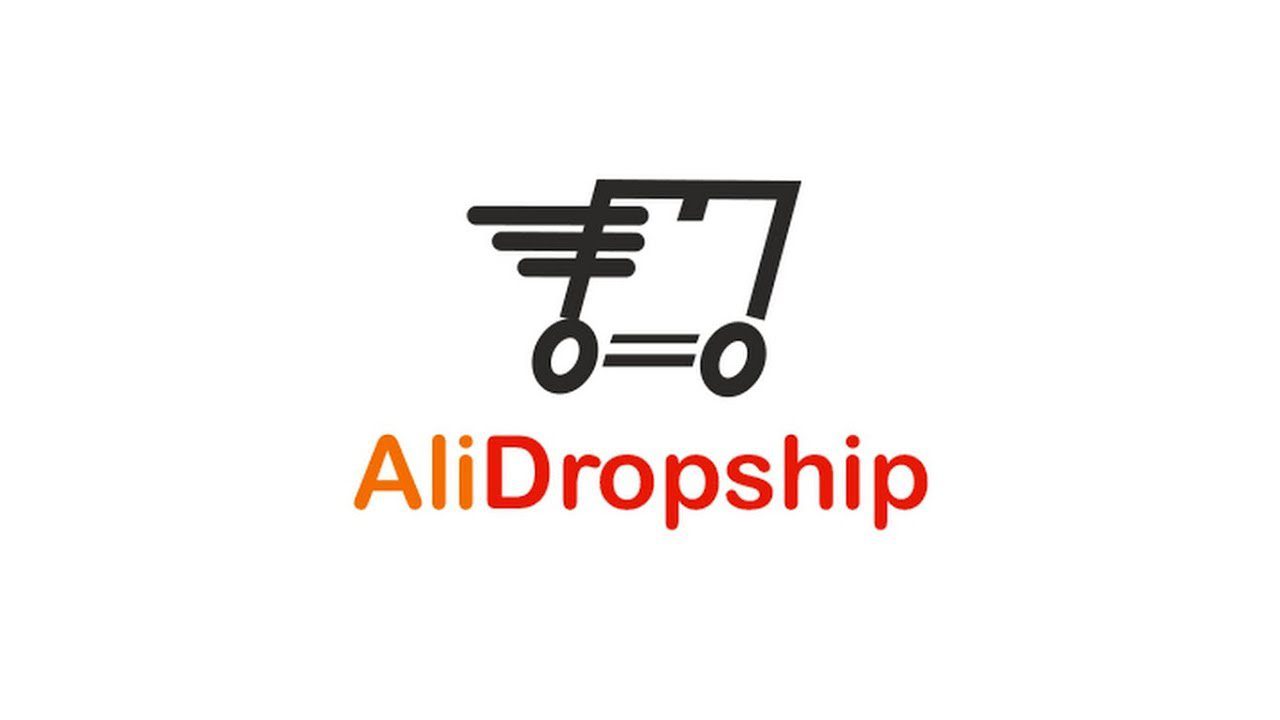 AliDropship is a huge eCommerce dropshipping platform that focuses on dropshipping with WordPress and WooCommerce.
If you're familiar with Shopify, you'd notice it's a self-hosted platform that creates a store for you. Which also includes a large market of apps both free and premium to sustain your store?
Now, so also is the AliDropship Platform!
But this time around, they focus on WordPress and WooCommerce.
What this means is that, if you're thinking of starting a dropshipping business on either WordPress or WooCommerce, they have the essential tools for you to succeed.
The most PROMINENT of the AliDropship product and services is their popular Dropshipping Plugin for building a dropshipping business (Store) with WordPress
The plugin is of two types one for WordPress and the other for WooCommerce (AliDropship Woo).
The AliDropship WordPress plugin basically turns your WordPress site into an eCommerce store without having to install the WooCommerce plugin.
This is particularly good for those with little experience on how to run a WordPress site.
The Woo version also does the same thing. But this time around works with the pre-install WooCommerce plugin.
That is, you have to install WooCommerce first on your website before using the AliDropship Woo. Here's an article that explains a thorough difference between the two plugins.
Other than that, AliDropship prides itself in their top products like:
Sellvia vs AliDropship: Similarities
Below are the common similarities we found between Sellvia and AliDropship. 
#1: Ecommerce Platform
They are both eCommerce platforms that host your online store. Both platforms specialize in e-commerce. That is, they help you design your store, set it up, and provide ways for your store to be hosted.
They also supply you with different products you can sell.
You don't need to bother yourself about purchasing hosting or domain name, they both have the ability to host your website if you don't mind. But if you're really keen on your web hosting, you also have the ability to choose third-party hosting companies like Bluehost. 
For your eCommerce store. you just need to sign up for one of both of their packages, answer a few questions about your store and start using it immediately.
#2. Inventory Management
Both platforms manage your entire store inventory. You can spend the time you have available on marketing your store in order to generate more sales.
The more eye of people you can get your products into, the more sales for you.
Another good thing about the inventory management both platforms have is that they keep you updated about in and out of product stocks from your supplier end.
This way, you won't have to bother about running out of products to sell.
#3. Product Fulfilment
Both platforms come with a set of apps or plugin that helps with the fulfillment of products. With that, you don't need to start fulfilling your orders one after the other. Everything is completely automated.
As a matter of fact, they use the same tool for this since the company is run by the same parent company. So most of their tech is of the same type and use case when it comes to dropshipping.
#4. Easy to Use Software
Both platforms are easy to use and beginner-friendly. Once you sign up, you just need to follow the prompts and provide some basic pieces of information about your store.
Your store will be up and running within 30 minutes and you can start making sales the same day if you have a good marketing plan in place.
#5. Own by The Same Company
Like I said early, they are both under the same parent companies. So there's no strict competition between the two companies. The AliDropship plugin works on both platforms.
Since Sellvia only fulfills in the US, the AliDropship plugin included makes it possible for users to import products from AliExpress and dropshipping worldwide instead of being restricted to the US alone.
If you're going to go for AliDropship, you can still install the Sellvia plugin to your store and import and fulfill products using the Sellvia warehouse in the US. This means you get to use both features either ways.
#6. Built for Dropshipping
Both platforms are specifically built for dropshipping. So if your main intention is to start a dropshipping business and scale it to a successful business in the long run.
Then both platforms are perfect for that because they have everything you need to run, scale and take your dropshipping business to the next level.
AliDropship runs on WordPress and WooCommerce while Sellvia does the same plus also works on the Shopify platform.
Sellvia vs AliDropship: Differences
Below are the common differences we have noticed between Selliva and AliDropship. So you can know the strength and weaknesses of each platform.
#1. Worldwide Dropshipping
Sellvia only dropships within the US, whereas AliDropship gives you the opportunity to dropship worldwide as a result of AliExpress. 
With that, if your target audience is in the US, then Sellvia is the best guess for you because it has everything you will ever need to sell successfully in the US.
If you are going internationally, go for AliDropship. Since AliExpress ships to any country, you can take advantage of that.
However, you do need to be aware of longer shipping time and countries without the ePacket shipping option to avoid high shipping costs of products you're dropshipping. 
#2. Logistics Services
Sellvia has an inbuilt logistic platform that delivers products for every sale made by its user. Whereas AliDropship leverage on AliExpress logistics.
You do need to keep in mind that Sellvia inbuilt logistics is only within the US territory while the AliExpress logistics ship goods globally.
The downside of AliExpress logistics is that goods are shipped within 7-15 business days while Sellvia delivers products in the US within 1-3 business days.
The fast shipping time is really a game-changer because this will increase your customer's shopping experience in your store and prompt them to keep ordering due to the fast delivery time of your products. 
#5. Pricing and Subscription
We explained and compared the pricing and subscriptions plans of each platform mentioned in this article here.
The Sellvia platform appears to be the best in terms of pricing compared to the other platform. 
The Sellvia Pricing: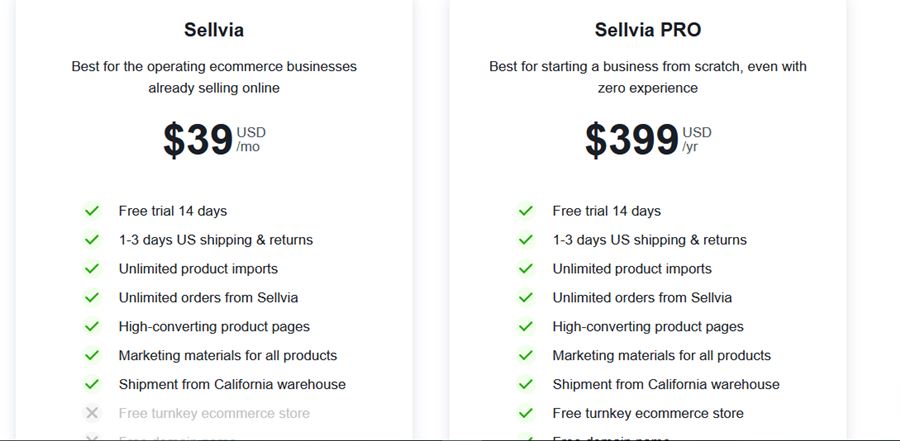 Sellvia offers a 14-days free trial in order for you to test the entire software after which you can settle down for the paid plan which costs $39/Month.
When you apply for the annual subscription, you are entitled to $78 discount, you only pay $399 instead of $468 a year. 
The annual package is suitable for both beginners and pro who wants to start a dropshipping business in a smart way. This is because it has everything you need to be successful with your dropshipping business.
The interesting part is that the store is built for you from scratch to the end, making it a stress-free business model. 
Sellvia will also assign a store manager for you that will be answering your questions on a timely basis. Just send your email and get a reply in minutes.
AliDropship Pricing:
AliDropship doesn't have just a pricing section because it offers so many products as solutions to dropshipping business.
All the AliDropship software is WordPress and WooCommerce based.
The products include:
AliDropship custom store is a service offered by the AliDropship team that enables you to order a store that will be built for you from scratch to the end.
The design and how the store functions will be based on your request.
It is priced as follows:
All packages come with a free Sellvia to be tested within a given period of time before upgrading if you must continue using it.
We must also say that all packages are one-time payments. 
The custom store doesn't come with a hosting account but it does come with a domain name. To add hosting to your package, it's going to cost an additional fee. 
the AliDropship plugin is into two categories which are AliDropship for WordPress and AliDropship Woo.
The AliDropship for WordPress enables you to build a fully-pledged dropshipping store with WordPress without the need for supporter plugins.
While the latter plugin is designed to purely work with WooCommerce.
However, you must know that both WooCommerce and AliDropship Woo are a plugin on WordPress.
Without WordPress, two of them can't function. That means you will always need to learn WordPress if you must use them.
Each is priced at a one-time payment of $89.
Other AliDropship products include:
Premium store:

Here is a duplicate of AliDropship's top-performing stores and it cost a $300 one-time payment.

Premium products:

The premium products are a combination of top-selling products across AliDropship stores. It cost $39 a Month. (Full Review)

AliDropship themes:

Themes are great and they beautify your store, check both free and paid here to give your store astonishing looks.
#7. US-based Dropshipping Supplier
Sellvia is an original US dropshipping supplier while AliDropship only integrates with AliExpress. This is why it is possible for Sellvia to deliver goods within the US the same day an order is made.
It is the vice visa for AliDropship because it is in partnership with AliExpress that helps in sending goods around the globe.
With that, we believe that Sellvia is the best for dropshippers who are targeting the US market while AliDropship is a great idea if you are going beyond.
You can always consider going for Shopify also if you are not on a tight budget, everything is automated on the dropshipping platform.
Conclusion
Dropshipping business can be hard work when you consider the day-to-day activities of managing your internet online store.
On the other hand, it can be very less stressful work that can give you all the freedom you need to spend time with your family and live the life you want.
This will only be possible while running an automated business. 
There's no right one from wrong, they are both working as the same team. Using Sellvia lets you sell to the US and this reduces the risk of customer chargeback due to the long shipping time of products from AliExpress.
AliExpress on the other hand lets you sell to any country in the world including the US.
Using AliDropship gives you the ability to use Sellvia alongside and using Sellvia gives you the ability to use AliDropshiop alongside.
If you would want to sell to the US and you are very particular about the FAST shipping time then I'll suggest you go with SELLVIA.