Sellvia Vs Shopify: Which is Best For Dropshipping?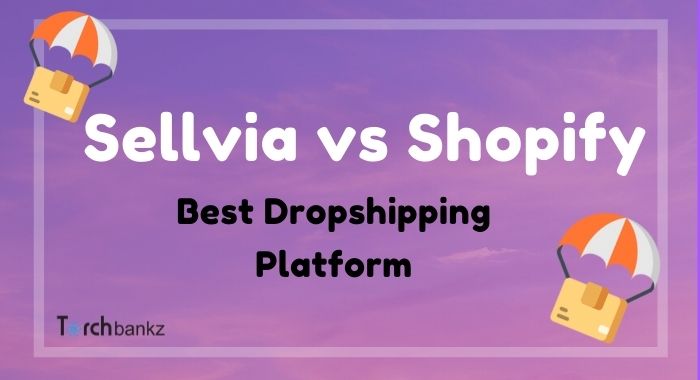 In today's post, we're going to be comparing Sellvia vs Shopify to see the best fit for running a dropshipping business.
Thinking about dropshipping, the business model actually makes it a lot safer and easier to work because your store does not keep any products on site.
Storage, liability, and shipping to your customers are all handled by another company.
All you do is take orders and have them sent to your shipping company and the supplier's ships out the ordered products to your customers.
Check out our Complete Shopify Dropshipping Guide For More Inf0…
It is that simple. What makes it even simpler is that there are platforms you can sign up with and create your store with all the products ready to be sold in place. Two of those platforms are Shopify and Sellvia.
To find out which platform is best for your new online store, just continue to read Sellvia vs Shopify article.
It compares the two outs and lets you know the pros and cons of both.
What Is Sellvia?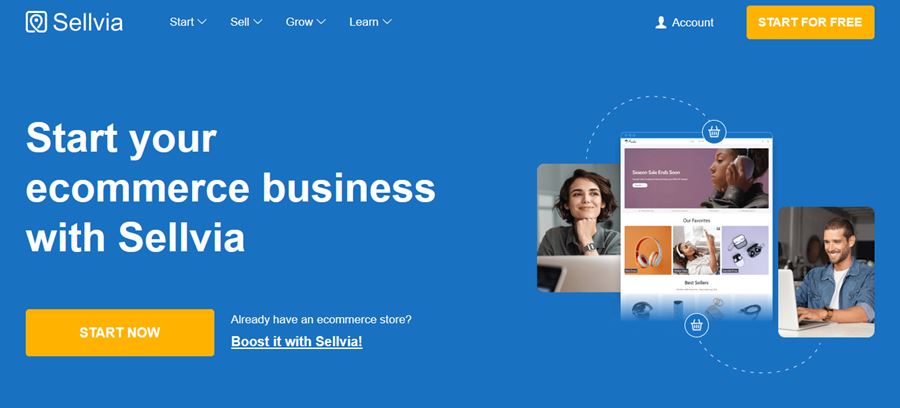 This newer platform is a combination of companies. Not only does it help you create your own internet store it handles the dropshipping duties for you as well.
The business plan for Sellvia is a 'done-for-you' and a done-with-you concept that lets you handle the sales ends while it takes care of everything else.
Once you sign up, you have two choices. The first choice is to sign up for an annual membership and the second choice is the monthly subscription plan.
The latter option costs you $39 and you get a WordPress plugin to download and install it on your website.
The former option is where you get to create your own e-commerce store with all of the products ready to go for you.
In this option, you do have to provide some extra information, so Sellvia can create the store you want.
This will be done while answering the quick questionnaire available on the platform to help them create the perfect store for you.
It is an easy-to-use option no matter which route you take.
For more info, Check out our in-depth Sellvia Review
What is Shopify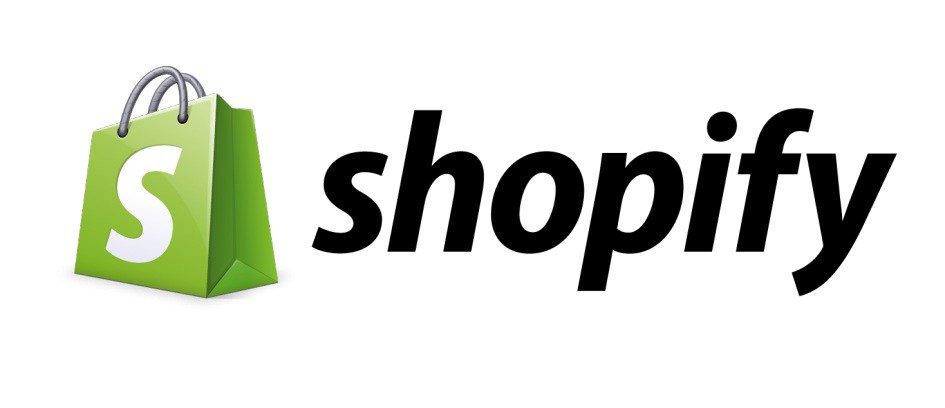 Shopify is basically an e-commerce store. It helps you build your store's website then hosts it on their own servers.
They also supply different add-ons that help your business function in a more professional manner.
However, Shopify payment options are restricted to a few countries and for those that are not, you'll have to find a third-party payment option to sell your products.
It is also an easy-to-use platform that allows just about anyone to have a business through their e-commerce format.
Like Sellvia, Shopify offers a 14-day free trial so you can see if its program will work for your business goals.
The Shopify program is very app-heavy and this may drive your monthly costs up somewhat.
This is because you will need to subscribe to other monthly different apps to run your dropshipping business.
Sellvia vs Shopify: Similarities
Since both platforms operate online and target retail products most consumers are looking for, you will find that there will be a few similarities between the two.
Here are some of those similarities:
#1: Ecommerce Platform
Both platforms specialize in e-commerce. That is, they help you design your store, set it up, and provide ways for your store to be hosted.
They also supply you with different products you can sell and Sellvia will provide those as they build your store. You just tell them what you want.
However, to import product on Shopify comes with other third-party apps.
The good aspect both have in common is that there is an almost unlimited supply of products for you to represent and sell.
One thing that Shopify does is that they will allow you to have up to 100 variations of the same product in your store.
If you are selling hats, that gives you 100 selections per hat. That broad selection is a bonus. While Sellvia may not have that many variations available, they do offer a one-click import service.
One click and the product you want is in your store, ready to sell.
Just make sure you tell Sellvia which category you want the product to register in. As long as you have room, in your Sellvia store, you can import products.
#2. Sellvia Shopify App
The sellvia Shopify app is the Shopify version of the Sellvia plugin that allows you to automatically import and fulfil orders easily.
This is particularly good for those that prefer the Shopify eCommerce store over WordPress and WooCommerce.
So with the App, they will have the opportunity to do exactly everything the app can do using their Shopify store.
Which includes access to Sellvia US-based suppliers and fast logistics services.
Below are what to expect with the Sellvia Shopify app:
1-3 business days US shipping
Best-sellers products
huge profit margins
Lower prices than on AliExpress
uniquely designed product pages
#3. Inventory Management
Both platforms will handle your inventory for you. They provide you with the products you can sell and that takes a big worry off your shoulders.
All you have to do is import those products you want in your store and it is done for you by Sellvia when they build your store for you.
With Shopify, you can sell both physical and digital products that are on their website.
One drawback to Sellvia is that it may not have as many products available as Shopify has at its disposal because it solely for dropshipping.
#3. Product Fulfillment
The one attractive feature about using either platform is that they come with an assortment of apps to help you run your business.
In fact, Shopify comes with over 1200 apps to make sure payments are made correctly, shipping and handling are without mistakes, and many more.
Both platforms make it easy for your store to fulfil its commitments through the different apps they make available.
This may be a big drawback for Shopify store owners as many of those apps can cost you extra every month.
But Sellvia makes shipping in the US very easy.
Usually, the order is given to the shippers within 1 day and the product is sent out within 1 to 3 days after the order was received.
#4. Easy to Use Software
With Sellvia, all it may take is one simple click and you can create your account and get ready to sell. it is a very easy-to-use interface that does not confuse beginners.
Plus, Sellvia provides training videos to help you learn how to use their dashboard and start selling online.
Shopify's interface may not be as simple as Sellvia's but it is very straightforward and makes sure you get the right connections made.
Everything about Shopify;'s easy-to-use editor and interface are clean, simple, and not complicated.
Anyone signing up to Sellvia's e-commerce platform should be operating faster than those that sign up to Shopify's at the same time.
Sellvia vs Shopify: Differences
Now, let's look at ways in which both platforms defers so you can know the strength and weaknesses of each platform.
#1. Dropshipping products
The one convenience Sellvia has over Shopify is that it handles the dropshipping orders for you.
Unlike Shopify where you have to buy the product from the warehouse or retail outlet or even use a third-party app like Oberlo, Spocket and the likes.
When it comes to Sellvia everything is handled for you.
Once the order is in, it sends it to the drop shipper within one day and the order is out before you know it.
With Shopify, you may have to install an app to make sure the right vendor gets the order and that slows the process down a little.
The advantage that Shopify's system has over Sellvia is that you get direct contact with those drop shippers.
With Sellvia, you do not and that may be a slight problem for many e-commerce store owners.
#2. Logistics Services
In business, it pays to be fast. The quicker you can get your products to your customers, the happier they will be and the more likely they will reward you with return business.
With Sellvia's built-in logistic services, you can fulfil your orders a lot faster than a Shopify e-commerce store.
The latter store has you integrating third-party logistics services and this can slow your delivery time down a little.
While Shopify does have a fulfilment network, it also has some pretty strict rules in order to access that service.
But again, the app to use to integrate with Shopify's systems can be expensive and add to your monthly fees.
Sellvia does not have that problem and makes logistics a piece of cake for you and your customers.
#3. Marketing Material
Another place Sellvia has an edge over Shopify is in marketing. The company makes sure you get the promotional materials you need to get the word out about your store.
Their pre-designed marketing material and packages to helps you develop your own ad campaigns via several social networks.
There are Facebook-ready ads that will be effective and draw attention to your products.
Unfortunately, Shopify is like many e-commerce and dropshipping platforms.
They do not provide you with any marketing materials and make you go it alone. You have to create your own ads for your own store and then find the right outlet to place those ads.
Shopify does not get into marketing but it is said that it does a great job with its online catalog, just like Sellvia does.
So if you're skeptical about dropshipping because of ads, then you absolutely have nothing to worry about because Sellvia has got you covered.
#4. Built for Dropshipping
This is the Sellvia advantage. It was designed to be more than just an e-commerce outlet like Shopify. It was built for dropshipping and it comes through with flying colors. its logistics, as you now know, is top-notch and handles orders very quickly.
On the other hand, Shopify was built to be an e-commerce store only.
It helps you find products to sell, design your store's website, and so on but you have to handle the dropshipping aspect yourself through their many apps.
This can be a hassle for some people. When you want a simple business to run, Sellvia provides it with minimum hassle.
It pays to have a platform that specializes in dropshipping. The orders are handled professionally and quickly making you and your store look good.
#5. Pricing and Subscription
Again Sellvia has the advantage here as Shopify has far more membership options than Selvia offers.
While Shopify does have annual fees that save you money, they are priced at a 20% discount over their total monthly fees.
There are 4 Shopify membership levels: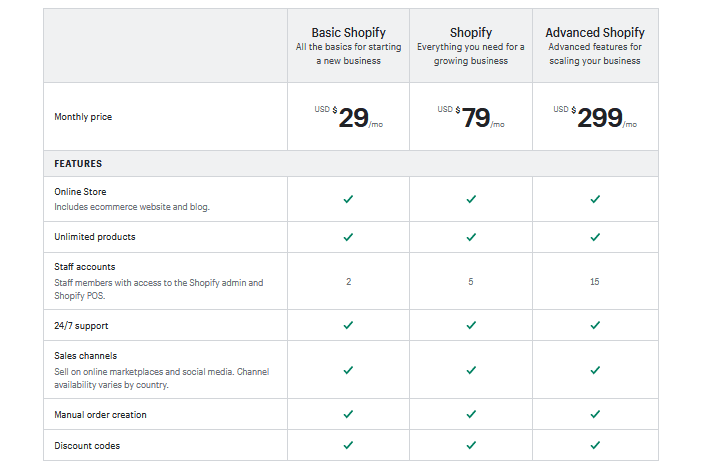 Shopify light- $9 per month;
Basic Shopify- $29 per month;
Shopify- $79 per month,
And Advanced Shopify- $299.
Those fees do not include transaction and credit card fees this platform adds on top of those fees.
Sellvia only has 2 membership options;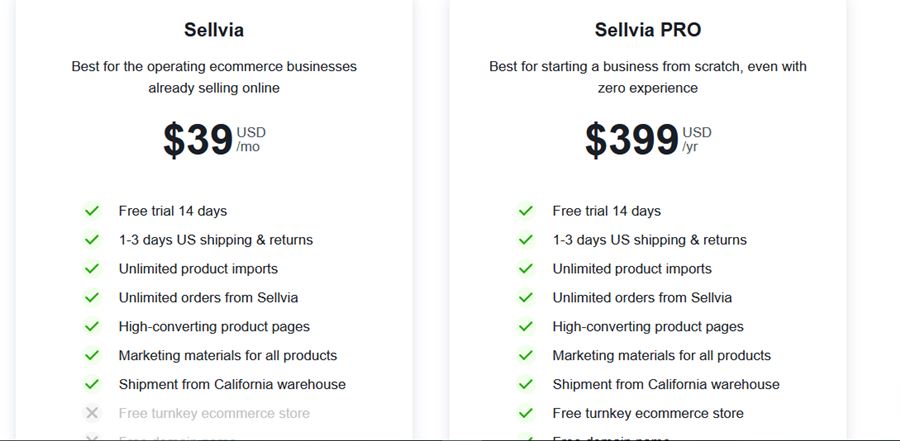 Monthly- $39
And annually $399.
We did not see any credit card or transaction fees added to those totals. Also, both platforms do offer a 14-day free trial period to test their systems out.
Also, Sellvia assigns a store manager to help answer any of your questions. We did not see the same service offered by Shopify.
All Shopify plans come with the following features:
Unlimited number of products
Unlimited file storage
Ability to sell digital products
Manual order creation
Website and blog section
Shipping label discounts
Retail packaging if needed (with additional charges)
Sell through social media channels
While the Sellvia plans have similar features with the annual membership having more. These features include:
shipping from the California warehouse
1 to 3 day US shipping & returns
unlimited product imports
unlimited orders from Sellvia
high-converting product pages
marketing materials
#6. Ready-Made Store
This is a grand feature of the Sellvia e-commerce and dropshipping platform. They will build your store for you, make it fit your niche, and fill it with the products you want, all at no cost.
However, Shopify only provides a website builder and you have to develop and design your store yourself.
The good aspect of this is that you have an easy-to-use editor and interface. Plus, you can customize the store to be the way you want it to be.
But it is hard to beat having a store built for you for free.
Sellvia gives you many advantages over Shopify and this is an important one. You do not have to be tech-savvy to design a store. It is all done for you.
#7. US-based Dropshipping Supplier
This is an area where Shopify may have an advantage over Sellvia. Shopify allows you to ship globally through its third-party apps and drop shippers.
This gives you a wider store reach and allows you to provide better customer service.
Sellvia just can't be beaten when it comes to US shipping. They have built their platform to make sure all your deliveries in the US go off without a hitch.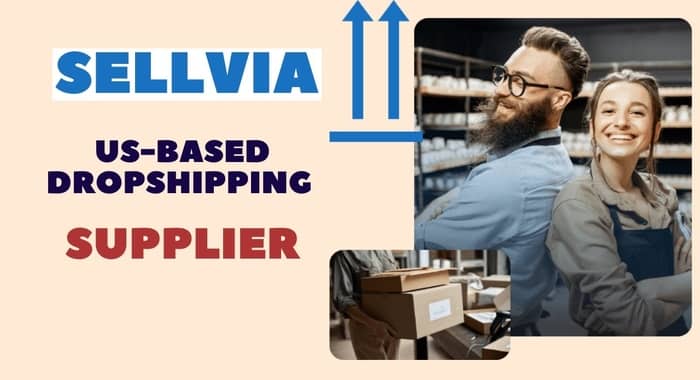 Its platform is a dropshipping outlet designed to make sure your products reach your customers fast.
Shopify is an e-commerce platform where you have to connect with drop shippers to get your product to your customers. This may take a little extra time and a little more hassle.
Sellvia Vs Shopify: FAQ
How do I add Sellvia products to Shopify?
From your Shopify admin, go to apps and select Sellvia, From there, you can add as many Sellvia products as possible.
Do most Shopify stores fail?
Just like any other business and platform out there, Shopify stores fail and not because Shopify is a bad platform.
Conclusion
When you want to own your own e-commerce store, you need to go with the company that has it all.
Sellvia is both an e-commerce platform and a drop shipping outlet. When you want to be a success you go with the platform that does it all for you and with you.
Your store is built for you which gives you another advantage over your Shopify competitors.
When you want an edge, you go with Sellvia and take advantage of their platform's design.
That's it on Sellvia vs Shopify, let me know what you think in the comment section.