Sellvia vs Spocket: Which is Better For Dropshipping?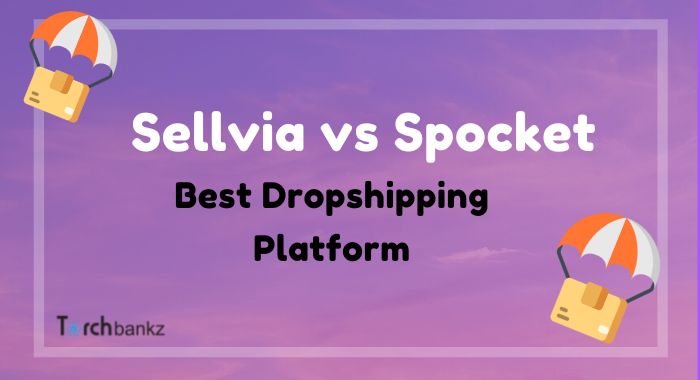 In today's post, we're going to be comparing Sellvia vs Spocket to see the best platform to run your dropshipping business.
Ecommerce based businesses like Dropshipping can be a little bit frustrating with bad networks and tools.
If you want to get good results such as profit and ease of operations, you'll need good software.
As you already know, dropshipping as a form of e-commerce requires easy-to-use software just like spocket or sellvia.
Both software is readily used and strongly recommended but one out of the both has features that are designed to make your work easy.
Features like user interface, cost and integrated payment gateways are always considered when choosing the best software to use and all will be considered in reference to both software mentioned, giving you a plethora of features to consider before choosing a good dropshipping software for you.
If your aim is to select the best software between Sellvia and Spocket, then you're on the right page.
The reviews on both software are directly gotten from my experience so it's safe to say that this review article on Sellvia Vs Spocket is completely unbiased.
Without further ado, let's jump right in…
What is Sellvia?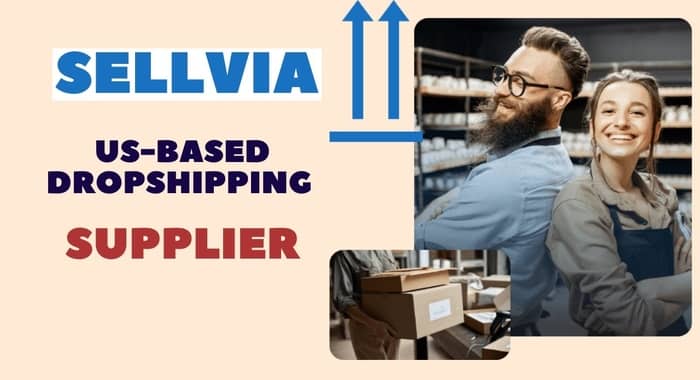 Sellvia is an eCommerce software that allows anyone to easily start dropshipping from anywhere in the world.
According to the inspection on the site, they are the "eCommerce Ecosystem you've always dreamt of " allowing you to import goods and drop ship from anywhere in the world.
Selling was founded in the year 2017 with the goal of easing the stress involved in searching for good connections, sellers or a marketplace to import quality goods.
One of the major problems dropshipping entails is searching for a reliable dropshipping supplier.
Over the years, sellvia has made dropshipping business easy and less stressful by offering two great services which are;
#1. Creating and Managing Dropshipping site:
This feature has allowed sellvia to achieve their main goal of easing the stress of searching for a supplier.
This feature allows sellvia to create a dropshipping website and allow it to run on auto pilot thereby making the owner money when promoted.
#2. Boasting Your Dropshipping Website:
This feature has helped reduce the problem of low reach and audience. Audience and customers are the lifelines of any eCommerce business.
With sellvia boast feature, your eCommerce or dropping shipping site will be made available to lots of audiences searching for the products you sell.
Sellvia was founded by Ilya Dolgikh and Yaroslav Nevsky. Since 2017 the company has been in active operation dishing out quality service.
Sellvia is also known as Sunshine Ecommerce LLC and has its Headquarters seated at Greater Los Angeles Area, West Coast, Western US.
What is Spocket?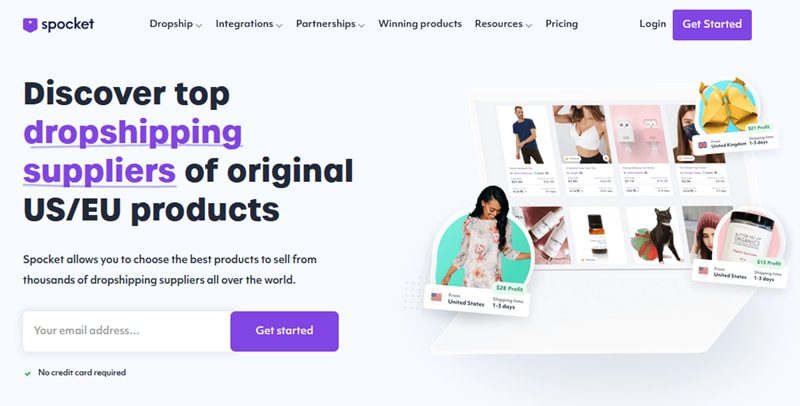 Spocket is an eCommerce software that allows you to start dropshipping with suppliers around the US and EU.
Unlike many dropshipping software out there, Spocket is centred around EU and US dropshipping suppliers.
For some users, this is an advantage to get into business with suppliers from the first-tier countries with the most trusted suppliers.
It relieves them of the stress of searching for trusted suppliers.
To some users, this is a big drawback as spocket offers limited suppliers to choose from.
Spocket was founded in the year 2017 by Saba Mohebpour Tom Hansen. The headquarter is sited at Vancouver, BC , Canada.
Spocket was founded with the aim of offering limited by quality suppliers to people who want to venture into dropshipping business.
Fortunately enough, they have been successful in getting suppliers around the Us and the EU.
Sellvia vs Spocket: Similarities
Sellvia and spocket are both great and recommended software to start your eCommerce business.
Both software may have a little bit of difference in their aim but have lots of similarities in their features.
These similarities are listed and discussed below.
#1. eCommerce Platform:
Sellvia and Spocket are both e-commerce platforms as they accept payment, process orders, manage shipping and logistics, and provide customer service.
They both have an integrated payment gateway that allows you to receive payment from your customers.
Sellvia gives you the option of paying for an eCommerce store that completely works on autopilot.
Spocket on the other hand also receives payment through their site.
#2. Shopify App:
Shopify is an eCommerce system that allows you to sell your products using different mediums but from one single platform. Both sellvia and spocket offer Shopify integration.
Shopify gives you the advantage of building and customizing an online store. It also gives you the advantage of selling multiple places, including web and mobile.
#3. In-built Suppliers:
Sellvia and spocket provide dropshipping suppliers to their users.
Although both do not have the same choice of suppliers, but they both provide you access to suppliers that helps fulfil your orders.
Choosing any platform makes it certain that you need not go through the trouble of looking for suppliers elsewhere.
#4. Inventory Management:
Sellvia and spocket helps manage the inventory for you. An integrated inventory management system has been put in place to help manage the goods or products you sell.
This feature offered by both software allows you to easily run your business without minding the number of products you wish to sell.
The management of the inventory is done by sellvia or spocket.
#5. Friendly User interface
Spocket and sellvia have one common thing which is the friendly nature of the user interface.
Both sites are designed in a way to make whatever you need to do easy to find.
The direction on what to do next like register or start is clearly displayed using a button making it very easy to use.
The signing up is also less complex unlike most software out there. Everything on both sites looks easy to use.
#6. Customer Service
Sellvia and Spocket are widely used and recognized for the efficiency of their customer support.
The customer support both offers are always active 24hours a week and 7 days a week.
So in case you have an emmergence issue be sure that's there support to help you out.
Sellvia vs Spocket: Differences
Sellvia and Spocket might have similarities in certain features like easy use of the platform, they still have a lot of differences. Which is why they are different as regards to their stremght and weakness.
Below is a full detailed section containing the difference with both software.
#1. US Based Suppliers:
This feature is adopted by Sellvia alone, whereas Spocket is aimed at giving access to suppliers around the US an EU.
They made sure that users who want to start dropshipping with their software find it easy to source products from the US and EU.
Why Sellvia on the other hand focus majorly to sellers in the US alone since the market is wide and covers over 60% of sales of worldwide dropshipping.
The US-based supplier focus is also one of the reasons why Sellvia product shipping is lightning fast.
#2. Marketing Material
Sellvia offers a helping hand to anyone who chooses to start dropshipping with them. They offer marketing materials and aid in the form of a Marketing academy, blog and Guide.
The Marketing Academy by Sellvia is aimed at teaching you all you need to know about fast and easy selling. It is beginner-friendly and focuses on how to build quality and profitable customers using advertisements.
The blog section contains business tips, marketing tips and the latest e-commerce trends to keep you going.
It is aimed at keeping you abreast of what is happening in the marketing industry as well as giving you little guides on how to handle objections and sell properly.
The guide section is full of the information you need to start and successfully run any form of eCommerce business.
If you are new to marketing, this is an opportunity to get the required knowledge on running your business.
#3. Ready-Made Store
The only platform among sellvia and spocket that offers an already made store is Sellvia via their exclusive plan which costs $399 a year.
The advantage of this feature offered by Sellvia is that a professionally made eCommerce website is delivered to you with all the necessary integration ready to start selling while nothing is required from your end but just your store niche.
The downside to this feature is the cost. But if you feel your budget can accommodate the cost, this feature is a perfect fit.
Sellvia vs Spocket: Pricing Plan
Sellvia and Spocket are two different software with different pricing plans. Each of the pricing plans offered by any of them has its features; this is exactly what determines the price attached to each plan.
Below is a full section containing Sellvia and Spocket pricing plans.
Spocket Pricing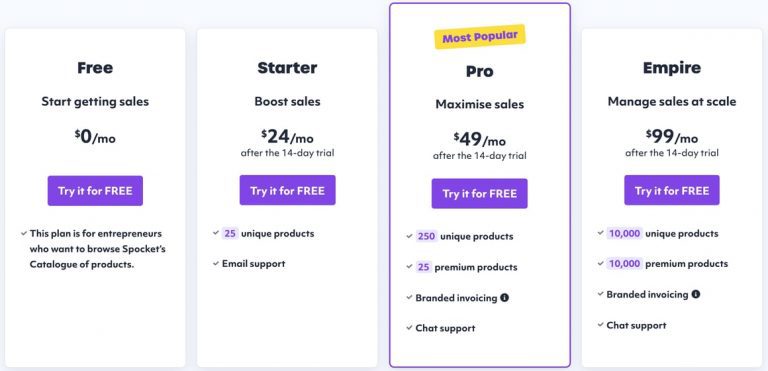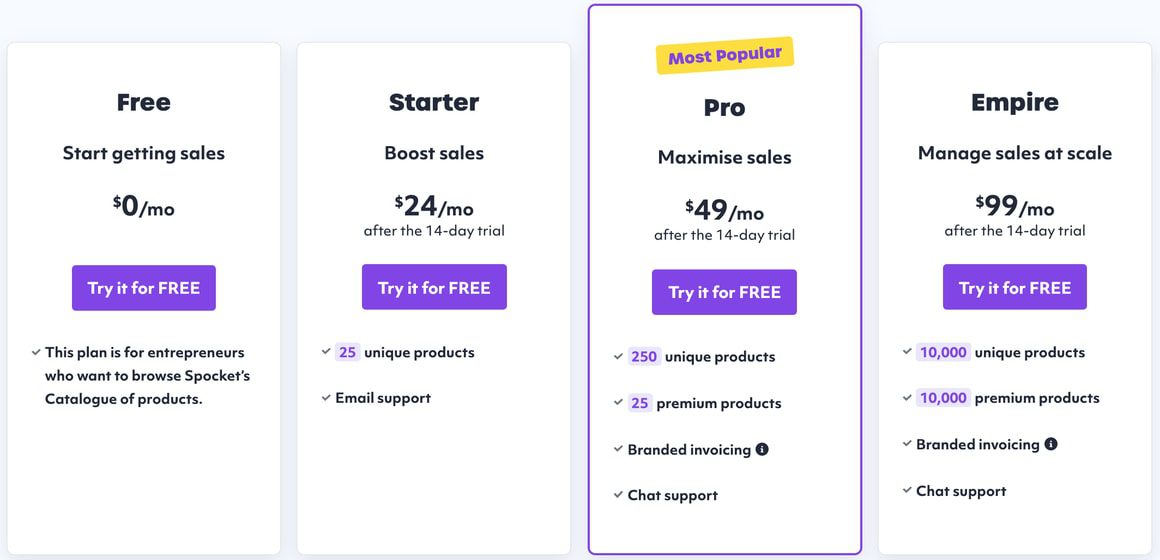 Spocket has three different pricing plans and a free forever account categorized by the features each has and the price tag on them.
Aside from the pricing plan, Spocket also offers a 14days free trial to explore their software. If you are new or sceptical about Spocket this is an opportunity to get a taste of the software before choosing any plan.
The best part is that you don't need a credit card to get access to the 14day free plan. The pricing plans spocket offers and the feature each has are shown below;
#1. Free Plan
This is the first plan spocket offers and it is designed especially for entrepreneurs who want to go through the products or explore the platform to have a first hand knowledge on how things are been run on the platform.
Features
#2. Starter Plan
This is known as The boast sales plan and it costs $24.99. It is the next plan after the free plan or the 14day trial offer. It has the following features
25 unique products
Email support
24×7 Chat support
AliExpress Dropshipping
#3. Pro Plan
This is known as the maximize sales plan and it costs $49.99. It comes with the following features
250 unique products
25 premium products
Branded invoicing
24×7 Chat support
AliExpress Dropshipping
#4. Empire plan
This plan is designed to help you manage your sales with a scaled-up audiences. This comes in handy when you have a growing audience because this plan offers you high and scaled-up products.
it costs $99.99 and has the following features
10,000 premium products
Branded invoicing
10,000 unique products
24×7 Chat support
AliExpress dropshipping
Sellvia Pricing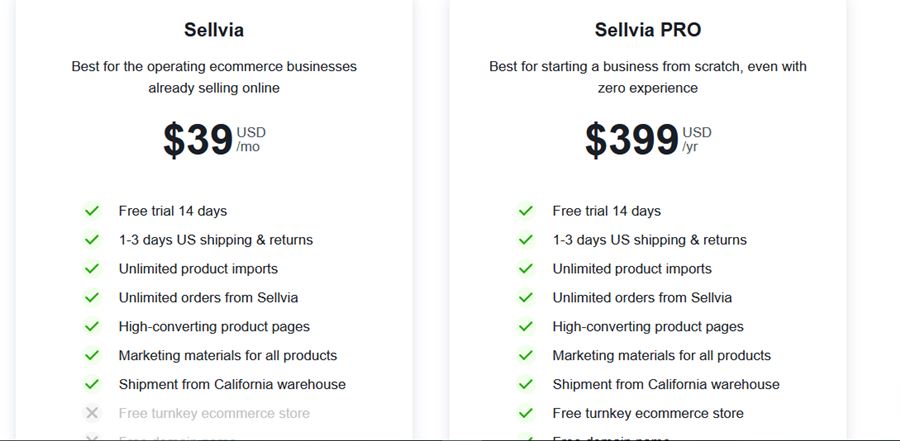 Unlike Spocket, Sellvia has two major plans. Sellvia also offers a 14days free trial. Below are the two plans Sellvia offers.
#1. Sellvia
This is the first plan and it is designed for those who already have an online store but want to upgrade the store with sellvia software.
This plan is free for 14days after which it costs $39 per month.
It comes with the following features.
1-3 business days shipping
Prices lower than on AliExpress
Only winning products in stock
#2. Sellvia Pro
This is the second plan Sellvia offers and it costs $399 a year. Although you can start using this plan for free with their 14days free trial.
This is Sellvia exclusive plan as it allows the platform of having your own custom-built dropshipping website, and place it on autopilot if you want.
You don't need to do anything. Integration like Shopify, WooCommerce and suppliers are already done for you.
All you need to do is connect your payment gateway and start selling.
Sellvia vs Spocket: Conclusion
Dropshipping business requires more than having a site and selecting the best product to dropship.
Other factors to consider are Supplier location, customer support and fast delivery.
As a newbie in the industry, you might also want to consider a marketing guide and Assistance in building your dropshipping site and running a profitable dropshipping business. Which is what Sellvia embraces. 
Sellvia offers you a professionally made site for $399 a year. It also offers marketing guides to get your business up and running.
While spocket offers you suppliers from US and EU. Both platform offers you customer support and shopify integration.
They are both widely used and recommendable but depending on your need and budget one among the two is suitable.
If you are a newbie and need guidance and education in scaling up your marketing journey, then Sellvia is for you.
But if your aim is to get access to more dropshipping suppliers around the US and EU then Spocket might just be the thing for you. So which one are you going for?
Or