Sellvia WordPress Plugin (Everything You Need To Know)
Today, I'll be doing an overview of the Sellvia WordPress plugin, I'll be breaking down what it is and what it's not.
And finally, also show you how it works and how you can easily install it on your drop shipping website.
The dropshipping business model is a stable method used by eCommerce entrepreneurs.
This is because many people love the idea of selling a trendy product you don't have to buy with your own money.
But instead, use your customer money to buy and keep the profit afterwards.
Normally for this to work perfectly, you'll have to do extensive research on what to sell and possibly automate the business to make your life easier.
Which is why the Sellvia plugin was invented for WordPress lovers and the Sellvia Shopify app for Shopify lovers.
The Sellvia company offers fast delivery within the US and they also have top-selling products you can take advantage of.
Sellvia has its products in its fulfillment center.
Therefore, customers order them from their shelves and not from a third-party supplier.
The platform ships, packages, and caters to all other fulfillment needs. Read on to learn more about the Sellvia plugin.
What is Sellvia Plugin?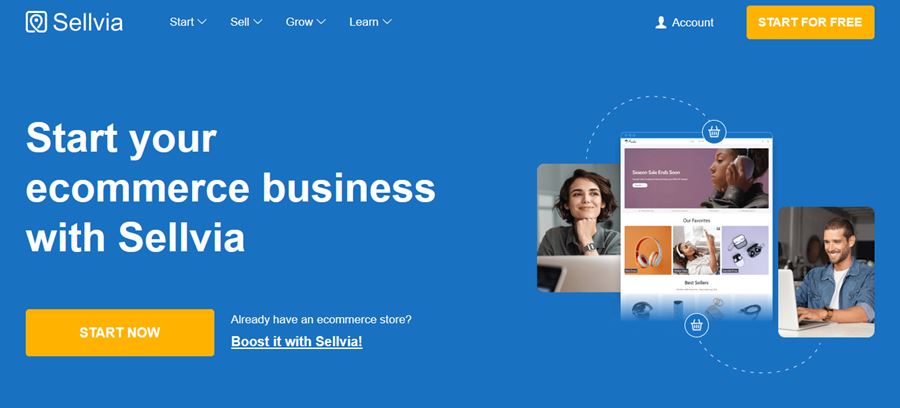 The Sellvia plugin is a WordPress dropshipping plugin that helps in automating the daily routine in running a dropshipping business.
This includes routine like importation of product from the Sellvia catalogue to your WordPress website. And also fulfilling of products automatically with just a click using the Sellvia plugin.
The sellvia WordPress plugin is exclusive to WordPress and WooCommerce site only while the second version of the plugin (Sellvia Shopify App) is exclusive to Shopify only.
The  Sellvia platform offers almost everything sellers need to start and build a profitable ecommerce stores and dropship products to various places around the world
It is a combination of companies that lets users create their internet stores and handles their fulfillment and logistic needs.
What makes Selvia unique is that they offer a done-for-you approach. So individuals use it as an eCommerce platform and a supplier in the dropshipping markets.
The software was developed by a team of expert entrepreneurs experienced in the dropshipping market.
The main aim was to help eCommerce vendors maximize their online stores by allowing them to sell in the United States easily.
The Sellvia WordPress helps handle the entire dropshipping process, meaning, with the help of the Sellvia plugin, the company will fulfill your products and help deliver them to your clients.
Therefore, giving you time to focus on looking for new customers.
How Does Sellvia Plugin Work?
You can use the Sellvia WordPress plugin in several ways. You can either sign up for the done-for-you, which features a 14-day trial and then later, you can subscribe to the monthly or yearly plan.
Alternatively, you can just get the Sellvia Plugin which is offered through a monthly subscription for WordPress, Shopify, or WooCommerce users.
This allows you to connect your existing or new site to the platform's warehouse located in the US.
It also means that you can start using their fulfillment center in the US and have them deliver your order within 1-3 business days. Let us explain how the Sellvia WordPress Plugin works.
To use the Sellvia Plugin, you have to download it from the Sellvia website after a successful purchase.
Remember that it goes for $39 per month. Once downloaded, install it on your website. Then, activate it using the API sent to your email when you purchase the plugin.
When the plugin is active, you can begin using it to import and fulfil Sellvia's top-selling products to your online store.
Learn more about this in our In-depth Sellvia Review
Features of Sellvia WordPress Plugin
Lets explore the Sellvia WordPress plugin features to see what it can really do for your dropshipping business.
WordPress and WooCommerce Compatible
You can integrate Sellvia into WooCommerce and WordPress. And you don't need any additional plugins to do that.
The site integrates smoothly with these platforms with no bugs. Therefore, you can run your stores on both sites easily and efficiently.
Works with AliDropship Pre-Installed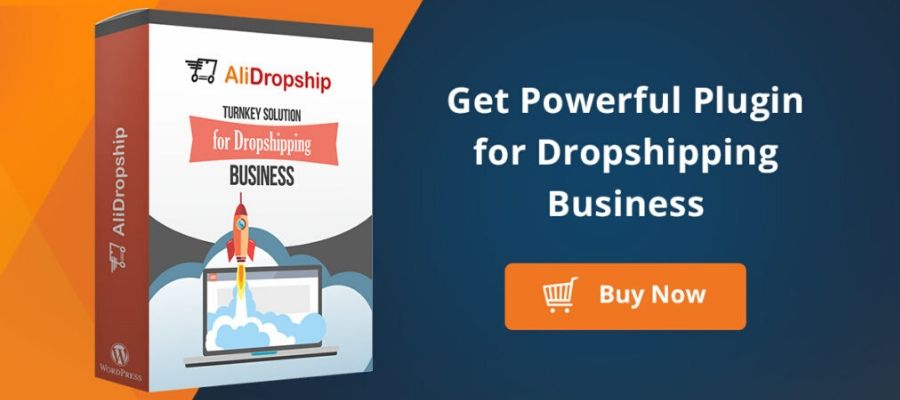 Sellvia WordPress Plugin works perfectly fine with AliDropship. However, you first need to install AliDropship and activate it using your license key.
Once activated, you can import your products and sell them on your dropshipping store.
Those using AliDropship solutions and selling products on AliExpress can also take advantage of the plugin.
You can sell products from both AliExpress and Sellvia.
The only difference is that Sellvia products are imported with images, descriptions, and titles that don't need to be edited. So, you can save a lot of time as your products can be pre-purchased.
This way, you can use the AliDropship plugin to import products you can sell worldwide and use Sellvia plugin to cater for the US market.
Auto Import and Fulfills Orders
When you subscribe to the Sellvia plugin, you can forget about manually fulfulling orders from your clients since the plugin will do it on your behalf.
You don't need another automation plugin or another resource with Sellvia.
Automated processes mean that when a customer makes an order from your store, Sellvia's team receives, imports, and fulfills it.
As the merchant doesn't need to be involved in the process, it saves them a lot of time which they can use to focus on getting more customers.
Integrate with Payment Gateways
Sellvia allows sellers to accept payments in several ways. The payment gateways supported on this platform include PayPal, Credit/debit Card, Cash on Delivery, Stripe, PayPlug, BlueSnap, etc.
With various ways for customers to purchase your products, you can ensure satisfaction and build brand loyalty.
To access the payment settings, click the Sellvia button on the top of the dashboard to direct you to the Sellvia menu and choose from the available list.
Sellvia WordPress Plugin vs Sellvia Shopify App Differences
Since the Sellvia plugin is available in two types (WordPress and Shopify) let's check out how they both defers from one another.
The Sellvia Shopify App only works on Shopify. Therefore, you cannot use it on WordPress. It is the WordPress version that you can use with your WordPress or WooCommerce website.
This lets entrepreneurs import and fulfil orders automatically irrespective of their platform.
The App is also helpful to people that love using Shopify instead of WordPress or WooCommerce. With this app, you can do everything you do on your Shopify store using the Sellvia Shopify app.
Even better is that, since the cancellation of Oberlo, merchants on Shopify can now use the Sellvia Shopify App as a suitable replacement.
You can access the Sellvia suppliers based in the US and quick logistics. Thus increasing your profit margins and
The Sellvia WordPress Plugin only works on WordPress or WooCommerce enable site just like the Sellvia Shopify app.
So, it is recommended only to WordPress users. You can perform the same functions as the Shopify app but only on WordPress.
Thus, you can expect fast shipping, access to the best-selling products, auto import and fulfillments, and other benefits.
If you have WordPress, you can integrate the Sellvia plugin and enjoy the benefits this software offers.
Sellvia Shopify app comes with additional charges, while the WordPress plugin is not charged. The costs start at $39 per month.
Although the Shopify platform makes it easy to set up your dropshipping website and makes it very easy to run.
The only drawback compared to WordPress site is the recurring monthly fee to use the Shopify platform.
Whereas WordPress site owners only have a pay lower fee yearly compared to Shopify store owners.
If you would prefer WordPress, you can check out how much it will cost you to set up a WordPress site using Bluehost here.
So, the WordPress plugin is your best option if you don't have this extra budget.
Another difference between the two plugins is that the Sellvia WordPress plugin is only compatible with AliDropship plugin.
However, it must be pre-installed for it to function.
That means that you have to install the AliDropship plugin first before installing Sellvia WordPress plugin on your website.
For the Sellvia Shopify App, you can't use it along side the AliDropship plugin because there's no version of it available for Shopify users.
This means you'll be limited to Sellvia US supplier compared to Worldwide AliExpress.
AliDropship Plugin isn't available on Shopify. So those who want to use it can only do so via the WordPress Plugin.
When using the Sellvia Shopify app, you get access to more payment gateways than the Sellvia plugin.
The app allows you to use Shopify payments and other payment methods, simplifying things for your customers.
But when using the Sellvia plugin, your payment channels are limited to WordPress and WooCommerce.
You do need to know that this isn't a problem at all because basically, both platform has the most commonly used payment gateways. Stripe and PayPal.
Sellvia WordPress Plugin vs Sellvia Shopify App Similarities
Since we've understood how difference they are, let me quickly jog your memories for what they can both do.
Both are dropshipping app designed to help run and build your dropshipping business.
You only need to search for the products and import them to your website. With an unlimited supply of products, all sellers can find what they want to sell and make a decent income.
Also, note that you are not limited to how many products you can import and how many orders to get in your store.
Everything is provided in your monthly subscription.
Fulfil Orders with Sellvia
These platforms can help you with shipping, packaging and every other "order fulfillment" needs.
Moreover, the process can be automated, such that when a customer makes an order, the Sellvia team receives it automatically and then fulfills it without your involvement.
Not only is this time-saving, but it reduces the processes needed for the order to reach your customer.
If you want your business to succeed, whether online or offline, you have to be as fast as possible when it comes to delivery your product.
The quicker your customer receives their orders, the happier they will be, and they will be compelled to always shop from your website.
The Sellvia plugin integrate your website with the inbuilt logistics services from Sellvia, allowing users to fulfill their orders quickly.
You don't need to integrate other third-party logistics services to shorten your delivery period.
A shorter delivery time allows you to build a good image with your clients. Sellvia guarantees that your customer will receive their products in less than a week.
As a result, you will face less chargeback and create a good overall experience among your customers, motivating them to return and shop with you again.
How Much is the Sellvia Plugin? (WordPress & Shopify)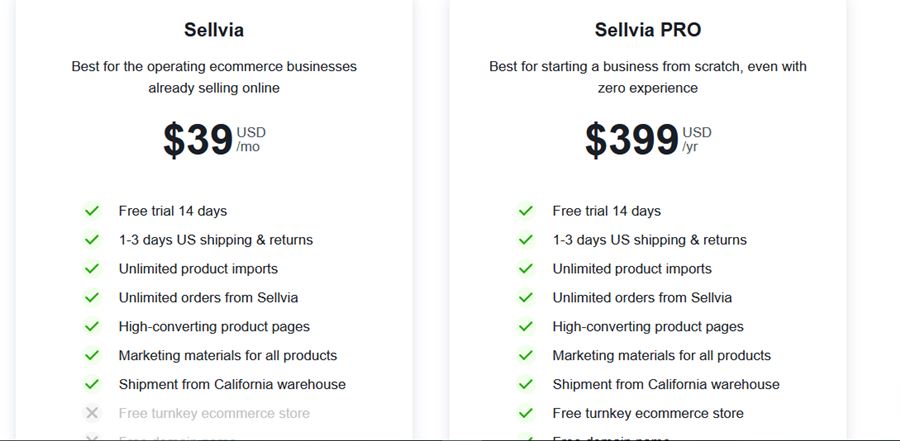 To enjoy the Sellvia plugin services, for WordPress and Shopify, you must sign up for the monthly or yearly subscription plan.
The platform offers several packages allowing users to choose the most affordable one.
There is a monthly package plan that costs $39 per month. This is recommended to people who already have their eCommerce store established and are already selling their products.
The plan also offers a 14-day trial for free before subscribing.
We should also mention that you can terminate your subscription to Sellvia Plugin anytime. But you'll need to contact them using their email support@sellvia.com and have them cancel your subscription.
How To Install and Activate The Sellvia Plugin
The first thing you want to do is purchase the Sellvia subscription, and after that, you'll get an email containing your login details to your Sellvia account.
Login to your Sellvia account and navigate to the API key section, copy your API keys and download the Sellvia plugin.
After downloading, log in to your actual WordPress website and upload the plugin, then activate it with the API keys.
Once activated, you're good to go. You can now use the Sellvia WordPress plugin anyhow you want it.
Importing Product With The Sellvia Plugin
We advise you to explore the listed products based on their category instead of randomly viewing one item at a time. It's also wise to design a category list on your site where you can import your selected products.
Note that you may have to create several lists depending on your industry.
For instance, if you are selling fashion products, you can create a category for handbags, sunglasses, wallets, hats, etc.
Once satisfied with your categories, import the product, ensuring that you match the categories using the Sellvia plugin.
To do this, click Sellvia, then the product list to view the available products on the Sellvia warehouse. Your plugin will then import your selected products and images.
Fulfilling Orders with The Sellvia Plugin
Processing orders on the platform is simple since it features a fully automated fulfilment option.
But, please remember to fulfil your order soon after placing it. Click on the "orders" section, check whether it contains the items you've imported via Sellvia, and click "order from Sellvia."
The system will then search for the products, and once it finds them, you will get a "product found" notification, then click on the "place order" button to pay for the order.
If you want to track your products, you can do so by clicking the "get tracking" button.
Conclusion
The Sellvia plugin is an amazing dropshipping plugin that helps you access various products that you can sell to your customers.
The products are of high quality, and you can be sure to get several different types. Plus, the platform handles all your order fulfillment needs so that your product are delivered to your customer promptly.
Whether you are a beginner or an expert vendor, you can take advantage of the services offered by this plugin to build a thriving dropshipping business.