Shop Genius.io Vs EcomHunt: Best Facebook Ads Spy Tool? [Review]
In this Shop genius review vs Ecomhunt, we're going to be looking at the strong and weak point of these wonderful tools.
The 21st century has really paced a serious growth in e-commerce trend. Virtually everybody can now easily set up a store from the comfort of their home and sell to the global market.
Presently Shopify is boasting of over 800,000 stores and counting using their platform. This could be, however, ascertained to the flexibility of the platform.
In other words, if you haven't set up a store yet, you could take advantage of Shopify 14days free trial to your own profiting.
The truth is, anybody can have a store set up within minutes fully customized and appealing to customers. But trust me, none of this guarantee a sale.
The place of adverts and winning products cannot be overemphasized in e-commerce. A beatify store is not enough to make you money.
You need a template of what's working and also know how you can easily use it to your own advantage for maximum return on your investment.
Now, this where Shop Genius and Ecomhunt comes into play. These tools are both templates of what's already working. And we're going to be looking at what they've brought to the marketing table.
Let's take it one at a time.
Shop Genius Review
Marketing on social media, such as Facebook is a sure fire way of bringing your store before the right audience.  Which is simply by Running Facebook Ads.
As simple as that may sound, I'm sure you already know Facebooks ads require quite a lot of strategies. And trust me, learning from a few' mistakes can be quite expensive.
But listen,
What if there's a template of what's working already and all you simply need do, is copy and paste?
Sounds interesting right?
Well, it is!
And that's exactly what Shop genius has brought to the table!
What is Shop Genius?
Shop genius is a sophisticated Facebook ads research tool.
It's a tool that allows you to spy on other people's campaigns on Facebook and helps you understand how to run yours.
It offers solutions to trial and error mistakes while running your Facebook Ads. It helps by giving a glimpse into what is working for other online e-commerce stores.
Kinda Cool isn't it?
Yeah! … let dig Further
It is good to make it clear that Shop genius is a Facebook Research Tool that allows a quick spy on your competitors' campaign actions.
You can check what is working for them and what is not working for them easily. This little information can literally save you a few hundred bucks on Facebook ads trial and error.
Ease of Use
The platform is created with newbies in mind as the interface is quite interesting. From the dashboard, users can easily search for ads template using their various filter option.
You can also click on ads to preview and visit the actual landing page as links to the landing pages are also included in the ad template.
Shop Genius Review: Tool Features
Let's take a look at some of its features and functionality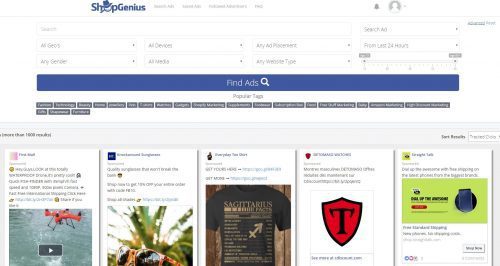 Shop Genius doesn't just show ads preview; it also gives access to the competitor landing pages. This will allow you not just to know what's going on from the outside but also what's going on your competitor web store.
So, you can either replicate or edit to create better ads for more conversion on your landing pages.
With the help of their many available filters, you can decide to search for ads on the various store using options such as website type, gender and even platforms. You can also choose to search for ads on a platform like Clickfunnels, Shopify, leadpages etc.
This just makes it easy for you to gain access to many ads at your own disposal.
You can also target ads easily through their Geo-target features. This feature allows you to track ads run in the US or UK, or any part of the world available on the platform.
This will allow you to track winning products based on location and also know the exact country to target with your advert per time.
You will also have access to several images and videos that are used by other competitors. This will allow you to what is working and how you can replicate for your own advert.
Additionally, you can choose to see these ads on either mobile view, tablet or desktop. This will allow you to know how all advert fits across the various device.
Your Private Ads Collection
Chances are you get to see various ads on social media on a daily basis, with this feature you can easily save them to your ads collection.
This will allow you to have access to various ads previously saved by you which will invariably increase your choice of adverts.
Shop Genius Pricing

Shop genius comes with 3 pricing plan that includes the following:
The Starter Plan – this plan only shows you ads from Shopify store with limited filtering. It includes keyword search, mobile ads, desktop ads, tablet, image ads, video ads, carousel slide ads and links to landing pages. Plan cost $14.99/month.
Skinny Plan – the perfect plan for e-commerce store owners who wants image type related advert. This plan is more advanced than the starter plan as it comes with some special features that are not in the starter plan. The skinny plan cost $29.99/month.
Full Fat Plan –  this includes every feature on Shop genius including the previous plan and it also comes with a 72-hour free trial. This plan cost $39.99/month.
Shop Genius Limitation (Cons)
Let's take a look at some of the limitation of this platform.
Ads template are only limited to the Facebook platform. This means all the ads you'll be given access to are all run on Facebook.
This platform has no free plan or free membership. However, it also comes with a very limited trial of 24hr for the starter plan.  While the full plan comes with 3 days' free trial.
Let's take a look at the other tool which is Ecomhunt.
What is EcomHunt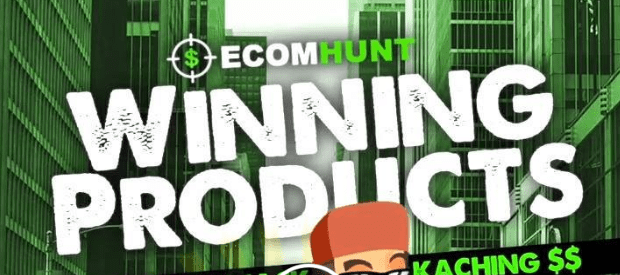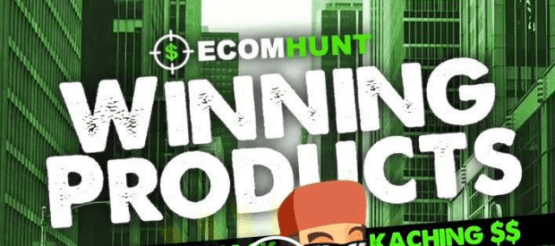 Ecomhunt on the hand is a curation of winning products every day. What this means is that they research winning products on a daily basis and upload it on their platforms for users to gain access.
What's interesting about this are the data alongside the products. They also provide Facebook ads cover, image and videos at which you can use to run your Facebook ads successfully.
Equally interesting is Facebook insight and targeting they provide for your Facebook ads campaign. This will allow you to target the right audience that is likely to take action on your product.
Ease of Use
The tool is quite easy to use just like Shop Genius. Users enjoy access to products on a daily basis and product data from their dashboard. However, free members are mostly limited.
From the dashboard, you'll see various products available and been released on a daily basis. Once you see a product you'll like to add to your store.
Simply click on "show me the money" and it will bring out every related data pertaining to the product.  From Facebook targeting to advert videos, links to suppliers and stores already selling the products etc.
Pricing/Membership Plan
EcomHunt basically has two plans the Free membership plan and the Pro plan. If you're staying with the free membership plan, you will have access to 2 daily products with very limited data.
You won't have access to the Facebook targeting, links to store already selling the products or suppliers. To get all product data, free members will have to upgrade to the Pro plan.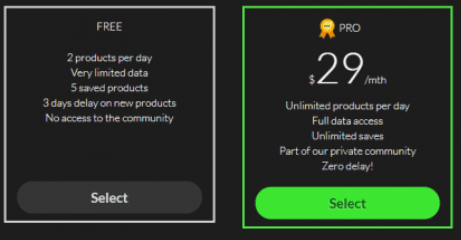 The Pro plan which of course is the second plan gives you access to everything Ecomhunt has to offer. From Facebook targeting to reviews, links, analytics etc.
The Pro Plan costs $29/month but you can get it for now at a discounted price of $20/month.
Webinars & Tutorials
This is one of the cool features of EcomHunt and why it's a bit different from Shop genius. They took time in putting their users through the whole processing by providing webinars and tutorials for them.
Since more and more people are trying to make more money and most of them have little or no knowledge about dropshipping. Having access to the EcomHunt tutorials and webinars will prove to be very helpful.
However, the downside to this is that most of the webinar and tutorial are only available for the pro members. Being a free member means your access to this will be limited.
But the value acquired is actually more, compared to the paid price. So it's a win-win situation because it's totally worth it.
AdHunter Chrome Extention
This chrome extension is available for both free member and pro members. What it does is that it allows you to find active competitive ads on Facebook while you can then use the template to re-run your Facebook ads.
What the chrome extension does is similar to Shop genius but shop genius is more sophisticated than the adhunter chrome extension.
Shop genius is solely built for hunting ads on Facebook while Adhunter is just one of the features of Ecomhunt.
The ad hunter chrome extension shows you traffic amount, the targeted location of the ad and how long it has been running.
The chrome extension is absolutely free, but to use it, you need to be an active user of EcomHunt either pro or free member.
Product Profits & Analytics
This feature will let you know how much you'll be making on a product. It will show the profit margin how much you'll be getting the product from AliExpress and the average price the product is being sold.
With the profit stats provided by EcomHunt, you will be able to plan your business, how much you should invest in Facebook ads and your potential return.
The product analytic on the other hand will let you know how well the product is doing generally. This in terms of social media and user experience.
In terms of social media, you'll be provided with the total numbers of shares, likes, comment the product is having.
Finally, as per user experience, you'll be provided with reviews, ratings, votes, and total numbers of orders the product is having over time.
Literary all the work is done. What users' needs to do is pick the product of their choice and promote it.
Setbacks to EcomHunt
Let's take a look at some of their set back
Free Membership: the free membership plan provides low values. For a user to really exploit the platform they need to upgrade to the Pro plan.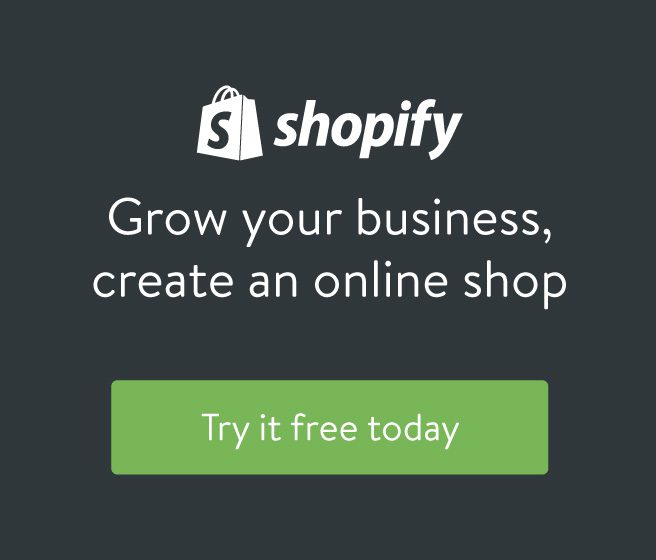 Conclusively
The tools are both wonderful tools. If you're solely interested in running Facebook ads, I'll suggest you check the Shop genius. And equally, if what you want is a low budget platform with more value, then you might want to check out Ecomhunt.
I feel Ecomhunt is more elaborate and more comprehensive while Shop genius has a strong point on Facebook ads template only.
Going with the pricing plan, Ecomhunt is quite affordable as you can get with it at the discount price of Just $20/month. And this includes access to everything on the platform.
So, what do think?
Let me know what you think by using the comment section
Learn More