Shopify Ninja Masterclass Review: Kevin David's Shopify Course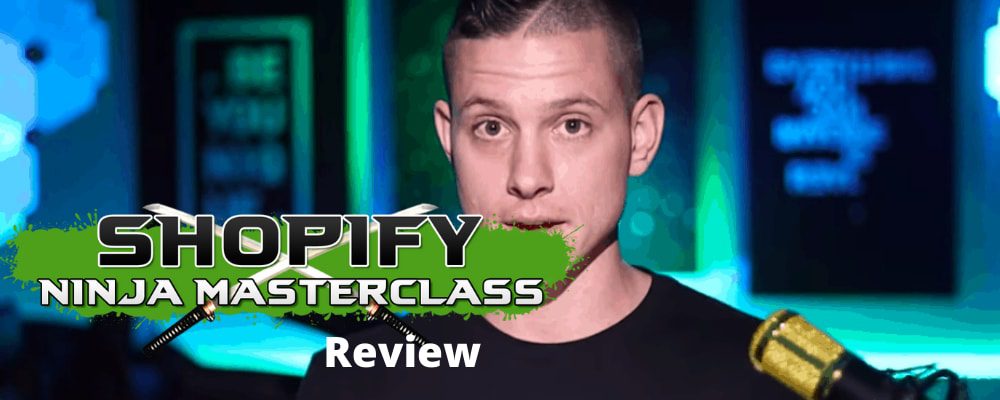 In this post, I'll do the Shopify Ninja Masterclass review by Kevin Davin for anyone looking to enrol for the course.
You might be wondering if the Shopify Ninja Masterclass is worth the hype or probably sceptical as to invest your money in the course!
Well, who wouldn't?
Truth is, there are various courses on the internet these days that are not worth half the price and yet they are all over the internet.
Is Kevin David's Shopify course any better you might ask?
Trust me… that's exactly what I'm about to show you most especially in an unbiased way.
The concept dropshipping sounds simple because you don't have to invest in product inventory or product logistics.
Nah!
All you need do is connect buyers to sellers while you keep the difference between your price and the actual selling price as your profit.
Sound easy isn't it?
Trust me, it's not always easy!
This especially is the reason why there are several courses about this same topic and making it difficult to choose from the good and bad.
However, in this review, I'll be covering every corner of the Kevin David Shopify Ninja Masterclass course and showing you the reason why it's any different.
You'll also get to know if it's going to worth your time and money.  Now let's go over the content and see what to expect in this Shopify Ninja Masterclass review:
Overview of Shopify Ninja Masterclass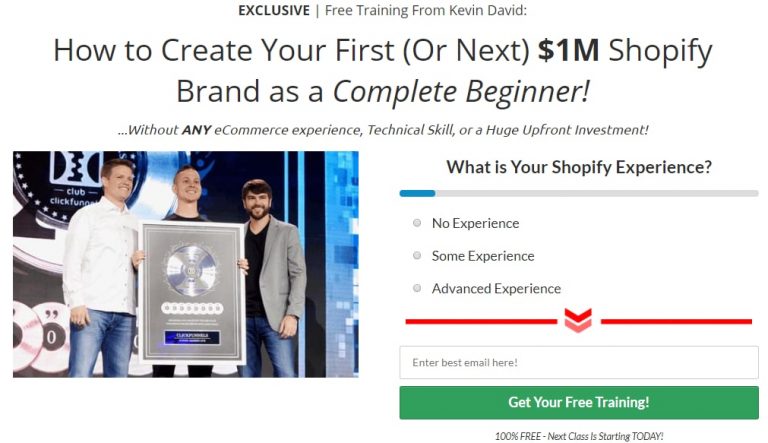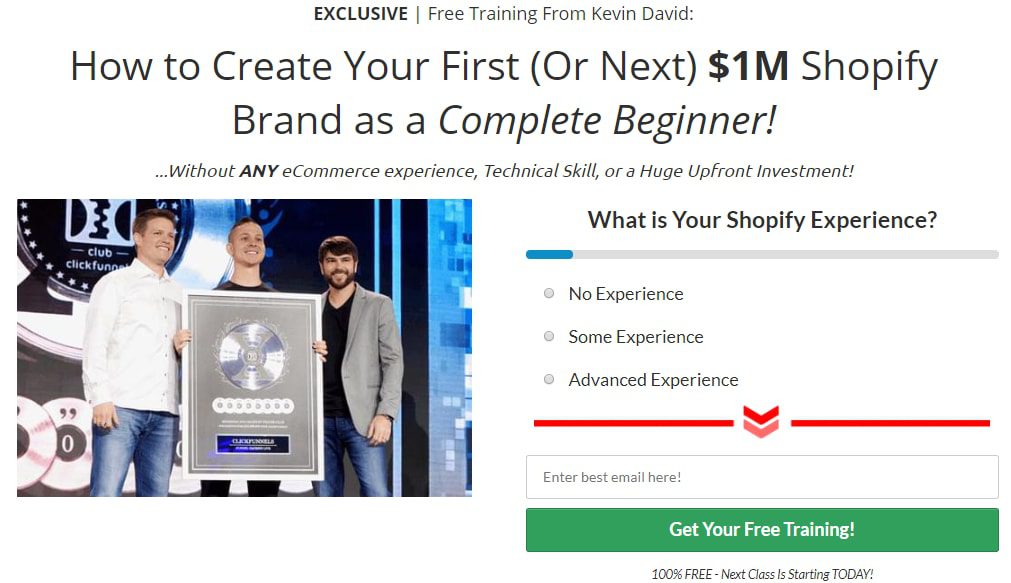 The Shopify Ninja Masterclass by Kevin David is more like a blueprint for anyone seeking success with the Shopify dropshipping business model.
Dropshipping can actually be a complex business most especially for those just getting started. There are various aspects that need to be taken into consideration.
Aspect like sourcing for winning products, partnering with a reliable supplier and most importantly marketing your products.
All these steps, process and more are what Kevin packaged together in the Shopify Ninja Masterclass for anyone hungry enough for success via Shopify dropshipping.
He makes it a detailed course where you can learn the exact steps he's been able to use to generate millions of dollars in the eCommerce business model.
You'll learn the step by step guide from sourcing for products and supplier, setting up your dropshipping store and running a killer advert to sell your products like a pro.
Trust me, there's no better way to learn than learning from someone with success already in your choosing field.
That being said, let's take a look at who Kevin David is why you should listen or enrol for is Shopify Ninja course.
Who is Kevin David?
Kevin David is the owner and CEO of THATLifestyleNinja which according to him is more than a company.
According to Kevin, the company is a MOVEMENT that enables entrepreneurs to be their boss and creates the life they've always dreamed of living!
Kevin went from working as a Privacy Consultant at Facebook in Menlo Park, California to earning 7figures online.
He left the solid job that many would have dreamed of to focus on his dream which of course was a success. Kevin was also awarded a Clickfunnel Two Comma Club Member for making over 1million dollars with just one sale funnel.
He was also featured on Forbes, Entrepreneur and Inc for his success and achievement.  Ever since then he has taught thousands of students via his training and video courses.
Popular among his course are:
Amazon FBA Ninja Masterclass
Facebook Ads Ninja Masterclass
And of course the Shopify Ninja Masterclass.
Even going through his YouTube channel with over half a million subscribers will let you know he really knows his stuff.
Now would it be bad having such an authority to hold you by hands through the same journey he went through?
I don't think so!
Course Content
These include what you're going to get in the course immediately you made your purchase. The Shopify Ninja Masterclass comes in 5 solid Modules and a total of 65 Video training.
I'll be reviewing each of the modules so as to know what to expect in the modules.
Profitable Product Research
Choosing Your Reliable Supplier
Shopify Store Set-Up and Optimization
Marketing Explosion
Your Business Scaling and Expansion
Module 1: Profitable Product Research
Just like the title, the first module is basically about product research and how you can spot the winning product that will change your business for good.
The first video after the introduction focuses majorly on how to choose a product niche for your dropshipping store.
This includes tactics Kevin himself has been using for sourcing products for his 6figures Shopify store. Products that are bound to make profits, I mean lots of profits!
Also amongst the video in the first module is a video about using AliExpress as your supplier based website. It only makes sense since AliExpress is widely used by the majority of stores running a dropshipping business.
Most importantly, he talked about how you can leverage winning product tools to hunt hot products to sell online.
There no doubt about it, this is still one of the most rated courses for anyone trying to start out the dropshipping business.
This course comes in a step by step training perfect for a complete newbie with no previous experience with the drop-shipping model.
Module 2: Choosing Your Reliable Supplier
This aspect in dropshipping is really sensitive because the quality of your supplier is proportional to the quality of the products you're selling.
Bad supplier means bad products.
However, in this module Kevin make the video training as detailed as possible. He talks about ways at which you can spot the right supplier and buying the product without getting scammed by a bad supplier on AliExpress.
He also emphasized on the usage of Alipay on how efficient it can be and how it can also protect your account from getting ban when you start processing many orders.
Not only will you learn how to source for high-quality products, you'll also discover how you can buy them with manufacturer price to increase your profit margin.
He basically talks about common mistakes new drop shippers make and how you can avoid them to stay on track.
Also important is the fact that you'll get to learn how to increase your shipping time with AliExpress products.
Finally, you'll learn how to create long term relationships with these suppliers and how you can leverage them against each other to find cheap and quality product.
Module 3: Shopify Store Set-Up and Optimization
If you're yet to know how to set up a Shopify store, then this module is for you. It comes in 15 videos in total and includes everything you'll ever need to create a standard Shopify store.
In this module, you learn the exact set of apps on Shopify that Kevin used to optimize and customize his store for higher sales conversion.
A very important aspect in this module is where he'll show you how to set-up payment gateways and how to integrate the best one for your country.
Irrespective of your location, you'll learn the way at which you can receive payment on your Shopify store.
He also talk about drop shipping tool you can use to import product directly to your Shopify store from AliExpress. Thus, saving you extra hours and stress.
You'll also discover the working product page template that is bound to convert the most and let you sell your product quickly.
If you don't have a domain name yet, you'll also learn how to come up with one easily without overthinking it and how to install it perfectly with your Shopify store.
 Module 4: Marketing Explosion
This module is basically on how you can go live with your Shopify store and taking it to the next level.  Kevin uses Facebook ads as his primary platform for marketing his store, which of course is one of his areas of speciality.
If you have been wondering how to be a badass with Facebook ads then I think you should just jump into this right now.
Here, you'll learn how to set-up your Facebook ads manager and how to create your campaign from scratch to finish. Even for a complete beginner!
You'll learn how to target the right audience interested in the product you're selling and equally how to retarget them.
In this module, you'll learn the FACT about Facebook ads and not the guess works most people do when running their adverts.
You'll also conquer the act of wasting money on BAD Facebook ads and start enjoying massive ROI on every dollar spent on your adverts.
Everything about the custom audience, lookalike, installing your pixel and set up for conversion ads and more are thoroughly handled by Kevin in this module.
You'll discover how to track your adverts and know exactly how they're performing and also know when to kill them or scale for more conversions.
Module 5: Your Business Scaling and Expansion
Finally, the last module! Just like the title, you'll learn every possible way to scale and expand your business and generate more income.
Kevin shared his trick on advanced Facebook ads marketing and how you can use other platforms to increase your store traffic.
You'll discover how to engage in SnapChat ads marketing and also Influencer marketing both on Instagram and YouTube.
You'll learn from this module how you can find the right and perfect influencer to promote your products.  Step by step guide on how to reach out to them properly.
Influencer marketing is on the rise and very effective if you may ask, these are part of the factor that made Kevin highly successful with e-commerce.
But now, you'll learn all the gist and tricks of influencer marketing from someone who is a success from it and how you can follow his blueprint.
Plus, access to software and free tool that will make it easy to spot influencer on social media. Finally, in this module, you'll learn how to use Google analytics to your business advantage.
Who Should Get the Course?
Let's take a look at the set of people that should enrol for the Shopify Ninja Masterclass. You don't have to take action if you don't resonate with any of what I'm about to list.
But if you do, then the course is totally for you.
First off, I'll suggest you watch the Shopify Free Training by Kevin himself before you take any action. This will allow you to know what to expect and help you with the right decision.
As I said earlier, dropshipping can be a complex and simple business at the same for those that get it right.
Having a beautiful e-commerce store is not enough to run a successful e-commerce business you need to know right targeting and the kind of products bound to make you money.
This course is for you if you:
Are hungry enough for success
Want to market your products like a pro
Utilize Facebook ads without ripping your budget apart
Want to know the exact time to scale your ads and business
Need more traffic
Make tons of money from a single product
Want multiple successful stores.
Ecommerce is a billion-dollar industry and numerous insatiable customer waiting for there needs to be met.
This is one sure online business that is bound to make you RICH if only you're willing enough to do what it takes to be successful.
How much is the Shopify Ninja Masterclass Course?
The Shopify Ninja Masterclass cost a total of $997 for lifetime access and future upgrades and future working strategies.
However, there is an option to pay the money three times at $497 if you prefer the split payment but for a one-time fee, it cost $497.
It also comes with 14 Days Money-back Grantee if for whatever reason you feel the course is not worth your time and money.
Included in the package is also a full access to the private Facebook Mastermind group where you can also leverage on the experience of previous successful students.
The Facebook group itself is a goldmine because you'll be learning live updates from members that are successful already in this business niche.
Still not sure?
Then I'll suggest you go through the FREE SHOPIFY TRAINING before you make any decision. It's absolutely free!
Additional Benefit of the Course
I'll discuss a few additional benefits that come with purchasing the course. That is, few of the things that actually made it stand out.
#1: Private Facebook Mastermind Group
The Facebook Mastermind group is an additional benefit that comes with the Shopify Ninja Course. This group consist of winners already in this line of business and of course Kevin David himself.
Here, you'll be able to interact directly with Kevin and other loaded members of the group and learn from daily tips been shared on the group.
This is group many would pay to join because you'll be learning from thousands of successful group member that was once in your shoes.
#2: 14Days Money Back Guarantee
The Shopify Ninja Masterclass comes with 14Days money back if you happen not to feel the course or it wasn't what you expect.
Other Bonuses!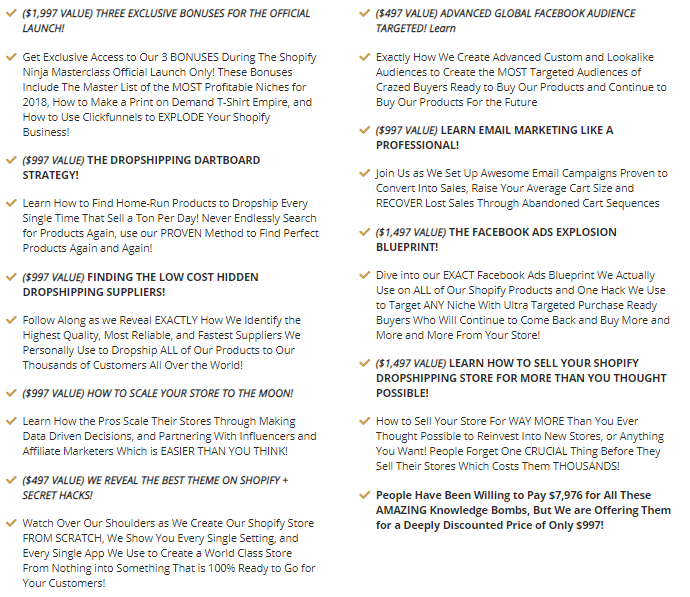 What's Not Cool about the Shopify Ninja Masterclass
As you can tell the course is a bit pricey for those just getting started and having little to spare on their budget.
It would be great if it comes at a lesser price compared to the actual price. However, the good part is that it comes with a 14Days Money-back Guarantee which makes it totally risk-free.
After investing your money and you for one reason or the other feel it doesn't worth the price paid you can then leverage the money-back guarantee and ask for a refund.
No questions asked.
Shopify Ninja Masterclass Review Conclusion
The Shopify Ninja Masterclass course is actually one of a kind and Kevin David is totally not one of those fly by night internet marketer.
He's into the hustle himself and has gone through several ups and downs. He knows what worked and what works.
The courses don't just include the content you're gaining access to when you take action. It includes a lifetime access to the premium group of like-minds into the game already.
There are several upgrades at no additional price when he discovers the new working strategy and hidden tricks that are not yet known to the public.
However, the course may be a bit pricy but totally worth it and more. Even going through his YouTube channel and gaining access to his free content will let you know he's good at what he does.
That's it on Kevin David Shopify Ninja Masterclass Review; let me know what you think about the course using the comment section.
SHOPIFY NINJA TESTIMONIALS AND WHAT PEOPLE ARE SAYING

Learn More