Shopify Statistics [2023] – eCommerce Facts & Figures
You can't mention the best eCommerce platforms without making mention of Shopify.
Shopify has been the leading eCommerce software and choice platform for entrepreneurs and businesses launching online stores of which the reasons for that aren't far-fetched.
Not alone does Shopify make it painless to start your eCommerce store, it supports any type of product whether a digital product or a physical product.
Whether you're starting a dropshipping store from the ground up or managing your inventory yourself, Shopify has you covered.
Courses, membership sites, templates, ebooks, are all easy to sell and distribute using Shopify.
It is no understatement that Shopify is the best and most popular eCommerce platform on the internet at the moment.
And when writing the story of eCommerce growth, you can't but acknowledge the backbone of this industry, Shopify.
Given that Shopify powers over a million stores and the numbers are fast-changing, a deep look into the numbers of this great platform will give you a good understanding of the state of eCommerce today!
For this reason, I surveyed and gathered the latest statistics and facts about Shopify which I'm sure you will find insightful.
Without beating around the bush, let's get started.
Overview of Shopify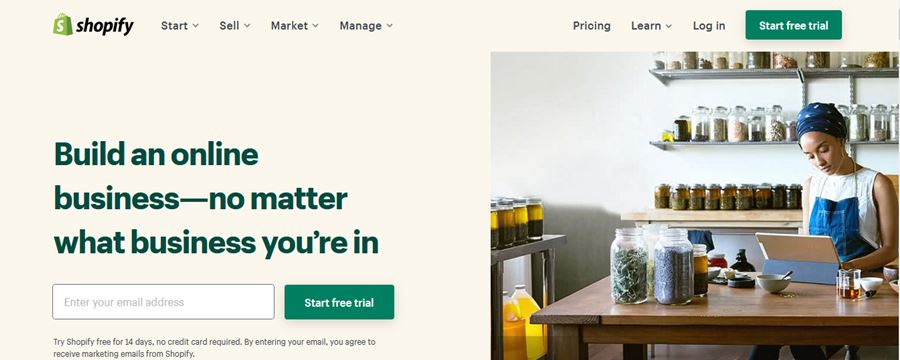 Shopify had it start in 2006 after its founders attempted to open an online store for snowboarding equipment.
Due to the lack of proper ecommerce platforms to sell online at the time, Tobias Lutke and Scott Lake (founders) decided to build theirs which we now know as Shopify.
Since 2006 Shopify has enjoyed massive growth with 2013 being the start of the significant growth.
Today, Shopify is headquartered in Ottawa, Canada and is headed by Tobias who is the CEO of the company.
Here is a quick overview (timeline) of how the company has grown from being just a small platform in 2006 to the leading force in eCommerce today:
2006 – Shopify was founded by Tobias Lutke, Scott Lake, and Daniel Weinand
2009 – Shopify launched its API (Application Programming Interface) that allows developers to create apps for Shopify stores.
2010 – Launched a mobile app on the Apple store, started its Build-a business competition, raised its series-A funding, and was named Ottawa's fastest-growing company that year.
2011 – Shopify raised its Series-B round ($15 million)
2012 – Shopify acquired Select Start Studios Inc ("S3")
2013 – The company acquired Jet Cooper, launched Shopify Payments, launched an iPad-centric Point of Sale system (POS), and received its Series-C funding.
2014 – Released its Enterprise solution, Shopify Plus, and was named #3 in Deloitte's Fast50 in Canada.
2015 – Shopify went public.
2016 – The company acquired Boltmade and Tiny Hearts (two different companies), partnered with Paystack (a Nigerian payment company), and launched Frenzy.
2017 – Amazon integration,  Introduced Bluetooth-enabled debit and credit reader, and more technology for brick and mortar businesses.
2018 – Shopify opened its first physical space in Los Angeles
2019 – Launched Shopify Studios, Shopify Chats, integrated with Mailchimp and Snapchat,  acquired Handshake, launched its fulfillment network, and finally acquired 6 River Systems close to the end of the year.
2020 – Shopify went fully remote, partnered with Alipay, made new hires, and announced plans to join the Diem Association.
2021 – Acquisition of Primer and …. (the year is yet to end)
Having gone through the timeline of how Shopify has come to be what it is, let's get our hands dirty with the statistics now!
General Shopify Statistics
#1. Shopify has about 20 percent of the eCommerce Market Share
Not a bad start. The very first statistic is the eCommerce market share of Shopify which is estimated to be about 20%.
This isn't quite small when you consider the worth of the industry.
The eCommerce industry is a trillion-dollar industry and the confirmation is in the number of sales Amazon, Aliexpress, and other ecommerce stores are making every day!
Among all ecommerce platforms where businesses can start and host their store, Shopify has a 20% of the market share.
The WooCommerce platform is the leading platform with a market share of 23.61%.
On that note, Shopify is the second-largest ecommerce platform businesses use to sell online.
#2. More than 1 Million Businesses
Saying that Shopify has about 20% of the ecommerce market share might have you thinking, it is quite small.
But it isn't. The equivalent of the 20% market share is the over-a-million stores being powered by Shopify.
According to statistics, shopify powers more than a million businesses and millions of stores.
#3. Shopify Is Worth $182.79B in 2021
As of October 2021, Shopify is said to be worth $182.79 billion dollars. And from the graph, Shopify stock keeps getting better.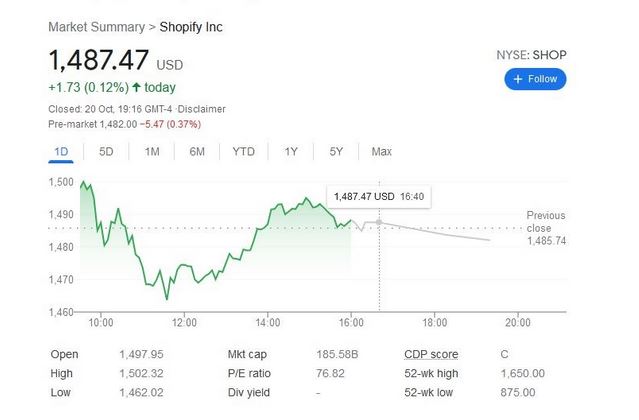 In terms of revenue, Shopify generated $2.92 billion in 2020. And when you check the company's net worth history, it denotes growth.
Since 2019, the company has experienced massive growth which took a big surge in 2020.
This increase took place during the Covid19 pandemic and Shopify's increase of free-trial days to 90 days was instrumental in gaining more customers in 2020.
A statistic from Shopify reveals that their annual revenue increases by 47% every year and their monthly recurring revenue increases by 48% every year.
#4. The US is Responsible for 62% of Shopify Plus Accounts
According to stat, the most-developed market for online shopping in the world is the US market. This statistic has proven itself again with Shopify.
The US still remains the best country and market to sell your products online. Shopify has 62% of the sales of its heaviest plan, Shopify Plus, coming from the US.
In other words, more than half of businesses using their Shopify Plus plan come from the US. The next country is the UK which is responsible for 10% of the accounts. And Canada is responsible for 9%.
The rest of the countries that follow suit are:
Australia
France
India
Denmark
Spain
Hong Kong
Finland
And here's what it looks like on a graph: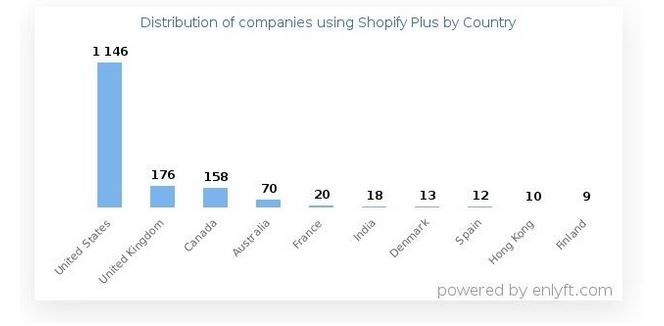 #5. Shopify is Active in 175 Countries
Besides the leading countries where Shopify gets the most sales and customers from, it is dominant in over 100 countries.
In other words, Shopify is a global company with presence in nearly all countries you could think of – literally.
It supports about 18+ languages in which you can set up your store. Some of the languages include Chinese, Czech, Danish, English, Finnish, French, German, Italian, to name a few.
Shopify Usage Statistics
Shopify is used by both  small and big businesses with revenue of various sizes. Some popular brands built with Shopify include Pepsi, Redbull, Tesla motors, Unliver, etc.
According to builtwith, there are over 5 million sites hosted by Shopify of which over 3 million of these are live sites and a million plus redirect to other sites.
Data from Builtwith shows that over 2.5 million of the sites are from the USA,  149K are from the UK, and Australia is responsible for 95K.
The rest of the sites are being hosted by other countries where Shopify is supported which include:
Canada – 89k sites
Germany – 72k sites
France – 56k sites
Brazil – 40k sites
Netherlands – 30k sites
India – 29k sites
Etc.
Over 199k Stores Use Shopify Gift Cards
Although Shopify gift card is a feature that is supported on all Shopify plans, it is only used by a small fraction of their customers.
According to Builtwith, the Shopify gift cards are only used on a little less than 200k sites some of which include Allbirds.com, Alexandani.com, Aloyoga.com, Motherhood.com etc.
About 185k Sites use US Shopping ONLY
Still on the usage statistics, over 185,000 sites support US shipping only and nothing else.
The surprising fact is that some of these ecommerce stores aren't hosted in the US but are being managed outside the US.
Some of these stores are managed in the UK, Canada, Germany, Australia, Puerto Rico, to name a few.
Over 30k Sites use UK Shopping ONLY
Similar to the previous stat, over 30k sites use the UK Shipping Only option of which they are hosted in several countries.
Shopify Traffic and Sales Statistics
79% of Traffic to Shopify Stores Come from Mobile
According to a stat from Shopify and You, 79 percent of traffic to shopify stores come from mobile devices.
What this tells marketers is that if you're not optimizing your stores for mobile, you're leaving a lot of money on the table.
Although Shopify is well-optimized for mobile, you still need to put more priority on the kind of themes you use on your websites.
The average load time for a site on mobile is 27.3 seconds and that should be your target. Anything more than that can be regarded as poor site speed for mobile.
69% of Orders come from Mobile
Another statistic from Shopify and You reveal that 69% of sales on shopify stores come from mobile.
So not only is mobile responsible for the most traffic, it is also responsible for the most orders and sales made on shopify stores.
Though this is a statistic from 2019, the stat is still valid in 2021 and beyond because the number of internet users using mobile devices keeps increasing every year.
Statista stated that there were 4.66 billion active internet users worldwide in January 2021 of which 92.6 percent accessed the internet on mobile.
So if the "69% of orders coming from mobile" stat is wrong it would only be that the number of mobile orders has risen (70 percent plus or even 90% ? )
In essence, if you're not yet taking your mobile user experience seriously, then there's no better time than now.
Shopify Grossed $119.58 billion in Merchandise Volume in 2020
Shopify made the most sales in 2020, $119.58 billion dollars which is up by 95.58% when compared to the gross volume sales in 2019 ($61.14 billion).
These sales were a result of the 457 million people that bought from Shopify merchants in 2020.
Taking it back from 2012, Shopify has experienced annual growth uptill now.
Here's a graph provided by Backlinko that better explains the growth of Shopify gross sales.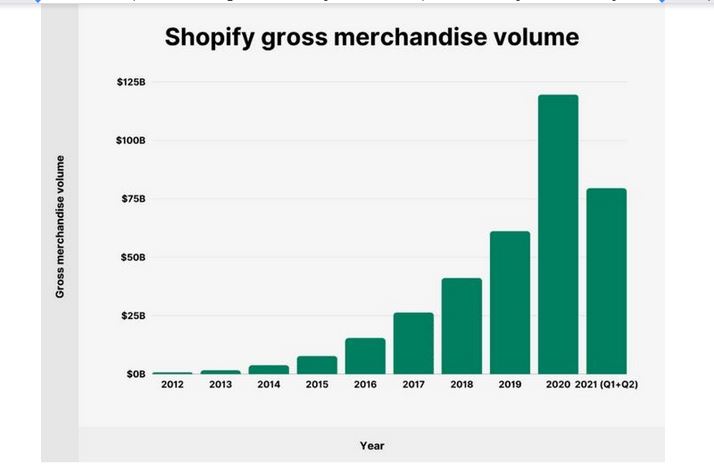 And 2021 is ready to break the record because in only the first two quarters, Shopify has recorded $79.5 billion.
Shopify Merchants Facilitated $5.1 Billion Plus Sales on Black Friday Cyber Monday in 2020
Still on the Shopify sales statistics, the total sales made by Shopify merchants during Black Friday Cyber Monday in 2020 saw a rapid increase compared to the past years (it was up by 76% when compared to total sales in 2019).
Over 44 million customers bought from Shopify merchants  which is also up by 50% compared to 2019.
And what's worth mentioning is that most of these sales took place during the Covid19 pandemic.
Not only did the pandemic cause a lot of new people to embrace online shopping, it also led to local businesses moving their business online.
The beauty of this is that it has come to stay and we'll continue to see more people embrace online shopping and more businesses setting up their online presence.
457 Million Shoppers in 2020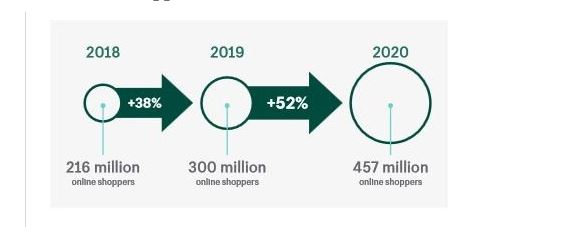 In 2020, 457 million shoppers bought from Shopify merchants which is up by 52.33% when compared to 2019.
Similar to the curve of the gross sales of past years, the number of shoppers has experienced growth year-over-year.
In 2019, 300 million people bought from Shopify merchants. The figure was at 216 million people in 2018, 163 million in 2017, and 100 million in 2016.
Here's a chart from Backlinko on the growth: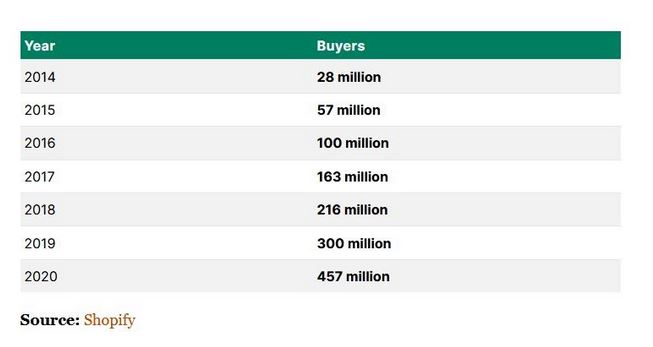 Shop-Pay is the Best Converting Checkout
This goes out to all shopify store owners and marketers, Shop Pay has been statistically proven as the most converting checkout on Shopify.
This statistic wasn't a guess but a result of a study of the 10,000 largest shopify merchants with Shop Pay enabled on their store.
From the study, it was discovered that checkouts going through Shop Pay have an average checkout-to-order rate of 1.72X compared to those going through other checkouts.
And the most interesting thing is that when the stat was broken down based on the device, on Mobile, shop pay converted at 1.91x times higher while on Desktop it converted at 1.56x times higher.
So on various parameters and metrics, the mobile has always done better than the desktop. I see marketers taking notes. Lol.
More New Stores were Created During Covid19
This stat shows that more businesses moved online during the Covid19 pandemic.
According to a report, new stores grew by 62% during March 13 2020 and April 24, 2020 when compared to the prior six weeks.
And it was during this period that the Covid19 pandemic heightened (March precisely). For us, this was when the lockdown was declared in Nigeria while it already took place in many of the first world countries.
So we can both agree that the Covid19 pandemic influenced the majority of these new stores. Also, Shopify also helped by increasing the free trial period for new accounts to 90 days.
Shopify "Subscription Solutions" Revenue Stat
Besides the total revenue, Shopify also generates reports for its Subscription solutions.
According to Shopify, the Subscription Solutions revenue comes from sales of subscription to their platform, variable platform fees, sales of subscription to their POS pro offering, sales of themes, apps, and the registration of domain names.
In 2020, Shopify recorded $908.76 million in revenue from subscription solutions up by 41.50% when compared to 2019.
For the first two quarters of 2021, Shopify has already recorded $654.9 million from subscription solutions. On that note, by the end of the year, there'll  be an increase in revenue from subscription solutions when compared to 2020.
Shopify Partners and Developers Statistics

6000 Apps in the Shopify App Store
Shopify disclosed in its year-in-review that its apps store now has 6000 apps. This is up by 62% when compared to the number of apps in 2019.
This only means that Shopify app store is drawing the attention of third-party developers to create more apps.
About 42,200 Shopify Partners Referred at least one Merchant in 2020
According to the year-in-review by Shopify, it was revealed that about 42,200 shopify partners referred at least one merchant in 2020 which is up by 72% when compared to the stat in 2019.
If we assume that the whole 42,200 partners referred just one merchant, that is 42,200 merchants referred by partners in 2020.
In other words, Shopify partners play a great role in the growth of Shopify users and merchants.
Frequently Asked Questions on Shopify
How Many Shopify Stores are Successful?
Quite a tricky question being asked by newbies and eCommerce enthusiasts. First, I need to address the fact that your eCommerce platform doesn't have much influence on whether your store will be successful or not – it is more of your niche, product, and marketing.
Besides, Shopify has lots of successful stores which are quite popular and also one of the best platforms out there.
Now back to the question, Shopify has no published data on the number of successful stores built on their platform.
However, Shopify claims that only 2-5% of stores are abandoned quickly for varying reasons. While this doesn't mean the remaining 95% are successful, it does give you an idea.
How Many People Work at Shopify?
Shopify published in their 2020 review that they have more than 7000 employees around the world.
And there are thousands more that are employed  by Shopify partners and developers.
How Many Shopify Stores are there in 2021?
The figure is constantly changing and it can be hard to predict until the end of the year review for 2021.
However, based on the current data we have (2020), there are over 5,300 shopify plus stores.
And there are over a million businesses run by Shopify merchants across 175 countries.
How Much Money Can Be Made on Shopify?
First, there's no limit on the amount of money that can be made on Shopify as a store owner. You're limited by the type of product you sell, your audience or customer base, your marketing strategy and budget, etc.
You can make as little as $1000 in monthly profit to as high as $100,000 in profit or even seven figures.
But rather than salivate over how much you can make on Shopify, you'd better get started and get your feets wet!
Here are some articles to help you get started with selling on Shopify:
Wrapping Up Shopify Statistics
Statistics serve multiple purposes – to educate you on the current trends, to make smart business decisions, etc.
While researching and writing this Shopify statistics post, I got lots of ideas as to marketing ideas and eCommerce strategies that work.
For instance, when selling products online, adding a partnership program or referral program should be a must-do as it is just powerful enough to drive you all the sales you need.
Anyway, you have seen the current trend with Shopify and I think I have done justice to this Shopify statistics. What you do with it is now up to you.
Here's an infographics that summarizes it all:


Leave a comment as to your favourite statistics and ideas that came up while going through these stats.