List of BEST Shortly AI Alternatives For Copywriting [2023]
Last Updated: 12th October 2021.
In today's list of Best Shortly AI alternatives, we will be looking at other shortly AI alternatives you can use for your copywriting business.
The truth is that writing content is not that easy because it literarily consumes a lot of time.
If you want to be really successful as a blogger or affiliate marketer you're going to need to publish lots of content because your business depends on it.
Most bloggers have discovered this and that is why they have decided to leverage article generator software to supercharge their copywriting.
However, these AI copywriting software provide more functionalities than each other and that is why you might be looking for Shortly AI alternatives.
Here are the 6 best AI software I believed could serve as alternatives to Shortly AI.
Let's get started, shall we?
Overview of The Best Shortly AI Alternatives.
Here is a quick list of the best Shortly AI alternatives that you can start with immediately if you prefer not to read the entire post.
| | | | | |
| --- | --- | --- | --- | --- |
| Software | Wp Plugin | Free Trial | Pricing | Rating |
| Jarsper | No | Yes | $29/Mth | 5.0/5 |
| Closercopy | No | Yes | $29/Mth | 4.8/5 |
| Writesonic | No | Free | $11.6/Mth | 4.6/5 |
| Rytr | No | Yes | $29/Mth | 4.7/5 |
| Snazzy | No | Free | $49/Mth | 4.7/5 |
| Kafkai | Yes | Yes | $29/Mth | 4.4/5 |
Shortly AI Alternatives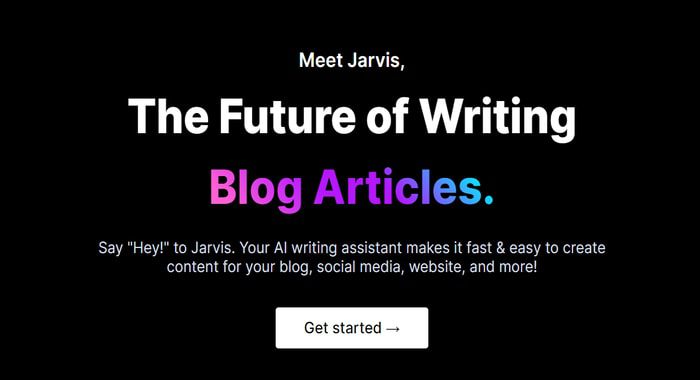 As of the time of writing these Shortly AI alternatives, Jasper is the best and overall AI software in the market that carries all other AI features on this list.
More interesting is the fact that Shortly AI has been recently acquired by Jasper AI in order to expand the system and serve content creators better.
Jasper has a very powerful feature that you will ever need in terms of being successful in your copywriting carrier
It is well known for writing a blog post that stands to convert prospective customers and as well rank in Google SERPs.
And that is why so many people choose Jasper among other automated copywriting software.
As a result of helping people get more done, it is then loved by the majority and you will be added to a large number of Jasper user's Facebook group community once you join.
By using Jasper, you will never go wrong because we use it also and that is why you found it #1 here.
Features
Jasper has the ability to write a full blog post within minutes which other AI copywriting tool doesn't have.
It has the ability to write content that ranks in the SERPs while using SEO Surfer. When your contents ranks, that means more traffic and more sales to your Affiliate site.
Jasper is loved by the majority and has an active community of people because it regularly upgrades its system just like the new Boss Mode feature that was recently introduced into the game.
This AI software offers over 50 content templates in order for you to creates any type of content within minutes.
Jasper also got incorporated with different AI frameworks like AID. This enables the robot, Jasper to create a human-like article.
Jasper AI Pricing
Jasper.ai gives you an opportunity to test the system and see what you stand to gain for using them.
You will be granted access to generate up to 10k words for free and pay $29 per month thereafter being the starter plan and $109 per month for the unlimited plan.
The Boss mode is the last plan on the list, it costs $119 per month and you will be granted all the system features.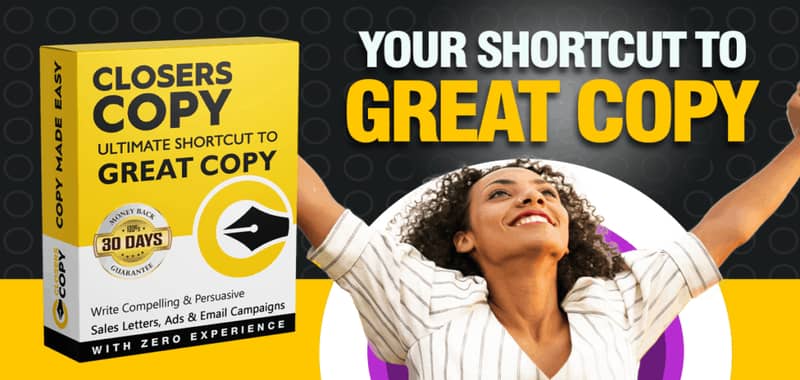 This is another great Shortly AI alternatives that can never be underestimated.
And it is the one that is next to Jasper AI in terms of so many amazing features and is very powerful as well.
This AI software is not like other AI article generator tools because CloserCopy has its unique ways of creating its own content.
It doesn't just create the content but be sure the content can helps you rank in Google SERPs because it is built to do that.
The same level of entrepreneurs and digital marketers that uses Jasper are the one that makes use of CloserCopy also.
CloserCopy can write top-notch content in the English language and as well helps you translate that content to so many different languages.
With that, you will be able to target the international market and that will naturally bring growth to your copywriting business.
CloserCopy just has all you need to succeed in today's cyberspace as a content creators.
Features
This software can write any form of long content within minutes. By providing just few key details of what you want, you get your article ready in minutes.
 
CloserCopy has gotten a lot of content production templates that you can quickly pick and replicate. With this, your content creation process becomes effortless.
This software has the ability to write in over 24 languages people speak around the world. This feature is not just beautiful but provides an enhancement for your business.
It provides you access to the template library of marketing and other copywriting templates. This will make your experience better with the system.
Pricing
CloserCopy has 3 pricing plans that you can choose any one that suits you the best and starts using.
The starter plan costs $29.99 per month while the professional plan goes for $49.99 per month and the unlimited plan goes for $79.99 per month.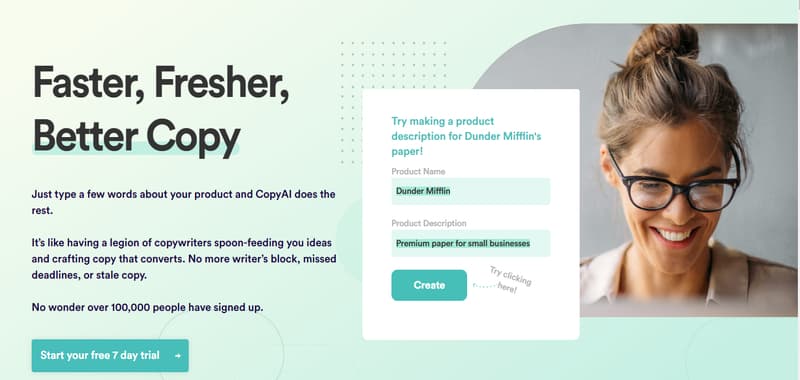 Copy.ai is also one of the best conversion.ai alternatives that use GPT-3 by OpenAi to generate copies. Although it offers many options once a user creates an account.
It mainly focuses on digital ad copy, sales copy, e-commerce product descriptions, social media posts, blog content, and website copies.
Using the content generated, you can increase your conversion and ultimately, your revenue.
Rather than hiring a human copywriter, using this ai copywriting software will save you the time and frustration you'll encounter working with freelancers.
It generates persuasive content for landing pages, blog, intros, and ads.
It features a smooth onboarding experience with their homepage having all the crucial information that users need.
Thus, one doesn't have to scroll down to find what they are looking for. On the homepage, you'll learn of the site's free trial, writer's block, and there's a visual component that explains how to use this service.
For a great experience, copy.ai uses OAuth that support signing in from Facebook and Google. If you hate remembering passwords, you'll be revealed with this feature.
Once you select the copy you want to write, you then describe your product, and the tool will generate a copy for you.
As simple as that. Some of the copies users can create include; eCommerce copy, website copy, digital ad copy, social media content, and blog intros.
Features
Below are some of the key features of Copy.ai
Various Copy Writing Formats- there are several templates on this site that you can use to generate different copies.
Tailored Copies- it can generate copies that include specific promotions and demographics.
Chrome Extensions- which make the site easy to use. You mustn't create another password as you can use Facebook or Google to sign up.
24/7 customer support through email
Website is easy to use
Can be used by various people, including marketers and ad experts
Affordable pricing compared to some copywriting writing services
High-quality sales copies
Pricing Plans
You're given a free trial for seven days that does not need you to have credit. It includes 100 runs per day and 24/7 customer support via email.
After that, if you like the program, you can upgrade to a solo version, which costs $49 per month.
It gives you access to unlimited runs, all copy.ai's tools, and new features. You also get round-the-clock email support.
If you are a small business, this offer is perfect for you. However, larger teams can pay to get a custom subscription starting from $119.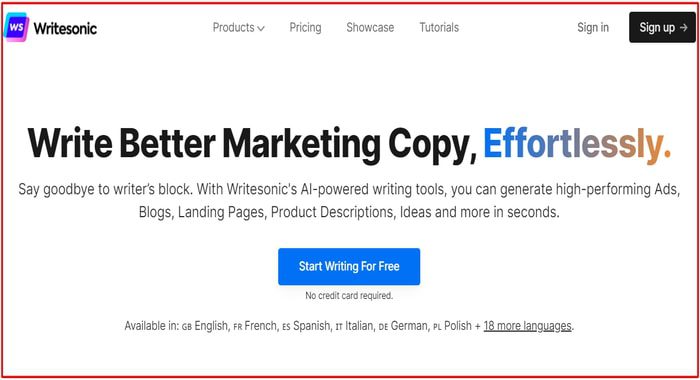 Writsonic is another best AI software on this list because it also has so many amazing features as well.
This AI software has been around for a long time now in the industry and it has lots of powerful functionalities.
The AI software runs on a very powerful machine known as GPT-3 technology.
Which is the highest and advanced AI technology of all time currently, it does perform well also just like other AI software on the list.
It can produce any form of content within the shortest time possible in minutes and not hours ranging from product descriptions to blog intros.
Writesonic is jamb-packed with powerful marketing templates and different types of content templates.
With this, you can quickly get high top-notch copies with proven templates.
Features
This software supports over 20 global languages making it easy for you to tap into the international market.
Writesonic AI software runs on the latest advanced (GPT-3) learning machine. This will enable the software to create a human-like article.
This AI software makes it possible for you to create a wide range of content in a single dashboard such as product descriptions, blog intros, Google, and others.
Has a lot of content production templates that you can quickly pick and replicate. With this, your content creation process becomes effortless.
It has a wizard tool that shows you what you need to do step by step in order to better utilize the system
Pricing
Writesonic doesn't offer a free trial system but one thing that is sure is that the system is power-packed when it comes to copywriting.
It uses 3 pricing formula system as well. The first plan costs $11.60 per month which gives you 75 writing credits and the professional plan goes for $39.60 per month.
The business packages go for $199.9 which gives you unlimited access to the system features.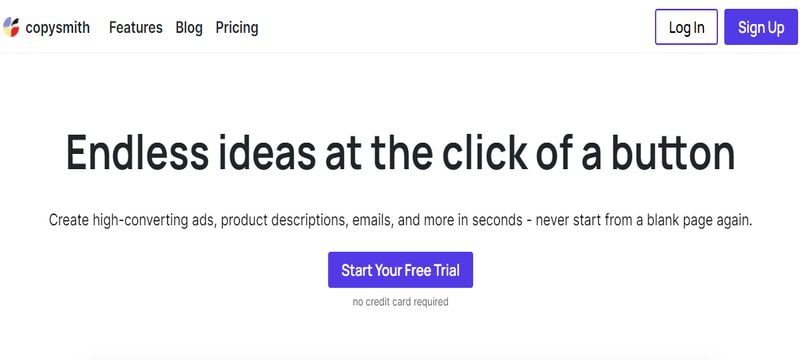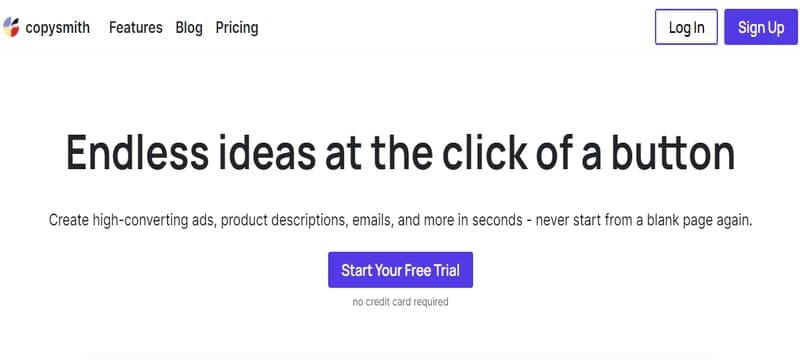 CopySmith is another Conversion.ai alternative for AI copywriting. It was created by Jasmin Wang to help write killer sales copies.
She invented it after struggling to create content for her eCommerce site while still managing other areas of her business.
This tool can be used by entrepreneurs, content writers, and many others to write content for their websites. It's powered by GPT-3, which is among the most powerful Artificial Intelligence models.
You can use CopySmith to create taglines, SE Metatag, content rewriter, product descriptions, blog posts, etc.
After logging in to CopySmith, you'll see various templates to choose from. Select your preferred content template to see your available options.
Choose an option that you like and let this service generate a copy for you. Also, note that one can favorite the option they like by clicking the heart button on that option.
This will then let CopySmith know the tone and structure of the content you like. If you need to write a product description, blog posts, or any other marketing content, you'll find this tool useful.
Features
CopySmith offers more than 20 marketing templates, including LinkedIn, Instagram, and Google templates, among others. You can easily try out these templates even when you don't have experience in marketing or copywriting. 
Users can use CopySmith to generate interesting blog posts. Just by inputting a little information about the content you want, this tool generates the requested copy and you only type the introductory paragraph, some keywords, opening sentences, and that's it.
Plagiarism-free Content – the service generates your copy word for word. As such, their content is original and passes plagiarism checkers like Copyscape.
Google Chrome Extension – this allows users to log in to CopySmith quickly and conveniently from any webpage using any device. As such, you can easily share your generated copy on the sites you want. You can download this extension from the Chrome website.
Easy to use interface. The site is not cluttered. Hence you can navigate through it easily.
Great customer support who you can contact using email or via FaceBook
Data protection. It uses Google's Firebase to ensure that users' data is well-protected.
Generates quality copies fast
Several templates useful for marketing
Help get rid of writer's block
Pricing Plans
There are various pricing packages on this site covering all budget sizes.
You can choose the starter plan, which goes for $19 per month, or the professional plan, the early adopter plan, or the enterprise plan that cost $59, and $499 per month, respectively.
Note that you get a discount on all these plans if you're paying annually.
The starter plan is best for those writing short content. You're given 50 credits per month. With a professional plan, your credits per month increase up to 250.
It is best for all types of content and comes with prioritized customer service and input on the roadmap of a new product.
The early adopter plan includes everything on the professional plan only that credits are increased to 1000 every month.
Those who opt for an enterprise plan get 1000 credits each month and a custom domain that allows them to share the content output.
You're also offered an account manager and prioritized customer service.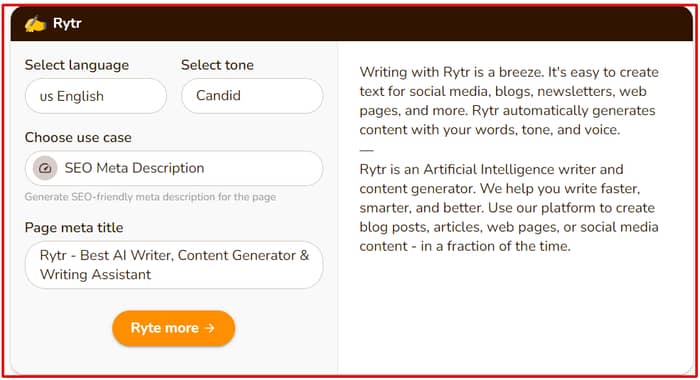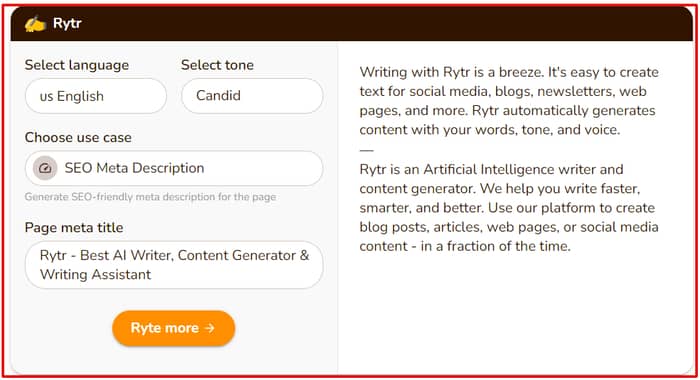 Rytr.me is another powerful AI software that we have on this list as Shortly AI alternatives.
This AI software offers team collaboration. It means you and your team will be able to work within the Rytr dashboard.
By working together, you can get much done in less effort time than when only you is working on a project.
However, only you can do it because it has a friendly interface that is very easy to navigate around without much stress.
It also offers a Google Chrome extension so that you will be able to access it everywhere you are on the net.
In addition, it offers so many of the powerful features all other AI software on this list has.
Features
It provides a team Collaboration within its dashboard to keep you and your team organized in a single dashboard.
Rytr interface is that of a beginner-friendly one. With this, you don't need to start giving yourself headaches on how to navigate around the system.
It makes it possible for you to write in different languages and tones. This will help you write the same message in different form to your ideal audience.
Different sets of output variants are also possible with Rytr, this means that you will be able to generate the same topic in different outputs.
Rytr also goes as far as providing you with a Google Chrome extension in order for you to access the AI software as you browse around the web.
Snazzy AI is another amazing AI tool we have on the list.
This AI software is known for its simple and easy-to-use dashboard which makes it very beginner-friendly and the pros best friend.
Snazzy AI has so many powerful features such as content expander, content remix, etc.
A content expander is a tool that is designed to help you overcome writer's block. Because with this tool, you can always expand all bullet points into pieces.
You just have to put what is available on your head into the content expander space while it does justice to the remaining one.
The remix also works in a similar way and it uses GPT-3 Technology.
It helps you remix your content to be more useful and quality.
Just that, you don't have control of what the remix can change, its changes what it believes is totally wrong.
It also has a great customer support system to ease your journey as you begin to use the AI software.
Snazzy AI is indeed a great tool for all content creators, bloggers, freelancers, affiliate marketers, etc.
Features
To the fact that the Snazzy AI dashboard is beginner-friendly, it has to offer you training resources in order for you to master the system sharply and quickly.
Snazzy AI has a content expander that can help you translate all your bullet points into possible last pieces in minutes. It also offers a content remix that helps you remix all your ideas together.
It has great customer support such as live chat and sending of emails. With excellent customer support, you can be sure of quick responses when technical issues arise.
It provides you with great landing page copy templates that stand to convert your prospective customers. With this, you can make more money from your business with less effort time.
Just like Rytr, Snazzy AI also offers a Google Chrome extension to makes you have a better experience with the system.
Pricing
Snazzy AI pricing plan is pretty attractive and the first thing that proofs its attractiveness is that you be using Snazzy AI with $0 and you will be able to generate up to 5 content daily.
The second plan is the best although and I strongly advise you to go for this than the first so that what you can do with the system becomes endless.
This plan costs $49 per month and all you can do with the system are endless.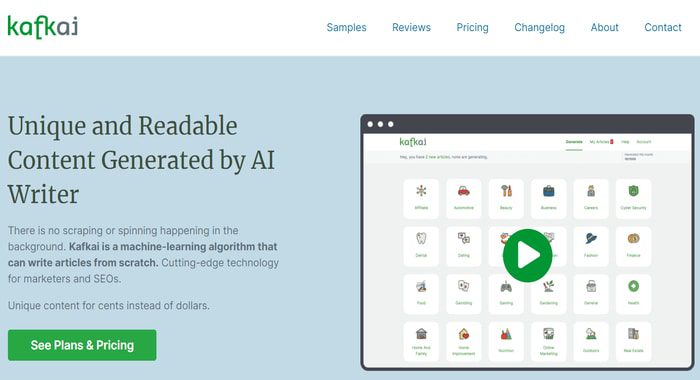 Has amazing as this AI software is, many people just underestimate it which I don't know why.
However, this may be as a result of the AI software's funny name.
And Kafkai is the only AI software that offers you a WordPress plugin that you can use as you work on the WordPress editor dashboard.
In fact, this amazing AI software is based on the Elon Musk AI project which even makes it greater.
Kafkai also has lots of amazing content templates like Google Ads, Facebook Ads. 
With those marketing templates you can be sure of running successful ads that bring lots of conversions.
It doesn't just offer you a template but also helps you write quality content on it.
The AI software is great to be mentioned as Shortly AI alternatives.
Features
It is based on a very brilliant mind AI project, Elon Musk and that makes what it can do limitless.
Kafkai has been around in the copywriting industry for so long and it discovers INs and OUTs of copywriting. This ensures that it will serve your writing needs.
The AI software has gotten a lot of marketing templates such as metal description template, Facebook ads templates, Google Ads templates, etc.
Kafkai has nearly all other features on the list of Shortly AI alternatives.
Pricing
It provides you with an opportunity to test the system for completely 3 days by being able to generate up to 25 unique contents daily for the 3 days.
And you start paying $29 per month later for the newsroom plan and $129 per month for the printing press package.
Which is The Best Shortly AI Alternatives?
Jasper AI is the best and recommended Shortly AI alternatives because it can perform all that Shortly AI can do and beyond.
Another AI software that could also serve as an alternative and as well work just like the way Jasper work is ClosersCopy.
By using any one of those two recommended AI software you can be sure of getting out the best of your copywriting journey.
Which one of the AI sounds most compelling to you? Do let me know in the comment section.