Spocket Pricing Plans – What's the Best Plan to Choose?
Checking out the Spocket pricing plans indicates you want to start a dropshipping business using the Spocket app or you're simply trying to learn more about the platform.
We all know dropshipping is quite an interesting business model that allows you to start up with e-commerce without investing in-stock inventory.
All you need to do is promote products and push orders to your suppliers for fulfilment and your work is done. The product price difference is going to be your profit.
However, the whole process isn't as easy as it sounds which is why we need tools like Spocket to get them done the right way.
Spocket, of course, is a dropshipping app that integrates with both WooCommerce and Shopify stores with just a click of a button.
The Spocket app allows you to start a dropshipping business with suppliers located in both the US and EU.
This, however, made Spocket stand out from other dropshipping platforms that rely on AliExpress for sourcing products. Their shipping methods are quick and reliable, thanks to their suppliers based in the US and Europe.
But the question now is, which of the Spocket pricing plans should you choose to start your dropshipping business?

Spocket Pricing Plans: How Much it Cost Per Month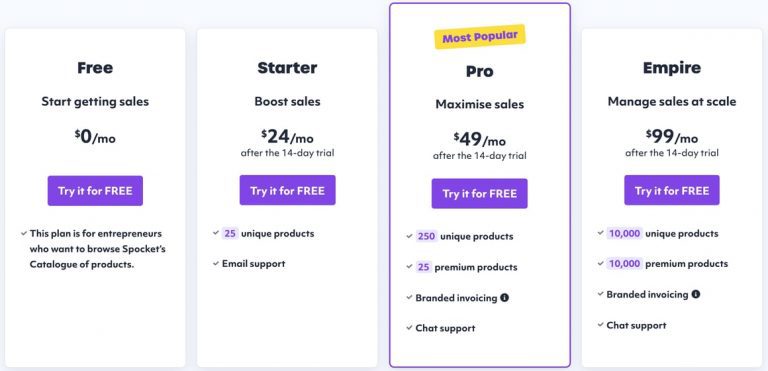 Let's have a look at the price comparison and see what they cost per month and the suitable plan to start your dropshipping business.
Spocket pricing comes in four plans:
Free
Starter ($24/month – plus 14 days Free Trial)
Pro ($49/month – plus 14 days Free Trial)
Empire ($99/month – plus 14 days Free Trial)
#1. Free Plan
Immediately after your sign-up, you'd automatically have a free account with Spocket but the free account is only limited to browsing the product catalogue and checking out the platform.
#2. The Starter Plan – $24/month
This is one of the interesting parts of Spocket pricing. It comes with enough flexibility to suit all users' needs.
The basic plan allows you to use the app for $9/month but comes with limited features compared to other plans. This, however, was a free plan before, until it was recently updated.
You can get started using this plan for $8/month and $96/year if billed annually.
Spocket Basic plan gives you access to the following:
Import 25 products to your store from the Spocket marketplace.
Product inventory updates
You also get to process sample orders of potential products.
Get access to support via email
Unlimited numbers of orders
Get tracking numbers for all your products shipment.
Currency Exchange
Global Pricing Rules
You can get started with this and upgrade as your business expands. You're going to need more than the 25 Spocket-free products as your business expands to make a reasonable income.
Try Spocket For Free
#3. The Pro plan – $49/month
The pro plan comes with a 14Days free trial to test this plan as compared to the free basic plan. Spocket pro cost $49/month after the 14Days free trial if billed monthly and $29/month if billed annually.
Making it cheaper if you prefer to go with the annual plan which is quite a discount as compared to the monthly bill.
The Pro plan allows you to import up to 250 products from Spocket marketplace and gives you access to the following:
Branded Invoicing
Gain access to support via live chat and emails
Unlimited orders
Access to 25 premium products
Real-time product inventory updates
Get access to your shipment tracking number
Global pricing rules
Currency Exchange
This can basically get you started and hit a reasonable profit. The pro plan is recommended to get started with Spocket as it includes the basic features you need.
However, the next plan comes with greater features if you're planning on scaling big with Spocket.
Try Spocket For Free
#4: Empire Plan $99/month
This plan equally comes with a 14Days free trial to test the plan as compared to the pro plan. The Empire plan costs $99/month after the 14Days free trial.
However, the annual cost per year if paid upfront is $69/month as compared to the normal monthly fee of $99.
This plan comes with unlimited products and orders and equally gives you access to the following:
Unlimited Products
Branded Invoicing
Unlimited premium products
Access to support via live chat
Unlimited orders
And every other feature in the previous plans.
This is the highest pricing plan on Spocket and it includes all the premium features offered on the platform to scale your dropshipping business.
Try Spocket For Free
Up To 7month Discount on Spocket
You can get 5 months off the 'Pro Plan' and pay $29/month instead of the usual $49/month when billed annually. The empire plan also gives you 5 month discount while the "UNICON PLAN gives you up to 7 months free when you pay annually.
Try Spocket For Free
Which Spocket Plan Should You Use?
Before we delve into that, it's important you know that you can cancel your Spocket plan subscription anytime you which to.
Unlike other platforms that make it a difficulty, with Spocket you can easily end your subscription whenever you wish to.
So, which Spocket pricing plan should you start with? As I said, all the pricing plans are very flexible with detailed features of what to expect with each plan.
The Pro Plan is recommended to get started as the basic plan is somewhat limited.
However, you can try out the platform with the Basic plan to see what they offer, then upgrade to the Pro plan as well as the Empire plan whenever it's required for your business. Thus, having a hassle-free business with Spocket.
So, that's it on Spocket pricing, which of these pricing plans is best suited for you? Let me hear your thought on this using the comment box.
Try Spocket For Free
Read Spocket Review
FAQ About Spocket Pricing
let's go over some of the frequently asked questions about the Spocket pricing plan so as to equally find answers to some of your questions.
Does Spocket offer a free trial?
Yes, it does and all other monthly paid plans on Spocket have a FREE 14-day trial: you can try both the Pro and Empire Plans for free for up to 14 days. And you won't be charged if you cancel before your trial ends.
How Do I Get Free Plan on Spocket?
Immediately you create an account on Spocket you're on the default plan, which happens to be the free plan: you do not need to take any extra steps to get the free plan. If you install Spocket and do not upgrade, you are on the free plan.
Can I Cancel My Spocket Plan at Any Time?
All monthly subscriptions can be cancelled from the account settings page. However, annual subscriptions cannot be cancelled prior to the end.
Can I Change My Spocket Pricing Plan Anytime?
You can do this at any time you wish. All you need do is go to your setting page and have it changed.
Is there Any Discounted Spocket Pricing Plan?
All the annual plans on Spocket are available at a 20% Discount. You can unveil it by moving the slider on top of the page to 'Annual'
Try Spocket For Free
Learn More: