Spocket vs AliDropship: Best Tool for Dropshipping?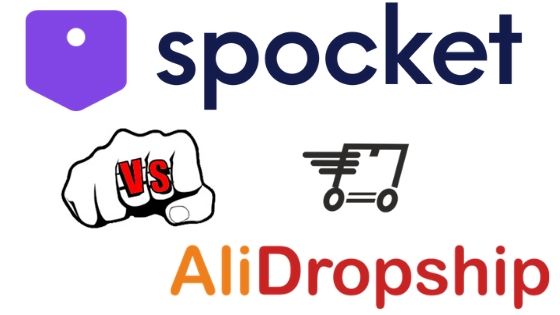 Both Spocket and AliDropship is an amazing tool when it comes to dropshipping. But using one of the two will boils down to your preferences and goals for your dropshipping business.
However, you don't have to worry as I'll be comparing both tools (Spocket vs AliDropship) against each other by showcasing both their strength and weakness.
We all know dropshipping is quite lucrative…
But it takes more than setting up a store on Shopify or buying a plugin to make that kind of success you want.
The platform you'll use like these two, Spocket and AliDropship play a greater role in the success of your business.
Plus, other factors like winning products, marketing strategy, or better still a dropshipping course if you have little to no experience already.
Other than that, all you need is a good platform, import products, market them and you're good to go. Which now bring us back to Spocket vs AliDropship.
Spocket vs AliDropship
I'll be walking you through their features, overviews, strength and weakness and equally their similarities if they have any.
But before we proceed, here's a summary of what will be covering:
What is Spocket?
How does Spocket Work?
Features of Spocket
What is AliDropship?
How Does AliDropship Work?
Features of AliDropship Plugin
Spocket vs AliDropship: Price Comparison
Differences
Which one is better?
What is Spocket?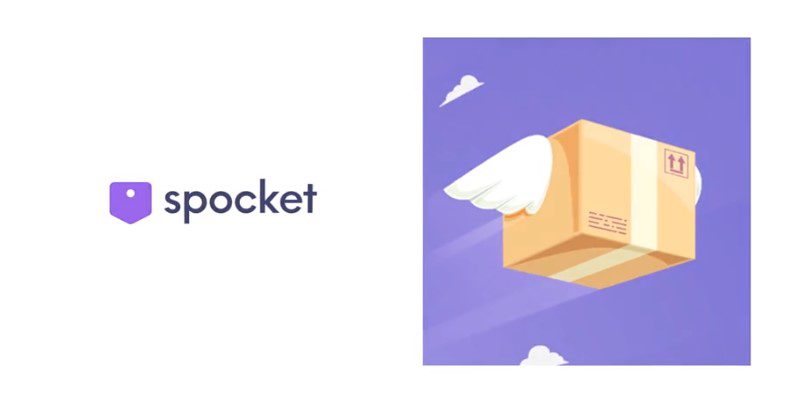 Spocket is a "software as a service" that gives its users' access to high-quality products and suppliers from all around the world, mostly in the US and EU.
One thing that's very important with this platform is that it gives you the ability to run an automated dropshipping business.
Plus, they have a huge marketplace for suppliers that helps integrate seamlessly with your online stores.
This means right from your Spocket dashboard, you can search and import products directly to your online store.
And at the same time fulfil orders from your dashboard without having to call, chat or see the suppliers of the products.
You can call it a semi-automated dropshipping platform. Majority of the work on dropshipping is cover by the software already.
Finally, I think it's important to know that Spocket works efficiently with both Shopify and WooCommerce.
This means if you plan on setting up your store on WooCommerce or you have an existing WooCommerce account, you can easily download the Spocket WooCommerce plugin to set up your store.
I've written a detailed article on how to do that, you can check it out here!
How Does Spocket Work?
Spocket works similarly to the popular Oberlo app and AliDropship itself. The only difference is that it's not linked to AliExpress.
Spocket has its own marketplace where supplier from US and EU list their product online for dropshippers to sell.
So, instead of integrating with AliExpress, you can easily import products directly from the Spocket marketplace to your Shopify or WooCommere store.
You can easily search for products you want to import based on keyword or price filter or use the location search.
That is, if your targeted customers are based in UK, you'll have the opportunity to source products from UK based suppliers and have the products shipped to them as fast as possible.
Either way, the app is built to give you an automated business that requires little effort from your part. You can read the full Spocket review here!
Try Spocket For Free
Features of Spocket
Let's go over the basics features of Spocket and see if it's any better than its competition.
#1: 2-14 days Shipping Time
This is actually my favourite part with Spocket drop shipping. While searching for products to import, you'll have the ability to choose the products you want based on your customer location.
Invariably, you'll get to enjoy 2-14days shipping or less with your products.
However, the shipping time may vary based on products and your subscription plan with Spocket.
But you can always check this before you import the product.
#2: Automated Order Fulfilment
This feature allows you to enjoy a semi-automated business with your suppliers.
Immediately your customer pays for a product on your store, you can easily push everything to your supplier with just a single click.
You'll receive a notification immediately your orders are sent and the supplier will get started with the shipping of your products immediately.
After that, you'll see a track order button on your dashboard immediately the product is shipped. This will include details of stats and location of the products.
#3: Product Customization
The product customization feature allows you to edit product title and add tags for SEO. You can also edit the product image by adding "alt" text in the image.
This allows the product to get indexed faster by the search engine.
Also, as part of the product customization, Spocket makes it easy to check out variants of products you import that you don't want to sell.
Finally, you can re-write the entire product description to appeal to your customer more and at the same time for SEO.
#4: One-click Import Button
Just like AliDropship, you'll also be able to import products to your store without going through any stress.
All you need to do is hit the import button and everything appears on your import list.
The import button is a massive step towards automating your dropshipping business because without this a lot of time and effort will be put into downloading and uploading products to your online store.
#5: Price Mark-Up
This feature allows you to automate the entire pricing process of your store. This way you won't have to set price for every single product you import to your Shopify store.
You can choose the option of price multiplier, percentage or a fixed price for your entire store product.
For example, if you're using the multiplier markup type. A $10 product price with 1.5 markups will automatically change to $15.
To complement this, you could also set up a cent roundup for your entire products. If you're using .45 cents, your product price will be $15.45.
#6: Spocket Market Place
From the Spocket marketplace, you'll have the ability to search for varieties of products from hundreds of thousands of products catalogues that fit specific store niches.
You could search with keywords, price filter or even location.
Not just that, Spocket has been able to stand out because of their high-quality products catalogue.
All merchants are specially verified with intensive screening procedure before their products can be listed on Spocket Marketplace.
#7: Branded Invoice
This is one of the options and features available on Spocket that can't be found elsewhere.
Using Spocket gives you the ability to customize yourself as a brand by the virtue of adding an invoice to your product package.
This will create more trust in your customers toward your store and as well make your products stand-out and more authentic.
#8: Support
Spocket offers great support to all its users. However, the quality of their support is based on your subscription plan.
The free plan has access to email support only. While the paid plan enjoys chats and email support and even calls.
They also have a vast social media pages and group that you can join and gain valuable insight for free.
#9: Premium Products
Spocket offers premium products which are carefully curated products that are proven to convert.
The premium products are only available to the paid members of Spocket both on Shopify and WooCommerce.
Try Spocket For Free
What Is AliDropship?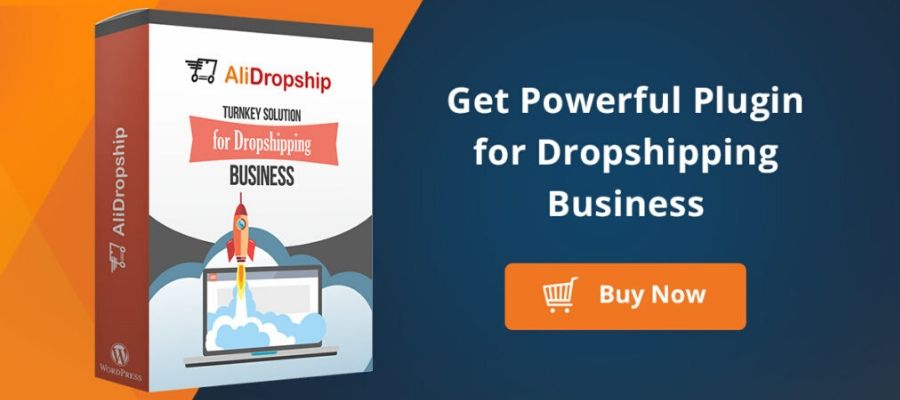 Just like Shopify and Spocket, AliDropship is also an e-commerce platform that helps you create your dropshipping store on WordPress/WooCommerce.
What this means is that, if you're thinking of starting a dropshipping store on either WordPress or WooCommerce, they have the essential tools for you to succeed.
The most PROMINENT of the AliDropship product and services is the popular AliDropship Plugin for building a dropshipping store.
The plugin is of two types one for WordPress and the other for WooCommerce (AliDropship Woo).
The AliDropship WordPress plugin basically turns your WordPress site into an eCommerce store without having to install the WooCommerce plugin.
This is particularly good for those with little experience on how to run a WordPress site.
The Woo version also does the same thing. But these time around works with the pre-install WooCommerce plugin.
That is, you have to install WooCommerce first on your website before using the AliDropship Woo. Here's an article that explained the thorough difference between the two plugins.
How Does AliDropship Work?
If you understand how Shopify and Spocket works, You'd notice it give you a ready-store with Spocket integrating your website with their marketplace.
Just like that, AliDrophip also gives you a ready-made store with hosting and ready to start selling and fulfilling orders.
The AliDropship plugin connects your website directly to AliExpress and allows you to import product directly to your store.
The same thing goes for fulfilling orders!
Whenever you have a sale, the plugin helps you fulfil the order with just a click of a button. This way, your order will be processed on AliExpress automatically.
All you'll need to do is pay for the product and the supplier will handle the rest of the work as though it was from your store.
All product details, tracking codes etc. will be automatically sent to your customers when the order is processed.
Get AliDropship Plugin
Features of AliDropship Plugin
Let's take a look at the features of the default AliDropship plugin since it's the primary dropshipping plugin for AliExpress.
#1: Auto Search & Import
The AliDropship plugin make product search and import very easy. You can use the keyword filter or price filter to search for your desired products.
And once you have the result you can import these products in bulk or choose the category you want them to be imported to on your website.
Doing this manually can really take a lot of time, but with the plugin, it's just a click away.
#2: Winning/Hot Products
Winning products is very important for the success of your dropshipping business and at no cost should you sell products that are not proven to convert.
AliDropship cares enough to add this package to their service.
The first package gives you access to 100 winning products for just $29. While the second for $119 gives you 500 hot products.
And finally, $199 for 1000 winning products which is very HUGE compared to what you're paying. Mind you, all of them comes with one-time payment only.
#3: AliExpress Cash-back System
This feature allows you to use a special affiliate link with AliExpress whenever you ordered a product. And once the product is delivered to your customer, you earn a certain commission from AliExpress.
As a result of this, you will get a 7-15% commission on the product you order for your customers from AliExpress and at the same time keep your profits.
This can really add up if you're the type that order in bulk because it serve as an additional means to make extra bulks.
#4: Product Update
The plugin automatically updates you whenever a product is out of stock from your supplier on AliExpress. Also, whenever there is a price increase or decrease you will also be notified with respect to that.
It is then left for you to keep the difference as an additional profit whenever the price reduces from your supplier
This saves you the stress of constantly checking if a seller is having enough stock before promoting the product.
#5: WordPress Built-In-Themes
The plugin comes with its own WordPress theme. These are professionally designed themes that can be easily set-up and at the same time easy to customize.
The best part is that they are completely optimized for conversion and responsive on all device including mobile phones.
The type of theme that works with the default WordPress plugin is different from the one that works with WooCommerce plugin.
They both have specific themes built to work exclusively for both of them.
#6: Price Mark-Up System
The Plugin uses a simple math expression to automatically set product price on your store for profit. This is immediately the products are imported from AliExpress.
As a result, whenever there is a price increase on AliExpress, your product price will be updated automatically using the math expression.
Additionally, if you so which to change the pricing formula maybe for more profit or for competition sake.
All you need to do is adjust the pricing formula to the one that meets your needs or increase the price individually.
Finally, you can also show your prices in different currencies on your website and also activate the rounding option to assigned cents at the back of each price.
#7: Lifetime support and free Update
AliDropship support is basically free for a lifetime, in as much as you've purchased the plugin or the AliDropship turnkey store.
The primary way to contact support on AliDropship is through the support email and from experience I think they basically reply within a few hours.
They also have a forum where other users can chat with each other and a full blog to learn about updates and tips directly from AliDropship.
#8: All in One Solution
The functionality of the plugin allows you to manage all your products sales, pricing, traffic stats, profits and orders all in one single dashboard.
With just the plugin, you're ready to start making profits because the majority of what you needed to run a successful dropshipping store is included.
Installing other plugins is just a means to enhance your store and increase your conversion rate which can speed up your profitability.
#9: ePacket shipping Filter
With these features, you can increase your customer experience by providing a faster delivery service through the help of the ePacket option.
The ePacket shipping filter allows you to see product that are ePacket enabled. So, you don't have to keep clicking on each of the products to check if they are.
You'll be able to see them by just browsing through and import them with a click of the button if you want.
This way, you'll be able to send your product faster to your customers.
#10: Marketing Tools
The dropshipping plugin also comes with its own marketing tools which include the following:
Email marketing is one of the strongest strategies to increase your conversion rate and this happens to come with the Alidropship plugin.
The plugin helps in collecting emails from customers. It also helps to collect email from a potential buyer that visited your online store without making a purchase.
It's no secret that customers like to get a discount on their purchase, even me, and the coupon codes always give them that feeling.
While selling in a competitive niche, not using one is like giving in to your competition. The discount coupons can increase sales drastically on your website.
As a result, AliDropship allows you to run sales and promotion by offering your customers coupon codes to save their money.
Sending follow up emails can be the best ways to recover cart abandonment. You should be less worried about this while using the Alidropship plugin.
The plugin comes with the set of pre-loaded professional emails to do just that. Even better is the fact you could also re-write the emails to suit your personal taste while following up your customers.
Get AliDropship Plugin
Spocket vs AliDropship: Price Comparison
Let's compare the pricing of both platforms together and see what they offer as regards cost of using their services:
Spocket Pricing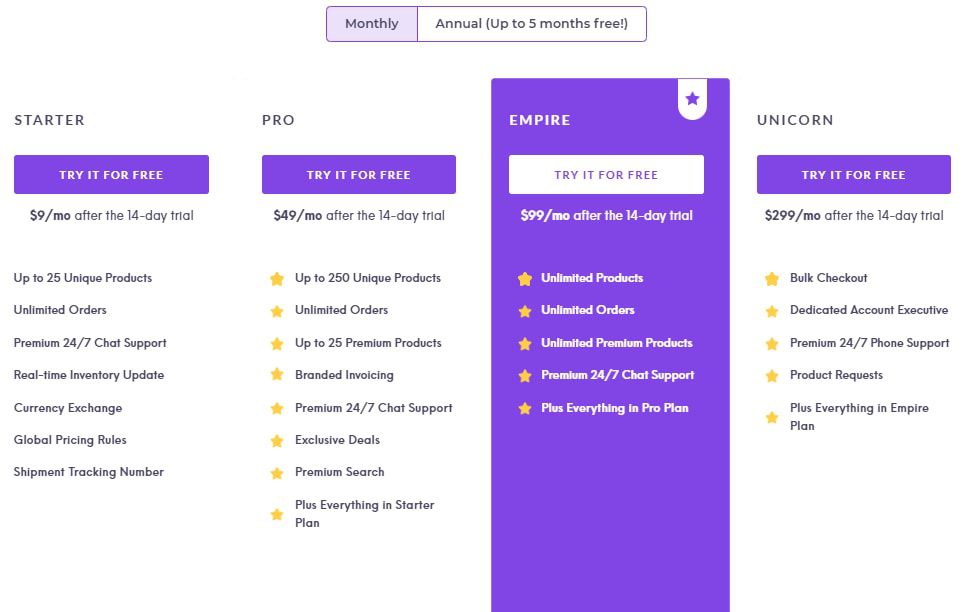 Spocket is available in four pricing plan! You should also know that these plans come with 14 days of a free trial.
The Starter Plan ($9/Mnth)
The starter plan is good for anyone that wants to test the water and later upgrade to the next plan when your business started booming.
The Standard Plan: $49/Mnth
Empire Plan: $99/Mnth
Unicorn Plan: $299/Mnth
AliDropship Pricing
The pricing structure of AliDropship is one of the major factors that make it stand out among other dropshipping tools.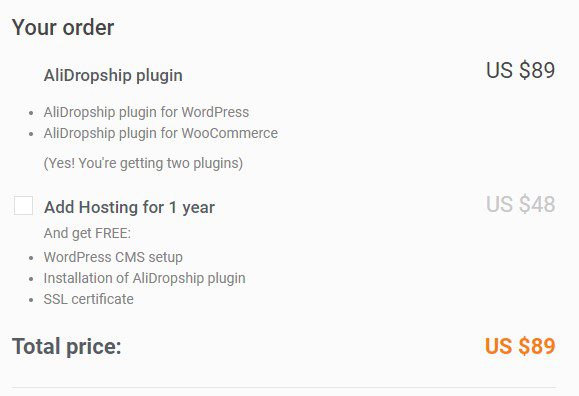 The AliDropship plugin only costs a ONE-TIME FEE of $89 while the custom dropshipping store starts from $299.
The custom dropshipping store prices include the following:
The Basic plan ($299)
Advanced Plan ($399)
Ultimate Plan ($899)
Supreme Package ($2899)
All one-time payment, that is, you won't have to bother about the monthly recurring payment.
Mind you, all products on AliDropship come with just a one-time payment and you have life ownership of the products.
The only recurring payment on AliDropship is for the hosting plan which is perfectly normal since hosting payments are billed yearly.
The AliDropship hosting plan is quite reasonable as it starts from $48 and all of the plans come with a free SSL certificate.
The Hosting Plan For AliDropship Includes: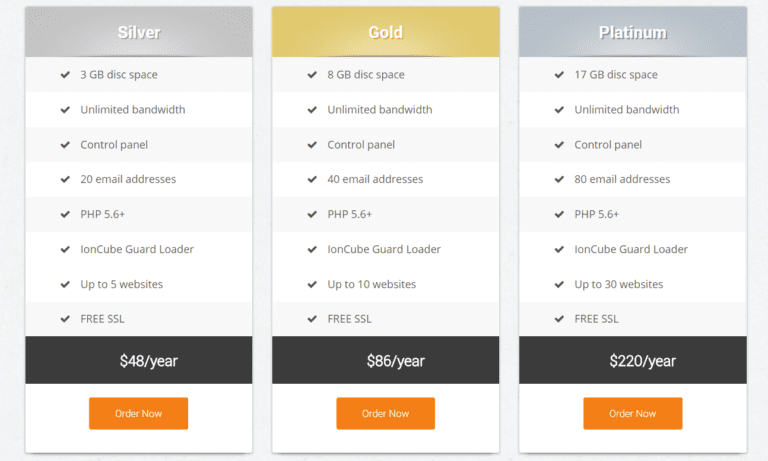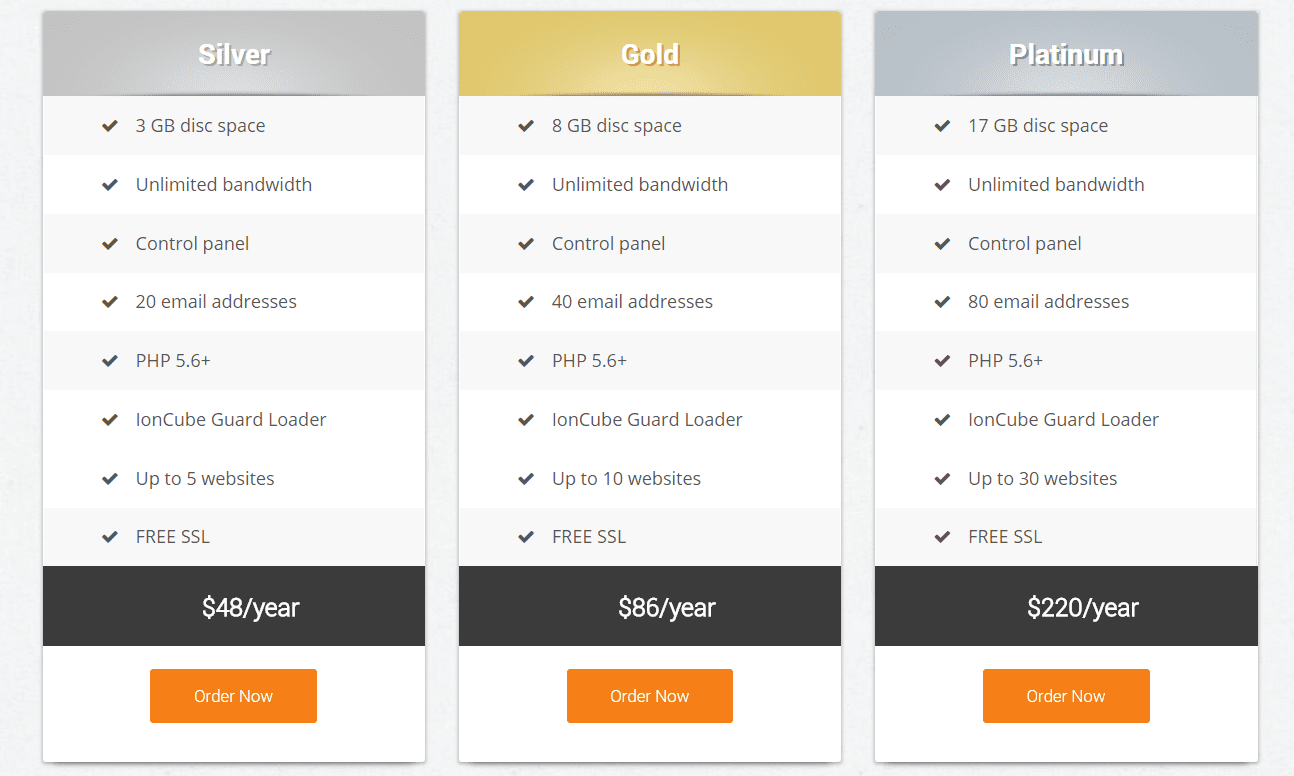 Silver – $48/year for 3GB space, unlimited bandwidth, 20 email address, a control panel and up to five websites.
Gold – $86/year for 8GB space, 40 email addresses, up to 10 websites and every other feature in the previous plan.
Platinum – this plan cost $220/year for 17GB of space, up to 80 email addresses and 30 websites including every other feature in the previous plan.
What Are The Differences? (Spocket vs AliDropship)
By now you must have seen one or two differences in both of these platforms but let's make it more elaborate.
#1: Pricing Structure
Spocket pricing is actually pricy when compared to AliDropship. Plus, they all come as a monthly recurring payment, which could really add up if you don't plan your business very well.
AliDropship on the hand has a friendly price system because ALL of their plugins and services are billed as a one-time payment only.
The AliDropship plugin cost $89 (one-time payment) for a lifetime and you get free updates for a lifetime.
#2: Shipping Time
When it comes to shipping your products to your customers, Spocket takes the first spot here, as it's possible to ship products between 2 – 14 days depending on your plan and location of your customers.
AliDropship, on the other hand, has to deal with the long shipping method on AliExpress.
However, the ePacket shipping option makes it fair as you can have your product shipped within 14 to 20days but still not fast as what Spocket has in place.
#3: Selling Platform  
Spocket allows you to sell on both Shopify and WooCommerce. So, whichever of the two you preferred you can have your store set up in no time.
AliDropship, on the other hand, is limited to WordPress and WooCommerce, they have no plugin integrated with Shopify.
#4: Marketplace Place
As we all know, AliDropship is integrated with AliExpress which gives you access to millions of products and suppliers.
At the same time, AliExpress is known for inferior products and bad suppliers if you don't do your research well enough.
The AliDropship plugin, however, let you know suppliers that are good with their supplier seller scores. So suppliers below the good score are likely not trusted.
Spocket, on the other hand, is known for quality suppliers because they have some strong measures every seller has to meet before they can be accepted as a seller on the Spocket Marketplace.
Measures like:
Sellers trying to be a part of the supplier based on Spocket Marketplace have to apply through their application form.
And this can only be approved when they meet the required standard of Spocket marketplace. Like how fast the supplier is willing to ship, the kind of products, product quality etc.
An interview is also scheduled with any supplier interested to be a part of the Spocket Marketplace.
This will allow them to thoroughly investigate the supplier and learn more about their business like history of their sales and every other important aspect of their business as a whole.
This is done to finally examine the product of the seller before they can be listed as a supplier on the Spocket Marketplace.
#5: Branded Invoice
Spocket gives you the privilege to have your invoice branded with your store logo and brand while this option is not available on AliExpress.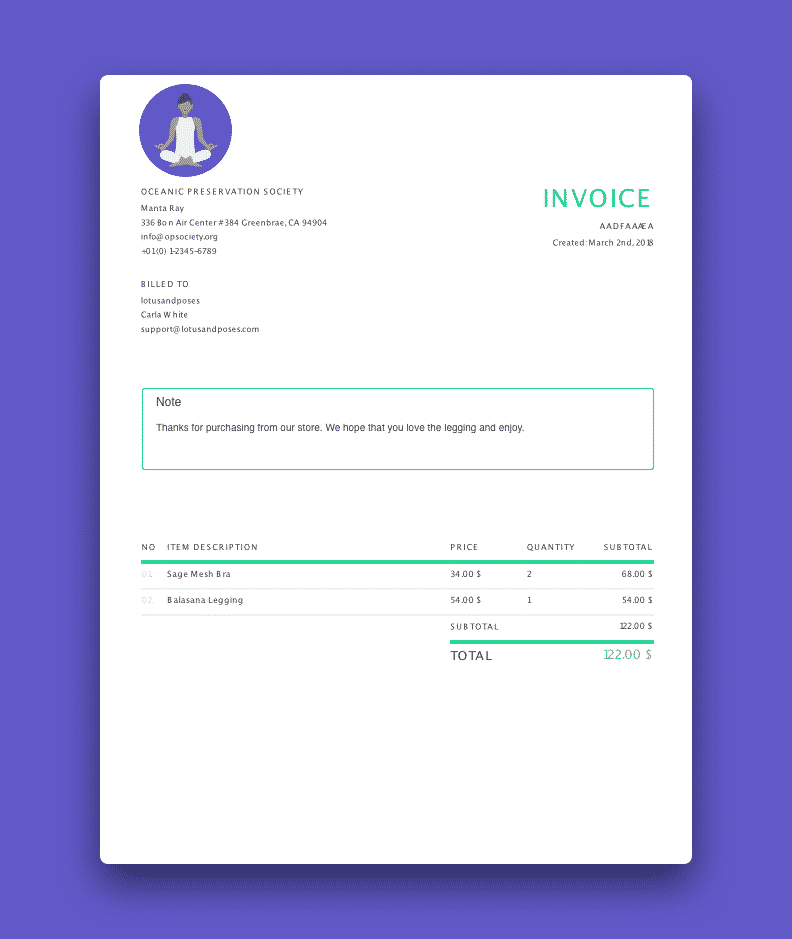 It actually made sense when customers can receive their products and see your brand on it. It gives them more trust in your store.
#6: Cash Back
AliDropship gives you the chance to make additional money on every order you fulfilled on AliExpress via the AliExpress affiliate program.
This could be little, but if you're the type that process orders in bulk then it can really add up which serve as a plus to your profit.
This feature is not available on the Spocket platform.
#7: Custom Store (Done for You)
AliDropship has this service in place for users that want the custom stores. This is a "done for you" dropshipping website that's ready to start selling.
It comes with the necessary plugins and at least 50 winning products that you can start selling in no time. I've written an in-depth review on it, you can check it out too!
This service is not available on Spocket.
Which One is Better, Spocket or AliDropship?
I think this should be based on what these platforms offer and what you want from your dropshipping business.
For example, if you prefer the Shopify platform, Spocket can set you up in no time but then, you'll have to deal with the monthly recurring payment.
AliDropship however, gives you access to their plugin for just a one-time fee for a lifetime and you'll gain access to millions of products on AliExpress.
Spocket shipping is incredibly fast while AliDropship is not!
It all depends on what you want. So, what's it going to be…?
Or
Let me hear your thoughts about this in the comment section!
Learn More