Spocket Vs Dropified: Best for Profitable Dropshipping Business?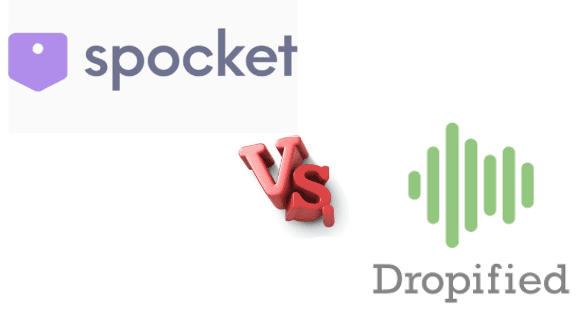 In today's post, I'll do a comparison between Spocket vs Dropified for starting a profitable dropshipping business.
Starting a dropshipping business is one of the best ways to make a reasonable income online, the kind of income that actually makes you rich.
If you've had your experience with dropshipping already, you'd agree with me that they have their own shortcomings.
And from experience, I've come to realized that some of the major setbacks with dropshipping are dealing with an unreliable supplier, selling cold products, and dealing with AliExpress long shipping time.
And of course, targeting the right audience to market your products and maybe your selling platform etc.
In the line of the above topic "Spocket vs Dropified", we'll be looking at the best tool that actually provides the best solution to the above shortcoming.
So, we'll be looking at both Spocket and Dropified strengths and weakness, their flexibility and offers they've brought to the table.
Spocket Vs Dropified: Overview of both Tools
Before we delve in, I think its best we understood the platforms, what they are and how they work.
This will help with having a basic understanding of what they do before we start comparing them.
Spocket and Dropified are both Dropshipping tools with few similarities when it comes to running a dropshipping business.
Both tools connect you to a supplier via a semi-automated platform where you can auto-import products and auto fulfil orders as well.
With either of the two (Spocket & Dropified), you can have your store set up on Shopify or have it powered by WooCommerce.
They are seamless integrated tool that connects your online store with a third-party supplier website.
This means you don't have to do any manual work or see the product you're selling. All you need do is promote and push orders to the supplier with just a push of the button.
It's your third-party supplier, who then handles the delivery stress for you. Yours is to promote and make your money.
Now, let's take a look at both of them one at a time and see what they have to offer individually.

Dropified Review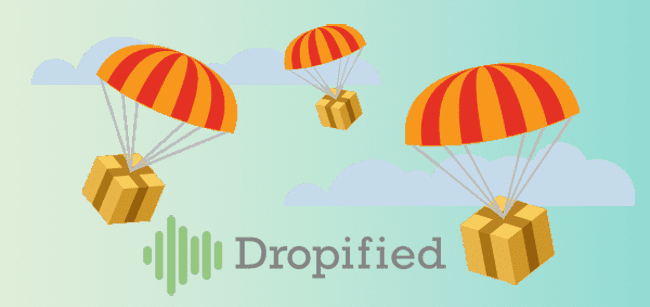 Just like I mentioned earlier, Dropified is a dropshipping tool or platform that integrate you with third-part supplier website.
While using this tool you'll gain access to large collection of products through various supplier mostly from China.
With Dropified you can have products import to your online store with just a click of a button from AliExpress and various other Chinese websites.
It has an App that works on Shopify and equally a WooCommerce plugin for WordPress site. It also comes with a chrome extension that makes importation of products pretty easy.
They work with numerous website and mostly Chinese which makes it an easy access to any kind of products you want to sell.
However, this also makes it very risky because you'll be dealing with bunches of suppliers who are not reliable and verified.
Dropified Review: What are the Features?
Dropified seamlessly integrates with AliExpress and allows you to easily import as many products as you want.
You also get to add products from many other websites to your online store but most of these are done manually except for AliExpress.
This will allow you to gain access to several websites as well as products giving you varieties of option to choose from.
We all know it takes ages to have products shipped from these Chinese websites and if you plan on paying for shipping, the cost can really add up.
This is where the ePacket shipping option comes into play. It allows you to have your products delivered to your customers within 14 to 20Days.
Which is equally at a relatively cheap price, with this, you can save money and at the same time make your customers happy.
Automated Price and Inventory Update
It's very important you know your product availability. That is, not promoting a product that isn't available.
But how can you know this when you don't have access to your supplier base?  And manually checking each supplier account to know if a product is still available will cost time and energy.
Dropified makes it easy as the whole process is automated. You'll enjoy auto price markup and also real inventory update.
This way, you won't have to worry if the product you're selling is available or not and equally gives you time to do other important stuff.
This feature allows you to monitor your business stats.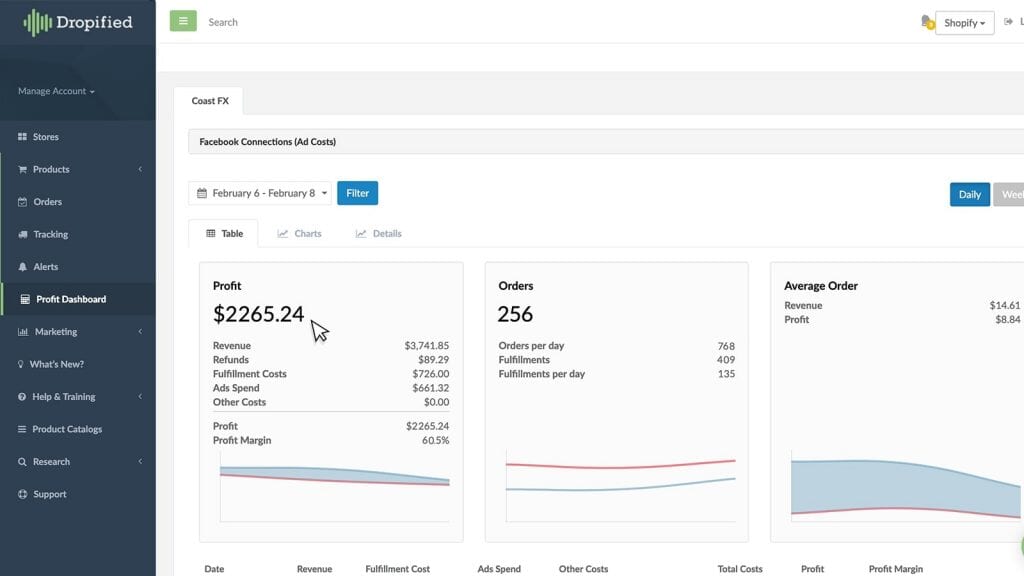 Users on Dropified platform can enjoy the profit analytic stat from their dashboard and easily monitor the progress of the dropshipping business.
Spocket Review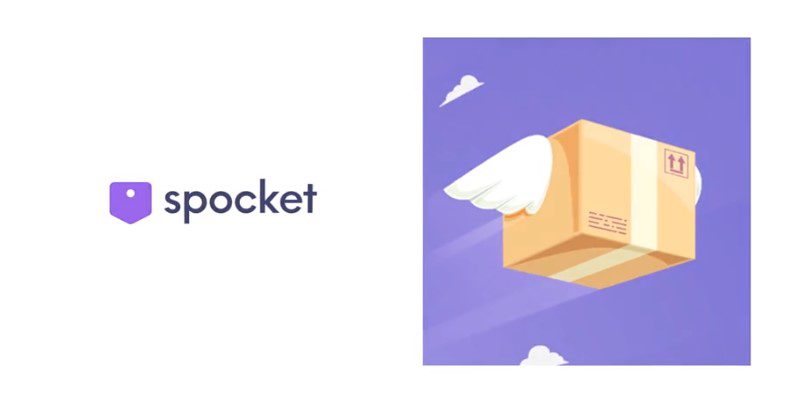 This App is both a WooCommerce and Shopify dropshipping app that seamlessly integrates your store with Supplier based in the US and EU.
Spocket users enjoy a wide range of quality products for various reliable supplier all over the US and EU. Also interesting about this platform is the fact that you get to enjoy fast shipping delivery of products to your customers.
This delivery could be as fast as 2 – 5 shipping delivery days. This way, you and your customer won't have to wait for the usual long delivery time accompanied to all products from China.
Not only that, Spocket is also proud of their winning or premiums products available to all users on the platform.
Spocket have tried as much as possible to eradicate all hurdles attached to dropshipping from shipping time to winning products. Which is practically the most important aspect of dropshipping.
Spocket Review: What are the Features?
Verified and Vetted Suppliers
If one thing is certain with Spocket, then it's their quality products and verified reliable suppliers. Spocket actually takes this seriously because they go extra mile verifying all applicant trying on sell on the Spocket marketplace.
All applicants go through three procedures before they can be a verified supplier on Spocet marketplace.
The first is through the application form, the second, is an investigative interview with the potential seller and the third process is testing the product for quality test.
These are part of the unique features that made Spocket stand out among other dropshipping platforms. Which can be attributed to their quality service.
Faster Product Delivery System
This is also a very important part of the Spocket platform. Using Spocket means you don't have to worry about the usual AliExpress long shipping time.
You can have your products delivered between 2-7 days which is way faster than the ePacket shipping system.
With this kind of service, you can easily create a brand for yourself and equally standout in your niche market and create a profitable and loyal market.
This feature allows you to brand your product packet. You could have your supplier add your store logo on the product pack and all the customer information.
Compared to other suppliers in China, what you'll you get in this case is the normal generic random packet with the product.
The branded invoice, however, allows you to personalize your product delivery and give more quality services.
When it comes to automation, you're pretty much covered with Spocket because most of the manual works are completely automated.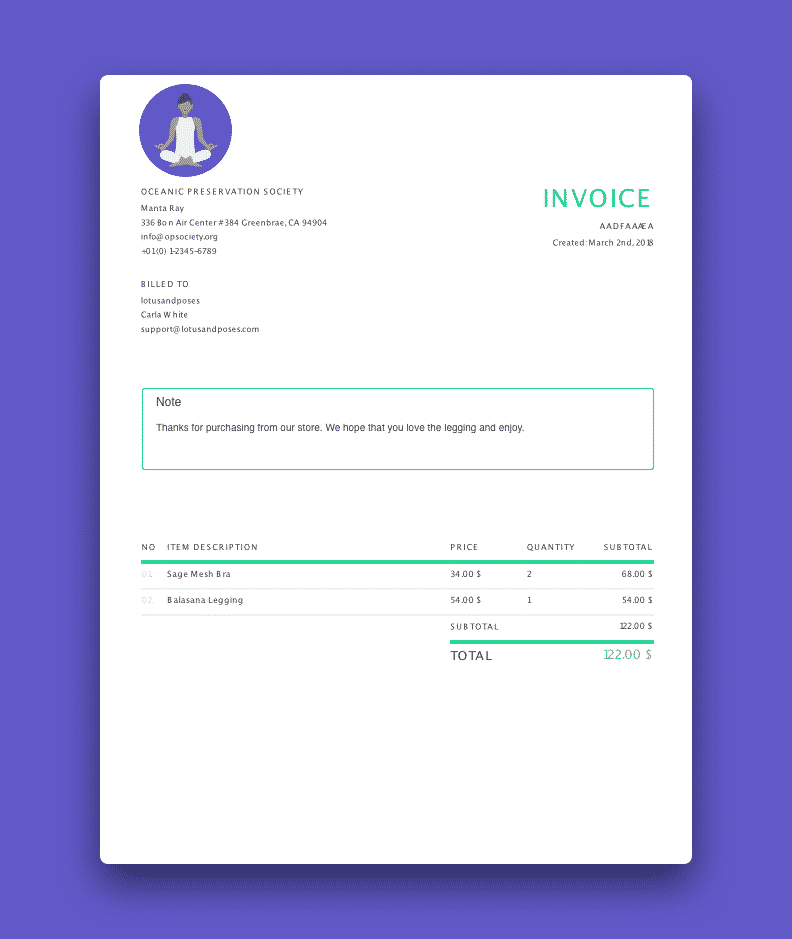 From product import to order fulfilment, you don't have to border yourself about manually importing products. And the same thing also goes for order fulfilment.
You can have your order fulfilled with just a click of a button and your supplier does most of the hard work.
The same thing also goes for product inventory and price update. All product inventories are automated whenever a product is out of stock.
This way, you won't have to worry about selling a product that is out of stock from the supplier. When any of such happens, you'll be notified immediately.
Product sample allows you to order for samples of the product you want to promote. This allows you to be sure your supplier is reliable and the product passes a quality test.
You won't have to worry about product refund when you personally know the quality of what you're selling.
This will at least reduce it.
The premium products on Spocket are specially curated products, best of the best that are made for paid members on Spocket.
These products are not just best products but they equally come with certain advantage like further price discount and increase faster shipping compared to other products on Spocket.
This kind of product will allow you to boost your earning as they are made available across various categories and niche.
Read Spocket Review
Spocket vs Dropified Pricing Plan
Having looked at both of their features, let's take a look at their pricing plan and see the difference they've got in their plans.
Dropified Pricing Plan
Dropified, unlike Spocket, have just two pricing plan and just before I mention the plan cost I think it's proper you know they offer a 14Days free trial on both plan and a long annual plan at a discounted price.
However, if before the 14days you don't like the platform you can just cancel your subscription so as to avoid getting charged.
Below is what to expect on Dropified cost plan every month if you want to use the platform.
#1. Builder Plan
The builder plan cost $47/Month and comes with support for one online store. Plus, the following:
Works with 1 Store
Access to 15,000 Products
50 Product Boards
Access to Unlimited Order Per Month
Up to 5 Users Account
#2. Premier Plan
Premier Plan costs $127/Month and it comes with support for 5 online stores. Plus, the following:
Works with 5 Stores
Access to 50,000 Products
Up to 250 Product Boards
Access to Unlimited Order Per Month
Up to 25 Users Account
All features in the Previous Plan
Profit Dashboard
Unlimited High-Speed Captcha Solver
CallFlex
TubeHunt
I feel the pricing plan looks a little high for small business owners just getting started with dropshipping. The good thing is, they do offer 14Days trial.
This way, you won't have to jump in blindly, with the 14Days you can easily see if the platform is worth the price or not.
Spocket Pricing Plan
Having looked at Dropified Pricing Plan, I say we take a look at what Spocket has got to offer too.
Unlike Dropified, Spocket offers three paid plans and they equally come with a 14Days free trial.
These plans include:
The Starter Plan
Pro Plan
Empire Plan
#1. Starter Plan ($9/Month)
The Spocket Starter plan cost $9/Month or $96 if you choose the annual plan. This plan provides you with the basic features you need for your dropshipping business.
Here's what's included in the "Starter Plan"
Access to 25 Unique products
Fulfill Unlimited number of Orders
Automated Order Processing
Order Sample Products
Automated Inventory Updates
24/7 Support
#2. The Pro Plan ($49/Month)
The Pro Plan is the most popular plan on Spocket as it provides you with everything needed to grow your online dropshipping business.
Import up to 250 unique products
Unlimited Orders
Real-time Inventory Update
Branded Invoices
Currency exchange
Everything included in the starter plan
Global pricing rule
Shipment Tracking Number
#3. Empire Plan
Unlimited Products
Fulfil Unlimited Orders
Unlimited Premium Products
And everything included in the previous plan.
I've written a detailed guide on the Spocket Pricing Plan and the Better plan to get started with. You can as well check it out here!
Dropified vs Spocket: Stand Out features
What are the difference and Standout features between both plans? Let's have a look below.
#1 Product Sourcing
When it comes to sourcing for products, Dropified allows you to search from millions of sellers across various Chinese websites. Thus, increasing your product sourcing option.
Spocket however, limits your product sourcing to suppliers based in the US and EU. This is done to make you have access to only verified products and equally a reliable supplier.
#2. Selling Platform
Spocket allows you to have your store set up both Shopify and WooCommerce. While Dropified on the other end allows you to easily integrate with; Shopify, WooCommerce, CommerceHQ and GrooveKart.
#3. Branded Invoice
This option is only available on Spocket, this means, you can have you brand logo and website name on you product package sent to your customers.
#4. Product Delivery Time
This feature affects how quick your customer receives their products after making a purchase on your website.
Spocket actually beats Dropified to this as their product delivery mechanism is way faster compared to Dropified.
Your best option on Dropified is the ePacket shipping option which is way slower compared to what they have going on Spocket.
Spocket can have your product delivered as a fast as 2 to 7 days while the ePacket shipping option is around 20Days.
What's the Best Tool?
There's no doubt about it, both platforms are wonderful when it comes to starting a profitable dropshipping business.
However, when you take a keen look at Spocket, most of its features really stand out and can be really helpful for anyone trying a make a neat income with a dropshipping business.
Not to mention the pricing plan, Spocket provides a really affordable plan with necessary features to get you going.
They are checked on shipping, winning products, quality products and reliable suppliers so starting with them is not a bad idea.
So really, what's it going to be?
Or
Let me know what's going to be and what you think about both tools using the comment box.
That's it on Spocket vs Dropified, see you on the next one!
Learn More