Spocket vs Oberlo: Best Shopify Dropshipping App 2023?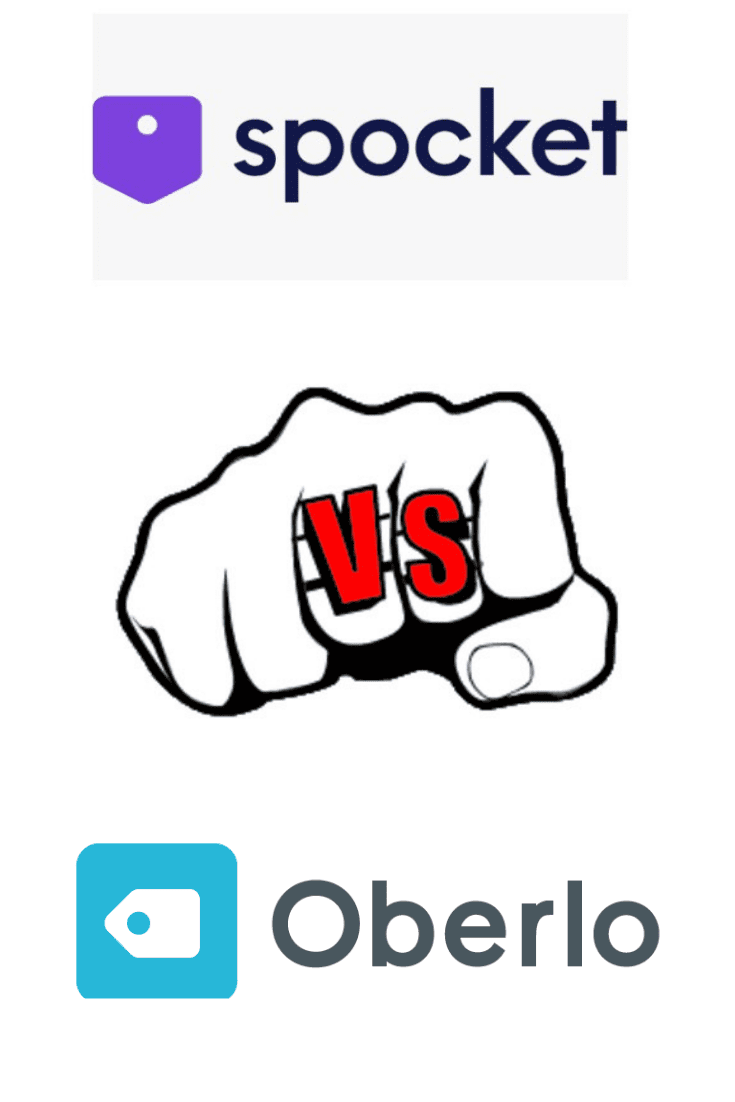 In this post, I'll do a comparison of Spocket vs Oberlo for Shopify dropshipping and see the best to make most of your business.
Shopify dropshipping makes it easy to launch an e-commerce business without the hassle of managing inventory or shipping of products.
Usually, you'll have to brainstorm, do a lot of research as regards products to sell online. After this, you'll still have to invest a lot in the product inventory with no guarantee of it selling or not.
But with dropshipping, all that is a fairy tale. Anybody can literally set-up a store ready to start selling immediately.
The issue of what to sell isn't a problem anymore, as we have various tools for hunting winning products to sell online.
And as per managing your online store, from adding of products and making your first sale, Shopify has everything you'll ever need to start and run a successful dropshipping business.
The next question is how can you scale-up your dropshipping business with Shopify? And this where Spocket vs Oberlo comes in.
Spocket Vs Oberlo for Shopify Dropshipping 
With neither of the two, what you'll have is just a Shopify store with a bunch of pictures with no link to an actual supplier.
Doing your dropshipping business this way isn't going to be realistic, as this is going to take the majority of your time with less credit to take for it.
But with either of the two, you can rest assured of having a semi-automated business. This way, the majority of the work is done for you.
All you have to do is handle customer relationships and focus on driving more sales for your products.
In this article, I'll do a detailed comparison between the Spocket dropshipping app and the Oberlo app for Shopify Dropshipping.
In the end, you'll be able to compare their features and see what's going to work for you and what's not.
What is Spocket?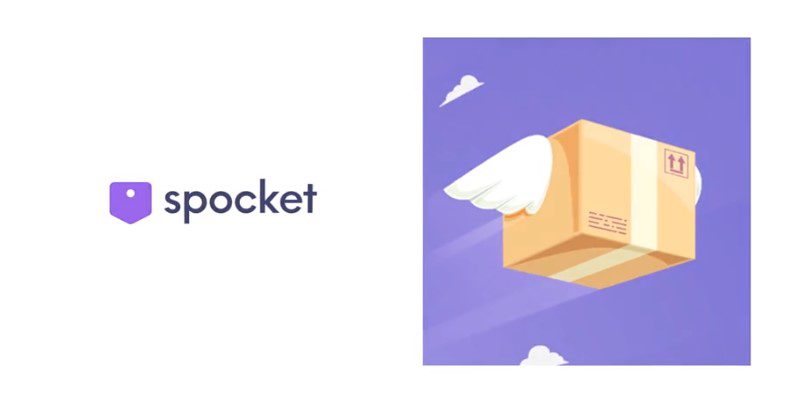 Spocket is a Shopify dropshipping app that transforms your Shopify store into a dropshipping store. The Spocket app allows you to search and connect with suppliers based in the US and EU.
They have a huge marketplace whereby you can easily search for products and add to your Shopify store with their one-click import button.
Spocket allows you to enjoy 2 – 5days shipping of products to your customers. And at the same time, you get to enjoy up to 60% discount on the products from the supplier.
With Spocket your business is completely automated, from price markup to order fulfilment. You just have to focus on the marketing aspect and allow Spocket to handle the rest.
Spocket: Best Features
Let's take a look at some of the features of Spocket and what makes it a unique dropshipping app.
2-5days Shipping Time
This is actually my favourite part with Spocket drop shipping. While searching for products to import, you'll have the ability to choose the products you want based on your customer location.
Invariably, you'll get to enjoy 2-5days shipping or less with your products. And in turn, you and your customer go home happy. While you keep smiling to the bank.
However, the shipping time may vary based on products and your subscription plan with Spocket. But you can always check this before you import the product.
One-click Import Button
Just like Oberlo app, you'll also be able to import products to your store without going through a lot. All you need to do is hit the import button and everything appears on your import list.
The import button is a massive step towards automating your dropshipping business. Because without this a lot of time and effort will be put into downloading and uploading of products to your online store.
Automated Order Fulfilment
This feature allows you to enjoy a semi-automated business with your suppliers. Immediately your customer pays for a product on your store, you can easily push everything to your supplier with just a single click.
You'll receive a notification immediately your orders are sent and the supplier will get started with the shipping of your products immediately.
Also, you'll see a track order button on your dashboard immediately the product is shipped. This will include details of stats and location of the products.
Price Mark-Up
This feature allows you to automate the entire pricing process of your store. This way you won't have to set price for every single product you import to your Shopify store.
You can choose the option of price multiplier, percentage or a fixed price for your entire store product.
For example, if you're using the multiplier markup type. A $10 product price with 1.5 markups will automatically change to $15. To complement this, you could also set up a cent roundup for your entire products.
If you're using .45 cents, your product price will be $15.45.
Product Customization
The product customization feature allows you to edit product title and add tags for SEO purposes. You can also edit the product image by adding "alt" text in the image. This allows the product to get indexed faster by the search engine.
Also, as part of the product customization, Spocket makes it easy to check out variants of products you import that you don't want to sell.
Finally, you can re-write the entire product description to appeal to your customer more and at the same time for SEO purposes.
Now let's a take a look at Oberlo and its features.
What is Oberlo
Oberlo is a dropshipping app that allows you to integrate your Shopify store with AliExpress. With the help of Oberlo you can easily import products from AliExpress with just a click button.
At the same time, you can equally fulfil orders on AliExpress and have it shipped to your customer with just a single click button.
Oberlo works exclusively with Shopify. This means you won't be able to install Oberlo on platforms like WordPress or WooCommerce.
The sole purpose of Oberlo is to give you a stress-free dropshipping business via the Shopify platform.
Oberlo: Best Features
Let's talk about Oberlo features and functionality and why it's a unique dropshipping app for Shopify.
Automated Order Fulfilment
Whenever a customer makes a purchase on your store, you don't have to worry about every single detail of the customer. All you need to do is hit the "Order" button and the rest is handled by Oberlo.
Oberlo has an integrated order tracking system which allows you to know where your order is at any giving time.
Oberlo allows you to use the ePacket filter option to locate products with faster shipping time. Unlike the usual free shipping methods that take 1-30days.
The ePacket filter is another good way to cut your shipping expenses and have your products delivered to your customer within 1-20days.
Just like Spocket, Oberlo also has a way for you to automate your entire pricing system. If you're selling one or two products this might not be a big deal. But when you have multiple products, setting each products price manually will be time-consuming.
So, with the auto markup price, your store products will be set automatically immediately you import them from AliExpress.
Oberlo allows you to edit your product description. The usual description with AliExpress products are mostly ugly and clumsy.
So, with the help of Oberlo you can easily edit that to look appealing and for SEO too before publishing.
In addition, you can also edit product image to your standard or add more add more images if you like.
The Oberlo supply is a list of verified suppliers by Oberlo. These suppliers are the top performing suppliers with the highest quality of service provided to Oberlo merchants over time.
You wouldn't need to worry about getting a quality supplier if you're sourcing products via the Oberlo supply. This is because they are specially handpicked by the Oberlo team because their track record is up to date with positives review.
 Spocket Vs Oberlo: Pricing & Membership Plan
Spocket and Oberlo has a fairly different price and membership plan. Let's take a look at both of their plans.
Spocket Pricing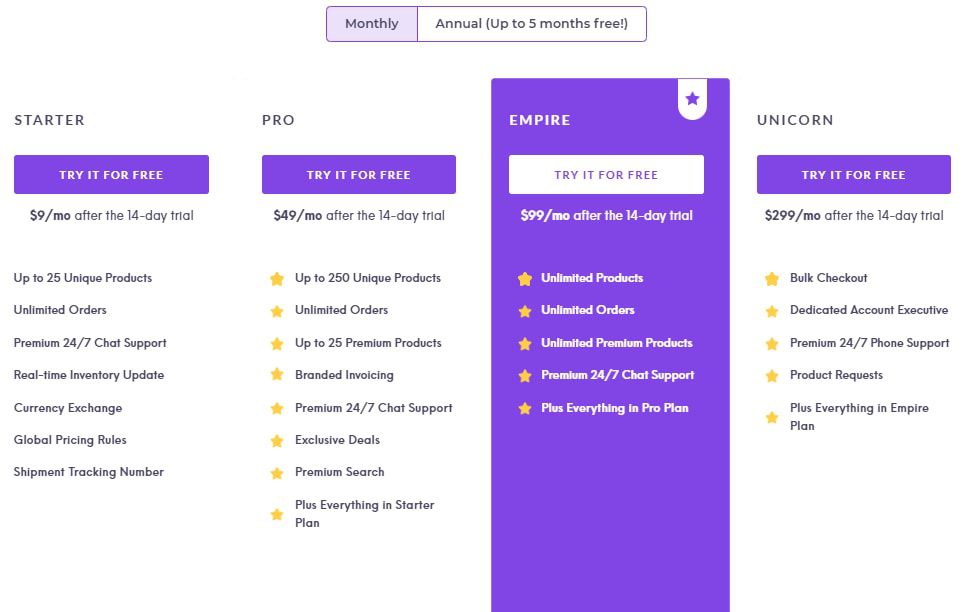 Spocket is available in three pricing plan which includes:
The Basic plan (Free Plan)
The basic plan which is free has a forever plan but very limited.
25 product import per month
Unlimited product orders
Product inventory update
Currency exchange
Support via email only
Global pricing rule etc.
The Standard Plan: $39/month
The standard plan comes with a 7days free trial and after that cost $39/month. It features includes:
250 unique products import
Branded invoicing
Premium products
Chat and email support
Unlimited orders
Empire plan: $99/Month
The empire plan also comes with a 7days free trial, unlimited products import and everything on the previous plans.
Oberlo Pricing
The Oberlo app is equally available in three plans which include the following: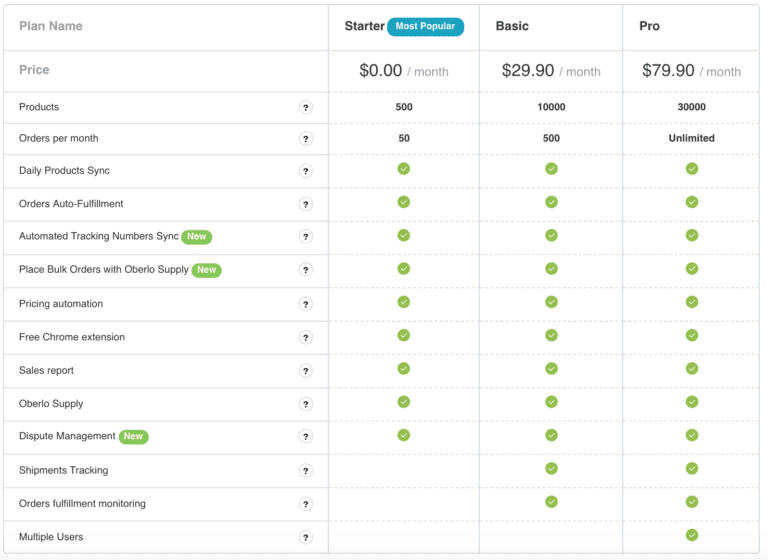 The starter plan is free but limited. You'll be able to import up to 500 products and the grace to fulfil 50 orders per month. However, you'll have access to the basic features like the chrome extension, pricing automation and product syncing.
The basic plan is going to cost $29.90 per month plus you'll receive up to 10,000 products. For order fulfilment, you'll be able to fulfil up to 500 orders per month and the basic features in the previous plan plus shipment tracking and order fulfilment monitoring.
The pro plan gives you a set-up of 30,000 products with unlimited order and every other feature in the previous plans. This plan will cost you $79.00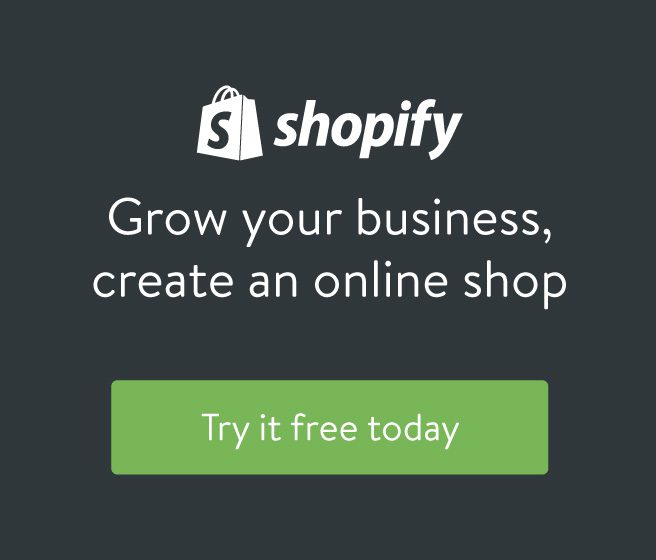 What Are The Differences?
Let's take a look at some of the standing features that made each app difference from each other!
Sourcing For Products
When it comes to sourcing for products to sell, Oberlo gives you the ability to search from their millions of products catalogue. This includes the bad and the good.
It obvious AliExpress products are quite enormous which also make it difficult to spot the good from the bad ones.  Which is really an important part if you want success with your dropshipping business.
However, when it comes to Spocket, they take out the doubt for you, as you don't have to worry if a product or a supplier is verified.
These are important steps Spocket takes highly before listing any product on their market-place. Each product and suppliers are properly verified to avoid selling inferior products and as well as dealing with unreliable supplier.
Plus, you also get to order for sample products on Spocket to see it yourself before you start selling them.
Selling Platforms
As you know already, you can only use Oberlo on Shopify because the app is only built to work with Shopify. This kind of limit your usage as you won't be able to use it on a platform like WooCommerce and WordPress.
Spocket, on the other hand, works perfectly fine with Shopify and WordPress. This means there is a WooCommerce plugin for Spocket if you prefer the WordPress platform.
This will also help reduce the additional recurring price to Shopify since the WordPress platform is free.
Products Branding
Spocket allows you to send a branded product package to your customers instead of the generic package used by suppliers on AliExpress.
Oberlo only uses what the suppler ships to your customer but with Spocket you get an invoice attached to your product package with your store name and logo on it.
Product Delivery
The fastest delivery you can have with your products using Oberlo is the ePacket shipping option which is around 20days or more.
However, Spocket beats Oberlo to that as you can have your products delivered within 5 to 7days.
Spocket Vs Oberlo: Conclusion
I think they're both wonderful platforms with various astonishing features. However, looking at the pricing plan Oberlo seems a bit lower compare to Spocket.
But taking a closer look in terms of value, I think the fact that Spocket makes it easier to ship products faster to customer makes it unique. And their supplier based are not hit and miss they are all verified.
Not just that, you'll have the chance to dropship your branded products and not just a random product from AliExpress with generic names.
This way, you won't have to guess or risk if a supplier is going to perform well or not unlike while sourcing from AliExpress.
So, that's it on Spocket vs Oberlo! what do you think, Spocket or Oberlo?
Let me know what you think in the comment box. Having a question too? Please add will respond immediately.