Spocket vs Salehoo: Best Supplier Based Dropshipping Platform?
Finding you here checking out Spocket vs Salehoo tells me you have a bit understanding of how dropshipping works.
We all know dropshipping as a low entry barrier business, which means, you don't have to have thousands of dollars before you start one.
All you need do is gain access to a reliable supplier and have a detailed plan on how to market the products.
Once your order start coming in you can then forward them to the supplier who then fulfils the order for you.
I bet you know all this already!
But then, the question now is, how do you gain access to the right supplier and various other tools needed for your success in this business?
To honestly answer that question is why we're comparing these two amazing platform Spocket vs Salehoo.
In this article, we shall be looking at how both platforms works (Spocket and Salehoo).
We'll also be looking at their strength and weakness and the reason why one or the other is the best pick for starting your dropshipping business.

Spocket vs Salehoo: Overview of both Platforms
For a proper understanding of how these platforms works I think its best, I do a quick run-down of how the platform works and what to expect while using either.
What is Spocket?
Spocket is basically like an all in one platform and software that gives its users' access to high-quality products suppliers from all around the world.
However, the majority of these suppliers are based in the US and the EU which practically makes shipping of products extremely fast.
One thing that's very important with this platform is that it gives you the ability to run an automated dropshipping business.
Spocket is a huge marketplace for suppliers and at the same time software that integrates seamlessly with online stores.
This means right from your Spocket dashboard, you can search and import products directly to your online store and at the same time fulfil orders from your dashboard without having to call, chat or see the supplier of the products.
You can call it a semi-automated dropshipping platform. All major aspect of dropshipping is done for you while using the platform.
What is Salehoo?
Salehoo is primarily a Wholesale directory that connects its members with thousands of Wholesalers, dropshippers, liquidators and manufacturers.
However, you should understand Salehoo isn't a direct supplier. They are just a website directory that connects you with manufacturers and wholesalers.
They are basically an online tool that can be used to search for product wholesalers and compare suppliers with other suppliers.
Plus, the majority of suppliers listed on Salehoo are supplier based in the US. This isn't automated software like Spocket. Most users on Salehoo either have their store set up on Amazon or eBay.
What's the Difference Between Wholesale and Dropshipping?
Just so you don't get confused with wholesale and dropshipping on Salehoo, they both mean two different things and I'm going to explain them just now.
Wholesale – this simply means buying products or inventory in large quantity at a discounted price from a direct manufacturer then selling it at your own stipulated price.
Dropshipping – this, on the other hand, allows you to sell to customers without stocking the product inventory. You just need to send orders to suppliers and he or she will fulfil it.
So basically, using the Salehoo platform gives you the choice of choosing either to source for products as a retailer where you buy stock or simply look for supplier and do business with them using the dropshipping model.
Spocket vs Salehoo: What are their Features?
Let's go over the features of both platforms one at a time and see what they offer
What Are The Features of Spocket?
#1. Automated Dropshipping
This is one of the beauties of using Spocket as compared to Salehoo because you won't just have access to suppliers but an automated system that links your store directly with the supplier website.
From your dashboard, you can easily search for products from several categories and various filters. Equally from there, you can have them import to your store with just a click of a button.
The same thing goes for order fulfilment. You can have all your orders fulfilled with just a click of the button automatically.
All major hard work are practically done for their users, there's no need to manually set product price, adding images etc.
You just need to integrate Spocket with your online store; either Shopify or WooCommerce and you'll have a full-pledge online store reading to start selling.
#2. Premium Products
Spocket also offers its members access to specially curated products. These are researched products by the Spocket team bound to make their users more money.
These products come with additional feature like additional discounted price off the normal price on the platform. Plus, a faster delivery time and many other features.
However, the premium or winning products are only available to paying members on their platform.
This is irrespective of the plan, once you're using Spocket as a paid member you'll have access to these premium products and all it additional bonuses.
#3. Sample Products
Spocket try as much as possible to make every product listed on their marketplace a high-quality product.
And in other to ascertain this, they make it possible for every user to be able to order for sample products if they want.
So, if you're curious and wanted to be sure about the quality of the product you're about sell, you can simply order for a sample product.
#4. Faster Delivery
This is one of the best features of Spocket. Every product fulfilled on the Spocket platform is delivered almost immediately to the customers.
Spocket was able to achieve this because they have supplier based scattered all over the US and EU. So irrespective of your location, you can decide to source for products from supplier closer to your customers.
This, however, makes the shipping relatively faster and easier for both parties and equally increasing your store conversion.
#5. Extensive Supplier Vetting
Spocket has put in place a through supplier vetting process that makes it difficult to find an unreliable supplier on the platform.
This is good news because you don't have to further do any research as to finding a reliable supplier.
Every supplier trying to list their product on the platform will pass through the 3 stages which are:
Through Application
Interview
And finally, product testing
Once they pass the overall tests, they will be confirmed a supplier on the marketplace but under monitor for 2 additional months.
This is done to let them continue to meet Spocket expectations and ensure their on-boarding is very smooth.
#6. Real-Time Inventory Updates
Spocket keep their inventory update automated and this is done to avoid promoting products that are out of stock
As a user on Spocket, you don't have to be worried if your supplier is almost out of stock because you'll get a real-time inventory update.
This way, you'll be notified whenever a product is out of stock from their supplier so as to avoid selling it.
What Are the Features of Salehoo?
These are what to expect if you want to use the Salehoo platform.
#1. Wholesales Directives
Salehoo for a fact is one of the biggest wholesale and dropshipping directories on the planet. They've built a huge network of wholesalers, manufacturers and dropshippers that you can work with and equally use as suppliers.
They boost of over 8000 wholesalers and dropshipping supplier and the majority of them are in the US and other few around the EU.
#2. Supplier Research Tool
Basically, the work of Salehoo is to help you find a supplier you can work with across several product categories.
They've provided message templates you can use to contact them based on the kind of business you want to do with them.
Either wholesale or dropshipping, they've built the platform to easily connect you with these suppliers through their search filter.
Spocket vs Salehoo: Price Compared
Now, that we understand how the two platforms work let's have a look at their pricing plan for new users.
Spocket Pricing
Their pricing comes in three packages with a 14Days trial for each of the plan. This will allow to test out the platform and see what to expect before you go full in.
The plan includes the following:
#1. Starter Plan
The Spocket Starter plan costs $9/Month or $96 if you choose the annual plan. These plans provide you with the basic features you need for your dropshipping business.
Automated Order Processing
Automated Inventory Updates
Access to 25 Unique products
Fulfil Unlimited number of Orders
Order Sample Products
24/7 Support
#2. Pro Plan
The Pro Plan is the most popular plan on Spocket as it provides you with everything needed to grow your online dropshipping business.
It cost $49/Months and 20% discount for the annual subscription.
Import up to 250 unique products
Unlimited Orders
Real-time Inventory Update
Branded Invoices
Currency exchange
Everything included in the starter plan
Global pricing rule
Shipment Tracking Number
#3. Empire Plan
Unlimited Products
Fulfil Unlimited Orders
Unlimited Premium Products
And everything included in the previous plan.
I've written a detailed guide on the Spocket Pricing Plan and the Better plan to get started with. You can as well check it out here!
Salehoo Pricing
Access to Salehoo directive cost a flat fee of $67/year and it also comes with a 60-day money-back guarantee.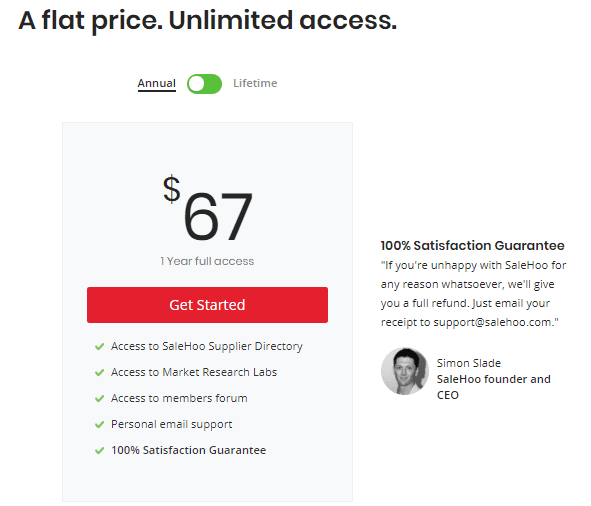 In case you want your money back, all you need do is email support@salehoo.com within 60 days with your receipt number your payment will be refunded.
What Platform Should You Use?
The answer to this all boils down to the kind of business you want to run. Using Salehoo is a full-time work that will require you to contact these suppliers.
However, Spocket, on the other hand, won't require that from you and still won't stop you from running your automated dropshipping business.
All suppliers listed on Salehoo can be found using the normal Google search but will require extra work from you and that all.
They can be found using certain keyword search like "Wholesaler for certain product name" and checking the extreme end of every Google search result.
But SaleHoo saves you the stress of that.
Spocket, on the other hand, makes the entire process really easy. Majority of the work is done for you.
You just have to focus on one important task for your store like promoting the products and running ads.
So that's it on Spocket vs SaleHoo, which one is it going to be…
Or
Let me know what you think using the comment box.
Learn More