How To Start a Cash Cow YouTube Channel [Step-by-Step]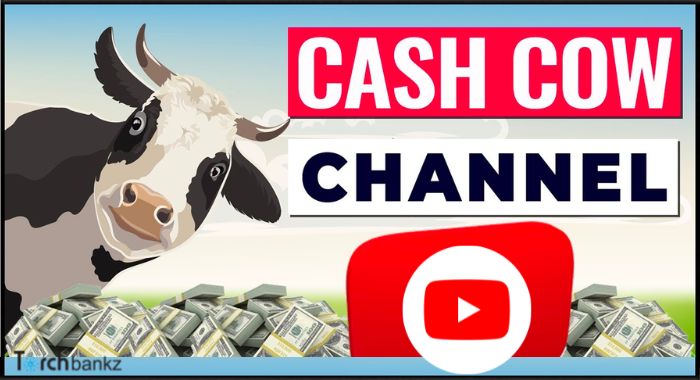 In today's post, I'll share with you how to start a Cash Cow YouTube Channel that makes passive income by just uploading faceless YouTube videos.
Do you want to make huge money from YouTube?
You can upload videos about anything you want and get paid for it on YouTube, which is a great way to make money online!
Anyone who hasn't fully explored the power of YouTube as a source of passive income may find the hidden power of a YouTube cash cow channel to sound a little awkward.
In this article, I'm going to walk you through the process of creating a YouTube cash cow channel, but first, let me quickly explain what that entails if you have no idea.
What is YouTube Cash Cow Business?
A YouTube Cash Cow Business is an automated YouTube business where channel owners upload Faceless YouTube videos on automation with the hope of making money from it.
These YouTube channels is run by creators who produce content that can bring in a sizable monthly income from the platform but never reveal their identities to the public.
Chase Namic, a successful businessman who claims to have more than 20 YouTube channels, coined the term "cash cow YouTube channel."
A Cash Cow YouTube channel, according to him, is made "only with the intention of making money."
They are essentially YouTube channels that try to get as many views as they can in order to make money (since YouTube pays per thousand views)
It's not a new way of making money but it has been completely untapped.
Success in it requires a good niche selection, above-average video editing skills, careful topic selection, promotion, and consistency to succeed.
These channels are the ideal business model for anyone looking for a highly flexible passive income on the internet because they are basically run with the sole intent of making money and are created with great innovation.
A lot of people are embracing this trend since in place of making the videos yourself, you're simply hiring a team to do it for you.
And this turns your YouTube channel into a legitimate business rather than just a personal one.
Check Out This Free Training on How It's Done The RIGHT WAY!
Pros of YouTube Cash Cow Channel
What are the benefits of having a YouTube Cash Cow Channel of your own? Lets explore
● Passive Income
The fact that YouTube channels are passive is their best feature.
They can be set up with little to no effort on your part, and you can make a reliable income doing it.
All you need is a fundamental understanding of how money works, some knowledge of the products to promote, and some consistency in your video uploading.
In 2020, 80% of internet traffic was made up exclusively of video, demonstrating the enormous opportunity in the cash cow video niche and the sustainability of any income generated on this platform.
● Affordability
Frequently, the entire content is outsourced. Owners of lucrative YouTube channels frequently pay people to write scripts, collect videos, record voice overs, and edit videos.
The finished video is then uploaded to their channel by them or an assistant.
● Good for Beginners
As a beginner, I would advise you to start by creating the content yourself because the cost of hiring others to make your videos can be high.
● Low StartUp
A Cash Cow YouTube channel doesn't cost much to start up, depending on your budget.
Some hire help to upload and optimize the video on youtube on their cash cow channels.
Typically, this strategy is to produce popular, viral videos that receive lots of views in order to monetize quickly and begin receiving payments from YouTube.
Cons of YouTube Cash Cow Channel
`Starting a YouTube Cash Cow channel is not all roses and rainbow, there still some shortcomings you should look out for.
● YouTube Algorithm
Finding the appropriate video for each viewer and enticing them to keep watching are the two objectives of the YouTube algorithm when choosing videos for viewers.
What ranking factors does YouTube consider when deciding which videos to display to users?
Every traffic source varies a little. But in the end, a combination of factors including:
personalization (the history and preferences of the viewer)
performance (the success of the video)
external variables (the overall audience or market)
● Takes Few Times For New Channel
Growing a new channel on YouTube, it takes two to three months to reach 100 subscribers.
This is true whether you have zero subscribers when you launch a brand-new channel, whether your audience doesn't come from another platform, or whether you're not already well-known.
What Video Can You Create? Cash Cow Niches
Let's look at some cash cow YouTube niches now that you know what they are. These YouTube channel ideas could be your content's future!
● Make Money Online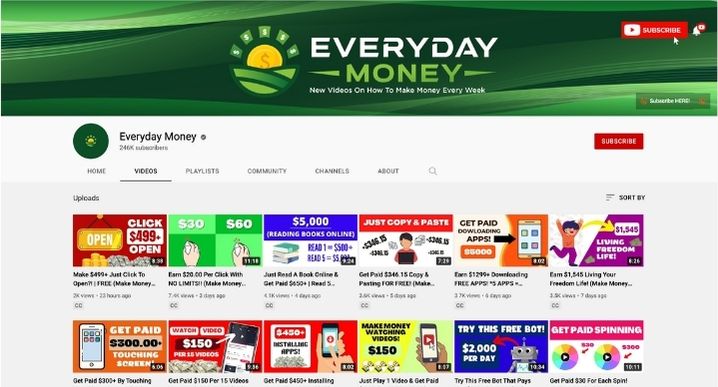 One of the best and most lucrative niches to launch a Youtube cash cow channel is "make money online.
These channels' content may cover topics such as blogging advice, internet marketing, and affiliate marketing.
Additionally, the content of these channels can include case studies of those who have been successful as well as other things; you don't necessarily have to be instructing people on how to make money online.
Those in the "make money online" niche can anticipate to make about $4056 per month for every 10,000 channel views, with an average CPM of about $13.52.
● Whiteboard Animation Tutorial
A strategy that works well for telling intricate stories is a whiteboard animation channel. It's very likely that you have noticed this trend in today's video content, regardless of the sector you work in.
Whiteboard animations are perfect for cash cow channels Because most viewers don't give much thought to the person in the video.
Whiteboard animation has the advantage of having a wide range of applications.
Furthermore, it is affordable and simple to accomplish because websites like Fiverr use gigs to assist you in automating the procedure.
By offering voiceovers and whiteboard animations for sale so that you can instantly upload them to YouTube, Fiverr relieves your stress.
Doodly is another highly recommended piece of software.
Doodly allows you to purchase a whiteboard animation for a one-time fee of approximately $67.
It is also a much simpler option for animations because you only need to click and change the images, and doodly will assist you in automating them.
● Listicle Topics (Top 10 Videos)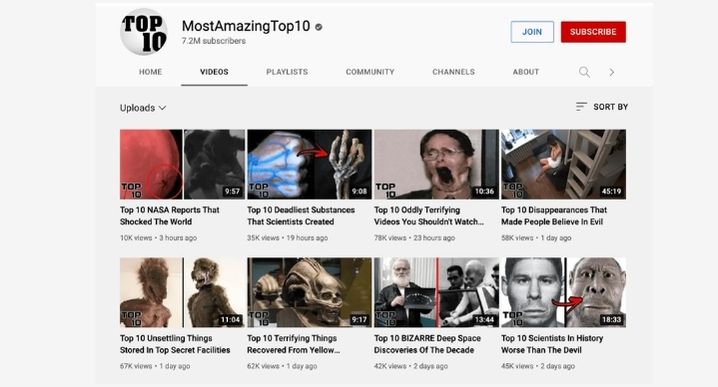 Lists are quick and easy ways to share content with your audience, and they may have a higher retention rate than your other videos.
Top 10 (Listicle) YouTube channels are the best examples of cash cow channels.
Most of these channels are solely focused on generating revenue through views – and they are wildly successful!
This is a common format used by most cash cow channels. However, you must ensure that the clips are "fair use."
The implication is that you cannot simply upload and claim someone else's video; you must thoroughly edit it and use a voiceover to monetize it.
You can create listicles on interesting topics such as the biggest lies ever told in history or the most popular world leaders, or you can create lists stating facts about a specific topic, such as this Minecraft listicle.
In addition, in this type of video, you must select a niche and create content.
● Tech Video
Everything in this digital world is handled and controlled by technology.
Everyone, from children to adults, is constantly using a phone, tablet, or laptop. It wouldn't be overstating things to say that our mobile devices act as our third hands.
I like to point out that technology is one of the top niches in the cash cow business.
It is a channel where the videos discuss the top 5 or top 10 most recent technological advancements.
Simple top ten videos are being produced, such as the top ten best laptops, best body massagers, best electric scooters, and so forth.
The videos and images are gathered from various websites or videos, combined into a list of the top 10, and voice-over is added.
● Investing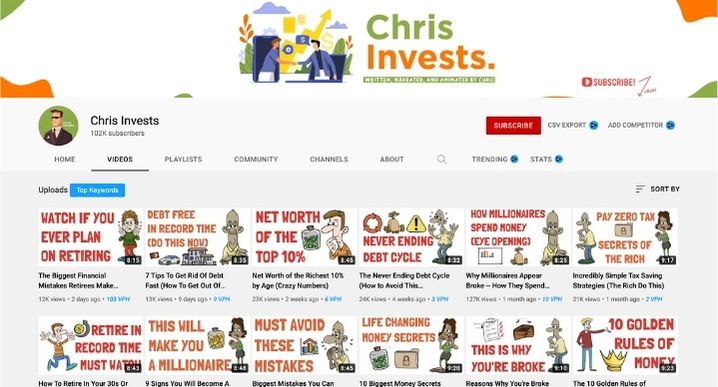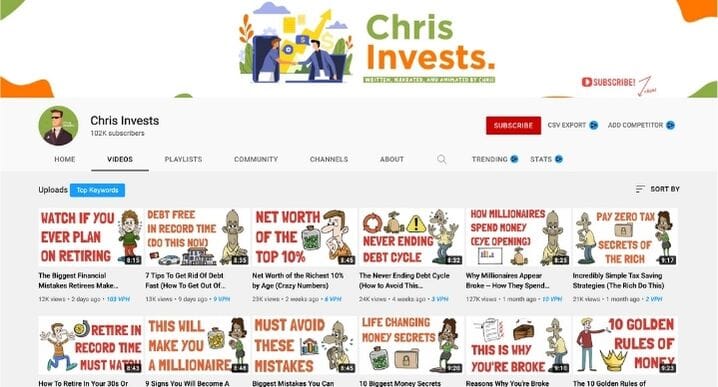 You might assume that anything involving money on YouTube would need a personality to anchor it, but there are plenty of cash cow type channels in the investing niche.
These videos can be produced with ease in the clip-style or whiteboard-style, and viewers will enjoy them.
You can build a channel in this market with remarkable success as long as you have quality tips or content.
There is less of a requirement for in-depth content, and the ad rates for this kind of content are frequently higher than those for other niches.
Watch this Video For More Cash Cow Channel Ideas
How To Start YouTube Cash Cow Channel
You're probably wondering how you can create a cash cow channel for yourself at this point.
Fortunately, the procedure is straightforward. With this, you might not need a YouTube Cash Cow course to start.
But for one reason or the other, if you still need help creating your YouTube Channel, then you can check out the following gigs.
That said here's how to start a profitable Cash Cow YouTube channel:
#1. Create a Free YouTube Channel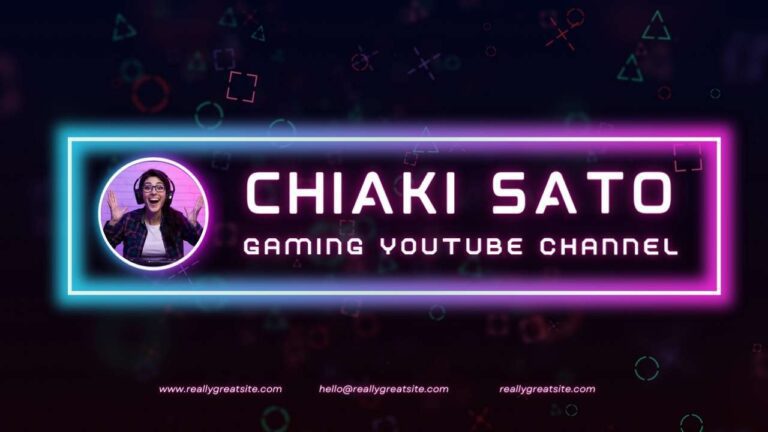 Creating a YouTube channel is the first step in creating a successful Cash Cow YouTube channel.
Here is a guide to creating your account.
Step 1: Create a Google account
You probably already have a Google account if you use Gmail, Google Maps, or Google Play.
So go straight to the next action.
And if you don't it's absolutely free and easy to create. All you need to do is open a free Gmail account and you're done.
Step 2: Open a YouTube account.
Your personal YouTube account is created for you automatically through your Google account.
However, you must create a Brand Account in order to use YouTube for your business.
You only need to visit your YouTube account page, click Create a Channel, and then give your Brand Account a name.
Your brand account name will have to do with the kind of niche you choose.
If it's about making money online, make it easy for people to know what the channel is about.
#2. Customize Your YouTube Channel

It's time to customize your brand-new YouTube profile.
Click Customize channel in your channel dashboard.
Enter the information that will help you optimize your channel for audience discovery by going through the three tabs:
Layout,
Branding,
And Basic Info.
Use expressive keywords that will improve your account's visibility in searches when filling out this information.
To give your channel a distinctive look, you can upload your channel art and icons under Branding.
Ideal branding would be one that visually links your YouTube channel to your other social media profiles and website.
● Choose Your Video Niche
When all of your videos are focused on one specific niche, growth is straightforward at first.
Your channel will be easier to find on YouTube. You can diversify later.
It would be wise to choose a high CPM niche since Google AdSense will probably be your primary source of income.
In this manner, you can make the greatest profit per 1,000 monetized views.
Here are a few of the niches you could create Cash Cow videos about:
Movie Summary
Book Summary
Make Money Online
Dash Cam Videos
Luxury Videos
Top 10 Videos
Celebrities
Cryptocurrency
Personal Finance
Food and Recipes
History Facts Videos
Strange Things Caught on Camera
Animals
Automobiles
And many more…
● Get Your Video Creator
The most important step in the cash cow strategy is hiring freelancers to help you with video creation.
The goal of the strategy is to use freelancers who will let you run your YouTube channels largely hands-off.
As was previously mentioned, using the cash cow strategy will cost you money.
Depending on how much money you have to spend, you might think about creating your own voiceovers or writing your own scripts.
Below are some of the gigs on Fiverr that you can explore when it comes to automating your YouTube Cash Cow business.
Other than that, if you prefer to do them yourself, there are a few tools or YouTube Cash cow video editor that might come in handy:
Doodly
Viddyoze
Toonly
Invideo
Filmora
With any of the above, you should be able to create your faceless YouTube videos without showing your face.
● Publish Your Videos
Hit the Create button in the top-right corner and adhere to the guidelines to publish your first video.
Posting your videos when viewers are available and prepared to watch them will give them the best chance to go viral.
Your channel analytics will let you know if there is a particular day of the week or hour that tends to have higher viewership or engagement.
How To Pull Views To Your Cash Cow Channel
Now your YouTube channel is up and running, now what? You need more viewers to start making money from your Cash cow channel.
Less you forget, making money is the sole reason for creating the channel in the first place.
So make sure you get it right!
For that, I'll invite you to watch this training on how to do that the right way.
That said let's look at the ways you can get more views on your Cash Cow channel.
● Ask Viewers To Subscribe
Growing your subscriber base is the best way to increase your organic reach.
This is because when someone subscribes to your channel (and presses the bell button), they receive an alert when you upload a new video.
There's a good reason why YouTubers of all sizes prefer to sign off with "Don't forget to subscribe."
● Create Video Playlist For Viewers
The more videos you produce, the more challenging it is for viewers to find what they're looking for on your channel.
The best way to keep visitors on your page is to organize and make video playlists on YouTube.
YouTube playlists not only group your related content into a tidy list, but they also start playing automatically.
After one video concludes, another starts. so forth. By doing this, the likelihood that a viewer will switch to another channel is reduced.
● Promotes Videos on Social Media
It's no secret that video content dominates in terms of performance and engagement on social media.
The impact and importance of social media are becoming more and more clear with each passing day.
In order to get your social media followers to subscribe, you should frequently promote your YouTube channel to them.
Make it a point to alert your followers on Facebook, Twitter, Instagram, and LinkedIn as soon as a video goes live.
For each social media platform, you can also create excerpts or previews that link to your most recent work.
● Optimize Your Video Titles
The success of your video depends heavily on the titles.
Use titles that are brief, descriptive, and keyword-rich for Google.
Titles are the first thing viewers see, they also assist search engines in determining the subject matter of your videos.
Make sure all of your titles are succinct, captivating, and keyword-rich.
Getting your audience's attention without using clickbait headlines is the secret to creating killer titles.
People want entertaining content, and they also want to know what your video is about right away.
● Cross Promote Videos with End Screens
A clickable box that appears at the end of a YouTube video and directs the viewer to the appropriate next action is known as a YouTube end screen.
It's the newest and best way to grab your audience's attention and keep them coming back for more of your amazing content.
Whatever your objective, use an end screen to strengthen your relationship with your audience.
You can use them to encourage viewers to subscribe or to point them toward a fundraising website, among other things.
● Create an Attractive Thumbnail
One of the simplest yet most powerful strategies for promoting your YouTube channel is by creating an attractive thumbnail.
Make an impression with your channel art and thumbnails—they are your billboards! Consider your title and thumbnail as a kind of one-two punch to pique a viewer's interest.
When a user is skimming search results, thumbnails help them decide what to watch.
However creating a Clear and accurate, good thumbnail complements the title of the video and increases your view.
You can get this done at an affordable price on Fiverr.
How To Make Money With YouTube Cash Cow
Now let's look at some of the actual ways to get paid from YouTube Cash Cow.
● Google AdSense
Publishers and advertisers are linked through the ad network called AdSense.
Regular YouTube users can access exclusive features on the website through the YouTube Partner Program.
Joining the YouTube Partner program is the first step in earning money on the platform.
Through partnerships, content producers can use exclusive tools, like the ability to earn money from their videos using Google Adsense.
Content producers need at least 1,000 subscribers and 4,000 hours of total watch time over the previous 12 months to be eligible.
● Affiliate Marketing
If you want to make product review videos, affiliate marketing may be the most practical way to monetize your YouTube traffic.
By promoting a good or service from another company, you can make money through affiliate marketing.
can promote brands as an affiliate marketer and use content such as product placements or endorsements.
However, you must tell your viewers about the partnerships in your videos.
When a viewer clicks your personalized link and buys the item, you will receive a commission as the brand's affiliate.
● Sponsorship
For YouTubers, becoming brand sponsors can be a lucrative option as businesses pay them to do so and promote the brand, item, or service in their videos.
The sponsorship is typically incorporated into videos with unrelated content, and the YouTuber frequently promotes the product without making any promises.
● Digital Products
Making money on YouTube is easy if you sell goods or services that your viewers will find useful.
Advertising personalized t-shirts, ebooks, and other digital goods can generate a sizable income stream without requiring millions of views if you have a smaller audience.
Now that third-party merchandising platforms have been integrated into YouTube, members of the YouTube Partner Program have the option of selling their content.
Conclusion
Has this article significantly benefited you?
Additionally, I'm certain that this aroused your interest in cash cow channels.
You now know everything you need to know about cash cow YouTube channels.
While the strategy has a unique name, it's nothing more than a systematized approach to outsourcing the creation of videos.
It is a legitimate strategy, and you can do it yourself.